A Guide to Hiking in the Smoky Mountains
Like most people who had cancelled trips and crushed dreams thanks to COVID, we needed a drivable getaway. Following the outdoor/road trip travel trends, we looked at hiking close to home. Having never gone hiking before, this was a new type of trip planning for us. What trails would we choose? What gear should we pack? How do we prep for a bear sighting?! And our Smoky Mountains hiking guide was born…
Where to Go?
Just based on driveability, The Smoky Mountains was the perfect distance – a 6 hour drive from Indianapolis that we could do over a long weekend. We cut through gorgeous mountains and took a fun pitstop in Lexington – which we highly recommend. Breaking up the drive and checking out cities along the way only added to our trip and put Lexington on our radar.
Where to Stay?
What was unique about this trip is that we purposefully stayed at two different places – one for convenience and one for the experience:
Glamping with Under Canvas – What actually spurred our entire trip was this tent. We'd heard about Under Canvas through the grapevine and loved the idea of making our accommodations a part of the adventure. We could try camping in luxury and sleep right out in nature. It ended up being a pretty cool stay – we made smores, started a fire from scratch and got a taste of glamping. It was quite pricey and we don't suggest staying for more than a night (unless you enjoy yanking a chain for hot water). But it was definitely a memorable part of our trip.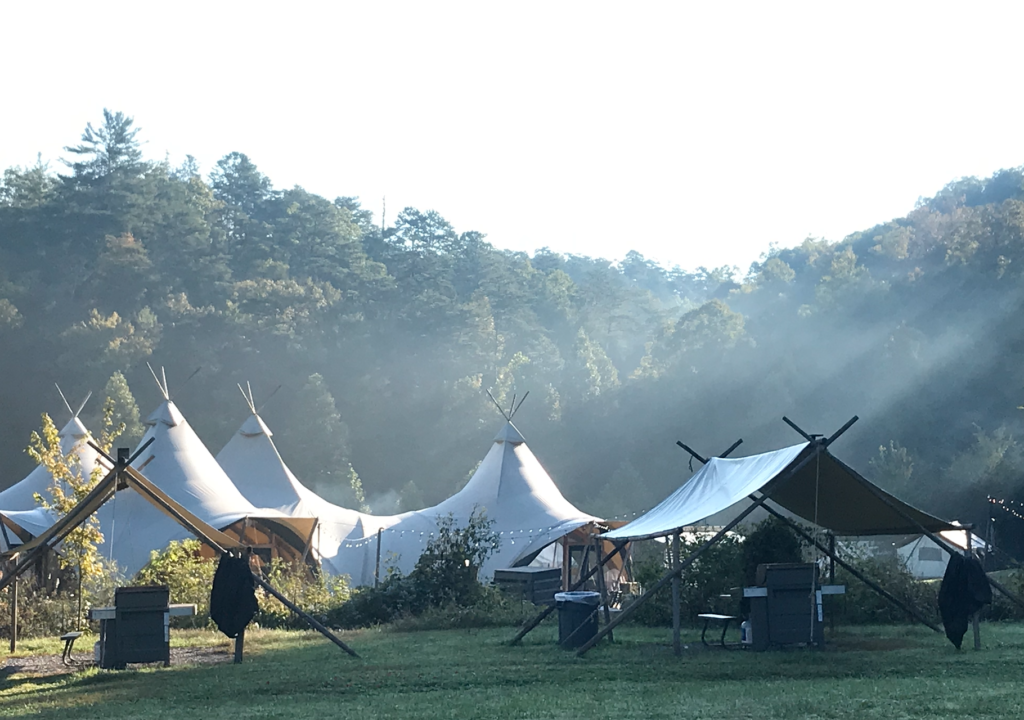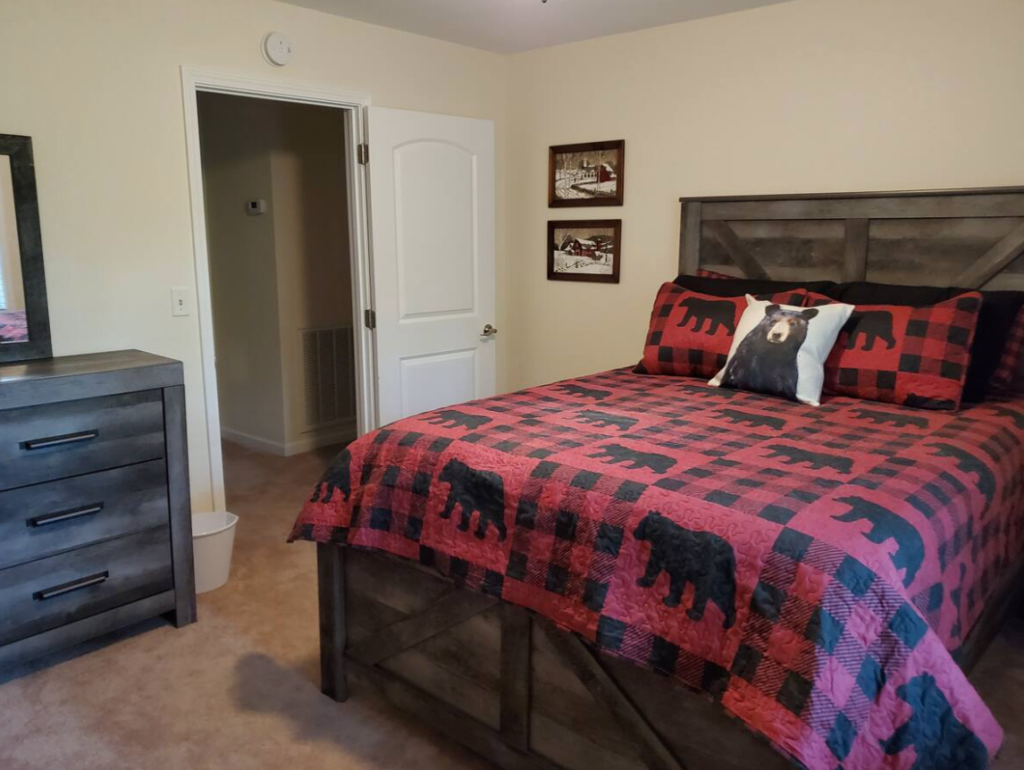 A bear-themed room, of course
Airbnb – Ah, our favorite go-to. You really can't go wrong if you do your research, pick a superhost and read those reviews! We chose to rent a room at David's house . Our stay was top notch – better than any ho-hum hotel in downtown Gatlinburg. Our room had a flat screen TV, heated fireplace and was only 10 minutes from the Smoky Mountain National Park entrance. Did we mention the breakfast?! Free continental breakfast every morning with all the goodies you could imagine. You may even see a bear walk right by the front door 🙂
What Smoky Mountains Trails to Hike?
Our plan was to do an easy, scenic trail on Day 1 and try something more rugged that would take 3-4 hours on Day 2. So we scoured Pinterest for trail recommendations and found some helpful posts. Check them out below:
Ruhls of the Road
Pages of Travel
The Wandering Queen
TIP: Even if you've got your trails picked out, head to the information center at the park entrance first. You can grab some free maps and talk with a park ranger. They'll give great advice – like how far you'll have to drive to specific trails – and put some new hikes on your radar.
Laurel Falls – This trail is super popular and for good reason: It's an easy loop with a paved pathway that's only a couple minute drive from the park entrance. You get some really beautiful views of the mountains and the waterfall at the end of the trail is fun to climb on. It only took us 1.5 hours to complete and was a great way to kickstart our trip. Tip: Go early! By about 10:15 am, the trail was already packed.
Cades Cove – This was one of our favorite things on the trip. It's a driving loop with some stunning views. But it does take about 45 minutes to get there and the signage is confusing. You'll know when you've arrived because the scenery opens up into this magical place with deer grazing through the fields as the fog rolls in. Since it's a scenic drive, be prepared for a lot of stopping and starting as cars pull over to take pictures. Tip: get up early and go around sunrise. You'll have way less traffic and seeing the fog roll over the mountains will be worth that extra cup of coffee you'll need.
Abrams Falls – Contrary to our original understanding, it is not located right at the park entrance. The good news is you'll find this trail about halfway through Cades Cove (so make sure to account for some drive time). Strap on your hiking boots and get ready for a real workout that'll take around 3-4 hours with some rugged inclines. A perk is that there were a lot less people on the trails, so we got to take in the beautiful view of the falls without a crowd.
What to Bring?
This was one of the biggest questions on our mind, since we hadn't hiked before. After doing two very different hikes, here's what we'd recommend you pack:
Apparel
Hiking boots – We both got a pair of waterproof boots before the trip (REI has great choices) and it was worth the investment. The boots held up beautifully against the waterfalls and rough terrain. Having good traction definitely helped prevent a rolled ankle too.
Fanny pack – This was a great way to keep a few things handy without having to dig through our backpacks. Pop your phone, hand sanitizer and maybe some pepper spray (we brought this instead of bear spray) in and you're set.
Nice hiking bag – You don't have to have a nice bag – any over the shoulder bag will work. However, having an actual hiking backpack makes the trip a bit easier on your back.
Layers – We cannot recommend bringing/wearing layers enough! We started both hikes pretty early in the morning, so it was chilly. Long sleeves, vests and lightweight jackets were the name of the game. Once you really get hiking though, it warms up quickly. No matter the time of the year, pack a few different layers. You'll regret it if you're miserably hot or cold because you didn't plan ahead.
Special socks – REI sold us some special hiking socks, which we were both skeptical of at first. It seemed like a way to talk newbie hikers into spending more money, but the extra padding did help with blisters. And trust us, the last thing you want is to have a blister when you're hiking 3-4 hours.
Accessories
Drone – What better place to test out your drone skills than in the open outdoors? This is obviously not a necessity, but if you have one, bring it along. We flew the drone around the entrance to Abrams Falls and had a lot of fun trying to get some good shots of the mountains. Plus, the likelihood of crashing it into things was way less 🙂
Transportable phone charger – If you plan to take a lot of photos or videos, you'll want one of these. There's nothing worse than having your phone die halfway through and missing that epic photo of the falls. You'll lose reception fast, so this is purely to keep your battery charged for photos.
First Aid Kit – Boy, were we happy to have this kit on hand. Bandaids were already used on Day 1 (hey, we're clumsy). It was also a nice thing to have in case of an emergency.
Snack packs – If you plan to do a several hour hike like Abrams Falls, you'll want to bring snacks to enjoy with the view. We brought a few trail mix and protein packs, which are easy items to carry. Tip: Bring snacks that are sealed just as an extra precaution to keep animals at bay. Don't forget to bring a bottle of water or gatorade too.
Other Tips & Tricks:
-Stay away from downtown Gatlinburg or only plan to go in for a night to do something touristy (all of the charm is in the mountains). You'll end up spending your time in lines, pushing through crowds or endlessly searching for a place to eat dinner.
-Brush up on bear etiquette, but don't go overboard (you probably won't see one). Make sure you know what to do if you happen to see a bear and how to prevent bad encounters. It's better to be over prepared and feel confident on the trails!
4 Secret Hiking Trails in the Smoky Mountains You'll Want to Explore
With over 850 miles of hiking trails in the Smoky Mountains, you'll find a ton of places to explore, and these are just the trails on the official park map! Of course, there are some unofficial trails that aren't documented on the park map, but that doesn't mean you can't hike them! Check out these 4 secret hiking trails in the Smoky Mountains you'll want to explore:
1. Whiteoak Sink
Whiteoak Sink is a pretty unique area in the Smokies with several interesting spots along this undiscovered trail. Hikers will start out on Schoolhouse Gap Trail, and about 1 mile into the trail, you'll see a split in the trail with Turkeypen Ridge Trail. Right behind the signs at this junction, there is an unmarked trail on the left that will take you to the Whiteoak Sinks area. After another mile or so, there's another fork in the trail. If you go right at this fork, you will find Rainbow Cave Falls, a 40-foot-tall waterfall that runs over rocks and into a cave! If you go left at the fork, you will come up on Blowhole Cave. Although you can't enter the cave, seeing the exterior is pretty cool. It's also home to an endangered bat species known as Indian bats.
2. Spruce Flats Falls
A secret hiking trail in the Smoky Mountains that's frequented fairly often and is easy to follow is the trail leading to Spruce Flats Falls. This trail is also not on the official Great Smoky Mountains National Park map, but enough people travel it that the path is well worn. Arguably, Spruce Flats Falls is one of the most picturesque waterfalls in the entire park. You'll start out on Lumber Ridge Trailhead, and about 20 yards into the trail, there is a junction, and you should take a right. At the next fork in the trail, take a left, and the trail will start to descend. Then Spruce Flats Falls will come into view!
3. Courthouse Rock Trail
Courthouse Rock Trail is a hidden trail that isn't on the official map, and it is recommended for experienced hikers. To get to the trailhead, you should use exact GPS coordinates because they will take you where you need to go. The trailhead is right across the road from the small parking area these coordinates take you to. There are several cairns, or stacked rocks, that mark the correct path to take along the hike. Along the trail, you'll see old remains of homesteads and a man made cave used as a refrigeration system. If you break off the main path, you'll find Road Turn Branch Falls, a small waterfall. As you keep hiking, you can reach Courthouse Rock and Quilliams Cave and Falls.
4. Gregory Cave
We bet you didn't know there is a cave hidden along a hiking trail in Cades Cove! This secret trail is pretty simple to find. You'll make your way along the Cades Cove Loop until you pass the entrance to Sparks Lane near John Oliver Cabin. After you park, you'll walk along the road until you see a gated dirt road on the right. You'll hike up this road until you pass two picnic tables on the right. Then you will spot the cave! The entrance is blocked off with metal bars, but you can see some of the cave, including pick marks on the walls, which are most likely from miners in the early 1800s.
Now you know about some of the secret hiking trails in the Smoky Mountains! You also won't want to miss out on the hidden gems along these trails too. While we know you love secret spots, have you visited the most popular places in the park? Learn more about the most popular places in the Smoky Mountains!
First-timer's guide to Great Smoky Mountains National Park
Jagged mountain peaks, verdant forests and cascading waterfalls set the stage for big adventure in the Great Smoky Mountains, one of America's best-loved national parks. Spread across 500,000 acres in the Southern Appalachian range, the park is a four-season wonderland, famous for both its colorful spring wildflowers and the fiery blazes of autumn.
The Smokies are also home to an astonishing variety of plant and animal life – from lumbering black bears to dazzling displays of synchronous fireflies. It doesn't take long to see why Great Smoky Mountains is the most visited national park in the United States. Whether you're coming for the hikes, the history, the autumn leaf peeping, the sound of silence, or the winding mountain roads, there's a little something for everyone in the Smokies.
A section of the Little Pigeon River in Tremont, Great Smoky Mountains National Park, during spring. ©NaturalStock/Shutterstock
The history of Great Smoky Mountains National Park
There are only three National Parks that spill across state lines, and Great Smoky Mountains is one of them. It covers a section of Tennessee and North Carolina in the Southern USA that was once home to the Cherokee, and later by Scotch-Irish settlers.
Like much of Appalachia, the Smokies were targeted by logging companies seeking rich stands of timber. As early as the end of the 19th century, concerned residents of the area advocated for preservation of the land. By 1925, the federal government was ready to move forward and create one of the first national parks in the eastern United States, along with Shenandoah National Park to the north.
The land for Great Smoky Mountains National Park was acquired in large part through small-scale grassroots fundraising rather than donations from wealthy stakeholders, despite much of the area already being broken up into small family farms and parcels earmarked by loggers. Much of the work was completed by the Civilian Conservation Corps throughout the Great Depression, and the national park was officially dedicated in 1940.
Another unique quality of the Smoky's development was that it was one of the first parks designed with cars in mind. Unlike the first national parks out west, which were originally reached by trains and where visitors stayed in grand hotels financed by railroad companies, Great Smoky National Park came together with support and input from auto organizations like the American Automobile Associations (AAA).
US 441 road (aka the NewFound Gap) winding through the forest in the Great Smoky Mountain National Park. ©Norman Lathrop/500px
How to visit Great Smoky Mountains National Park
The main gateways to Great Smoky Mountains are the Sugarlands Visitor Center, near Gatlinburg, Tennessee, and the Oconaluftee Visitor Center near Cherokee, North Carolina. Between the two is the scenic Newfound Gap Road, which winds for 29 miles, neatly bisecting the park on the only pavement traversing the Smokies. Trailheads for some of the most popular hikes and some of the park's key historic sights are found along this two-lane road. Other popular access points are the Cataloochee Valley on the east side of the park, and Cades Cove in the west.
If you're flying in, the closest airport to the park is Knoxville's McGhee Tyson Airport (about a 70-minute drive to the one of the park's main gateways near Gatlinburg). Other nearby airports include Asheville, NC (an 80-minute drive), Charlotte-Douglas International Airport (a 3-hour drive), and Chattanooga (a 2.75 hour drive). There is no train service to Great Smoky Mountains National Park. Wherever you're coming from, you'll want a car, as there's no scheduled bus service to the park nor any public transit available inside of it once you get there.
If you want to spend some time exploring the Smokies without camping or renting a cabin, there are numerous RV rental companies in Knoxville, Gatlinburg, and Pigeon Forge – the later being two towns that are unofficial gateways to the Smokies and home to attractions like Dollywood. You can also make a road trip out of picking up a rental from outfitters like Voyager Campervans in Nashville and Escape Campervans in Atlanta.
A hiker pauses at a lookout point over a tree-covered valley on the Appalachian Trail ©Tony Barber/Getty Images
What to see and do in the Great Smoky Mountains
One of the great draws of the Smokies is its extensive trail system crisscrossing forested valleys and misty mountain slopes. There are over 800 miles of trails, ranging from easy rambles along scenic boulder-filled streams to challenging all-day hikes. In addition, there are over 100 backcountry campsites and shelters, the park offers exceptional possibilities for multi-day treks.
The park's hiking opportunities include a 71 mile portion of the Appalachian Trail, which runs right through the center of the park between Fontana Dam and Davenport Gap. The highest point on the entire 2,200 mile span of the AT is the park's own Clingman's Dome – the "top of Old Smoky" made famous by singers like the Weavers and Hank Williams. Another epic trek in the park is the Mountains to the Sea Trail, which runs from its western terminus at Clingman's Dome all the way to the Outer Banks of North Carolina.
Hiking aside, there are many ways to experience the Great Smoky Mountains. When you need a break from walking, you can let a trusty steed do the work. Horseback riding stables are located in Cades Cove, Sugarlands and Smokemont. The park also has some matchless scenic drives, including ridgeline roads where you can gaze out at the seemingly endless expanse of undulating peaks. Last but not least, the Blue Ridge Parkway's southern terminus links the Smokies to Shenandoah, in case you want to get the most out of your national parks pass.
However you choose to explore the Smokies, you can visit the well-preserved log cabins, grist mills and one-room school houses built by early settlers to the area. There is also exceptional wildlife watching year round in the Smokies.
While you have a chance of seeing wildlife throughout the park, the Roaring Fork Motor Nature Trail is an excellent route if you're hoping to peep the park's animal residents, especially in winter time, at dawn, and in the evenings. And while the area's bears and fireflies get most of the publicity, the Cataloochee Valley is a prime spot to see elk, reintroduced to the Smokies back in 2001.
How much will a trip to the Smokies cost?
For an inexpensive vacation, the Smokies are hard to beat. Unlike the Grand Canyon and most other national parks, this one won't cost you a penny to enter. The Smokies are entirely admission-free, thanks to the many area residents who gave up their land and contributed funds to create the park.
That means that, aside from car rental, expenses are minimal. Camping – one of the best ways to experience the Smokies – runs less than $25 a night per site and as little as $14. Backcountry camping is free, although you do need a reservation and a permit.
All of the attractions within the park are free, including the Mountain Farm Museum, Cades Cove historic buildings and the panoramic overlook at Clingmans Dome, not to mention all of the hiking trails. Add to that the many free ranger-led programs run by the park – night hikes, storytelling by the campfire, morning porch talks (free coffee provided), Appalachian culture fairs – and you have the makings of one of America's most remarkable budget-friendly getaways.
Where to stay in the Smokies
The allure of the Great Smoky Mountains is certainly no secret, and the park gets quite crowded during the busy summer months (Jun–Aug) and in the autumn when the leaves change color (Sep–Oct). It's wise to plan well ahead so you can get your first choice when it comes to accommodation.
There are no motels or rental cabins within the park. Instead, all but one of the park's nine frontcountry campgrounds can be reserved online. For backcountry sites that are accessible only via hiking trail, you can make reservations through the park's backcountry permit office either in person or online. If you're new to camping or spending time outdoors, read up on Leave No Trace principles before you head out, or check out these guidelines on how to RV or vancamp responsibly.
Llamas resting and eating on a foggy day after carrying supplies to the top of Mt. LeConte in the Great Smoky Mountains National Park. ©epantha/Getty Images
If you prefer not to sleep in a tent, the only option inside park boundaries is the LeConte Lodge, a delightfully old-fashioned collection of wooden cottages near the top of Mount LeConte (elevation 6594ft). The lodge is not accessible by road, so to get there you'll have to hoof it uphill on a hike ranging from 5.5 miles to 9 miles in length depending on which trail you use.
There are meals available at LeConte when you arrive – the supplies for which are brought up by llamas, which you might see along the way if you take the Trillium Gap Trail. Due to the popularity of LeConte's hospitality, however, you'll need to make reservations months – or even a year – in advance.
There are plenty of accommodation options outside the park, too. Gatlinburg, something of a resort village, is packed with hotels and guesthouses, and there are cabin rentals around the city and throughout the surrounding area – particularly near Cherokee, Bryson City and Pigeon Forge.
Being prepared (and staying safe) in the Smokies
Hiking trails are well-marked in the national park, though it's wise to pick up a good map (available in the visitors centers) before setting out. Make sure you have sturdy walking shoes (preferably waterproof hiking boots), ample water and snacks, warm clothing (it gets chilly at higher elevations, even in the summer) and gear for rain (precipitation is a year-round possibility).
A walking stick also comes in handy. Be sure to let a non-hiking partner know where you're going and when you plan to be back. Watch out for slippery rocks, and don't swim or wade in park waters (falls and drowning are among the leading causes of injury).
As this is bear country, you must store all your food – and any trash that smells like food – appropriately. It's important to be mindful in order to protect wildlife from becoming dependent on humans for food or getting close to humans in ways that endanger both you and the animals who call the park home. Never feed animals by hand, dispose of trash properly in approved receptacles, and use bear canisters or bear lockers to keep your snacks from attracting critters to your campsite.
Speaking of bears, they're generally quite shy and avoid human contact, though if you do come across one, keep your distance and don't disturb the bear. In the unlikely event the bear approaches you, stand your ground, make yourself tall and make a lot of noise – which usually deters the bear.
Get more travel inspiration, tips and exclusive offers sent straight to your inbox with our weekly newsletter.
This article was first published August 2018 and updated May 2020
Buy Great Smoky National Park
Lonely Planet's Great Smoky Mountains National Park is your passport to the most relevant, up-to-date advice on what to see and skip, and what hidden discoveries await you. Hike Mt LeConte, explore Cataloochee, and raft on Pigeon river; all with your trusted travel companion.
Buy Great Smoky National Park
Lonely Planet's Great Smoky Mountains National Park is your passport to the most relevant, up-to-date advice on what to see and skip, and what hidden discoveries await you. Hike Mt LeConte, explore Cataloochee, and raft on Pigeon river; all with your trusted travel companion.
Explore related stories
I rafted through the Grand Canyon and here's what I discovered
Rafting through the Grand Canyon is the stuff of dreams, but the trip requires planning, and going without some creature comforts. Here are our top tips.
The best national parks in North Carolina span mountains, beaches and battlegrounds
North Carolina is blessed with national parks in every corner of the state, preserving everything from mountains to beaches. Here's our guide to the best.
North Carolina's 7 best hikes for waterfalls, fall foliage and mountain views
Though the hikes of North Carolina can be intimidating, there are trails throughout the state that appeal to all experience levels.
The 8 best hikes in and around Charlotte
For little to no cost, you can be one with nature on some of the best hiking trails in and around Charlotte, North Carolina.
18 top things to do in Smoky Mountains Gateway Towns
From putt putt courses, moonshine distilleries and theme parks, there's so much to do when you visit the Great Smoky Mountains.
The 8 best free things to do in North Carolina, from scenic drives to colorful local festivals
Exploring the gorgeous state of North Carolina doesn't have to break the bank. Here are out favorite free activities, from the mountains to the coast.
The 9 best city parks in Charlotte for families, hikers and picnickers
Whether you enjoy vigorous outdoor activities or just want to lie out on the grass, here's our guide to the best parks in Charlotte, North Carolina.
Charlotte rising: Why sports fans and thrill seekers flock to the Queen City
Grab a seat in the stands – or start a game yourself – in our favorite spots for sports fans in Charlotte
This lesser-known US national park is the latest International Dark Sky destination
Want an under-the-radar spot to marvel at the stars? Head to this spot on the Outer Banks of North Carolina.
Source https://sippinsangria.com/a-guide-to-hiking-the-smoky-mountains/
Source https://smokymountainnationalpark.com/blog/secret-hiking-trails-smoky-mountains/
Source https://www.lonelyplanet.com/articles/first-time-great-smoky-mountains-national-park