Beginner's Guide to Packing a Backpack for Hiking | Expert Tips to Help You Pack Like a PRO
So you've planned out your first overnight hiking trip. You've got all your essential backpacking gear. Now it's time to pack your backpack for hiking.
But does it really matter how you pack your gear as long as it all fits in your backpack?
Yes, yes, and yes!
Just stuffing your backpack full of gear all willy-nilly will lead to a top-heavy pack that makes it next to impossible to lift a foot without falling over backward. Not to mention the extreme sense of panic you'll feel when you need to suddenly "take care of business" in the woods and you can't remember where you put your toilet paper.
Avoid these sticky situations and follow the tips in this beginner's guide to packing a backpack for hiking. You'll enjoy your hike soooo much more when you pack your backpack so it works with you and not against you.
Let's get started with a few basic things you should keep in mind when planning how to pack a backpack for an overnight backpacking trip.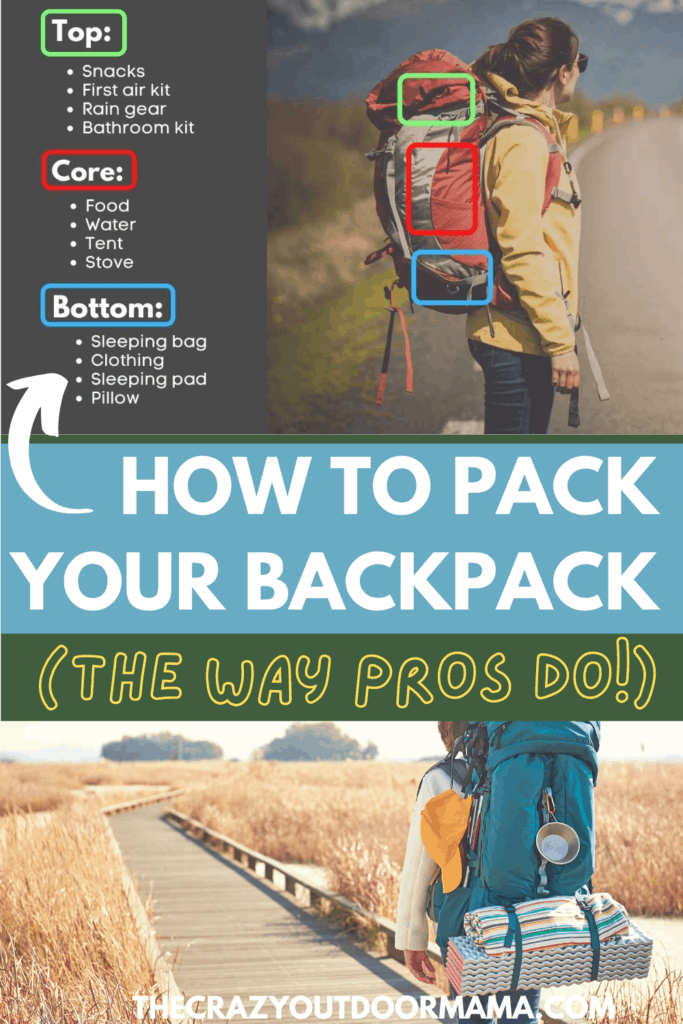 A Few Backpack Packing Basics You Need to Know
You need an actual backpacking pack
Sure, your bedazzled Jansport school backpack could carry a lot of textbooks, but it's just not cut out for overnight hiking trips.
For an overnight trip, you need a backpack with, at the very least, a 35-40 liter capacity. It should also have a padded hip belt, comfortable shoulder straps, and some sort of a rigid frame (internal or external).
Do a test pack
Before the big day comes when you set off into the wild, be sure to do a test run. Get out all your gear and pack your backpack. Hoist it up, strap it on, and take a walk with it. Try going up and down some stairs. Practice taking it on and off.
How does it feel? Do you need to move some things around? Does it feel too top-heavy? Could you actually fit all your stuff or will you have to make the hard choice of which to leave behind – your favorite bottle of pinot noir or your tent?
Plan well
Purchasing the right gear and really thinking through what you're gonna take will make it way easier to pack your backpack because you won't be packing a bunch of unnecessary stuff.
*Need help planning what to pack? Check out my other articles on planning your backpacking trips.
Ok, so now that you've got the basics, let's get down to the nitty-gritty.
Pack a Backpack in Several Different Zones
*Important – While backpacks differ somewhat in their designs and the way the compartments are divided up, most will still allow you to follow these basic packing guidelines.
When packing your backpack, in order to distribute the weight correctly, you'll divide it into the following basic areas:
The Bottom: Bulky items that aren't too heavy or things you don't need that often
The Core: Dense, heavy gear
The Top: Light, bulky things you may need to access often
Outside Pockets: Items you need often or need to access quickly in an emergency
Loops, lash-on points, and straps: For odd-shaped items you can't fit in your pack
What to Put in the Bottom of the Pack
If you pack too much heavy stuff in the bottom of your backpack, it will sag and swing. So it's best to fill the bottom with bulky, lightweight gear that you won't need to access during the day.
Things like…
Sleeping bag
Sleeping pad
Clothing
Camp shoes
Pillow (If you like your trail comforts)
If your sleeping bag comes in a compression sack or stuff sack, it's best to put that in first and then stuff smaller things, like items of clothing, around it.
What to Pack in the Core Area
This is where weight distribution is really important. The densest, heaviest items should be in the center of your pack and as close as possible to your back.
Keeping most of the load in this core area will create a stable center of gravity that moves with you instead of against you.
Heavy items to pack in the area close to your back are…
Food
Stove
Water (that you won't need during the day unless it's a water bladder with a straw you can sip from while hiking)
Heavy toiletries
Bear canister
Your single-serve bottles of pinot noir
Once you've got those items packed, fill in the extra space with items like…
Tent
Tent footprint or tarp
Clothing
Shoes
Camp cookware
Lighter food items
Items to Pack Near the Top
To avoid a top-heavy pack, the top of your pack should be reserved for lightweight items you're likely to use during the day. And depending on what you can fit in exterior pockets, you'll also need to make sure emergency items you might need to access in a hurry are close to the top.
The top of your backpack is a perfect place for items like…
Snacks
First aid kit
Rain gear (Like a rain jacket or rain cover for your backpack)
Bathroom kit (Remember what I mentioned in the beginning?)
Jacket
*Insider tip! – If there's the potential for bad weather to move in fast, keep your tent closer to the top of your pack. That way, if it starts to rain, you can grab your tent in a hurry without having to completely unpack.
What About External Pockets?
Pockets on the outside of your pack are best used for other small items you'll need to get to throughout the day or access in a hurry.
Most backpacks have a combination of pockets like a top or "brain" compartment, zippered side pockets, water bottle pockets, hip belt pockets, and even a small pocket or two on the shoulder straps.
Essentials that should be in your exterior pockets:
Water bottle
Snacks
ID, wallet, keys
Phone
Sunglasses
Sunscreen
Bug spray
Map
Headlamp or flashlight
Multi-tool or pocket knife
First-aid supplies
What About Strapping Gear to the Outside of My Pack?
Most hiking backpacks have a variety of straps, tie-downs, and loops on the outside. They work really well for odd-shaped or bulky items you just can't fit inside your pack.
Some things you should consider strapping to the outside of your pack:
Sleeping pad
Stuff sacks with your sleeping bag or clothes
Camp chair
Trekking poles
Tent poles
Rain jacket
Tools like an ice pick or shovel
*Important! – Make sure any gear or equipment you strap to the outside of your pack is securely fastened and not swinging around. The last thing you want is to try to step under a low branch only to have one of your trekking poles swing around and smack you in the face (I'm definitely not speaking from personal experience. LOL!)
Women's Hiking Journal + Motivational Tracker Photo REVIEW (you won't believe how it looks on the inside!)
So there you've got it! Don't forget the different packing zones. Remember…
Two things you should do if you think you might get wet.
Pack delicate items in waterproof bags. Make sure your phone, sleeping bag, and food are packed in such a way that if your bag does get a little wet, they'll be protected.
Make sure you have a rain cover. Some backpacks come with their own rain cover. If yours doesn't, get one like this ultralight rain cover to keep your pack fully protected. If you're on a super tight budget, bring along a heavy-duty trash bag or two that you can fit over your pack if it starts raining.
How do I hoist my backpack?
Now that you've got your pack loaded and ready to go, how do you get it from the ground to your back without falling over or throwing your hip out?
Grab the haul loop (not a shoulder strap since this could actually damage it) and lift your pack up to rest it on your thigh.
Then while still holding the haul loop, slip one of your arms through the shoulder strap while lifting it to your back.
Slip your other arm through the shoulder strap and connect the hip belt while staying slightly bent over.
Stand up straight and properly adjust all the straps on your pack.
Here's a quick video that shows how it's done.
Beginner Backpackers, It's Time to Start Packing!
So whether your first backpacking trip takes you to a state park around the corner from your home or out into the wild Rockies, you need to think about how you'll pack a backpack.
A poorly packed backpack will end up working against you. You're already living without running water, Netflix, and your favorite slippers, the last thing you need is to feel like you're hiking with a 40-lb Red Bull infused monkey on your back.
And remember… if you pack well, you might even be able to find room for a bottle of your favorite pinot noir!
*I'd love to hear about your backpacking trips. Send me a message on Facebook or Instagram and don't forget to check out my other backpacking articles!
Happy trails! If you're looking to research more, here are other helpful backpacking articles to get you started!
Stacy Bressler is an avid outdoorswoman, wife, and mother of three who lives in Jackson, Wyoming. She loves all things camping and enjoys sharing helpful tips, fun activities and laughable learning experiences she finds along the way! Navigating the outdoor life through the lens of humor and positivity, she chronicles it all on her website "The Crazy Outdoor Mama"
A guide to compression socks for hiking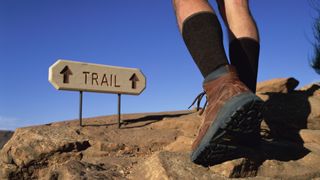 Compression socks for hiking are, in general terms, designed to gently squeeze legs a bit more than typical socks.
Compression socks have long been used in medical situations, where the main aim is to promote better blood circulation in the legs. Patients who show, or have the potential for, poor vein (venous) function are often advised to wear compression socks. Medical conditions that may require compression socks include, diabetes, deep vein thrombosis, varicose veins, leg ulcers, leg swelling and circulatory problems.
Another example of their more traditional use is when travelling on a plane and sitting for long periods. The aim, again, is to boost blood flow in vulnerable areas of the body where blood clots might occur.
In more recent times, compression products have become more commonplace in the athletics world, especially for runners and walkers. Most people will already be aware of tight fitting lycra and spandex shorts and leggings that are said to offer compression benefits for muscles – and compression socks are another addition to this wardrobe of products that are thought to aid performance.
For walkers, compression socks have become an increasingly common sight. They are usually knee-high and it's claimed that wearing compression socks for hiking offers better support for the lower legs, especially calf muscles, as well as boosting endurance and stamina while walking and reducing the potential for injuries.
But sure, you are probably thinking, don't the best hiking socks offer good support in the first place? In answer to this, yes they do to an extent but compression socks for hiking are are specifically designed to more snugly support your feet and lower leg, complementing the support of your best hiking boots and best hiking shoes. To do this effectively, many compression socks use an extra ingredient called spandex, a synthetic fabric that is prized for its elasticity.
Compression socks may also feature a graduated compression or they could have areas of more focused pressure, such as around the calves or the mid-foot. There is a sister product, compression sleeves, which are like a sock but without the foot.
Compression socks for hiking: the science of blood flow
Most people have a general idea that the heart pumps oxygen-rich blood to muscles and limbs through the arteries.
Once the cells have used up the oxygen and nutrients in the blood, the de-oxygenated blood and other waste products go into the veins, which are then channelled back into the heart.
After the de-oxygenated blood has made its way back to the heart, it is oxygenated again from the lungs. This process continues over and over.
When it comes to exercise, whether hiking or trail running, the more oxygen your cells receive, the better they will function.
It's claimed that compression socks help to circulate blood more efficiently through the legs, which means blood returns to the heart faster.
The faster the blood is flowing, the better your circulatory functions and the better this process is, the more oxygen gets to your cells.
How do compressions socks benefit hikers?
Compression socks usually have graduated compression, which means they are tighter lower down the leg and looser higher up, or just below the knee.
They are claimed to be designed to help legs battle the effects of gravity by pushing blood back up to the heart. The pressure created by the socks pushes fluid up the leg and therefore increases blood flow to the heart.
The benefit claims include enhanced oxygen delivery; decreased lactic acid; and prevention of cramping.
Who are compression socks for?
Anyone can choose to wear compression socks for hiking if they want to. There is, in short, no good reason not to. For people with varicose veins or those who are prone to tight calf muscles, there could be greater benefits.
Many walkers – and runners – who hike long distances swear by compression socks because they say they aid endurance by decreasing the stress and strain on muscles.
Other hikers will tell you that they recover quicker from a tough day of walking, especially long-distance (see: what is thru-hiking?) or on a route with lots of steep ascent, if they wear compression socks during and after their activity.
Another reason to wear compression socks could be if you suffer with swollen lower legs when walking. It is important to ensure you have taken on board adequate water during a hike in warm conditions because this is also a reason why swelling can occur, but compression socks can also be an aid.
Compression socks for hiking: is there any evidence of the benefits?
Studies show varying results as to whether or not compression socks can improve performance due to increased blood flow. One piece of research conducted on runners (opens in new tab) concluded that wearing compression clothing may slightly improve variables related to endurance performance due to improvements in running economy, biomechanical variables, perception and muscle temperature. It found, too, that there could be some benefit from reduced muscle pain, damage, and inflammation.
Likewise, another study (opens in new tab) found that compression clothing in general "may assist athletic performance and recovery".
Meanwhile, research on the effects on athletes of wearing "undersized lower body compression garments" (opens in new tab) , found that while they products offered some benefits thanks to to improvements in venous flow, this did not correspond to any improvement in endurance running performance.
Anecdotally, the evidence is a wide ranging, too, with some people reporting they never head out for a long run or walk without wearing their favourite compression socks for hiking, and others saying they found no benefits whatsoever. There is further anecdotal evidence that compression socks can help to reduce your potential for muscle cramping.
Perhaps the most interesting potential benefits of compression socks is after exercise. Studies that monitor the effects of compression socks on athletes during rest have had some positive outcomes.
The pressure of the socks and the increases in venous blood flow during recovery has been shown to reduce muscle soreness, or DOMS (Delayed On Set Muscle Soreness).
There is also some evidence that compression socks can help to speed up recovery by more quickly clearing blood lactate, but this also refers to wearing the socks after a workout.
How to choose compression socks
Compression socks for hikers and runners are usually rated for the level of compression so you should choose a design that suits your activity.
Sizing, especially around the calf, is important, too, and you will normally be given a choice of circumference when buying compressions socks.
The aim is for a neat-fitting sock but not one that feels over-tight or uncomfortable.
Note that compressions socks can feel tight when putting them on but then they should fit neatly and snugly.
It might be worth trying compression socks for hiking for different walking routes to see if they make a difference to your endurance, comfort and recovery process.
How to Attach Hiking Poles to Your Backpack
Lisa Maloney is an avid hiker and the author of outdoor recreation-oriented articles and several guidebooks, including her latest, "Day Hiking Southcentral Alaska" available in April 2019.
Stanislaw Pytel/Getty Images
Hiking poles come in handy for a lot of things, such as crossing rivers, probing mud depth, and moving wet brush out of the way. Some people swear by them for helping support and balance the weight of a heavy pack, and they're an invaluable aid if you happen to fall while snowshoeing. But those same poles become a burden when you're not using them.
If you're carrying old ski poles or any trekking pole that doesn't collapse down into a manageable bundle, you're pretty much stuck toting them around in your hands for the rest of the hike. But if your hiking poles are the collapsible kind that telescopes down to a manageable length you can stow them on or in your backpack, leaving your hands free for the rest of the hike.
Most backpacks have specific attachment points for holding trekking poles. See how to attach your hiking poles to your backpack the conventional way. Plus, explore a few alternative arrangements in case your pack doesn't have the right attachment points.
Secure the Handle
The odds are good that, somewhere on your backpack, you've got a trekking pole attachment point like this. Some, like the one you see here, are just a closed loop that you can loosen or cinch tight. Loosen the cinch all the way and poke your trekking pole's handle through it, pointing up toward the top of your pack.
A few packs have trekking pole attachments that open and close all the way, with a small hook holding them closed. If you have this sort of attachment just unhook the fastener to open it, lay the trekking pole in place (handle pointing toward the top of the pack) and close the fastener around your pole.
Stick the point of the trekking pole through the loop on the bottom corner of your pack. The pole's basket will keep it from falling through.
Press the pole's point toward the bottom of your pack to make sure it seats into that loop.
Tighten down the cinch point around the body of the pole to hold it in place, and you're good to go.
Attach your other pole to the pack, and you're ready to keep hiking hands-free.
But what if you don't have a hiking pole attachment point like this? Let's look at some alternative arrangements.
The Side Pocket Trick for Securing Hiking Poles
If your backpack doesn't have a cinch point and bottom loop for holding hiking poles in place, but it does have a side pocket and side compression straps, you're in luck. Just poke the handle ends of the poles down into the side pocket, then fasten the compression straps around the body of the poles and cinch them tight.
Securing Your Trekking Poles with Compression Straps Only
If your pack doesn't have side pockets but does have horizontal compression straps, you still have options for securing your hiking poles. These straps can be anywhere on the pack; they don't have to be on the sides. Sometimes packs have slots for you to add your own compression straps at different points, so look for those as well.
Loosen the straps, pass the poles through them (handles down, baskets pointing up) and tighten the straps around your poles. The poles' baskets will keep them from falling through.
This only works if your poles have baskets on them. In some cases, the poles never had baskets, or you took them off and didn't bring them with you on your hike.
If your pack doesn't have compression straps, look for patches which have two or more slots. Those are where you can add your own compression straps. In this case, you can buy compression straps to add to your pack or thread webbing, cordage, in other ties through the slots to use as straps to hold your poles.
The Top Carry
If your pack doesn't have a special trekking pole attachment point, side pockets or compression straps, there's still an easy, if somewhat awkward, solution. Just lay the poles across the top of your pack and cinch them in place.
This works about the same as the other options for a larger pack. Lay the poles across the top of the large compartment, close the top of the pack over them, and cinch it in place. It's not a perfect solution because now you've got a little crossbar (one end of which is pointy) laid across your back. But if you're hiking in open terrain, it's still a pleasant alternative to hand-carrying hiking poles when you don't need them.
If your pack doesn't have a top you can cinch down or at least straps across the top, your only other option is to stick the poles in the actual body of the pack, handles pointing down, points sticking out of the pack's top. Shift both poles all the way to one side, zip the pack closed from the opposite end, and try to remember not to poke your hiking buddy's eye out if you turn around quickly.
Source https://www.thecrazyoutdoormama.com/beginners-guide-to-packing-a-backpack-for-hiking-expert-tips-to-help-you-pack-like-a-pro/
Source https://www.advnture.com/features/a-guide-to-compression-socks-for-hiking
Source https://www.tripsavvy.com/attach-hiking-poles-to-backpack-1766236