9 Differences Between Hiking Boots and Hiking Shoes
Footwear is the name of such a thing that can largely tell how your hiking journey will be going. Shoes or boots, whatever you choose are hiking materials. So then, what is the difference between hiking boots and hiking shoes?
Those two are differentiated able if you think in different aspects. I will choose shoes in search of comfort and lightweight, and boots will be my priority whenever I need much protection. Like that, there are various angles from which you can easily decide what part you have to deal with.
Differences Between Hiking Boots and Hiking Shoes
The reason why you are here is to know the comparison between hiking shoes vs boots. So, without wasting the time on formality, let's enter into the core part.
Achilles pain, or others then definitely you have to confirm the extra support.
Hiking boots come with extra features to protect you from injuries. Their midsoles, toes, heels, etc are added smartly to serve your ankles much support. Long hike, or rocky situation, whether there is a chance to get an injury, a pair of boots will be the solution. Have previous leg injuries? Then deal with the hiking boots for plantar fasciitis.
In the shoes, there also exists protection and leg support. But here, the use of EVA midsoles indicates more attention to softness and lightness. That's why as a heavy hiker or expecting extra protection, you can't rely on shoes largely. So, like short hike equipment, it will be okay. But thinking about long-time hiking or hiking with ankle problems, it's better to skip the shoes.
Victor: Boots
4. Traction Level
On the trails or mountain conditions, traction is another thing you have to deal with carefully. Grip or traction whatever you say will offer you great stability and slipless walking.
Now, what does the manufacturer of the boots do to ensure it? Here, the deep and thick lugs are given to make a good connection between the surfaces. Furthermore, the rubber outsoles are offered a great grip while you will hike on a rocky or hard surface. So, the boots have an excellent design to provide a safer walk.
On another hand, shoes also come with grippy soles but they haven't such types of lugs to have super traction. So, whenever you want to find traction on hiking shoes, it will serve the poorest ones.
Victor: Boots
5. Temperature and Breathability
Which footwear will be perfect in which weather? Or are there any breathable facilities? Like those questions, you have to justify while purchasing a leg partner.
In most cases, the materials and design of boots have mainly come for cold weather. I mean in winter or less temperature it will provide you extra warmness. By the way, in search of breathability, it has limitations because of its waterproof design. But the situation is becoming improved day by day.
Now, shoes are the ideal item for summer or in hot weather. Because it has lighter and softer material. Even the breathable character exists here most. However, it is usable in winter too.
Victor: Shoes
6. Waterproof
Though the term waterproof is variable with the brands, still it is a good factor to compare mention two.
Usually, the use of leather and other components makes the boots waterproof. That quality protests entering any water into it. For that reason, your feet will be dry from wet, rain, or any snow conditions. In opposite, the water-resistant character can occur blister or sweat feet depending on the situation and build quality. Look at the example of a waterproof duck boot for hiking. It isn't a good choice for a hike.
Now, in shoes, maximum hasn't bear water resistance feature. So, that facility depends on the type and area of your hiking. Though it's not an essential one, being an extra benefit here boot wins our point.
Victor: Boots
7. Break-In Time
What does break-in time mean? Well, some footwear in new condition takes some time to stretch out or come in an ideal shape to use comfortably. The time between those conditions is known as breaking time.
As hiking boot is made with leather material, it requires some time to get soft for an easy and irritation-free trail experience. So, it takes a few days to do it. But on the shoes, there is no such matter of break-in time. You can use it instantly. Anyways, for boots, it is good to use one size bigger. Read the reasons and benefits why you should do it here.
Victor: Shoes
8. Comfort Zone
Comfortable, the word here isn't represented to declare one as comfort and the other as uncomfortable. It actually will indicate the difference between more and less.
Practically hiking shoes are more comfortable than boots. The soft material, lightweight, breathable and cute design, etc prove the shoes comfortable to wear. Moreover, those have good power to dry quickly and keep you peaceful and blister-free. Boots are also good but not at the level of the shoes.
Victor: Shoes
9. Price Range
And lastly, there is a little diversity in the price section. If you are a person of cost concern then it may be a big point for you.
So, hiking boot vs hiking shoe, which one costs more? According to our market research, shoes usually cost 70-150 dollars. But the 100 to 140 dollars range is okay to get a good shoe. On the other side, boots are also in this range, but there are also good boots that are so far from the shoes in price.
Victor: Shoes
Final Thought: Hiking Boots Vs Shoes
In the conclusion, what's your word to know the difference between hiking shoes and boots? Or, which side will be better for you?
Well, in the last step, I have two terms to tell.
If your hiking needs a light, comfortable, good breathability, no break-in one at a reasonable price in terrain, then shoes will be perfectly fitted to you.
Or, if you want durable, extra protection, traction, and warmer wear for hiking in rocky or mountain areas, then there is no option without boots.
That's all the facts and verdict between those two. So, choose your desired side and create your adventurous footprint on nature.
What's the Difference Between Hiking Boots and Hiking Shoes?
Don't stress about what footwear to bring on your next adventure. We've got you covered.
Daniel Modlin
Even just the word 'hiking' can be enough adventure for some. For others, like myself, getting outdoors is an obsessive hobby, filled with planning, reading material, and exacting the gear we use to do all of the activities we want to. Ask any of my friends: when we're not hiking, we're talking about hiking, and when we're talking about hiking, we're often talking about new and interesting gear, and what gear would be best for what great adventure.
If you're looking to replace your hiking footwear, or get a first pair, a common question to ask is whether or not you can opt for hiking shoes (AKA trail runners), or if you should stick with the traditional hiking boots. You don't have to do anything. There are people who hike the Appalachian Trail barefoot. But to help make your outdoor adventure as enjoyable as possible, we're taking a look at the differences between the two most popular footwear options to choose between if you're planning a hike so that you can make an informed decision that best fits your needs.
HIKING BOOTS
Hiking boots are designed with wide and thick soles and a higher rise, to give you the support you need. Whether that means carrying a pack that's heavier, or if you're of a body type that requires more support from your shoes, hiking boots will be there for you. For novices, they are a stable option to help find your footing on the rockiest terrain, and they are great for forging rivers, or if the mud is abundant where you're headed. Overall, hiking boots will provide you with stability and traction so you can just enjoy the sights. The downsides are they are kind of heavy.
The issue with hiking boots is, they're awfully heavy and maintain a large profile. This means if you're going on a short hike and then headed into town, you're going to be packing a big footprint. They also are more of a struggle to get on or off, which frustrates me when I'm hiking to go climbing, kayaking, or rafting.
While you can't go wrong with hiking boots, heed this advice: break them in before you hit the trail.
The Vasque LT GTX is my go-to pair of boots. Vasque makes quality boots, and these are lightweight so you still get many of the advantages of a hiking shoe. Also, since they're monotone, they are stylish enough to wear when you're in town. They are waterproofed all the way up to your ankles, come with a Vibram sole, and breathable so you can wear them no matter how long you're hiking.
Free Shipping | Free Returns
HIKING SHOES
If you're hiking in the summer, and the terrain isn't too extreme, I'd opt for hiking shoes. Hiking shoes have much more breathability than hiking boots, so your feet will stay drier. They also have a way shorter break-in period than hiking boots which means less blisters! The main advantage of hiking shoes is that they're lightweight. If you're moving quickly, taking them on or off, or don't want to feel bogged down by your shoes, it's definitely worth investing in a pair.
While they do have nice traction, the ankle support often just isn't there. If you're navigating rocky outcrops, make sure you're sure of your footing. They are also less durable in general than hiking boots, and you'll need to replace them more often.
HOKA ONE ONE Speedgoat 4 Gore-Tex
These include a more accommodating forefoot than most shoes, and come with an added midfoot support as well to keep your ankles as stable as possible. The ride is cushioned (Hoka is known for their cushioning) yet stable, and the Vibram sole will grip just about anything you need it to, even in the sloppiest of conditions.
Free Shipping | Free Returns
Scouted selects products independently and prices reflect what was available at the time of publish. Sign up for our newsletter for more recommendations and check out our coupon site for more deals. If you buy something from our posts, we may earn a small commission.
Hiking Shoes vs Hiking Boots: What's the Difference?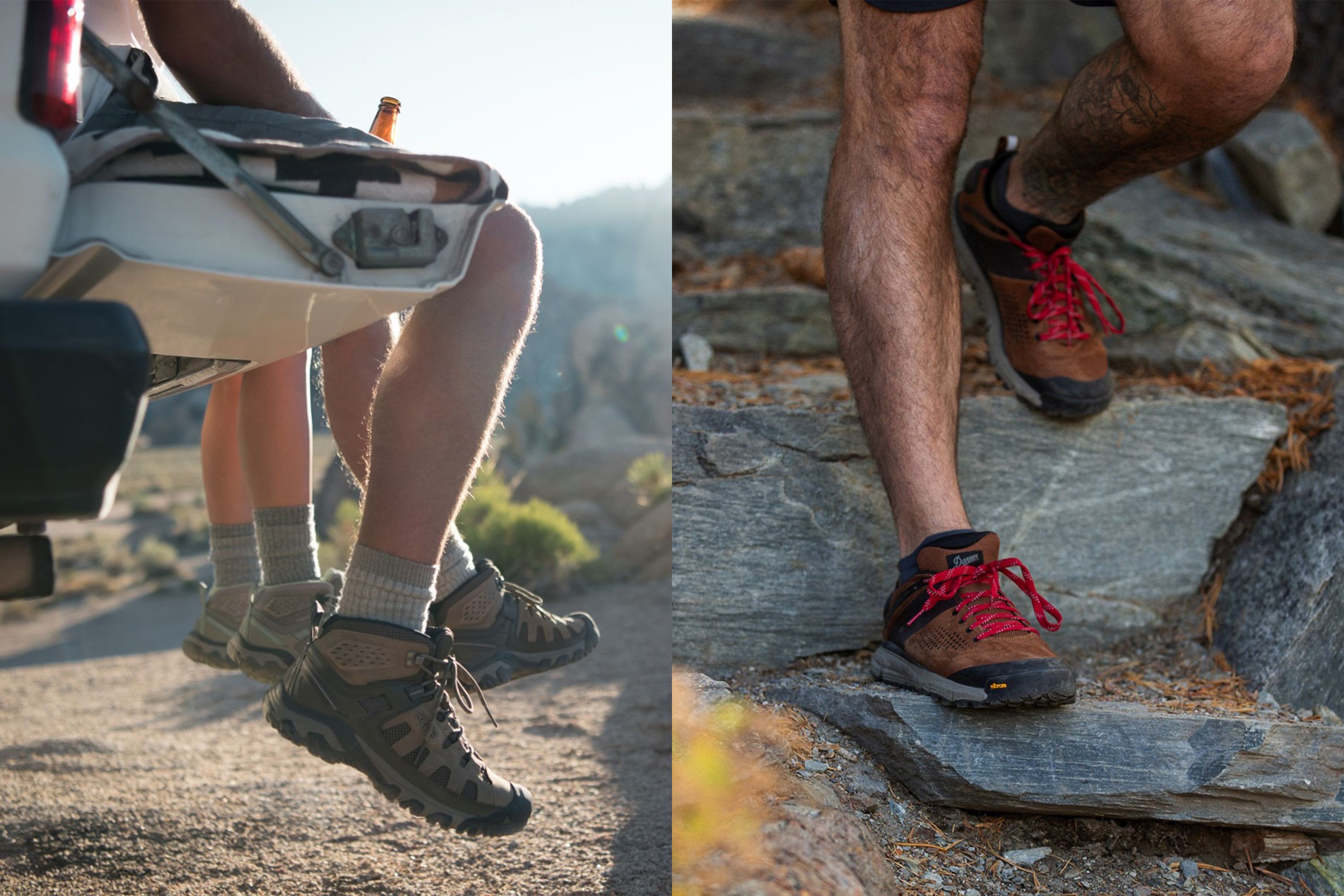 The foundation of any hiking kit is solid, dependable footwear — something with a grippy outsole, a breathable, abrasion-resistant upper and just enough cushioning to provide comfort while maintaining trail feel.
You've no doubt heard of hiking boots, but there are two popular types of footwear you'll commonly see on the trail: hiking boots and hiking shoes. And before you invest in a pair of either type, it's important to know which one will suit you best.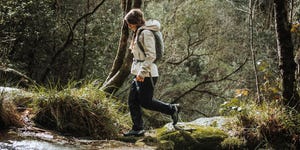 Hiking shoes are lightweight wonders.
The biggest advantage hiking shoes have over boots is their weight. By losing the mid-height of a traditional boot, you're shaving ounces off each pair, resulting in a decidedly lighter hiking experience. With a lower silhouette, you're also getting more breathability and freedom of movement, but at the cost of less protection for your ankles. So if you have sensitive ankles or have had injuries in the past, think twice before switching to a low-profile pair.
An additional benefit of opting for a hiking shoe is lighter travel — since they're less bulky, less heavy and still kitted out with the same waterproofing and durability as their full-sized counterparts, hiking shoes are easier to stuff into your favorite weekender, luggage or travel backpack.
Hiking boots provide more protection and comfort.
Hiking boots are full-sized footwear made with stability and support in mind. When you're backpacking, or you're just taking on black diamond terrain during a day hike, hiking boots are there to lend more ankle support and reinforced protection.
A good hiking boot will provide enough comfort and protection to keep you out on the trail for as long as you'd like, without weighing you down or causing discomfort. Common features in hiking boots are deep, grippy lugs (traction-giving bumps on the outsole), durable features like toe guards, abrasion-resistant materials and weather-proofing tech like Gore-Tex. Above all, the way to tell if a boot is good for hiking is how it feels: even if it's billed as the best boot to ever hit the trail, if it doesn't work with your foot shape, it's going to be no good.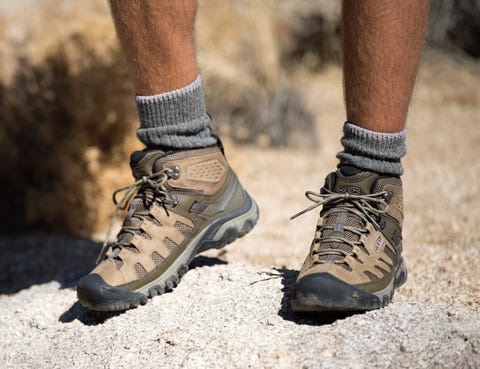 Are trail running shoes good for hiking?
Sure, you can get by just lacing up a pair of trail running shoes for a quick hike but there's a reason both trail running shoes and hiking shoes exist as separate categories: they serve different needs.
The most noticeable difference between hiking shoes and trail runners is the weight capability of the shoes. Hiking shoes are designed and constructed to be able to better hold up under a heavy load, like an overpacked hydration pack or daypack. Trail runners are typically made with lighter upper fabric, thinner rubber in the outsoles and more breathable materials, which make them more nimble on the trail, but also less able to stand up to the wear and tear that a hiking shoe can handle. Hiking shoes also typically have beefier lugs and are more sturdy and robust throughout the midsole and upper.
Which is for you? It's all about the ankles.
The best way to determine whether hiking shoes or boots are better for you is to try them both. But there are some rules of thumb to set you on the right path.
If you've got sensitive ankles or balance issues, go for a boot. If you're speedy and inclined toward lightweight gear, slip on some hiking shoes.
Here are a few of our favorite hiking boots and shoes to consider. Check out the full hiking boot and hiking shoe buying guides, for more advice on picking out the perfect pair.
Source https://www.travelersdoor.com/difference-between-hiking-boots-and-hiking-shoes/
Source https://www.thedailybeast.com/whats-the-difference-between-hiking-boots-and-hiking-shoes
Source https://www.gearpatrol.com/outdoors/a41441889/hiking-shoes-vs-boots-explained/