Best Hiking Sunglasses for Backpacking Adventures
Have you ever hiked through treacherous climates and rough terrain without a reliable pair of hiking sunglasses? Have you ever dealt with glare and snow or uncomfortable sunglasses that fall off your face?
It's not fun to hike without sunglasses for protection from the blinding snow; nor is it fun to constantly adjust your perpetually sliding sunglasses.
Point blank, a reliable pair of hiking sunglasses will give you the extra comfort and reliability needed in the backcountry.
In this guide, we'll review the best hiking sunglasses for every type of adventure, and answer riveting questions like, what sets hiking sunglasses apart from normal sunglasses? When should you buy polarizing sunglasses? What is the latest technology for sunglasses, and why is it important?
From frame materials, lenses, polarized colors, style, and budget, we'll help you ask the right questions when it comes to protecting your eyes.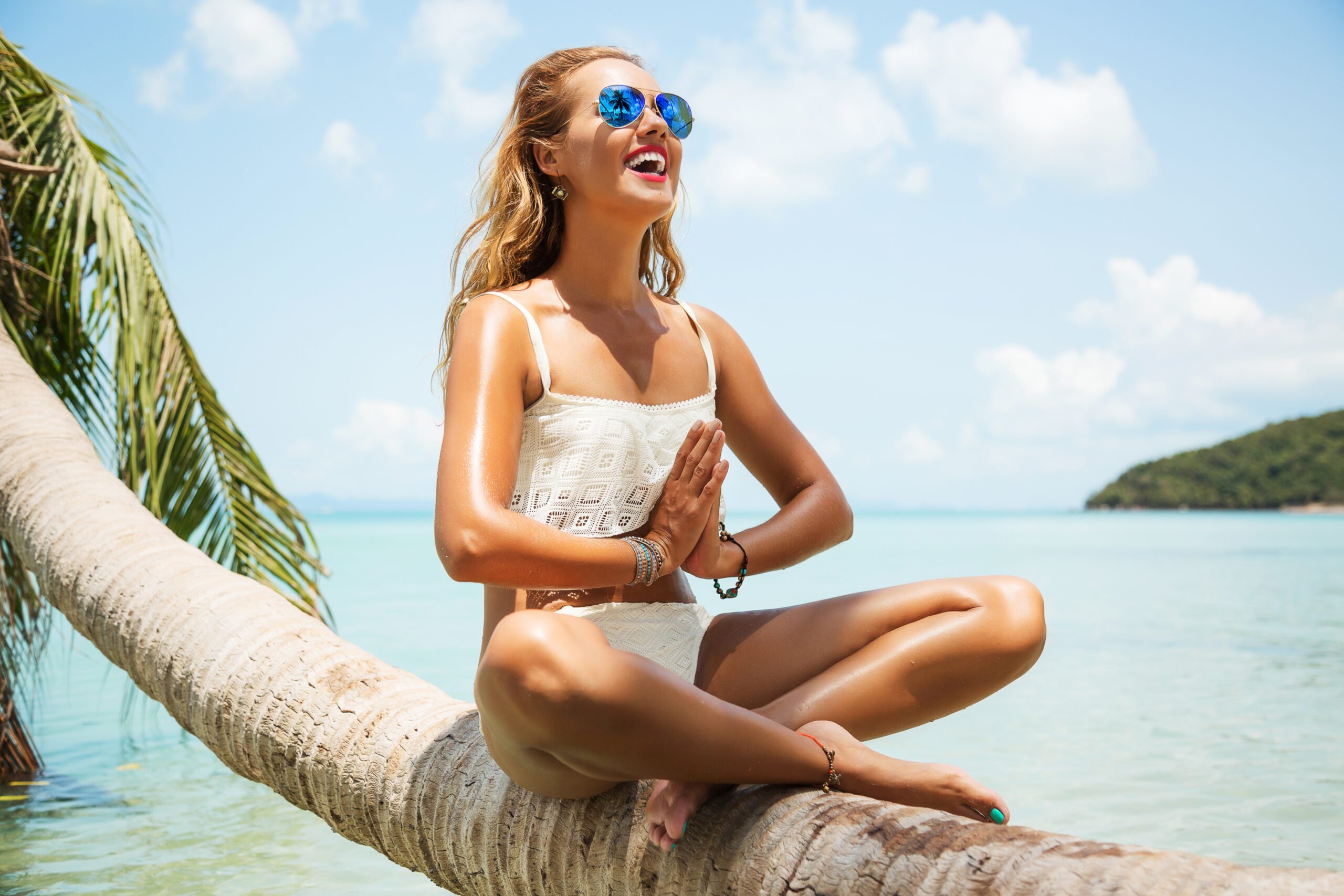 Hiking sunglasses protect your eyes from the sun!
While sunglasses may be a hiking gear afterthought, choosing the right pair of sunglasses will be the difference between a comfortable hiking experience and potential snow blindness.
Your eyes are one of the most fragile parts of your body, and I think we can all agree that it is important to protect them.
Sometimes hefty prices can deter us from investing in reliable hiking sunglasses, but in the end, it's worth it; though don't worry, my list will include affordable hiking sunglasses, so you don't have to spend an arm and a leg to protect your eyes.
Below I will cover our picks for the 10 best hiking sunglasses and why they stand out from the rest. The first section will explain the difference between lens and frame materials, which glasses are best for specific activities, and what you should look for when purchasing sunglasses.
Quick Answer for Best Hiking Sunglasses:
Best Valued Hiking Sunglasses – Abaco Polarized
Most Durable Hiking Sunglasses – Oakley Flak 2.0
Best Backpacking Sunglasses – Lucas by WearMe Pro
Most Stylish Hiking Sunglasses – Maui Jim Haleakala
Most Innovative Hiking Sunglasses –Ombraz Armless
Best Mountaineering Sunglasses – Julbo Explorer 2.0
Best Hiking Sunglasses for Women – Maui Jim Starfish
Best Luxury Hiking Sunglasses – Bold Square by Just Human
Our Favorite Hiking Sunglasses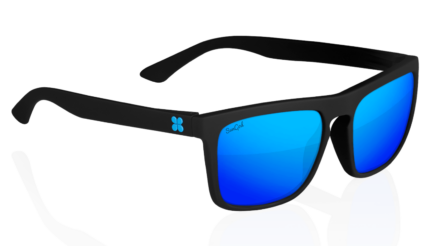 Abaco Polarized Hiking Sunglasses
How to Choose the Perfect Hiking Sunglasses
Before we dive into the technical considerations for choosing a pair of hiking sunglasses, take a second to consider what type of hiking you do most often.
Are you purchasing sunglasses for day hikes or trail runs? Do you need sunglasses for the snow, in which case protection against glare is critical?
Do you prioritize style? Budget? Do you need an "all around" pair of hiking sunglasses, or something more specific for running or biking?
These are the types of questions you should ask yourself before you go out and buy a pair of hiking sunglasses.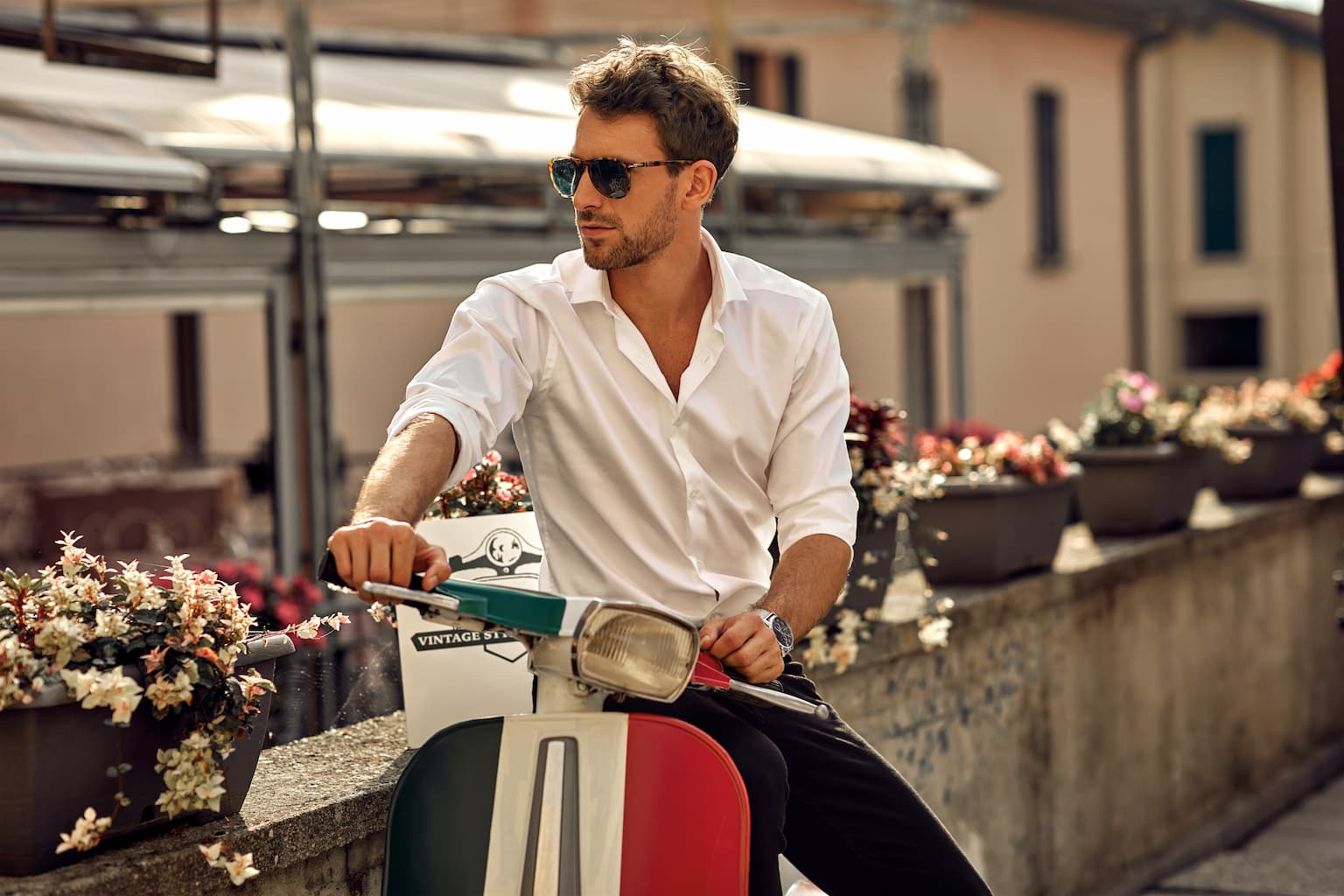 Protect yourself from the sun whatever the occasion.
Hiking Sunglasses Lenses: What to look for
Before we get to the frame, let's talk about lenses. Among all of the different options, lenses are the most important part of your sunglasses since they are the piece that reflects light, UV rays, and blue light.
There are a few different types of lenses to consider, and I'll discuss the difference below.
Lens Types:
VLT (Visible Light Transmission) – This is the most basic type of lens, and basically means it will reduce the amount of light transmitted to your eyes. Sunglasses with a high VLT are not common, as they are mostly for overcast conditions. Sunglasses with a low VLT are useful in bright conditions since they block out most of the light getting through the lens.
UV Protection: You want to buy a pair of sunglasses with UV protection. There are three types of UV lights: UVA, UVB, and UVC. While there is no need to worry about UVC, it is UVB that is associated with skin cancer risk. UVA is still under debate, but you are better safe than sorry.
Polarized or Not?
You may be wondering what are polarized sunglasses? While not a must-have for everyday activities, I personally can never go back to non-polarized sunglasses. Polarized lenses are designed to filter out reflected light and reduce glare. By doing so, colors become richer and depth of vision is improved.
Basically, polarized lenses make your surroundings look better. With polarized sunglasses, you can look down at the water and see what is below the surface, rather than a glaring white from the sun. You can also look out into the sunset and see what's on the horizon.
Furthermore, polarized lenses are crucial if you are spending time in the snow, or hiking near large bodies of water since light becomes "polarized" when it reflects off a surface like water or snow.
Polarized Lens Color mostly comes down to a matter of preference, though I personally like grey or brown. Grey is the most neutral color, so things appear mostly real. Brown give your surroundings a crisp, vintage look.
Others may prefer blue or green or pink. Ultimately, the color is mostly a matter of opinion, though certain colors will let more or less light in, and may not be the best choice for overcast or darker conditions.
Style matters too!
Lens Material:
Most lenses are made from materials like polycarbonate, polyurethane, and plastic.
Polyurethane is a synthetic material that fuses the best qualities of glass and polycarbonate. While the most expensive, this option is the most durable and lightest weight lens material.
Polycarbonate is a plastic with very high-quality optics and a strong, impact-resistant structure, making this lens material a great choice for hiking too. That said, it can be easily scratched if it doesn't come with an anti-scratch coating, so take care of polycarbonate lenses.
For the most part, the hiking sunglasses below are made from polycarbonate material since it is high-quality, but not as expensive as polyurethane.
A regular plastic lens is the most cost-effective, but scratches easily and therefore is the least durable choice.
When you are choosing between hiking sunglasses, check what type of material the lenses are made of and if that material is coated with anti-glare, anti-scratch resistance or water repellent material.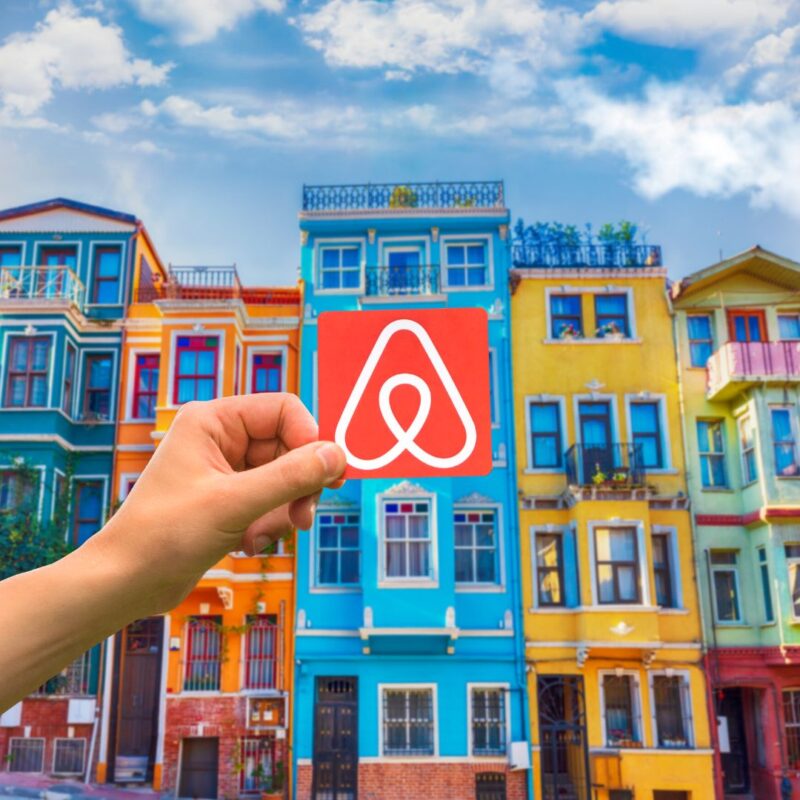 Why stay in a naff hotel when you can stay in a cosy, stylish local house instead? And for half the money too!
Stay somewhere EPIC and save your hard-earned dollars — from houses to barns to castles and caves, there is an Airbnb for every occasion!
Hiking Sunglasses Frames: What to look for
When it comes to sunglass frames, there are a few different materials to choose from that will affect the weight, comfort, and usage.
The most durable and flexible frame materials include nylon and nylon/plastic combinations. Solely plastic frames are not suited for tough conditions where you might drop and break your sunglasses far from civilization. Then you're stranded without sunglasses for the remainder of your hike.
Aluminum and titanium get hot in the sun, so they are also not good options for hiking sunglasses. Basically, look for something with nylon.
Hiking Sunglass Frame Comfort and Design
The type of activity you plan to engage in will determine the best design for you. Since this guide focuses on sunglasses for hiking, I'll start here.
You want a pair of sunglasses that are comfortable, functional, and work well. Firstly, consider the nose-piece and arms of the frame. Does the nose-piece slide-off? What about when you are sweating?
Are the arms too tight? Do they become uncomfortable after a couple hours? You will be wearing sunglasses for hours on end if you are hiking, so comfort is really important.
If you are purchasing sunglasses online, check that the company offers a warranty or return policy. You should try them on for a long period of time to judge the sunglasses' comfort, and if they end up not fitting properly you'll want to return them.
Next, consider what conditions you plan to hike in. If you need protection from wind and rain then a wrap-around design is an excellent choice, though this might be overkill for most hikers.
If you plan to engage in a lot of movement, like trail running, mountaineering, and rock climbing, then consider sunglasses that will not slip during these activities. There are mountaineering specific sunglasses if this is your primary activity.
Ultimately, you want your sunglasses to be one with your face. You want them to be so comfortable, you barely notice they are there until you take them off.
Should you get prescription sunglasses?
This is something I've been personally debating for some time. One one hand, I wear my prescription (regular) glasses pretty often, so that means I need to switch to contacts when I wear non-prescription sunglasses.
Having a pair of prescription sunglasses would definitely be convenient, but it would also mean I need a second pair for when I am wearing contacts…
Ultimately, this is a matter of preference, but if you wear contacts you'll want to have two pairs of sunglasses.
10 Best Hiking Sunglasses
Alright, now we get to the good stuff. Below I have discussed and reviewed the best hiking sunglasses depending on style, material, activity, and of course, price.
There are a lot of great options out there that cost a lot of money, so I will list hiking sunglasses under $100 too.
Do You Want to Travel FOREVER??
Pop your email in below to get a FREE copy of 'How to Travel the World on $10 a Day!'.
7 Great Tips for Choosing the Best Sunglasses for Hiking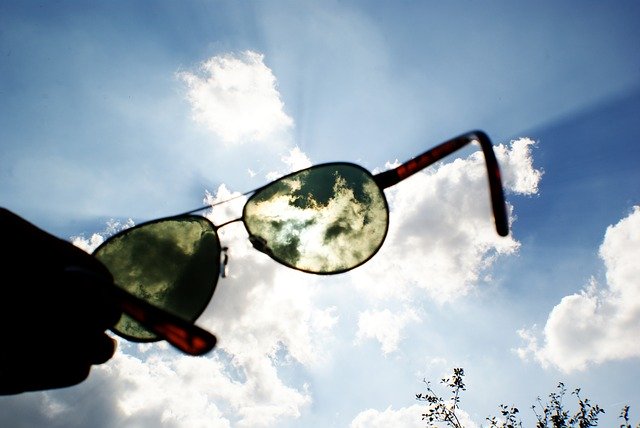 When it comes to hiking we all know that we need a good pair of boots, a high-quality sunscreen and a backpack that holds all of the essentials.
However we often neglect one of the most important things we need when hiking.
Yes whether it's a day trip or a multi-day trip, you also need a great pair of sunglasses.
Filtering out the harmful UV Rays whilst you're outdoors is key to protecting your eyes and ensuring they stay healthy. With only one pair of eyes, we need to invest in protecting them for life.
Choosing the best sunglasses for hiking is therefore a must, so here's 7 great tips to help you find the perfect pair.
Related Posts
This page contains affiliate links meaning Big World Small Pockets may receive a small commission on any purchases at no extra cost to you.
#1 Select Lightweight Frames
The best sunglasses for hiking will be lightweight, which means choosing a pair with a plastic frame is one of the best options.
There's nothing worse than having something heavy on your face when you're hot and exerting a lot of energy anyway, so a lightweight frame is particularly useful when being active.
#2 Ensure Durability
Plastic frames will also be able to handle a little wear and tear as well.
This is especially crucial if you are embarking on a long or difficult hike where you have a greater risk of damaging your sunglasses.
Being left to squint into the sun is probably one of the worst things that can happen to you when you're in the great outdoors, so make sure you pick a pair of sunglasses that are going to withstand your level of activity.
#3 Comfort is Key
Plastic frames are also known for being more comfortable. This is, of course, crucial when trying to find the best pair of sunglasses for hiking.
There is nothing worse than being distracted by something else when you are trying to enjoy your hike, and if your feet are likely to get sore, you don't want your glasses irritating your face as well!
#4 Choose Polarized Lenses
Another great tip when it comes to choosing the best sunglasses for hiking is to buy some with polarized lenses, which will protect your eyes from the glare off rocks, snow, sand and water.
The harshness of the sun's glare can make your eyes feel strained and give you a headache, so it's a good idea to get polarized lenses to make sure that your whole experience is that bit more enjoyable!
The Salice CSpeed Polarised sunglasses are one of the best sunglasses for hiking, with lenses that are scratch resistant, water repellant and dust repellant.
#5 Pay Attention to UV Ratings
It's also important to pay attention to the UV and UVB rating of your hiking sunglasses.
Lenses are rated from 0-4, with the recommended rating to choose being 3-4; these block the most UV rays and give your eyes the most protection.
I've included a full breakdown of UV ratings at the bottom of the article, because I know it can difficult to judge what will work best for you and your lifestyle.
#6 Go for Scratch Resistant
Having lenses that are scratch-resistant is essential if you want your hiking sunglasses to survive a few hard knocks.
The Julbo RACE 2.0 polarized have great UV protection. They
They are also impact-resistant, making them great if you want high-quality protection. These guys will definitely last you more than
These guys will definitely last you more than one weekend hiking trip so they are a good buy long term too!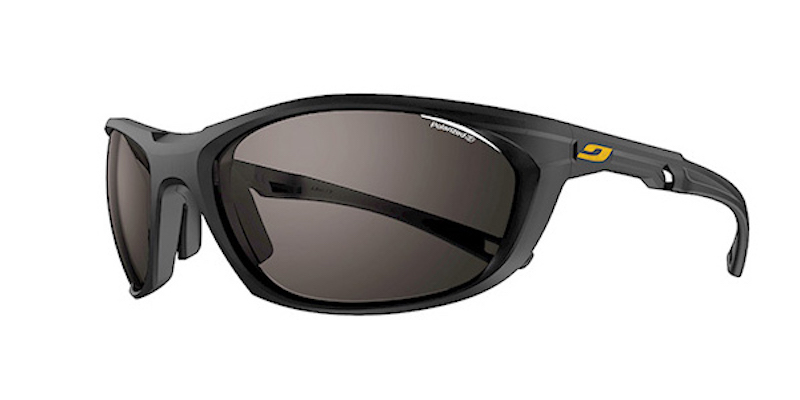 #7 Feel the Curve
When choosing the best sunglasses for hiking, it's also important to pay attention to the shape of your face.
The perfect frame shape for your sunglasses are ones that curve slightly to your face, as this will be more comfortable and offer you added protection from the sides.
It is also worth mentioning that choosing a pair of sunglasses that have a wraparound frame will also increase the sun protection from the sides, your comfort and their ability to stay on whilst you explore new hiking trails.
The Oakley OO9011 FLAK JACKET XLJ tick all the boxes when it comes to the best sunglasses for hiking and also have high-grade polycarbonate lenses which are both lightweight and durable.
So to sum it up…
7 Tips for Picking the Best Sunglasses for Hiking:
Lightweight // Look for acetate or plastic frames that will be lightweight and durable
Durable // Plastic and acetate frames will also handle being dropped a bit better!
Comfortable // Choose frames that fit your face lightly comfortably – you are going to be wearing them a lot
Polarized Lenses // These are a great investment for hiking sunglasses as they reduce harsh glares and protect your eyes long term
UV Protection // Look for sunnies which have a high UV protection rating and block both UV and UVB rays. Lenses are rated from 0 – 4, it's recommended that you choose lenses with a rating of 3 or 4 as they provide the best protection
Scratch Resistant // It's a good idea to pick sunglasses that have scratch resistant coating as they'll survive the general wear and tear of hiking better
Curve // Try and pick a pair of sunnies where the frame curves slightly – wraparound sunglasses are the best for active pursuits
Guide to UV Ratings
Lens Category 0
These lenses let in 80-100% of UV light, thus they are not a practical solution for protecting your eyes. They are generally fashion lenses, suitable for cloudy and overcast days with little sunshine.
Lens Category 1
Let in around 43-80% of UV light and are also likely to be fashion lenses, rather than practical sunglasses for active wear. Cloudy or overcast days with low sun exposure are the best place to wear these lenses.
Lens Category 2
Let in around 18-43% of UV light and are suitable for days that are partially cloudy, with not too much sun exposure.
Lens Category 3
These lenses let in 8-18% of UV light and are your ideal choice for protection against strong sunlight. Making them great for day to day use, driving, hiking and bright, sunny days.
Lens Category 4
Let in 3-8% of UV light and are the darkest lenses available, they offer the highest amount of UV protection but are not perfect for everyday use. They should only be used in extremely sunny conditions, for example, at high altitudes or at sea, they are not meant for use whilst driving.
PIN IT TO PINTEREST!
So those are my 7 great tips to help you choose the best sunglasses for hiking.
Are Mountaineering Sunglasses Really Necessary?
Sometimes it can be difficult for others to understand the limits that mountaineers will climb to in order to scale that next summit. Too often, mountaineers feel they have to justify the huge investments in time and resources for a peek at the next peak that piques their interest. But when it comes to the gear that you depend on when ascending the steep face of a mountainside, it does not pay to cut corners.
Mountaineering sunglasses are good for blocking out sunlight and provide a larger field of view, while protecting the eyes from dust and pebbles or UV rays. They can also have additional side shields for further protection or sweat guards to avoid sweat dripping into the eyes of the mountaineer.
Mountaineers need equipment that can handle the most demanding of conditions, and usually at a more demanding cost. You simply can't use rope bought from the nearest hardware store to rappel up a cliff face, nor can you use your biking helmet for a climbing one. In a way, everything a mountaineer depends on is specialized for the task of mountain climbing; after all, there are not a lot of uses in the city for crampons.
In the case of sunglasses, some believe that standard sunglasses, especially the expensive versions, should stand in fairly well on assents. While understandable, there are differences between the two that helps mountaineering sunglasses rise above their cousins in terms of usefulness when reaching the top. If you're debating whether or not a set of sunglasses designed for mountaineering is worth it, feast your eyes on these features that you'll want to have from your next set of eyewear.
Making Light of It
Mountaineers face a storm of sunlight coming from every direction as light is thrown at you not just from above, but reflected off the mountainside and almost every other surface. And if you're climbing in a location with snow, it can even lead to possible snow blindness. So mountaineering sunglasses will come with lenses that are much darker than regular sunglasses to compensate for the additional brilliance.
The more advanced sunglasses offer Camel Lenses which change their darkness levels, so they aren't too dark to wear on an overcast day, nor are they too light for a day in full sunlight. These are also good to have near dawn or at sunset when the sunlight changes. Darkness levels typically change within the +2 to +4 range, making the lenses perfect for most climbing conditions.
You can also have removable side shields near the stems of your sunglasses, giving you that much more protection from the sunlight. There are also optional sweat guards near your forehead, which not only blocks light, but sweat from dripping into your eyes as well.
Lens with Benefits
On regular sunglasses, the lens sizes can vary enormously depending on the style they are. For mountaineers, their lenses will be much wider to give their eyes a much larger field of view and protection from dust and loose pebbles coming from the mountainside. One trait that both versions of sunglasses share is having 100% UV protection, which becomes very important when the atmosphere gets thinner at higher altitudes, letting in a higher percentage of UV rays.
The lenses in mountaineering sunglasses are usually shatter and scratchproof and otherwise are more durable than their regular sunglasses counterparts, a feature you'll appreciate if you find yourself hugging the rock face during a typically strenuous climb.
Having a Fit
Perhaps more than the fashion first nature of regular sunglasses, mountaineering sunglasses focus on the fit of the frame, with flexible frames and stems designed to be a more comfortable fit, as mountaineers will have other things on their hands other than adjusting the poor fit of rigid sunglasses. Some models also have adjustable temples and nosepieces for a more personalized, comfortable fit.
As mountaineers spend a lot of time with their sights held high, the weight of their sunglasses doesn't rest just on the bridge of their noses, but around the eyes as well, distributing the weight evenly and without digging into the skin. Climbing a mountain will probably make you ache in a few places, but your face shouldn't be one of them.
Material Evidence
Mountaineering sunglasses also tend to be made from lighter composite materials, not only to be more durable, but to be lighter in weight. Regular sunglasses usually don't utilize carbon or titanium in an effort to be tougher and lighter, but it's something that mountaineers appreciate as they'll be sporting their eyewear for the duration of their climb.
And seeing as most climbers have smacked their sunglasses into rock at least once in their tenure (that they'll admit to); it's a good idea to have a pair that are well made and suited to the purpose of mountaineering.
Dropping the Subject
Mountaineering sunglasses have places to easily attach lanyards in case they're ever dropped. If regular sunglasses get dropped, you just have to kneel down to collect them. However, if a mountaineer drops their sunglasses, unless it's at camp, it's probably not so easy to get them back again. Having that added attachment offers a bit of peace of mind.
Some frames even have a strap that fit around the back of the head, akin to swimming goggles, to prevent dropping and slipping while climbing. While this sounds extreme, losing your sunglasses is more than a minor nuisance when climbing, possibly slowing down or even ending a climb.
The Eyes Have It
So in the end, mountaineering sunglasses do offer some features that keep mountaineers on the top of their game. Nothing against regular sunglasses, mind you. They certainly have their place, but we don't think it's on the side of a mountain. In a sport such as mountaineering where it's a matter of personal safety, only mountaineering sunglasses are designed to be looking out for you.
Companies such as Jublo, Adidas, and Rudy Project have put in extensive research into creating the best sunglasses for those who are determined to climb their way to the apex of their next conquest. You'll be seeing many beautiful sights on your treks up and down the mountainside and safety, including your vision, should be your first priority. So see to it that you pack a pair of mountaineering sunglasses along with your helmet and harness. Your eyesight will thank you.
Source https://www.thebrokebackpacker.com/best-hiking-sunglasses/
Source https://www.bigworldsmallpockets.com/best-sunglasses-for-hiking/
Source https://www.hikingsavvy.com/mountaineering-sunglasses/