5 Things to do at Watkins Glen State Park For First Timers
One of the most beautiful nature places you'll find in all of New York State is Watkins Glen State Park and if you're planning to go there for the first time, let me share what you need to know beforehand and what else you can see around the area (Finger Lakes).
5 quick bits of info about Watkins Glen State Park (before you go):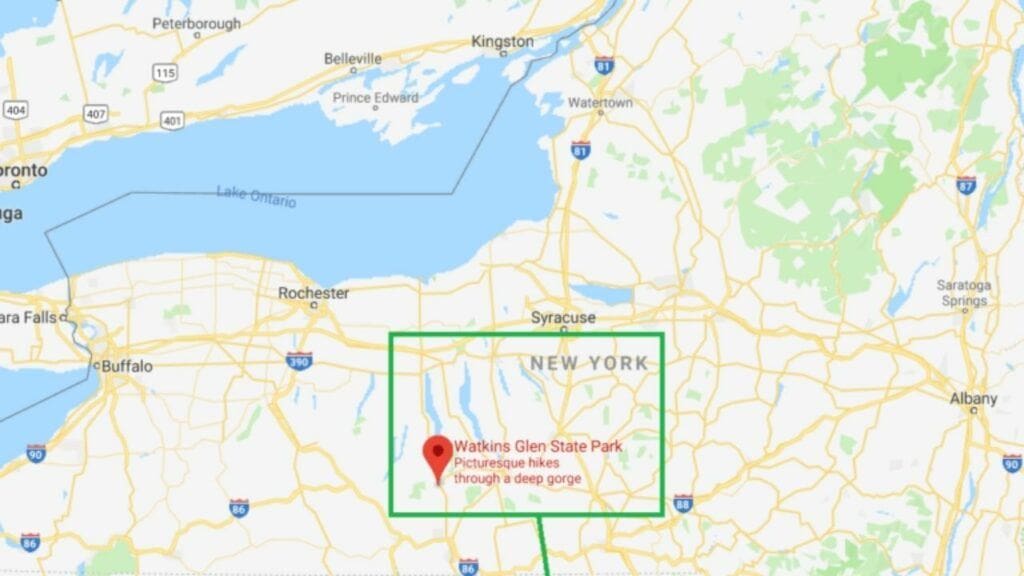 How long does it take to walk through Watkins Glen?
About 1-2 hours is enough to cover the entire gorge trail at Watkins Glen State Park in my experience.
How much does it cost to get into Watkins Glen State Park?
There are 2 entrances to Watkins Glen. One is paid and costs $15 per car to enter and the other, by Seneca Lake is about $5 per car.
Is Watkins Glen a difficult hike?
No, the hike at Watkins Glen State Park is easy but there are many areas where walking upstairs is necessary.
How long is the trail at Watkins Glen State Park?
The main trail at Watkins Glen, known as the gorge trail is only 1-2 miles one way.
Do you need hiking boots for Watkins Glen State Park?
No regular shoes are fine for Watkins Glen, but wearing hiking shoes and even waterproof socks would help in areas where it's wet or muddy.
My accidental visit to Watkins Glen State Park explained: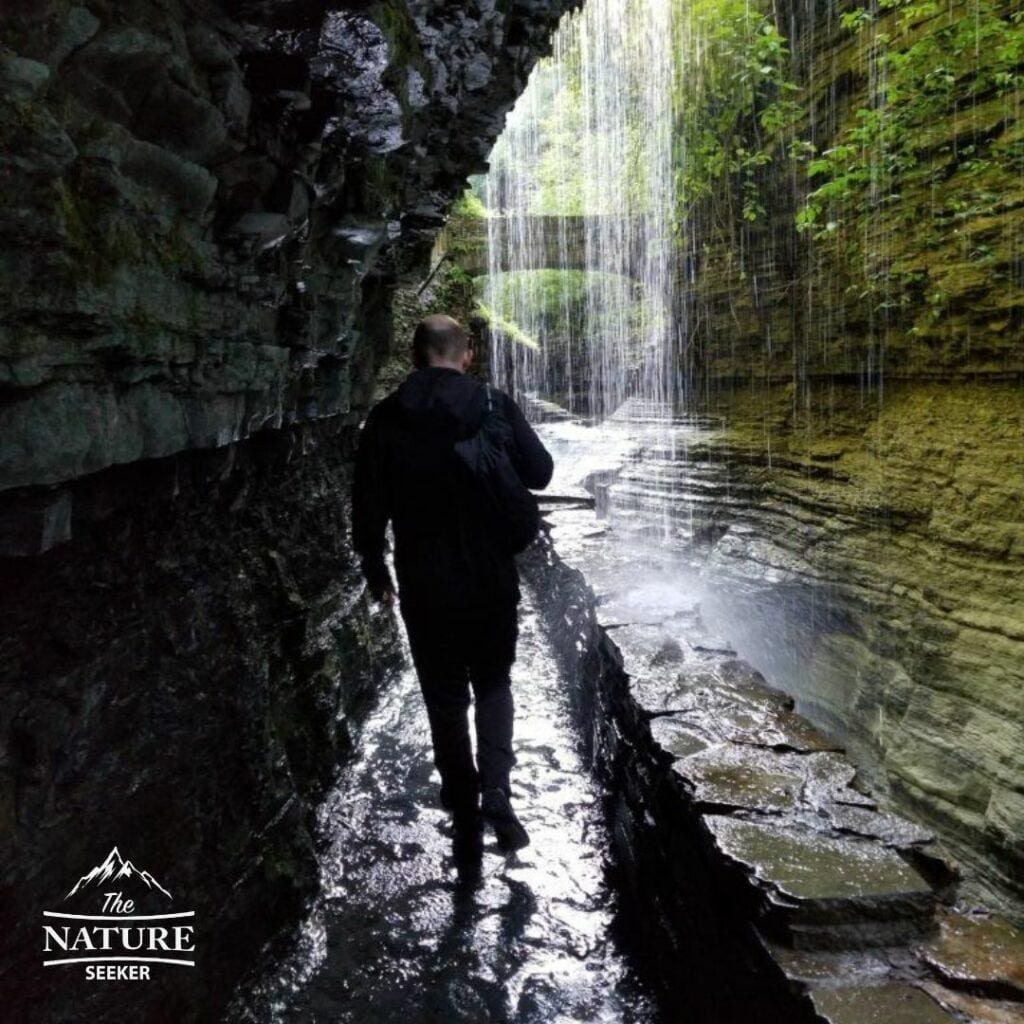 I never had any plans to visit Watkins Glen. But it accidentally happened while I was finishing up one of my favorite road trips through the Appalachian Mountains .
On that trip, we began all the way down in Georgia State and worked our way up to New York State, seeing the most amazing sights we could along the way, including:
The Blue Ridge Mountains .
Great Smokey Mountain National Park.
Daniel Boone National Forest .
Seneca Rocks.
And this was all before we reached Finger Lakes in NY and when we finally got to the State, the option to visit Finger Lakes came up, and being that none of us have ever been there, and I'd heard so much about it, we decided to plot it in the GPS and go!
And while we were traveling to our first destination, I noticed a gigantic gorge with a lot of cars parked next to it.
And if you know read my article on how I find hikes near me , this was an instant indicator that something popular was there. I looked at the GPS and saw that we had just passed Watkins Glen State Park!
And years prior to being here, I'd seen photo after photo of this place, but without ever researching where it was. Yet we got lucky and literally passed right by it. We decided to visit the other spots we planned on first, and then on the way back check out Watkins Glen! And this is where I bring you to:
The 5 things to do at (or around) Watkins Glen State Park: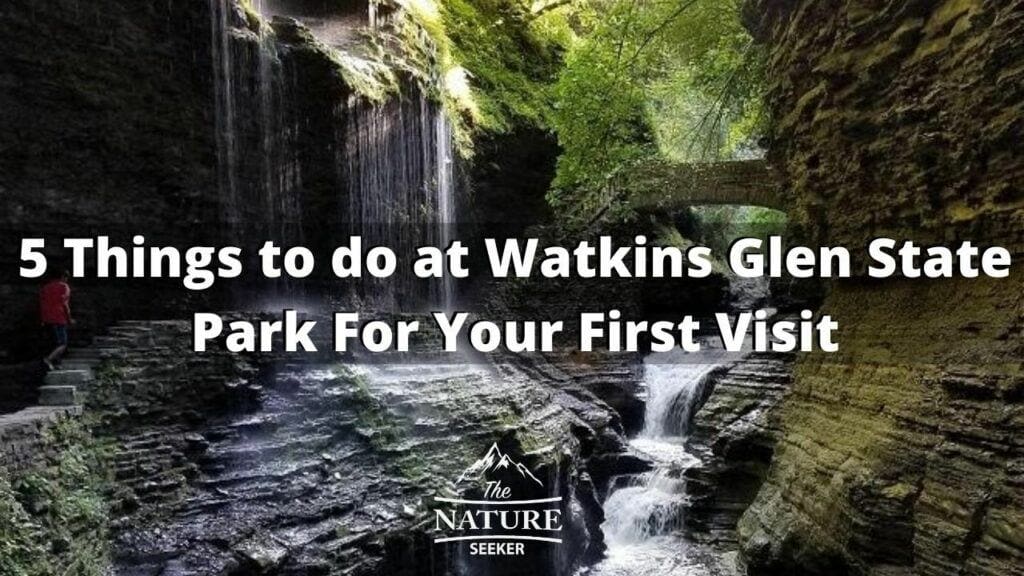 1) 100% start with the main Watkins Glen gorge hiking trail.
No picture, however good can match the beauty you'll see in this park until you enter it yourself.
Try to visit it early or towards an off season time (September and up) because you'll have less people there. The main trail is easy, extremely scenic to hike and unforgettable.
One of the most unforgettable spots in this park is Rainbow Falls (right):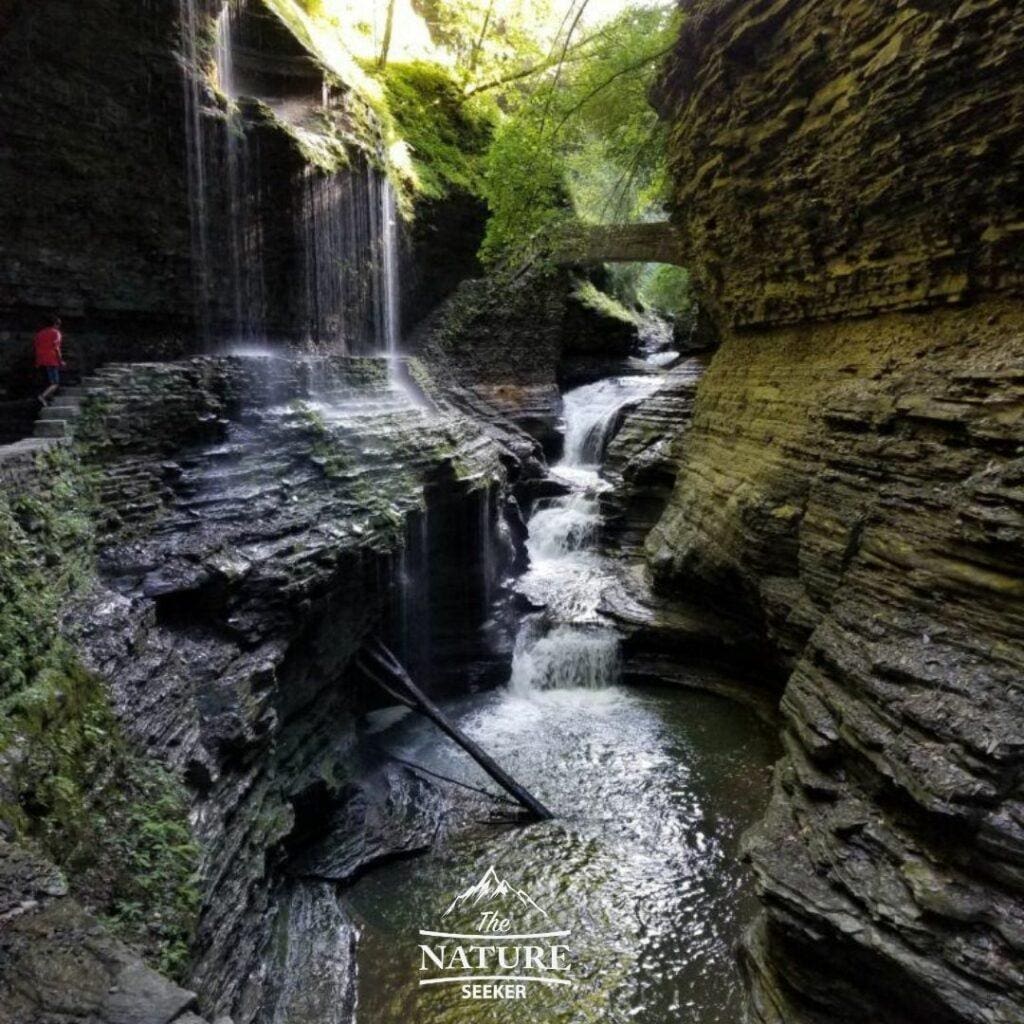 2) Check out the town near Watkins Glen which is Schuyler County.
It's small, but very pretty, has many restaurants and places to tour and enjoy the scenery.
3) Drive around Seneca Lake (west to east or east to west).
I recommend you save this as the last drive because this lake is HUGE and you'll likely take about 1-2 hours to go all the way around it. It's even bigger than Lake George (Another popular area in New York, just east of Finger Lakes).
And don't forget that Finger Lakes as a region is 5 lakes next to each other (hence the finger name). Many of these lakes have some of the most beautiful waterfalls in all of New York State .
But if you are visiting Watkins Glen and are in the region, I recommend checking out the following waterfalls in Finger lakes (there's many options).
4) Be sure to check out Hector Falls near Watkins Glen:
It's about a 15 minute drive from the State Park, and is located east of Seneca Lake.
It's a waterfall you may even miss because it's right off the road, but it's huge and there's a hike down to it off the road that you can take (and I recommend you do).
5) Be sure to see the famous Taughannock Falls (the tallest in the region).
There's a large park in Finger Lakes with many trails, waterfalls, campground and so on, but this particular spot is one of the most popular for people to see.
Here is a picture of both Hector Falls and Taughannock Falls: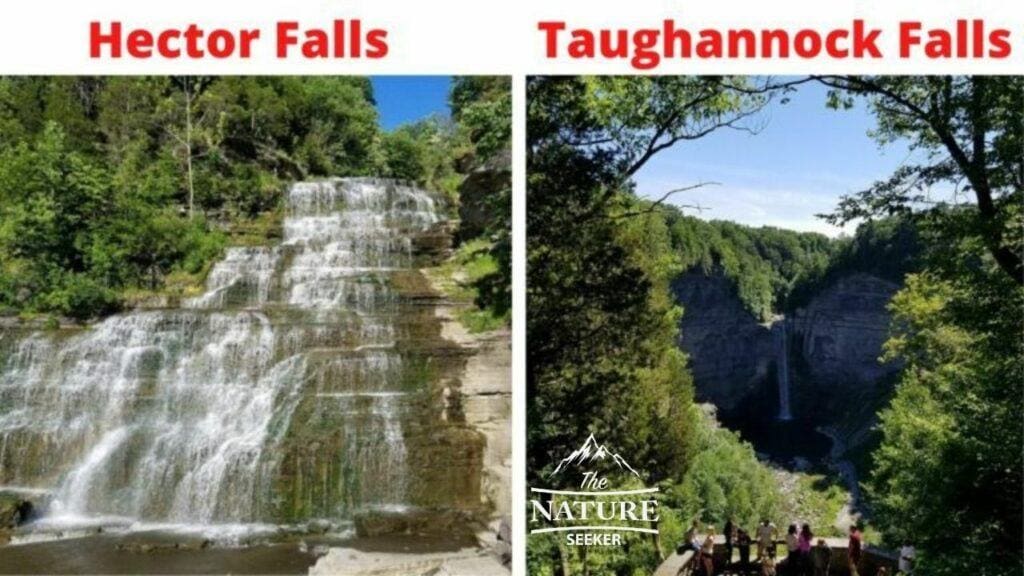 How to plan your trip to Watkins Glen Park efficiently: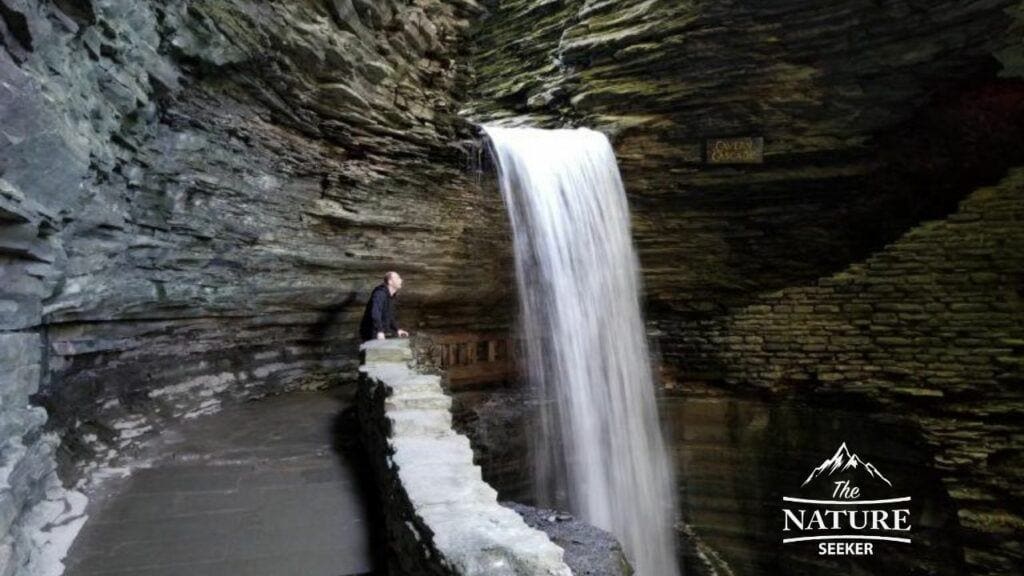 The above order of things to do at this park isn't a rule.
You can totally mix it up, but I would plan to cover these 5 spots in a way where stopping at one location makes it easy to get to the other and so forth until you cover all 5.
I would even say that out of these 5 destinations, Watkins Glen might be worth visiting last, if you can hike it before sunset (it closes then).
But if you're visiting this place for a few days, believe me, there are so many things to do around Finger Lakes that even a week here isn't enough to see everything, so you'll be booked with all the places you can see, but these 5 will probably be some of the most beautiful.
In our case, while our trip mainly took us through the Finger Lakes area, only for one day though, which I will cover in a later article, we decided to plan our day such that we would finish it up and make sure to visit this spot last.
And after we were done, not only were we glad we checked it out, but it was easily the most beautiful spot we saw on our 6 day road trip and besides the areas I listed earlier that we saw before hand.
Here is what we saw after our visit to Finger Lakes and Watkins Glen State Park:
Lake George .
Adirondack Mountains.
Ausable Chasm .
Sand Bar State Park .
Smugglers Notch Park .
Additional (amazing) places to see that look like Watkins Glen (nearby):
There are 2 specific spots:
But all of these locations, although highly recommended and incredibly scenic, were still second, even in the best cases to Watkins Glen State Park's beauty! It's truly one of the best state parks in New York .
And if you are of the same opinion (or different) I'd love to know your thoughts after you have visited Watkins Glen State Park (or already have).
Join the Newsletter Adventure!
Hi I'm Vitaliy, creator of TheNatureSeeker.com, thanks for stopping by!
Would you like to stay up to date with all my adventures? If so, then sign up to The Nature Seeker Newsletter (it's completely free):
4 thoughts on "5 Things to do at Watkins Glen State Park For First Timers"
i'm glad you shared this. The epic scenery can pass for a movie location! The good thing is that it doesn't look dangerous to trek, as what you have also mentioned.
I never knew that New York has a hidden paradise that is accessible and has a lot of accommodation option for families who wish to stay a bit longer or has little kids and pets to trek with. Exploring places should not be expensive but meaningful and I Glen State Park is a good example. Thanks for sharing!
New York State in general has spots like this if you know where to look and in this case, Watkins Glen is within the Finger Lakes area of New York, where areas like this are close by to one another. I included a link of the region and what else there is to see there, but yes, Watkins Glen is my favorite so far and it is safe to walk there for the most part.
Vitaliy, you are 100% right, this looks like an epic place to check out. Great photos, btw.
My fiancée and I are full-time RV Lifers, and even though we aren't mobile yet, within the next year we hope to start our journey out into the US. We are constantly looking for cool places to add to our list of potential travel destinations, and it looks like The Nature Seeker just helped us to lock in a good one. Neither of us had ever even heard of Watkins Glen, but it's going on the map of our other places now.
I'm curious, do you know if there are any good RV parks near the area?
Thank you for the informative article Vitaliy, we definitely appreciate it. I can tell you seriously enjoyed your time there, it shows through in your writing and the excellent photos you captured. I hope we will enjoy it just as much!
I wish you great success, and I hope you have an excellent day!
Hi Bobby, thanks for the kind words. There's actually a bunch of camping sites around all 5 areas in Finger Lakes, where Watkins Glen is. I do believe a lot of them contain RV spots as well. I'll be doing a post on this soon, but a simple Google search shows these spots in the area.
Glad you added Watkins Glen to your list, and I would suggest exploring the greater Finger Lakes region because there's much more to see besides this spot (which is still stunning on it's own).
Complete Guide to Hiking Watkins Glen State Park (Spoiler: It's Stunningly Beautiful!)
If you're looking for a breathtaking outdoor experience, look no further than Watkins Glen State Park in the Finger Lakes region of upstate New York. The park features 19 waterfalls along the hiking trails that wind through the glen and offer stunning views of Glen Creek.
Trails range from easy to moderate, so there's something for everyone to navigate in the park, as long as you can navigate stairs! Be sure to bring your camera – you'll want to capture the beauty of this park!
It has been named one of the most beautiful state parks in all of the United States, so it is one that you surely don't want to miss!
Where is Watkins Glen State Park?
Watkins Glen State Park is located in the Finger Lakes region of New York and covers over 700 acres of land which can be accessed right from the town of Watkins Glen.
It's just a few blocks from the southern point of Seneca Lake. The park offers a variety of hiking trails for all skill levels, as well as camping facilities, picnic areas, a swimming pool, playgrounds, and more!
How to Get to Watkins Glen State Park
Watkins Glen State Park is so easy to access from town that it's almost easy to overlook! It's only 0.5 miles from the southern tip of Seneca Lake, heading away from the lake on North Franklin Street.
The main entrance for Watkins Glen State Park can be found on the right side of North Franklin Street between 9th and 10th Streets heading south away from the lake.
There is a parking lot here, but it is on the smaller side and does fill up early in the morning during peak visitation times. There is another larger parking lot just across North Franklin Street on 10th Street.
Other options for parking include a large parking lot near the pool and picnic area just inside the south entrance and another parking lot on the opposite side of the park via the upper entrance.
Hours of Operation
Watkins Glen State Park is open from sunrise to sunset for hiking and exploring. While the park is open year-round for exploring, you won't be able to access all parts of it at all times of the year.
The gorge trail does close for the winter as it is very dangerous to navigate with all the snow and ice cover during those cold months. You can still explore some of the other areas of the park during those times.
Typically, the whole park is open by Memorial Day, but be sure to check with park staff or social media announcements for current conditions when planning your trip.
Fees & Rates
As with all of the state parks in New York, there is a fee for vehicle entry into Watkins Glen State Park. This includes using the parking lots in the town of Watkins Glen.
The fee for personal vehicles is $10 and for non-commercial buses is $35.
These entrance fees are collected from sunrise to sunset from mid-May to mid-October. There are pay stations at the parking lots in town. At the drive-in entrances, you must make your way through ticket booths where you can either show your park pass or pay your daily fee.
Watkins Glen Gorge Trail
There are multiple points of interest along the gorge trail. The park map is well marked, and many of these points have signage to keep you oriented. To be prepared for what you are going to encounter on your hike in Watkins Glen, these are some of the spots you'll encounter along the trail.
We'll list the points of interest in the order that you can plan to find them if you begin your hike on the gorge trail at the main entrance.
Entrance Tunnel and Sentry Bridge
Not far from the wide concrete pathways lined by decorative lighting, you'll begin your trek by passing through the Entrance Tunnel. Navigate the semi-circular path through the carved-out pathway, and this will set the scene for the rest of your adventure.
The stairs are wide and the tunnel isn't very long. Don't worry. There is also lighting in the tunnel, so you won't need to worry about losing your way.
The main visitor center and the area surrounding the Sentry Bridge used to be the site of a mill during the 1800s.
Couch's Staircase
On this route, you'll next pass the bottom of Couch's Staircase. 120 steps make up this stone staircase, and it takes you from the bottom of the gorge trail up to the amenities at the South Entrance.
Don't take this route! Just admire the handiwork from the bottom of the staircase. Admire the dense greenery that grows around the staircase and be glad that you don't have to climb those stairs!
Don't worry, though. There are plenty more throughout the gorge trail.
Cavern Cascade and Spiral Tunnel
When they say you'll be hiking above, below, and through waterfalls on this trail, this will be your first experience!
The gorge trail in Watkins Glen passes right under the cavern cascade and directly into the longer spiral tunnel. Be amazed at the cavern cascade. It's much taller than you'd think at first glance! You might get a little bit wet passing under the falls, depending on the wind and the time of year.
The spiral tunnel is a little longer than the one at the entrance. While you are walking through it, imagine being one of the workers who hand-cut the rock to form this tunnel in 1927. The thought of crafting the entire structure by hand is mind-boggling!
The Narrows and Glen Cathedral
As you pass through the gorge along glen creek, the next point of interest is the narrows. The water flowing through cuts a deep path, and the rock walls made of shale and sandstone are quite impressive.
This spot has been named as such because of its resemblance to a huge cathedral. The view here is breathtaking and a great reminder of the power of mother nature.
Central Cascade
This is the tallest of the waterfalls in the gorge, and it drops about 60 feet.
This isn't even the most photographed in the park, but you don't want to breeze right by!
Rainbow Falls
When looking at any photos of Watkins Glen, you'll probably see many of Rainbow Falls. This is a stunning spot on the trail, with an abundance of colorful foliage growing all around. It becomes especially beautiful in the fall!
You'll pass by this waterfall on your hike, but you may not realize how close you are until you reach it. You'll come around a bend in the trail, and all of a sudden, you have this fantastic view.
This spot can be quite busy with people taking photos and admiring Rainbow Falls during summer weekends, so you may want to plan the timing of your visit accordingly.
If you visit during an afternoon when the weather is sunny, you might even get to see why it is named Rainbow Falls!
While there are 18 other waterfalls along the gorge trail in Watkins Glen, Rainbow Falls is one you'll certainly remember.
Frowning Cliff
Frowning Cliff is another point where the gorge opens up and feels very imposing. Although the gorge is a little more narrow at this point, it's a great demonstration of what sunlight does to help plants grow.
On one side of the gorge, there are plentiful sun-loving plants. On the other side, only plants that require very little sun can survive. Look back and forth, and you will notice that the plants growing from one side to the other are quite different.
More Gorge Views and Mile Point Bridge
After passing all of those stunning views and waterfalls, you might think that there can't possibly be more to see on this trail. You've seen all these sites in under one mile of hiking, though!
Continue on along the gorge trail and you'll see more tumbling falls and water features before you come to the mile point bridge. Appropriately named, this bridge can also be used to cross over to the South Rim Trail.
If you've hiked from the campground or the south entrance parking, you could use this bridge to return to your start.
You'd miss climbing the Jacob's Ladder stairs to the upper entrance and the (slightly) more peaceful part of the gorge trail, but it's a route option worth mentioning.
Jacob's Ladder
Jacob's Ladder is the last obstacle to navigate! There are 180 stairs here that you will have to climb to return to the upper entrance.
From here, you have options! There is a shuttle, and for $6, you can use it for a ride back to your car. We'd recommend hiking back on the North Rim Trail, though, if you are up for another 1.1 miles of hiking. This portion of the trail is mostly flat or downhill.
You'll also get to see a few overlooks of the gorge, although the views from this trail for the most part are nothing like those that you can see deep down in the gorge.
Lover's Lane and Lookout
While this spot might seem like nothing special, for those who appreciate history, this is the only spot of the old trail that remains after floods destroyed much of the area in 1935.
Check out the staircase. You might just find the year stamped into the concrete when it was built!
This is also a spot you can use to either enter or exit the gorge trail for any reason.
Suspension Bridge
Shortly after passing by Lover's Lane, you'll pass by an old suspension bridge that was built in 1870. Imagine workers building that structure over the gorge way back 150+ years ago!
The gorge sits about 85 feet below the bridge, so it provides a great bird's eye view of what you've just traveled through.
While you're at the suspension bridge, cross over to the lily pond. This is the site of what used to be a private vacation resort in Watkins Glen called Glen Mountain House. It was quite a popular destination, although it did require a lot of effort for vacationers to reach.
Sadly, the resort burned down in 1903, and other than a few photos at the lily pond, there really isn't any evidence of the structure remaining.
Point Lookout
This is your last chance to catch any sort of view of the gorge before returning back to the main entrance.
Take one last look at the breathtaking area, if you can. Sometimes later in the summer, the views can become obstructed by the greenery and tree growth.
Return to Main Entrance Via North Rim Trail
There isn't much left of the trail, now. It's just a short distance back to the main entrance, where you may have left your car. That's the Watkins Glen gorge trail!
Tips for Hiking Watkins Glen Gorge Trail
If you're looking for an easy hike that will take you about 2 hours roundtrip, then this is the perfect hike for you. The Gorge Trail is just over 1 mile long, and it takes you past all of the major water features.
There are plenty of places to stop and enjoy the views, and if you have time, you could even try to find the hidden waterfall nearby.
Bring Rain Gear
It may seem like a no-brainer, but bring rain gear if you're going to be hiking in Watkins Glen. The weather can change dramatically here, especially in the spring and fall.
Be prepared for any conditions.
Even if the weather has been pleasant, the gorge can still be wet and slippery. Be sure to wear appropriate footwear with really good traction.
Chacos or other hiking sandals would be just fine if you are used to hiking in them, but don't plan to wear flip-flops on this one.
The stairs and slick rock pathways could be a recipe for disaster.
Avoid the Crowds
The best way to avoid the crowds on the Watkins Glen gorge trail is to visit early in the morning, late in the evening, or during the middle of the week.
This park has been recognized as one of the best state parks in the entire country, so it is very well known. With that kind of recognition definitely comes higher visitation numbers. It is important to both manage your expectations and plan your visit at the right time
While you probably won't be the only person navigating the trails at any given time, you can plan the timing of your adventure to go along with the number of other people you'd like do see while you're exploring.
If you're looking for solitude, then you may want to consider visiting the park earlier in the day or later in the evening.
When we visited the park, we were lucky enough to see only a couple of others, either photographers or runners, using the trails. We had no problem finding a secluded area to enjoy nature without having to worry about anyone else around us.
Bringing pets
Pets are welcome in some parts of Watkins Glen State Park, but the gorge trail is not one of those spots. Pets are not permitted on that trail. You can bring them to the campground and other park areas, though.
Pets are also not permitted in park buildings or on park playgrounds.
Your furry friends are required to be kept on a leash or crated while visiting the park, and there is a maximum limit of 2 pets per campsite. There are also restrictions in the day use areas.
Swimming at Watkins Glen State Park
There is absolutely no swimming permitted in any of the waters of Glen Creek along the gorge trail. The water conditions can change much too rapidly and it can be quite dangerous. Wet rocks and undercurrents can be a recipe for disaster!
There are other spots where swimming is permitted nearby, though! Watkins Glen State Park has an Olympic-sized swimming pool available to park visitors.
Other Hiking in Watkins Glen State Park
While the gorge trail gets all of the attention in the park, there are other trails to explore. Don't forget about these other options when checking out Watkins Glen.
North Rim Trail
The North Rim Trail is probably the easier of the two rim trails in the park. It is generally a wide path with fairly gentle grades.
The North Rim Trail in Watkins Glen is also known as the Indian Trail. You might notice that some of the signage might have it marked as the Indian Trail, also. Don't be confused by the alternate names, but the park signage is being updated.
This trail is 1.1 miles in length, so combining it with the gorge trail creates a loop of under 3 miles.
You'll pass through forested areas and also an old cemetery. There are a couple of overlooks along the trail, but these can become overgrown during certain seasons.
South Rim Trail
The south rim trail is the one you will use to access all of the other trails directly from the park's campground. This trail is a little less than 2 miles long from point to point and takes you through beautiful forested terrain.
The South Rim Trail is also a part of the much larger Finger Lakes Trail and North Country National Scenic Trail. You can hike from the Pennsylvania border to the Vermont border, all the way across the state of New York!
You can use this trail to return to the parking areas and not retrace your steps.
Hiking Loop Options in Watkins Glen State Park
The main attraction of the park is definitely the Gorge Trail! On this trail, you'll follow Glen Creek as it winds through the deep rocky walls, creating a wide variety of water features.
From the Main Entrance (One Way)
This is the absolute best way to begin your Wakins Glen hike on the Gorge Trail. You'll be headed upstream, so you'll get to see all of the waterfalls and features head-on
While this route can be busy and parking lots fill quickly during summer weekends, this is most certainly the best hiking in Watkins Glen State Park.
This hiking route covers the entire Gorge Trail along Glen Creek, and you can see all of the star attractions.
*From the Upper Entrance (One Way)
This wouldn't be our recommended route. If you head along the Gorge Trail, you might miss something because you'll be heading in the opposite direction as the water flow. While you might be able to avoid some of the crowds early in the morning, this route should only be taken as a last resort.
You'd want to, instead, make this a loop by hiking one of the rim trails and using the gorge trail to return to your parking spot.
What Time of Year Should I Visit Walkins Glen?
Watkins Glen is an area that typically gets a lot of winter weather, so the Gorge Trail is closed during that time of year. If you want to get the full experience of the state park, you want to make sure that the trail is hikeable!
Typically the gorge trail opens sometime in mid to late May, and it closes sometime in early November.
Just check with the park office or their social media prior to your visit. They will give you all the details on trail closures and conditions.
Early summer is the best time to visit because Glen Creek will be flowing at its fullest potential, so you'll get to see all of the waterfalls at their potential. It's really a beautiful trail!
Where to Stay in Watkins Glen
While the places to stay in Watkins Glen are a little bit limited, there are great options for any budget and taste. The campground at Watkins Glen State Park has some great campsites that are relatively private with lots of tree cover for shade and a little more privacy.
For those who want to be right in the action and have more flexibility in their budgets, check out the Watkins Glen Harbor Hotel. It is right on the edge of Seneca Lake! There are so many amenities and the location really can't be beaten!
Things to Do in Watkins Glen, NY
If you're planning to spend some of your time hiking in Watkins Glen, you should definitely take advantage of some of the other local attractions. From wine tours to hiking options and waterfalls, kayaking, or culinary adventures, there are plenty of things to do around Watkins Glen.
You could easily fill at least a couple of days just exploring the waterfalls near Watkins Glen, but there is so much more to do in the area.
Watkins Glen is also a prime destination for those interested in motorsports or its history. The current speedway and the historical route are both of interest.
Whatever your interests, Watkins Glen is a great area to explore.
Other Places to Hike in the Finger Lakes
The Figner Lakes has so much space to explore and plenty of great spots for hiking. If you want to add some more stops to your Watkins Glen Finger Lakes trip, consider these options:
Watkins Glen State Park is a great place to hike, with trails that offer some of the most beautiful views in the Finger Lakes region. The park is also home to nearly 20 waterfalls, including the famous Glen Rainbow Falls.
If you're looking for a great outdoor experience, be sure to check out Watkins Glen State Park. Then after you're finished exploring the park, be sure to check out some of the other waterfalls near Watkins Glen, too!
Watkins Glen Gorge Trail: Amazing Hiking at Watkins Glen State Park
The Watkins Glen Gorge Trail is an incredible place to go hiking at Watkins Glen State Park. You'll be continually amazed by every stunning scene around every turn. Towering cliffs covered in moss and greenery, picturesque rock bridges, and a seemingly endless river that's carved out the rocks over thousands of years. And I haven't even mentioned all of the waterfalls yet!
For nature lovers, Watkins Glen State Park is a must visit. Nestled within the Finger Lakes region of New York State, this is an awesome road trip to anyone living in New York, Toronto or Ontario, Pennsylvania, Michigan, or anywhere in the northeast USA.
Posts may be sponsored. Post contains affiliate links. I may be compensated if you make a purchase using my link.
Table of Contents
Visiting Watkins Glen State Park
I've been fortunate enough to have visited Watkins Glen State Park on numerous occasions. I first visited back when I was very young. The only thing I remember from back then was the fact that the park used to put on a laser lights show at night. Images of dinosaurs were projected onto the rock walls of the gorge!
Even though the days of lights shows at night are long gone, Watkins Glen State Park is such a treat to explore by day. I've returned on numerous occasions, even though it's about a four hour drive from Toronto. What can I say – I love hiking the Watkins Glen Gorge Trail and visiting the Finger Lakes region so much.
Justin and I traveled to Watkins Glen back in 2014 when I originally wrote this blog post. I'm updating it with new photos and information since I've returned to Watkins Glen twice since then (once in 2016 and once in 2018).
Getting to the Watkins Glen Gorge Trail
The main street in the town of Watkins Glen, North Franklin St./South Franklin St., leads directly to the Watkins Glen State Park. The entrance is very easy to spot. While it is free to walk into the state park and free to hike there, it costs $10 to park your car.
Watkins Glen State Park opens on the Memorial Day weekend each year and closes for the season in the winter. However, it's always a good idea to stay up to date because the park can expectedly close from time to time due to flooding. Download the New York State Parks Explorer app to get updated details before you head out.
Hiking the Watkins Glen Gorge Trail
The dramatic landscape at Watkins Glen is very structurally unique, as you can see each layer of rock jetting out unevenly. This area was completely shaped by water and ice over the past 10,000 years. The most recent glacier in this region moved through shallow river valleys creating deep troughs. When the glacier receded north, water poured into these newly created troughs creating the 11 Finger Lakes (including Seneca Lake, by Watkins Glen).
The water of Glen Creek continues to flow down the steep cliffs at the gorge towards Seneca Lake, creating many spectacular waterfalls, and gradually carving the rocks in its path. This slow, on-going process of flowing water has formed the rugged terrain at Watkins Glen State Park.
There are a few different hiking trails at Watkins Glen State Park. The main one is called the Watkins Glen Gorge Trail. This path offers the best views of the 19 waterfalls, Glen Creek, and the gorge itself as it flows between the cliffs. On the way back, you can take the Gorge Trail again, or one of the neighboring routes, such as the Indian Trail or South Rim Trail.
There are over 800 steps from bottom to top of the gorge on a very gradual incline. This path is great for all fitness levels, as you'll be taking it slow while you take in all of the amazing views. There will be some staircases, and some sections can be slippery as you'll be walking behind waterfalls. Be sure to wear running shoes or hiking boots – not fancy sandals or heels as I actually saw some women wearing!
I'll describe some of the main features along the Watkins Glen Gorge Trail, including the Watkins Glen waterfalls that you'll see on the way. It's very easy to follow the trail – it's the main path that follows the edge of the gorge. You won't get lost!
The Entrance Tunnel
To access the gorge, you will walk through the Entrance Tunnel and up a flight of stairs. The tunnels in the gorge were actually hand-cut into the rock in the early 1900's. You'll be surrounded by rock as if inside a small, well-lit cave!
Sentry Bridge
The image above shows a view of the Sentry Bridge from down below. Once you emerge from the entrance tunnel, you'll find yourself right at the Sentry Bridge. From the Sentry Bridge, you'll witness your first images of the gorge itself.
These are outstanding, memorable views. The sculptured rocks are so smooth, as the flowing water has cut into the rocks for over thousands of years. You'll likely want to stand here for a little while to take in the gorgeous scenery. But, the Watkins Glen Gorge Trail offers amazing scenery the entire way, so let's go!
Hiking to the Cavern Cascade
We continued our walk along the trail, marveling at the breathtaking views of the water flowing through the carved rocks. There are a series of steps leading up. Then, you'll walk across some flatter sections on massive, flat rocks. There are lots of stairs for a workout, but you likely won't get out of breath from them. I love how there are lots of flatter sections between each staircase.
We approached the Cavern Cascade, one of two waterfalls along the Watkins Glen Gorge Trail that you walk behind. As I mentioned before, there are a whopping 19 waterfalls at Watkins Glen State Park.
As you can see, you might get a little bit wet when you walk behind the waterfall! If it's a hot day outside, take the opportunity to cool down a bit here. After walking underneath the waterfall, you'll climb up some more steps through another enclosed area called Spiral Tunnel.
Hiking to the Suspension Bridge
From here, we continued to on the Watkins Glen hiking trails up some more stairs, surrounded by tall rocky walls. Then, we walked beneath the Suspension Bridge. On the way back, if you take the Indian Trail or South Rim Trail, you can cross the suspension bridge and look down below. Or, if you'd like to go up to the bridge, just take the Lover's Lane path up to it.
I recommend coming back down and continuing along the Watkins Glen Gorge Trail for the rest of the hike. The suspension bridge is 85 feet above the creek. During a flood in 1935, the water from the creek rose to within five feet of it!
The Narrows
Through the next tunnel and staircase, we reached a section of the trail called the Narrows. In this area, the gorge seemed to have its own "micro-climate" as it is very shady, cool, and moist. There are many ferns and mosses growing here, reminiscent of a rainforest.
Glen Cathedral
Next, we approached the Glen Cathedral. Completely opposite to the Narrows, the Cathedral was a completely open space where sunlight can come through. The gorge walls were vast and wide open here, with wildflowers, grasses, and shrubs growing around.
From here, you can continue along the Gorge Trail (recommended), or venture off to Lover's Lane and up to the Indian Trail. You can also stand on some rippled stones in this area. These stones were once on the bottom of an ancient sea bed that is no longer submerged in water.
While we were walking the trail, we saw many informational plaques describing the natural phenomena with interesting details. It's difficult to grasp how tall these cliff walls are from my photos, but they stretch far up into the sky.
Central Cascade
As we continued to hike the Watkins Glen Gorge Trail, we gradually ascended higher and higher to the top of the canyon. We reached our next waterfall, the Central Cascade.
This is the highest waterfall in the gorge, plunging over 60 feet down below. We crossed a bridge over the Central Cascade towards the Glen of Pools area, where the creek forms deep and rounded "plunge pools" in the rock.
Watkins Glen Rainbow Falls
The next waterfall is called the Rainbow Falls. This is the second waterfall that you can walk underneath. Even on the sunniest of days, water can pool beneath this waterfall, so you'll likely have to splash through a few puddles to get across.
In 2018, I visited after a travel blogging conference (TBEX Finger Lakes). It was a rainy day at the park. The water at Rainbow Falls was pretty intense, and I had to run through quite a bit of water (both from the waterfall and puddles on the trail) to get to the other side! It's all part of the adventure.
Spiral Gorge
We crossed another bridge on our way toward Spiral Gorge. This area was darker than some other parts of the trail with water dripping down from the cliff edges above. Ferns and mosses grew all around. There were many sculpted pools here.
We continued walking along the Gorge Trail until we reached a staircase at the end of the trail. We hiked up the staircase and reached the Upper Entrance. I suppose you could start at the Upper Entrance and descend down towards the village of Watkins Glen, but I think it's best to hike the trail going up, and then you can make your descent on the way back when you're more tired out.
In the summer season, there is a shuttle bus at Watkins Glen State Park that runs between the Upper and Lower Entrance for those who wish to take a shorter walk just one way.
Hiking the Indian Trail
On the way back, we hiked the Indian Trail from the Upper Entrance, which was a very scenic hiking trail without the impressive views of the gorge. We walked beside a cemetery at one point, where I met a very friendly chipmunk who did not appear to be bothered at all by our presence.
From there, we walked across the Suspension Bridge across to the South Rim Trail, down the Couch's Staircase towards the main Entrance Tunnel.
Plan Your Visit to Watkins Glen State Park
We had such an amazing time exploring the gorge at the Watkins Glen State Park! Here are a few helpful tips for your hike. I also suggest you take a look at our blog post about what to pack for a day hike.
Bring proper footwear. Some sections of the gorge can be wet and slippery, so please consider wearing running shoes or hiking boots.
Bring a bottle of water with you as there are no fountains along the path. You will find water at the gift shops of the Lower Entrance and Upper Entrance if you need to buy any. Of course, please do not litter.
There are no restrooms along the trails. You can find the restrooms at the Upper and Lower Entrances.
No swimming in the water is permitted, and please do not pick any wildflowers. Leave no trace!
The Watkins Glen Gorge Trail is open from the end of May to the end of October, from dawn to dusk. When Justin and I visited in 2014, the Gorge Trail was closed due to flooding a week before our trip. We were very thankful that they opened the trail for the beginning of June.
There are also places to camp at the park that can be reserved online or by phone. There are 305 campsites at Watkins Glen State Park. I advise booking early because this is a really popular place to go camping in New York.
Want to see more photos of Watkins Glen?
View all of our travel photography in one place! You can browse and buy any of our pictures in the form of canvas prints, things for the home, and more!
Where to Stay in Watkins Glen
Looking for where to stay in Watkins Glen? There are lots of awesome hotels in Watkins Glen and vacation rentals. I've gone glamping in Watkins Glen at Seneca Sol and highly recommend the experience. It's a beautiful property where you'll be able to immerse yourself in nature while maintaining many comforts of home.
Not so much into glamping? Don't worry, there are tons of places to stay in Watkins Glen, NY. Browse the map below to compare prices and locations to find an amazing accommodation.
Things to Do in Watkins Glen, NY
There are so many awesome things to do in Watkins Glen aside from hiking the Watkins Glen Gorge Trail. Here are some must visit spots and top things to see when you go to the Finger Lakes:
Take a Finger Lakes wine tour around Seneca Lake from Watkins Glen
Eat vegan ice cream at Great Escapes Ice Cream Parlor (perfect after your hike!)
Visit the rescued farm animals at Farm Sanctuary (and even stay the night at their B&B!)
Have lunch at Glen Mountain Market (we did this before our hike at Watkins Glen State Park)
Have dinner at Rooster Fish Brewing (and try the beer, too!)
If you're visiting the Finger Lakes region, here are even more amazing things to add to your travel itinerary:
Take a glider plane ride at Harris Hill
Try all of the craft breweries on the Finger Lakes Beer Trail
Wander around the Corning Museum of Glass
Explore Robert H. Treman State Park in Ithaca, NY
Marvel at the most beautiful waterfall at Taughannock Falls State Park
Need Travel Insurance?
You should never leave home without travel insurance! Check out the best rates to make sure you're covered in case of an emergency or accident.
Source https://thenatureseeker.com/these-photos-show-how-epic-watkins-glen-state-park-is/
Source https://paonpause.com/hiking-watkins-glen-state-park/
Source https://justinpluslauren.com/watkins-glen-gorge-trail/#:~:text=Plan%20Your%20Visit%20to%20Watkins%20Glen%20State%20Park,and%20please%20do%20not%20pick%20any%20wildflowers.