15 Scenic Trails For Hiking In Wisconsin
Are you looking for information about hiking in Wisconsin? Then this article is for you. I have listed the best Wisconsin hiking trails, hiking in southern Wisconsin, and hiking in the Wisconsin Dells, to name but a few.
Wisconsin is also an ever-changing state, the season impacting the landscapes. Wisconsin hiking will look different at different times of the year so there is always such a variety.
This state is also home to the only National Scenic Trail to be confined entirely within a single state. Most people in Wisconsin live within a 20 miles radius of this trail.
Hiking trails in Wisconsin are numerous with nearly 3000 miles of trails in the state parks alone. If you love nothing more than grabbing your hiking boots and setting off an adventure, Wisconsin is the state to do it.
In fall the trails give you beautiful views of the autumn colors in Wisconsin and spring and summer bring their own delights.
Wherever you decide to venture into this state the trails in Wisconsin won't let you down. You will find incredible views, interesting camping spots, and quaint towns.
Here are 15 scenic trails for hiking in Wisconsin everyone will love!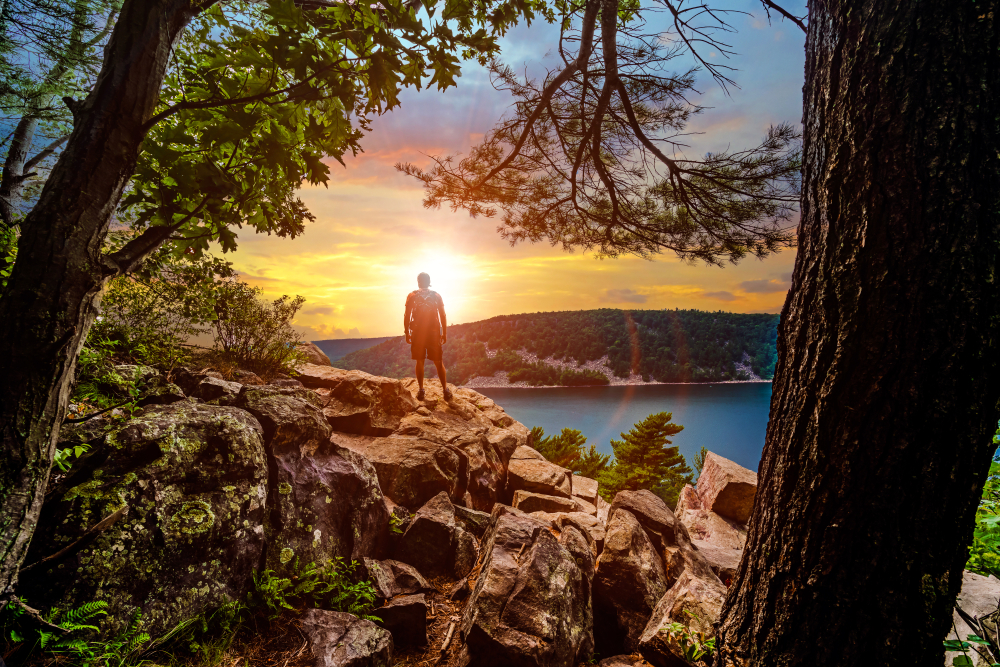 15 Scenic Trails For Hiking In Wisconsin
East Bluff Trail -Wisconsin Dells
There are so many opportunities for hiking in Wisconsin Dells. The hikes here range from easy to difficult rock climbing so pick your adventure.
The East Bluff Trail is a stunning loop trail 2.6 miles in length. The views from this trail are incredible.
It's an easy to moderate heavily trafficked walk and is well maintained. It's a great walk for a family with small children. There are also plenty of places to rest and stop and have some snacks. It is such a cool thing to do in the Wisconsin Dells.
Fall is a great time to do this trail as the woods and views are beautiful, it's also a little quieter. This is easy Wisconsin Dells hiking that most will find pleasurable and enjoyable.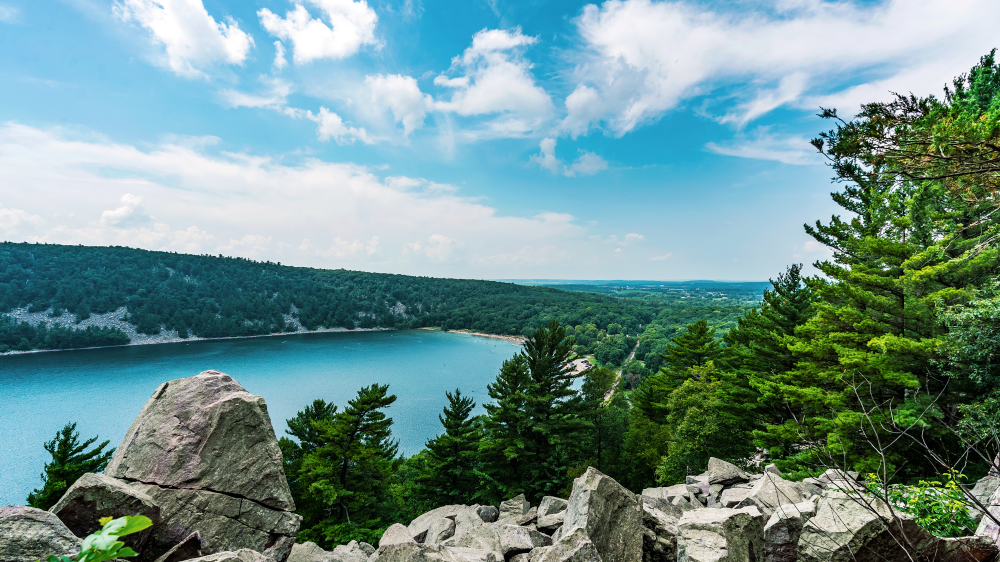 Devil's Lake State Park – Ice Age Trail Wisconsin
One of the most heavily trafficked and dramatic parts of the Ice Age Trail Wisconsin are the parts in Devils Lake State Park.
The 500-foot bluffs give you some of the most incredible 360 views of the landscape and lakes below. It's easy to see why this area is so popular.
There are two branches of the Ice Age Trail here, the Sauk Point and Merrimac segments which both enter the park from the east.
However, starting your hikes from the north or south shore of the lake itself will afford you the views without some of the work.
The park is popular and the parking lots can get full. The campsites are also booked well in advance so if you can, it is a good idea to visit in the less busy months.
The trail while well-trodden can be somewhat primitive. There are no hand trails or rope lines and not much relief from the sun.
The steps up to the top of the bluffs are not easy and they can be very steep and narrow. If you are scared of heights this is not the trail for you.
Having said all that though the walks here are incredible and well worth the effort. If you are looking for somewhere to go hiking in south Wisconsin you can't get much better than this.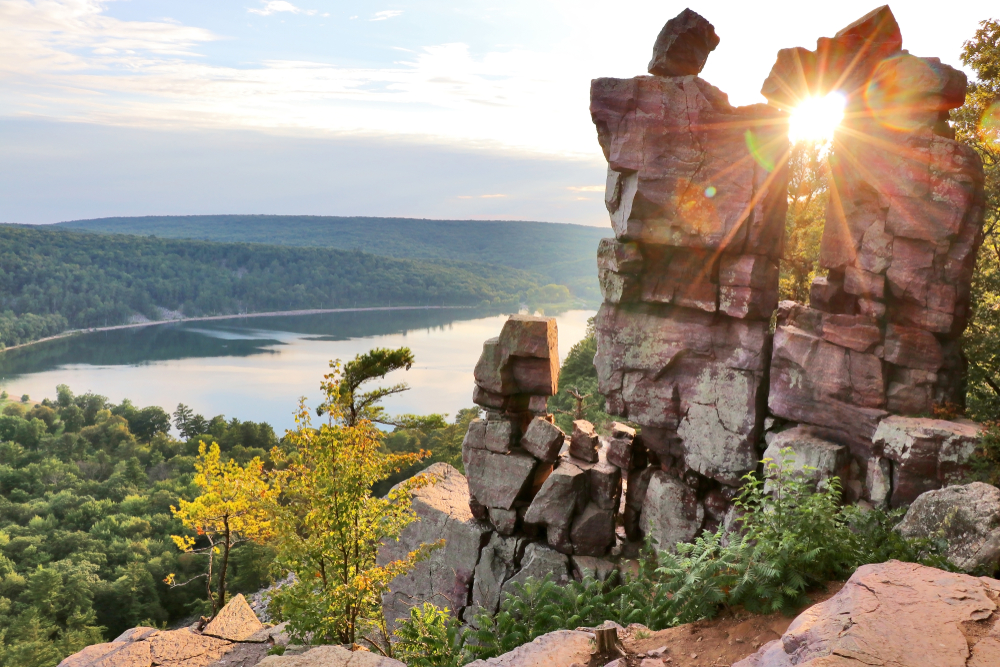 Witches Gulch -Wisconsin Dells Is One Of The Best Places For Hiking In Wisconsin
This is an easy trail that offers wheelchair access and is a great place to see the geographical formation of the Wisconsin Dells.
This family and dog-friendly trail is in the River State Natural Area and is a loop trail.
It's certainly not an adventurous walk but the views and path through the glacier canyon make up for it.
Just as you were thinking this is just too easy, let me tell you the trail is only accessible by boat. There is a boat tour that goes there and it is worth it as it also has an incredible Wisconsin beach.
If you thinking of mixing hiking in Wisconsin Dells with a day out this might be the right location for you.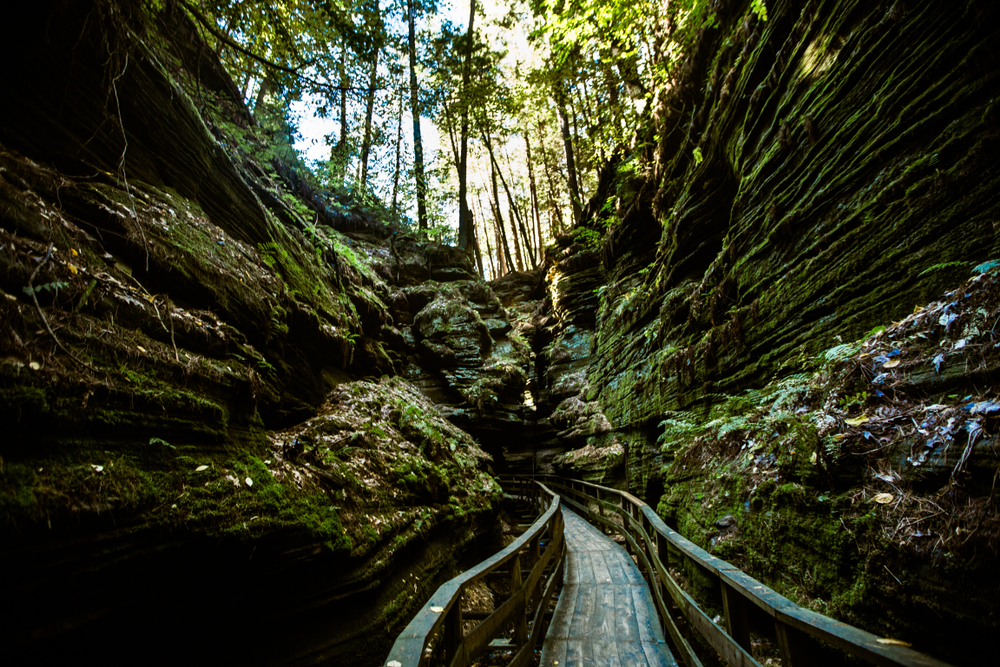 Gibraltar Rock State Natural Area – Madison
Near Lodi, a small community 23 miles north of Madison, this hike is part of the Ice Age Trail Wisconsin.
It's a wooded climb to the cliffs of Gibraltar Rock but it is worth it. The stunning view is of the farmland and the forest of the Wisconsin River Valley awaiting you at the top.
The trail runs between two parking lots and is a 2.8-mile trail that leads to the top and loops before coming back down. The trail winds through forests and prairies and really is a lovely hike.
If you are thinking of hiking near Madison this Madison hiking trail might be just what you are looking for.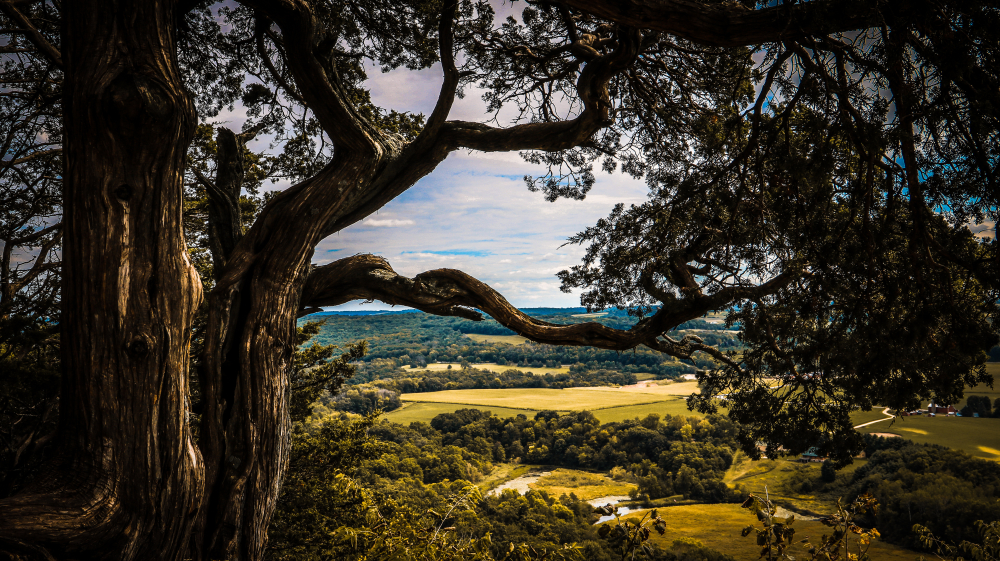 Kohler-Andrae Boardwalk Trail – Milwaukee
Milwaukee is one of the most vibrant cities in the Midwest.
However, if you are looking for a pretty level leisurely walk then it doesn't get much better than this 3 miles lakeside stroll.
The Kohler-Andrae State Park's Boardwalk Trail feels like something you might find on the New England coast and is a very scenic easy hike.
The hike takes you around the sand dunes that border Lake Michigan and really is a joy. This is one of the hiking trails near Milwaukee that I highly recommended. Take a picnic and make a day off it.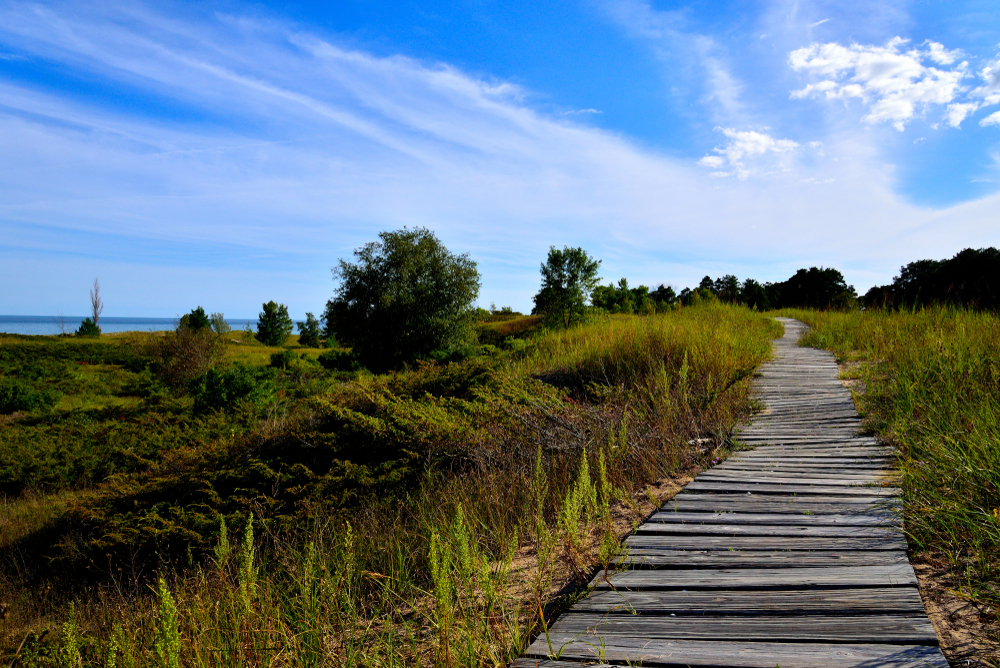 Scuppernong Trail, Southern Unit Kettle Moraine State Forest
Kettle Moraine State Forest is a 22,000 acre which offers many hiking options. Its also near to the surrounding areas of Madison and Milwaukee making it also an easy trail to get to.
The Scuppernong Trail area is at the northern end of the Southern Kettles. There is the 5.4 miles green loop and a 5.6-mile Scuppernong Segment of the Ice Age Trail.
These trails are also great for cross skiing. The trails are moderately tracked and can get icy in the winter months. If you are looking for hiking near Milwaukee or hiking in Madison WI then this is the one for you.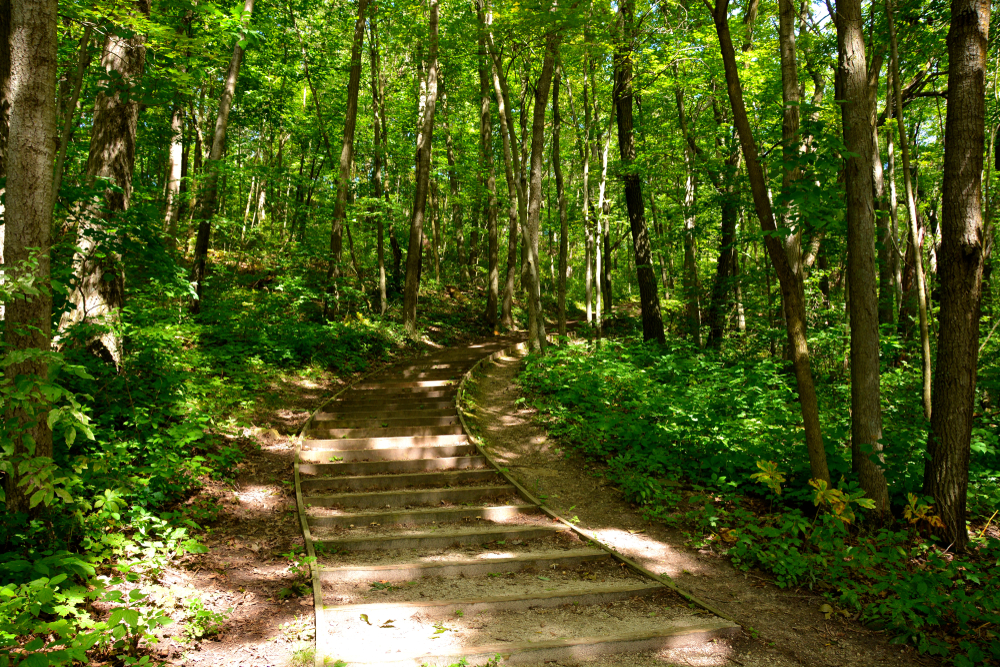 Lion's Den Gorge Nature Preserve – Milwaukee Is One Of The Scenic Hikes In Wisconsin
If you are looking for hiking trails near Milwaukee then this is a lovely walk through a lakefront nature preserve.
Lions Den Gorge is home to stunning bluffs that border Lack Michigan. The walk offers you some stunning views, sandy beaches, and bright blue waters.
It's a pretty easy 1.9 hike and is one of the best hikes in Wisconsin, that would make for an awesome Wisconsin road trip!
Copper Falls State Park and the North Country National Scenic Trail -Mellon
This is a beautiful 9.2-mile section of the North Country National Scenic Trail within the boundaries of Copper Falls State Park. The trail follows the Bad River and there are two Wisconsin waterfalls for you to stop and look at.
There are lots of other trails to explore here too including the 1.8-mile Three Bridges Trail which is a stunning walk. This walk takes you through rocky nooks and canyons.
Copper Falls in a lovely waterfall including a 12-foot drop into rapids and Brownstone Falls is also worth a visit to. During the hike, you will get to stop at some viewing platforms to see the falls.
It's a loop trail that goes back to the main parking lot. There are smaller trails here if you want an easier hike. The Doughboy's Trail is a simple 1.7-mile hike that takes in both falls.
This trail is lovely and in some of the wildest and most remote parts of Wisconsin. Some of the best hiking in Wisconsin can be found here.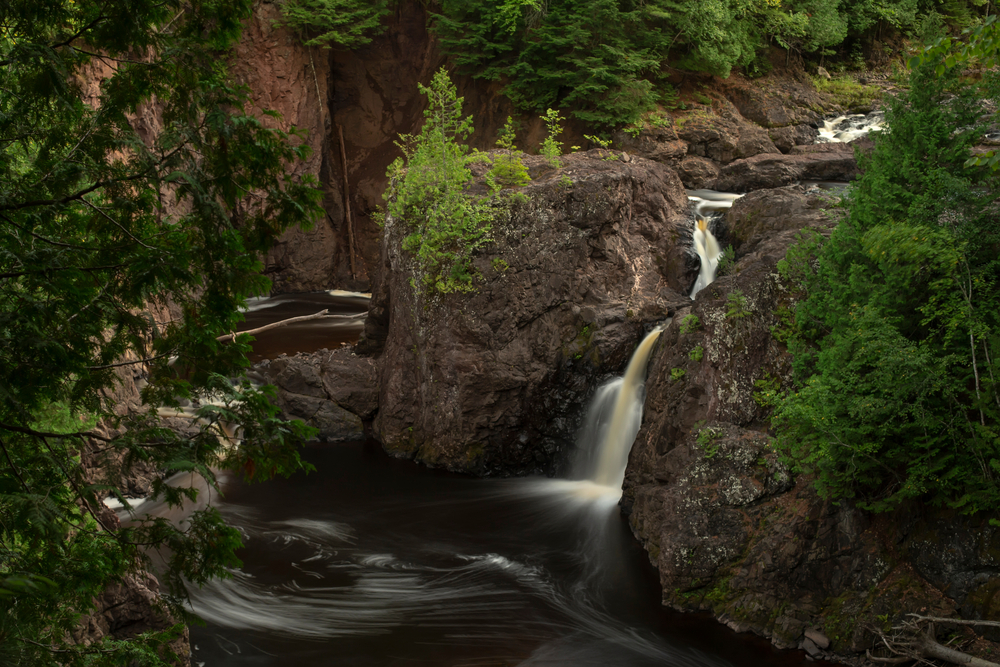 Quincy Bluff and Wetlands State Natural Area
The Quincy Bluff and Wetlands Natural Area is a pretty unexplored area. Most miss it during their adventures preferring the nearer Wisconsin Dells.
Missing this area is a mistake as it is stunning and rather unique in that it has both oak and pine barrens.
There is a flat almost six-mile round trip taking in the Lone Rock which offers a stunning view. The Quincy Southwest Loop is a 3 mile lightly trafficked loop shorter trail. It can get a little overgrown and ticks and insets can be a problem.
Some of the best Wisconsin hikes can be found here even if they are a little less traveled and require a little more thought.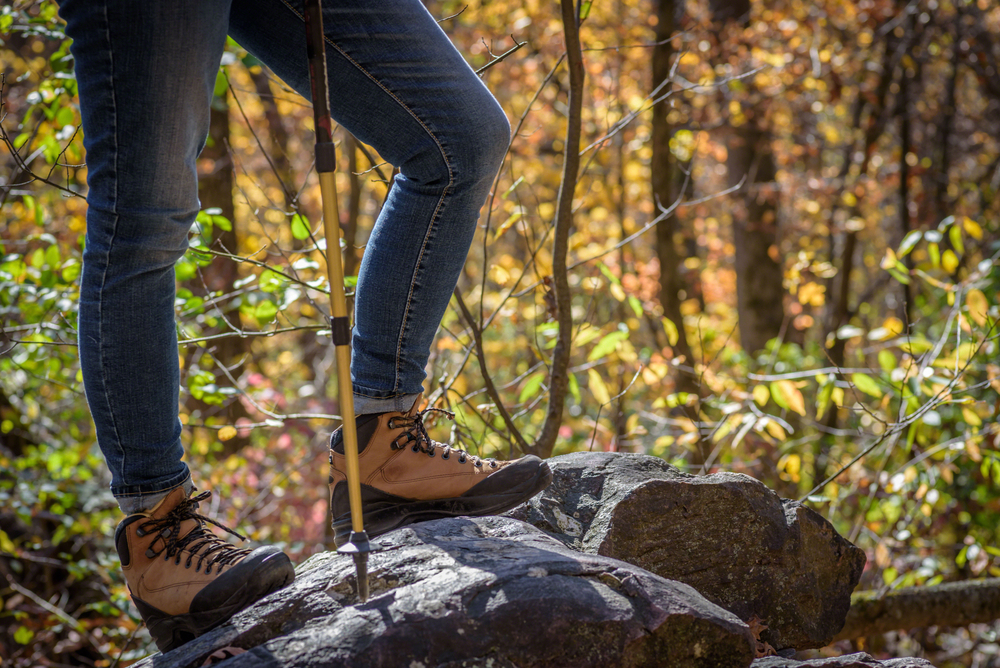 University of Wisconsin Arboretum
If you are after something a little different and less wild try the University of Wisconsin-Madison Arboretum. There are 1,200 acres of restored prairie, forest, and wetlands to explore here.
The university offers some 20 miles of hiking and skiing trails here and the prairie, savannas, and various forests are worth the hike.
Whichever of these numerous trails you take here you will see a variety of flora and fauna, animals, and differing typology and landscape.
It might not be what most think of when they think of Wisconsin hiking trails but it's easy-going and accessible to most.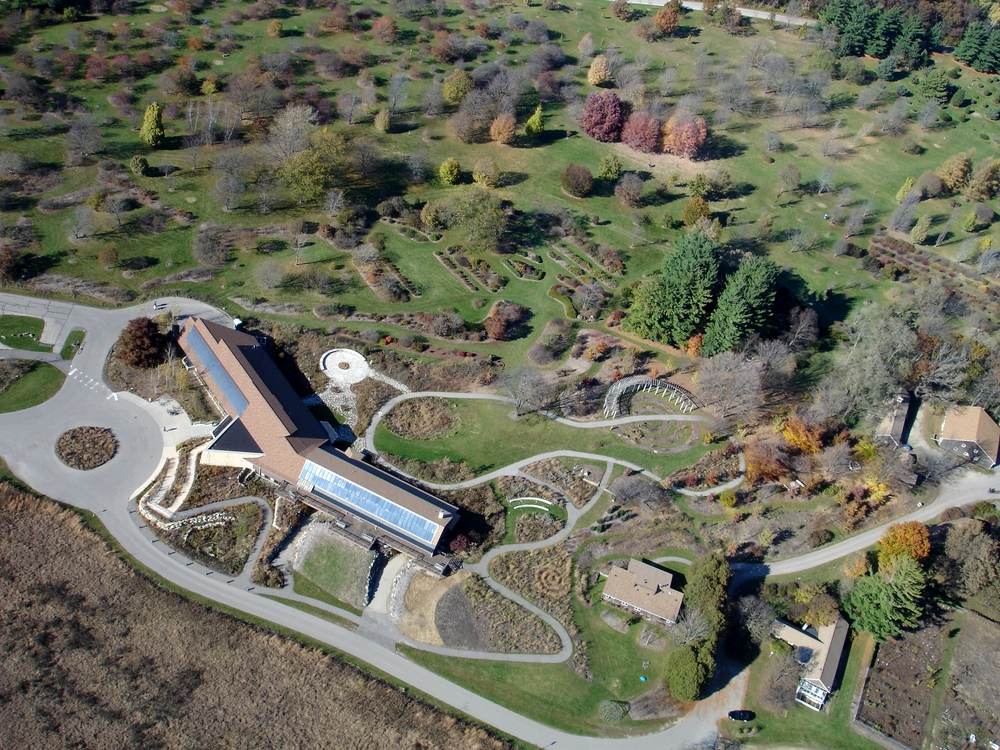 Lake Monona Loop – Madison
If you are thinking of hiking in Madison WI then walking some or all of the Lake Monona Loop. Also called the Capital City Trail this is a real treat.
The trail is 13.8 miles long and is a multi-use trail so you could cycle if you don't want to hike that far.
A good section if you want to keep it shorter is the part along John Nolen Drive. The path runs around the lake and you will get stunning views of the state capitol and the madison skyline with the lake in the foreground.
Madison is a great city to explore on foot and this trail really takes in all the sights. Madison hiking trails don't get much better than this.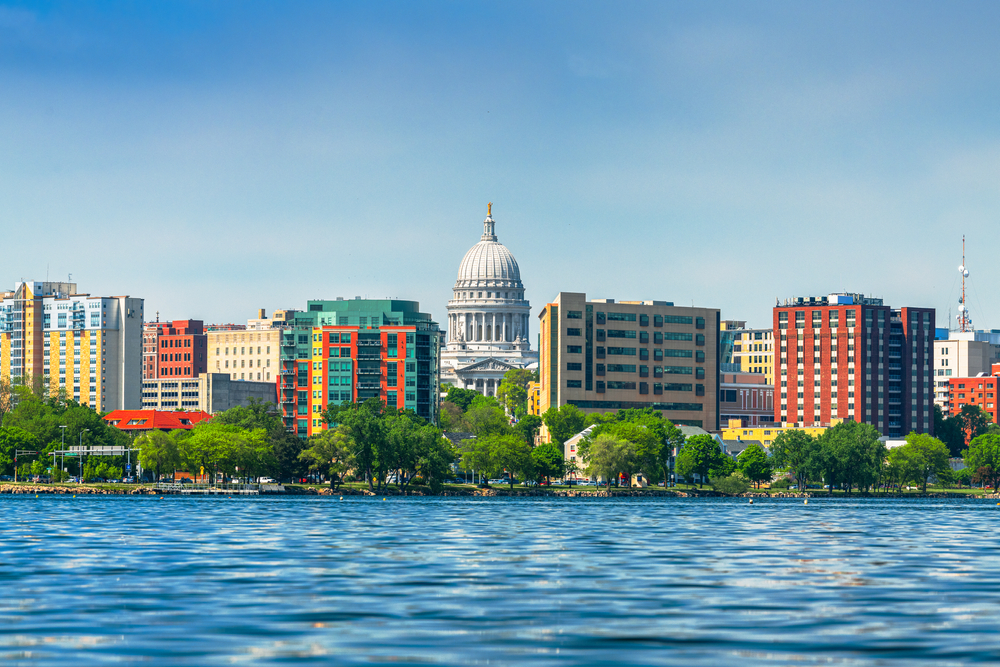 Lake Geneva Shore Path
The shore path around the cute town of Lake Geneva takes you through beautiful landscapes gardens and past stunning historic estates. And you are always in view of the beautiful lake with its crystal clear water.
The whole path is 21 miles and can be extended to 26 miles if you weave into the wooden area. The path surfaces vary from cement to brick to grass to gravel and wood. So make sure you have sturdy shoes.
Some of the trail surfaces are uneven and hilly and therefore should only be used in daylight hours.
It is recommended you walk it in sections, using a few public access points in Lake Geneva, Fontana, Williams Bay, and at Big Foot Beach State Park.
The easiest place to walk is starting at the Lake Geneva Public Library in downtown Lake Geneva and heading out in either direction for about a mile.
The sunsets by the lake are amazing and this area is incredible in the fall. Lake Geneva hiking doesn't get much better than this.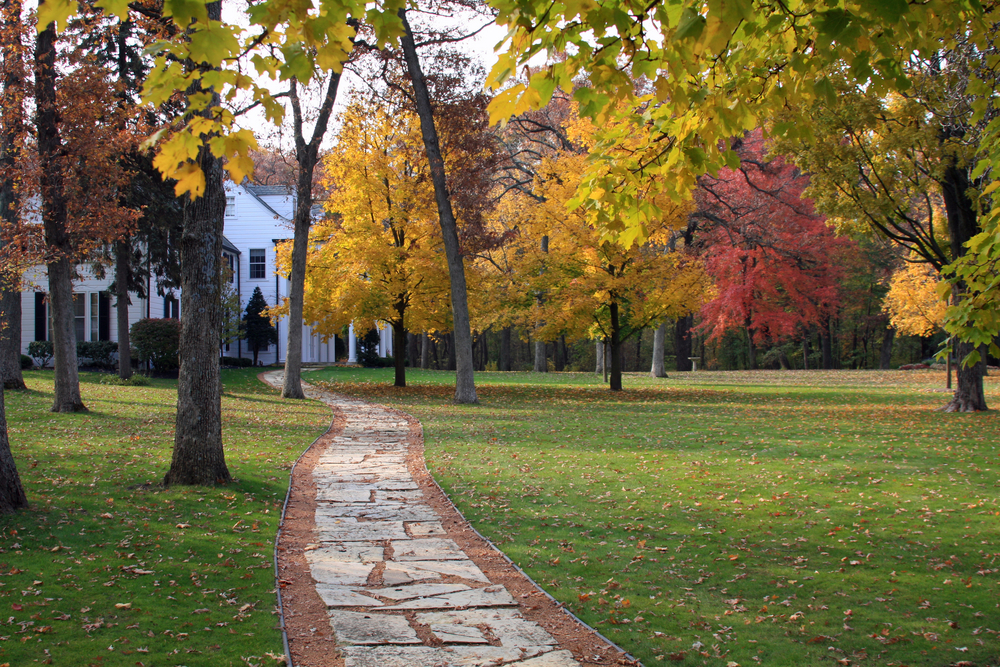 Hank Aaron State Trail – Milwaukee
This is one of Wisconsin's top urban trails and is a 14-mile stretch of paths and streets connecting the Milwaukee lakefront to the city's west side.
The trail takes in so many of the things to see and do in Milwaukee including Discovery World, the Milwaukee Art Museum, and the Harley-Davidson Museum.
One of the most fascinating spots is the 90-acre Milwaukee Soldiers Home which is a national historic landmark.
The path is paved continuously and is named after baseballer Hank Aaron. You of course don't have to walk the whole 14 miles, the Lakefront Walking Route will take you around most of the main Milwaukee sites.
For history, art, architecture, river views, and restored prairie take the A Walk in the Prairie trail, or if you want something different the Beer and Ice Cream Route sounds fun.
Some of the best hiking in Wisconsin is found on these fantastic urban trails.
Did you know there are six cool lighthouses in Wisconsin around the greater Milwaukee area?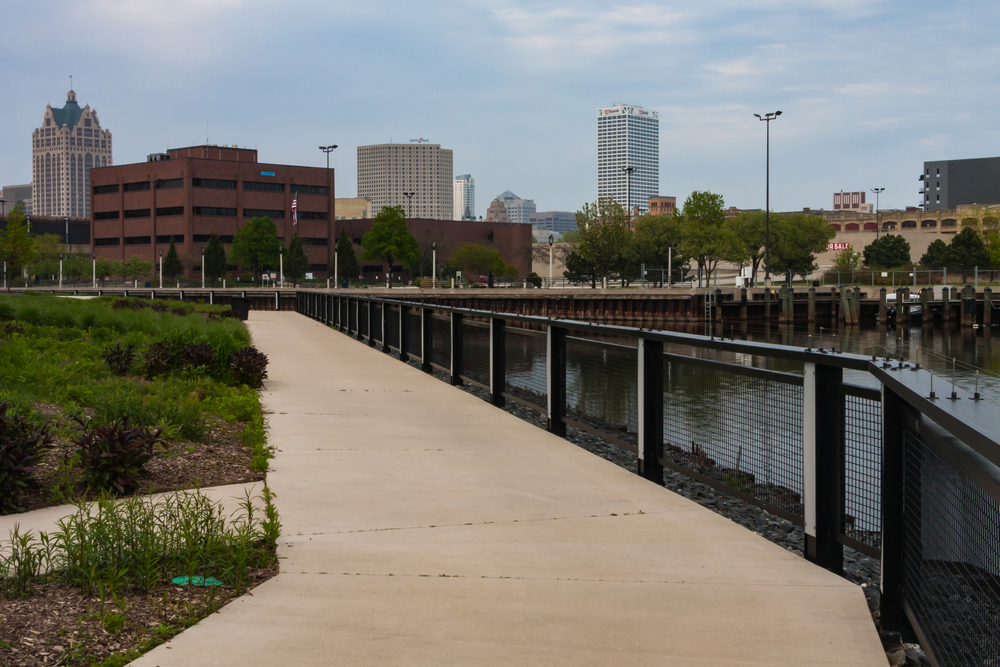 Photo Credit: Kelly Ermis via Shutterstock.com
Hixon Forest – La Crosse
Hixon Forest has 10 miles of trails and is on the eastern edge of La Crosse. The forest also gives you access to other state parks including Myrick, Riverside, and Grandad Bluff.
There are many trails to choose from here. The Bicentennial Trail offers a great view, the Prairies Loop takes in lower ground and the Oak Trail offers hikers a bit more of a challenge in terms of length.
The area offers different vistas and different hiking experiences so choose the one that most suits you. This area is perfect for hiking in Wisconsin.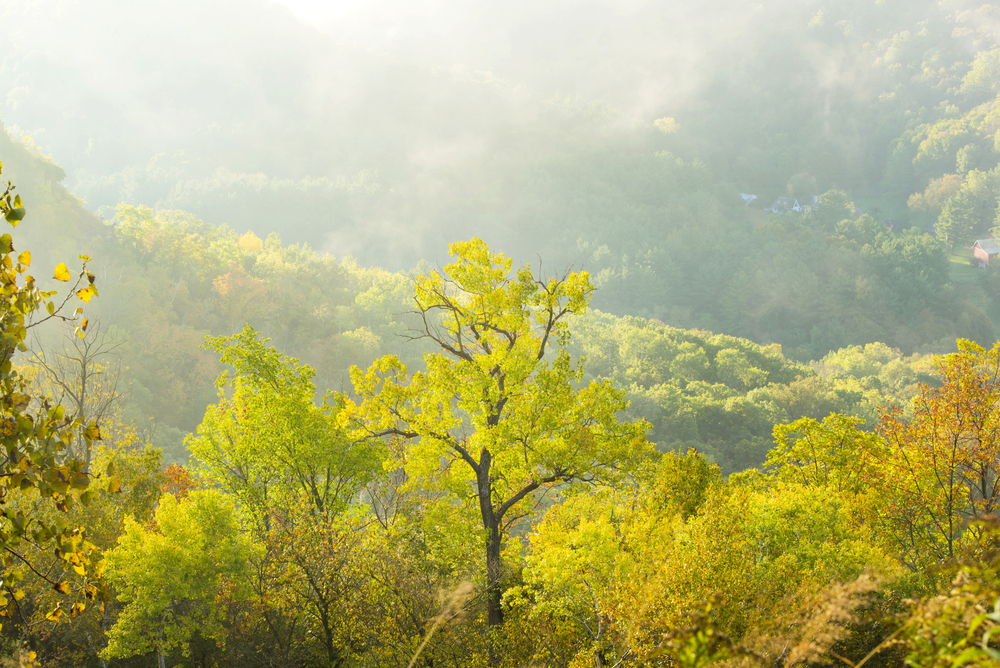 The Black Trail at Cave Point County Park – Door County
If you are thinking of hiking in Door County then Cave Point is a great place to start. The shoreline is impressive with some incredible cave formations, it's a photographer's paradise.
The park has a lot of trails to choose from but the easy 3 mile Black Loop is one of the Door County trails that is well worth the time.
The trail starts in the picturesque Whitefish Dunes State Park makes a large loop in Cave Point before going back to the starting point.
The route takes you along the coastline through birch and hardwood forest and there are many options to explore the impressive shoreline.
This is Door County hiking at its best and this really is a breathtaking hike.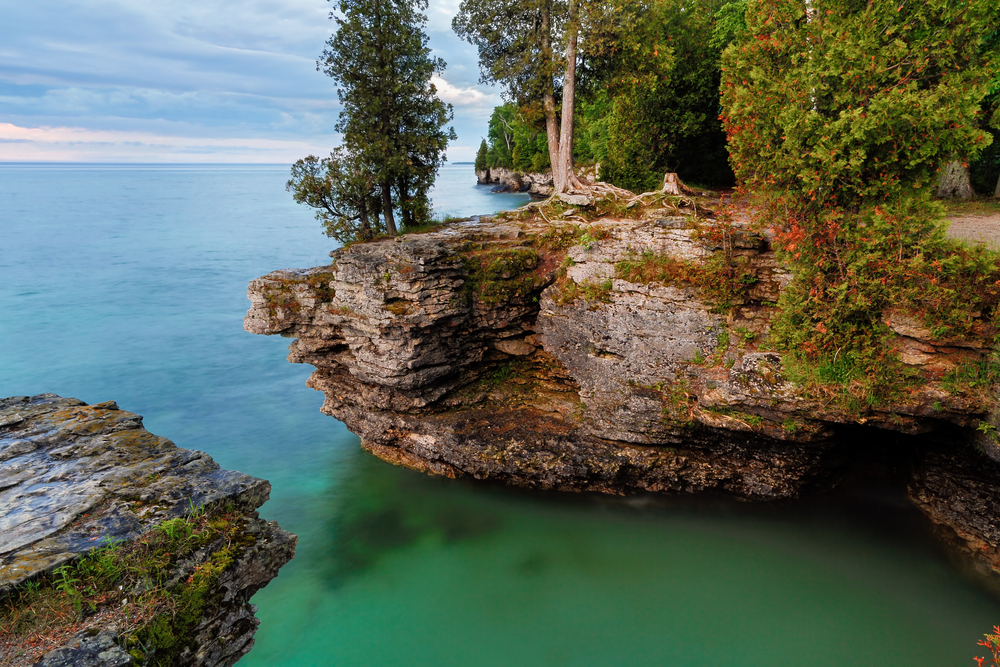 Packing List When Hiking In Wisconsin
If you are searching, here are some tips on how to pack lightly when packing for the Wisconsin trails.
A concealed travel pouch may be one of the most important items you bring along when visiting hiking in Wisconsin. It is always important to protect your personal information. Identity thieves are everywhere.
This unisex RFID blocking concealed travel pouch is lightweight and comes in several colors. It has lots of organization to give you peace of mind. You can place it under your hiking clothes next to your body to carry your ID safely.
If you have a pouch already that does not come with the RFID protection, as I do, these RFID sleeves are the perfect solution.
If you are planning on taking a lot of pictures with your phone you will definitely want to consider an external charging battery. This Anker high-speed phone charging battery is the exact one I carry with me on all of my trips.
I like that it holds its charging capabilities for several uses so I do not have to worry about it while out and about, and if I forget to recharge it at night, it will still be good to go the next day.
My daughter gifted me with this FugeTek selfie stick and tripod setup for my birthday. I absolutely love it! It is made of lightweight aluminum and is so easy to use.
It has Bluetooth connectivity and is a breeze to use for taking Insta-worthy selfies while exploring WI hiking trails.
I never much believed in using packing cubes when traveling. That is until I tried them. Now I am hooked. These are the exact cubes I use to stay organized when I pack for a trip!
You will want to bring your own refillable water bottle with you.
I never leave home on a trip without my Bobble filtration bottle. The 18.5-ounce size is perfect for your adventures and it fits nicely in the pocket of a backpack.
Perhaps you are traveling a long distance and packing space is a premium in your suitcase, or in your car. Then this set of collapsible silicone foldable water bottles would work well for you. Would not take up much space at all.
You will want a backpack or daypack with you to store snacks, your water bottle, phone, extra clothes, etc.. during long hours of visiting the cities in the Midwest. No matter the time of day or evening.
This foldable water-resistant backpack would be great. And it comes in many different colors.
As you can see when it comes to hiking in Wisconsin the options are endless. The trails in Wisconsin have so much to offer. And Wisconsin is one of the best places to visit in the Midwest!
Whether you hike the Ice Age Trail Wisconsin or do some Wisconsin Dells hiking the views will be stunning.
Any of the hikes presented here would make interesting Wisconsin getaways.
Whichever of these hiking trails in Wisconsin you choose please come back and tell me all about it. Have a great adventure.
State Trails

Biking the 400 State Trail Photo credit: DNR
Wisconsin has 44 State Trails open to the public. There are 43 land-based trails covering more than 1,700 miles. Thirteen of these trails are managed by the Wisconsin Department of Natural Resources and 27 are managed by county partners. Two trails are National Scenic Trails. The State Trail system also includes one water-based trail – the Lake Michigan State Water Trail, which extends along Wisconsin's Lake Michigan shoreline. In 2009, Wisconsin's State Trails were dedicated as the "Aldo Leopold Legacy Trail System."
Rail trails
Most of Wisconsin's 43 State Trails are rail trails – trails that have been converted from former railroad corridors into recreational trails. In 1965, the Elroy-Sparta State Trail became the first rail trail in the country. Since then, 39 other rail trails have been developed by the state, as well as dozens of others by local communities in Wisconsin.
U.S. Bicycle Route System
The United States Bicycle Route System [exit DNR] is a network of long-distance bicycle routes across the country linking urban, suburban and rural areas. A bicycle route may include shared-use trails, paved shoulders, bike lanes and shared road lanes.
In Wisconsin, U.S. Bicycle Routes 30 and 230 travel east to west, connecting Milwaukee to Minnesota. These routes travel on over 170 miles of state trails including the Hank Aaron, Glacial Drumlin, Capital City, 400, Elroy-Sparta, La Crosse River and Great River state trails.
Funding for Wisconsin's Trails
This manual features a variety of funding sources available for trail development and maintenance in Wisconsin. The manual is designed to empower trail advocates to access financial support from state, federal and private sources to develop trails in their communities.
Cooperative trails
The 25 State Trails that are managed by county partners are considered cooperative trails. Cooperative trails allow the Department of Natural Resources and county partners to work together to preserve corridors for trail purposes. For most cooperative trails, the department owns the land, while the counties develop, maintain and operate the trail.
Wisconsin State Trails Network Plan
The Wisconsin State Trails Network Plan identifies a statewide network of trails and provides guidance to the department for land acquisition and development. The plan maps detail the potential trail network for different regions in the state. The Network Plan was last updated in 2003 and identifies both state-owned trails and trails owned by other government entities.
Wisconsin State Natural Areas Program Tower Hill Bottoms (No. 33)
Within the Lower Wisconsin State Riverway, Iowa County. T8N-R4E, Section 20. 481 acres.
Description
Description
Tower Hill Bottoms features an excellent example of an undisturbed floodplain forest of silver maple, river birch, American elm, green ash, and swamp white oak located along the Lower Wisconsin River. Shrubs range from sparse under the closed canopy to quite dense in areas where natural gaps have occurred with buttonbush, prickly ash, and silky dogwood dominating. Especially common are climbing vines of grape, woodbine, wild yam, carrion flower, and poison ivy, which climb into the canopy giving the tree trunks a leafy appearance. By mid-summer, the groundlayer contains an abundance of wood nettle along with sawtooth sunflower, cardinal flower, sensitive fern, fringed loosestrife, and green dragon. Bird life is diverse, and includes pileated woodpecker and tufted titmouse. Tower Hill Bottoms is owned by the DNR and was designated a State Natural Area in 1958.
Access
Driving directions
From the intersection of Highways 14 and 23 north of Spring Green, go south on 23 3 miles, then east on County C 0.8 mile to the Tower Hill State Park entrance north of the road. Follow park trails north of the shot tower and cross Mill Creek on fallen tree "bridges." Access also by canoe via the park's boat landing.
Ownership
Tower Hill Bottoms is owned by:
The DNR's state natural areas program is comprised of lands owned by the state, private conservation organizations, municipalities, other governmental agencies, educational institutions and private individuals. While the majority of SNAs are open to the public, access may vary according to individual ownership policies. Public use restrictions may apply due to public safety, or to protect endangered or threatened species or unique natural features. Lands may be temporarily closed due to specific management activities. Users are encouraged to contact the landowner for more specific details.
The data shown on these maps have been obtained from various sources, and are of varying age, reliability, and resolution. The data may contain errors or omissions and should not be interpreted as a legal representation of legal ownership boundaries.
To create your own custom map where you can zoom to a specific location, please use the DNR's mapping application.
Recreation
Very few State Natural Areas have public facilities, but nearly all are open for a variety of recreational activities as indicated below. Generally, there are no picnic areas, restrooms, or other developments. Parking lots or designated parking areas are noted on individual SNA pages and maps. Trails, if present, are typically undesignated footpaths. If a developed trail is present, it will normally be noted on the SNA map and/or under the "Access" tab. A compass and topographic map or a GPS unit are useful tools for exploring larger, isolated SNAs.
The good majority of SNAs are isolated and have few or no facilities. Some SNAs have vehicle access lanes or parking lots, but their accessibility may vary depending on weather conditions. Parking lots and lanes are not plowed during winter. Hiking trails may be nonexistent or consist of undeveloped footpaths. A GPS unit or compass and detailed topographic map are useful tools for exploring larger SNAs.
Entrance fees: Excepting Parfrey's Glen, the Cambrian Outlook in the Dells of the Wisconsin River, SNAs within State Parks and some within State Forests, all other DNR-owned SNAs do not have any admission fee. For more information, see Wis. Admin. Code NR 45. For non-DNR-owned SNAs, we are unaware of any vehicle or admission fees. However, please contact the landowner for more information.
Allowable activities
In general, the activities listed below are allowed on all DNR-owned SNA lands. Exceptions to this list of public uses, such as SNAs closed to hunting, are noted under the "Access" tab above and posted with signs on site.
Hiking
Fishing
Cross country skiing
Hunting
Trapping
Scientific research (permit required)
Outdoor education
Wild edibles (What is this?)
Pets (Rules)
Wildlife viewing
Prohibited activities
Camping and campfires
Collecting of animals (other than legally harvested species), non-edible fungi, rocks, minerals, fossils, archaeological artifacts, soil, downed wood, or any other natural material, alive or dead. Collecting for scientific research requires a permit issued by the DNR
Collecting of plants including seeds, roots or other non-edible parts of herbaceous plants such as wildflowers or grasses
Drones: Flying-related activities, including the use of drones, hang-gliders and model airplanes, are prohibited. Permission may be issued by the SNA Program for the use of drones for educational or research purposes.
Geocaching
Horseback riding
Rock climbing
Vehicles, including bicycles, ATVs, aircraft, and snowmobiles except on trails and roadways designated for their use
For rules governing state-owned SNAs and other state lands, please consult Chapter NR 45 Wis. Admin. Code [exit DNR]
Source https://midwestexplored.com/hiking-in-wisconsin/
Source https://dnr.wisconsin.gov/topic/parks/trails
Source https://dnr.wi.gov/topic/Lands/naturalareas/index.asp?SNA=33