13 Best Hiking Daypacks With Hydration
Choosing a hiking daypack with hydration is definitely not an easy matter. The market is so crowded these days. You can easily find a wide variety of volumes and styles. Each of them tries to distinguish themselves with unique constructions and accessories. But you don't need to worry, because here we'll give you some great tips on how to choose the best hiking daypack with hydration. Apart from that, we've also compiled some of the best daypacks around, complete with their reviews! So, are you guys excited? Well, without further ado, let's get started!
How to Choose The Best Hiking Daypack with Hydration
As we said at the start, the market for hiking daypacks with hydration has been frenetic lately. There's a high chance that you'll have a hard time finding the one that you really want. But, don't worry, because that's exactly why you're here right?
So, here we've compiled some of the things you should expect from the best hiking daypack with hydration. That way, you can determine what kind of backpack really fits your needs and your climbing plan. Without further ado, here are three factors to consider when choosing a hiking daypack with hydration.
How big a daypack do I need for a hike? This is a classic question that's generally asked when someone is looking for a hiking daypack with hydration. While there's no exact answer to that, you should be fine with a 20-35L pack. It all depends on how much clothing and gear you plan to bring. The more complex or long the climb, the more space you need.
Ventilation
Getting the best hiking daypack with hydration and good ventilation is a must. Especially if you plan on hiking in a hot or humid place. Trust us, there's a big difference between doing outdoor activities with a sweaty back and a dry t-shirt. So when you're looking for a hiking daypack with hydration, make sure it's capable of providing extra airflow or has some additional airways.
Rain Cover
Remember that the best hiking daypack with hydration generally comes with a rain cover. Save yourself the hassle of buying one separately. Apart from that, the covers should come in handy to protect some of your most valuable items. And in most cases, a decent rain cover will work better than a regular plastic bag.
Can I Put a Hydration Bladder in Any Backpack?
The short answer is yes. The bad news is, it's not a straightforward process. The good news is, it's not something that's difficult to learn and do. The best part is, you can find tons of detailed tutorials on the Internet. Have a good search!
Is a Hydration Pack Worth It?
Absolutely. A hydration pack will allow you to drink without having to bother stopping and pulling out the water bottle. This will save you a lot of time, which is crucial on most hikes. Additionally, a hydration pack can generally accommodate more water than a regular water bottle.
How Do You Keep Water Cold in a Hydration Pack?
So far, adding ice cubes is the best way to do this. But remember, don't add too much, as it can make your whole bag freeze. Alternatively, you can store the pack in the freezer for a couple of hours before the hike.
Deuter Trail 30
Anyone out there who considers themselves a serious hiker should try Deuter Trail 30. This is a hiking daypack with hydration designed for more complex and more challenging hikes. The top-loader design is a bit of a genius. There's front panel access, so you shouldn't have any trouble grabbing some of your buried items. On top of that, the padded back provides extra airflow, letting you feel super comfortable during the entire hike.
On top of that, Deuter also added a pull-forward hip belt adjustment to provide a really tight fit. For extra technicality, this daypack also features a trekking pole holder and an ice ax loop. If you spend a lot of your time in alpine environments, this daypack is definitely worth checking out.
What We Love
Made for serious hikers with plenty of great technical features
Deuter Aircontact Trail system
Hydration system compatible
30L of volume
Wet laundry compartment
It may be a little too much for some people
Mystery Ranch Scree 32
Mystery Ranch Scree 32 is the best daypack with hydration designed to take all kinds of abuse. Seriously, this backpack is really tough! That's why it's so popular with hikers as well as professional guides. Most of them love the toughness and design. There's quick access to the top and a handy three-zipper system. Organizing your climbing gear is extremely convenient since the bag features a main compartment with three internal pockets. Apart from that, there's a hydration storage system here.
As for fitting, Mystery Ranch Scree 32 deserves two thumbs up. The torso length is completely adjustable, the hip belt is removable, and there are several compression straps for carrying some extra gear. No matter how demanding your next adventure is, this is a daypack with hydration that'll serve you well.
And speaking of hiking, don't you agree that it would be more fun if you could communicate intensively with your partner throughout the adventure? But since coverage can be very limited around the backcountry, you'll need an alternative solution. For that, check out our 13 best walkie-talkies for hiking.
What We Love
Designed to be really tough, with quick access to the top
Zippered lid pocket
Water bottle pockets
Double-layered bottom
Hydration reservoir compatible
Too small for backpacking, especially if you plan on going somewhere with cold weather
Osprey Stratos 36
Tricky adventures demand more capable gear. For that, we recommend the Osprey Stratos 36. It's a daypack with hydration and a massive compartment. With a capacity of 36 liters, there'll be no shortage of space to store all the gear you need. If that's not enough, the Osprey also includes an ice ax loop, shaft holder, and trekking pole holder. Apart from that, there's a mesh back panel ventilation system that'll keep your shirt dry throughout the adventure. Great when you hike during hot or humid weather.
Despite its bulky dimensions, the Osprey Stratos offers easy access to all your stuff. The top cover features two closed pockets. Meanwhile, there's a center zip on the front. Furthermore, you'll find two large zippered pockets on the hip belt. If you're planning to participate in a more technical hike anytime soon, this daypack is quite recommended.
What We Love
Come with a large compartment, allowing you to pack more gear
Internal hydration sleeve
Ventilated back panel
Stretch mesh pockets
Integrated rain cover
It won't sit upright when you place it on the ground
Deuter Guide Lite 24
Deuter Guide Lite 24 is made for those who prefer something simple and minimalist. It's great for casual hikes or trekking in the backcountry. There's a drawstring closure at the top, which should be handy for when you want to pack a few additional layers or some extra large gear. And since the pack is designed to sit tight against your back, it's highly recommended for speed hikes.
Just as you'd expect from a daypack with hydration, there's a hip belt included. It's removable, so you can leave it at home, in case you need to remove some of the excess load. For easy access to your hiking essentials, Deuter includes an external zip pocket. Whenever you plan to hit the trails, this daypack will be your best buddy!
What We Love
A drawstring closure at the top, which really comes in handy when you need to pack some extra large gear
Great for endurance sports and speed climbing
Sunglasses holder on the shoulder strap
Lightweight U-frame
Removable hip belt
It's pretty minimalist for a best daypack with hydration
Osprey Talon 22
When it comes to popularity, nothing can really beat the Osprey Talon 22. And it's easy to see why. This daypack is designed to provide a really tight fit, yet still feels great at the same time. Furthermore, its torso length is fully adjustable. On top of that, the mesh hip belt grips your waist comfortably and provides the extra ventilation you need. As for the fluid supply, there's an external hydration sleeve here. In other words, refilling the hydration bladder will be much easier.
Another thing that makes the Osprey Talon 22 much more appealing than other daypacks with hydration is its main compartment. It's large in size, providing more than enough room to accommodate bulky items, including insulated jackets and sweaters.
What We Love
One of the most popular daypacks among hikers, with a fully adjustable torso length
Zipper closure
Dual-zippered access
External hydration sleeve
Adjustable shoulder harness
There have been several reports regarding zippers stuck
Deuter Speed Lite 24
No matter what kind of your outdoor activities are, the Deuter Speed ​​Lite 24 will be a backpack you can trust. It features a shell-inspired design, providing instant access to all the gear you pack in it. Therefore, this pack is highly recommended for almost any type of high-intensity activity, including hiking, biking, or even skiing.
On the top side, you'll find a special pocket. It's designed to accommodate your smaller items, including keys, cards, and smartphones. Apart from that, there's a front stretch pocket and a water bottle pocket as well. And if you want to bring a snowboard or other bulky gear, this daypack with hydration also comes with several compression straps.
What We Love
A multi-functional pack, great for a variety of high-intensity outdoor activities
Deltrin U-shaped frame
Padded AirMesh shoulder straps
Compression straps
3-liter hydration system
Nothing, as far as we know
Osprey Stratos 24
The Osprey Stratos 24 is designed to provide the ultimate comfort when you have to carry heavy loads. That's why this hiking daypack with hydration features a full metal frame and large mesh panels. Both work really well to keep you comfortable throughout the intense adventure. Apart from that, this backpack also has a main compartment with plenty of space, making organizing your belongings a lot easier.
Nevertheless, at around three pounds, the Osprey Stratos 24 is probably not for everyone. It can be too heavy, especially for novice hikers. Other than that, it's also not the cheapest daypack around. But if you're all about technicality and quality, then this is your best hiking daypack with hydration.
And by the way, are any of you planning on doing winter hikes in the near future? Well, make sure your feet are completely protected from the freezing weather. Check out our great coverage on the 13 best snowshoes for hiking.
What We Love
Provides ultimate comfort when you have to keep moving with heavy loads on your back
Integrated and removable rain cover
Two zippered hip belts pockets
Stretch mesh pockets
Ventilated back panel
It'll probably be too heavy for most
Granite Gear Crown 60
Granite Gear is a Minnesota-based brand that's starting to gain popularity among outdoor enthusiasts these days. One of their newest innovations, Granite Gear Crown 60, is a daypack with hydration specifically designed for minimalist thru-hikers and backpackers. If you want something slimmer, they even have a 38-liter model.
Compared to most daypacks, Crown 60 provides you with 14 liters of extra space. But incredibly, that doesn't make the bag feel significantly heavier. Apart from that, you still get all the conveniences of a regular daypack. From back panels, hipbelt, to shoulder straps, everything is here. It also has a roll-top closure, which should come in handy when you need to carry bulky gear.
What We Love
Offers plenty of extra space, but is just as comfortable as a smaller daypack
High-tenacity nylon
Vapor Current Mark 2 frames
Dual-density shoulder harness
Roll-top main compartment
Nothing, as far as we know
CamelBak Rim Runner 22
Offered at around 100 bucks, the CamelBak Rim Runner 22 is actually a hydration pack with a Crux reservoir system. It only weighs about a pound, which makes it perfect for hiking or cross-country running. There's breathable mesh on the back panel, so your body temperature will be continuously regulated during the whole intense activities. When it comes to quality, there isn't much to criticize about this product.
The bottom line is, while CamelBak Rim Runner 22 isn't actually a daypack with hydration, it would be a great alternative. Especially if you're planning on doing a casual or close-up hike. Besides being lightweight, this pack is also comfortable and won't add to the burden on your back.
What We Love
A hydration pack with the popular Crux reservoir system
Crux reservoir system
Breathable air mesh back panel
Stretch overflow exterior pockets
Hip belt with open mesh
The backpack feels a little flimsy
Hyperlite Mountain Gear Daybreak
Hyperlite Mountain Gear Daybreak is a great option if you're into a light backpack. This 17-liter capacity pack comes with Dyneema Composite fabric weather-resistant and great overall organization. Apart from the main compartment you also get a large front pocket and two side pockets. Whenever you plan to explore rough terrain, this bag will serve you well.
Unfortunately, all of the Hyperlite Mountain Gear Daybreak's greatness doesn't come cheap. To make this daypack with hydration yours, be prepared to spend about 210 bucks. However, it's understandable since you need to pay a premium price for premium quality.
What We Love
A pack that is great and powerful for its dimensions
Dyneema fabric
Shoulder straps
Stowable waist belt
Large front pocket
Gregory Miwok 24
Gregory Miwok 24 is a daypack with hydration that's able to provide a great balance between weight, comfort, and features. The 24-liter model weighs less than two pounds in total and features a main compartment to accommodate one-day hiking needs. For some smaller items or gears, Gregory provides no less than eight exterior pockets. Whether it's a quick trip or a casual hike, this bag is a perfect choice.
Just as you'd expect from the best daypack with hydration, Miwok features a hip belt with decent padding. As for the back panel, it's quite flexible, but still solid enough to keep everything in place. If you're interested in having this fantastic product, be prepared to spend about 120 bucks.
And in case you need another recommendation of daypacks, relax. We have a lot of them here! For female hikers, we highly recommend checking our coverage on the 13 best hiking daypacks for women.
What We Love
Provides a great balance of features, weight and comfort
200D Poly materials
Biosync suspension
Ample of storage
Hydration compatible
The front pouch isn't too secure
Gregory Nano 20
Having spent about 10 years in the packing industry, Gregory knows a thing or two about a good hydration daypack. And that's evident through their product line, which is consistently impressive from time to time. This also applies to the Gregory Nano 22, an excellent pack with Hydro's 3D reservoir system. Furthermore, this lightweight gear also features some nice touches. You get a stretchy mesh pocket and a hip belt with decent padding.
As for the price tag, the Gregory Nano 22 is a truly competitive best daypack with hydration. Offered at around 80 bucks, it's significantly cheaper than other similar products. If you're planning a quick hike and don't want to spend a lot on your pack, this would be a great alternative.
What We Love
Offered at competitive prices, with features that are no less attractive
100D Nylon lining
Biosync suspension
Dual side compression
Front mesh pocket
It has a small compartment
Salomon XA 25
Salomon XA 25 would be a logical choice if you're planning to do some technical hikes. This hydration pack comes with a 25-liter capacity, a front water bottle pouch, and is fully compatible with a hydration reservoir. Regarding toughness, there's a water-resistant main compartment. Furthermore, the pack features YKK zippers, which are known to be tough against various types of abuse.
You can get this daypack with hydration for around 180 bucks. However, you should know that the XA 25 isn't very versatile. It's packed with too many technical features for a casual hike. And for the sake of lightweight, Salomon decided to get rid of the webbing hip belt and shoulders. This makes the pack a little more uncomfortable to wear, although it'll allow you to move more quickly.
5 dumb things backpack designers need to stop doing
As many of you may know, I am an endless complaining machine that cannot be satisfied even by the most magnificent of creations anywhere to be found. This debilitating curse manifests itself most thoroughly when it comes to high-tech travel gear, much of which is cartoonishly ruined by moronic designers who seem to have absolutely no idea that even the smallest of modifications could vastly improve their creations by several orders of magnitude.
I have no earthly idea how they're able to screw things up so frequently, and many a strongly-worded-letter has departed from my desk, only to be cursorily answered or summarily ignored by the willfully foolish recipients whose job descriptions apparently do not include "making things not suck."
So I'll just complain here instead.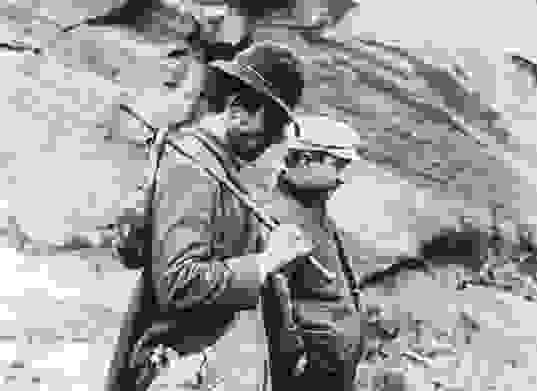 My new pack.
Backpack manufacturers make a massive variety of packs, churning out the designs every single year, with a billion different sizes, colors, configurations, and everything else. You'd think they'd provide enough variety to satiate the needs of even the most discerning of pack enthusiasts. But nay. Somehow they still manage to screw things up all over the place.
Now I'll readily admit that in many cases, my subjective needs are not universally ideal; travel-specific packs require a somewhat different set of features compared to hiking packs, and the comparative rarity of travel packs means I quite often have to make do with a hiking pack, which is a bit like giving dog food to a crocodile. He'll eat it, sure, but it's still dumb.
But they're not getting away so easily. Nay! I am here to complain, and complain I shall.
The following problems consist exclusively of design flaws that are not subjectively unsuitable for my purposes, but are just objectively stupid. They're wrong. Plain and simple. And people need to stop doing them.
Backpack design flaws that need to stop immediately
1. Stupidly tiny "water bottle" pockets
I have absolutely no idea how this trend started. I think it has something to do with the popularity of hydration bladders, and backpack manufacturers figured that's all they had to worry about. If everybody just has a hydration bladder, they won't be storing a water bottle in a side pocket.
But not everybody has a hydration bladder. In fact I'd be willing to bet that more people have water bottles than hydration bladders, and they need a place to put them goddammit. Where the hell can they go besides the damn side pocket. Not in the main compartment of the pack, surely. Not only is it a stupid hassle to take it out whenever you need a sip of water, but if there's a leak of any kind, all of a sudden your day is ruined.
But I see backpacks all over the place…seemingly the majority of them…that have extraordinarily small side pockets with no ability to expand whatsoever. Which means they'll be flat against the wall of the pack itself with a round water bottle trying to find its way inside! You're literally stuck trying to fit a round object into a flat compartment. Do they even bother trying to fit any of those bottles that are sold in the same stores into the side pockets before shipping the product out the door.
But they even issue promotional photos displaying a water bottle fitting into the pocket. Quite often the pack itself is only partially filled, meaning the water bottle dug into the empty space of the main compartment, meaning if the bag were full, you'd be out of luck.
And it's not like they can't handle solving this problem. It's actually stupidly easy. All they have to do is:
Use stretchy fabric
Fold the fabric
In fact you only really need to do one or the other. In either case, the fabric will lay flat when the pocket is empty, and pop open when you stuff a water bottle inside. It's literally that simple. And even if you don't need to fit a water bottle in there, it's still objectively superior anyway.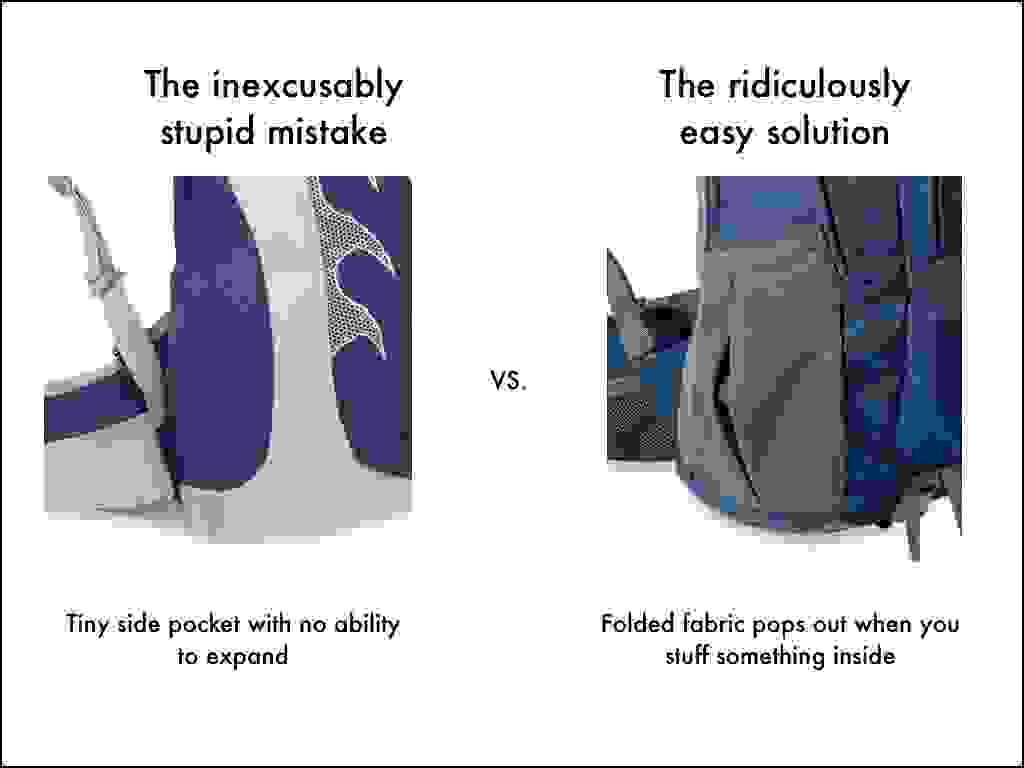 It's like magic.
I will never stop complaining about this, because it's the most annoying thing in the world to me. I shouldn't have to figure water bottle location into pack purchase decision making. They should just all be good.
2. Compression straps that cover the side pockets
So it's one thing to make a side pocket so stupidly small that you can't use it. But it's another thing entirely to have a perfectly good pocket and lash something right over the top.
They're called "compression" straps, and you have to pull them tightly to compress the pack. And you know what happens when you pull a strap tightly over a pocket? You can't use the pocket anymore. You literally have to decide whether you're going to use the pocket, or the strap, but not both. Or at least, not very well. The strap won't be doing much in the way of compression if it's loose enough to access the pocket itself, and thus is pointless.
The worst offense is when not one but two straps go right over the side pocket. On packs so small that they don't need the double strap anyway!
In some cases, these straps can actually be routed behind the side pocket, so they won't get in the way of things. But the fact that certain companies allow this option only on some of their packs is incredibly annoying. It's also not even the best way to solve the problem.
Once again, a variety of solutions exist. Here's the easiest one: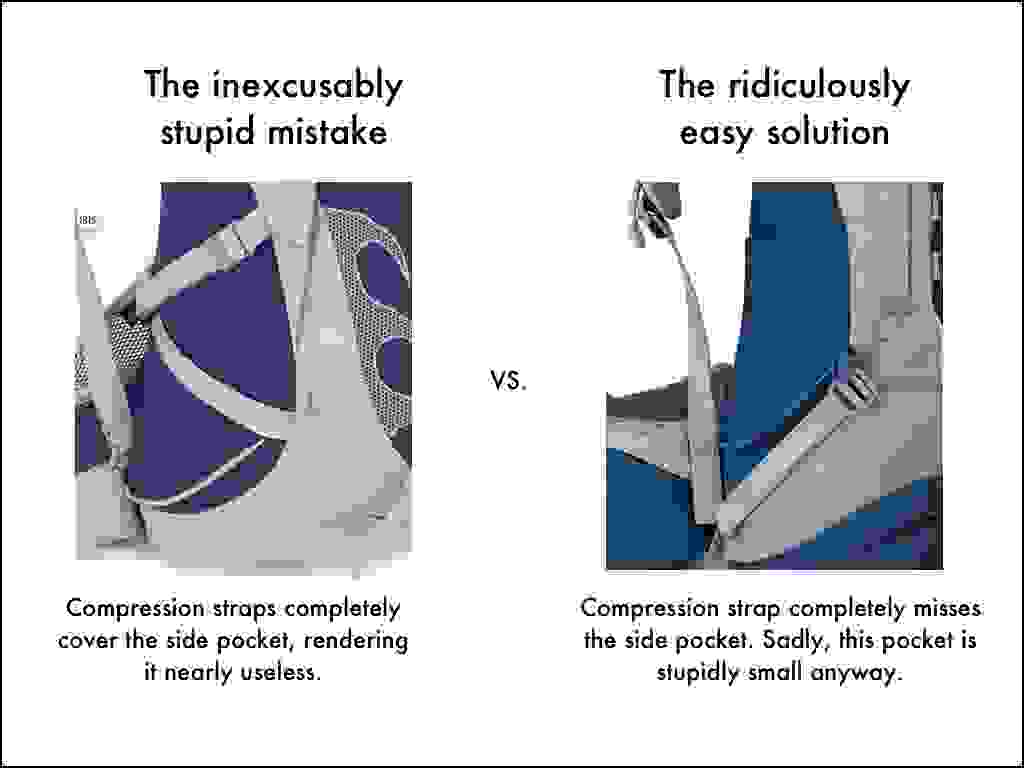 You can just SEE the silliness.
You can cut them off, but why don't they just not do stupid things to begin with.
3. Filthy dirty lie "panel" loading
This is mainly a vocabulary problem. Allow me to elaborate:
Backpacks come in a few varieties: Top loaders, which consist of giant cylindrical main compartments with a lid on the top; and panel loaders, which have a large, horseshoe-shaped zipper which allows the entire pack to be opened up like a suitcase.
Except when they fail to make the zipper go all the way to the bottom of the pack and you can only open it halfway. Plus, they'll put the zipper in the middle of the pack, rather than at the edge, making it even more difficult to open completely.
Which means it's not a panel goddammit. Check the damn dictionary!
Now I'll admit that in some cases the half-panel loaders (that's what I'm calling them) have their merits. School, for example. When you want to flip through a few books, all of which are balanced vertically, you'd want to open the pack from the top and flip through the options and take your pick. This works better than a full-length panel loader, which you'd sort of need to place flat on the ground to see what's inside, and even then, you'd probably only be able to see one book at a time, unless you arranged them differently than anyone in the world ever has.
But it's a terrible way to organize anything else. If you've ever had a sock at the bottom of the pack, you need to unload the whole damn thing to find it. And this is the weakness of half-panel loaders. They are by far the most difficult type to fill to capacity. And once you've packed them nearly full, it's incredibly difficult to access anything at all.
It's not to say they're bad, but they're horrible in certain cases. Travel, for example. And regardless, they certainly shouldn't be called "panel" loaders.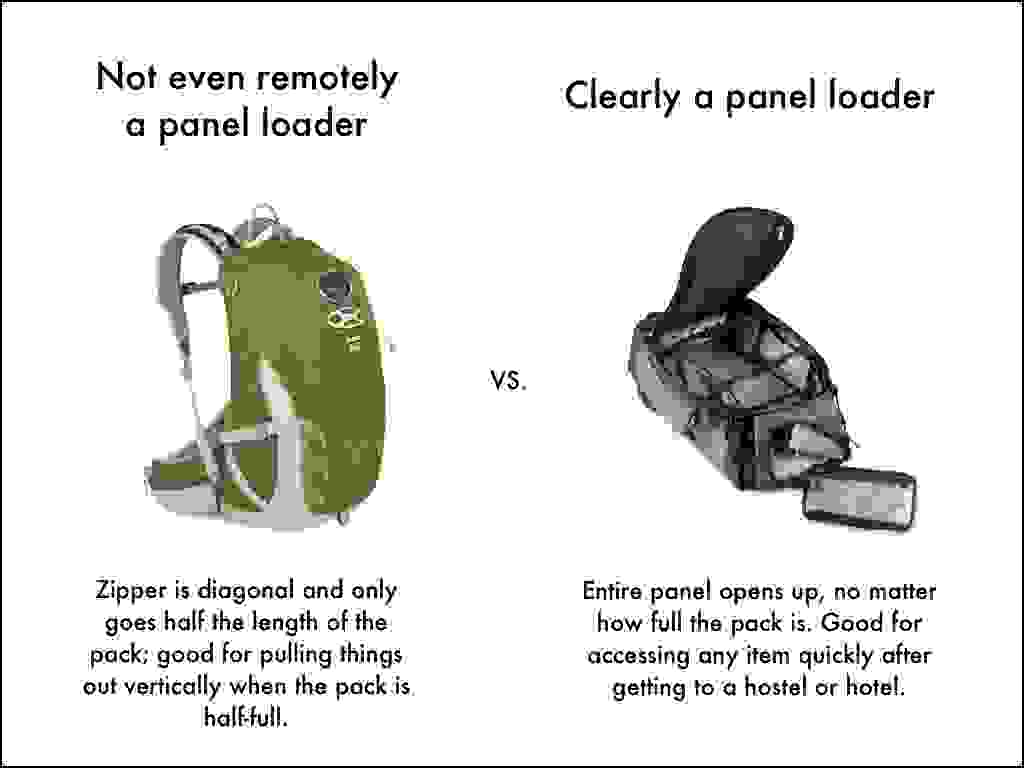 Dome loaders? I don't know.
Again, half-panel loaders have their merits, but when I say I want a panel loader, I mean a real one.
And there's a very clever hybrid solution found in the Kelty Redwing, which combines top loading with panel loading into a single zipper. Unfortunately, it was one of the most horrifically uncomfortable things I've ever experienced.
4. "Bridge" shoulder strap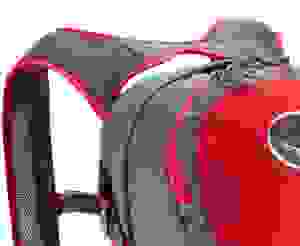 A bridge too far. From sanity.
I have no idea who thought up this incredibly stupid idea. I bet it went something like this:
"Hey guys! Let's change something that's been working perfectly for decades!"

"Um, why?"

"Because fuck you, that's why!"
I'm referring to the so-called "haul loop" found at the top of the pack. You can use it to pick up the bag, hang it on something, or whatever. And a few companies have started making bags where the haul loop is integrated into the shoulder straps, forming a bridge between them.
This is a terrible idea. I mean really awful. It means you cannot adjust the pack to fit high up on your back. You are required to carry it lower on your back than you otherwise could, meaning if you like wearing it up high, you're stuck with something digging into the back of your neck all day.
I'm pretty sure the designers consisted of incredibly large people who wear their packs low and never bothered checking with anyone else.
Oh, and the haul loop is smaller and thus harder to grab, and it's vertically positioned rather than horizontally, so it'll dig into your fingers more. Hooray!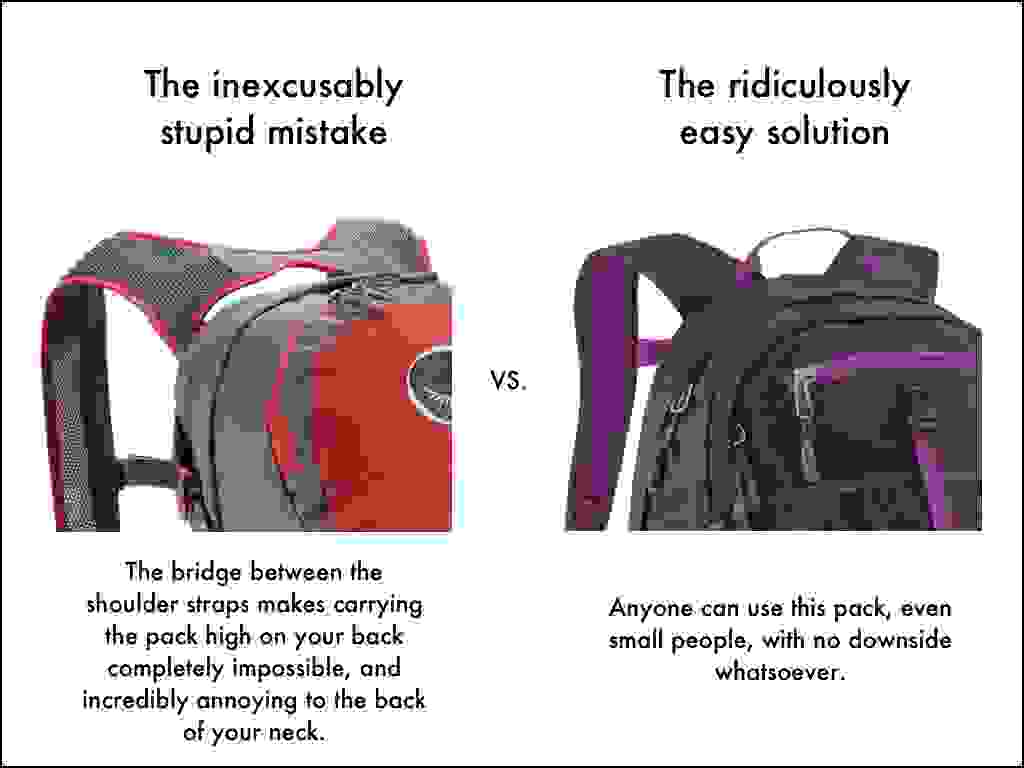 I really want someone to explain the thought process behind this one. I am really oblivious.
Seriously, how did no one say anything?
5. Centrally-placed vertical zipper
Okay, I know this one is kind of a reach, because it's somewhat obscure. But it's also dumb.
I've only seen this in a few places, and I think it's supposed to be for maps, which are (usually) vertical pamphlets that can be slipped inside flat pockets with tall zippers. But tall, centrally-located vertical zippers are just incredibly stupid.
Firstly, it's hard to put small things in there. It's practically impossible seeing inside while trying to find them, and they might even fall out. And secondly, it's also difficult putting large things in there. It seems like a decent place for a rain jacket, but the process consists of stuffing the jacket into the left half of the compartment, and then stuffing the rest into the right half. You literally cannot access the entire pocket all at once, because it's just this tiny slit that's somehow supposed to provide access to this massive pocket.
I had this sort of zipper on an old pack of mine, and I literally did not use the pocket. Ever. It just sat uselessly. It's so difficult trying to take things in and out that I just didn't bother anymore.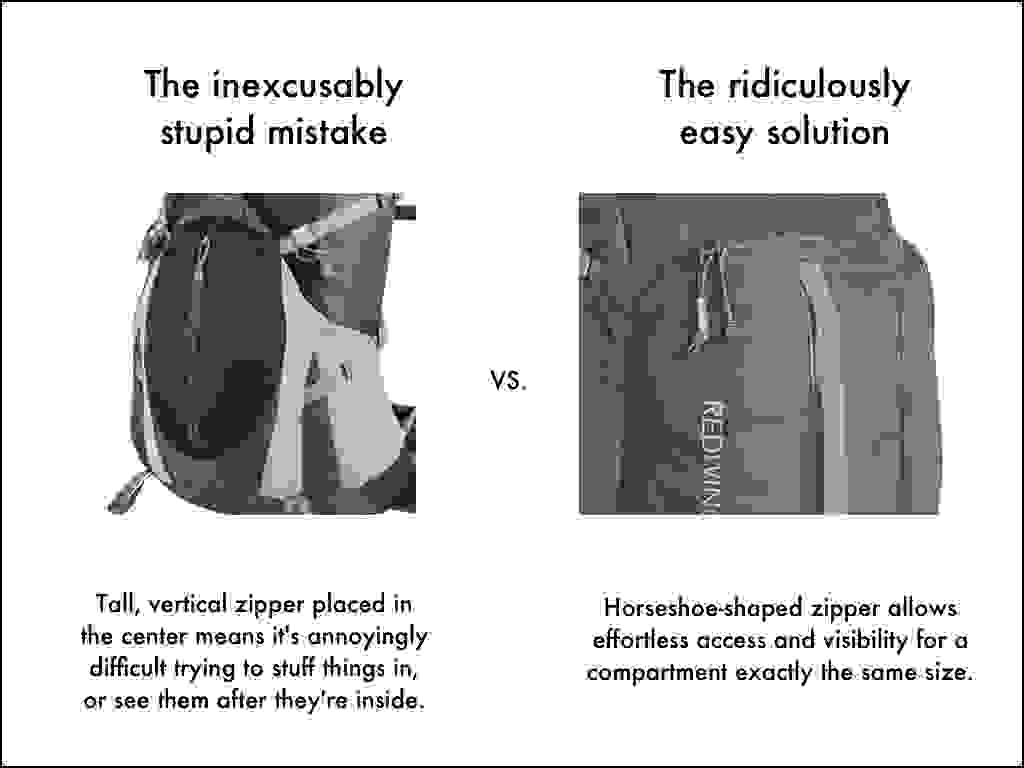 Was that so hard?
I really don't get this one either. If you're supposed to fit tall, flat papers into there, it would still work better to put the zipper literally anywhere else. Horizontally across the top, or vertically along the side. But, best of all, upside-down letter U. Done and done.

Backpack design error objective vs. subjective
Now I'll readily admit that my particular needs may not be the same as those of someone else. But in the cases listed above, with the exception of the panel-loader vocabulary problem, the design choices are just objectively wrong. And, annoyingly, they are incredibly frequent. I really have no idea why they continue to exist.
I wonder if it's simply that most people are more or less fine with a pack as long as it's good, and they'll live with the limitations as long as it holds up to serious use. I'd feel that way as well, but when I see design flaws, especially incredibly dumb ones, it just ruins my whole day.
Backpack manufacturers have apparently not realized that the load lifter straps (the small strap on top of the shoulder strap, that pulls the pack closer to your body) can be routed quite conveniently into hydration bladder port straps. Pretty much ever pack has a tiny strap, on the shoulder strap, where a hydration bladder hose is held in place. It's also a great place to stick the load lifter straps so they don't flail around annoyingly. The reason I think pack manufacturers haven't realized this is that sometimes they'll only put a strap on one side, instead of both.
You know those hip stabilizer straps? Basically, it's the small strap, on top of the hip strap, that pulls the pack closer to your body. It also forms a dangly thing that, if you have dual hip belt pockets with a slot where the dangly strap can go, can be kept out of the way. Once again, I don't think pack manufacturers have quite realized this, because many of them give you only one hip belt pocket and the strap on the other side dangles annoyingly.
When the base is rounded instead of flat, the pack falls over whenever you set it down. It's incredibly annoying.
If you have a top loader pack whose lid pocket attaches to a strap whose only connection point to the pack itself is at the very bottom of the pack, every time you unclip the buckle to open the pack, the strap will fall all the way to the ground. There could be something to prevent this, and it would be incredibly easy. I used dental floss. I'm sure they could do something a little more clever.
And you'll notice that in many of the pictures shown above, the "bad" pack was an Osprey pack. And there's a reason for that. Osprey make a million different packs, and plenty of people are happy with plenty of them, but…if I want to find a pack that'll annoy the hell out of me, I know exactly where to go. Osprey is the absolute biggest culprit of tiny side pockets, and straps covering the side pocket anyway. Among other things.
I intend to continue complaining about these problems until I become such a thorn in the side of these companies that they are forced to acquiesce to my demands. Wish me luck!
10 Best Hydration Backpacks for Hiking in 2022 – Reviews & Guide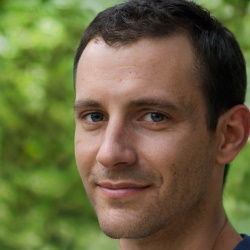 Before hydration backpacks, hikes required carrying bottles of water by hand or backpack and longer hikes meant you had to carry considerable quantities of water. The tube and valve on a hydration back made life much simpler and convenient, and it's a tool that's perfectly suited for hiking.
We love to hike, so we use hydration packs all the time. Recently, we realized that we don't really give much thought to our packs. We've been using the same ones for a while and they're starting to get a bit old and worn, so we decided it was time to replace them with some newer models and see what we've been missing.
Naturally, we wanted to purchase the best hydration backpacks possible, so we set out to see which packs made the grade. The following 10 reviews will compare some of the most popular options, using all the information we gathered during our testing to come up with the three best hydration packs for hiking this year.
A Quick Glance at the Winners of 2022:



The 10 Best Hydration Backpacks for Hiking:
1. Nathan 5025NG Hydration Backpack – Best Overall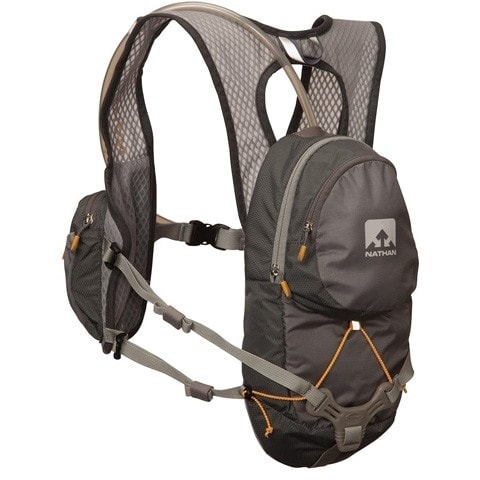 Ultralight is a buzzword in hiking. Everyone wants to be ultralight. Well the Nathan 5025NG hydration pack, designed for running, is ultra-light. Weighing just half a pound without water, it's easy to forget you're even wearing this hydration pack after a few miles.
Despite the low weight, space was still made for carrying your essentials, including a pocket on each strap that always keeps your most important possessions within reach. On the back, there is a larger zipper pocket that allows for carrying bigger items or several small items together.
This pack has extra straps and a weight distribution harness that keep it glued to your back so it's not bouncing up and down as you make your way up the trail. It's also very comfortable and cool, with ventilated mesh used on the back and the straps. For most of our testers, it was a great fit. Larger individuals will still fit, but they'll have a very snug fit in the Nathan pack. But it's an ultralight pack with a two-liter bladder that's perfectly suited for trips that will only last a few hours.
Bounce-free harness
Ultralight and breathable
Front pockets for gear you need to keep in reach
Zipper pocket on the back for other essentials
Tight fit for larger individuals
2. MIRACOL Hiking Hydration Backpack – Best Value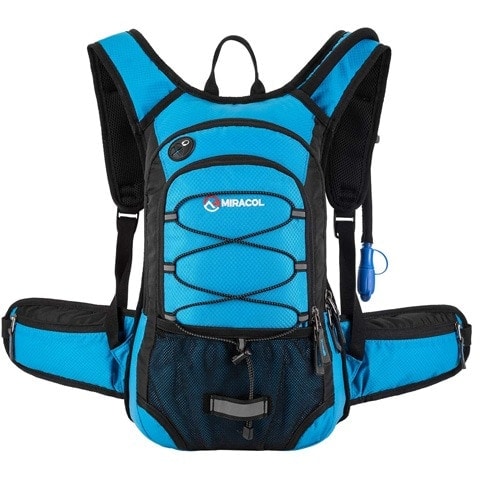 Now that hydration packs are so mainstream, you don't need to pay a premium and purchase a designer-brand hydration pack just to experience the convenience of a water tube connected to a water bladder in your pack. Packs like this one from MIRACOL make it affordable for everyone to get a hydration pack for easier and more comfortable activities. While there are others, we think this one is the best hydration pack for hiking for the money.
Though it's cheap, MIRACOL didn't skimp on features with this pack. We liked the padded waist straps that even had zipper pockets for storing essentials that you need in reach. We would have liked if the hip belt pockets stretched further around, but for the price, it's hard to complain.
It weighs a pound on its own, so it's not ultralight, but it's not going to break your back either. Waist and hip straps help to balance the weight of the pack, which is especially useful since it does have quite a bit of usable cargo storage thanks to the multiple storage pockets on the back, even though they're a bit tight when the bladder is full.
Low price
Many colors to choose from
Waist and chest straps balance the weight
Multiple compartments for extra storage
Too tight for much cargo when full of water
3. Osprey Skarab Hiking Hydration Backpack – Premium Choice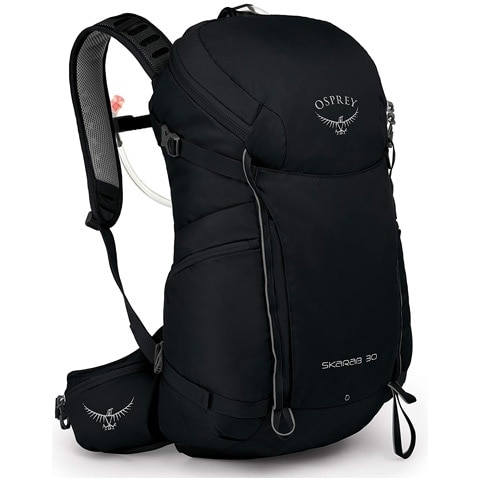 Osprey makes a lot of great hiking and camping equipment, and the Skarab 30 is another excellent offering that lives up to their reputation for quality. Of course, you'll be paying a premium for that quality, but we think it's worth it for what you get.
Padded hip straps help balance out your load. They both have pockets so you can keep some of your essential gear in reach. On the back, you have enough storage space for carrying enough gear to need those hip straps. Plus, you get a 2.5-liter water reservoir that will keep you hydrated for several hours on the trail.
An additional sternum strap helps to even out your weight distribution even more, which makes carrying heavier loads considerably more comfortable. There is a magnet on the sternum strap ito hold the magnetic bite strap, a nice touch that just shows the quality of the Osprey Skarab 30.
Lots of storage space
Padded hip straps with pockets
Magnetic bite strap
Ventilated yet padded back and straps
4. TETON Sports Oasis Hiking Hydration Pack
A rugged and durable backpack with a hydration reservoir built-in, the TETON Sports Oasis 1100 offers tons of cargo space for carrying all your gear. Inside, you'll get 18 total liters of space. The hydration bladder is just two liters, but there's plenty of space to upgrade to a larger bladder if you wanted to use this for outings longer than just a couple of hours.
Even with a full hydration bladder, this pack left plenty of room to fill the other pockets with the things we wanted to bring. But when loaded up with gear, we felt like we were missing a hip strap to help balance out the load, something that held the TETON pack back from breaching the top three. It does have a small sternum strap, but it wasn't quite enough to help spread out the weight of a full pack.
If you want to carry a lot of extras with you on the trail, then the Oasis 1100 is one of the more affordable hydration packs that also has room for cargo. In the end, we liked this pack, but it needs a hip belt before it earns a recommendation from us.
18 liters of total space
Affordably priced for what you get
Built very tough and durable
Can comfortably carry a full bladder and several items
The included hydration bladder is only two liters
Would benefit from a hip belt
5. CamelBak Aurora Hydration Pack
CamelBak is the original name in hydration packs, and they're still the most recognized brand in the space. Their Aurora pack is made to fit women specifically, giving them a more comfortable way to carry water. At just seven ounces, it's an ultralight pack, made with breathable mesh to keep it light and cool with plenty of ventilation for hot days on the trail.
With a 2.5-liter reservoir, this pack is set to keep you hiking for several hours. Two small zippered pockets on the back will carry your extra gear, but only smaller items because these pockets aren't large enough to store an extra jacket or anything of that nature.
For what you get, this is one of the more expensive options. But we appreciated little extras like the magnetic tube trap that's much easier and quicker to use than the older plastic tube clips.
While we do like this pack overall, we think it needs a few new features to make it to the top of our list, such as a bit more storage space or a waist strap to help keep it steady during your hike.
High-flow Crux reservoir
Two small zippered storage pockets
Magnetic tube trap
Larger 2.5-liter reservoir
The entire pack weighs just 7 ounces
One of the more expensive options
Can't carry anything large
6. OlarHike Hydration Backpack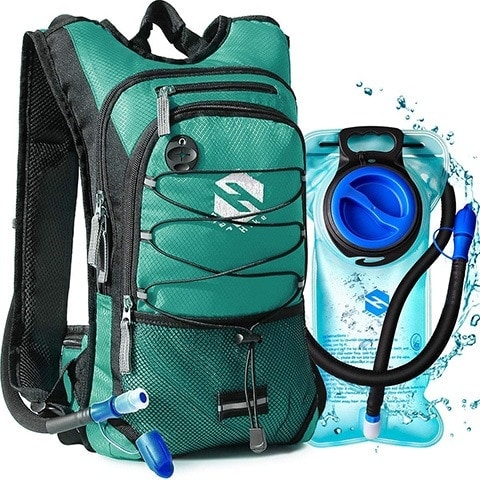 OlarHike isn't a well-known company, or at least, we haven't seen many of their products. But their hydration backpack is a solid offering with some worthwhile features as well as a few flaws that prevented it from reaching the top three. One thing we liked about this pack is that it's insulated and can keep your water cool, even when marching up a mountain in the hot sun. We appreciated having refreshing, cool water to drink after climbing the summit.
The OlarHike pack has plenty of room storing your essentials, including several zip-up cargo pockets on the back. We felt there was plenty of room for the items we needed to bring with us like keys, phones, wallets, and even a small first aid kit.
The bladder that's included with this pack is only two liters and we prefer the larger volume bladders for longer trips. But there is room inside the pack for a larger bladder if you wanted to upgrade, but that would raise the overall cost and you'd be better off just purchasing a better pack. We also weren't happy with the cheap bite valve because it made it difficult to get sufficient water flow.
Insulated – keeps your water cool
Affordable pricing
Several cargo pockets for more cargo capacity
Cheap bite valve doesn't work well
The bladder is just two liters
7. Unigear Tactical Hydration Pack
Crafted from heavy-duty 900D polyester with a PVC lining, the Unigear Tactical Hydration Pack is a resilient piece of gear that will hold up through some weekend hikes. It's affordably priced, especially given its robustness. For water capacity, you get a large 2.5-liter bladder that will keep you hydrated for several hours. To help balance the load, hip and sternum straps are both built-in.
There are two cargo pockets on the back of this pack for carrying essentials, but they were too small to fit anything larger than a phone or wallet. In fact, the entire pack is too small. Our larger testers had a tough time getting this pack on and had a very snug fit on the chest with some not being able to snap together the sternum strap. We also weren't impressed with the short 60-day replacement period and would like to see a real warranty included with this pack.
Larger 2.5-liter bladder
Hip and sternum straps
2 cargo-carrying pockets
Made from heavy-duty 900D polyester
60-day replacement
Cargo pockets are pretty small
Won't fit larger individuals
8. Vibrelli Hiking Hydration-Pack
Vibrelli has made a very affordable hydration pack that needs some refinement to be a top choice. It does have a good start though with a sizable storage pocket on the back for your gear and it even has built-in hip and sternum straps. But our favorite feature is the five-year replacement warranty that shows Vibrelli really has faith in their products.
Despite the positives, this pack presented quite a few flaws. First, the opening on the bladder is too small, making it difficult to fill and clean. That became a hassle several times, but the bigger issue is the bite valve. You pull it to unlock it, but it's not held on very tightly and you can easily pull it right off! A redesigned bite valve and a larger opening on the bladder would make this pack a winner.
5-year replacement warranty
Built-in hip and sternum straps
Sizable storage pocket
Very small opening on the bladder
The bladder is difficult to clean
Easy to pull bite valve apart trying to open it
9. Mubasel Gear Insulated Hydration Pack
The Mubasel Gear Insulated Hydration Pack has some promise, but it still needs to work a few kinks out before it earns our recommendation. We like the insulation that keeps your water cool for up to four hours. The large opening on the bladder also got some points with us, making it easier to fill and clean. But we weren't so happy with the cheap mouthpiece that was constantly leaking and wouldn't seal shut.
This pack includes a 60-day warranty, which doesn't show us that the company has faith in their product.A warranty period of at least a year would show some confidence in their pack. But it's hard to warranty a pack that's likely to break, as is the case with the cheap plastic loops on the bladder that holds it in place. They're meant to keep the bladder still when you velcro it in place. But after just a few trips, the loops tore and now there's no way to secure the bladder.
Insulated to keep your water cool
Large bladder opening
Only a 60-day warranty
Mouthpiece is terrible
Plastic loops at top of bladder tore
10. SHARKMOUTH FLYHIKER Hiking Hydration Pack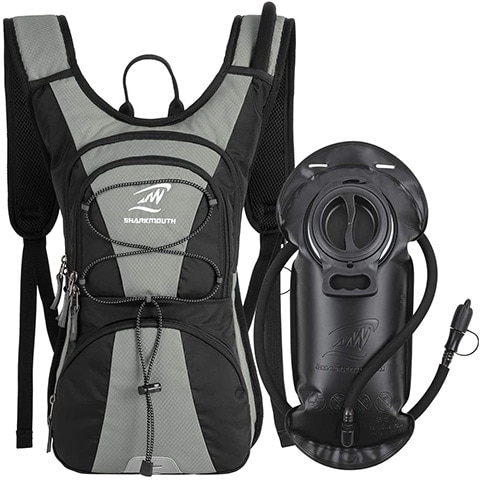 With 18 liters of total space, the Sharkmouth Flyhiker hydration pack should have enough space to carry enough gear for a several hour trip. Plus, the 2.5-liter reservoir will hold enough water to keep you fueled for that length of time, and it will even keep your water cool since the pack is insulated.
But this pack is very heavy for what it is, weighing twice as much as some of the other packs we've tested. It also has no reachable pockets, so if there's gear you need to keep in reach, you'll have to keep it in your pocket.
For us, the worst flaw of this pack was the leaky bite valve. It never sealed completely, so we were always left with a big wet spot on our side and a good portion of our water missing. It's hard to recommend a pack that leaks water everywhere, which is why the Sharkmouth Flyhiker is in the bottom position on our list.
Source https://wowtravel.me/hiking-daypack-with-hydration/
Source https://snarkynomad.com/5-dumb-things-backpack-designers-need-to-stop-doing/
Source https://housegrail.com/best-hydration-pack-for-hiking/