How Much Does Bungee Jumping Cost
High altitude always gives a thrilling sensation. For people who are afraid of it, the thrill may be too much to bear, but for those who are addicted to challenges and adventures, high altitude is something that they love to bask in.
Thrill-seekers who believe that overpowering their fear of high altitude is the real mission of their life will love to enjoy such sports activities as skydiving and bungee jumping.
For professionals, skydiving seems to be a more challenging and interesting option. On the other hand, for beginners and those who prefer a more casual high-altitude sport, bungee jumping seems to be a more reasonable option.
If cost is a consideration, how much does bungee jumping cost? The cost of a single jump may range from around $20 to over $200. This wide cost range is there because several factors affect the cost of bungee jumping, as the location, the height, and the package.
If you see someplace offering the same adventure, but the cost of doing it is more expensive, the main reason is listed here.
Table of Contents
3 factors that change the price of the bungee jump
1-Location
In Longqing Gorge, China, you can enjoy the thrill of bungee jumping by paying only about $22. In Nevis Bungy, New Zealand, you have to pay more than $180 to enjoy the same thrill.
Different locations in the world offer different bungee jumping costs. This location vis-à-vis cost rule also applies to other thrilling sports.
In the following table, I resume the average cost for try this fantastic adventure of bungee jump:
| Country | Price |
| --- | --- |
| Dubai | 103$ |
| Goa | 50$ |
| South Africa | 40$ |
| USA | 100$ |
| New Zealand | 200$ |
| Finland | 130$ |
| Nepal | 100$ |
| Italy | 150$ |
| Switzerland | 170$ |
| Austria | 160$ |
| Macau Tower, China | 430$ |
As we will see during the article, the price is related to the location and height.
Cost of Bungee Jump in Dubai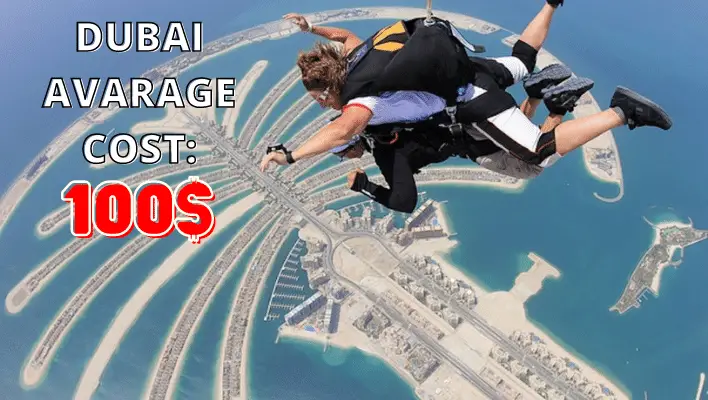 Dubai is well known to be a very healthy place, where all the celebrities are usually spending their money on expensive jewelry or other things.
But if you are there for some of your holidays, you can't miss the adrenaline that the gravity zone in Dubai can offer you.
The gravity zone in Dubai is the first bungee jump operator with a high of 50 meters; you will have a fantastic experience considering that the view is fantastic.
The cost for having a unique experience on a gravity bungee jump in Dubai is 100$.
Cost of Bungee Jump in Goa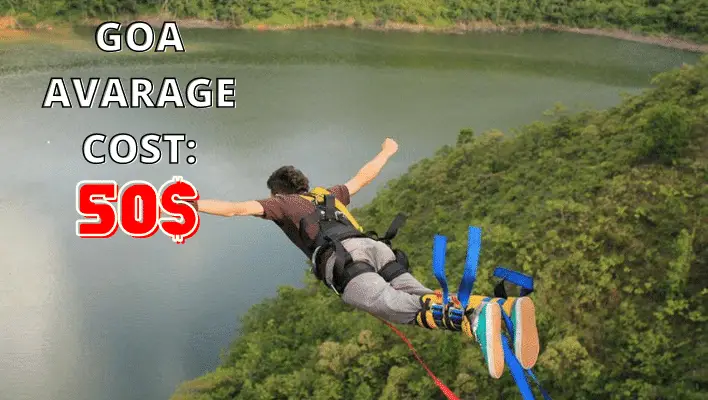 Goa is a very popular place where people, usually passionate about bungee jump, do it.
If you paid for a tour, I am pretty sure that the tour manager offers you to visit and try this amazing experience.
The bungee jump in Goa is close to Anjuna Beach.
In the last years, the bungee jump in Goa has always become more popular due mainly to its cost.
The cost for doing a bungee jump in Goa is around 20-40$; these largely depend on the seasonality.
Cost of Bungee Jump South Africa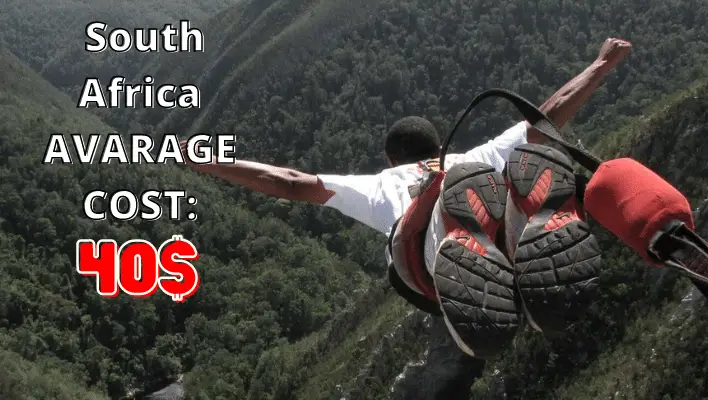 On this list of cost cannot miss one of the world's highest bungee jumping, the Bloukrans Bridge.
With a height of 216 meters, the adrenaline that will give you will be fantastic.
If you are the kind of person that likes the challenge and the high-intensity activity, you should try it at least once time on your life.
The total timing for this experience is 7 seconds.
Considering the cost of only $40, the bungee jump in South Africa cannot miss, if you are in the vicinity.
Cost of Bungee Jump in USA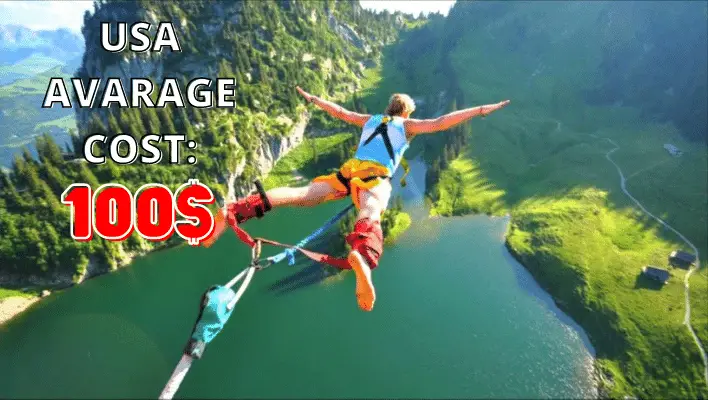 Thanks to the amazing initiative and enthusiasm the USA always has, you have many places where you practice Bungee Jump if you travel into the USA.
In the following part, we will see the cost of the relative location of bungee jump in the USA.
1-high steel bridge Washington Bungee Jump Cost
Located in an arch of a bridge, the high steel bridge is incredible.
I don't have to explain to you why.
The most interesting thing is that the Jump is direct under the Skokomish River , giving you the impression to be catapulted like a real movie.
The height of the high steel bridge is 114m above the river, and the cost is $225 per jumper.
2-royal gorge suspension bridge canyon city Colorado bungee jumping cost
Fantastic if you are in the vicinity of Canon City in Colorado.
If you decide to make part of this experience, you have to consider that the second of the Jump will be 15 seconds, a little bit higher than the other bungee jumping place.
This is primarily due to the height of the bridge, 286m
The cost for making bungee jumping is between 30-70$ depending on the age.
3-Rio Grande Bridge, New Mexico bungee jumping cost
The Rio Grande is one of the highest bungee jumps in the United States, and it is also known as the most expensive place to jump from.
The cost to make a bungee jump from Rio Grande Bridge is Cost: $350 Standard Jump.
With an incredible height of 210 m, you can try this fantastic experience only a few times for years; in fact, as per the official website; you need to book it in large advance.
Cost of Bungee Jump in New Zealand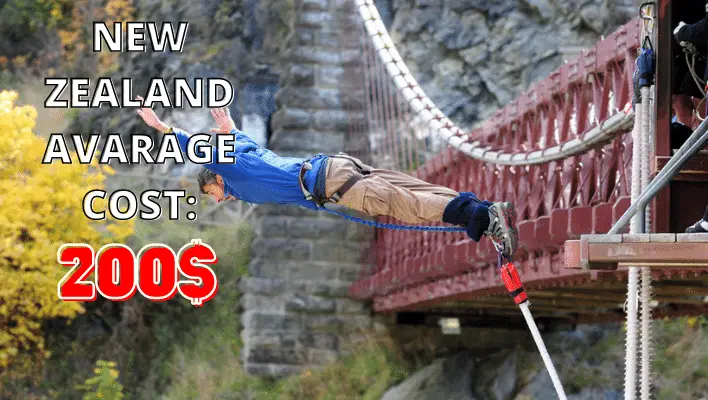 New Zealand is also a famous place when we speak about bungee jumping; there are many bridges and other structures made to allow people to try this experience.
The medium cost for doing Bungee Jump In New Zealand is 204$.
The most famous Jump in new Zealand are:
1-AUCKLAND BRIDGE BUNGEE cost 165$
Height 40 meters
2-AUCKLAND SKY TOWER SKY JUMP cost 163$
Height 192 Metres
3- QUEENSTOWN KAWARAU BRIDGE cost 148$
With a height of 43 meters, the Queenstown Kawarau bridge is the first bungee jump activity open; if you are a fan, you should pass at least once in your life.
Cost of Bungee Jump in Finland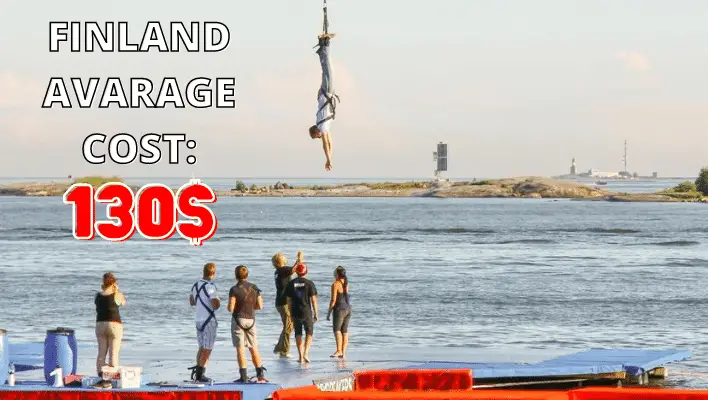 If you are visiting Finland, and in particular Helsinky, you have to know that August is open the largest Bungee jumping constructed in Finland during July.
We are speaking about the Kaivopuisto.
The height is around 150 Metres, and information is seen on the web and tells that the speed reached during the Jump can reach 120 km/h.
The cost to do bungee jump in Kaivopuisto is around 150$.
Cost of Bungee Jump in Nepal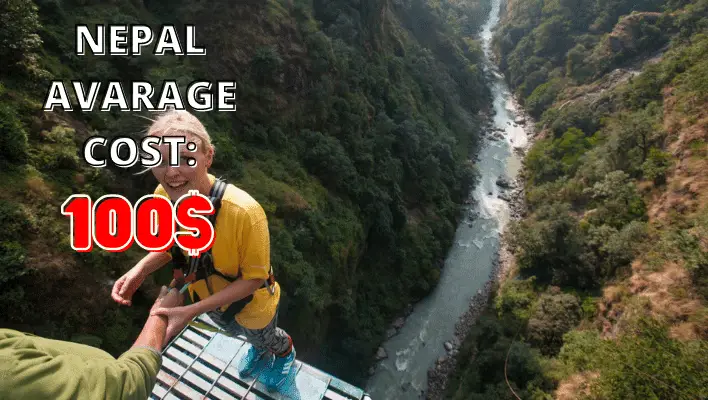 Nepal is famous for many things, but in the last period more and more young people are speaking about the amazing experience that bungee jumping can give.+
There are two main places in Nepal where you should try bungee jumping.
The Bhote Koshi Gorge
Hema, Pokhara
Bhote Koshi Gorge bungee jump cost
This is the highest Bungee jumping in Nepal, with 160 meters.
The Jump will take place from a bridge, and of course, as well as the others locations mentioned before; they are made under the supervision of an expert.
The cost to do a bungee jump in Bhote Koshi Gorge is 100$.
Hemja Bungee Jump cost
Pokhara is for sure one of Nepal's most known and famous place, the main difference respect to the other one is that on Pokhara you the height is less, we are speaking about 80 meters.
What will be amazing about that Jump is that it will give you the sensation to touch the water.
The cost for Bungee jumping in Hemja Pokhara is around 80$.
Cost of Bungee Jump in Italy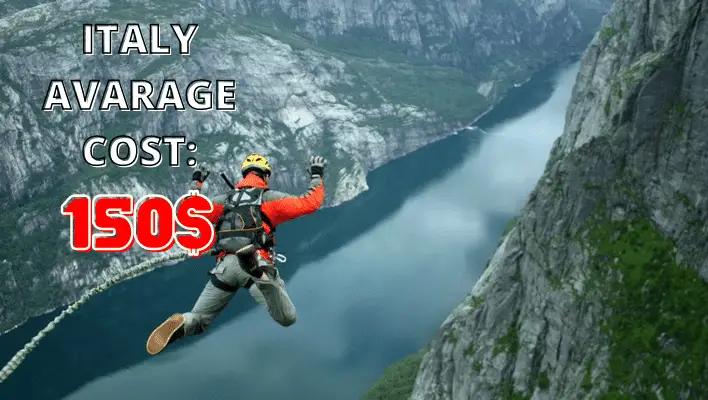 If you are in Italy and want something different to do during your daily activity, I am here to give you my best 4 places with their relative price, of where do Bungee Jump in Italy.
Bungyxteam Valgadena Asiago (Veneto):
Bungee Center di Veglio-Biella (Piemonte):
Bunjee Jumping Abruzzo al Parco della Majella – Caramanico Terme (Abruzzo):
Acqualandia Park di Jesolo Beach (Veneto):
Cost of Bungee Jump in Switzerland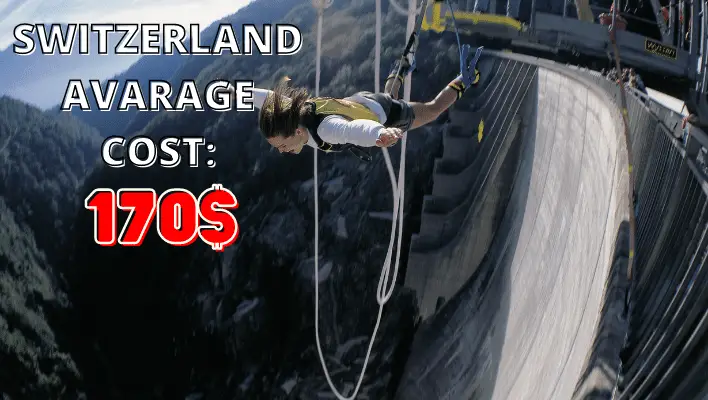 One of Switzerland's most famous and attractive Jumps is the bungee jumping from the Verzasca Dam.
If you have ever seen the movie of James Bond, for sure, you will remember the epic scene where he jumps from.
That shot was in Verzasca Dam, and this fantastic place gives you the possibility to recreate it.
The height is 220m, and the cost is $200 per Jump.
Cost of Bungee Jump in Austria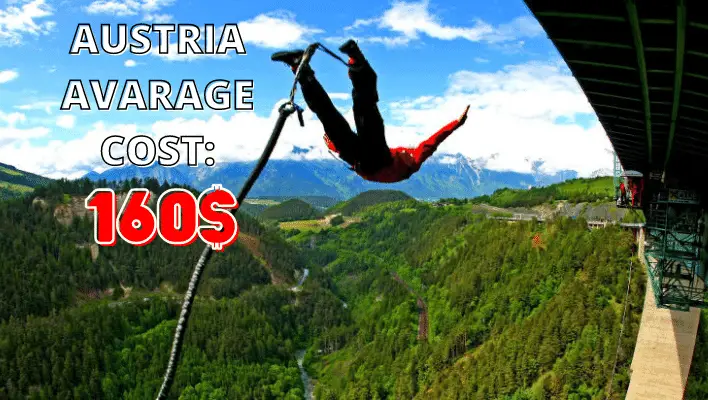 Europabrücke (Europe Bridge), Innsbruck is the biggest and most famous place where people like to do bungee Jump in Austria.
The Jump is immersive; you will be in direct contact with nature and surroundings.
This place has an amazing height of 190m that makes this one of the height places were to jump from.
The cost for a single jump is $200, and if you like a video recording while you are jumping, you have to pay an extra of 35$.
Longqing Gorge Bungee Jumping
Perfect first experience to do if you are in china due to the not excessive height of 58 metros.
The Longqing Gorge Bungee jumping is fantastic, not so height and with a relatively low budget of only 40$, you can try the sensation if you like to do this or not.
Cost of Bungee Jump in Macau Tower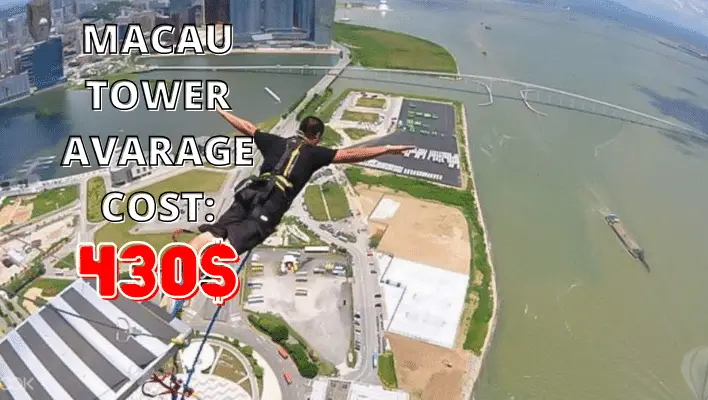 We cannot finish this list without naming the tallest of bungee jumping.
The bungee jump in Macau Tower.
The bungee jump of Macau Tower is an impressive thinks to do; only very courageous peoples will win on this challenge.
The height of Macau Tower is 233m, making this the Highest Commercial Bungy Jump in the world.
The cost to try Bungee jumping from the Macau Tower is $380, but if you like to have the full package of the service that includes Video and Photo, the price will increase, reaching $450.
2-Height
The difference between Bungee jumping cost in Longqing Gorge and that in New Zealand is affected by location and height difference.
In China, you can jump from around 50 meters above the ground.
In New Zealand, the altitude is almost three times higher.
If both location and height are considered when calculating the cost, you will find out that in Longqing Gorge, you pay $0.5 per meter, whereas, in the Nevis Bungy, you pay around $1.4 per meter.
You can see that both location and height determine the cost.
3-Package
If you want to jump multiple times, the cost of all jumps after the first is usually cheaper than the cost of the first Jump.
In Southern California, for example, you are charged $99 for the first Jump and $50 for each subsequent Jump.
You can get a further discount if you buy a package. For example, you can enjoy a package of 5 jumps by paying only $275.
Those are three factors that determine bungee jumping cost.
The average cost of bungee jumping has been mentioned above.
Therefore, you can make your calculation to find out how much money that you have to spend to enjoy the thrilling sensation of this high-altitude sport.
Differences Between skydiving and Bungee Jump
There are many reasons why bungee jumping is more favorable than skydiving.
First, it is safer because, in bungee jumping, an accident involving impact with the ground is more unlikely.
Second, it is easier. Beginner bungee jumpers can usually go solo when beginner skydivers have to assist an instructor.
Third, it is cheaper because bungee jumpers don't need an airport, a plane to reach the preferred altitude and expensive equipment. The cost is the primary reason why many people choose Bungee jumping instead of skydiving.
Others adventure cost that might be interested :
Conclusion
The cost for the bungee jump differs for three main reasons: Locations, Height, and package choice, anyway. We can say that in general, the average price around the world is $150, and if you consider the fantastic remember and emotions that you will have in your mind, we can say that the cost can pass in behind.
Will Smith Bungee Jump is Latest Stunt Near Grand Canyon
The latest planned feat at the Canyon will be Tuesday (Sept. 25) when actor Will Smith celebrates his 50th birthday by bungee jumping from a helicopter. While it's been billed as a leap "in the heart…
Associated Press
Share this article on Facebook
Share this article on Twitter
Share this article on Tumblr
Share this article on Pinit
+ additional share options added
Share this article on Reddit
Share this article on Linkedin
Share this article on Whatsapp
Share this article on Email
Print this article
Share this article on Comment
Will Smith attends the premiere of Netflix's Bright at Regency Village Theatre on Dec. 13, 2017 in Westwood, Calif. Araya Diaz/WireImage
At the end of the 1991 movie Thelma & Louise, the two leading ladies — fugitives cornered by authorities in the Grand Canyon — decide against surrendering and instead drive off a cliff. One of cinema's most iconic endings wasn't filmed in the national park in Arizona, but not for lack of trying.
Explore
Will Smith
See latest videos, charts and news
See latest videos, charts and news
"We didn't want to encourage people coming into the canyon doing what was done in the movie, so we declined it," said Maureen Oltrogge, a longtime spokeswoman for the national park who retired in 2014. Nevertheless, Oltrogge said at least two people took their own lives by driving over the rim of the Grand Canyon after the movie was released, thinking it was filmed there.
The landscape in and around one of the world's seven natural wonders has a long history of stunts being staged — or turned down. An acrobat, a magician and overall daredevils are among those who have approached Grand Canyon National Park over the years with visions of a made-for-TV moment.
The latest planned feat will be Tuesday (Sept. 25) when actor Will Smith celebrates his 50th birthday by bungee jumping from a helicopter. While it's been billed as a leap "in the heart of the Grand Canyon," it actually will take place over a smaller gorge on the Navajo Nation, a tribe whose reservation borders the east rim of the national park.
Related
Will Smith Makes Stand-Up Debut at Dave Chapelle's All-Star Surprise Comedy Show
Getting permission to film or stage something in the Grand Canyon means meeting a lot of criteria. Among the outrageous proposals the park has declined was in the 1990s, when now-deceased artist Ron Nicolino collected thousands of bras that he wanted to string across the Grand Canyon. The park said no. Grand Canyon spokeswoman Kari Cobb said Smith did not approach the park for the bungee jump, but it wouldn't be allowed anyway. She said the park is responsible for protecting its assets.
"It's everything relating to safety, impacts to visitors and impacts to the resources," she said. Oltrogge said other filming projects were turned down because of their size, the impact to tourism and because they didn't align with the park's educational values. The park also has rejected requests for ride-along criminal justice programs, and to launch jet engines from rim to rim.
Todd Berger, author of It Happened at Grand Canyon, says the earliest-known publicized stunt he can recall from his research of the Grand Canyon was an airplane landing near Plateau Point in the early 1920s. Ellsworth Kolb and a swashbuckling pilot took off from the plateau below the South Rim and "spiraled" up and out of the canyon in front of large crowds and cameras.
The Grand Canyon is alluring for promotional purpose because it's "world-famous, spectacular and scary to most people," Berger said in an email. In 1999 and 2011, Robbie Knievel, the son of stunt performer Evel Knievel, and Swiss aviator Yves Rossy, respectively, approached Grand Canyon National Park with requests to jump part of the canyon and soar over it in a jet suit.
After being rejected, both men went to the Hualapai Tribe, whose reservation stretches 100 miles (160 kilometers) along the Grand Canyon's west rim. The tribe agreed, and both successfully completed their feats. The Hualapai also allowed illusionist Criss Angel in 2010 to be shackled and locked inside a crate that was suspended over the edge of the Grand Canyon.
Related
Watch Will Smith's Behind-The-Scenes Video of the First Time He Performed With Jaden
The tribe is best-known for its Grand Canyon Skywalk, a horseshoe-shaped glass bridge that juts over the canyon overlooking the Colorado River. The tribe's Grand Canyon Resort Corp. said any event must be respectful of Hualapai culture and consistent with its brand. "Our Tribal Council would need to approve any proposal, and that's a high bar," CEO Colin McBeath said in a statement. "We want to protect the canyon and the businesses we have worked so hard to establish and grow."
Robert Bravo Jr., a tribal member who has served as the corporation's chief executive and as a member of its board, said the stunts had been a way to showcase to the tribe to the world. Special permission for filming and photos also is needed. "They were necessary to really promote what we have and who we are," he said. "But now that we're on the map, it's not as much of a necessity."
One request the Hualapai declined was when aerial artist Nik Wallenda wanted to walk a tightrope over the canyon in 2013. Bravo said it was too risky. "The canyon is very sacred and very spiritual to the Hualapai people, and God forbid something happen to him while he's out there," he said. Wallenda ended up getting permission from the Navajo Nation to walk a 5-centimeter-thick steel cable 1,476 feet (450 meters) over the Little Colorado River gorge, just east of Grand Canyon National Park. The roughly 22-minute act was broadcast live on the Discovery Channel.
That is where Smith will be making his big leap. Navajo Nation spokesman Mihio Manus said any stunt or filming project in the tribe's Little Colorado River park requires a special permit. Applicants outline their plans and fill out paperwork. If a department manager approves, they talk about the scope of the event and location. Environmental and wildlife officials also weigh in before a permit can be issued and a fee assessed.
Manus declined to comment on Smith's jump. The Fresh Prince of Bel-Air actor teamed up with charity website Omaze to make his bungee jump a fundraiser. The site launched a lottery for a fan to be chosen to witness the jump and meet Smith. Attempts to reach Smith were unsuccessful.
Places For Bungee Jumping in India
Love adrenaline rushes? butterflies in your stomach? not afraid to experience flying? want to overcome your fear of heights? Does the above click anything? Bungee Jumping of course. Were we on the sa (Read More) me page when you were reading the above? I hope so because then you're at the right place. I bet all of you know what Bungee Jumping is! If you don't let me tell it to you short and sweet. It is when you jump off from a height while attached to an elastic cord, this cord is attached to a building, bridge but people also do it from a helicopter and hot air- balloon.
First of all let's begin with important points to remember while Bungee Jumping in India
For the company, get a person who is trained and a professional to avoid any mistakes and be on the safer side.
Ask any question that you want to ask, it is better if you get all your doubts cleared and in the process get to see how much the person knows.
All the equipment should be given by the person taking you for the Bungee jumping. Make sure the harness and strong and is soft by the ankles so your ankles don't hurt. Also, make sure that the rope is being tied to a sturdy place. Do not go with the person who has a little old equipment just because it is a little cheaper. A life is much more precious than a few hundreds.
The place where you go for the Bungee jumping should be clear of rocks and trees plus it should be really high so you don't hurt yourself
Lastly if you suffer from any heart or breathing problems please do not attempt Bungee Jumping.
Oops sorry forgot to mention a small detail. You need to be at least 12 years old and your weight must be at least 40 kgs.
Here is the list of 6 Places For Bungee Jumping in India
1. Jumpin Heights in Rishikesh, Uttarakhand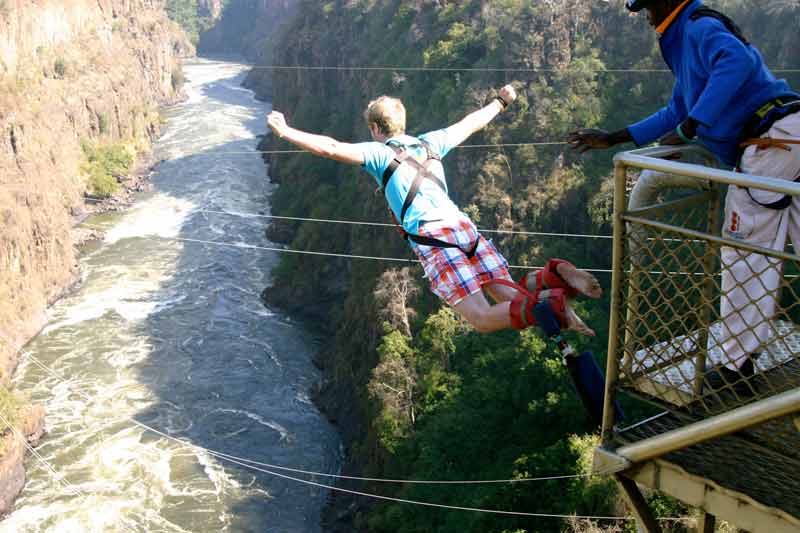 Known For : Rafting in Rishikesh Lakshman Jhula Triveni Ghat
A small town in Dehradun where many people come to find their inner peace but it is also the place with the height of 83 metres perfect for bungee jumping and also the highest spot for Bungee Jumping in India and one of the best who provides this facility is Jumpin Heights. A long, sturdy beam (Cantilever) is built over a cliff that gives it the amazing height. You have to spend some time on the best experiences 🙂
Cost Per Jump: INR 3500
Height of Bungee Jump: 83 m
Best Time: Throughout the year
2. Della Adventures in Lonavala, Maharashtra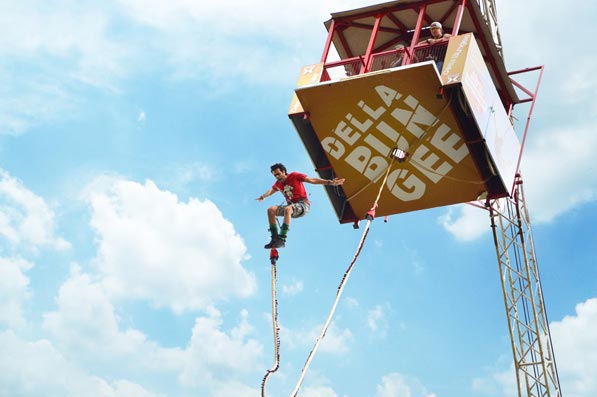 Known For : Tiger's Leap Rajmachi Fort Imagicaa
A small hill station on the outskirts of Pune, a beautiful place and a perfect one for Bungee Jumping in India which takes place in an adventure park called Della Adventures. The equipment is attached at a height of 150 ft and lasts for about 7-10 minutes. People above the age of 10, with a body weight of above 35 kgs are allowed to take the jump. The experts explain all the safety measures before the jump and most importantly after the thrilling experience that leaves you dumbfounded you even receive a certificate saying you have successfully overcome your fears:)
Cost Per Jump: INR 1500
Height of Bungee Jump: 45m
Best Time: Throughout the year
3. Ozone Adventures in Bangalore, Karnataka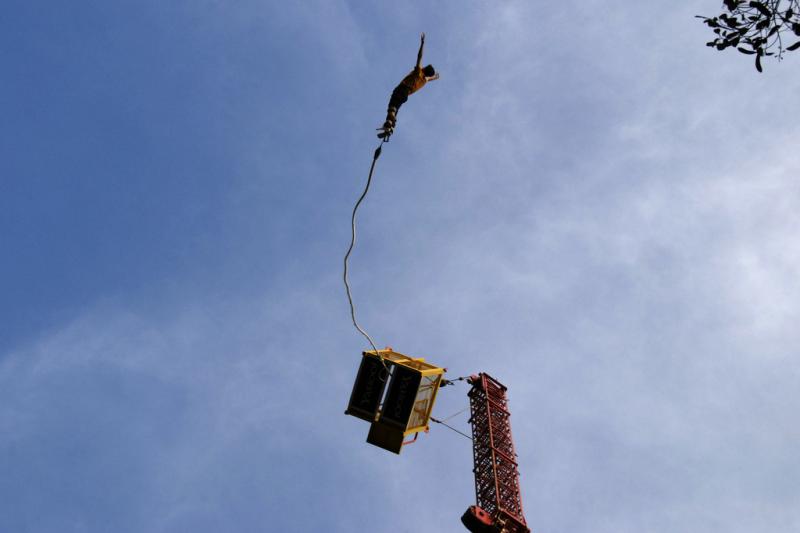 Known For : Lalbagh Church Street Bannerghatta National Park
One of the most popular bungee jumping in India is at Ozone Adventures in Bangalore. Bungee jumping being conducted by Ozone Adventures takes place from a height of about 80 feet above the ground. The only difference between bungee jumping in Bangalore and Rishikesh is that there is no fixed platform in Bangalore. The entire equipment for bungee jumping is fastened to a 130 ft high mobile crane. It might not be very safe jumping off a platform being held by a crane. People who belong to the age group of 18 and 60 years can enjoy this adrenaline-filled experience. Taking all the factors into consideration the safety of the jumper is given the utmost priority as bungee jumping from cranes is not as relatively safe as jumping from fixed platforms.
Cost Per Jump: INR 400
Height of Bungee Jump: 25 m Platform, 40 m Crane
Best Time: Throughout the year
4. Wanderlust in New Delhi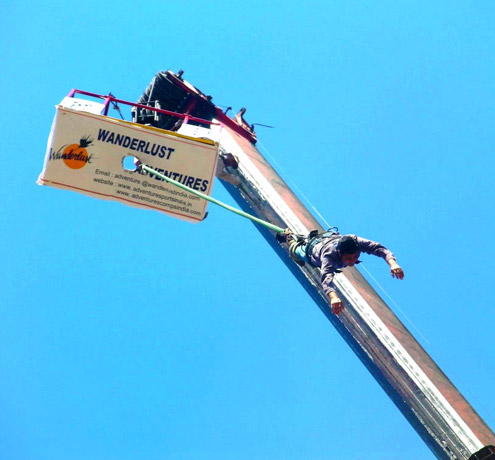 Known For : India Gate Qutub Minar Akshardham Temple Delhi
Finally! Yes, bungee jumping is available in Delhi too. Wanderlust is the provider for this sport. All the equipment is imported from Japan and all the staff are also trained from Germany so people don't fear you are safe. The equipment is attached to a 130 feet high crane and after you've taken your leap of faith and survived, you get a certificate and 'I did it' T-shirt and a cap.
Cost Per Jump: INR 3000
Height of Bungee Jump: 52 m
Source https://howmuchdoescost.com/how-much-does-bungee-jumping-cost/
Source https://www.billboard.com/music/rb-hip-hop/will-smith-bungee-jump-latest-stunt-grand-canyon-8476500/
Source https://www.holidify.com/collections/bungee-jumping-in-india