17 Highest Bungee Jumps in the United States
While bungee jumping may have been invented in New Zealand, the United States is home to more than a few prime bungee jumping spots where adrenaline junkies can really get their heart pumping. However, jumpers have to be careful these days. Many states in the United States have banned bungee jumping due to various accidents and deaths. Even in states where it is legal, it is still recommended that jumpers go with a recognized company for their own safety. Whether it is jumping off buildings or bridge, there are plenty of places where extreme sports enthusiast or scared, yet curious beginners can harness themselves in safely and take the dive.
Air Boingo Tower by Zero Gravity in Dallas, Texas
For those that want to start off small, the Air Boingo Tower brought to the masses by Zero Gravity Theme Park is the place to do it. This tower is located in the middle of the Metroplex and drop visitors 70 feet safely. The Air Boingo Tower was specifically designed for bungee jumping so the more apprehensive newbies to this extreme sport don't have to worry about hitting their head or getting snagged. This is just one of the many surprising things that visitors to Dallas will find at the Zero Gravity Theme Park.
Track Family Recreation Center in Destin, Florida
The Track Family Recreation Center has all the fun that any person could want with mini golf, batting cages, go karts and, for the more daring, a bungee jumping tower. They have had everything that locals and visitors to the area could possibly want to do and now there is the more exciting attraction of bungee jumping. The tower at the Track Family Recreation Center is specifically designed for bungee jumping and allows visitors to drop an exciting 75 feet down. This is a great way to experience the sport for those that are just beginning their bungee jumping adventures.
Bungee Tower by Mount Hood Adventure Park in Government Camp, Oregon
The Mount Hood Adventure Park offers a slew of adventurous entertainment to Oregon locals and visitors alike; however the highlight of their park is their bungee tower. The bungee tower allows visitors to jump and drop 100 feet. This makes the bungee tower in Mount Hood Adventure Park the ninth highest bungee tower in the United States and the seventy-seventh highest jump off of anything in the United States. While some towers merely drop visitors from a trap door, this bungee jump tower involves a bit more effort. Visitors can full on jump, lean, dive or fall off the edge as they see fit. This method requires a bit more bravery but only enhances the rush.
Highway 21 Bridge by Bungee Expeditions in Boise, Idaho
For those who are ready to graduate from tower jumping to the more exciting and scenic bridge jumping but like, don't want to jump from anything too high, Bungee Expeditions has a good place to start in Idaho. The bridge that connects Highway 21 is located just 10 minutes from Downtown Boise. Hardcore jumpers may be put off by the small height of this bridge, but it is still crazy fun. Bungee jumpers here fall 100 feet down to the Boise River below. Visitors will dangle just a few feet above the river below and bounce just a few feet below the under structure of the bridge. Visitors should hit up this spot sooner rather than later as many rally to close this bungee jumping location.
Sierra Nevada Mountains Bridge by Bungee Adventures in Sacramento, California
Bungee Adventures leads jump groups to a variety of bridges in Northern California, from trees and cliffs to bridges, these guys will take groups to jump off of anything. The Sierra Nevada Mountains Bridge is among one of the favorites and is considered Bungee Adventures primary location. The Sierra Nevada Mountains Bridge is a railway bridge that runs between the mountains in the Sierra Nevada Mountain Range next to Lake Tahoe. Though Bungee Adventures is located in Sacramento, this jump is, of course, located closer to the Nevada border. Jumpers at this bridge enjoy a brilliant 100 foot jump while taking in the beautiful mountain landscape.
Bridge to Nowhere by Bungee America in El Segundo, California
The Bridge to Nowhere is the absolute favorite of residents in Southern California. Not only is the jump thrilling but the bridge itself is an odd mystery. The Bridge to Nowhere is a lonely bridge surrounded on all sides by the Sheep Mountain Wilderness. The bridge runs over the San Gabriel River, but doesn't connect two roads; instead it just dead ends into a mountain after the road project in the 1930's was scrapped. Those who jump off the Bridge to Nowhere with the Bungee America company jump from the bridge in a 100 foot fall over the raging, fast moving water of the San Gabriel River and surrounded on all sides by a high walled gorge.
Royal Gorge Bridge by GoFast! Games in Canyon City, Colorado
The Royal Gorge Bridge is a massive 1,260 foot long suspension bridge that runs over the Arkansas River. This bridge towers 150 feet above the Arkansas River and up until 2003, was considered the tallest bridge in the world. However, bungee jumpers can't just take their 150 foot plunge any time of the year. Bungee jumping and BASE jumping off this bridge are only legal during the 3 day event of the GoFast! Games, which are by invitation only. During those three extreme days, extreme sports enthusiasts jump off the bridge for a massive rush and, at times, to attempt world records.
Redwood Forest Trees by Bungee Adventures in Humboldt, California
When a bungee jumper visits a redwood forest and stares up at those tall old trees, there is only one thought they have, "I bet it would be fun to jump off that." However, they can't just bungee jump off of those historic trees all willy-nilly. Bungee Adventures is the only company that has legal permission to lead bungee jump trips off of a redwood. This trip is really three adventures in one. First jumpers must climb the tree, then tight rope walk between two trees and they do a huge 150 foot bungee jump off of the tree. Brave first timers are welcomed to do this, but the more seasoned bungee jumper may be more comfortable on this adventure.
Parrotts Ferry Bridge by Bungee Experience in Pioneer, California
The Parrotts Ferry Bridge is a reservoir bridge over the New Melones Lake reservoir in Central California's Calaveras County. Between the clean blue waters of New Melones Lake and the green rolling hills of Central California, jumpers will not want for scenery. The bridge itself is also beautiful, if only for its simplicity. This jump, lead by the tour operator Bungee Experience takes visitors to the bridge and offers them both a safe and beautiful 180 foot jump over the waters below. While this is higher than most beginner bridge jumpers are used to, the simplicity of the bridge is rather soothing seeing as there are no extras on it that they have to worry about hitting their head on. It is encouraging for the less brave, but still a bit daunting.
Pacific Northwest Bridge by Bungee Masters in Amboy, Washington
Located just 25 miles from Seattle, the Pacific Northwest Bridge is a favorite bungee jumping location for those that enjoy it in the Emerald City. Those who want to bungee jump on their own are unlikely to find this bridge without a lot of difficulty; however the Bungee Masters company knows just where to go. The Pacific Northwest Bridge is a private bridge that offers an exciting 200 foot fall surrounded by beautiful green forest in which the state of Washington is famous for. This jump has visitors hopping over the edge and over a small river located in a deep forested gorge; it is a thrill for the more advanced jumpers.
Northern California Bridges by Icarus Bungee in Alameda, California
Icarus Bungee has a variety of tours for all levels of bungee jumpers. However, their Northern California Bridges tour takes jumpers to the highest and most exciting bridges in Northern California. On this massive tour, they take visitors to 15 different bridges that can vary depending on weather and different conditions. The highest bridge features a 220 foot drop can be located as far as five hours from their home base in San Francisco. Unfortunately, the bridges they jump from are carefully guarded trade secrets, so solo jumpers will have to find them on their own (or remember the locations from the tour). However, they really frown upon the locations being given away. These secret bridges feature beautiful Californian scenery and are often above beautiful turquoise water.
Crooked River Bridge by Bungee Expeditions in Boise, Idaho
Bungee Expeditions in Boise, Idaho takes visitors across the border to Bend, Oregon for the extreme jump from Crooked River Bridge. This giant steel arch bridge spans over the Crooked River gorge and has a length of 464 feet and dangles 300 feet over the canyon below. An adventure to Crooked River Bridge can easily be split into two adventures as it is located near the famous Smith Rock climbing area. Bungee Jumpers get to take a 300 foot leap off this sturdy bridge where they can enjoy the stony canyon walls and the green river bed below.
High Steel Bridge by Bungee Expeditions in Shelton, Washington
Wikipedia
Once again, Bungee Expeditions leaves their home base in Boise, Idaho to experience some epic jumps in another state. This time, this tour operator takes groups to Shelton, Washington for one of the top bungee jumping locations in the United States–the High Steel Bridge. The bridge dangles between two sides of a canyon over a small river. The canyon itself has a maximum depth of 400 feet; however because of some particularly sharp rocks below, bungee jumpers only get a 365 feet drop, for their own safety. This jump is not only adrenaline pumping for the more advanced jumper but showcases the beautiful wilderness of the Pacific Northwest.
Hansen Bridge by Bungee Expeditions in Eden, Idaho
Hansen Bridge is an Idaho favorite for the advanced bungee jumper because of it extreme height. This narrow bridge is located over Snake River just a little bit away from the more famous Perrine Bridge. The Hanson Bridge, however, is much narrower and has a higher feel to it. Jumpers here are treated to an exhilarating 400 foot fall over the beautiful river below. Individual jumpers that want to jump Hansen Bridge should be careful though. The area is notorious for strong winds at times, some of which has even filled semi-trucks.
Navajo Bridge by Bungee Expeditions in Marble Canyon, Arizona
It's no jump off the Grand Canyon, but it is as close as bungee jumpers in Arizona are going to get. The Navajo Bridge spans over a beautiful red rock desert gorge and is the 10th highest jump bridge in the United States. This gorge and bridge are located just north of the rim of the Grand Canyon and spans over the Colorado River. Bungee jumpers can expect a thrilling jump of 467 feet with excellent views of the surrounding area.
Perrine Bridge by Bungee Expeditions in Twin Falls, Idaho
For those who enjoyed jumping from the Hansen Bridge in Idaho, why not try the nearby Perrine Bridge? This bridge is wider and has a longer drop than Hansen Bridge and dangles over a larger portion of the Snake River. This massive bridge features a stunning 500 foot drop; the only problem is that it is highly restricted. There have been a few bungee jumping accidents here because of the notorious winds, so this bridge is only open to bungee jumpers one day a year.
Rio Grande Bridge by Bungee Expeditions in Taos, New Mexico
http://www.flickr.com/photos/41785120@N00/5836757843/
Had your fill of the smaller bridges and find yourself ready to move onto the highest jump? The highest jump in the United States is from the Rio Grande Bridge and measures among one of the highest bungee jumping spots in the world. This drop is not only the highest in the United States, but it is also the most expensive place to jump from. Visitors who aim to conquer this New Mexican beauty will find themselves falling for a stunning 680 feet off the bridge over the Rio Grande river below. It is truly a thrill like no other.
PS. Did these 17 awesome bungee jumps inspire you to get outside and live the adventure?
We want to send exploration inspiration, outdoors challenges and adventure gear right to your front door.
Join more than 1,000 subscribers across North America in explore magazine's "Live the Adventure" Club.
Where to Go Bungee Jumping in Florida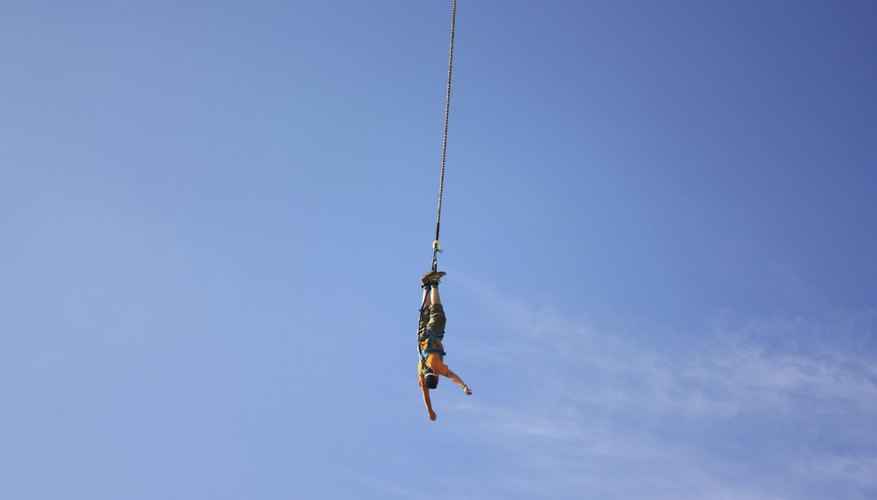 Shooting through the air like a bird is a dream many people have. With a bungee jump this dream does come true–at least for a few seconds until the rubber rope, that is attached to you, stops the fall. Leaping down a bridge or tower, secured only by a thick elastic cord, the so-called bungee, is an exciting pastime for thrill-seekers. In the Sunshine State, a few venues in northeast and central Florida offer this adrenaline rush.
The Track Family Recreation Center in Destin
In Destin, you can take a plunge from a dedicated bungee jumping tower at the Track Family Recreation Center, a small amusement park on Highway 98. The platform is 75 feet high, and jumpers fall into a large air bag–placed right below the tower–before the elastic rope bounces the jumper back into the air. Regulations require riders to weigh between 80 and 240 pounds. If you're younger than 18 years you need a legal guardian to sign an approval form before you can take a flying leap.
Cobra Adventure Park in Panama City Beach
The beachside amusement park Cobra Adventure Park is home to the Vertical Accelerator Bungee Ride. This Panama City attraction shoots you up into the sky to enjoy a 160 foot free fall. A snowmobile racing ride–rather unexpected in Florida–and the Max Flight Simulator are among other rides featured at Cobra Adventure. The park is open year-round.
Super Shot in Old Town Kissimmee
Kissimmee's Old Town, an entertainment, carnival and shopping area, features the Super Shot. This ride drags participants about 150 feet up before dropping them suddenly. An experience for two people is offered. In this tandem bungee jump, two partners are strapped side by side before they leap off of an 80 foot bungee tower together. The theme park has many other rides and adventure activities.
For your safety it is crucial that the length of the bungee is adjusted accurately. To determine the cord's length, your height and weight including the weight of the safety harness need to be measured at the bungee jump venue of your choice. This is not the place to be particular about your size–if the cord is too long, you are running the risk of hitting the ground.
Listen closely to the bungee facility's operations staff and make sure that you understand all the instructions. Ask all questions you might have before you jump, even if they might sound silly to you.
Warnings
The leap down a bungee tower or bridge can put serious strain on your ankles, back and neck; and the adrenaline rush might be too severe to handle for some people, particularly those with known heart conditions. Talk to your doctor before considering a bungee jump to make sure the adventure won't interfere with your health.
The 9 Best Places in the World to Go Bungee Jumping
Kraig Becker is a writer based out of Roanoke, Virgina who has covered adventure travel and product reviews for TripSavvy since 2013.
Bungee jumping is probably the most straightforward adventure sport in the entire world. You attach one end of a long, measured rubber band to yourself, secure the other end to a fixed object, and then throw yourself off a bridge, tower, dam, or other tall structure. After that, gravity does all of the work while your heart nearly beats out of your chest.
The only way to truly understand the adrenaline rush of a bungee jump is to do it yourself. It is one of the most visceral and immediate thrills that any adventure traveler can experience, and fortunately, there are plenty of places to give it a try all across the globe. Many of these locations offer spectacular views and fantastic settings, not that you'll notice much while plummeting through the air. You'll have your eyes squeezed tightly shut throughout much of the experience.
If you've decided that you're ready to give bungee jumping a try, either in the U.S. or abroad, here are our top picks for places to take the plunge.
The Kawarau Bridge in New Zealand
Bungee pioneers AJ Hackett and Henry van Asch launched both themselves off the Kawarau Bridge in New Zealand back in 1988 and, in the process, claim to have started this international phenomenon that came to be known as bungee jumping.
Today, bungee fans still flock to the bridge in Queenstown to take the leap that supposedly started it all. There are even options to jump tandem if you have a like-minded travel companion, but if your friends don't want to join in, they can watch everything while standing on the nearby observation deck. You might also be able to watch jumpers while riding in a jet boat on the river below, getting your own palms sweaty simply by watching others.
The company that started it all also has a bungee-jumping operation at the Aukland Bridge on New Zealand's North Island, ensuring that no matter where you go, you'll have a chance to give the sport a try.
The Victoria Falls Bridge in Zimbabwe
At about 365 feet in height, the Victoria Falls Bridge in Zimbabwe is not the highest bungee jump globally, but it's one of the most beautiful. After all, there are few other places on the planet where you can dive headfirst through a rainbow.
This jump sends adrenaline junkies plummeting off the bridge toward the Zambezi River below. As you drop, the stunning views of the Batoka Gorge surround you, with the amazing Victoria Falls providing a dramatic backdrop. Dubbed the "smoke that thunders," the falls are one of the largest and most spectacular on the planet, so keep your eyes open on the way down.
The Macau Tower in China
Billed as the world's highest bungee jump, the leap from the top of the Macau Tower in China provides astonishing city views. During this journey down, jumpers free fall from a platform located about 764 feet above the city streets, plummeting for about four to five seconds at extreme speeds before coming to a gentle stop about 100 feet above the ground. A guided cable lowers jumpers into a specially designed airbag that provides a safe and soft end to the brief but oh-so-exciting adventure. The very brave can even bungee jump at night if they want to experience this impressive fall in a completely different way.
The Bloukrans Bridge in South Africa
At more than 700 feet in height, the Bloukrans Bridge in South Africa is intimidating. This bungee destination can be found north of Cape Town and approximately 25 kilometers east of Plettenberg Bay. Face Adrenalin has been running this operation since 1997, and it is still one of the top places to jump on the entire African continent. Open year-round, this is a safe, smooth jump that provides a massive rush of energy, then slowly and gently lowers you down.
And when you're finished on the bungee, be sure to head over to Tsitsikamma National Park to go ziplining through the jungle.
Source https://www.explore-mag.com/17_Highest_Bungee_Jumps_in_the_United_States
Source https://goneoutdoors.com/183153-where-to-go-bungee-jumping-in-florida.html
Source https://www.tripsavvy.com/best-places-world-bungee-jumping-4163012