Where can i bungee jump off a bridge
Bridges are located below. Clicking on the "schedule of jumps" link on any bridge will take you to a calendar listing the upcoming jump dates. Many bridges are illegal because they fall under a general "no jumping" rule, some are specific to bungee some are just to keep people from jumping period. Many of the bridges will not have specific dates or times so that we can continue to jump out of the public eye.
Bungee jumping is under constant attack as a legal activity, there are more regulations every day to stop us from jumping. Some times it is the police but more often it is one person at a transportation department that creates a rule with no real laws to back them up. These situations are becoming more common and have cost us thousands of dollars to fight. Without the support of interested enthusiasts like you this company would have had no choice but to shut down. Please support the recognition of bungee jumping as a legal activity by donating through PayPal to our legal fund.
Highway 21 Bridge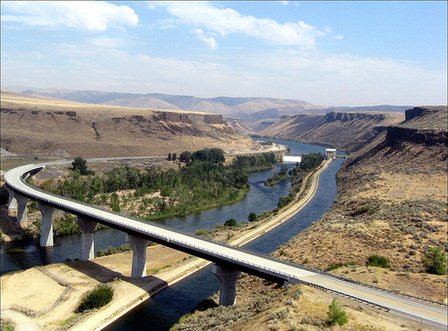 Highway 21 bridge – Boise, ID. 100ft.
Located 10 minutes from Downtown Boise. Don't let the small height fool you. This bridge is crazy fun, you will only be a couple feet off the river and a couple feet below the understructure
Weight limits 115lbs-225lbs. $250 per jumper for two jumps
click here for bridge location
Navajo Bridge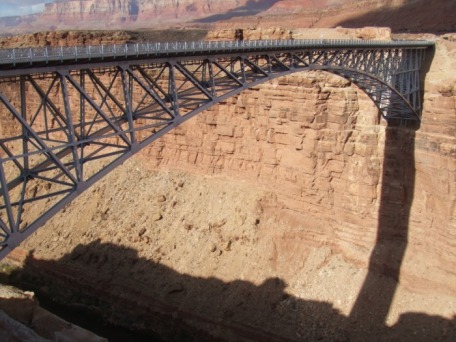 Navajo – Marble Canyon, Arizona. 467ft/141.5m Located near the North rim of the Grand Canyon over the Colorado river. Located just 4.5 hours from Las Vegas.
Check "schedule of jumps" for upcoming jump dates.
$300-$350 per jumper
​Bridge to Nowhere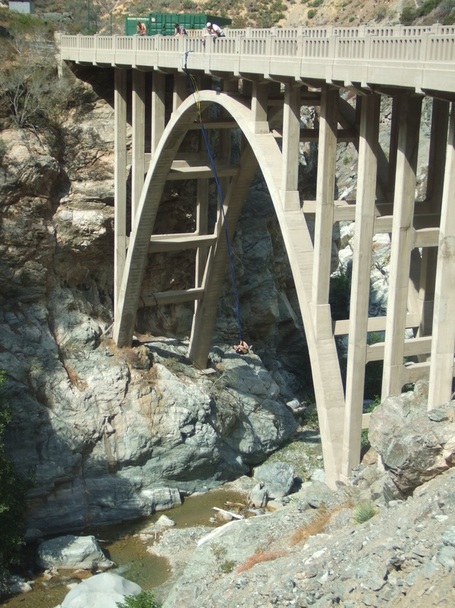 Bridge to nowhere ​ Azusa, California 120ft.
​ Located in the San Gabriel mountains with a 5 mile hike into the bridge. Fun jump over the San Gabriel river and a great place to cool off afterwards.
​This trip is a full day with many jumpers camping overnight.
​ $200 per jump, $260 2 jumps $200 3 jumps (most popular)
​Private groups of 6 or more jumpers can be booked at this location.
High Steel Bridge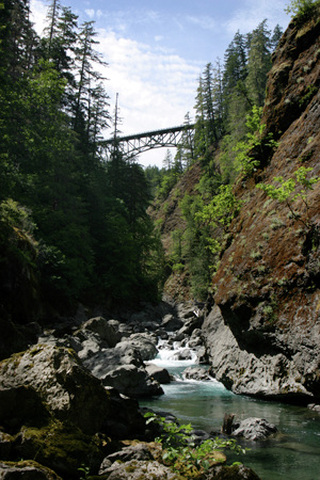 High Steel Bridge -Shelton, Washington. 385 ft/114m.
This bridge is an amazing jump in the scenic Skokomish river canyon in the Pacific Northwest, located not far from Seattle and Portland.
​Private groups of 8 or more jumpers can booked at this location
$300-$350 per jumper
Perrine Bridge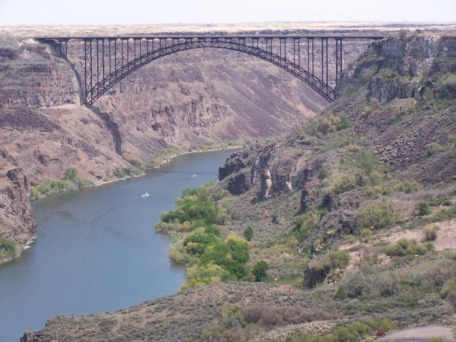 Perrine Bridge– Twin Falls, Id. 500ft/151.5m over the Snake river. Jumping from this bridge has been restricted but I am currently working on getting it opened up. It will typically only be scheduled for 1 day a year, No private group bookings.
$300-$350 per jumper
Crooked River Bridge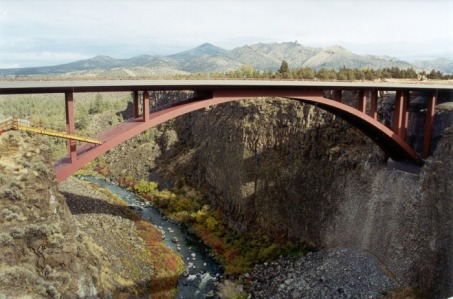 Crooked River Gorge– Bend, Oregon. 300ft/91m. Located between Bend and Madras near the famous Smith Rock climbing area.
Check "schedule of jumps" for jump dates
Hansen Bridge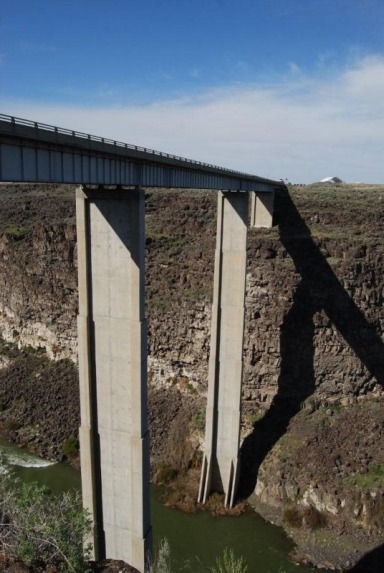 Hansen – Eden, Id. Located just up the Snake River from the Perrine bridge, 400ft/121m. Much narrower than the Perrine this bridge has a very high feel to it.
Because of an increase in traffic the Hansen bridge will be scheduled for only 1 jump during the summer months and it will be very early morning or late night under a full moon.
$250-$350 per jumper
Rio Grande Bridge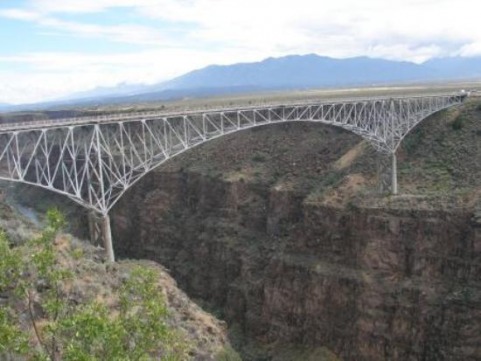 Rio Grande Bridge -Taos,New Mexico The Highest bridge we currently jump! 680ft/206m.
$400-$500 per jumper
I am currently looking to franchise this bridge to someone in the Taos/Santa Fe area It will take a high level of dedication and responsibility. You will have around $30k investment in equipment. Please contact me if you are interested in this opportunity.
Heli Bungee

Heli Bungee– 1500ft. Currently suspended. Our Heli-pilot Miles will be flying for the military for the next year, possibly two so our heli-jump operation is on hold for a while.
Crane Bungee Jumps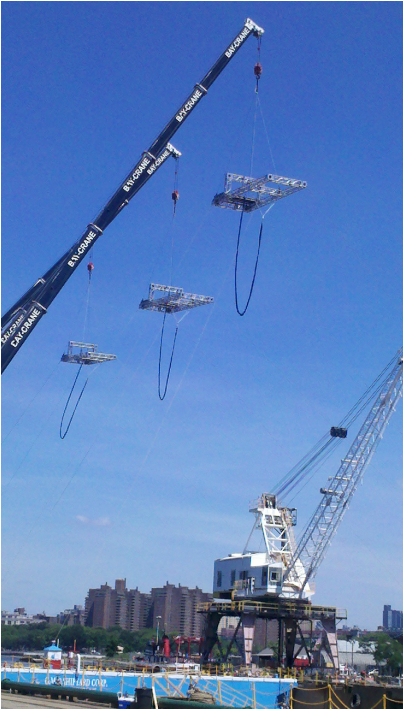 Crane owners/operators. If you own a crane and would like to organize a jump for a local event we can make it happen. Contact us and we can help.
This photo is from the jump we did in the Brooklyn Navy yard for the 2012 season of "the amazing race"
Unknown Jump Spots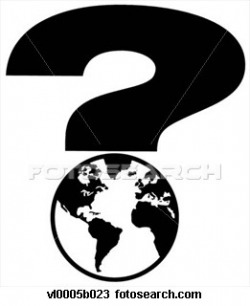 I'm always looking for a new bridge. Have a bridge close by? Bridges should be at least 150 ft. Send me the details and maybe we can schedule a jump there.


Below is a few of the bridges we have lost to the growth of government and the loss of individual freedom.
Glenn's Ferry Bridge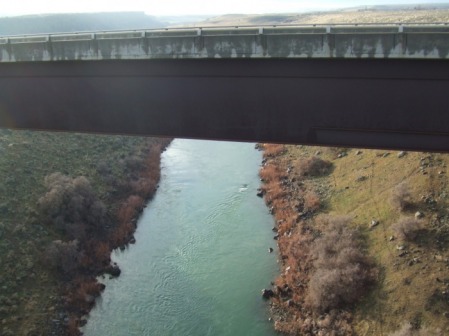 Glenn's Ferry/King Hill – 1 hour from Boise 170ft/51.5m
Because of regulations in the local county we are no longer jumping this bridge. At least we have the memories and videos.
Dirty Devil Bridge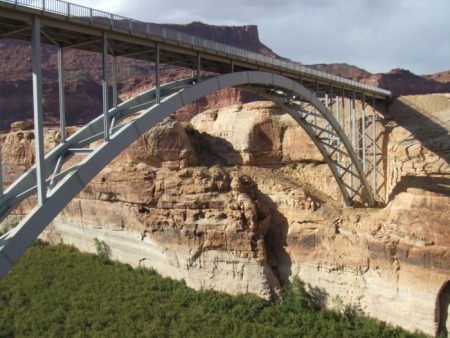 Dirty Devil – Lake Powell, Southern Utah. 230ft/70m. Great camping and amazing scenery right at Hite marina .
Because of new Federal regulations I will no longer be jumping the Southern Utah bridges.
click for general bridge location
White Canyon Bridge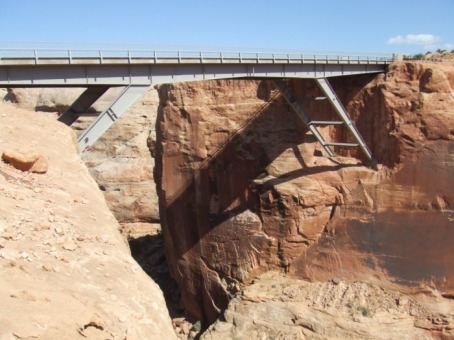 White Canyon – Lake Powell, Southern Utah, definitely one of the scariest bridges we jump. 260ft/79m deep and only 30ft/9m wide at the bottom.
Because of new Federal regulations I will no longer be jumping the Southern Utah bridges.

click for general bridge location
Hite Marina Bridge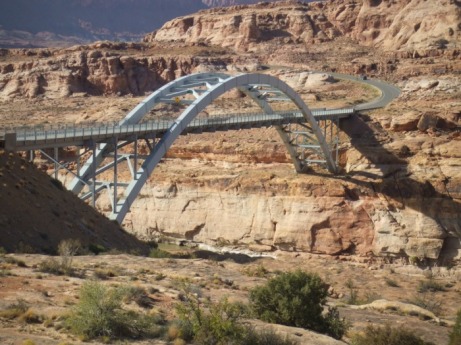 Hite Marina Bridge – Lake Powell, Southern Utah. 120ft/36m over the Colorado river where it feeds into lake Powell.
Because of new Federal regulations I will no longer be jumping the Southern Utah bridges.
The 9 Best Places in the World to Go Bungee Jumping
Kraig Becker is a writer based out of Roanoke, Virgina who has covered adventure travel and product reviews for TripSavvy since 2013.
Bungee jumping is probably the most straightforward adventure sport in the entire world. You attach one end of a long, measured rubber band to yourself, secure the other end to a fixed object, and then throw yourself off a bridge, tower, dam, or other tall structure. After that, gravity does all of the work while your heart nearly beats out of your chest.
The only way to truly understand the adrenaline rush of a bungee jump is to do it yourself. It is one of the most visceral and immediate thrills that any adventure traveler can experience, and fortunately, there are plenty of places to give it a try all across the globe. Many of these locations offer spectacular views and fantastic settings, not that you'll notice much while plummeting through the air. You'll have your eyes squeezed tightly shut throughout much of the experience.
If you've decided that you're ready to give bungee jumping a try, either in the U.S. or abroad, here are our top picks for places to take the plunge.
The Kawarau Bridge in New Zealand
Bungee pioneers AJ Hackett and Henry van Asch launched both themselves off the Kawarau Bridge in New Zealand back in 1988 and, in the process, claim to have started this international phenomenon that came to be known as bungee jumping.
Today, bungee fans still flock to the bridge in Queenstown to take the leap that supposedly started it all. There are even options to jump tandem if you have a like-minded travel companion, but if your friends don't want to join in, they can watch everything while standing on the nearby observation deck. You might also be able to watch jumpers while riding in a jet boat on the river below, getting your own palms sweaty simply by watching others.
The company that started it all also has a bungee-jumping operation at the Aukland Bridge on New Zealand's North Island, ensuring that no matter where you go, you'll have a chance to give the sport a try.
The Victoria Falls Bridge in Zimbabwe
At about 365 feet in height, the Victoria Falls Bridge in Zimbabwe is not the highest bungee jump globally, but it's one of the most beautiful. After all, there are few other places on the planet where you can dive headfirst through a rainbow.
This jump sends adrenaline junkies plummeting off the bridge toward the Zambezi River below. As you drop, the stunning views of the Batoka Gorge surround you, with the amazing Victoria Falls providing a dramatic backdrop. Dubbed the "smoke that thunders," the falls are one of the largest and most spectacular on the planet, so keep your eyes open on the way down.
The Macau Tower in China
Billed as the world's highest bungee jump, the leap from the top of the Macau Tower in China provides astonishing city views. During this journey down, jumpers free fall from a platform located about 764 feet above the city streets, plummeting for about four to five seconds at extreme speeds before coming to a gentle stop about 100 feet above the ground. A guided cable lowers jumpers into a specially designed airbag that provides a safe and soft end to the brief but oh-so-exciting adventure. The very brave can even bungee jump at night if they want to experience this impressive fall in a completely different way.
The Bloukrans Bridge in South Africa
At more than 700 feet in height, the Bloukrans Bridge in South Africa is intimidating. This bungee destination can be found north of Cape Town and approximately 25 kilometers east of Plettenberg Bay. Face Adrenalin has been running this operation since 1997, and it is still one of the top places to jump on the entire African continent. Open year-round, this is a safe, smooth jump that provides a massive rush of energy, then slowly and gently lowers you down.
And when you're finished on the bungee, be sure to head over to Tsitsikamma National Park to go ziplining through the jungle.
Terrifying Spots to Bungee Jump Off a Building
Jumping off from a height with just a rope attached to your legs is scary no matter what, but you can amp up the adrenalin levels by by bungee jumping off a high-rise tower, dam or bridge. So while, of course, you can jump off moving objects like hot air balloons or planes, here are our top picks for terrifying spots to bungee jump off a building or built form.
Photo By: Tambako The Jaguar
Verzasca Dam, Switzerland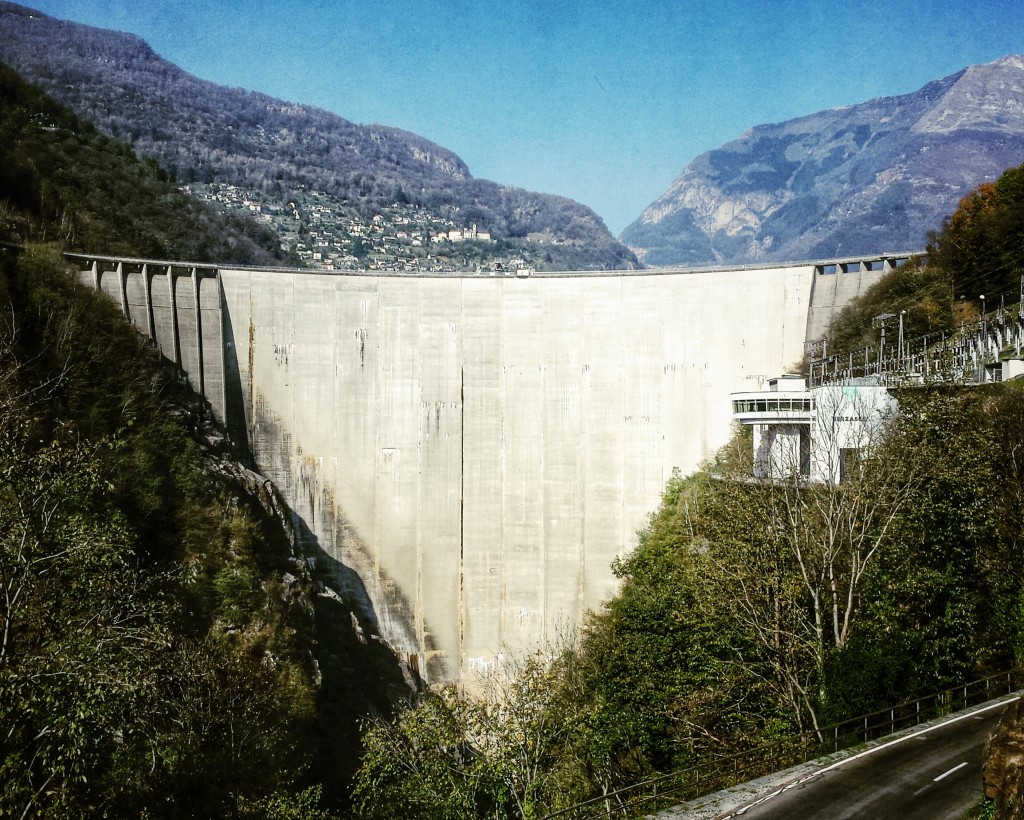 Photo By: Saïda
We'll start with this simply because James Bond has jumped off this bridge! Check out the scene from GoldenEye here for some inspiration. They dub this one of the world's most famous jumps and there are options for beginners (the 007 Classic, which involves jumping out head first with your feet attached to the elastic rope), while for more experienced jumpers there are backwards and night jumps. Finally, for very experienced jumpers (who've done about three jumps) there's the 007 Ultimo, which involves jumping feet first holding on by your hands. Located in southern Switzerland in the Locarno lakes region, the dam wall itself is 220 meters high. Bookings are essential, head to Trekking Team for more information. Note: This dam is officially called the Contra Dam.
AJ Hackett Macau Tower, China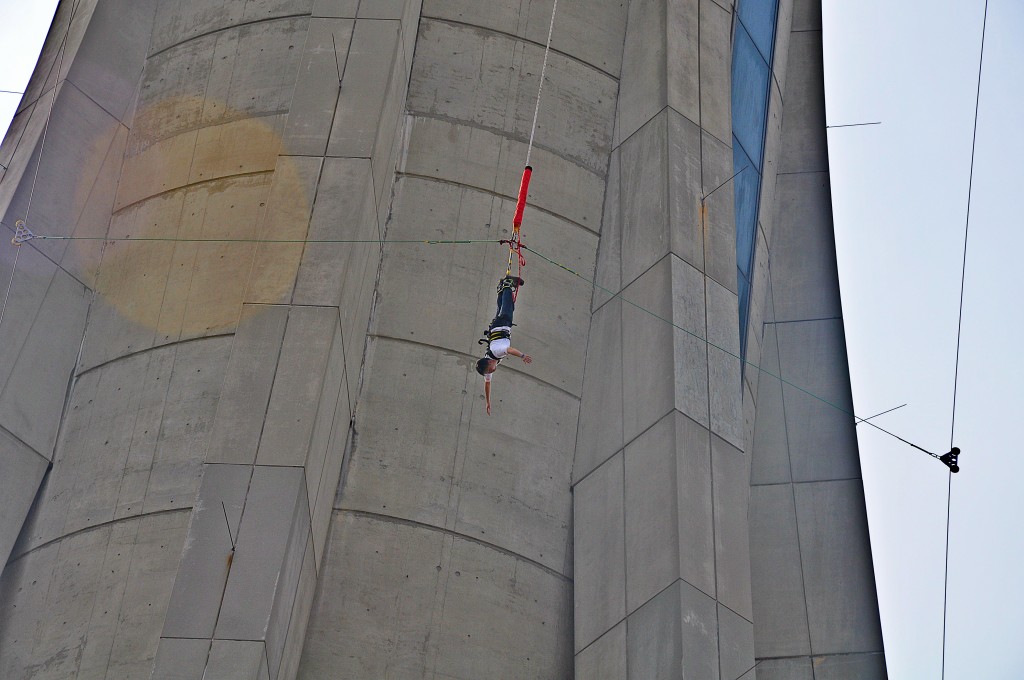 Photo By: MrT HK
The AJ Hackett Macau Tower bungee jump is the world's highest jump with the starting platform at 233 metres. There's a special cable system which ensures you don't go crashing back into the tower wall itself. Macau is located on mainland China, kind of near Hong Kong but across the Pearl River Delta. It's known as a gambling mecca, so if you fancy gambling with your life (just joking) do this jump! You can check out a video of this extreme sport here. Book ahead.
Stratosphere Tower, United States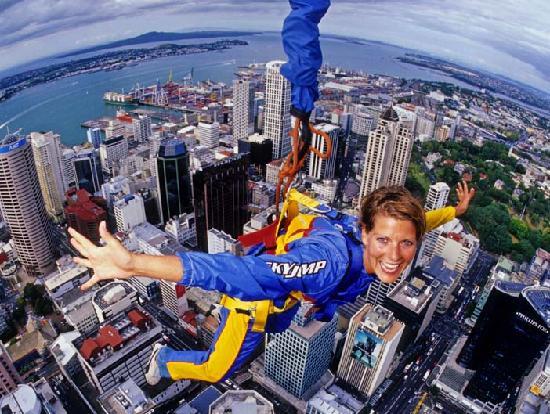 Located in Las Vegas, the SkyJump bungee off the Stratosphere Tower holds the Guinness World Record for the highest commercial decelerator descent. You'll be jumping from the 108th floor – and not many people can say that! And besides, when in Las Vegas. If you stay in the hotel located in the same building there's a special discount offered. Don't forget to book your jump ahead of time.
Auckland Sky Tower, New Zealand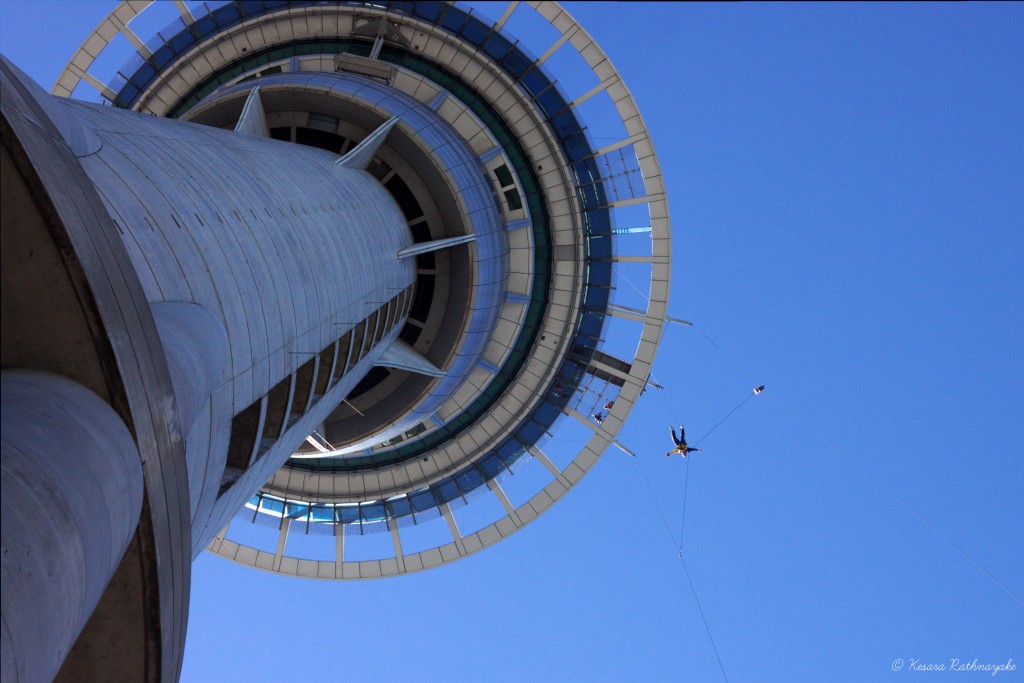 New Zealand is an adventure sports and nature-lovers mecca, and the Auckland Sky Tower SkyJump will see you hurling yourself off New Zealand's tallest building! Plummet 192 meters at 85 kilometers per hour! They say it's more like base jumping because it's so fast, with a grand total of 11 seconds of free-fall. The coolest part is, you'll be joining Beyonce – because she's done this jump! Check out the video here. You can also combine it with the SkyWalk activity, which is walking on top of the tower – with no handrails – just you and a 192 meter drop. There's a discount price for doing both activities.
Bungee off a Bridge!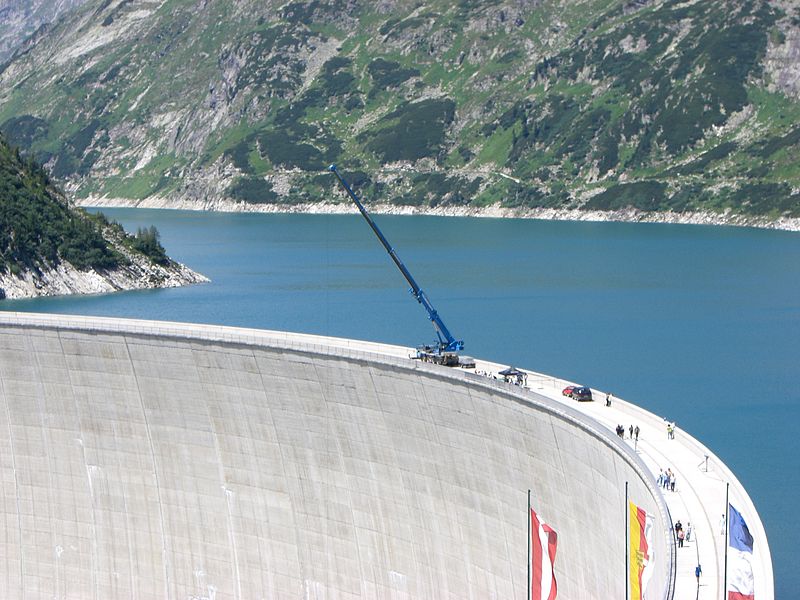 Photo By: Franz Egger
Not heading to any of the above locations soon? Well, there are still plenty of other terrifying spots to bungee jump off a building or built form. Bridges offer another very picturesque and extremely thrilling location from which to jump, here are a few of our favourites:
Europabrücke, Austria: Located in Innsbruck in the western part of Austria in the Tyrol, you'll find Europabrücke, which translates to Europe Bridge. Conquer your fears in a beautiful setting by jumping from 192 meters high. This jump also goes by the name of Rupert Hirner Bungy Jumping, and make sure you book in advance. While in Austria you could also swing by Kölnbrein Dam, from where they have bungee jumping sometimes. They use a crane on top of the bridge from which you jump. Scary stuff!
Bloukrans Bridge, South Africa: Jumping 216 meters off the bridge above the Bloukrans River below. It holds the record as the first African bridge bungee.
Royal Gorge Bridge, United States: We wrote about this bridge – located in Colorado – recently as one of the scary suspension bridges you DO want to cross, however, this has also been a thrill-seekers dream jump in the past. It's not always open for bungee jumpers (in fact it's only open during special events for jumpers), but contact Go Fast Games for the latest information.
Niouc Bridge, Switzerland: During summer, the Niouc Bridge (also one of the world's scariest suspension bridges) is often open to bungee jumpers. The jump is about 190 meters into a 200 meter canyon.
Note: In this article we have used the spelling "bungee," except when the spelling "bungy" is used as part of a company name.
Liked this article? Looking for the latest in travel and adventure news? Then check out the rest of our articles at Adventure Herald. You can also like us on Facebook, follow us on Twitter or Instagram to keep up with our latest antics.
Source http://bungee-expeditions.com/bridgesjump-sites.html
Source https://www.tripsavvy.com/best-places-world-bungee-jumping-4163012
Source https://www.adventureherald.com/terrifying-spots-to-bungee-jump-off-a-building/