What I learned about fear after bungee jumping for the first time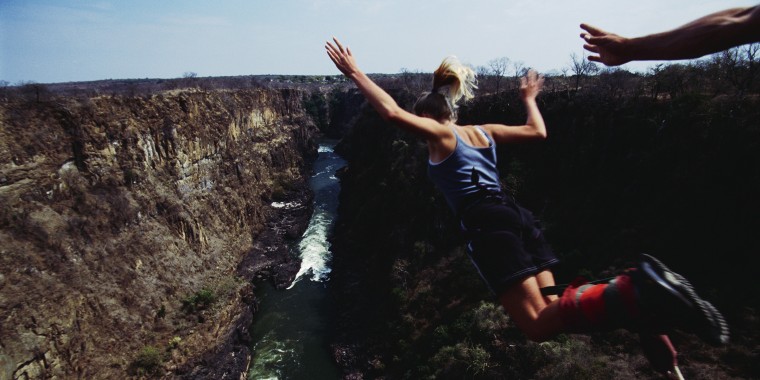 A few months ago, while vacationing in New Zealand, I bungee jumped off the famous Kawarau Suspension Bridge, plummeting over 140 feet and dipping slightly into the icy cold water of the Kawarau River. Known as the birthplace of commercial bungee jumping and just a 20-minute drive from Queenstown, it was one of the most exhilarating, terrifying and important moments of my life.
As I look back on that day, continuously answer questions from friends and family about my sanity and review the photos and videos, I keep going back to what I learned about myself and about life in that short window of time. Here are the six things I took away from the experience.
1. Be kind and support one another — it goes a long way
A particularly relevant takeaway for the current moment, this goes way beyond bungee and is one I think all of us could do much better at every day.
When I arrived on the bridge where they harness you up, there were two women in front of me, one from England who'd completely psyched herself out and was shaking after standing there for 20 minutes. Another from Australia who'd just arrived, saw the other girl freaking out, and immediately went into her own state of panic. This didn't help my nerves, but I was mentally ready. We all started talking, emphasizing what a beautiful place we were in, how lucky we were just to have this opportunity, and convincing ourselves that of course we could do this. Also, shoutout to the jump team who I'm sure deals with this regularly and was nothing but supportive. From there, the three of us jumped in succession.
None of us had ever met before and we may never meet again, but for one short stretch of time, we were the support group that we all needed. Be kind to one another. You never know how much it might help that other person.
Related
TMRW x TODAY How this writer changed her relationship to fear and transformed her life
2. Trust the process
In a world filled with endless information, it's easy to overanalyze and overthink everything. Buying a new car? Go read 9,000 reviews to see if you should actually get that model. Going on vacation somewhere exotic? Check the 1,300 listicles telling you what to do when you get there.
With bungee jumping, the longer you wait and the more you read, the more you'll psych yourself out. Sometimes in life, you just have to trust the process (shameless nod to former Philadelphia 76ers GM Sam Hinkie here) and take that leap of faith. When I saw that over 38,000 people jump off this bridge every single year, I'd read enough. I signed up, drove to the site and followed instructions closely.
Take a deep breath, jump, and trust that everything will work as expected.
For more like this, follow TMRW on Instagram at @tmrwxtoday.
3. When faced with a "what if," just do it
There are multiple times in life when you're faced with a "what if" moment. Should you ask that person out? Should you accept that new job? Should you travel across the world on a whim?
A few years ago, I saw a quote from famed Swiss psychiatrist and psychoanalyst Carl Jung that said "You are what you do, not what you say you'll do." That really stuck with me. There will never be a moment that I regret having jumped off that bridge.
4. Face your fears
Jumping off a bridge is terrifying. There's no way around it. I'm not averse to heights, but I'd also never really contemplated something like this.
Fear will always be there. It will hold you captive and paralyze you if you allow it to. Bungee jumping forces you to jump — literally — in the face of your fears. When you shimmy out to the end of that platform and look down (I know, they tell you not to, but I did), you will be shaking inside. Push through it and the sense of accomplishment you feel will stick with you forever. (And that experience is a good analogy for how it feels to stare down and power through anything truly daunting.)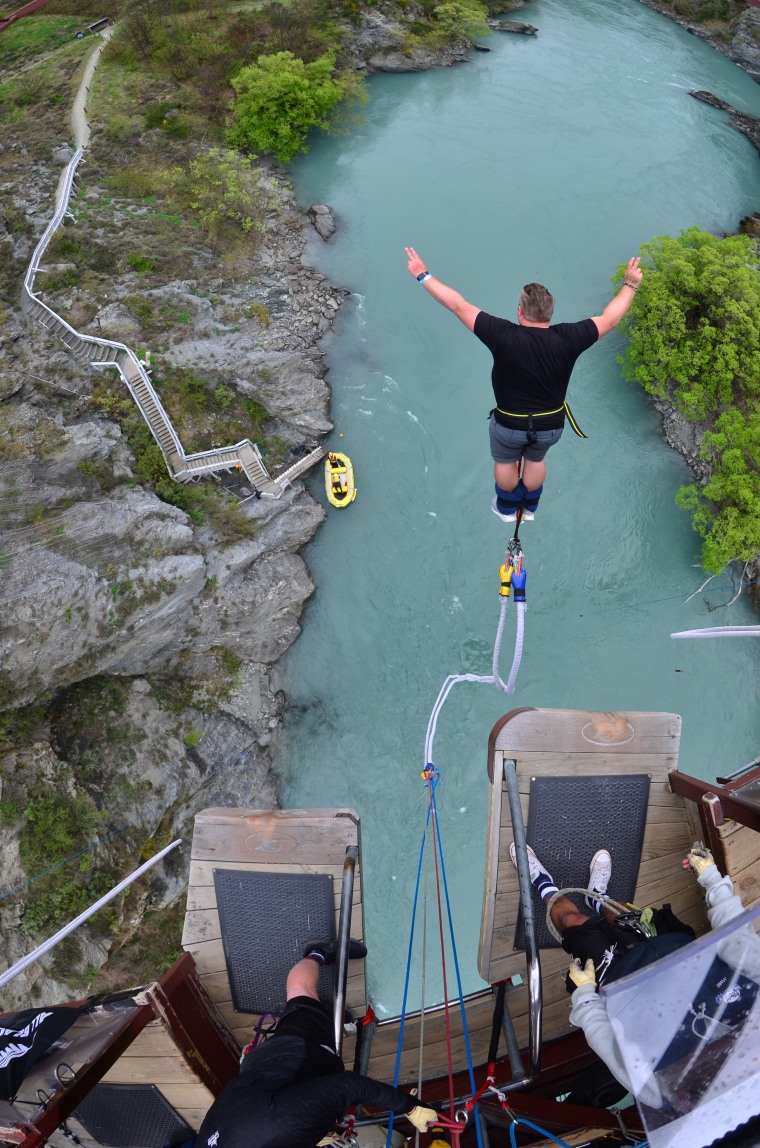 The writer, seen mid-jump. Courtesy of Lou Dubois
5. Experiences can be priceless
It's an overused cliché in travel these days, but experiences really do make a trip memorable. Spontaneously deciding to bungee is not cheap. It costs nearly $140 just to jump, and when you add in the photo/video package, that's another $90. But you know what? It's been months since I jumped and I still remember every moment as if it happened yesterday. When people ask me about the highlights of my vacation, it's always the first thing that comes to mind despite many other amazing excursions.
If you're inspired to try something that once seemed impossible, don't rationalize your way out of it because of cost — it could pay off for months (or years) after you spend the $$$.
6. Take mental snapshots
Talk to many people who have bungeed and they'll tell you that while the biggest thrill comes during the free-fall, that moment when the cord recoils and you oscillate up and down while hanging in mid-air is one of the most enjoyable moments in life. Time seems to be standing still as you spread your arms out and enjoy the moment before you're lowered into the boat (at Kawarau at least).
I felt a sense of intense euphoria and accomplishment followed by peace and calm in that moment, and as my mind thought about what I'd just done, I literally started screaming from excitement. Every bit of what I mentioned above is so fresh in my mind that it might as well have happened yesterday.
While dwelling in the past or thinking about the future can often weigh us down, focusing on today and the now is what really matters most.
Why Adventure Travelers Should Try Bungee Jumping At Least Once
Some travel to fill up the pages of the passport and check out awesome travel destinations, such as Tokyo, Japan and Stone Town, Tanzania. Others hop on a plane or hit the road to temporarily get away from the hustle and bustle of city life.
Then, there are travelers who follow the You Only Live Once (YOLO) philosophy. They're adventure travelers. People who are into adventure travel seek out road-less-traveled and out-of-the-ordinary vacations or trip itineraries. They usually opt for extreme sports activities or something that requires significant effort and involve some degree of risk.
If you're a thrill-seeker looking to do something grand or awesome in your next vacation, consider adding bungee jumping to your travel itinerary.
Is Bungee Jumping Safe?
Asking this question is perfectly fine. After all, this activity has risks involved.
The likelihood of a bungee jumping accident is approximately 1 in 500,000. This is pretty low when you compare this extreme sport to other recreational activities. The probability of a hang-gliding accident, for instance, is 1 in 560.
If you're trying out this extreme sport for the first time, take note of the following safety pointers to minimize the risk of harm coming to you:
If the bungee jumping location doesn't feel right, back out. Follow your inner voice.
Only sign up with a reputable bungee jumping service. Google them and find out what people are saying about the experience.
Check if the company you've signed up for abides by the local bungee jumping
Check first with your doctor before seriously considering this extreme sport. Individuals with hypertension, seizures or other medical problems shouldn't take part in this sport.
What Does Bungee Jumping Feel Like?
Bungee jumping experiences differ from one person to another, but this is how many people would describe the activity from beginning to end:
Possible panic and nerves before you jump
Screaming, adrenaline-powered fear and massive euphoria as you fall
Smooth jerk back up and boisterous laughter
(While hanging) feeling calm but buzzing at the same time
A feeling of an insane natural high (and the desire to do everything all over again) for the rest of the day
Why Should You Try Bungee Jumping?
Having second thoughts about giving this action-filled recreational activity a shot? Here are a few reasons to take the leap of faith:
Feel Truly Alive
This reason may sound cheesy, but bungee jumping gives you that adrenaline rush that starts even before the jump.
Once you've completed the plunge, your body will release endorphins, also known as feel-good hormones. They'll give you a feeling of euphoria. When combined with adrenaline, this will make you feel truly alive, happy and even fulfilled.
Make Memories
The whole bungee jumping experience will be one that you'll remember for months or even years to come. Every time you rewatch the video or look at the photos, the experience will come flooding back as if you leaped yesterday.
Take Pride in Your Achievement
Not everyone is courageous enough to take the proverbial leap of faith. Bungee jumping is a major personal achievement and definitely gives you bragging rights over your friends, family and colleagues at work.
Having completed this adrenaline-pumping activity isn't something to be quiet about. Be proud of yourself and let the world know of your accomplishments.
What are the Bungee Jumping Locations in the World?
Are you ready to test your courage or overcome your fear of heights? Add these bungee jumping destinations to your travel bucket list:
1. SkyJump
Location: The STRAT Hotel, Casino & Skypod – Las Vegas, NV
This popular travel destination isn't just for gamblers. It also attracts adventure travelers and people looking to try something different.
SkyJump is an open-air, scream-inducing and heart-pounding leap from 829 feet above the Neon Strip. Although this is less of a bungee jump and more of a controlled free fall, the exhilaration of taking the leap is the same — just without the bouncing.
If you want to do extreme sports while in Las Vegas, bungee jumping may just be the activity for you.
2. Macau Tower
Location: Macau, China
Macau, just like Las Vegas, isn't all about gambling and casinos. This tourist destination attracts adrenaline junkies, as well. Jumpers plunge from a platform 764 feet and enjoy a thrilling free-fall before slowing down 98 feet above the ground.
3. Bloukrans Bridge
Location: Western Cape, South Africa
This bridge in South Africa is the highest commercial natural bungee jump in the globe. Taking a leap from this spot offers a double dose of thrill — bridge walks surrounded by South African wilderness along with a leap from its infamous jumping pod.
4. Verzasca Dam
Location: Ticino, Switzerland
At 721 feet, the Verzasca Dam is a bungee jumping location that lets you test your leaping nerves in the wee hours of the night. The dam is well-lit with floodlights — and sometimes the moon.
5. Niouc Bridge
Location: Val d'Anniviers, Switzerland
Switzerland is also home to the highest bungee jump from a suspended bridge in Europe. Adrenaline junkies need the courage to simultaneously leap AND swing in all directions. This knife-edge bridge provides a shaky but exhilarating experience.
6. The Last Resort
Location: Bhote Kosi River, Nepal
Don't let the name fool you. This won't be the last time you'll want to leap from the longest suspension bridge in Nepal. Taking a plunge will give you an upside-down but spectacular view of the Bhote Kosi River.
7. Navajo Bridge
Location: Marble Canyon, Arizona
This stunning bridge is one of the highest bridges in the United States. It's ideal for true adrenaline seekers, as it provides mesmerizing views of the Colorado River.
8. Longqing Gorge Bungee
Location: Beijing, China
This bungee jumping destination is famous for the distinctive elevator people use to get from the bottom to the top of the dam. Jumpers will love the vast landscape dotted with temples, waterfalls and grottos before soaring into the grand abyss.
9. Danube Tower
Location: Vienna, Austria
The Danube Tower, locally known as the concrete needle, is the tallest structure in Austria. Jumping from the bungee deck of this soaring pinnacle will give you breathtaking views of the Danube River.
10. Volcano Bungee
Location: Pucon, Chile
You might be saying right now, "Jumping into a volcano? Are you crazy?"
Not to a few brave (and sometimes crazy) adventure travelers and extreme sports enthusiasts.
A company in Chile will fly you 10,000 feet up in a helicopter. Then, they'll drop you above melting hot lava for 375 feet. You'll be suspended hundreds of feet from the active Villarricca volcano, allowing you to have an up-close-and-personal view of the fiery landscape.
Bungee jumping is a recreational activity that's not for the faint of heart. If you want to test your mettle, though, this extreme sport may just be the activity that will make your next holiday or vacation more memorable.
Luke Northam
Tech-savvy and gaming addict. Luke also writes tech reviews in other publications.
11 Benefits of Bungee Jumping: Health, Mental, & Social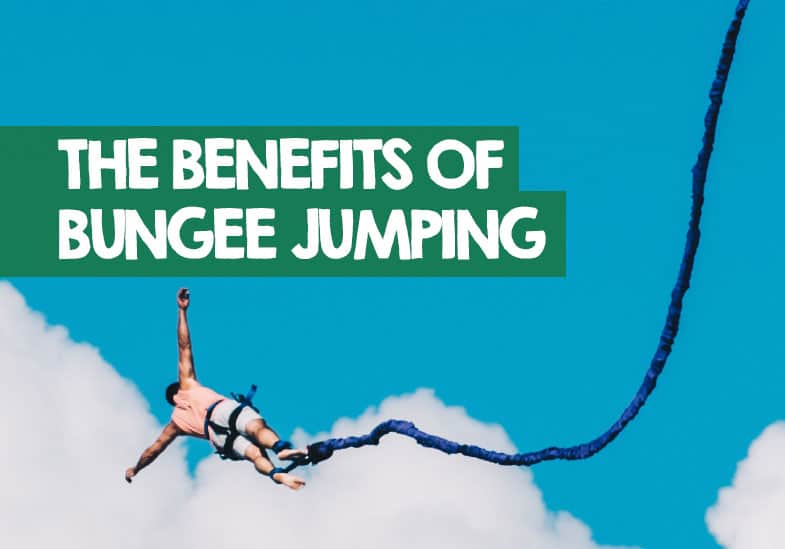 Bungee jumping has become extremely popular over the last couple of decades, but it's very rare that anybody will actually take a step back to think about the mental and health benefits that it could provide. Sounds weird doesn't it?
But there is research to suggest that extreme sports such as bungee jumping can in fact change your mood and heighten your focus. I will go into those a little later on as they aren't the only advantages or benefits you can get from bungee jumping… there's so much more to it.
What are the benefits of bungee jumping?
If you want to know how this extreme sport could be to your advantage, then read on. I've listed the benefits of bungee jumping below, with some interesting quotes interspersed from experts in their field.
1. You can overcome your fears
One of the biggest benefits of bunging jumping is giving you the platform to overcome your fears. I was scared of heights before my first time (I still am) but managed to get the courage together to make the leap.
By facing your fears head on in the scenario of a bungee jump or similar, you can then take that experience into other aspects of your life.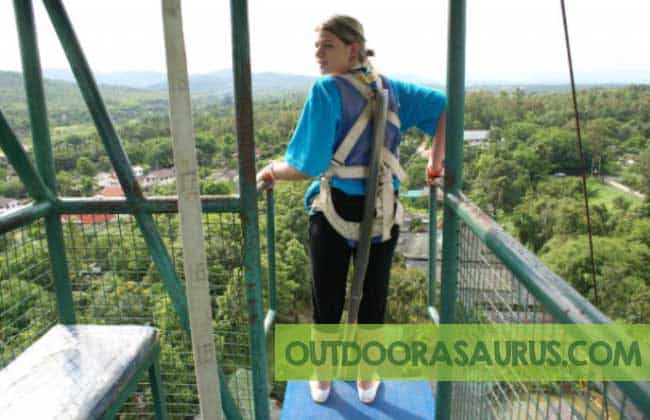 You will be scared, but if you can face your fears you ticked off the first bungee jumping benefit!
I genuinely believe that since I started bungee jumping, I am now a more confident and bold decision maker in all aspects of my life.
If you can face your fears and jump from that platform, you will be able to turn that fear into courage, becoming more confident and empowered.
2. You can reach greater levels of emotional intelligence
And there is actually some science to suggest that facing fears can improve your emotional intelligence and mental well-being.
By taking on challenges that put you outside of your comfort zone, you could reap the benefits. This is exactly what extreme athletes are able to do. They become successful by harnessing the fear they feel and turning that into better performance.
For example, a pharmacologist at Edinburgh University told the Independent Travel section that bungee jumping could benefit you. This is what he said:
"The process of successfully conquering our terrors is accompanied by numerous chemical processes in the body. The rush you get from surviving, say, a bungee-jump will dramatically change your mood. It will also make you temporarily immune to pain. Substances released into the bloodstream will include not only adrenaline but also 5HT, (the substance which Prozac stimulates in the body), as well as morphine-like substances."
3. You can release stress and worry
Imagine standing on top of a platform, 130 meters in the air. What will you be thinking about at this point?
Like most people it's going to be the survival instincts and fear that naturally kick-in. You won't be thinking about your mortgage payments, or the daily grind of your nine to five job.
All your external worries and stresses will disappear as your make your jump. After my jump it's all I can think about, with a buzz that can last for days.
Handy Hint: Want to know what a bungee jump really feels like? Read about my own experience plus stories from other first-timers.
A little bit of adrenaline can be a good thing. As long as it's not a long-lasting rush of adrenalin, it can heighten your body's senses and is similar to a shot of human jet fuel.
4. You can make amazing memories
I would rather have memories than possessions. I recall every single bungee jump I have made with almost laser like precision. Don't ask me what I had for breakfast this morning; I couldn't tell you – but that jump of the Macau Tower… it's burned into my memory.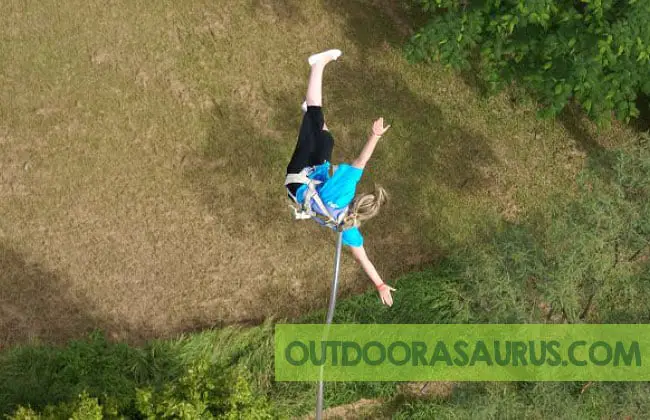 You will remember this moment for as long as you live.
You won't forget what will be one of the most amazing and enjoyable experiences of your lifetime… even more so if you buy the photos and video of the day.
In fact, every time you watch the video footage or photos back, the memories of your bungee jump and the way it made you feel will come flooding back.
5. You can accomplish a huge achievement
What things in life are you truly proud about? What things have you achieved that provide a conversation point over dinner? Jumping off a bridge or crane will certainly be up there!
Bungee jumping isn't for everyone, and it's only something that the truly brave will ever try to attempt. You should be proud of your accomplishment.
It will give you bragging rights for years to come over your friends, family, people you work with and more. Who wouldn't want that?
6. You can feel truly alive
When was the last time you felt alive? I know that sounds a bit twee, but it's true. The exhilaration, adrenalin, and endorphins that get released during a bungee jump will electrify you – in a good way!
If you're bored with the daily grind and want to release some feel good endorphins, try a bungee jump – you can read more about how there is a science behind why this makes you happy in this UK newspaper.
Handy Hint: Check out this guide I created for first-time bungee jumpers. It explains how you can be best prepared both mentally and physically to truly enjoy the benefits this extreme sport can offer.
7. You can strengthen your muscles
But what about the health benefits of bungee jumping? Are there any?
I believe that some of the benefits I have already raised will have a knock-on effect, after all, healthy mind, healthy body springs to mind. And there's some degree of truth in all of this.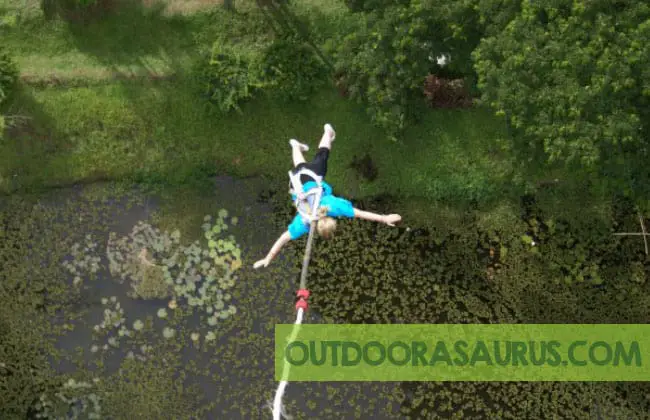 You might be able to get some health benefits from bungee jumping, but you'd have to be doing it very regularly to see any real impact.
By bungee jumping you can stretch your muscles, improve your reflexes and stamina and have a short cardio workout that's unrivalled in the view you get! There's also the walking up all those steps to get to the platform too…
There's even a Bungee Workout program available now. The brains behind it say it offers a 360-degree dynamic workout involving squats, lunges and press-ups.
8. You can explore the world
Why bungee jump over a boring industrial landscape when you could take in jungle views, valleys, mountains, over a fast-flowing river and other stunning vistas?
Bungee jumping gives you the opportunity to visit far flung locations. Some of the best jumps in the world are in areas that you probably would never visit unless you had good reason too… and what better reason than a bungee?
Handy Hint: Check out some photos of the most stunning bungee locations in the world in this article about how much a jump costs in different countries.
9. You can make it a romantic event
My first ever bungee jump was on a vacation with my wife. We went to Thailand on our honeymoon and decided we both wanted to take the plunge. We went separately at first, and then after that made it a tandem jump (here's how tandem bungee works).
We were strapped together, facing each other. We then jumped as a pair.
The experience definitely brought us closer together and has to be one of the most romantic things we have ever done together.
10. You can make friends for life
Almost 99% of everyone else at the bungee operation will be jumping for the first time. It's a great place to meet people and enjoy the camaraderie and encouragement that you will all offer each other.
Once your first jump is complete, you will almost certainly want to do it again. We did this and met another couple who we've actually now bungeed with on a few more occasions since.
Bungee jumping puts you in a small and exclusive club, where only the members can identify and relate to each other about how awesome this is.
11. You will quite simply have…. FUN!
And last but not least, it's just fun. There is no other way to explain it!
Benefits and risks of bungee jumping
I'm a huge fan of bungee jumping. The benefits to me have been out of this world. But I need to temper that with bringing up what the benefits and risks can be. It would be remiss of me not to.
Whilst it is relatively safe (see the statistics), it can be dangerous.
Operators will not let people jump with certain medical conditions including (but not limited to):
If you have an ankle or leg injury.
If you have back, neck, or spinal injury injuries.
If you have any recent bone breaks, dislocations, or fractures.
If you have epilepsy.
If you have a heart problem or conditions.
If you have high blood pressure.
If you are pregnant.
During a bungee jump, your heart rate can reach as high as 160 beats per minute. You can burst blood vessels in your eyes, could experience whiplash, possible fractures, strains, and ligament damage – and in worst case scenarios, it could be fatal.
But I don't want to put you off.
If you worry about things like this, you will never make your first jump. Just please do your research into the operator you are using and check their reviews and safety record.
Conclusion
Jumping off a platform attached to a bungee cord is crazy when you think about it. You will need to plumb the depths of your inner psyche to overcome the fear to make that step off.
But once you have managed to do it, any other challenges you face will seem like small fry in comparison.
For me, that's the biggest benefits of bungee jumping… it completely changes your outlook on life.
Whilst there are also health benefits of bungee jumping, you need to do a lot of jumps to get any real impact from it – unless you are doing bungee workouts indoors (which aren't quite the same).
Recent Posts
Over the last month, my 7 year old son and I have started geocaching as our new hobby. Despite what you might have heard, you don't need a load of expensive gear as beginner. In fact, most people.
For those new to geocaching there can some weird and wonderful terminology and phrasing at play. Most acronyms and sayings are easy enough to get the hang of and will make complete sense once they.

report this ad
About Us
My name is Marc, and this is my place on the web where my son and I share the adventures we have in the great outdoors. That includes urban exploring, WW2 history, camping, geocaching, and anything else that we can find to do out of the house.

report this ad
LEGAL INFORMATION
Outdoorasaurus is a participant in the Amazon Services LLC Associates Program. This is an affiliate advertising program which has been designed to provide a means for websites like ours to earn advertising revenue by advertising and linking to Amazon. Outdoorasaurus is compensated for referring users and business to Amazon plus other businesses linked to on out website. As an Amazon Associate I earn from qualifying purchases.

report this ad

report this ad
Source https://www.today.com/tmrw/6-things-i-learned-after-bungee-jumping-first-time-t175949
Source https://www.topsytasty.com/bungee-jumping/
Source https://outdoorasaurus.com/bungee-jumping/benefits-of-bungee-jumping/#:~:text=By%20bungee%20jumping%20you%20can%20stretch%20your%20muscles,,There%E2%80%99s%20even%20a%20Bungee%20Workout%20program%20available%20now.