Video: Will Smith bungee jumps from helicopter for his 50th birthday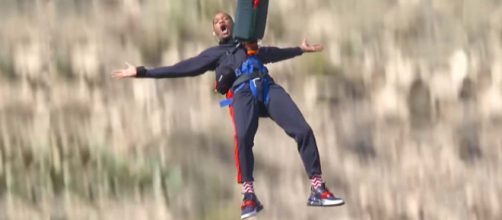 Actor, comedian and rapper Will Smith took to the skies over the Grand Canyon to celebrate turning 50 years of age and to aid charity.
Click on the topic that interests you to follow it. We will keep you updated with the news you shouldn't miss.
Actor Will Smith found a new way to celebrate turning 50 on Tuesday, by performing a daredevil stunt above the Grand Canyon in the USA. He bungee jumped from a helicopter. Anyone who watched the 90s TV sitcom "The Fresh Prince of Bel-Air" might find it hard to believe he's now 50, and that he is also performing daredevil feats and adventure sports.
As reported by the BBC, The "Men in Black" and "Independence Day" star was featured live on YouTube on Tuesday after he was challenged to heli-bungee by a group called Yes Theory, who enjoy making videos of people getting out of their comfort zone.
Actor Will Smith and the daring challenge
As reported by ITV News, it turns out this isn't the first time the actor has performed terrifying feats. Will Smith likes to challenge himself to overcome his fears by doing so. Previously he has skydived from a plane, gone scuba diving in the sea and performed a bungee jump from a bridge. Basically, the man is up to the task when it comes to daring stunts.
When Yes Theory challenged him to go heli-bungee jumping, he agreed to the challenge, but there were three conditions involved. It had to be done over the Grand Canyon, he had to finish filming his latest Film so there was no breach of contract and, most importantly, the bungee jump must benefit charity.
All proceeds will benefit Global Citizen, a group aiming to end extreme poverty.
Family and friends joined him in the Grand Canyon, including wife Jada Pinkett Smith and their three children, Jaden, Trey and Willow. One of the friends watching the action was Alfonso Ribeiro, Will's cast-mate Carlton on "The Fresh Prince of Bel-Air."
Bungee jumping over the Grand Canyon
In the video included below, Smith can be heard to say the scenery was "some of the most beautiful stuff" he had ever seen, adding that it was gorgeous, as he gazed down at the Grand Canyon from the helicopter.
However, it wasn't quite so blissful when he started the descent towards the landing zone, as he can be overheard to say the bungee jump went from "pure terror" to "absolute bliss." The words "Never look down" were repeated by Smith a few times previous to the bungee jump.
The video is currently ranked at number 18 on YouTube Originals with over 12 million views.
Add to that number by enjoying the video below.
Other celebs who took chances
Will Smith is not alone in attempting daredevil stunts. British TV celebrity James Corden went skydiving with actor Tom Cruise a while back in Perris Valley, California. Tom had been interviewed on "The Late Late Show with James Corden and had made the mistake of asking Cruise why he performed his own stunts. Cruise turned it back on Corden by inviting him to go skydiving. While Corden looked terrified at the time, it seems they both had a really great time together.
Freelance writer and travel writer, citizen journalist and all-round self-employed person formerly living in southern Africa (Malawi, Rhodesia and South Africa), now living in La Cala de Mijas on the Costa del Sol in Spain.
This area provides transparent information about Blasting News, our editorial processes and how we strive for creating trustworthy news. Moreover, it fulfills our commitment to The Trust Project – News with Integrity. Blasting News is not a member of the programme, but has requested to be part of it; The Trust Project has not conducted an audit yet.
Blasting SA, IDI CHE-247.845.224, Via Carlo Frasca, 3 – 6900 Lugano (Switzerland) Tel: +39 0690258937
We use cookies and similar technologies to personalize contents and ads, to provide social media features and to analyze our traffic. We also share some information about the way you use our site with our partners who deal with web analytics, advertising and social media content: our partners may combine it with other information that you have provided them or that they have collected from the use of their services. To find out in detail which cookies we use on the site, read our Cookie Policy. You can consent to the use of these technologies by clicking the "Accept" button on this banner or you can close it by clicking on the "X", in this case the default settings will be maintained and that does not allow the use of cookies or other tracking tools other than technologycal ones. To change your choices at any time, click on "Tracking Management."
Will Smith Is Set to Bungee Jump Over the Grand Canyon to Celebrate 50th Birthday: How to Watch
Plunging into a new decade … literally! Will Smith is embarking on an adrenaline-rushing adventure in honor of his 50th birthday.
'90s Nostalgia Photos
The Fresh Prince of Bel-Air alum is set to bungee jump out of a helicopter over the Grand Canyon in celebration of ringing in a new year of life on Tuesday, September 25. The jump — which is a challenge from Yes Theory — will air live on his YouTube channel at 6 p.m. EST. (Yes Theory is a YouTube channel whose mission is to challenge "what society considers normal.")
Smith took to his Instagram page in anticipation of the event to share a series of pictures and videos in excitement.
'90s Stars Then and Now
"I think I have chosen my Helmet," the West Philadelphia native captioned a pic of himself rocking the American flag-themed safety armor on Monday, September 24. "And My Face for the Jump! It's going down tomorrow."
He later posted a selfie with members of the Yes Theory team writing, "6 months in the making… #willsmiththejump."
The Suicide Squad actor's wife, Jada Pinkett Smith, also got in on the fun posting a hilarious, animated clip that shows a cartoon Smith jumping out of a helicopter.
"Here is what I love most about you turning 50 @willsmith … you are soaring high in your freedom and have more authentic happiness then I've ever seen you have before," the 47-year-old Girls Trip star wrote. "You deserve every bit of it! Keep flying and keep doing you! Happy Birthday Willard. You make 50 look good. ✨"
Relive Everything Will Smith and Jada Pinkett Smith Have Said About Their Marriage
Smith first tried his hand at bungee jumping last year when he jumped in Zimbabwe at Victoria Falls.
Watch Smith's live video on YouTube on Tuesday, September 25, at 6 p.m. EST.
For access to all our exclusive celebrity videos and interviews – Subscribe on YouTube!
Source https://uk.blastingnews.com/entertainment/2018/09/video-will-smith-bungee-jumps-from-helicopter-for-his-50th-birthday-002730215.html
Source https://embed-testing.usmagazine.com/celebrity-news/news/will-smith-to-bungee-jump-in-celebration-of-50th-birthday-watch/
Source