17 Highest Bungee Jumps in the United States
While bungee jumping may have been invented in New Zealand, the United States is home to more than a few prime bungee jumping spots where adrenaline junkies can really get their heart pumping. However, jumpers have to be careful these days. Many states in the United States have banned bungee jumping due to various accidents and deaths. Even in states where it is legal, it is still recommended that jumpers go with a recognized company for their own safety. Whether it is jumping off buildings or bridge, there are plenty of places where extreme sports enthusiast or scared, yet curious beginners can harness themselves in safely and take the dive.
Air Boingo Tower by Zero Gravity in Dallas, Texas
For those that want to start off small, the Air Boingo Tower brought to the masses by Zero Gravity Theme Park is the place to do it. This tower is located in the middle of the Metroplex and drop visitors 70 feet safely. The Air Boingo Tower was specifically designed for bungee jumping so the more apprehensive newbies to this extreme sport don't have to worry about hitting their head or getting snagged. This is just one of the many surprising things that visitors to Dallas will find at the Zero Gravity Theme Park.
Track Family Recreation Center in Destin, Florida
The Track Family Recreation Center has all the fun that any person could want with mini golf, batting cages, go karts and, for the more daring, a bungee jumping tower. They have had everything that locals and visitors to the area could possibly want to do and now there is the more exciting attraction of bungee jumping. The tower at the Track Family Recreation Center is specifically designed for bungee jumping and allows visitors to drop an exciting 75 feet down. This is a great way to experience the sport for those that are just beginning their bungee jumping adventures.
Bungee Tower by Mount Hood Adventure Park in Government Camp, Oregon
The Mount Hood Adventure Park offers a slew of adventurous entertainment to Oregon locals and visitors alike; however the highlight of their park is their bungee tower. The bungee tower allows visitors to jump and drop 100 feet. This makes the bungee tower in Mount Hood Adventure Park the ninth highest bungee tower in the United States and the seventy-seventh highest jump off of anything in the United States. While some towers merely drop visitors from a trap door, this bungee jump tower involves a bit more effort. Visitors can full on jump, lean, dive or fall off the edge as they see fit. This method requires a bit more bravery but only enhances the rush.
Highway 21 Bridge by Bungee Expeditions in Boise, Idaho
For those who are ready to graduate from tower jumping to the more exciting and scenic bridge jumping but like, don't want to jump from anything too high, Bungee Expeditions has a good place to start in Idaho. The bridge that connects Highway 21 is located just 10 minutes from Downtown Boise. Hardcore jumpers may be put off by the small height of this bridge, but it is still crazy fun. Bungee jumpers here fall 100 feet down to the Boise River below. Visitors will dangle just a few feet above the river below and bounce just a few feet below the under structure of the bridge. Visitors should hit up this spot sooner rather than later as many rally to close this bungee jumping location.
Sierra Nevada Mountains Bridge by Bungee Adventures in Sacramento, California
Bungee Adventures leads jump groups to a variety of bridges in Northern California, from trees and cliffs to bridges, these guys will take groups to jump off of anything. The Sierra Nevada Mountains Bridge is among one of the favorites and is considered Bungee Adventures primary location. The Sierra Nevada Mountains Bridge is a railway bridge that runs between the mountains in the Sierra Nevada Mountain Range next to Lake Tahoe. Though Bungee Adventures is located in Sacramento, this jump is, of course, located closer to the Nevada border. Jumpers at this bridge enjoy a brilliant 100 foot jump while taking in the beautiful mountain landscape.
Bridge to Nowhere by Bungee America in El Segundo, California
The Bridge to Nowhere is the absolute favorite of residents in Southern California. Not only is the jump thrilling but the bridge itself is an odd mystery. The Bridge to Nowhere is a lonely bridge surrounded on all sides by the Sheep Mountain Wilderness. The bridge runs over the San Gabriel River, but doesn't connect two roads; instead it just dead ends into a mountain after the road project in the 1930's was scrapped. Those who jump off the Bridge to Nowhere with the Bungee America company jump from the bridge in a 100 foot fall over the raging, fast moving water of the San Gabriel River and surrounded on all sides by a high walled gorge.
Royal Gorge Bridge by GoFast! Games in Canyon City, Colorado
The Royal Gorge Bridge is a massive 1,260 foot long suspension bridge that runs over the Arkansas River. This bridge towers 150 feet above the Arkansas River and up until 2003, was considered the tallest bridge in the world. However, bungee jumpers can't just take their 150 foot plunge any time of the year. Bungee jumping and BASE jumping off this bridge are only legal during the 3 day event of the GoFast! Games, which are by invitation only. During those three extreme days, extreme sports enthusiasts jump off the bridge for a massive rush and, at times, to attempt world records.
Redwood Forest Trees by Bungee Adventures in Humboldt, California
When a bungee jumper visits a redwood forest and stares up at those tall old trees, there is only one thought they have, "I bet it would be fun to jump off that." However, they can't just bungee jump off of those historic trees all willy-nilly. Bungee Adventures is the only company that has legal permission to lead bungee jump trips off of a redwood. This trip is really three adventures in one. First jumpers must climb the tree, then tight rope walk between two trees and they do a huge 150 foot bungee jump off of the tree. Brave first timers are welcomed to do this, but the more seasoned bungee jumper may be more comfortable on this adventure.
Parrotts Ferry Bridge by Bungee Experience in Pioneer, California
The Parrotts Ferry Bridge is a reservoir bridge over the New Melones Lake reservoir in Central California's Calaveras County. Between the clean blue waters of New Melones Lake and the green rolling hills of Central California, jumpers will not want for scenery. The bridge itself is also beautiful, if only for its simplicity. This jump, lead by the tour operator Bungee Experience takes visitors to the bridge and offers them both a safe and beautiful 180 foot jump over the waters below. While this is higher than most beginner bridge jumpers are used to, the simplicity of the bridge is rather soothing seeing as there are no extras on it that they have to worry about hitting their head on. It is encouraging for the less brave, but still a bit daunting.
Pacific Northwest Bridge by Bungee Masters in Amboy, Washington
Located just 25 miles from Seattle, the Pacific Northwest Bridge is a favorite bungee jumping location for those that enjoy it in the Emerald City. Those who want to bungee jump on their own are unlikely to find this bridge without a lot of difficulty; however the Bungee Masters company knows just where to go. The Pacific Northwest Bridge is a private bridge that offers an exciting 200 foot fall surrounded by beautiful green forest in which the state of Washington is famous for. This jump has visitors hopping over the edge and over a small river located in a deep forested gorge; it is a thrill for the more advanced jumpers.
Northern California Bridges by Icarus Bungee in Alameda, California
Icarus Bungee has a variety of tours for all levels of bungee jumpers. However, their Northern California Bridges tour takes jumpers to the highest and most exciting bridges in Northern California. On this massive tour, they take visitors to 15 different bridges that can vary depending on weather and different conditions. The highest bridge features a 220 foot drop can be located as far as five hours from their home base in San Francisco. Unfortunately, the bridges they jump from are carefully guarded trade secrets, so solo jumpers will have to find them on their own (or remember the locations from the tour). However, they really frown upon the locations being given away. These secret bridges feature beautiful Californian scenery and are often above beautiful turquoise water.
Crooked River Bridge by Bungee Expeditions in Boise, Idaho
Bungee Expeditions in Boise, Idaho takes visitors across the border to Bend, Oregon for the extreme jump from Crooked River Bridge. This giant steel arch bridge spans over the Crooked River gorge and has a length of 464 feet and dangles 300 feet over the canyon below. An adventure to Crooked River Bridge can easily be split into two adventures as it is located near the famous Smith Rock climbing area. Bungee Jumpers get to take a 300 foot leap off this sturdy bridge where they can enjoy the stony canyon walls and the green river bed below.
High Steel Bridge by Bungee Expeditions in Shelton, Washington
Wikipedia
Once again, Bungee Expeditions leaves their home base in Boise, Idaho to experience some epic jumps in another state. This time, this tour operator takes groups to Shelton, Washington for one of the top bungee jumping locations in the United States–the High Steel Bridge. The bridge dangles between two sides of a canyon over a small river. The canyon itself has a maximum depth of 400 feet; however because of some particularly sharp rocks below, bungee jumpers only get a 365 feet drop, for their own safety. This jump is not only adrenaline pumping for the more advanced jumper but showcases the beautiful wilderness of the Pacific Northwest.
Hansen Bridge by Bungee Expeditions in Eden, Idaho
Hansen Bridge is an Idaho favorite for the advanced bungee jumper because of it extreme height. This narrow bridge is located over Snake River just a little bit away from the more famous Perrine Bridge. The Hanson Bridge, however, is much narrower and has a higher feel to it. Jumpers here are treated to an exhilarating 400 foot fall over the beautiful river below. Individual jumpers that want to jump Hansen Bridge should be careful though. The area is notorious for strong winds at times, some of which has even filled semi-trucks.
Navajo Bridge by Bungee Expeditions in Marble Canyon, Arizona
It's no jump off the Grand Canyon, but it is as close as bungee jumpers in Arizona are going to get. The Navajo Bridge spans over a beautiful red rock desert gorge and is the 10th highest jump bridge in the United States. This gorge and bridge are located just north of the rim of the Grand Canyon and spans over the Colorado River. Bungee jumpers can expect a thrilling jump of 467 feet with excellent views of the surrounding area.
Perrine Bridge by Bungee Expeditions in Twin Falls, Idaho
For those who enjoyed jumping from the Hansen Bridge in Idaho, why not try the nearby Perrine Bridge? This bridge is wider and has a longer drop than Hansen Bridge and dangles over a larger portion of the Snake River. This massive bridge features a stunning 500 foot drop; the only problem is that it is highly restricted. There have been a few bungee jumping accidents here because of the notorious winds, so this bridge is only open to bungee jumpers one day a year.
Rio Grande Bridge by Bungee Expeditions in Taos, New Mexico
http://www.flickr.com/photos/41785120@N00/5836757843/
Had your fill of the smaller bridges and find yourself ready to move onto the highest jump? The highest jump in the United States is from the Rio Grande Bridge and measures among one of the highest bungee jumping spots in the world. This drop is not only the highest in the United States, but it is also the most expensive place to jump from. Visitors who aim to conquer this New Mexican beauty will find themselves falling for a stunning 680 feet off the bridge over the Rio Grande river below. It is truly a thrill like no other.
PS. Did these 17 awesome bungee jumps inspire you to get outside and live the adventure?
We want to send exploration inspiration, outdoors challenges and adventure gear right to your front door.
Join more than 1,000 subscribers across North America in explore magazine's "Live the Adventure" Club.
Top 5 Bungee Jumping Places near Chicago 2022
The people of Chicago enjoy extreme sports like Bungee jumping during summers and springs. A common practice for adventure-lovers is tieing themselves with elastic harnesses before jumping off. Then they go for a free fall from the high ground like skyscrapers, high bridges, balloons, helicopters and custom made towers head first.
Places for bungee jumping in Chicago are limited due to the weather being unfriendly most of the time. However, the sport is becoming famous in recent years. Sports companies and amusement parks are introducing places for bungee jumping near Chicago. Here's a list of some places to jump off near Chicago.
Bungee jumping in the United States is an exciting game. Los Angeles, New York, San Diego, Seattle, San Francisco, Orlando, Miami, Maryland, Houston, Pennsylvania, Hawaii, Austin, Ohio, New Jersey, Cancun, Michigan, Georgia, Washington, and Sacramento are Developing Areas for Bungee Jumping. Very soon, those places will be open to the public.
Bungee Jumping Chicago
Please enable JavaScript
List of Top 5 Bungee Jumping Places near Chicago
List of Top 5 Bungee Jumping Places near Chicago
1. Six Flags Great America in Gurnee
2. Extreme World – Bungee Jumping Chicago
3. John Hancock Center
4. Willis Tower Bungee Jump
5. Young's High Bridge Bungee Jump
10 Facts about Bungee Jumping
1. Six Flags Great America in Gurnee
Six Flags Great America park is a famous retreat for thrill-seekers in Gurnee, and the place is a 45-minute ride away from Chicago. It's a great United States visiting place. The Dare Devil ride is the most prominent among all the adventure sports, and It's a free fall of 125 feet from a metal tower. People taller than 54 can jump solo, and those below 42 inches in height will need a partner.
Up to 3 person can jump off together. After a free fall of nearly 12.5 stories, the safety cable will swing you like a pendulum due to momentum. The drop speed is almost 65-70 mph.
Six Flags Great America in Gurnee
Address: 1 Great America Parkway, Gurnee, IL 60031, United States.
Cost: The price for a single ride is $18, and a double ride is $44. With a Park ticket, the price is reduced to half.
2. Extreme World – Bungee Jumping Chicago
Extreme World in Wisconsin Dells is another place for bungee jumping near Chicago. 80 lbs or 36 kg (minimum) and 265 lbs 120 kg (maximum) is the bungee jumping weight limit.
It's a three and half-hour ride from downtown Chicago. The amusement park is considered a good option for adventure lovers. The bungee jump is performed from a 120 ft high suspended platform of an arch metal column.
First, you have to dive off the platform. A slight drugging is applied to pull you up feet-first. It stops for a second descent towards the ground. One can experience multiple free falls here. People taller than 40 inches can jump off.
Bungee Jumping Chicago
Address: 1800 Wisconsin Dells Pkwy #8483, Wisconsin Dells, WI 53965, United States.
Cost: the price of the park entry ticket is $21. For bungee jump extra charge is applicable.
3. John Hancock Center
The 100-story skyscraper of the windy city has introduced this new attraction for their guests. People visiting the 360 observation deck of the building above the 94th floor can upgrade their tickets to enjoy bungee jumping from there. Adventure lovers need to sign off a disclaimer and pay some hundred dollars to jump off headfirst to the street. It seems like an incredible stunt for adrenaline junkies.
John Hancock Center
Address: 875 N Michigan Ave, Chicago, IL 60611, United States.
Cost: The entry fees to the building for adults are $20 per person and $13 for children between 3-11 years. Additional charges are applicable for a bungee jump and double visits within 48 hours.
4. Willis Tower Bungee Jump
Being the third tallest building in America, the Willis Tower offers the city's best view. Besides the thrilling Skydeck on the 103rd floor, this skyscraper is one of the perfect places for bungee jumping in Chicago. MilesHighSky club is arranging bungee events from the Willis Tower.
There is a permanent structure built on the 108th floor of the building, and adventure lovers like to perform bungee jumping from there. They need to sign a disclaimer form, pay some more dollars and accompany a trained bungee jumper. Summer is the perfect time to do this.
Willis Tower Bungee Jump
Address: 233 S Wacker Dr, Chicago, IL 60606, United States.
Cost: for adults(aged 12 years and above) ticket price to enter the building is $30-$44, and for children between 3-11years, the ticket price is $22-$36. An additional fee is required for bungee jumping.
5. Young's High Bridge Bungee Jump
The Young's High Bridge may be very far from Chicago, but it can be considered the haven for bungee jump lovers. Whether you're a pro or a forest-timer, this place should be on your list of jumping off. Young's High Bridge is 240 ft above the Kentucky River.
Vertigo Bungee has purchased the bridge to get the sole right of authorizing the programs there. It is a 100 feet free fall from the top of the bridge. The company provides an expert bungee crew to help everyone. Thrill-seekers need to pay a nonrefundable charge with membership fees for the performance.
Young's High Bridge Bungee Jump
Address: US-62, Versailles, KY 40383, United States.
Cost: $129 for individual jump and $160 with Vertigo Bungee membership.
Who should not do Bungee jumping?
Pregnant women and people with NCDs (non-communicable diseases) are recommended not to do bungee jumping. People with heart conditions, high blood pressure, back or neck injuries, or bone fractures should avoid this sport.
Older women and people with weak bones or diseases like osteoporosis should also avoid these sports adrenaline rush unsuitable for people with neurological problems like epilepsy. Such candidates must avoid taking part in bungee jumping.
Is Bungee jumping dangerous?
There are some risk factors in Bungee Jumping. From time to time, jumpers face injuries which can be levelled from moderate to high levels. Like bone fractures, neck injuries, heart problems and even death.
Risk assessment: You must check company history before going for an adrenaline rush. Jumpers must have physical fitness and undergo a proper medical check-up for any NCD detection.
Always go for Experienced Companies. The licensed instructors perform multiple jumps for a safety check before opening up to visitors daily.
How does it feel to bungee jump?
As an Extreme sport, the adrenaline rush is a common factor in bungee jumping. People who have taken part in this sport say that all you need is the courage to face your fears, faith in your instructors and friends and trust in yourself to jump off. The result is heavenly.
Also, do not forget to scream. Once you overcome your fears, you will feel the wind on your face and a feeling of satisfaction in your heart.
Is Bungee jumping legal in California?
Division of Occupational Safety &Health (DOSH) of the State of California provides licenses to Bungee jumping Companies performing within California. A company must meet the requirements of DOSH to get a permit, which is pretty rigorous in terms of safety protocols.
10 Facts about Bungee Jumping
The earliest event of something like bungee jumping is performed by the men of Pentecost Island of Vanuatu Archipelago. They used to tie their legs with vines and jump off from wooden platforms during formal events. It proved their manhood.
Alan John Hackett from New Zealand invented the bungee ropes in 1980.
Four student members of Oxford University Dangerous Sports Club performed bungee jumping with nylon ropes from the Clifton suspension bridge in Bristol in 1979. They were the first to attempt the sport. Luckily they survived and got arrested immediately.
Bungee jumping name is derived from the stretchable cables used to tie up luggage.
China's Macau Tower(764 ft) holds the Guinness World Record for the highest commercial Bungee jumping. It is 4-5 secs of freefall at 125mph from the top to the ground.
Bungee jumping is pretty safe despite the adrenaline rush and inherent risk factors.
A licensed and experienced bungee instructor is the most important thing for a safe jump. Instructors follow all the safety protocols very strictly and call off a jump with the slightest hint of danger.
Bungee cable should be strickly small compared to the leaping platform for proper stretching.
The most common injuries associated with Bungee jumping are bone dislocation, rope burns, eye trauma, and spine injuries.
Bungee jumping is a typical stunt used in movie industries. Like, the 2002 007 James Bond Movie Golden Eye.
Conclusion
Sports companies have come up with a modern version of Bungee jumping in Chicago. That is euro bungee. People need to rent the pieces of equipment for it and set up a jumping platform in a carnival or backyard to enjoy jumping off.
The activity is mainly done from Bridge, Tree, Dam, or Rock. Jumpers are strapped with multiple harnesses and swung up-down. However, it's a punishable offence in Chicago and a life-risking endeavour to organize one with a licensed instructor.
Bungee Jumping in Thailand – Best Places To Try Out the 'Leap of Faith'
Need an adrenaline hit? Looking for something exciting to do? You don't need to look any further; Bungee Jumping is the perfect answer. Jumping from a high point with a belt tied around your waist to pull you back will give you a rush like nothing else. Even though the whole thing lasts for just a few minutes, it leaves you with memories worth regaling for a lifetime. Thailand has some excellent spots to have this exhilarating experience. The nation has it all, vibrant culture, breathtaking landscapes and now, adventure with bungee jumping in Thailand!
Read on to find out about the best operators for bungee jumping in Thailand.

1. Xbungy, Pattaya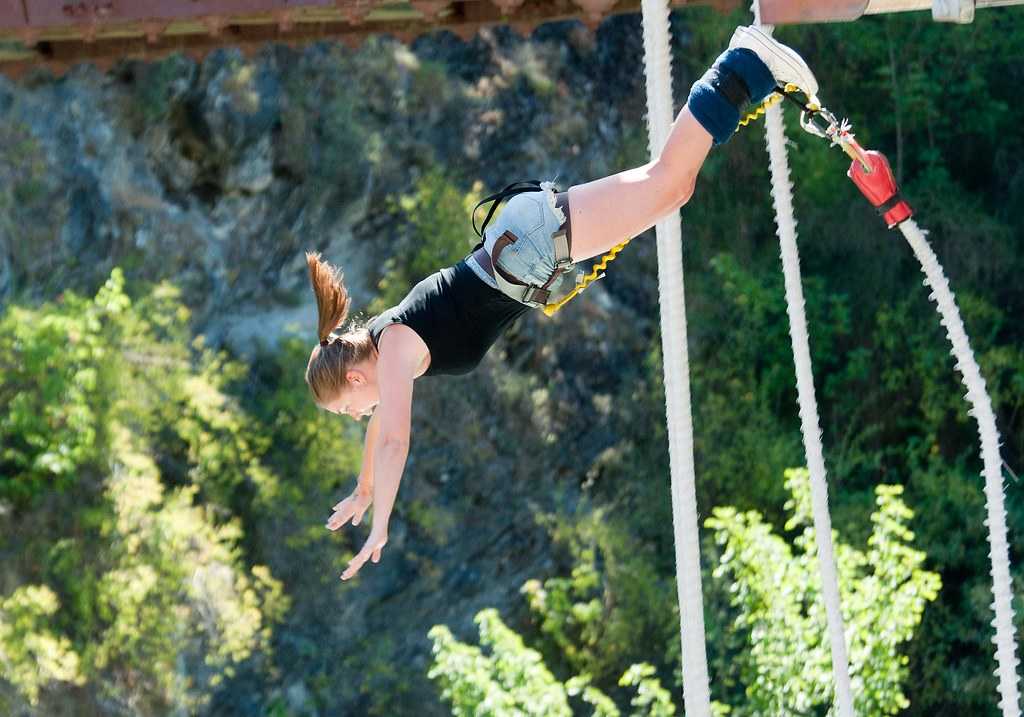 Source A city on the eastern Gulf coast of Thailand, this is the highest bungee jumping spot in Thailand at the height of 60 metres. The view from the top is just amazing as one can see the whole city. Located only 150 km from Bangkok, one can easily reach Pattaya through well-connected highways.
Xbungy has been an operator for bungee jumping in Thailand since 1989 and are renowned for their safety processes. They are certified by SANZ ( Standards Association of New Zealand). You get a certificate of courage and photos and videos of the jump taken on a Go-Pro camera which can be purchased after the jump. Located on Threppasitt road in between Pattaya and Jomtien centre, they provide pick up and drop off services from your hotel in Pattaya.
Price: The cost for bungee jumping is THB 2500, this includes a free t-shirt as well, and one can pay on reaching the place. Visit their official website pattayabungy.com for more information and to book tickets.
Cancellation: No charges if you cancel a week before your scheduled jump. If closer than a week, you will have to pay a small cancellation fee.
Address: 248/10, 9 Bang Lamung District, Chon Buri
Timings: 10 AM – 7 PM
Things to keep in mind: They ensure your safety by not allowing you to jump if you have a medical condition, more than 150 kgs of weight or less than 35 kg.
2. Phuket Jungle Bungy Jump, Phuket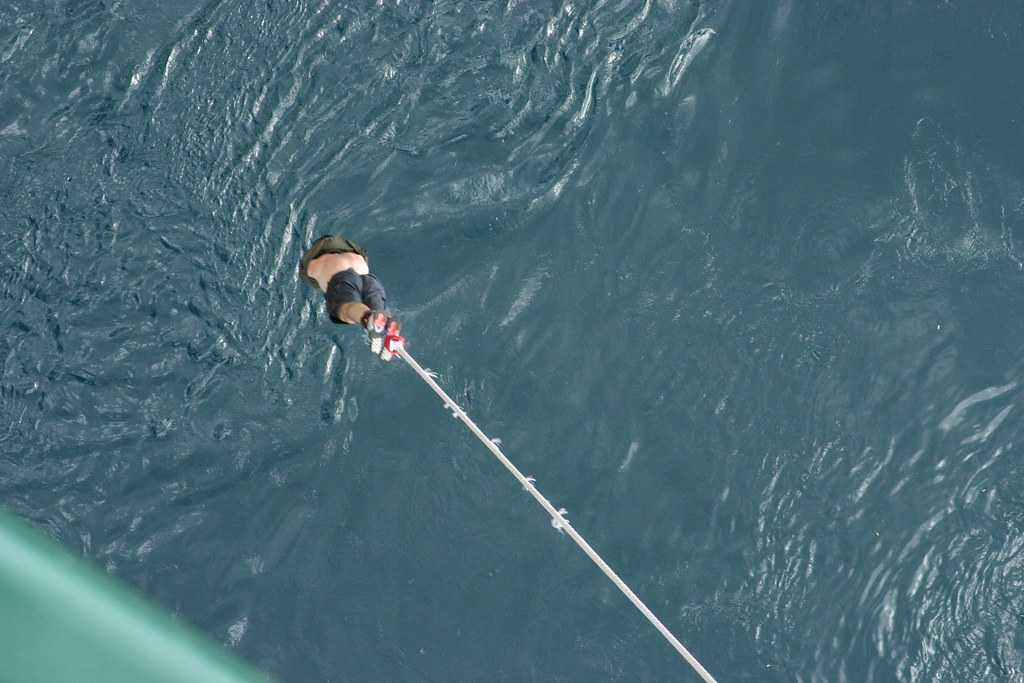 Source Located on Phuket island, the closest Airport to this bungee jumping spot is Phuket International Airport. One can also reach here by road as there are regular buses from Bangkok. It has the second-highest bungee jumping point in Thailand at a height of 50m above the ground.
This operator for bungee jumping in Thailand is in Kathu village which is only 5km away from Patong city centre, this operator is very accessible to those who want a quick dose of adrenaline. One can make a booking with them online or on call. The price will increase if you want videos or photos as well. The serene lake below the bungee jumping spot adds to its picturesque beauty as well as the thrill of the jump. Run by professionals from the land of bungee jumping, i.e. New Zealand. It certified by the SANZ (Standards Association of New Zealand). They also provide pick up and drop off services as well.
Price: The price starts at THB 2200 = USD 71
Address: Kathu, Kathu District, Phuket
Timings: 9 AM – 6 PM, but they do not conduct jumps after 5:30 PM.
3. Samui Bungy Jump, Koh Samui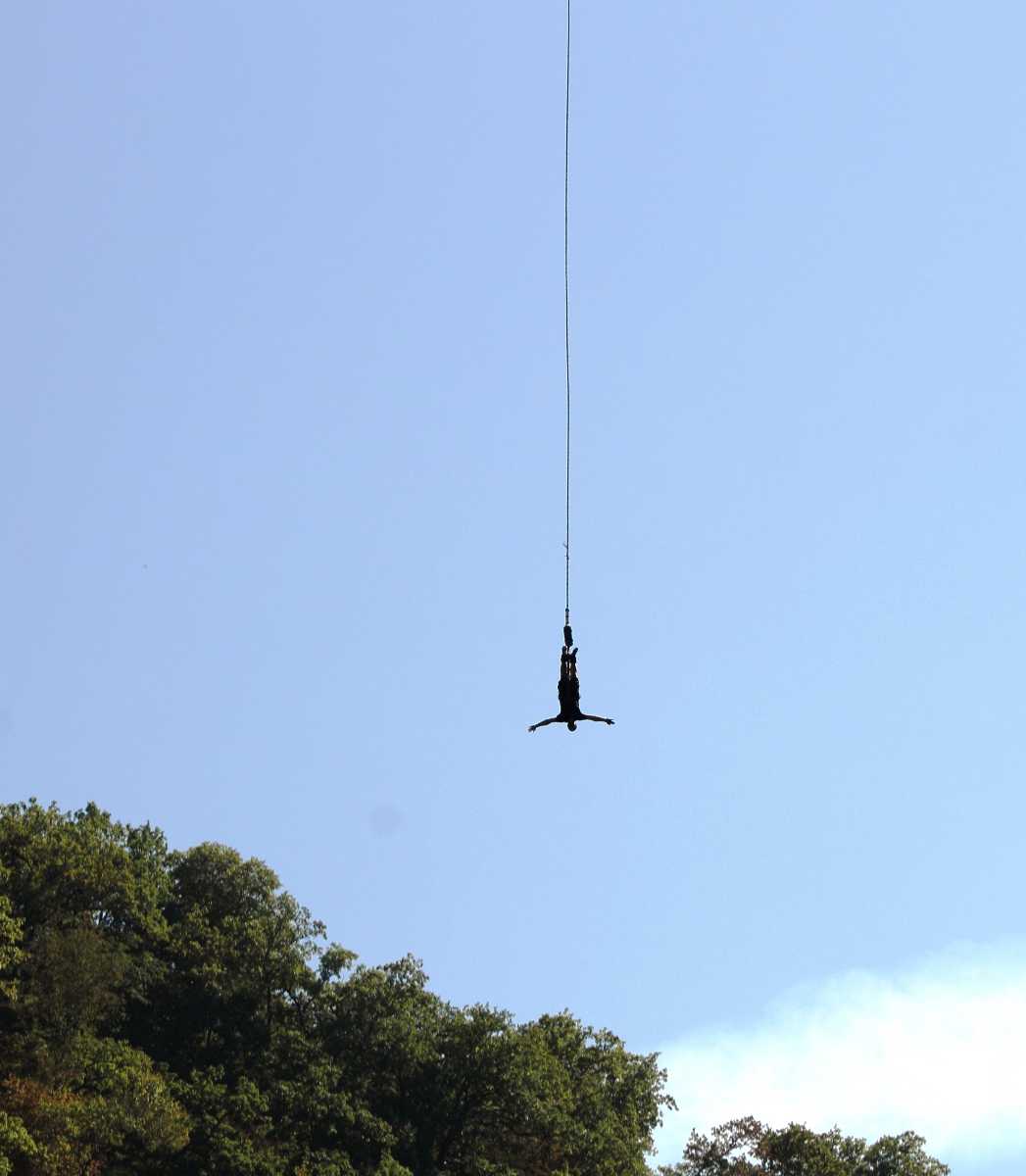 Source Located off the coast of the mainland in the Gulf of Thailand. You can either fly directly to Koh Samui or go via Surat Thani and then take a ferry to Koh Samui, the second option being cheaper but is more time-consuming. Chaweng, a beach on the east coast of Koh Samui is another spot to try bungee jumping in Thailand.
This place has been around since 2001 and run by people of English origin. Located minutes away from Chaweng beach, it is nestled between the Reggae Pub and EasyKart on Soi Reggae road. A t-shirt and beer are complimentary. One can request their pickup and return services while booking. Their lingua franca is English, and they also hold a 100% safety record. They also provide an option between a dip in their swimming pool below or a dry jump without immersion in the pool.
Price: The price for a jump is THB 1,500 per person which has to be paid in advance through online payment methods.
Address: 3/130 Moo 2. Soi Reggae, Chaweng, Surat Thani 84320, Thailand.
Things to keep in mind: They have a weight limit of more than 100kg and less than 42kg. In case one has a problem in conversing in English, they can book with the help of their hotel or third-party websites such as activityfan.com.
4. Chiang Mai X Centre, Chiang Mai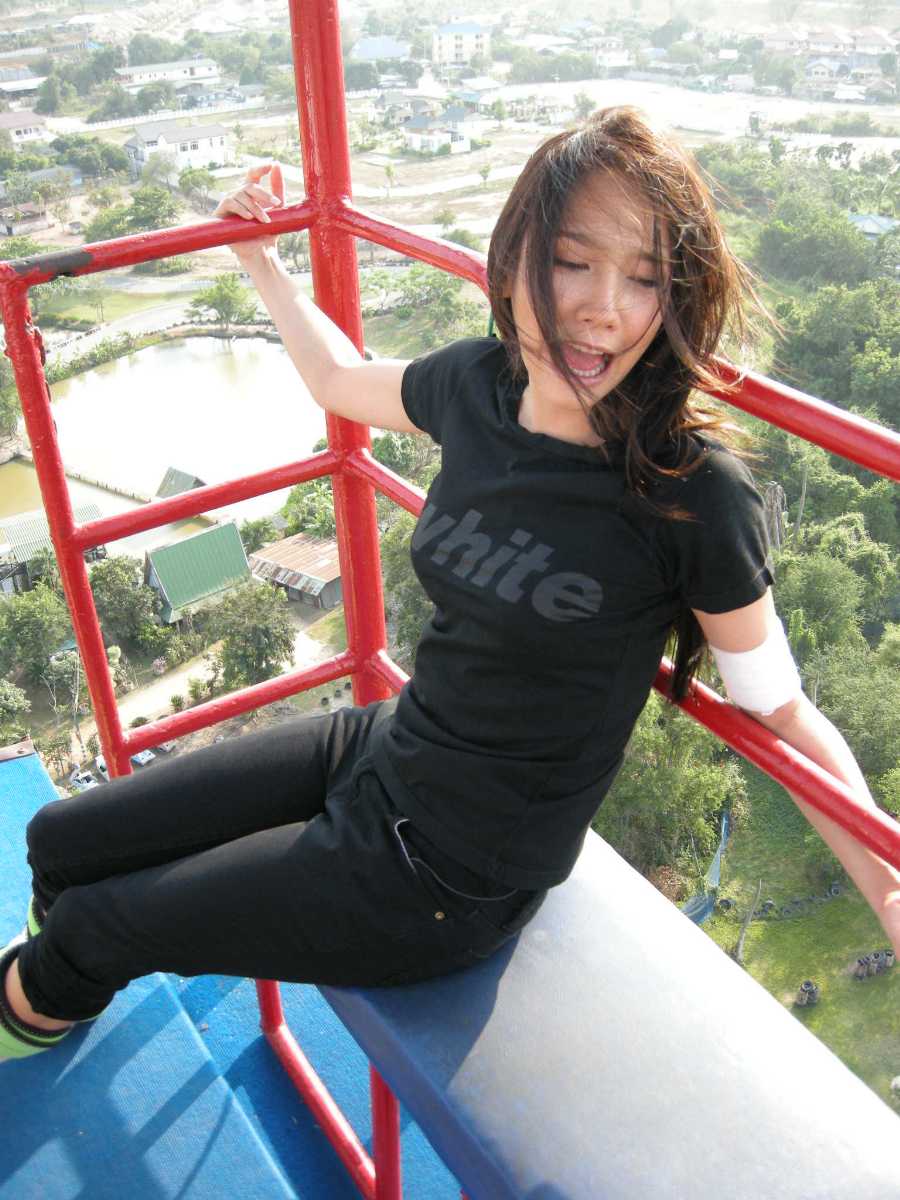 Source A favourite place among tourists, this place has many attractions such as Wat Chedi Luang having its international airport Chiang Mai is easy to reach. Another thing which you can add to your itinerary for Chiang Mai is bungee jumping.
Chiang Mi X Centre is a sports activity centre offers exciting activities such as motorcycling, paintballing and rolling downhill in Zorb balls. It has yet another bungee jump at the height of 50 m in Thailand and has SANZ certified instructors. Located in the forest setting of Mai Rim valley it is only 25 minutes ride from Chiang Mai city centre. They are open from 9 AM to 6 PM. The sight of Chiang Mai from the top is beautiful enough to have this experience added to your Thailand itinerary, add to that the thrill and exhilaration of bungee jumping and you will have some fantastic memories to look back on. They also provide you with certificate, insurance and also pick up and return services from your hotel. They also have a bar and restaurant in their centre where you can relax with your friends.
Price: The price for a jump ranges between THB 2000 and THB 3000 based on whether you wish to take photographs and videos or not.
Address: 816, 1 Rim Tai, Amphoe Mae Rim, Chang Wat Chiang Mai.
Timings: 9:00 AM – 6:00 PM
Tips to Remember While Bungee Jumping
1. Insurance: Make sure that the services you are registering with provides you with insurance.
2. Medical Conditions: There are some medical conditions which do not allow you to Bungee Jump. If you are pregnant or have suffered from some neck, back or spinal injuries, then you will not be able to jump. Heart patients will not be allowed to jump. In case you have issues such as high blood pressure, epilepsy, asthma or eye injury, it is advised to consult a doctor before jumping. Furthermore, if you have consumed drugs or alcohol, you will not be allowed to take the jump.
Moreover, your weight should be more than 35kgs and less than 150kgs.
3. Know Before You Go: In case you are not sure whether you want to jump or not, it is suggested to go to the centre and see the process for yourself before booking as they will not refund you if you back out at the last moment. Moreover, it so happens that they are usually able to accommodate you for a jump on the same day, but you might have to wait.
4. Equipment Ready: The centre will provide all the required equipment you are going to and do make sure that it is in excellent condition as it is a matter of life and death.
Bungee jumping in Thailand can be an exhilarating experience which you can take back along with the other amazing memories from this place. Just take a deep breath and a leap of faith!
Source https://www.explore-mag.com/17_Highest_Bungee_Jumps_in_the_United_States
Source https://www.theholidaystory.com/bungee-jumping-chicago/
Source https://www.holidify.com/pages/bungee-jumping-in-thailand-2350.html