The birthplace and origin of bungee jump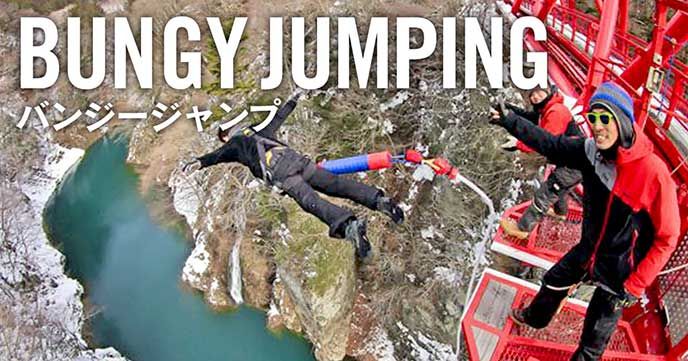 A bungee jump is an attraction where you can jump off from a high place such as a skyscraper, a bridge, or a cliff with a lifeline attached. Bungee means "rubber string" and was named by AJ Hackett, the inventor of this attraction. There are several variations such as "tandem" where two people fly together as well as one person, and "reverse bungee" which is launched from the bottom to the top using the elasticity of rubber, and some of them are lifelines. There is even a "stringless bungee" that jumps down to the net below without wearing anything. The Macau Tower is currently the tallest in the world, and its height is 233m! This is equivalent to a 60-story building.
What is the birthplace of bungee jumping?
The first bungee jumping that ordinary people pay for was done in November 1988, when New Zealand entrepreneur AJ Hackett took the 47m-high Kawarau Bridge over the Kawarau River. It is said that it started when it jumped off. Impressed by the "Nagor" ritual in the Republic of Vanuatu in the South Pacific, AJ Hackett, along with Henry Van Ash, established it as a sport in New Zealand. Bungee jumping from the Kawarau Bridge is still practiced today, and many people enjoy bungee jumping at the birthplace of bungee jumping.
What is the origin of bungee jumping?
The origin of the bungee jump is said to be the coming-of-age ritual called "Nagor" in the Republic of Vanuatu. The ritual was born out of an event in which a wife who had escaped from a violent husband was cornered on a tree and jumped, the wife who had ivy on her legs was saved, and the husband who chased and jumped died. .. A tree vine with a height of 30m is wrapped around the ankle and jumped off to show one's strength and pray for a good harvest. Unlike rubber, wooden ivy does not stretch, so it gives a big impact to the body, and if the yagura is damaged or the ivy is cut, it can be fatal. Therefore, the men who participate in "Nagoru" choose their own ivy and wrap it around their feet.

Recommended / Popular Activities / Experiences / Leisure Features
Learn how to make it in a ceramics class! Recommended ceramic art experience plan for beginners ・ What kind of works can you make?
What is the difference between canoeing and kayaking? Thorough introduction of each charm and popular tour
Special feature of the area / area of interest
[Online tour] Enjoy the remote islands of Okinawa at home. You can have a full-scale resort experience online.
[Okazaki City, Aichi Prefecture] Introducing various Okazaki games, from history and manufacturing to family-friendly experiences and activities!
[Akita Inu Tourism] Experience feeling Akita, nature, hot springs, historical culture, local food, etc . Let's go out. A trip to meet Akita dogs.
New Articles
Travel to Hokkaido in September | What are the climate, clothes, and prices? Recommended activity thorough guide
Yakushima Jomon cedar trekking tour │ A big survey of reservation information such as price, directions, time, best season!
Area list
Activity list
ACTIVITY JOURNAL list
Special feature list
ACTIVITY JAPAN BLOG list
Notice from Activity Japan
List of recommended hot words
List of recommended experiences
Activity Japan is a wholly owned subsidiary of HIS, and more 15,000 plans of outdoor sports, day trips, leisure, Activity experiences, ONLINE experience tours, etc. handled by about 4,000 affiliated partners across Japan It is listed above and can be booked online until On the day In addition, HIS's 201 bases in 133 cities in 65 countries / 200 stores in Japan 2021) and media media of more 200 companies in Activity Japan 's own network are popular, cheap and recommended Activity information Japan We are currently sending reservations in English, Chinese (simplified and traditional), Korean, and Thai in addition to Japanese, and we are Reservation reception In addition, Sale Sale experience plan limited to Activity Japan and discount coupons, and you can get points back after Activity Book cheap outdoor sports, day trips, leisure, Activity experiences and ONLINE tours at HIS Group Activity Japan
Area list
Activity list
ACTIVITY JOURNAL LIST
Latest feature list
List of online experience
ACTIVITY JAPAN BLOG LIST
Recommended hotword list
Recommended experience list
Notifications list
Published Activity Providers' list
About publishing
Actim – Booking & Stock centralized management system
Employee trip & Team building
To local authority
About links
News release list
H・S Insurance
H.I.S. Travel Pro – Domestic Hotels Best Price Reservation –
Huis Ten Bosch
Like the World
Crowd translation No.1 YAQS
Frequently asked questions
Terms of use
Privacy policy
Solicitation policy
About travel agency registration, various terms and conditions
Contact
Operating company
Copyright © ACTIVITY JAPAN
We would like to express our sincere gratitude for your continued patronage.
At our company, in order for many customers to enjoy various activities all over Japan safely and with peace of mind, the Ministry of Health, Labor and Welfare's " Basic Policy for Countermeasures against Coronavirus Infectious Diseases " and " Let's Avoid the Three Cs "・ Based on the " new lifestyle ", we recommend the following infectious disease countermeasures to the operator.
Instructors and participants keep a sufficient distance
Use masks as much as possible while participating
Ventilate frequently, avoiding closed spaces
Thorough hand washing and disinfection
Thorough disinfection of equipment
Health management of customers and employees, etc.
For infection prevention measures of the operating company, please refer to [Appeal points for safety] or [Notes on participating in the course ] of each operating company information at the bottom of the plan reservation page, and for details, please contact each operating company directly. Please contact us.
You can also check the following page for information on the efforts of activity companies in each region!
Even if you are a customer, when you continue to go out, in addition to avoiding so-called [three secrets], cough etiquette, thorough hand washing and alcohol disinfection, etc., on June 19, 2020 (Friday), Ministry of Land, Infrastructure, Transport and Tourism, sightseeing Please be aware of the [new travel etiquette ] announced by the Japan Tourism Agency, take actions to avoid the risk of infectious diseases, and enjoy activities and leisure activities safely.
Even now, there are tourist facilities and activity operators whose business hours and dates have changed. Please check the calendar status at the time of application and check the latest information with each operator even after the reservation is completed. Please check with each operator regarding whether or not there is a cancellation fee due to sudden closure of the facility, cancellation of the activity experience, etc.
The "online experience" service is digital content that can be expected to create a new community by connecting customers with local and tourism businesses on a daily basis. Those who have difficulty going out due to circumstances, those who want to try but are uneasy about having a real experience suddenly, those who want to collect local information to plan future trips and stay plans, etc. Feel free to meet local instructors and guides online and enjoy a conversation while experiencing a simulated experience!
The History of Bungee Jumping
Diving off a high tower with an elastic rope tied to the ankles for a quick adrenalin rush sounds like something developed by tourist entrepreneurs to lure modern thrill-seekers.
But the intrepid pioneers of this sport, the first bungee jumpers, didn't have the sophistication of engineered elastic ropes and fancy boots.
Bungee Jumping Started in Vanuatu as the Pentecost Jump
The islands of Vanuatu sprawl in that arc from the Solomon Islands in the north to New Caledonia in the south. In the 1860s, the French and English formed a condominium to bring the islands, then known as the New Hebrides, into the western way of life. This joint rule lasted until 1980 when the nation gained independence and the name changed to Vanuatu.
The first bungee jumps were carried out thousands of years ago on the island of Pentecost, one of Vanuatu's many islands.
Pentecost Island is known as the 'island of legend.' To confirm this label, the nagol or 'Pentecost Jump' has its roots in legend.
The Legend of the First Bungee Jump
In the times when legends were made, a man named Tamalie frequently and viciously beat his wife. One day she ran away in fear and hid in the top of a tree. Tamalie climbed after her despite threats she would jump. When he reached the top, she threw herself off and he plunged after her. However, she had cleverly tied vines to her feet that broke her fall while her husband crashed to his death on the ground.
The women continued to celebrate the legend, but over the years men have taken over the role. The Pentecost land divers spend weeks preparing for the jump to psyche themselves and deter evil spirits.
The ritual now has a dual role. One is for the tourist trade to bring hard cash into the villages; the other for religious significance. As the Pentecost land diver's head scrapes the ground at the end of his dive it fertilises the earth for the coming yam harvest.
From Traditional Ceremony to Modern Bungee Jumping
The western version of this sport is also becoming a ritual. Thrill-seekers wanting to pay homage to the ultimate adrenalin rush dive off special platforms, high bridges or cranes set up for the occasion. The Pentecost land divers used nothing more than a tower made from sticks. The modern bungee-jumper uses the elasticity in the bungee rope to stop the free-falling body. The old-timers relied on three methods to break their fall:
1) the vines of carefully measured length have elasticity;
2) the tower has a bit of 'give';
3) the top of the tower breaks away as the diver reaches the end of the vines.
Modern bungee jumping is usually done over water, with the jumper having the choice if they want to be dunked in the water at the end of the fall.
The Pentecost land divers do their jumps over the forest floor. The ground is softened by a layer of leaf mulch, and is usually on a slope to assist in breaking the fall. However, a miscalculation in the length of the vines can be fatal as the land diver slams into the earth. Fortunately, these are rare.
First Commercial Bungee Jump on Kawarau Bridge
Henry van Asch and AJ Hacket established the first commercial bungee jumping operation on the Kawarau Bridge in New Zealand. This bridge, spanning the Kawarau River was built in 1880 and is a short drive from New Zealand's excitement town of Queenstown.
Many thrill seekers now pay to bungee jump from the Kawarau Bridge.
Bungee jumping is not the only modern sport that has its roots in the Pacific Ocean. Freestyle swimming was developed in the Solomon Islands; while surfing first started in Hawaii.
Where Did Bungee Jumping Originate? + Who Invented It & The History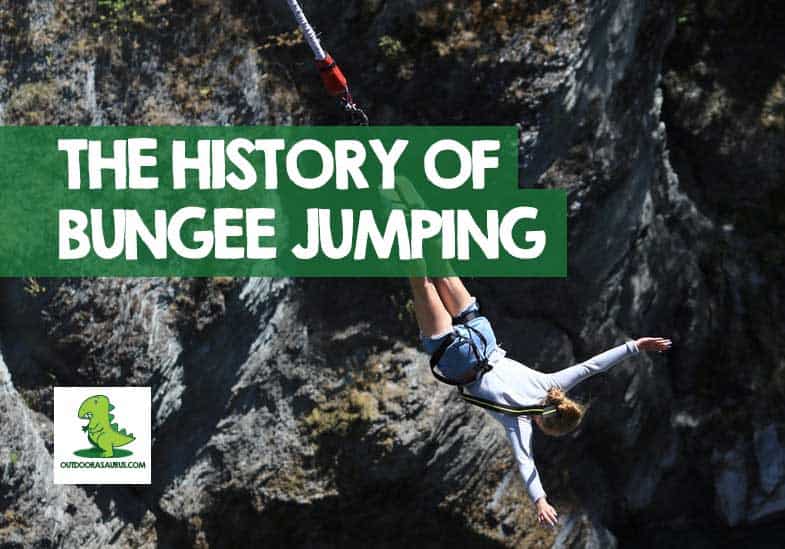 There are between 50 and 65 bungee jumping sites the world over, with millions of people having jumped from these commercial operations since the mid-1980s. Whilst this extreme sport became widely popular in the 1990s, it actually has a very rich and interesting heritage that originates from a lot longer ago.
Today I am going to give you a history of bungee jumping, explaining where bungee jumping originated from, who invented it, how it became an extreme sport, and even how the name came about.
Read on for the most comprehensive guide to bungee jumping history and facts anywhere on the Internet!
History of bungee jumping
Bungee jumping in some form or another has been around for thousands of years. As a sport, it only become popular as an extreme sport in the 20 th century, but the origins can be traced back further…
The origins of bungee jumping
Where did bungee jumping originate from? Theory has it that what could be described as the first bungee jumps originated on Pentecost Island in the South Pacific thousands of years ago. The Naghol land diving ritual is the earliest recorded instance of an activity that could be compared to bungee jumping.
Date unknown: the Naghol ritual of land diving
Pentecost Island is located in the South Pacific and is part of the Vanuatu nation. It can lay claim to having what we could describe as being the origins of bungee jumping. And here's why…
According to local legend, the wife of a native man called Tamalie was fed up with his abuse and decided to run off into the jungle. She scaled a tree to escape his violence whilst he was in hot pursuit.
As Tamalie pursued his wife through the branches, she tied long vines around her ankles, and in fear for her life, leapt into the air. As she fell, the vines broke her fall. The vines had acted like an elastic bungee cord, meaning she was able to make a safe escape. Tamalie wasn't so lucky. He leapt after his wife (minus the vine bungee cords), crashing into the ground to his death.
This dare devil act by Tamalie's wife led to a religious event called "Naghol" being organised. It was originally an annual ritual where villagers would construct 75-foot-high wooden towers and the local women would throw themselves off with vines attached to their ankles.
The Naghol ritual continued for centuries eventually evolving into a springtime event during April, May and June. Men ended up taking over the ritual, diving to the ground in order to prove how brave they were.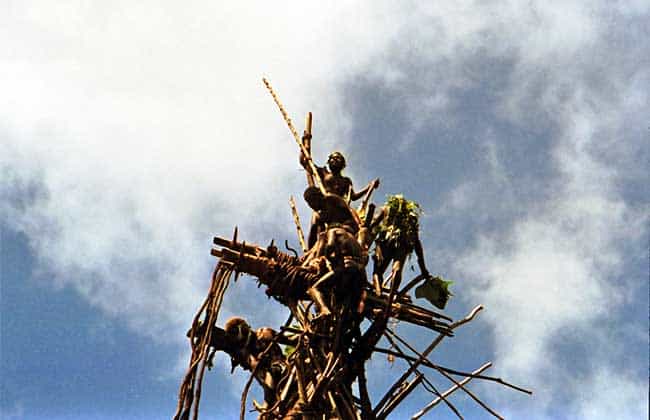 Bungee jumping is considered to have originated from the ancient ritual of land diving. (By Paul Stein from New Jersey, USA – piv_121, CC BY-SA 2.0, Link)
The idea was that as they jumped and bounced close to the ground, their hair would brush against the ground, which they believed would help fertilize the soil for a bountiful crop.
Naghol is now a hugely popular event that even tourists will attend. It involves a huge party and ceremony on the island each year. The men will stand at the top of tower, raise their arms to silence the dancing crowds, cross their arms in a corpse position, then make the leap.
How Naghol land diving came to inspire modern-day bungee jumping is open to dispute. But there's no doubt that this is where bungee jumping originated from. You can read more about land diving on Wikipedia.
From what I have researched, I found that the western world didn't discover Pentecost Island until the 1600s, so we can only speculate when the first ever land dive took place.
But we do know that during World War 2, the Allied military forces used Pentecost Island as a base, and saw the natives taking part in the Naghol land diving ritual. I would imagine that word soon made it back to the UK after seeing these insane jumps and traditions.
It wasn't until 1960 that the wider western world got to see this early form of bungee jumping. The BBC sent David Attenborough to the island, and he came back with footage of the Naghol ritual taking place. The BBC aired "The People of Paradise" series, with one episode in particular capturing the imagination of future bungee jumpers…
The episode was called "The Land Divers of Pentecost" and showed the natives bungee jumping from their wooden towers. My theory is that David Kirke probably saw this show, which then inspired him to do the first ever recorded bungee jump in the UK, but more about that in moment.
Before we get into the next section on how and where bungee jumping originated, take a look at this old archive clip of land diving which I think was shot in the 1970s.
Where was the world's first bungee jump?
Where was the first ever bungee jump? The world's first bungee jump which used elasticated cords was on the 1 st of April 1979. David Kirke bungee jumped from the Clifton Suspension Bridge in Bristol, UK using a rudimentary bungee cord set-up made with harnesses and buckles from a hang-gliding club.
1979: the world's first bungee jump in Bristol, UK
Sounds scary doesn't it? And you'd be right, it was. But David Kirke and the other members of the Dangerous Sports Club were used to encouraging each other to always take things one step further. Here's how the world's first ever bungee jump (as we would describe it) happened…
It was April Fool's Day in 1979. David Kirke and two friends from Oxford University had spent the previous evening downing champagne and devising the stunt to end all stunts. The plan was to use gear from their local hang-gliding club and see if they could bungee jump from the 75-meter-high (246 feet) Clifton Suspension Bridge in Bristol… and survive the fall.
On the morning of the world's first ever bungee jump, David Kirke decided to go first. At nine thirty in the morning, wearing a smart tuxedo with top hat, and holding a bottle of champagne, he made the leap into the unknown.
People who saw him jump initially thought he was attempting suicide. And rightly so; The Clifton Suspension Bridge records 4 suicides jumps a year on average.
However, the onlookers soon saw the bungee cord trailing from his ankles, as he then stopped before hitting the water and began to bounce back up again – just like a modern-day bungee jumper would do.
David Kirke was then followed by his two friends, who can go down in the history of bungee jumping as being the second and third ever leaps recorded.
The Bristol police were soon on the scene, and found the daring trio hanging upside down. They were promptly arrested and taken to the cells. It's not known If they were charged or not but reports from the time say that the police were more amused than angry, so I'd like to think they got off without a court summons.
According to BBC news, David Kirke was quoted in recent years as saying this about the world's first bungee jump:
"It was an almost beatific moment. All sorts of sensory impressions, a klunk and then you are whooshing up again. It has since made a lot of people who I will never meet happy and given them fun. That is the real reward, the richness of it."
One of David Kirke's co-jumpers in the Dangerous Sports Club, a guy called Simon Keeling had this to say when interviewed years later:
"Just as I was looking down over the side of the bridge, I saw out of the corner of my eye that Dave was plummeting down. He had gone. Then he bounced back up so I thought right, it works and if it is OK for him it's OK for me."
These two legends along with their un-named co-adventurers are in my mind the people who brought bungee jumping into the public conscious as something that could be done for fun.
Whilst they aren't responsible for where bungee jumping originated from (I give that credit to the Pentecost Island land-divers), they went onto to inspire the next character in this history lesson who brought the sport to the masses.
You can see amateur video footage of the world's first bungee jump from the Clifton Suspension Bridge in this YouTube clip below.
Who invented bungee jumping?
Who invented the bungee jump? Bungee jumping as a sport was invented by New Zealander AJ Hackett. He first jumped from the Greenhithe Bridge in Auckland in 1986, and then went on to open the first commercial bungee jumping operations to the public.
1986: the start of commercial bungee jumping
David Kirke and his crew continued their high publicity bungee jumping stunts throughout the 1970s, jumping from the Golden Gate Bridge in San Francisco and even from hot air balloons. They made the stunts famous and inspired a young New Zealander by the name of AJ Hackett. Here's how we went on to invent bungee jumping as we know it today…
In the 1980s, AJ Hackett saw some old TV footage of David Kirke bungee jumping and decided he had to try it out for himself. He could see the commercial opportunity, but first had to test his equipment out before letting the public try it.
He worked with his friend at their struggling ski shop to develop bungee cords that were made from latex rubber, climbing equipment and parachute harnesses. They didn't have any safety back-ups… so they took their life into their hands with each test.
His friend Chris Lott that jumped with him, said this about these scary days:
"To see who would jump first we drew straws. But we weren't nervous. The first jump was only 19 meters so it was more about hoping it would work."
By 1986 he was ready to take his first bungee jump from the Greenhithe Bridge in Auckland. He went on to jump from locations such as the Eiffel Tower in France. By 1988 he was confident enough in the gear he had developed to open up his first public bungee jumping site.
Kawaru Bridge Bungy near Queenstown in New Zealand (see website) opened in November of 1988 and helped to bring the sport to the public's imagination. From that point onwards, bungee jumping become the popular extreme sport we know and love today.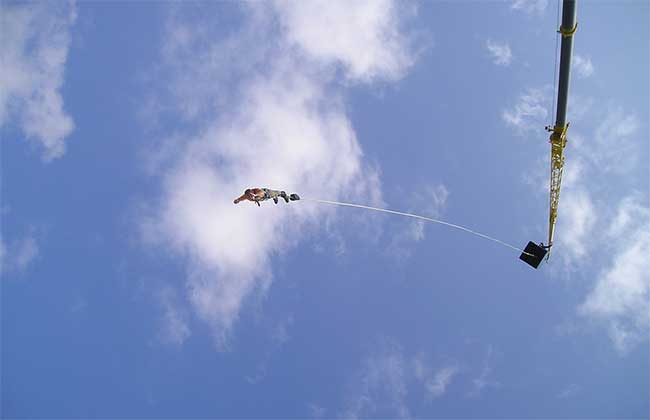 AJ Hackett is widely considered to be the person who invented bungee jumping as we know in its modern format.
AJ Hackett went on to open bungee jump sites across the world, and to this day remains one of the most successful bungee operators on the planet. He also holds the world record for the highest ever tandem bungee which he did from a helicopter. Check out this guide to helicopter bungee jumping which includes locations and prices.
According to quotes I found on the Guardian website, AJ Hackett had this to say about being considered the person who invented bungee jumping:
"I used to do a lot of climbing so knew about ropes, but we wanted to figure out if it could be predictable, so that we could go to greater heights. I still recall my first jump. I had the most amazing sensation."
How did bungee jumping get its name?
But what about the name bungee jumping? Where did it get its name from and why do we call it this? We have to go back to the 1970s for this, and that man David Kirke can take the credit again.
How did bungee jumping get its name? The bungee jumping name was first coined by David Kirke to describe their modern version of land-diving first attempted in 1979. It probably came from the 1938 dictionary record of the phrase "bungy launching" which was used in the gliding world.
Going further back, the word bungee is of old English dialect, originating from the west country part of the UK meaning "anything thick and squat".
And there you have it; the name for bungee jumping was also invented by the Dangerous Sports Club to describe this newly found craze. According to Wikipedia, the bungee jumping name
Here's how Wikipedia describe it:
"The name bungee originates from West Country dialect of English language, meaning anything thick and squat, as defined by James Jennings in his book "Observations of Some of the Dialects in The West of England" published 1825. Around 1930, the name became used for a rubber eraser. The Oxford English Dictionary records the use in 1938 of the phrase bungy-launching of gliders using an elasticized cord."
As we already know the Dangerous Sports Club used a hang gliding club to get their gear ready for the first ever bungee jump, this origin of the name stacks up as being very believable.
Is it bungee jumping or bungy jumping?
You will notice different variations on the spelling. The two are interchangeable and both can be used.
In New Zealand, the term bungy is most commonly used, whereas bungee is more popular around the rest of the world. There is no right or wrong way to spell it.
What country made bungee jumping popular?
But what country made bungee jumping popular? Well, as a commercial sport and activity you can't look any further than New Zealand.
Due to AJ Hackett's efforts, bungee jumping took off to unprecedented levels of popularity. His commercial operations brought the sport to the fore, and New Zealand is considered the true birthplace of bungee jumping, and the country which made it popular today.
Conclusion
To wrap up this explainer on the origins of bungee jumping, I wanted to just put your mind at ease. If you're thinking about doing a jump and are worried about safety, then you shouldn't be as worried as you might be.
Whilst there are some operators in certain counties where the health and safety can be questioned, the ones in the western world are very safe. In fact, bungee jumping deaths are very rare, with around 1 a year on average.
But now you know where bungee jumping originates and the history of the sport, you can't help but credit these pioneers for taking their lives into their hands so we can have fun.
Without the guys (and girls) who invented bungee jumping, the world would definitely be a less interesting place.
You might also like…
Recent Posts
Over the last month, my 7 year old son and I have started geocaching as our new hobby. Despite what you might have heard, you don't need a load of expensive gear as beginner. In fact, most people.
For those new to geocaching there can some weird and wonderful terminology and phrasing at play. Most acronyms and sayings are easy enough to get the hang of and will make complete sense once they.

report this ad
About Us
My name is Marc, and this is my place on the web where my son and I share the adventures we have in the great outdoors. That includes urban exploring, WW2 history, camping, geocaching, and anything else that we can find to do out of the house.

report this ad
LEGAL INFORMATION
Outdoorasaurus is a participant in the Amazon Services LLC Associates Program. This is an affiliate advertising program which has been designed to provide a means for websites like ours to earn advertising revenue by advertising and linking to Amazon. Outdoorasaurus is compensated for referring users and business to Amazon plus other businesses linked to on out website. As an Amazon Associate I earn from qualifying purchases.

report this ad

report this ad
Source https://en.activityjapan.com/column/20150917_bungy_journal_general01/
Source https://theadventurerr.com/adventures/the-history-of-bungee-jumping/
Source https://outdoorasaurus.com/bungee-jumping/bungee-jumping-history-originate/