Stephen Colbert: His Tragic Real-Life Story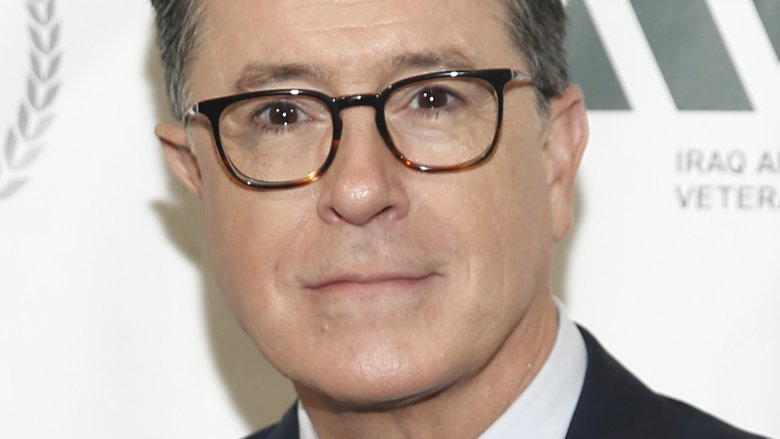 Stephen Colbert has spent decades making his fans laugh, from his earliest days as an improv artist for Second City Chicago to his work role on Comedy Central's The Colbert Report, to his current tenure as the host of The Late Show with Stephen Colbert. Beneath the talk show host's signature ability to deadpan and his encyclopedic knowledge of all things J.R.R. Tolkien, though, is a man who has faced incredible tragedy in his personal life.
Colbert — whose last name is actually pronounced "cole-BURT," instead of "cole-BEAR" when he's not in front of the cameras — hails from Charleston, S.C., and he was forced to face some of life's toughest trials at a very young age. He's lost several of his nearest and dearest loved ones in a terrible accident, overcome a crisis of faith, and renewed his role as a thoughtful media icon in an era of political turmoil. Here's what you might not know about Stephen Colbert.
Tragedy struck his family three times as hard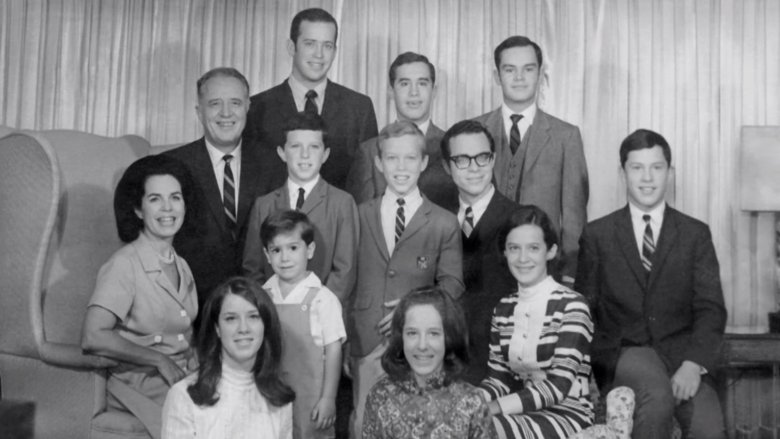 When Stephen Colbert was just 10 years old, his family faced the unthinkable. His father, James Colbert, and teenage brothers Paul and Peter were killed when Eastern Airlines flight 212 crashed in Charlotte, N.C. in 1974. The accident claimed the lives of a total of 72 people, including the Colberts.
Stephen Colbert opened up about the loss on Oprah's Next Chapter and told host Oprah Winfrey that the experience influenced how he perceived himself. "For years, I sort of thought that was my secret name. That that loss was my name," he said. "I like the idea that you have a secret name. You have your name but then you have a secret name, and that's a name that no one can ever really pronounce because that's who you are. And there's a magic to your secret name. And that was my secret name, the loss of my father and my brothers."
Colbert spent a lot of his childhood alone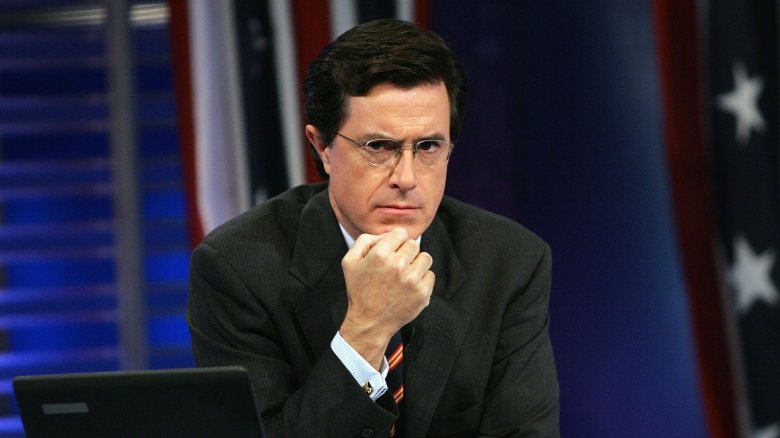 Colbert was the youngest of 11 children to James and Lorna Colbert (via Oprah's Next Chapter), and, following the unexpected loss of his father and brothers, the then-10-year-old was left to grow up alone with his grieving mother. He told GQ, "I was left alone a lot after Dad and the boys died. And it was just me and Mom for a long time." However, that constant exposure to her pain taught him how to handle his own suffering. "By her example am I not bitter. By her example. She was not. Broken, yes. Bitter, no," he said.
In fact, Colbert went on to say that his way of handling such heartache was to learn to embrace it. "You gotta learn to love the bomb. Boy, did I have a bomb when I was 10. That was quite an explosion. And I learned to love it," he explained, noting that he grew to "love the thing that I most wish had not happened." Without the company of his father and two brothers, Colbert dedicated much of his free time to reading as a child. "I read a book a day. Spent all of my allowance on books," he shared. "Every birthday, confirmation, Christmas — books, please, stacks of books."
Since then, Colbert has proven his bookishness time and time again.
He went into comedy to make his mother laugh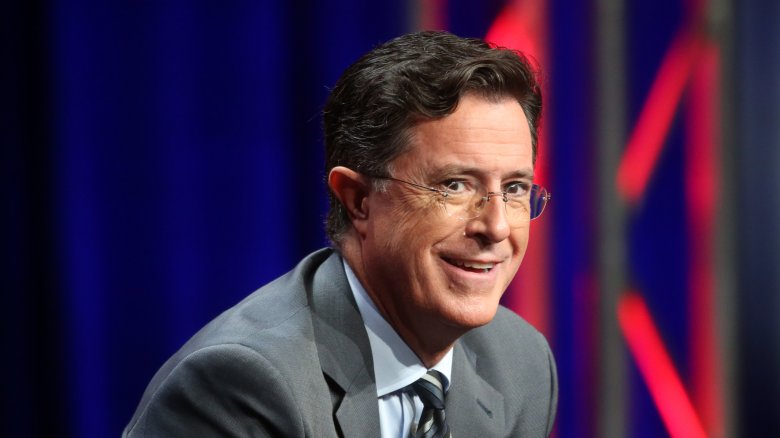 Colbert's love of reading wasn't the only aspect of his adult life that stemmed from spending so much time with his mother. Colbert admitted in an interview with Howard Stern (via People) that lightening his mother's spirits after what she went through was what first drew him to comedy. "I think there's no doubt that I do what I do because I wanted to make her happy," he explained, adding that he had a "strong urge to cheer up a sad woman."
Their relationship, he revealed, was more codependent than most youngsters and their folks. "I was there with my mom, she was there for me, and I sort of kept her going," he said. "Mom and I used to joke that I raised my mom, because at a certain point it had changed her completely and it changed me completely." As close as they were, Colbert noted that she was not a helicopter parent when it came his academic and career choices. He joked to The New York Times, "She said, 'I don't know why, but I'm not worried about you.' I think it was foolish, irresponsible parenting."
The gravity of his loss hit him in college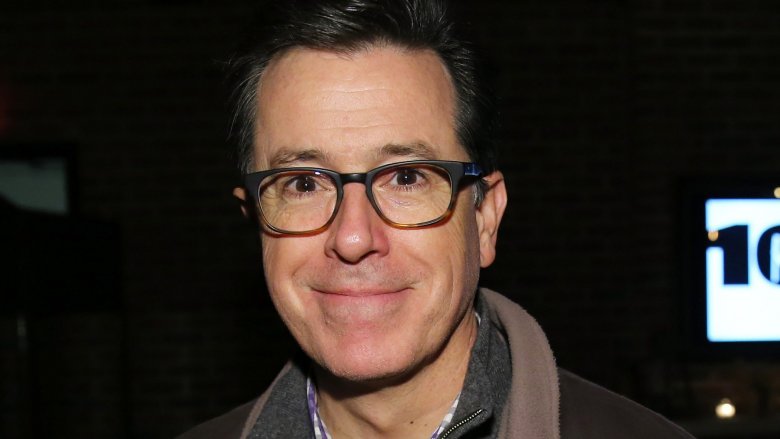 Although he was 10 when his father and brothers passed away, Stephen Colbert was almost twice that age before the profundity of their deaths would really hit him. On Oprah's Next Chapter, he admitted, "I didn't really feel the loss until I was in college. Then, ugh, then I was in bad shape. I went into college at about 185 pounds. By the end of my freshman year, I was 135. I was just green. I was just green, just so sad about it."
As for why it took so long for him to feel the weight of what happened, Colbert theorized that it may have had something to do with the fact that he was no longer living at home. "I finally had time to sort of, I suppose, be alone with the idea that they were gone," he told Winfrey. "It seemed like a long time at the time, but now at age 48 . it seems like the blink of an eye. So, yeah, I got very sad about it."
When Colbert was studying philosophy at Hampden-Sydney College in Virginia, he eventually found something that made him feel better — acting in school plays. As reported by The New York Times, Colbert told himself back then, "You'd be crazy not to take that as a hint. It's the only thing you work hard at." He'd soon pursue that passion elsewhere.
His first experience with theater was like therapy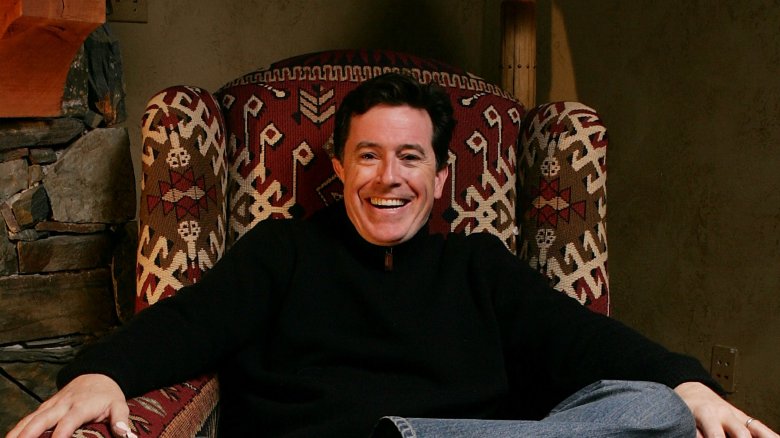 Colbert eventually transferred to Northwestern University in Chicago to study theater and drama, and he found the experience to be completely cathartic after having a tough two years in school. In an interview with writer-director Judd Apatow (via GQ), he explained, "I was doing Stanislavski and Meisner, and I was sharing my pain with everyone around me. It was therapy as much as it was anything."
Of course, since Colbert continues to operate under something of an alias and has spent so much of his career making light of even the most difficult times in American history by acting wacky before a national audience, he knows he may still be channeling. "Obviously there's something defensive about it," he told GQ of his innate urge to embarrass himself just to prove it doesn't actually hurt anything. "What you're doing is sipping little bits of arsenic so that you can't be poisoned by the rest of your discomfort. You're Rasputin-ing your way through the rest of your life."
He experienced a crisis of faith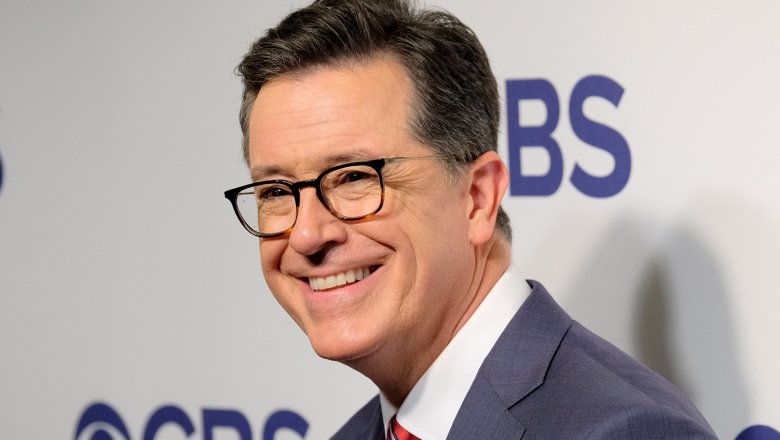 Nowadays, Stephen Colbert is a devout Catholic and isn't afraid to share his love of religion with his audience, but there was a time when he almost gave up on religion for good. In a discussion with Faith in Focus, he revealed that, when he was living in Chicago, Ill. shortly after graduating college, he'd given up on the idea of God and he became "convicted of [his] own atheism." Then, he had a chance encounter with a stranger that would shape his future.
"I had lost my faith in God, and to my own great grief that I was sort of convinced that I had been wrong all this time, that I'd been taught something that wasn't true," he explained. "I was walking down the street and someone handed me . a little green New Testament Proverbs and Psalms." When he opened it, he found an index of verses to turn to in an hour of need, and, when he looked to the suggestions for anxiety, he found exactly what he needed. "I was absolutely immediately lightened. And for the first time, I understood the real meaning of the phrase, 'It spoke to me.' It read off the page . and I stood on that street corner in the cold and read the sermon. And my life has never been the same." Amen to that.
He has a different view of grief now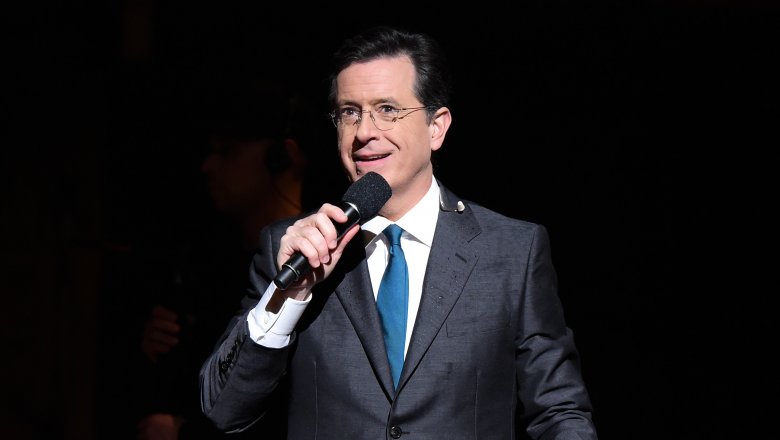 The belated impact of his father and brothers' deaths may have hit him like a ton of bricks at the time, but he's since come to experience grief in an entirely different way. He told Playboy magazine (via EW), "Grief is its own thing. It's not like it's in me and I'm going to deal with it. It's a thing, and you have to be OK with its presence. If you try to ignore it, it will be like a wolf at your door."
He credits his mother with informing his perception. "I'm not bitter about what happened to me as a child, and my mother was instrumental in keeping me from being so," he told The New York Times. "She taught me to be grateful for my life regardless of what that entailed. . What she taught me is that the deliverance God offers you from pain is not no pain — it's that the pain is actually a gift. What's the option? God doesn't really give you another choice." That lesson would later come in handy when he had to deal with yet another tough loss later in life.
He worked through the pain of his mother's death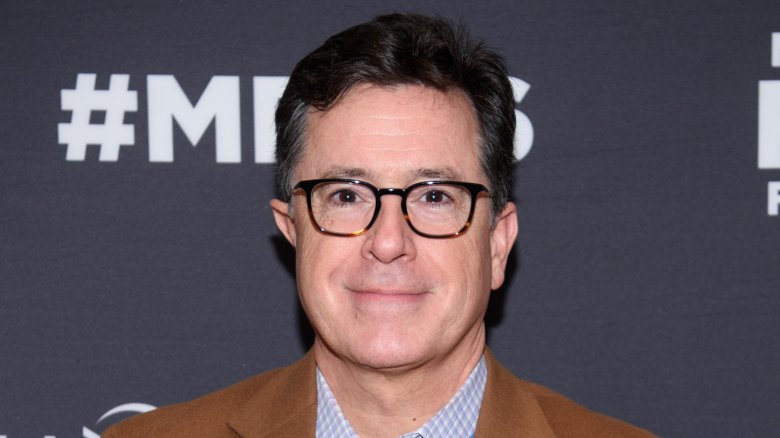 In 2013, Colbert lost his mother, Lorna, who'd passed at 92. He had taken some time off from The Colbert Report to be with her in her final days (via the New York Daily News). When he returned to his show following her funeral, he broke character, hitting pause on his depiction of the zany, far-right talk show host that he'd been portraying since The Daily Show and delivered a tearful monologue in tribute to her.
He first attributed his success to his mom, saying, "When you watch this show, if you also like me, that's because of my mom." He then detailed her past and how it had influenced him. "She had trained to be an actress when she was younger, and she would teach us how to do stage falls by pretending to faint on the kitchen floor. She was fun," he recalled. Colbert went on to talk about how she overcame the hardship of losing her loved ones, and added that, in his last conversation with her, she could only remember a child's prayer she used to tell his siblings at bedtime. "Her favorite memory of prayer was of a young mother tucking in her children. We were the light of her life, and she let us know it 'til the end." Colbert concluded his speech by stating that his mother wanted him to keep working, and, with that, he continued the episode.
The show must go on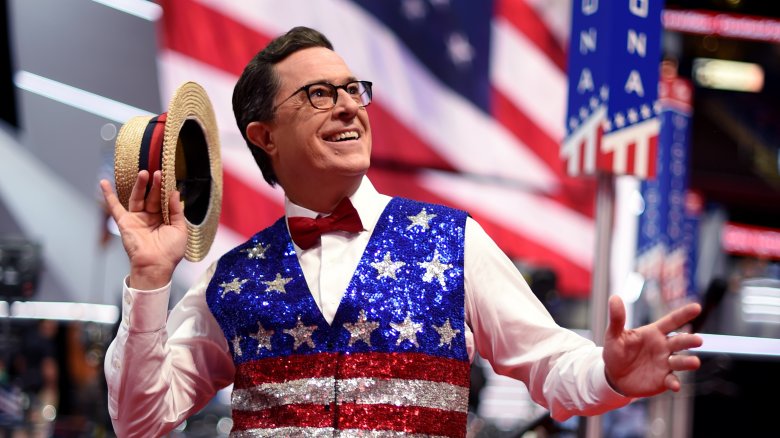 Stephen Colbert finally stepped away from his Comedy Central show after 11 seasons in 2014, and part of the reason was that he believed his work lampooning the most indelicate political persuasions was no longer needed. He told GQ at the time, "I no longer felt that that model served to address the national mood," adding, "We're in a different place now." He explained, "We can stop freaking out that the guy's middle name is Hussein."
However, after joining The Late Show, he quickly found himself toeing the waters of politics again in the wake of Donald Trump's presidential election, and he admitted he was wrong about the state of the union. "I said that we had moved beyond the constant cycle of anger. And I was hoping that was true. But it might just have been complacency," he told Rolling Stone. "And now there's no denying that we're still in the constant cycle of anger, and we're at an emotional 10 at all times." With that, all his experience helping himself and his mother cope continues to remain relevant as he offers some much-needed stability to his fans watching him from their TV screens.
The Real Stephen Colbert


Comedy Central star goes beyond truthiness about his Northwestern days and why he gave up drama for improv.
Stephen Colbert donn ed a skintight speedskating suit last year at age 45 for the cover of Sports Illustrated, modeling an outfit only slightly more forgiving than a thong.
In 2006 he mercilessly dissected President George W. Bush's Iraq war policies onstage at the White House Correspondents' Association dinner as Bush listened from one seat away.
"He believes the same thing Wednesday that he believed on Monday, no matter what happened Tuesday. Events can change; this man's beliefs never will," Colbert intoned with a perfectly straight face.
How do you embarrass this guy?
National Enquirer executive editor Barry Levine managed it during an August appearance on The Colbert Report (Comedy Central, weeknights at 10:30 p.m. CST).
"What do I have to do to be salacious enough to make it onto [your] cover?" Colbert demanded.
"Unlike Rush [Limbaugh], you don't have a prescription pill problem," Levine answered. "Unlike Matt Lauer, you're not running all over the place with people other than your wife. The bottom line is, you live a good life."
Colbert put his hand over his mouth, chagrined. The country's most arrogant, obnoxious faux conservative TV pundit isn't just faking his extreme politics. He's faking the arrogant and obnoxious part, too.
DON'T PRONOUNCE THE "T"
For those who haven't caught his act yet, let's recap: Stephen Colbert (C86) plays a character named Stephen Colbert on the award-winning Colbert Report, which draws an average nightly audience of 1.2 million viewers.
Stephen Colbert the character began as a correspondent on Comedy Central's The Daily Show in 1997 and evolved into a satiric embodiment of right-wing TV hosts and self-important journalists — principally based on Fox News' Bill O'Reilly, with a dash of Stone Phillips and Geraldo Rivera. The Report launched in 2005, with Colbert as executive producer.
As for the oft-discussed pronunciation of his last name, Colbert decided to drop the "t" on his flight to Chicago to attend Northwestern. "Colbert" is pronounced "Cole-bear," and, naturally then, "Report" is "Repor."
The real Colbert calls his ultra-conservative blowhard alter ego "a high-status idiot." The character's take on recent Census Bureau figures showing that 43 million Americans lived below the poverty line in 2009 is typically horrific: "These statistics are awful for the obvious reason that they threaten the Bush tax cut for the wealthy."
Meanwhile, former Northwestern colleagues rave about the real Colbert: Remarkably lovely. Completely deserving. Nice, nice, nice.
And the amazing thing is, they mean it. The real Colbert is a devoted suburban New Jersey husband and father of three and former Sunday school teacherwho promotes charities such as DonorsChoose.org and the Yellow Ribbon Fund.
At his Manhattan office, told about the accolades from his Northwestern classmates and professors, real Colbert responds first with classic TV Colbert bravado. "Fooled 'em. Fooled 'em again!" he barks.
Then he gives up and lays his head on his desk, face down, in pure mortification. (Finding: He really does have a great, thick head of hair.)
Colbert is taking a midday break in his punishing production schedule, creating and performing new shows four nights a week for about nine months each year. The Colbert Report operates from a brick townhouse attached to a blocky, windowless studio building. The townhouse offices are homey, with exposed red brick walls and staffers' dogs padding around the place. Colbert's second-floor windows overlook West 54th Street, and the room feels like a comfy den. On TV Colbert dresses in staunchly conservative dark suits and appropriately striped ties. Here it's khakis and polo shirts.
Colbert gets away with his almost incomprehensibly offensive statements because he does it in character. But it's also because this Stephen Colbert — the one who pushes his face into his desk when he hears too many compliments — makes TV's Stephen Colbert capable of insulting everyone in his audience to thunderous applause.
"We try very hard to let the audience know that we're having fun, not just making fun," Colbert explains. "That's why, as professional as I like to be, if occasionally I get caught enjoying the show — I try not to, I try to stay very straight in character, even though he's a ridiculous character — if occasionally it slips that I'm enjoying myself maybe even more than the audience, that's OK. I think it's important that they see me every so often enjoying it, so they know that I'm not as big a jerk as that guy."
By "that guy," of course, he means Stephen Colbert.
Before each taping, Colbert enters his glowing, narcissistic set — his name emblazoned everywhere, his desk itself forming a giant "C" around him — and engages the audience. "Any questions to humanize me in your eyes before I start saying these terrible things?" he calls cheerfully before a September show.
"It's all in such positive spirit with such radiantly positive energy that it's both infectious to watch and be a part of, and you can't be offended by it," says former classmate Aaron Posner (C86), who co-founded Philadelphia's Arden Theatre Co. and has won prestigious Barrymore and Helen Hayes awards as a director and playwright. "He's got this Tom Sawyer positive prankster in there. It's all a joke, but it's never mean-spirited."
Colbert doesn't just work with a script. He has to improvise his character's response as the show develops, particularly during guest interviews, figuring out how to make his point by saying the exact opposite. In contrast, Colbert's equally acclaimed colleague, Daily Show host Jon Stewart, essentially plays himself on TV. So Colbert plays Ginger Rogers to Stewart's Fred Astaire — doing everything backward and in high heels.
"I think it's impossible what he's doing," says Posner.
"You wonder, 'How does Stephen do it?' " says former roommate Eric Goodman (C87), now a Disney "Imagineer" and show producer of Epcot Center's The Sum of All Thrills simulated ride. "He has to twist it in his head so he says something completely absurd, which he would never say in real life, but seems completely plausible.
"Here at Disney, I'm lucky," observes Goodman. "I build something and it's there for 50 years. He has to reinvent himself every day."
THE NORTHWESTERN YEARS
The real Colbert explored his ancestry this year for Harvard professor Henry Louis Gates' PBS series Faces of America and found out his DNA is entirely European — Irish-German. "I am the inescapable black hole of white people," he quipped.
Where does the TV Colbert come from? Northwestern friends see a direct line between Colbert's work at Northwestern and his late-night character.
As a senior Posner directed Colbert in a Northwestern production of Mark Leib's Terry Won't Talk. Colbert played a high school principal, says Posner, "very much a cigar-chomping, blue-blazered, high-status idiot. So it was territory he was already exploring as far back as then. Like now, he could play fairly reprehensible people in a way that you still really liked them."
(In fact, Colbert performed soon after graduation in a tiny Chicago production of a play focusing on the feminist struggles of Susan B. Anthony and Joan of Arc. A reviewer noted Colbert, "who plays the marshal, the judge and other openly hostile characters, makes them all seem intelligent and dashing, not despicable.")
The cigar-chomping, high-status idiot also traces back to a character Colbert and friends started playing with after a group of agents visited campus looking for acting prospects, say former roommates.
The Journeymen Theater Ensemble on campus in 1986
Mary Siewert Scruggs (C86), now head of writing and education programs at the Second City Training Center, used the agent character to write the part of the miller for Colbert in Rumpelstiltskin v. the Queen, the first of several plays in the Fairy Trials, an educational program for the Circuit Court of Cook County. Scruggs, Colbert and a group of fellow then-recent Northwestern grads — all from a class taught by associate professor Ann Woodworth (C75, GC79) — formed the Journeymen Theater Ensemble and made Rumpelstiltskin a main project, taking the play to schools around Cook County.
"Whenever that character was enacted, there was always an invisible cigar — you had to chomp down on the invisible cigar," says former Colbert roommate and Journeymen member Kellie Overbey (C86), now a Broadway actor whose credits include Sam Shepard's Buried Child.
Sure enough, Colbert brandishes the invisible cigar as he remembers the agent. "Uh, listen kid, llllook," he growls. "You are what we call a natural. I'm on the phone. I've got six numbers dialed here. I push the seventh number, your career changes. Sign here, just sign here."
Colbert would go on to perfect his high-status idiot at Second City and later with friends and fellow Second City performers Amy Sedaris and Paul Dinello through two early series on Comedy Central — the sketch comedy program Exit 57 and the cult classic Strangers with Candy.
In Strangers Colbert played teacher Chuck Noblet, a married father carrying on an obvious gay affair with the school's art teacher. Noblet constantly misinforms his classes in the most authoritative voice possible: "The tragic irony of the Trojan War is that, though it was fought over Helen, who was young and beautiful, by the time they rescued her 10 years later, she was old and ugly."
Noblet "was sort of high-status but secretly low-status," Colbert muses. "In a way he had a self-awareness that this guy I'm doing right now [the character Stephen Colbert] doesn't have. Because he actually had a lot of secrets and was very injured, whereas my [Stephen Colbert] character is really not that injured."
Colbert transferred to Northwestern as a junior from Virginia's all-male Hampden-Sydney College, completing Northwestern's three-year acting program in two years.
He also worked two student jobs — the cafeteria line at 1835 Hinman and computer data correction at the library, which he calls "just put-a-gun-in-your-mouth work."
Senior year Colbert took both the Shakespeare and George Bernard Shaw acting sequences simultaneously, but finally dropped Shaw. "I was just pushing myself too hard," he says. "I weighed about as much as a kitten."
Colbert on campus in 1986
During this period of his life he has described himself as a self-important "poet/jerk," planning on a serious acting career and walking around in black turtlenecks. Yet he'd already discovered Chicago improv. Colbert says friend Chris Pfaff (C87) first took him to the now-defunct Crosscurrents club in Chicago to see teams at the fledgling ImprovOlympic, now iO, perform "the Harold," an improv game invented by iO founders Del Close and Charna Halpern.
"I said, 'I have to do this. I have to improvise,'" Colbert recalls. "I just loved going onstage with nothing planned and, through agreement, trying to create a one-act play, which is what they did." Colbert began performing weekly with a Northwestern improv team called No Fun Mud Piranhas, which included David Schwimmer (C88), later of Friends fame. "I still have my No Fun Mud Piranhas T-shirt," Colbert notes proudly.
Back on campus, Colbert played Golaud, one of the three leads in Pélléas and Mélisande by 19th-century symbolist playwright Maurice Maeterlinck. Colbert's character (center in photo below) eventually finds his wife and brother together and kills Pélléas and wounds Mélisande, who later dies after childbirth."The play was terrible, awful — shouldn't have been seen onstage," says Ayun Halliday (C87), a New York City writer who was Colbert's girlfriend at the time and part of the chorus.
Jennifer Cohen Estlin (C87), now executive producer of Chicago's Annoyance Theatre, was chorus master. "The set was this gigantic metal structure, and [the chorus members] were supposed to be a living background," Estlin recalls. "We were wearing unitards that were painted and had this rubbery stuff that accentuated our bodies, and we would hang from this structure and move around while the show went on, and it was incredibly difficult and very uncomfortable."
"The whole concept of this giant wall of human bodies was cool as hell to watch," says the play's stage manager Anne Libera (C86), another former Colbert roommate who is now director of Comedy Studies, a joint Second City-Columbia College Chicago program. "But for that poor group of actors — they were basically on a metal lattice for an hour-and-a-half going 'Ooohhhhh, ooooohhhh.'"
The No Fun Mud Piranhas improv team
Estlin remembers one long, agonizing rehearsal in particular. "Stephen and Melissa McFarlane (C86) [who played Mélisande] were having a really hard time, and we were hanging from this thing and just dying, and she had this line, 'I am not happy here.' And Stephen just looked at her and started laughing and said, 'Neither am I.' That kind of gave voice to all of us."
When Golaud discovers his wife's infidelity, says Halliday, Colbert roared onstage with a battle-ax over his head. "I was draped over the doorway, totally bored, with my foot hanging down, and he almost lopped off my bare foot with a prop," she says with a laugh.
That role, says Libera, "was a huge stretch" for any 21-year-old. "It's a part for Brian Dennehy — now," she insists. "So God love him, he did his level best … but he was in a pour-foam chest!"
"Not that I wasn't ripped at the time," says Colbert before admitting, "I had a chest like a baby duck."
Most friends weren't shocked when Colbert ended up, only two years out of college, with the Second City touring company. "There was always this dichotomy. He loved diving in deep, but there was that part [of him] that stands aside and sees the ridiculousness of it," says Libera.
Everyone in Woodworth's acting class "thought we were going to be doing Chekhov," says former Colbert roommate Christopher Baker (C85), senior dramaturg at Hartford Stage in Connecticut. Baker can see how the foundation of those classes "serves [Colbert] in a different way in his comedy. Because clearly in what he's doing there's something very serious underneath."
"Stephen, if you just look at him, that was his destiny, to be the romantic, dashing lead in a melodrama. But it wasn't for him — it didn't feed him," says Alan Goldwasser (C87), a friend who did improv with Colbert. "Where he really shone was thinking on his feet, and I think relying on his looks or stature or presence alone and speaking somebody else's words wasn't as exciting for him as creating on the fly on his own."
"On a recreational level he liked to improvise a play and adopt characters," says former Colbert classmate Scruggs. "We didn't have a TV, so you'd just hang out in someone's living room, and he'd adopt a character, someone else would adopt a character, and we'd have conversations that way for an hour. He was wickedly funny always and could crack up a room like nobody else."
Woodworth, Colbert's acting professor who is now teaching at Northwestern's Qatar campus, remembers him as a "constant clown" who had trouble accessing "some of the emotions that were necessary to tap into the more tragic plays and characters."
Stephen Colbert, center, in a campus production of Pélléas and Mélisande.
Then, she says, she was having lunch with Colbert one day at Norris. "I don't know how it came out," Woodworth recalls, "but he said, 'Well, it might have something to do with the fact that my father and two brothers were killed in a plane crash when I was 10, and I was left home with a grieving mother. And my main mission became to make her laugh.'
"I can remember exactly where I was sitting in the lunch room when he said that because I thought I was going to fall over. It made all kinds of sense to me why it was difficult for him to get to the grief of Hamlet. And then it also made sense to me why his sense of comedy and his ability to entertain people and make people laugh was so strong, because he had been practicing it for 10 years."
Colbert grew up the youngest of 11 just outside Charleston, S.C. His other siblings had left home by 1974, when the plane crash killed his father and two next oldest brothers. Speaking of that time period, he has described himself as being somewhat alienated from schoolyard issues, which no longer seemed important. He also began a lifelong fascination with science fiction and fantasy, diving into Dungeons & Dragons and becoming a Lord of the Rings aficionado.
After Northwestern, Colbert's roommate Libera started work at Second City's box office and soon brought in Colbert, who "was making futon frames out of 2-by-4s" in the basement of the house they shared with a revolving cast of roommates at Foster and Ridge.
"The futons needed a lifetime guarantee because they kept breaking," Libera recalls. "I was like 'Dude, you gotta get a job. Here, you can work here.' So he worked at the [Second City] box office and sold T-shirts in the souvenir shop. Until fairly recently he held the record for most T-shirt sales in one night."
Even after joining the touring company, though, Colbert quit four times to go back to straight theater. Finally there came a moment onstage at Second City that clinched it.
"I saw someone fail onstage — terribly, massively fail onstage," Colbert recalls. "And we backstage laughed so hard at this woman's failure, and our laughter was so joyful and not derisive. I remember turning to a friend of mine, Dave Razowsky, and we threw our arms out wide and hugged each other in laughter and literally fell to the ground in each other's arms over the joy of that failure.
"And I thought, 'This is healthier than straight theater.' Because in straight theater when someone fails, you come backstage, and people are very quietly sort of touching up their makeup, going, 'How's it going out there? It seems pretty quiet.' … That is the moment when I said, 'I will do this and not drama, I will do comedy and not drama,' and never turned back."
TRUTH AND CONSEQUENCES
The character of Stephen Colbert truly pierced popular consciousness with two breakthrough events. First, Colbert invented the term "truthiness" for the first episode of the Report in 2005, inspired by the war in Iraq and President George W. Bush's nomination of Harriet Miers for the Supreme Court:
"We are divided between those who think with their head and those who know with their heart," he said. "Consider Harriet Miers. If you think about Harriet Miers, of course her nomination's absurd. But the president didn't say he thought about his selection. … He didn't have to. He feels the truth about Harriet Miers. And what about Iraq? If you think about it, maybe there are a few missing pieces to the rationale for war, but doesn't taking Saddam out feel like the right thing?"
Colbert ended with a pledge to his viewers: "The truthiness is, anyone can read the news to you. I promise to feel the news at you."
Later that year the American Dialect Society voted "truthiness" the 2005 Word of the Year, defining it as "the quality of stating concepts or facts one wishes or believes to be true, rather than concepts or facts known to be true." Merriam-Webster followed with the same honor in 2006. Soon New York Times columnist Frank Rich was using the word often enough to pay royalties.
Next came Colbert's famous appearance at the 2006 White House Correspondents' Association dinner. He started out gently: "Whoever parked 14 black bulletproof SUVs out front, could you please move them? They are blocking in 14 other black bulletproof SUVs, and they need to get out."
But the main body of Colbert's speech was filled with thoughts like, "I believe the government that governs best is the government that governs least. And by these standards, we have set up a fabulous government in Iraq."
The next day, mainstream media either ignored Colbert altogether, like the New York Times, or reported that his speech "fell flat," as in the Washington Post. Many speculated the press wasn't amused by the jabs Colbert aimed at them. "Over the last five years, you people were so good, over tax cuts, [weapons of mass destruction] intelligence, the effect of global warming," he told Washington's elite press corps. "We Americans didn't want to know, and you had the courtesy not to try to find out."
Meanwhile on the Internet, video of the speech reached 2.7 million hits on YouTube in the first two days, and the audio version reached No. 1 on the iTunes Top 10, besting Pearl Jam and the Red Hot Chili Peppers. Frank Rich would call Colbert's appearance "the defining moment of the 2006 campaign" and "a cultural primary."
In the aftermath, some accounts portrayed Colbert as uncomfortable with the brouhaha over the dinner. But Colbert insists now the dinner isn't a sore point. "I'm perfectly comfortable talking about it. I just don't talk about it. … I may or may not answer your question, but you can ask me anything you want," he says. "I had a really good time," he adds with a definite glint in his eye.
Perhaps Colbert didn't share the same relationship with his audience at the correspondents' dinner as he does on the Report? Colbert considers his audience part of the show. He sees the show as a scene with two characters — him and the audience. As he learned at Northwestern, "I either want to convince them of something, or I want their trust or their love or their pity or their anger."
Before every show, as Colbert's stage manager counts him in, "I turn to the audience and say, 'Have a good show,' because they're the other character. If they're not there, then I've got no friction. I've got no one to talk to."
As for the correspondents' dinner, he says flatly, "I had a relationship with my audience. But my audience was not the people in that room."
"What you don't know," Colbert goes on, "is that there were 3,000 people in there, and even the things that didn't go well," his voice drops to a whisper for emphasis, "a thousand people laughed. … What you don't know is that the people on the dais in the front row were going like this," he continues, holding his hands in front of his face and peeking through his fingers. "But it went pretty well," he laughs.
Colbert's classmates agree. "That was pretty f—ing great," says Overbey. "That was even more exciting than the fact that he has a Ben & Jerry's flavor named after him," says Halliday.
What's next? For now Colbert has signed to stay with the Report through the 2012 presidential election, which means he'll be tired for a couple of more years.
"Sometimes I get concerned about him, because I see the pace at which he's working," says Woodworth, Colbert's acting professor. When Colbert visited her while serving as grand marshal for the 2006 Northwestern Homecoming parade, she says, "he ended up sort of collapsing on the floor in my office and saying, 'Truthfully Ann, I'm just so tired. I'm so, so tired.'"
Colbert acknowledges it's a grueling schedule. But, he says, "Early in this process I started calling this place 'the joy machine.' Because if it's not a joy machine, it's just a machine, is what we like to say, and then you get caught in the gears. Because 161 shows a year is just — can't be done. You can only do this week's show, and not even this week's. You can do tonight, you can do part of tomorrow. But tomorrow's gonna change before you know it."
Northwestern University 1603 Orrington Avenue, Suite 200, Evanston, IL 60201 Phone: 847.491.5000 letters@northwestern.edu
21 times Stephen Colbert has dropped his act and been himself
Tonight is the 1,447th and final episode of The Colbert Report. That also means the end of the right-wing cable blowhard character Stephen Colbert originated on The Daily Show and perfected on his own show. When he takes over The Late Show from David Letterman next year, Colbert will drop the shtick and just play himself.
And Colbert hasn't played himself very often. He's done a fair share of acting for series like Strangers With Candy and Harvey Birdman, Attorney at Law, and as a cast member in the sketch series The Dana Carvey Show and Exit 57, and he's had a few movie roles (Bewitched, The Love Guru, The Hobbit: The Desolation of Smaug). But even when he appeared as a guest on other talk shows, he occasionally stayed in character.
There have been a few exceptions, though. Here are a few moments where Colbert dropped the act and gave some clues to what he's going to be like as host of The Late Show:
1. Prepping John Kerry for an interview
Josh Marshall of Talking Points Memo managed to get a camera into Colbert's dressing room with the night's guest, then-Sen. John Kerry, in 2007. Colbert explained the shtick to Kerry: "You know I'm in character? And that I'm an idiot?" he asks. "I'm willfully ignorant of what we're going to talk about. So disabuse me of my ignorance."
2. Testifying before Congress on migrant workers
In 2010, Colbert was invited to testify before the House Judiciary Committee's subcommittee on immigration about his experience doing farm labor as part of the United Farm Workers's "Take Our Jobs" campaign. The union had volunteers try out migrant workers's jobs to observe first-hand how difficult the labor is. His actual statement was delivered in character, but he broke to answer Rep. Judy Chu (D-CA), who asked why Colbert chose this, of all issues, to work on. "I like talking about people who don't have any power," he answered. "Migrant workers suffer and have no rights."
3.-5. Commencement speeches
Colbert's 2011 commencement speech at Northwestern — where he graduated in 1986 — was a rare comedic appearance when he explicitly was not playing his character. "As you have explained to your grandparents, my name is Stephen Colbert, but I also play a character on TV who is named Stephen Colbert, and I don't always know which of us has been invited someplace," he said. "Well, today, I'm fairly confident that I'm me, because I went to Northwestern and my character went to Dartmouth."
He also delivered a 2013 speech at the University of Virginia out of character, talking about his time at Hampden-Sydney College in Virginia (while his character was up in New Hampshire).
His 2006 speech at Knox College (coming one year after then-Sen. Barack Obama's famous commencement speech there) falls somewhere in between in and out-of-character. "My name is Stephen Colbert, but I actually play someone on television named Stephen Colbert, who looks like me, and who talks like me, but who says things with a straight face he doesn't mean," he begins. "And I'm not sure which one of us you invited to speak here today. So, with your indulgence, I'm just going to talk and I'm going to let you figure it out." Though he talks about his time at Northwestern (a tell-tale sign he's out of character), he also decries socialized medicine and unauthorized immigration, suggesting he's still at least somewhat playing the character.
6.-7. On Meet the Press.
Colbert has been on Meet the Press twice, first with Tim Russert in 2007 and then with David Gregory in 2012 (above). The Gregory interview is particularly interesting, as Colbert goes into his logic behind constructing The Colbert Report the way he does. "Jon [Stewart] does what's called pure deconstruction, where he picks apart what happened in the day's news and lays it out for you, like a cadaver," he explained. "But I falsely reconstruct the news. That's a different way of doing the same kind of job. If I'm doing it and something in the news is doing it, that real thing is probably bull."
His appearance with Russert (above) was less successful, partly because Colbert was more committed to doing shtick that time around and because Russert wasn't particularly inclined to play along.
8. On Oprah.
Oprah Winfrey devoted an episode of her primetime, hourlong interview show, Oprah's Next Chapter (since renamed Oprah Prime) to Colbert. They covered how he formed his character, his relationship with his wife Evelyn McGee-Colbert (who appears), his early career, and his family in South Carolina (where the episode was filmed). Above, he discusses the death of his father and two brothers in a airplane crash when he was ten years old.
9. On Fresh Air
In 2011, Colbert appeared in a Broadway production of Stephen Sondheim's Company with Neil Patrick Harris, Patti LuPone, Christina Hendricks, and Martha Plimpton, and to promote it he appeared on NPR stalwart Fresh Air with Terry Gross. He explained to Gross why he didn't want to mention Company on the Report. "People could ascribe an insincerity to the things that I tout on the show," he explains. "And I didn't want to ascribe any insincerity to trying to go do this thing at Lincoln Center and — because I knew that it was — I was dealing with somebody else's delicate product, and I didn't want to invest it with my character's ego because it would just flavor what I was doing in a way that I don't think would be useful to the production."
10. In Playboy
In late 2012, Colbert sat down with Eric Spitznagel for a far-ranging, 6,500-word interview for Playboy. One of the interview's more interesting segments gets into how Colbert tries to prevent the cynicism of the news he's covering from seeping into his own life. "I believe that people, more often than not, act with the best possible intentions," he tells Spitznagel. "And when they don't, that's funny to me…You seem cynical because you're always talking about that selfish behavior that's dressed up as altruism. It doesn't mean there isn't altruism. It just means that it's harder to make jokes about altruism."
11.-12. In Rolling Stone
Colbert and Stewart's 2006 cover
Colbert has given two out-of-character interviews to Rolling Stone, first to Maureen Dowd with Jon Stewart in 2006, and next with Neil Strauss in 2009. The 2006 interview is probably the more interesting of the two, not least because of Colbert's explanation of why he admires Richard Nixon. "Nixon was the last liberal president," he told Dowd. "He supported women's rights, the environment, ending the draft, youth involvement, and now he's the boogeyman? Kerry couldn't even run on that today."
13. On morning shows
Colbert also met up with David Gregory on The Today Show to talk about his children's book, I Am a Pole (And So Can You), and plays it pretty straight, or at least as straight as you can play it when promoting a book about a pole's voyage of self-discovery.
14. On late-night shows
Colbert occasionally went out of character on other late-night shows. His visit to The Tonight Show with Jimmy Fallon (above) involved him telling a rather earnest story about going to a state dinner at the White House and attempting to speak French with French president François Hollande.
15-16. On his own show
Colbert has "broken," in the sense of not being able to keep it together and not laugh, a few times on his show and The Daily Show, most notably in 2003, when he attempted to report on rumors that Prince Charles of the United Kingdom had had sex with another man. He ended up resorting to ridiculous innuendo and bursting out laughing while eating a banana. But it's rarer that he breaks and drops the character altogether. He did so very briefly last fall in a segment on Thanksgivukkah in which he ended up accidentally drawing a Hitler mustache on his face. "I can't believe I'm discussing Hanukkah and I drew a mustache right there," he said, in all earnestness.
Update: He also broke character on the show when his mother, Lorna Colbert, passed away last spring, and introduced the show with a beautiful remembrance of her:
17.-18. With Letterman
Before the Report premiered, Colbert appeared as a guest on the show he'll now be helming and, as is often the case when he does late night, he stayed out of character, discussing his family and a sailing trip.
He's appeared on the show twelve times in total, most recently late last year. Despite arriving dressed in British Victorian garb and wielding a cockney accent, he mostly played it straight, telling Letterman about the time his nine-year-old went bungee jumping, saying, "I have no regrets!" before falling into a ravine.
19. With Neil deGrasse Tyson.
Update – Timothy Rowe points out on Facebook that Colbert broke character for the above event, a discussion with physicist Neil deGrasse Tyson at Montclair Kimberley Academy in Montclair, New Jersey.
20. For Slate.
Update – Slate's Forrest Wickman notes that Colbert appeared as himself at a live taping of the magazine's "Political Gabfest" podcast, of which he is a weekly listener.
21. For Jake Tapper.
Update – Colbert appeared on the very first episode of CNN's The Lead with Jake Tapper in 2013 to promote his sister Elizabeth's campaign for Congress in South Carolina. He also told the story of how he first met Tapper, when they were both following Howard Dean during the 2004 Democratic presidential primary.
Thanks to Mediaite's Matt Wilstein for pointing out a few of these. If you know of other occasions when Colbert has appeared as himself, email me atdylan@vox.com.
Understanding America's political sphere can be overwhelming. That's where Vox comes in. We aim to give research-driven, smart, and accessible information to everyone who wants it.
Reader gifts support this mission by helping to keep our work free — whether we're adding nuanced context to unexpected events or explaining how our democracy got to this point. While we're committed to keeping Vox free, our distinctive brand of explanatory journalism does take a lot of resources. Advertising alone isn't enough to support it. Help keep work like this free for all by making a gift to Vox today.
Source https://www.nickiswift.com/142945/stephen-colbert-his-tragic-real-life-story/
Source https://www.northwestern.edu/magazine/winter2010/feature/the-real-stephen-colbert.html
Source https://www.vox.com/2014/4/10/5601432/17-times-stephen-colbert-has-dropped-his-act-and-been-himself