Places For Bungee Jumping in India
Love adrenaline rushes? butterflies in your stomach? not afraid to experience flying? want to overcome your fear of heights? Does the above click anything? Bungee Jumping of course. Were we on the sa (Read More) me page when you were reading the above? I hope so because then you're at the right place. I bet all of you know what Bungee Jumping is! If you don't let me tell it to you short and sweet. It is when you jump off from a height while attached to an elastic cord, this cord is attached to a building, bridge but people also do it from a helicopter and hot air- balloon.
First of all let's begin with important points to remember while Bungee Jumping in India
For the company, get a person who is trained and a professional to avoid any mistakes and be on the safer side.
Ask any question that you want to ask, it is better if you get all your doubts cleared and in the process get to see how much the person knows.
All the equipment should be given by the person taking you for the Bungee jumping. Make sure the harness and strong and is soft by the ankles so your ankles don't hurt. Also, make sure that the rope is being tied to a sturdy place. Do not go with the person who has a little old equipment just because it is a little cheaper. A life is much more precious than a few hundreds.
The place where you go for the Bungee jumping should be clear of rocks and trees plus it should be really high so you don't hurt yourself
Lastly if you suffer from any heart or breathing problems please do not attempt Bungee Jumping.
Oops sorry forgot to mention a small detail. You need to be at least 12 years old and your weight must be at least 40 kgs.
Here is the list of 6 Places For Bungee Jumping in India
1. Jumpin Heights in Rishikesh, Uttarakhand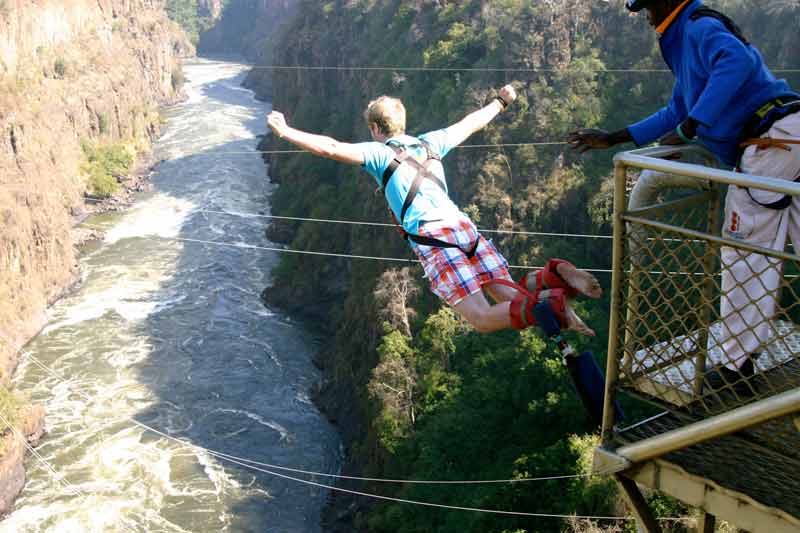 Known For : Rafting in Rishikesh Lakshman Jhula Triveni Ghat
A small town in Dehradun where many people come to find their inner peace but it is also the place with the height of 83 metres perfect for bungee jumping and also the highest spot for Bungee Jumping in India and one of the best who provides this facility is Jumpin Heights. A long, sturdy beam (Cantilever) is built over a cliff that gives it the amazing height. You have to spend some time on the best experiences 🙂
Cost Per Jump: INR 3500
Height of Bungee Jump: 83 m
Best Time: Throughout the year
2. Della Adventures in Lonavala, Maharashtra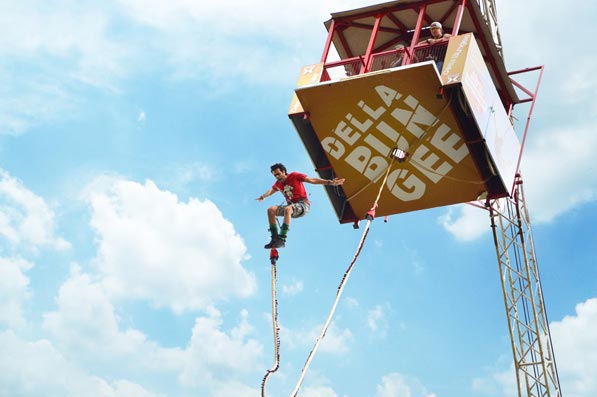 Known For : Tiger's Leap Rajmachi Fort Imagicaa
A small hill station on the outskirts of Pune, a beautiful place and a perfect one for Bungee Jumping in India which takes place in an adventure park called Della Adventures. The equipment is attached at a height of 150 ft and lasts for about 7-10 minutes. People above the age of 10, with a body weight of above 35 kgs are allowed to take the jump. The experts explain all the safety measures before the jump and most importantly after the thrilling experience that leaves you dumbfounded you even receive a certificate saying you have successfully overcome your fears:)
Cost Per Jump: INR 1500
Height of Bungee Jump: 45m
Best Time: Throughout the year
3. Ozone Adventures in Bangalore, Karnataka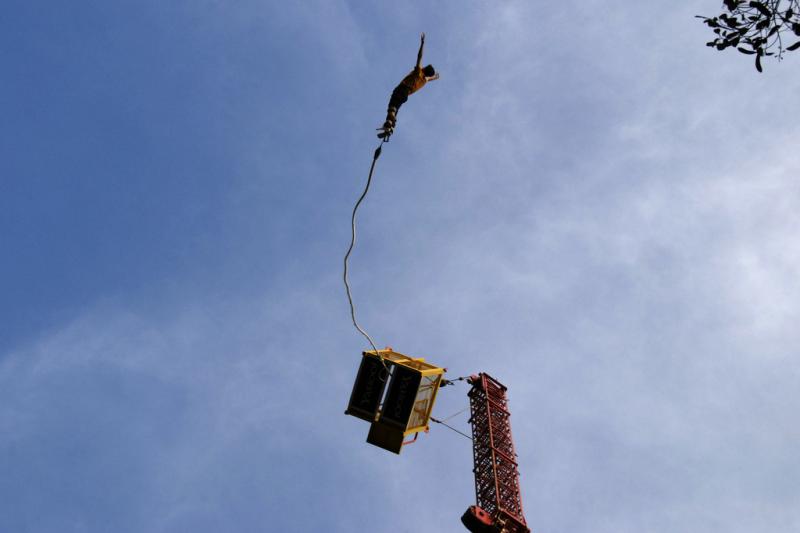 Known For : Lalbagh Church Street Bannerghatta National Park
One of the most popular bungee jumping in India is at Ozone Adventures in Bangalore. Bungee jumping being conducted by Ozone Adventures takes place from a height of about 80 feet above the ground. The only difference between bungee jumping in Bangalore and Rishikesh is that there is no fixed platform in Bangalore. The entire equipment for bungee jumping is fastened to a 130 ft high mobile crane. It might not be very safe jumping off a platform being held by a crane. People who belong to the age group of 18 and 60 years can enjoy this adrenaline-filled experience. Taking all the factors into consideration the safety of the jumper is given the utmost priority as bungee jumping from cranes is not as relatively safe as jumping from fixed platforms.
Cost Per Jump: INR 400
Height of Bungee Jump: 25 m Platform, 40 m Crane
Best Time: Throughout the year
4. Wanderlust in New Delhi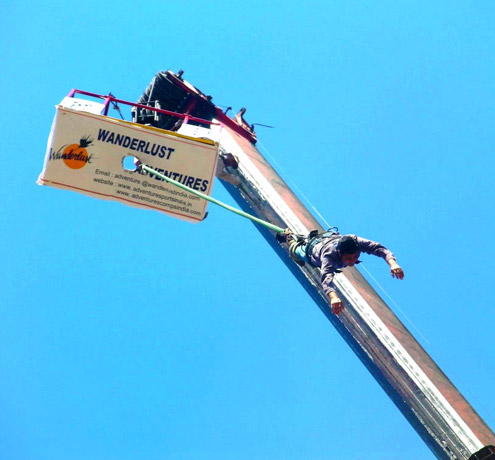 Known For : India Gate Qutub Minar Akshardham Temple Delhi
Finally! Yes, bungee jumping is available in Delhi too. Wanderlust is the provider for this sport. All the equipment is imported from Japan and all the staff are also trained from Germany so people don't fear you are safe. The equipment is attached to a 130 feet high crane and after you've taken your leap of faith and survived, you get a certificate and 'I did it' T-shirt and a cap.
Cost Per Jump: INR 3000
Height of Bungee Jump: 52 m
7 Best Bungee Jumping Spots in Japan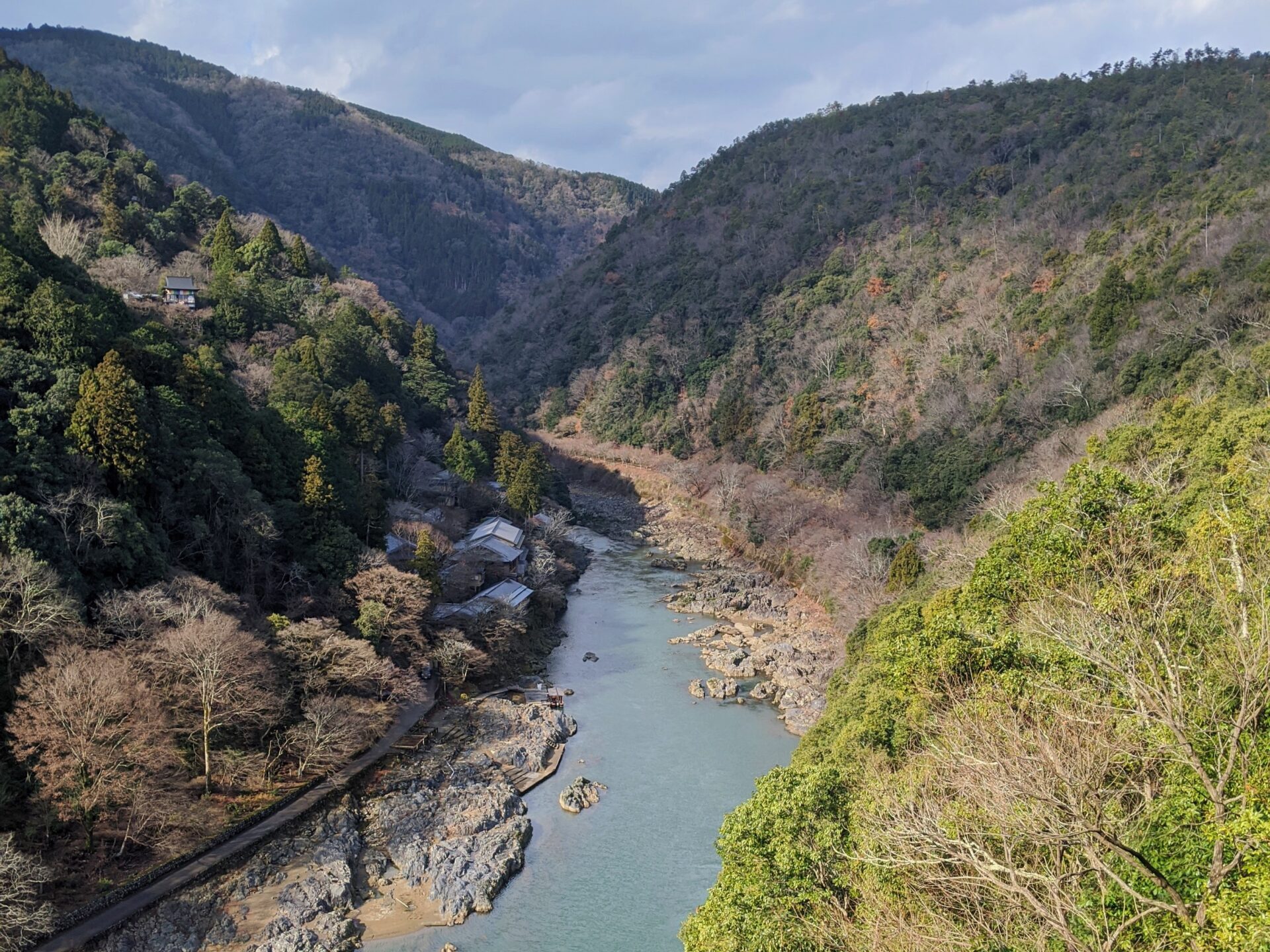 Places to visit in Japan
Bungee jumping is an exhilarating experience that allows one to push themselves to the limit, both in a physical and mental sense. Nothing beats the thrill of standing on the edge about to fall into the unknown down below. One thing that makes bungee jumping so exciting is the location and scenery around you as you do it. What better place to experience bungee jumping than in Japan? With its various ecosystems and serene natural scenes, Japan is the perfect place for your bungee jumping experience. Let's take a look at some of the best spots to go bungee jumping in Japan.
1. Ryujin Bungee Jump (Ibaraki)
Our first location is located in Ibaraki Prefecture, relatively close to Tokyo. More specifically, this location is part of the famous Ryujin Otsuribashi. Ryujin Otsuribashi is one of the longest pedestrian suspension bridges in all of Japan. It sits 100 meters over the Ryujin Gorge. This bungee jump location includes a walking deck where one can view the bungee jumps in progress. Participants must be at least 15 years old and less than 105 kg or 230 pounds.
Every year many people try this one of the highest bungee jumps to overcome their fear!
Other things to do in the area include a visit to Takyu Shrine or trying the local soba (buckwheat noodles).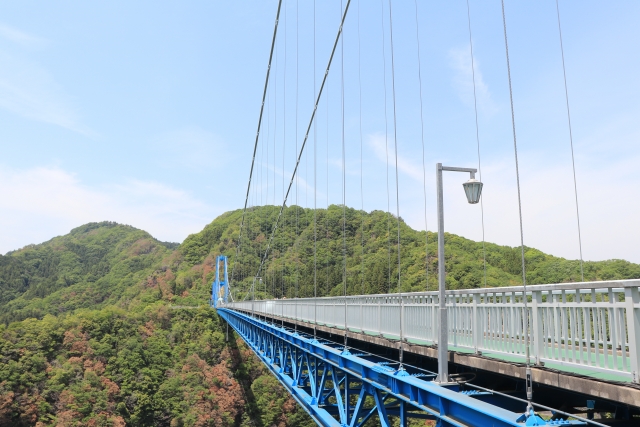 Ryujin Bungy
Hours: 9:00 AM – 5:00 PM, 7 days a week
First Jump: ¥17,000; Future Jumps ¥11,000 (Advanced bookings are recommended.)
Parking is available
2. Itsuki Bungee Jump (Kumamoto)
The village of Itsuki was relocated and built with high bridges in anticipation for a new dam. Unfortunately, that dam was never built. This leaves an amazing bungee jumping experience that, on good days, may include touching the Kawabe River during your jump. This river was voted one of the 3 cleanest rivers in Japan. You can enjoy the jump from 60 meters high among the beautiful mountains. Participants must be at least 15 years old and less than 230 pounds. The local area includes lots of outdoor activities, such as mountain biking and rafting while deep fried deer is a delicious local specialty.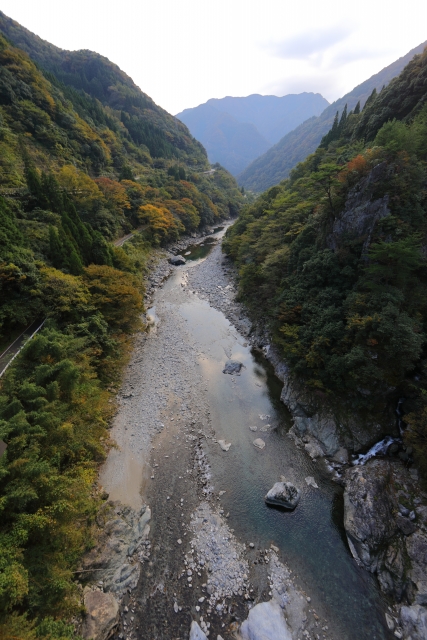 Itsuki Bungee Jump
First Jump: ¥13,000; Future Jumps ¥10,000 (Advanced booking is recommended)
Parking is available
3. Sarugakyo Bungee Jump (Gunma)
Sarugakyo stands 62 meters above the Tone River. It offers a view of the river from the Akatani Suikan Bridge. This jump location features Japan's first electric winch recovery system allowing you to be pulled back up to the bridge after your jump. The area is famous for its outdoor activities such as canoeing as well as the Sarugakyo Onsen. Due to its close proximity to the Minakami bungee jumping location, one can purchase a discounted combo package to experience both jumps!
Sarugakyo Bungee Jump
Hours: 9:00 AM – 5:00 PM (Lunch from 11:30 AM – 12:30 PM) (Closed Thursdays & Fridays) First Jump: ¥12,000; Future Jumps ¥9,000 (Fee includes a video)
Parking is available.
4. Fuji Bungee Jump (Shizuoka)
This location sits 54 meters above the Suzu Valley with amazing views of waterfalls and Fuji City. It is the newest bungee location and is just a 90-minute drive from Tokyo. The surrounding area includes campgrounds and swimming as well as being an excellent spot to view the leaves changing colors in the autumn. The Gotemba outlet mall and Mt. Fuji is nearby.
Fuji Bungee Jump
Hours: 9:00 AM – 5:30 PM (Lunch from 11:30 AM – 12:30 PM) (Closed Tuesdays & Wednesdays)
First Jump: ¥11,000; Future Jumps ¥7,000 (Fee includes video)
Parking is available
5. Yamba Bungee Jump (Gunma)
This jump location is located on the bridge at Yamba Dam in Gunma. The bridge is 494 meters in length and the drop is 45 meters. A GoPro rental is included with the jump price. Friendly staff will teach you how to jump and explain the safety before you jump, so even if it's your first time, they will make sure to have the most fun experience!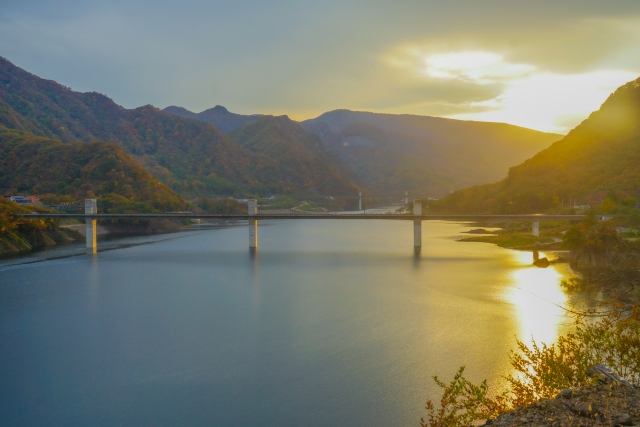 Yamba Bungee Jump
Hours: 9:00 AM – 5:00 PM (Closed Tuesdays & Wednesdays)
First Jump: ¥11,000; Future Jumps ¥7,000 (Advanced booking is recommended)
Parking is available for a nominal fee
6. Minakami Bungee Jump (Gunma)
This jump is located on the Suwakyo Bridge, 42 meters above the Tone River in the resort town of Minakami. This bungee jump spot was established in 2007 and has become the longest-running bridge bungee jump in Japan. It has become so famous that celebrities, including members of AKB48 have chosen to face their fears and chase the thrill of bungee jumping at this location. The city is also referred to as the outdoor capital of Japan due to its many activities including: river rafting, canyoning, kayaking, canoeing and mountain biking. Mt. Tanigawa, one of Japan's 100 famous mountains, is nearby, and the area is famous for its relaxing onsen.
Minakami Bungee Jump
First Jump: ¥10,000; Future Jumps ¥7,000 (Fee includes video)
Advanced booking is recommended
Parking is available
7. Kaiun Bungee Jump (Nara)
The Kaiun jump is located in the Nara prefecture, specifically near Chougosonshiji Temple and the base of Mt. Shigi. This temple was founded by Prince Shotoku during the Asuka Period and is related to the tiger in the Chinese zodiac. Because of the zodiac connection, there are many decorations that include tigers or tiger themes within the temple grounds. The temple entrance even boasts Fukutora, the world's largest paper-mache tiger. The actual jump is 30 meters and participants must be at least 13 years old and less than 220 pounds. Kaiun means opening up good luck in Japanese, when you jump off the bridge, you might be able to get good luck from it!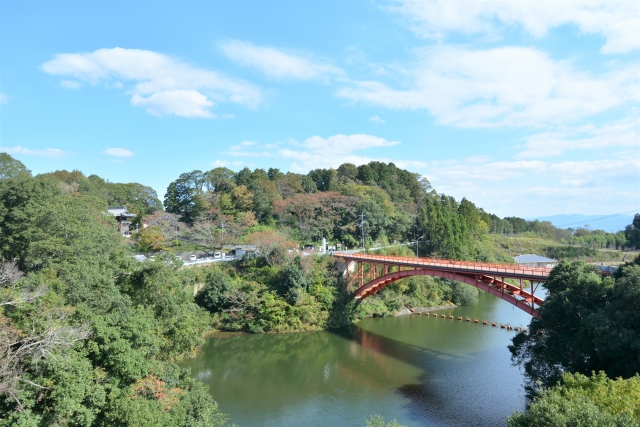 Kaiun Bungee Jump
Hours: 9:00 AM – 5:00 PM (Lunch from 11:30 AM – 12:30 PM) (Closed Wednesdays & Thursdays)
First Jump: ¥10,000; Future Jumps ¥8,000
Parking is available nearby for ¥500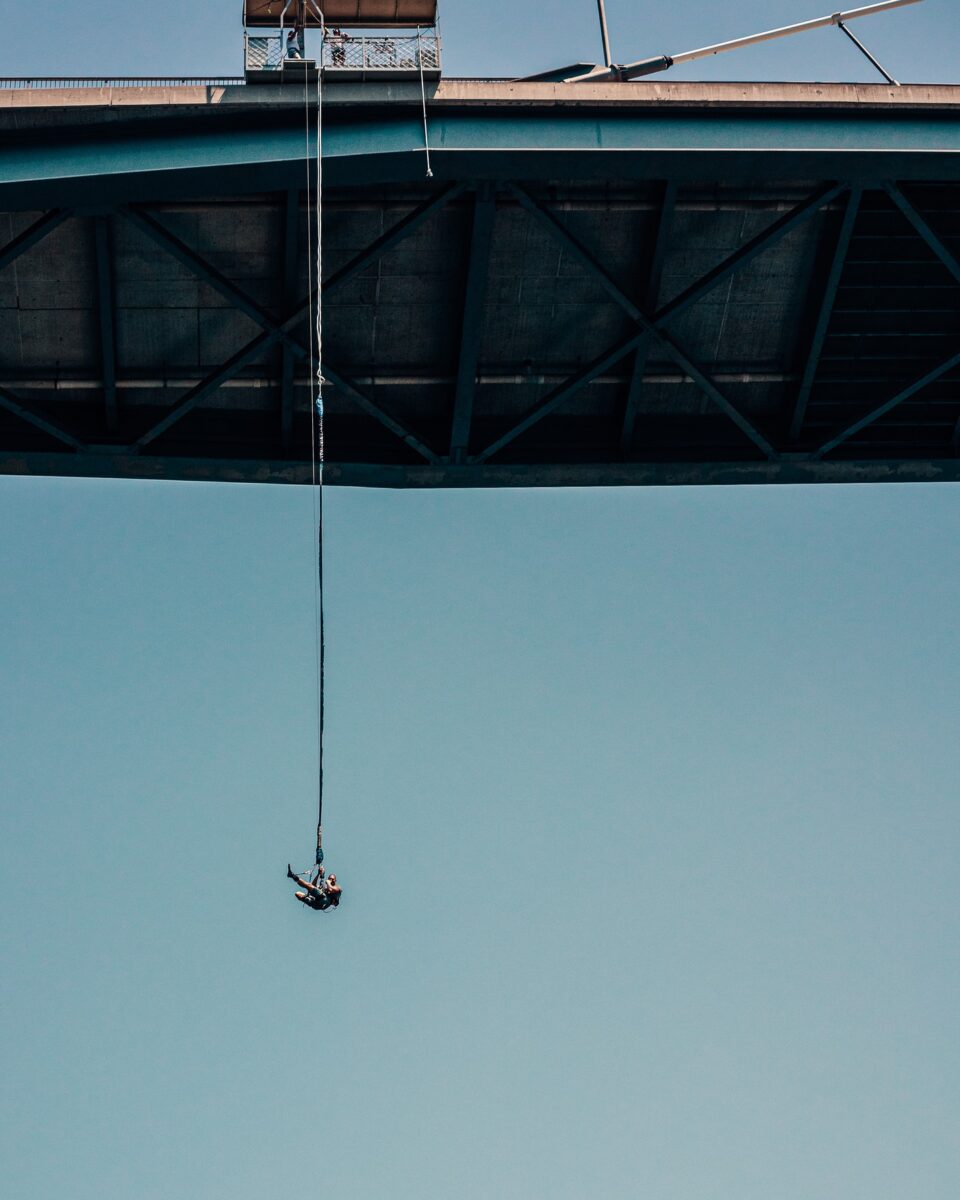 And there you have it, seven of the best bungee jumping spots in all of Japan. So when you are thinking about your next trip and what exciting activities you could do, how about considering bungee jumping? Especially in Japan where there are many wonderful views to be had from waterfalls to cityscapes and mountains to temples and everything in between. Japan has it all. Not to mention all the wonderful outdoor activities available to satisfy even the most adventurous and active participants in your group. Be sure to sample some of the delicious local cuisine and enjoy a nice long soak in the infamous onsen, or hot springs, that are popular all throughout Japan.
Follow us on Instagram, Facebook and Twitter for more travel inspiration. Or tag us to get featured!
Stay informed of the best travel tips to Japan, the most exciting things to do and see, and the top experiences to have with the Japan Wonder Travel Newsletter. Every week we will introduce you to our latest content.
Other articles you may like
Travelling around Japan in summer offers a wide range of experiences and outdoor activities. Here are the best summer activities in Japan!
Manawa Blog
A blog about Outdoor and Adventure Activities
The Complete Guide to Bungee Jumping
What is bungee jumping?
Bungee jumping put simply is an exhilarating adventure sport which involves jumping from a high platform – normally from a dam, bridge, crane or tower, connected to a specially-made thick elastic cord which recoils after a few seconds of freefall. Though the bungee platforms are usually from static structures, it is also possible, and highly thrilling, to bungee jump from hot air balloons, mountain gondolas and helicopters.
Practiced around the world, this activity is great to do in groups with friends or family, cheering each other on as you wait for your own turn to jump!
Some bungee sites have a minimum weight limit rather than a minimum age, so it's a sport that can be tried by a range of ages, with no maximum age limit. Some bungee sites however have a minimum age, the average being around 14 years old, but this is dependent on each individual bungee.
A sport that requires minimal preparation on the participant's part, requiring only a minimal level of fitness, good health, to wear appropriate footwear, and to listen to a safety briefing, this is a great sport that almost anyone can try!
You can ease into bungee jumping by picking the height that suits you best, depending on your threshold for tolerating heights. To compare various bungee sites from one another, take a look at our list of the World's 10 highest bungee jumps! If you have your eyes set on booking a specific bungee jump or would like to know if there's a site around you, make sure you check out all our bungee jumps around the world!
History of Bungee Jumping
According to a legend surrounding the South Pacific island of Pentecost Island, bungee jumping originated there. The legend says that a woman, fleeing her husband who was mistreating her, climbed a tree to hide, which her husband followed her up. Just as her husband tried to grab her, she tied vines around her ankles and jumped. Her husband jumped at the same time but hit the ground and died, so the woman was saved by the vines.
A man from the South of Pentecost Island bungee jumping using vines
Since this legend originated, the men of the island have practiced jumping from trees with vines tied around their ankles. This 'land diving' or Naghol, as it is known on the island, has become a tradition on Pentecost Island. It is practiced every year on Saturdays between April and June.
Modern history:
In April 1979, on 'April Fool's Day' the Oxford Dangerous Sport Club tried jumping from Bristol's Clifton Bridge in England. Illegally and moderately unpreparedly, a few members of this club attached elastic bungee cords to themselves and jumped – something they later did again at the Golden Gate Bridge in San Francisco, USA. the following year.
This, along with other jumps, propelled the sport into the mainstream. In 1989, the now world-famous New Zealander A.J. Hackett opened the world's first commercial bungee jumping location in Queenstown, New Zealand.
Bungee jumping at Europabrucke, Innsbruck, Austria
What equipment is used in bungee jumping?
The amount of equipment required for this sport is minimal, with the participant only needed to bring appropriate footwear.
The bungee site will supply the specially designed braided shock cord you will be connected to, the leg and body harness you will be wearing, connected to the bungee cord and a helmet may be required at some destinations.
Don't be skeptical of the location if you don't spot a harness, as some bungee sites simply connect jumpers to the bungee cord via the ankles, whilst others use a harness. You can rest assured, knowing both pieces of equipment keep you secure:
Bungee Cord: A specially designed and made cord made from tightly woven strands of rubber. With different strengths and thicknesses available, different bungee sites opt for slightly varying cords. This cord will have recoil when you reach a certain point before you reach the ground.
Harnesses: The harnesses are worn around the thighs, waist, chest, and shoulders, with the bungee cord connected at the front to both of these pieces of the harness.
Bungee jumping Stockhorn, Interlaken, Switzerland
What will I do?
Pre-activity:
Arrive at the bungee site at least an hour before your slot, this will give you time to take in the surroundings, watch the people before you jump and get acquainted with the instructors and have a safety briefing.
Before the jump, you will be weighed so that the operators set up the particular rope you will use. After attaching your harnesses and rope and checking everything is secure and safe, you'll then be ready to jump!
During the activity:
Relax, stretch your arms out, bend your knees and jump into the void. Enjoy the sensation of the freefall, it will only last a couple of seconds, and then the rope will be fully stretched and the elastic will recoil and bring you back up slightly and you will swing momentarily at the end of the rope until you are either lowered down to a specially-made landing area airbag, platform or even a boat sometimes (dependent on the location) or lifted back up to the spot you jumped from.
Post-activity:
After having your harnesses detached from the rope and the harness subsequently taken off, you'll be able to relax and think back on the incredible bungee jumping experience you've just had!
Bungee jumping Sentosa, Singapore
Who can do bungee jumping?
Bungee jumping is an inclusive, accessible sport, able to be tried by people with reduced mobility, amputees or visitors with partial paralysis. If you have any doubts about whether yourself or one of your group can participate in bungee jumping, it is highly recommended to speak to the staff at the bungee site that you intend to visit beforehand.
Min. and max. weights:
Rules vary for different bungees, but the general minimum weight for bungee jumping is 35/40kg. The maximum weight again differs between sites but is generally around 145/150kg.
Pregnant women:
Bungee jumping unfortunately is not recommended for women who are pregnant.
Health requirements:
Generally the participant must be in good health, if you suffer with epilepsy, joint problems or heart disease you may not be allowed to participate. It is worth checking with the bungee site you're planning on visiting ahead of booking to see their individual policy on health requirements if you are unsure.
Other rules:
It is also worth noting that it is not advised for bungee participants to be under the influence of drugs or alcohol, as they may not be permitted to participate. This sport requires a high level of engagement and attention to the safety instructions provided by instructors.
Bridge Swinging near Barcelona, Spain
Variations of bungee
This exhilarating sport has a number of equally exciting variations such as bridge and canyon swings and sky jumping.
Bridge Swing: This is offered at a number of bridges around the world, bridge swinging is a variation of bungee jumping in that you still jump from a bridge but the type of rope is different and you swing rather than freefall.
Canyon swing: Similar to bridge swinging, though instead of jumping from a bridge, you jump from the side of a canyon. Canyon swinging is like cliff jumping, but you're attached to a rope.
Sky jump: A sky jump is a controlled fall from a large height. The participant has a wire attached to them as they 'fall' at a controlled speed. Unlike bungee jumping, there's no recoil of the wire and most sky jumps will end on a landing platform at the bottom of the tower that you jump from.
For more information about this exhilarating sport, check out our bungee jumping articles.
Source https://www.holidify.com/collections/bungee-jumping-in-india
Source https://blog.japanwondertravel.com/bungee-jumping-in-japan-25917
Source https://blog.manawa.com/en/outdoor-activities/bungee-jumping/the-complete-guide-to-bungee-jumping/