Harrachov Jump from a 36-meter tv tower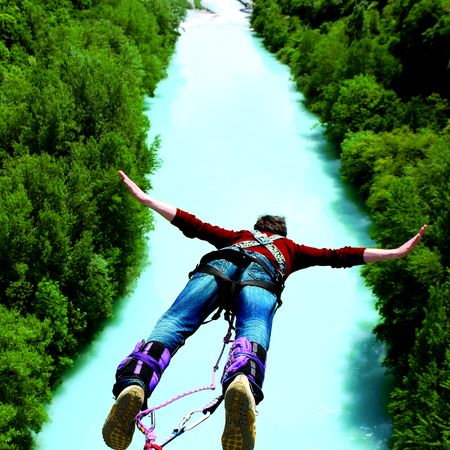 Our instructors are using only the first-class equipment, which is regularly controlled and proofed. Our philosophy is simple: "Safety consists of redundancy in both equipment and procedures coupled with an impeccable attention to detail."
Pick-up in Prague
Your driver picks you up at any address in Prague you choose.
Transfer 1 hour and 15 minutes
Enjoy a comfortable ride in an air-conditioned minibus to the bungee jumping area.
Instructions 10 minutes
Your English speaking instructor will teach you the safety and the techniques of bungee jumping.
Jump 10 minutes
One, two, three. jump!
Celebration
Get your honest bungee jump diploma.
Transfer back 1 hour and 15 minutes
Take a rest on the way back to Prague to your chosen address or to another Magical Prague experience.
Drop-off in Prague
Enjoy the rest of your day in our magical city.
Notes
For the bungee jumping from the tv tower, the minimum number to book are two jumpers. Single jumper bookings are also possible, but not guaranteed. It is necessary to wait for confirmation if there is a group available to join. It is recommended to wear comfortable clothes and tight shoes for the bungee jump. Participants younger than 18 years have to produce evidence of parental consent or other legal representatives in written form.
118 customer reviews

We done a bungee jump with these guys. It was a fantastic experience. The staff were very funny, friendly and helpful.

I went bungee jumping today and it was such a rush. the whole thing felt very safe but still jumping off a bridge is thrilling!! so worth the money. and Bob (our driver) was very nice

Awesome experience! Kate was our driver, gave great advice for a first time jumper, super friendly, and she made the day so much fun! Definitely recommend! They also try to get you there early so you don't have to wait in line which was a bonus!

Great service with a taxi to the bungee jump and nice people all day. Amazing experience and I would recommend everyone to try!

I've done my first bungee jump in Prague, great value for money! Such a professional staff and a beautiful location. I will definetely try the rest of activities soon 🙂
More about Bungee Jumping Prague
Safety is one of the foundation-stones of our company. That´s why we choose the way with a guarantee of the highest credit of safety.
We became the membership of NABA- North American Bungee Association (1993) and assumed their system of safety. In 1994 we also obtained the Ministry of Education, Juveniles, and Physical Training for training the instructors.
We can realize your bungee jump if your weight is between 40–160 kg (88–350 lb). Applicants younger than 18 years have to produce parental consent or another legal representative in written form.
You have two following possibilities of jumping: Bungee jump: leg jump, chest jump, or tandem jump. Swing jump: giant swing with the experience of the free fall and weightlessness.
What is a Tandem Bungee Jump?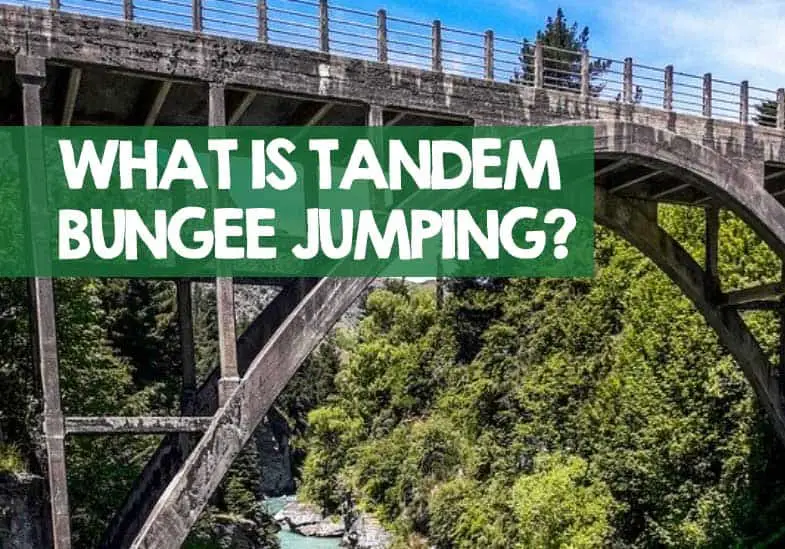 You will have already heard of bungee jumping, but did you know there are some locations where you can double up with a friend or loved one and jump into the void together? Tandem bungee jumping is now available all around the work, but what exactly is it and how does it work?
What is a tandem bungee jumping? A tandem bungee jump works the same way as a solo jump, but the operators will attach you as a pair. You can share the bungee jump experience with a loved one, or there are some operators will let you jump in tandem with an instructor.
It's a perfect way to enjoy bungee jumping is you're scared to do it by yourself or want to share the massive rush you will get from jumping in freefall from a tall building, bridge, or crane.
Many of the operators actually say it's a great way to get closer to a loved one! It's something that you can share together and remember for the rest of your lives.
How tandem bungee jumping works
A tandem jump works exactly the same as a solo bungee jump aside from there being two of you on the one cord. It does not mean that you will be jumping separately on different cords.
This is a very simplistic overview of how it works:
The bungee operators will weigh you both twice to calculate how much cord will need to be let out during the jump.
They will then ask you to face and hold each other standing up.
The bungee harnesses will be attached to your legs and ankles, and then connected together.
You will then be taken up to the jump point harnessed together.
Final safety checks will take place.
Then the two of you jump!
You can see a video of a tandem jump in action below.
Is tandem bungee jumping safer than going solo?
One of the reasons you want to go in tandem could be down to fear and wanting someone to share the experience with you. Bungee jumping is scary for first timers, but the reality is that statistically it's quite safe.
You can see a list of the fatalities recorded over the last few years in this blog post on recorded bungee deaths.
As far as tandem jumps go, I was only able to find two recorded fatalities that occurred when jumping as a pair.
July 2015: British holiday maker killed in a tandem bungee jump accident in Spain (see news report).
June 2015: Woman died in France during a tandem bungee jump with her partner (see news report).
Is it safer? No, it's really no different as the mechanics are completely the same. The only thing you need to make sure to do is to keep hold of your partner and avoid any clashes of heads.
Handy Hint: We wrote a guide for first-time bungee jumpers which contains tips on how to prepare yourself and make the first jump.
How much does tandem bungee jumping cost?
How much you pay for a tandem bungee jump will depend on what country it is in, the location (pay more for a great view!) and how high the jump is.
I recently published a guide to global bungee jumping prices. Most operators won't charge you exactly double for the tandem jump but will often give you a discount for two jumpers going at once.
Typical tandem prices are:
India: tandem costs £40 / $50 as a pair
New Zealand: tandem costs £233 / $300 as a pair
UK: tandem costs £98 / $125 as a pair
USA: tandem costs £155 / $200 as a pair
Can anyone jump on a tandem bungee?
The restrictions on bungee jumping will vary drastically from country to country. For example, in the UK you cannot jump if you are under 14 years old.
To find out if you are old enough to bungee in tandem read this guide to age limits depending on the country or location.
Each bungee operator will have to adhere to the legislation in their own country. As a general rule of thumb, companies tend to follow similar safety guidelines stating who they won't let jump.
For example, you cannot take part if you have:
Back, neck, or spinal injury problems.
Any recent fractures, dislocations, or bone breaks.
High blood pressure.
Neurological disorders.
Heart problems and conditions.
Asthma, epilepsy, or osteoporosis.
If you are pregnant (here's why it's dangerous).
The best tandem bungee jumping locations
Some of the best tandem bungee jumps could be very close to you. Here's a quick selection of some of the best I've come across in recent years.
UK: 160-foot London – North Greenwich Arena (The Dome)
UK: 300-foot Manchester – The highest tandem in the UK
New Zealand: 141-foot Kawarau Bridge
New Zealand: 131-foot Auckland Harbour Bridge
India: 270-foot Rishikesh Bungee Experience
Italy: 574-foot Valgadena Bridge – The highest in Europe that allows tandems
Conclusion
If you want to add some much-needed excitement and adventure to your life, a tandem bungee jump will offer you an unrivalled adrenalin rush. And who better to share the experience with than a good friend, partner, or loved one?
As you fall through the air you will experience 3 Gs of force, take in stunning views, and have a rush like no other as you and your partner plummet towards the earth.
Then just as you think you're going to hit the floor you feel that initial pull and then the ride back up and the bounces as the bungee cord springs into action.
If you want to try bungee jumping and don't think you can do it yourself, then consider going tandem. Or perhaps you just want a shared memory for a lifetime.
For either reason, I can't recommend tandem bungee jumping enough. Get out there and have a go!
You might also like…
I frequently blog about extreme sports, with bungee jumping being one of my biggest passions. Here are some related articles you might also want to read whilst you're here.
Recent Posts
Over the last month, my 7 year old son and I have started geocaching as our new hobby. Despite what you might have heard, you don't need a load of expensive gear as beginner. In fact, most people.
For those new to geocaching there can some weird and wonderful terminology and phrasing at play. Most acronyms and sayings are easy enough to get the hang of and will make complete sense once they.

report this ad
About Us
My name is Marc, and this is my place on the web where my son and I share the adventures we have in the great outdoors. That includes urban exploring, WW2 history, camping, geocaching, and anything else that we can find to do out of the house.

report this ad
LEGAL INFORMATION
Outdoorasaurus is a participant in the Amazon Services LLC Associates Program. This is an affiliate advertising program which has been designed to provide a means for websites like ours to earn advertising revenue by advertising and linking to Amazon. Outdoorasaurus is compensated for referring users and business to Amazon plus other businesses linked to on out website. As an Amazon Associate I earn from qualifying purchases.

report this ad

report this ad
Best places to bungee jump in BC
With summer upon us and all your friends brainstorming "what do we do this weekend?" Be the hero that they're all afraid they want you to be by suggesting that everyone jump off a bridge together – safely harnessed to a strong and stretchy rope, of course.
Who wouldn't want to bungee jump in beautiful British Columbia, anyway? With the green trees, raging rivers, and picturesque views, jumping headfirst into all of that greatness just seems like a no brainer.
Luckily there are a couple places in BC that cater to the free-falling inclined…
Whistler Bungee
So it's 160 feet down to a rocky ravine…
A post shared by ⠀⠀⠀⠀⠀⠀⠀⠀⠀⠀⠀⠀ ⠀ʙᴇɪɴɢ⠀ᴡᴀʟʟʏ (@beingwally) on Apr 19, 2017 at 6:16pm PDT
Height: 160 ft (50 m)
Cost: $130 if it's your first time, $80 for returning jumpers
Where: At Whistler Bungee Bridge, Calcheak Forest Service Rd, Whistler. Roughly 15 minutes south of Whistler on the Sea-To-Sky Highway.
If a shaky, screaming, bungee jumping video finds its way onto your Instagram feed, odds are you're looking at Whistler Bungee. It is the closest jump for those in the Lower Mainland and is open for adrenaline junkies year round, rain or shine. It's best to book a few days in advance as it can get busy—especially during the summer—and there's a 24 hour prior cancellation policy in case you decide to chicken out.
Hump day? Nah.. jump day #whistlerbungee
A post shared by Emma Peet (@emmagrating2canada) on Mar 22, 2017 at 3:06pm PDT
WildPlay Element Park Nanaimo
A post shared by @mayaleger_ on Oct 23, 2016 at 7:37pm PDT
Height: 150 ft (45 m)
Cost: $130 if its your first time, $65 or returning jumpers
Where: 35 Nanaimo River Road, Nanaimo. 10-15 minutes south down Highway 1 from Nanaimo.
Where those on Vancouver Island go to jump. As just one thrilling element of the WildPlay park in Nanaimo, you may go there looking just to bungee jump, but then stay for bit more than you bargained for. They also offer a 40 ft tethered WTF Jump (What's To Fear Jump) as an alternative for anyone who may not have the cash, guts, or parental signature for the full on bungee.
gotta jet #yolo
A post shared by Josh (@joshuagraetz) on Aug 20, 2016 at 3:25pm PDT
And if you're okay with a bit of a road trip…
Great Canadian Bungee, Quebec
Height: 200 ft (60 m)
Cost: $121 for first jump, $60 each for additional jumps (though must be on on the same day)
Where: Route 105 Wakefield, Quebec. Only half an hour north of Ottawa, or a short 44 hour drive from Vancouver.
This it the highest bungee jump in all of North America. The 200 ft fall ends with a quick dip into a clear lagoon, and then another 160 ft of rebound on your way back up. It may be a bit of a skip and a hop away from BC, but if you ever find yourself on the other side of the Prairies it is a definite must-try.
#greatcanadianbungee #bungee #roadtrip #adventureawaits
A post shared by Aasim Subhan (@aasim027) on Apr 24, 2017 at 9:46am PDT
Source https://magicalprague.com/en/bungee-jumping
Source https://outdoorasaurus.com/bungee-jumping/what-is-tandem-bungee-jump/
Source https://dailyhive.com/vancouver/best-bungee-jump-bc