How Much Does Bungee Jumping Cost
High altitude always gives a thrilling sensation. For people who are afraid of it, the thrill may be too much to bear, but for those who are addicted to challenges and adventures, high altitude is something that they love to bask in.
Thrill-seekers who believe that overpowering their fear of high altitude is the real mission of their life will love to enjoy such sports activities as skydiving and bungee jumping.
For professionals, skydiving seems to be a more challenging and interesting option. On the other hand, for beginners and those who prefer a more casual high-altitude sport, bungee jumping seems to be a more reasonable option.
If cost is a consideration, how much does bungee jumping cost? The cost of a single jump may range from around $20 to over $200. This wide cost range is there because several factors affect the cost of bungee jumping, as the location, the height, and the package.
If you see someplace offering the same adventure, but the cost of doing it is more expensive, the main reason is listed here.
Table of Contents
3 factors that change the price of the bungee jump
1-Location
In Longqing Gorge, China, you can enjoy the thrill of bungee jumping by paying only about $22. In Nevis Bungy, New Zealand, you have to pay more than $180 to enjoy the same thrill.
Different locations in the world offer different bungee jumping costs. This location vis-à-vis cost rule also applies to other thrilling sports.
In the following table, I resume the average cost for try this fantastic adventure of bungee jump:
| Country | Price |
| --- | --- |
| Dubai | 103$ |
| Goa | 50$ |
| South Africa | 40$ |
| USA | 100$ |
| New Zealand | 200$ |
| Finland | 130$ |
| Nepal | 100$ |
| Italy | 150$ |
| Switzerland | 170$ |
| Austria | 160$ |
| Macau Tower, China | 430$ |
As we will see during the article, the price is related to the location and height.
Cost of Bungee Jump in Dubai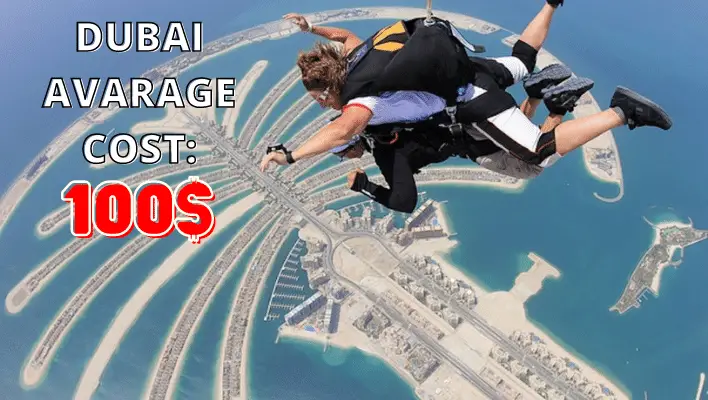 Dubai is well known to be a very healthy place, where all the celebrities are usually spending their money on expensive jewelry or other things.
But if you are there for some of your holidays, you can't miss the adrenaline that the gravity zone in Dubai can offer you.
The gravity zone in Dubai is the first bungee jump operator with a high of 50 meters; you will have a fantastic experience considering that the view is fantastic.
The cost for having a unique experience on a gravity bungee jump in Dubai is 100$.
Cost of Bungee Jump in Goa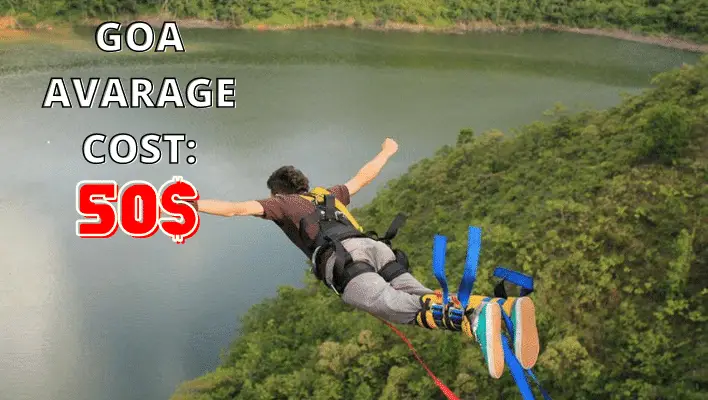 Goa is a very popular place where people, usually passionate about bungee jump, do it.
If you paid for a tour, I am pretty sure that the tour manager offers you to visit and try this amazing experience.
The bungee jump in Goa is close to Anjuna Beach.
In the last years, the bungee jump in Goa has always become more popular due mainly to its cost.
The cost for doing a bungee jump in Goa is around 20-40$; these largely depend on the seasonality.
Cost of Bungee Jump South Africa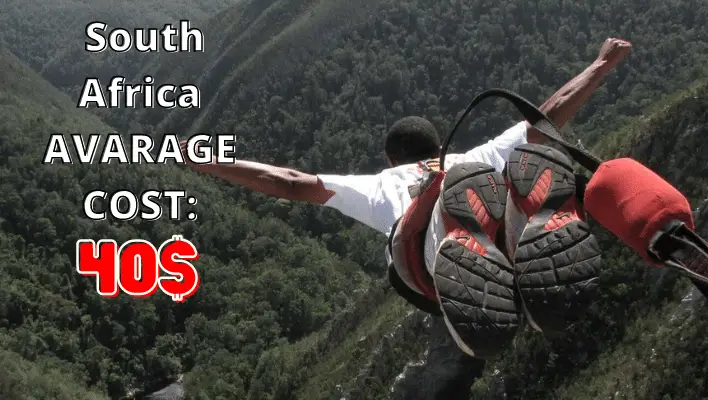 On this list of cost cannot miss one of the world's highest bungee jumping, the Bloukrans Bridge.
With a height of 216 meters, the adrenaline that will give you will be fantastic.
If you are the kind of person that likes the challenge and the high-intensity activity, you should try it at least once time on your life.
The total timing for this experience is 7 seconds.
Considering the cost of only $40, the bungee jump in South Africa cannot miss, if you are in the vicinity.
Cost of Bungee Jump in USA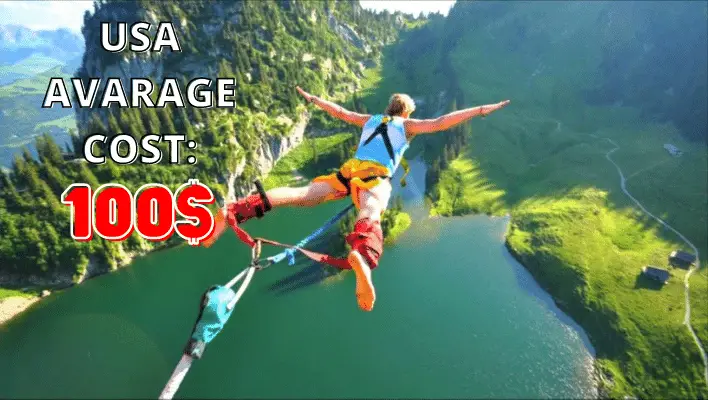 Thanks to the amazing initiative and enthusiasm the USA always has, you have many places where you practice Bungee Jump if you travel into the USA.
In the following part, we will see the cost of the relative location of bungee jump in the USA.
1-high steel bridge Washington Bungee Jump Cost
Located in an arch of a bridge, the high steel bridge is incredible.
I don't have to explain to you why.
The most interesting thing is that the Jump is direct under the Skokomish River , giving you the impression to be catapulted like a real movie.
The height of the high steel bridge is 114m above the river, and the cost is $225 per jumper.
2-royal gorge suspension bridge canyon city Colorado bungee jumping cost
Fantastic if you are in the vicinity of Canon City in Colorado.
If you decide to make part of this experience, you have to consider that the second of the Jump will be 15 seconds, a little bit higher than the other bungee jumping place.
This is primarily due to the height of the bridge, 286m
The cost for making bungee jumping is between 30-70$ depending on the age.
3-Rio Grande Bridge, New Mexico bungee jumping cost
The Rio Grande is one of the highest bungee jumps in the United States, and it is also known as the most expensive place to jump from.
The cost to make a bungee jump from Rio Grande Bridge is Cost: $350 Standard Jump.
With an incredible height of 210 m, you can try this fantastic experience only a few times for years; in fact, as per the official website; you need to book it in large advance.
Cost of Bungee Jump in New Zealand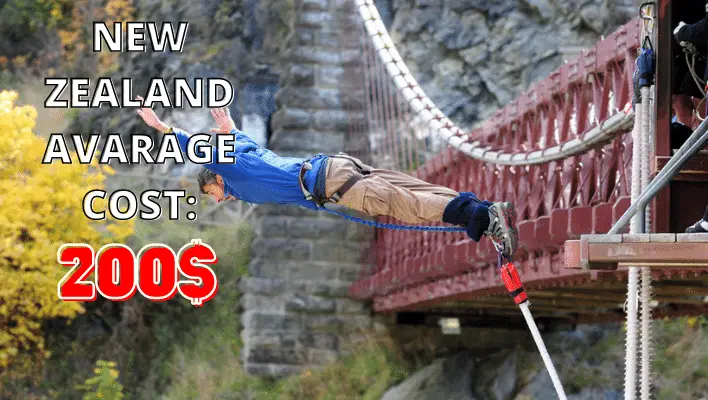 New Zealand is also a famous place when we speak about bungee jumping; there are many bridges and other structures made to allow people to try this experience.
The medium cost for doing Bungee Jump In New Zealand is 204$.
The most famous Jump in new Zealand are:
1-AUCKLAND BRIDGE BUNGEE cost 165$
Height 40 meters
2-AUCKLAND SKY TOWER SKY JUMP cost 163$
Height 192 Metres
3- QUEENSTOWN KAWARAU BRIDGE cost 148$
With a height of 43 meters, the Queenstown Kawarau bridge is the first bungee jump activity open; if you are a fan, you should pass at least once in your life.
Cost of Bungee Jump in Finland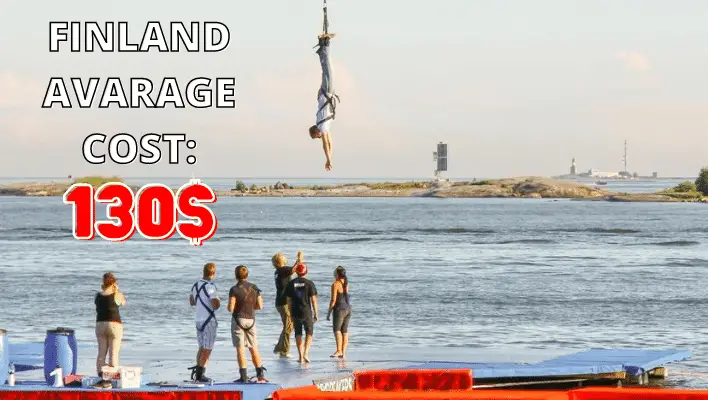 If you are visiting Finland, and in particular Helsinky, you have to know that August is open the largest Bungee jumping constructed in Finland during July.
We are speaking about the Kaivopuisto.
The height is around 150 Metres, and information is seen on the web and tells that the speed reached during the Jump can reach 120 km/h.
The cost to do bungee jump in Kaivopuisto is around 150$.
Cost of Bungee Jump in Nepal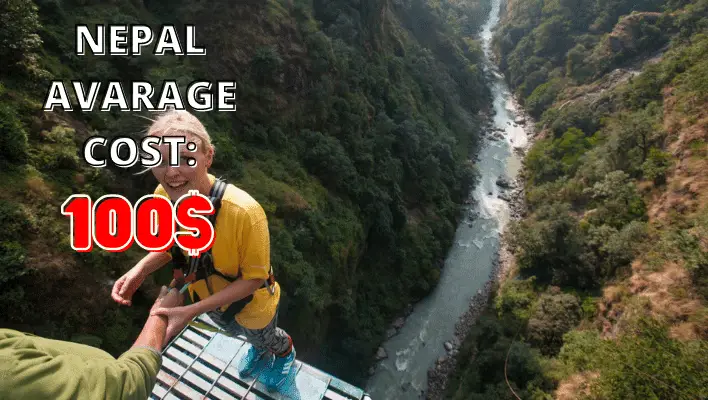 Nepal is famous for many things, but in the last period more and more young people are speaking about the amazing experience that bungee jumping can give.+
There are two main places in Nepal where you should try bungee jumping.
The Bhote Koshi Gorge
Hema, Pokhara
Bhote Koshi Gorge bungee jump cost
This is the highest Bungee jumping in Nepal, with 160 meters.
The Jump will take place from a bridge, and of course, as well as the others locations mentioned before; they are made under the supervision of an expert.
The cost to do a bungee jump in Bhote Koshi Gorge is 100$.
Hemja Bungee Jump cost
Pokhara is for sure one of Nepal's most known and famous place, the main difference respect to the other one is that on Pokhara you the height is less, we are speaking about 80 meters.
What will be amazing about that Jump is that it will give you the sensation to touch the water.
The cost for Bungee jumping in Hemja Pokhara is around 80$.
Cost of Bungee Jump in Italy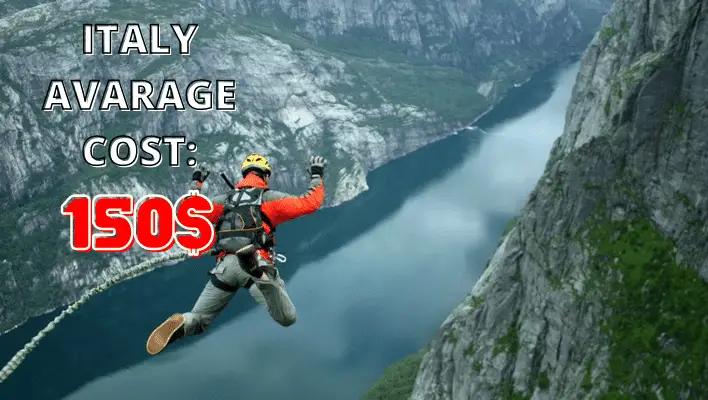 If you are in Italy and want something different to do during your daily activity, I am here to give you my best 4 places with their relative price, of where do Bungee Jump in Italy.
Bungyxteam Valgadena Asiago (Veneto):
Bungee Center di Veglio-Biella (Piemonte):
Bunjee Jumping Abruzzo al Parco della Majella – Caramanico Terme (Abruzzo):
Acqualandia Park di Jesolo Beach (Veneto):
Cost of Bungee Jump in Switzerland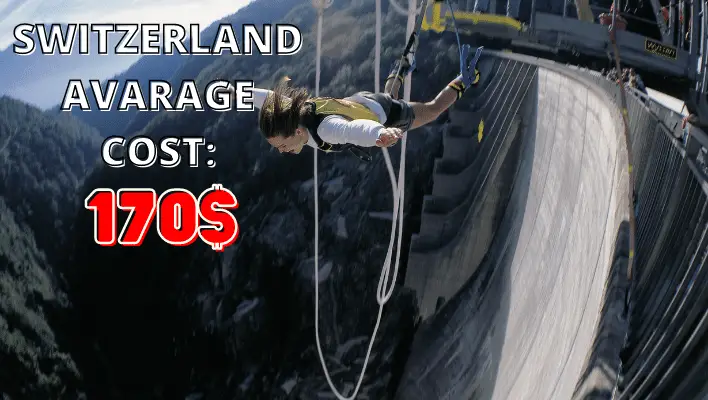 One of Switzerland's most famous and attractive Jumps is the bungee jumping from the Verzasca Dam.
If you have ever seen the movie of James Bond, for sure, you will remember the epic scene where he jumps from.
That shot was in Verzasca Dam, and this fantastic place gives you the possibility to recreate it.
The height is 220m, and the cost is $200 per Jump.
Cost of Bungee Jump in Austria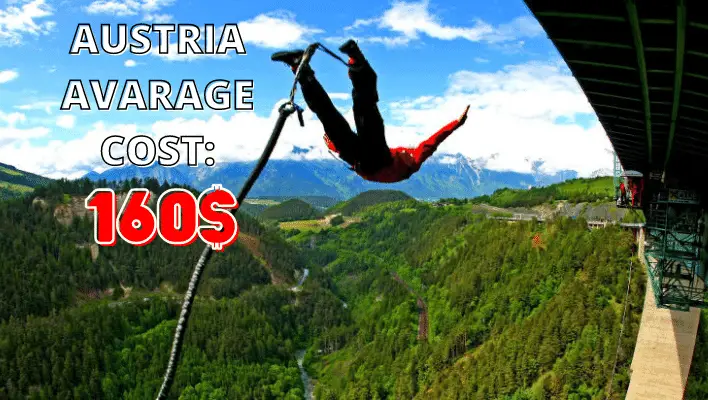 Europabrücke (Europe Bridge), Innsbruck is the biggest and most famous place where people like to do bungee Jump in Austria.
The Jump is immersive; you will be in direct contact with nature and surroundings.
This place has an amazing height of 190m that makes this one of the height places were to jump from.
The cost for a single jump is $200, and if you like a video recording while you are jumping, you have to pay an extra of 35$.
Longqing Gorge Bungee Jumping
Perfect first experience to do if you are in china due to the not excessive height of 58 metros.
The Longqing Gorge Bungee jumping is fantastic, not so height and with a relatively low budget of only 40$, you can try the sensation if you like to do this or not.
Cost of Bungee Jump in Macau Tower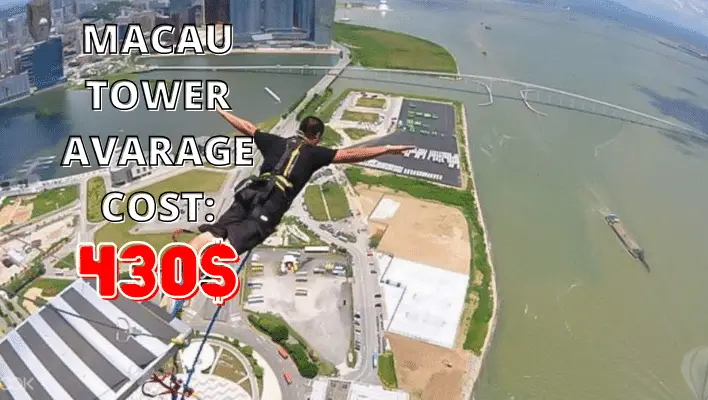 We cannot finish this list without naming the tallest of bungee jumping.
The bungee jump in Macau Tower.
The bungee jump of Macau Tower is an impressive thinks to do; only very courageous peoples will win on this challenge.
The height of Macau Tower is 233m, making this the Highest Commercial Bungy Jump in the world.
The cost to try Bungee jumping from the Macau Tower is $380, but if you like to have the full package of the service that includes Video and Photo, the price will increase, reaching $450.
2-Height
The difference between Bungee jumping cost in Longqing Gorge and that in New Zealand is affected by location and height difference.
In China, you can jump from around 50 meters above the ground.
In New Zealand, the altitude is almost three times higher.
If both location and height are considered when calculating the cost, you will find out that in Longqing Gorge, you pay $0.5 per meter, whereas, in the Nevis Bungy, you pay around $1.4 per meter.
You can see that both location and height determine the cost.
3-Package
If you want to jump multiple times, the cost of all jumps after the first is usually cheaper than the cost of the first Jump.
In Southern California, for example, you are charged $99 for the first Jump and $50 for each subsequent Jump.
You can get a further discount if you buy a package. For example, you can enjoy a package of 5 jumps by paying only $275.
Those are three factors that determine bungee jumping cost.
The average cost of bungee jumping has been mentioned above.
Therefore, you can make your calculation to find out how much money that you have to spend to enjoy the thrilling sensation of this high-altitude sport.
Differences Between skydiving and Bungee Jump
There are many reasons why bungee jumping is more favorable than skydiving.
First, it is safer because, in bungee jumping, an accident involving impact with the ground is more unlikely.
Second, it is easier. Beginner bungee jumpers can usually go solo when beginner skydivers have to assist an instructor.
Third, it is cheaper because bungee jumpers don't need an airport, a plane to reach the preferred altitude and expensive equipment. The cost is the primary reason why many people choose Bungee jumping instead of skydiving.
Others adventure cost that might be interested :
Conclusion
The cost for the bungee jump differs for three main reasons: Locations, Height, and package choice, anyway. We can say that in general, the average price around the world is $150, and if you consider the fantastic remember and emotions that you will have in your mind, we can say that the cost can pass in behind.
How Much Does It Cost To Go Bungee Jumping In South Africa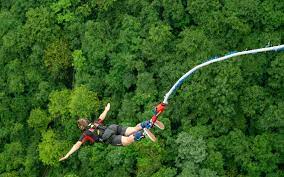 Bungee jumping, also spelled bungy jumping, is an activity that involves a person jumping from a great height while connected to a large elastic cord. The launching pad is usually erected on a tall structure such as a building or crane, a bridge across a deep ravine, or on a natural geographic feature such as a cliff.
How Much Does It Cost To Go Bungee Jumping In South Africa
A bungee jump in South Africa costs 150 Rand, that is, INR 740.
Where is the highest bungee jump in South Africa?
Bloukrans Bridge BungyBloukrans Bridge Bungy is one of the world's highest commercial bridge bungy at 216 metres (709 ft) above the Bloukrans River. It is situated at Bloukrans Bridge on the N2 Highway at the border between the Eastern Cape and the Western Cape in the Tsitsikamma area of South Africa's Garden Route.
How old do you have to be to go bungee jumping in South Africa?
The minimum age restriction at Bloukrans is 14. There's also a minimum weight limit of 35kg.
Is there an age limit on bungee jumping?
To begin your career as a bungee jumper you need to be at least 12 years of age and weigh at least 80 lbs. There is no maximum age limit.
How many deaths are caused by bungee jumping?
While it may seem like a relatively tame activity, statistics show that Between 1986 and 2002, there were 18 bungee-jumping fatalities. Since 2015, 5 people have died while bungee jumping. According to bungee jumping death statistics, there is a 1 in 500,000 chance of dying while doing so.
Where can I bungee jump in Rishikesh?
Jumpin HeightsThe venue for best bungee Jumping in Rishikesh is located in Mohanchatti with the name, Jumpin Heights. It is run by ex-army officers and the jump masters are from New Zealand, the Adventure Capital of the world. Jumpin Heights feature India's highest bungee jumping in Rishikesh with height of 83 meters.
How fast do you fall when bungee jumping?
We can see this because the upward force is at a maximum when the bungee cord is fully stretched. The jumper reached the highest position in the middle of the second free-fall period, or about 2.4 s. The acceleration is downward and about –9.8 m/s2.
Bungee Jumping Cost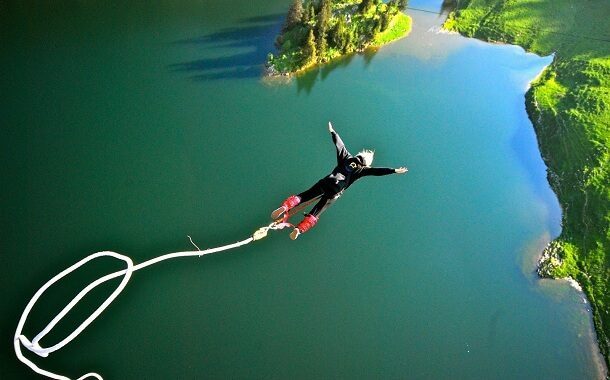 As most people already know, bungee jumping means leaping from high altitude, a tall building or structure, while bound to an elastic rope. People jump from all sorts of high places, from portable or manually designed setups, crates, bridges, mountains or even big rocks and trees. Although there is no experience required for someone to jump, you should use professional equipment and have someone with technical knowledge and experience around you to help at need.
How much will bungee jumping cost?
If you're planning to jump alone, then an individual or solo bungee jumping will cost around $50 to $500 for every jump, depending on a few factors like the height of the jump and your location. It will cost you more to jump from a higher structure. If you're a beginner, then you should know that the easiest to jump from are bridges, especially since you can be taken right to the jump site, without having to hike to the location. Artificially designed structures, created for the sole purpose of jumping will also be easy to jump from, usually having an elevator or stairs to take you to the jump place. On the other hand, mountains and big rocks will be harder to jump from, usually because you'll have to hike or scale the full height of the These facts will directly reflect into the final price, meaning that you will spend around $100 to jump from a 150 – 200-foot bridge or tree, and around $450-$500 to jump from a 1,000-foot rock that needs climbing or hiking. The rope will usually get tied either to your ankle or all-around your body, depending on the position you choose to jump in (either in an "elevator drop" or a headfirst jump). If you opt for the ankle harness then you should get long pants, and if you go for the full-body harness then it's a good idea to get a collared shirt, to avoid bruises that are caused by the rope rubbing against your skin.
Some locations and companies will allow you to jump in pairs or even triples. Jumping in tandem will cost around $400 and will allow you to jump with someone at the same time.
If a normal bungee jump isn't interesting enough, then try to jump at night. A night jump will cost about $200 – $250 at some locations.
If You're An Adrenaline Junkie, You Should Also Try Skydiving
Although there is no experience or training needed to jump, if you never jumped before, you will get a short introduction to jumping positions, equipment, and best practices when jumping. You don't have to bring anything with you to the jump; the bungee jumping company will supply complete professional equipment needed from the jump, from the harness itself to goggles and helmet if needed. You will jump the full length of the rope.
After you jump, you will be taken to a safe place by the professional crew.
Are there any additional costs to bungee jumping?
You will usually have the possibility of buying pictures of the jump. You will spend around $10 to $50 for a CD with 50 photos or around $5 per photo, depending on the location you are in. You will also have to consider the cost of transportation to and from the jump site.
People that buy professional bungee jumping equipment will usually spend anywhere from $1,000 to $3,000, depending on multiple factors such as your weight, the length you need, type of helmet and goggles. You should buy new equipment rather than used gear to make sure you are 100% protected.
Here are a few tips to spend less:
You will usually have discounts for multiple jumps bought by the same person on the same day. The discounts could be as little as $5 less for every jump or as high as $50 less per jump.
Reserving jumps for a group of people will usually get you a substantial discount also.
Be sure you're mentally ready, because some companies will charge you before getting to the leap site with a no refund policy, so you might end up paying and not jumping if you're too scared.
Should the average working Joe try bungee jumping?
If you're an adrenaline junkie then bungee jumping is exactly what you need. The free-falling from high altitude is an experience very hard to reproduce in any other environment. Even if you're not into extreme sports then you should try it at least once. It's something you will never forget. In terms of money, although it might seem expensive for some, the price is adequate, seeing that equipment is expensive and you put your life in the hands of the crew behind the jump.
Alec Pow is a thorough and methodical Financial and Business Analyst with over 15 years of experience in financial statement analysis, Foreign exchange derivative hedging instruments analysis, modeling, and risk management, with a long history of writing for big news publications like Forbes, MSN.com, Washington Post, and many more.
Source https://howmuchdoescost.com/how-much-does-bungee-jumping-cost/
Source https://safacts.co.za/how-much-does-it-cost-to-go-bungee-jumping-in-south-africa/
Source https://www.thepricer.org/bungee-jumping-cost/