How Much Does Bungee Jumping Cost (In-Depth) – How much does cost? (2022)
High altitude always gives a thrilling sensation. For people who are afraid of it, the thrill may be too much to bear, but for those who are addicted to challenges and adventures, high altitude is something that they love to bask in.
Thrill-seekers who believe that overpowering their fear of high altitude is the real mission of their life will love to enjoy such sports activities as skydiving and bungee jumping.
For professionals, skydiving seems to be a more challenging and interesting option. On the other hand, for beginners and those who prefer a more casual high-altitude sport, bungee jumping seems to be a more reasonable option.
If cost is a consideration, how much does bungee jumping cost? The cost of a single jump may range from around $20 to over $200. This wide cost range is there because several factors affect the cost of bungee jumping, as the location, the height, and the package.
If you see someplace offering the same adventure, but the cost of doing it is more expensive, the main reason is listed here.
Table of Contents
3 factors that change the price of the bungee jump
1-Location
In Longqing Gorge, China, you can enjoy the thrill of bungee jumping by paying only about $22. In Nevis Bungy, New Zealand, you have to pay more than $180 to enjoy the same thrill.
Different locations in the world offer different bungee jumping costs. This location vis-à-vis cost rule also applies to other thrilling sports.
In the following table, I resume the average cost for try this fantastic adventure of bungee jump:
| Country | Price |
| --- | --- |
| Dubai | 103$ |
| Goa | 50$ |
| South Africa | 40$ |
| USA | 100$ |
| New Zealand | 200$ |
| Finland | 130$ |
| Nepal | 100$ |
| Italy | 150$ |
| Switzerland | 170$ |
| Austria | 160$ |
| Macau Tower, China | 430$ |
As we will see during the article, the price is related to the location and height.
Cost of Bungee Jump in Dubai
Dubai is well known to be a very healthy place, where all the celebrities are usually spending their money on expensive jewelry or other things.
But if you are there for some of your holidays, you can't miss the adrenaline that the gravity zone in Dubai can offer you.
The gravity zone in Dubai is the first bungee jump operator with a high of 50 meters; you will have a fantastic experience considering that the view is fantastic.
The cost for having a unique experience on a gravity bungee jump in Dubai is 100$.
Cost of Bungee Jump in Goa
Goa is a very popular place where people, usually passionate about bungee jump, do it.
If you paid for a tour, I am pretty sure that the tour manager offers you to visit and try this amazing experience.
(Video) India's Highest BUNGEE JUMPING in RISHIKESH, Uttarakhand | Experience and cost | Jumpin heights
The bungee jump in Goa is close to Anjuna Beach.
In the last years, the bungee jump in Goa has always become more popular due mainly to its cost.
The cost for doing a bungee jump in Goa is around 20-40$; these largely depend on the seasonality.
Cost of Bungee Jump South Africa
On this list of cost cannot miss one of the world's highest bungee jumping, the Bloukrans Bridge.
With a height of 216 meters, the adrenaline that will give you will be fantastic.
If you are the kind of person that likes the challenge and the high-intensity activity, you should try it at least once time on your life.
The total timing for this experience is 7 seconds.
Considering the cost of only $40, the bungee jump in South Africa cannot miss, if you are in the vicinity.
Cost of Bungee Jump in USA
Thanks to the amazing initiative and enthusiasm the USA always has, you have many places where you practice Bungee Jump if you travel into the USA.
In the following part, we will see the cost of the relative location of bungee jump in the USA.
1-high steel bridge Washington Bungee Jump Cost
Located in an arch of a bridge, the high steel bridge is incredible.
I don't have to explain to you why.
The most interesting thing is that the Jump is direct under the Skokomish River , giving you the impression to be catapulted like a real movie.
The height of the high steel bridge is 114m above the river, and the cost is $225 per jumper.
2-royal gorge suspension bridge canyon city Colorado bungee jumping cost
Fantastic if you are in the vicinity of Canon City in Colorado.
If you decide to make part of this experience, you have to consider that the second of the Jump will be 15 seconds, a little bit higher than the other bungee jumping place.
This is primarily due to the height of the bridge, 286m
The cost for making bungee jumping is between 30-70$ depending on the age.
3-Rio Grande Bridge, New Mexico bungee jumping cost
The Rio Grande is one of the highest bungee jumps in the United States, and it is also known as the most expensive place to jump from.
The cost to make a bungee jump from Rio Grande Bridge is Cost: $350 Standard Jump.
With an incredible height of 210 m, you can try this fantastic experience only a few times for years; in fact, as per the official website; you need to book it in large advance.
Cost of Bungee Jump in New Zealand
New Zealand is also a famous place when we speak about bungee jumping; there are many bridges and other structures made to allow people to try this experience.
The medium cost for doing Bungee Jump In New Zealand is 204$.
The most famous Jump in new Zealand are:
1-AUCKLAND BRIDGE BUNGEE cost 165$
Height 40 meters
2-AUCKLAND SKY TOWER SKY JUMP cost 163$
Height 192 Metres
3- QUEENSTOWN KAWARAU BRIDGE cost 148$
With a height of 43 meters, the Queenstown Kawarau bridge is the first bungee jump activity open; if you are a fan, you should pass at least once in your life.
Cost of Bungee Jump in Finland
If you are visiting Finland, and in particular Helsinky, you have to know that August is open the largest Bungee jumping constructed in Finland during July.
We are speaking about the Kaivopuisto.
The height is around 150 Metres, and information is seen on the web and tells that the speed reached during the Jump can reach 120 km/h.
The cost to do bungee jump in Kaivopuisto is around 150$.
Cost of Bungee Jump in Nepal
Nepal is famous for many things, but in the last period more and more young people are speaking about the amazing experience that bungee jumping can give.+
There are two main places in Nepal where you should try bungee jumping.
The Bhote Koshi Gorge
Hema, Pokhara
Bhote Koshi Gorge bungee jump cost
This is the highest Bungee jumping in Nepal, with 160 meters.
The Jump will take place from a bridge, and of course, as well as the others locations mentioned before; they are made under the supervision of an expert.
The cost to do a bungee jump in Bhote Koshi Gorge is 100$.
Hemja Bungee Jump cost
Pokhara is for sure one of Nepal's most known and famous place, the main difference respect to the other one is that on Pokhara you the height is less, we are speaking about 80 meters.
What will be amazing about that Jump is that it will give you the sensation to touch the water.
The cost for Bungee jumping in Hemja Pokhara is around 80$.
Cost of Bungee Jump in Italy
If you are in Italy and want something different to do during your daily activity, I am here to give you my best 4 places with their relative price, of where do Bungee Jump in Italy.
Bungyxteam Valgadena Asiago (Veneto):
Height 175 meters, and cost starting from 120$.
Bungee Center di Veglio-Biella (Piemonte):
Height 152 m and cost starting from 120$.
Bunjee Jumping Abruzzo al Parco della Majella – Caramanico Terme (Abruzzo):
Height 104 m – cost starting from $100
Acqualandia Park di Jesolo Beach (Veneto):
Height 60 cost around 80$
Cost of Bungee Jump in Switzerland
One of Switzerland's most famous and attractive Jumps is the bungee jumping from the Verzasca Dam.
If you have ever seen the movie of James Bond, for sure, you will remember the epic scene where he jumps from.
That shot was in Verzasca Dam, and this fantastic place gives you the possibility to recreate it.
The height is 220m, and the cost is $200 per Jump.
Cost of Bungee Jump in Austria
Europabrücke (Europe Bridge), Innsbruck is the biggest and most famous place where people like to do bungee Jump in Austria.
The Jump is immersive; you will be in direct contact with nature and surroundings.
This place has an amazing height of 190m that makes this one of the height places were to jump from.
The cost for a single jump is $200, and if you like a video recording while you are jumping, you have to pay an extra of 35$.
Longqing Gorge Bungee Jumping
Perfect first experience to do if you are in china due to the not excessive height of 58 metros.
The Longqing Gorge Bungee jumping is fantastic, not so height and with a relatively low budget of only 40$, you can try the sensation if you like to do this or not.
Cost of Bungee Jump in Macau Tower
We cannot finish this list without naming the tallest of bungee jumping.
The bungee jump in Macau Tower.
(Video) First Time Bungy Jump In Delhi 2022| bungy jump| bungee jumping|delhi bunjy jump price|Sarfire Vlogs
The bungee jump of Macau Tower is an impressive thinks to do; only very courageous peoples will win on this challenge.
The height of Macau Tower is 233m, making this the Highest Commercial Bungy Jump in the world.
The cost to try Bungee jumping from the Macau Tower is $380, but if you like to have the full package of the service that includes Video and Photo, the price will increase, reaching $450.
2-Height
The difference between Bungee jumping cost in Longqing Gorge and that in New Zealand is affected by location and height difference.
In China, you can jump from around 50 meters above the ground.
In New Zealand, the altitude is almost three times higher.
If both location and height are considered when calculating the cost, you will find out that in Longqing Gorge, you pay $0.5 per meter, whereas, in the Nevis Bungy, you pay around $1.4 per meter.
You can see that both location and height determine the cost.
3-Package
If you want to jump multiple times, the cost of all jumps after the first is usually cheaper than the cost of the first Jump.
In Southern California, for example, you are charged $99 for the first Jump and $50 for each subsequent Jump.
You can get a further discount if you buy a package. For example, you can enjoy a package of 5 jumps by paying only $275.
Those are three factors that determine bungee jumping cost.
The average cost of bungee jumping has been mentioned above.
Therefore, you can make your calculation to find out how much money that you have to spend to enjoy the thrilling sensation of this high-altitude sport.
Differences Between skydiving and Bungee Jump
There are many reasons why bungee jumping is more favorable than skydiving.
First, it is safer because, in bungee jumping, an accident involving impact with the ground is more unlikely.
Second, it is easier. Beginner bungee jumpers can usually go solo when beginner skydivers have to assist an instructor.
Third, it is cheaper because bungee jumpers don't need an airport, a plane to reach the preferred altitude and expensive equipment. The cost is the primary reason why many people choose Bungee jumping instead of skydiving.
Others adventure cost that might be interested :
Rafting Cost
Skydiving Cost
Paragliding Cost
Paramotoring Cost
Conclusion
The cost for the bungee jump differs for three main reasons: Locations, Height, and package choice, anyway. We can say that in general, the average price around the world is $150, and if you consider the fantastic remember and emotions that you will have in your mind, we can say that the cost can pass in behind.
How much is it to do a bungee jump? ›
How much does bungee jumping cost? Considering the exhilaration levels you'll be getting, bungee jumping is very reasonably priced. Solo bungee jumps cost from £50 for a standard 160ft plunge, to £100 for the 300ft mega jumps, whilst tandem bungees (where you're literally strapped together) cost between £150 and £190.
How long does a bungee jump take? ›
A bungee jump will only last for a few seconds before the cord kicks in, while skydiving is much more involved. You fly for about 15 minutes to the proper altitude before jumping out and free-falling for about 60 seconds. Then, you'll spend around five minutes under the parachute after you deploy it.
How fast do bungee jumpers fall? ›
Between about 2.5 seconds and 4.5 seconds, the jumper is freely falling and the acceleration is near – 9.8 m/s2. When all of the slack is out of the bungee cord, the acceleration begins to change. As the bungee cord stretches, it exerts an upward force on the jumper.
How safe is bungee jump? ›
Over the past decade, there has been one student fatality per 500,000 tandem jumps. The National Safety Council says a person is more likely to be killed being stung by a bee or struck by lightning than during tandem skydiving. Bungee jumping sports the same fatality rate or 1 in 500,000.
Does it hurt to bungee jump? ›
You may be wondering, does Bungee Jumping hurt? While it's an exciting sport, it's also dangerous. Free fallers can suffer serious injuries, such as a herniated disc or compression fracture. The cord can also rupture or tear and cause spaces between vertebrae.
What age can you bungee jump? ›
Minimum age is 14 and under 16's require a parent or guardian to be with them to sign the acknowledgement of risk. Over 65's require a letter from their doctor stating they are in a fit condition to jump. Minimum weight is 35kg or 5 stone 7lbs, Maximum weight is 145kg or 22.8 stone.
How scary is bungee? ›
Bungee jumping is the purest form of adrenaline. It is better than jumping out of a plane. You stand out on the edge and look down, and there is nothing between you and certain death except for a little cord attached to your ankles. You stare at the ground as you plummet off the edge.
What should I eat before bungee jumping? ›
If you attempt to bungee jump on an empty stomach, you might feel dizzy or faint. On the other hand, if you eat too much, you might throw up! To avoid both scenarios, make sure you eat just the right amount. Go easy on carbs and liquids, but eat plenty of protein which will keep you full for longer.
Do you need legs to jump? ›
Myth 3: Only your legs contribute to your ability to jump high. Your glutes are the engine that helps you jump higher, and they're part of your core, which also includes your abdominals and hip flexors. The core is essential for producing the power necessary to jump.
Can a bungee cord break? ›
A bungee cord should never be stretched more than twice its resting length. Even with normal use, bungee cords will eventually stretch permanently, fray, or break as exposure to sun, rain, wind, and extreme temperatures can accelerate a cord's deterioration.
Can I skydive if I am afraid of heights? ›
Many people don't think they can skydive because they're afraid of heights. We're here to tell you that–as weird as it may sound–fear of heights doesn't matter a bit on a skydive.
Why do bungee jumpers fall? ›
The first force that the bungee jumper experiences is gravity, which pulls down on everything and makes the jumper fall. The gravitational force is almost exactly constant throughout the jump. During the bungee jumper's fall, he or she also experiences a force due to air resistance.
Can you bungee jump in the rain? ›
Windspeed is the main problem for Bungee Jumping; the rain does not affect the jumps unless thunderstorms and lightening are forecast. Please be aware that the weather can be unpredictable and events do have to be cancelled due to bad weather.
Can you eat before bungee jumping? ›
As taking the plunge will have an impact upon your body, what with you jumping head down, and going to bounce around for a bit at the end; it is highly recommended that you do not eat just before bungee jumping, and definitely not eat heavy in your meal before it, as obviously, you don't want to be throwing up mid-air.
Can you hurt your back bungee jumping? ›
The extreme forces your body is subject to as it is pulled back upward by the bungee cord can injure the vertebrae of your spine and the delicate spinal cord that they protect. Injuries typically include compression fractures — broken bones in the spine — and herniated discs and spaces between the vertebrae.
How far do you fall in a bungee jump? ›
Biggest Differences Between Skydiving and Bungee Jumping
This, however, is where the similarities end. Altitude – A typical skydive usually takes place from between 10,000′ and 14,000′ whereas a bungee jump is usually a few hundred feet or in my case 440 feet… dangerously low in skydiving terms!
How Much Does Bungee Jumping Cost? Is It Worth It?
Bungee jumping can be a very affordable activity, with prices typically ranging from $20 to $100. However, there are some locations where the cost can be significantly higher, such as New Zealand, where prices start at around $200. Several companies offer discounts for group bookings or those who book in advance.
The cost generally includes the price of the jump itself and any equipment rental fees. It is essential to check with the company beforehand to see what is included in the price. Some companies may also offer additional services, such as photographs or videos of your jump, which can be purchased for an additional cost.
What Equipment Will I Need/Rent
Bungee Cord
The bungee cord is the most crucial piece of equipment for bungee jumping. It is what allows you to jump from high places and rebound back up safely. There are many different types and sizes of bungee cords available, so choosing the right one for your weight and the height you will be jumping from is important.
Harness
The harness is what connects you to the bungee cord. Many types of harnesses are available, so it is vital to try a few different ones before purchasing. It is essential to choose a harness that is comfortable and fits well.
Carabiners
Carabiners are used to connect the bungee cord to the harness. They are typically made from aluminum or steel and come in various sizes. Choosing carabiners rated for the weight you will be jumping with is important.
Helmet
A helmet is not required for bungee jumping, but it is recommended if you plan on doing any stunt jumps. Helmets help protect your head in case of an accident. There are many different types of helmets available, so choosing one that fits well and is comfortable is vital.
Is Bungee Jumping Right For Me?
Bungee jumping is an extreme sport that is not for everyone. It requires a lot of courage and a sense of adventure. If you are considering bungee jumping, you should consider a few things before taking the plunge.
1. Not For People Afraid Of Heights: If you have a terrible fear of heights, bungee jumping is probably not the right activity for you.
2. Physically Demanding: You need to be in good physical shape to participate in this activity. If you have heart problems, it might not be the best activity for you, so it would be best to ask your doctor before taking the plunge.
3. Can Be Dangerous: There is always a risk of injury when participating in any extreme sport, though rare accidents can happen, so please vet the company before signing up.
4. Need To Be Mentally Prepared: This means being able to handle the stress and anxiety that comes with jumping from a great height.
If you are still interested in bungee jumping after considering all of these factors, then it is probably right for you. Overall, it is a fantastic experience that you will never forget.
Why I Believe It's Worth It
For thrill-seekers, bungee jumping is the ultimate adrenaline rush. There's nothing quite like plunging dozens or even hundreds of feet, knowing that only a thin cord is keeping you from hitting the ground.
Of course, it is not for everyone. It takes a specific type of person to enjoy such a heart-pounding experience. But if you're the type who loves a good thrill, then it is definitely worth the money.
It also provides an incredible sense of accomplishment. Not everyone has the guts to jump off a bridge or crane, so if you can do it, you can feel proud of yourself. So, if you're looking for an exhilarating experience that will also provide a sense of accomplishment and help you bond with others, bungee jumping is definitely worth the money.
Bungee Jumping In Rishikesh 2022: Here's A Handy Guide To Know Everything About This Thrilling Activity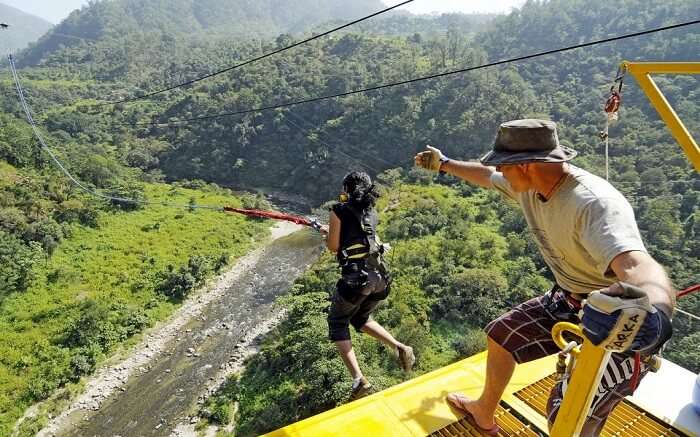 Bungee jumping in Rishikesh these words can give goosebumps to quite many travelers across India. The city boasts of having country's highest bungee, operated by experts with significant experience. Beside being a pilgrimage, Rishikesh is the Adventure Capital of India, so adventure-seekers don't need further push to pack their bags and come to this city. If you have been thinking about trying out this activity, here is the guide you need. Cost, safety concern, location – everything is covered up, so you don't have to get into vigorous research.
Quick Links For Navigation
About Bungee Jumping In Rishikesh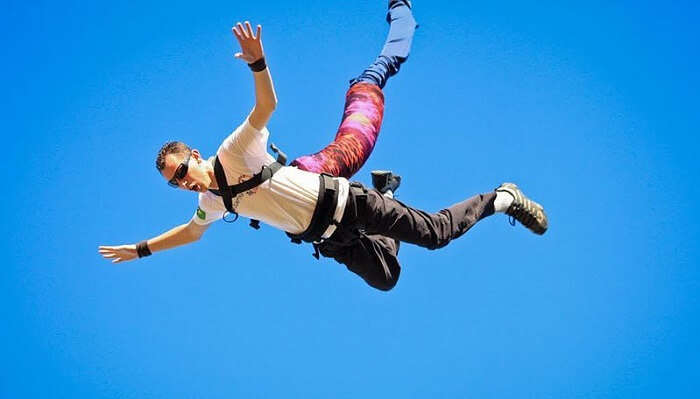 Ever thought about flying like a bird? Bungee Jumping will surely help you do so. Bungee Jumping is an adventurous activity that is all about jumping from a place that is at a great height. While jumping you are connected with a cord that is properly attached to a surface or any object that can bear heavyweight. You can either jump for a cliff or from a plane and you will be completely safe. Wondering when was it started? In August 2005, AJ Hackett jumped from Macau Tower and created the record of the world highest jump. You can try Bungee Jumping all around the world as it is a popular activity performed in all the countries.
Bungee Jumping Spot In Rishikesh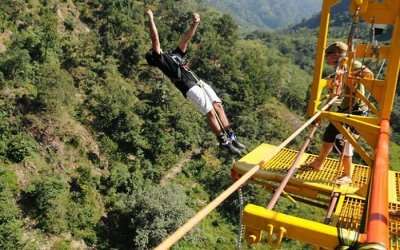 The venue for best bungee Jumping in Rishikesh is located in Mohanchatti with the name, Jumpin Heights. It is run by ex-army officers and the jump masters are from New Zealand, the Adventure Capital of the world. Jumpin Heights feature India's highest bungee jumping in Rishikesh with height of 83 meters. Jumpin Heights is open all days, except Tuesdays. These are also considered to be some of the best spots for bungee jumping in India.
Bungee Jumping In Rishikesh Price
| | |
| --- | --- |
| Activities In Rishikesh | Price |
| Entry Ticket | 100 |
| Bungy Jump | 3550 |
| Giant Swing | 3550 |
| Flying Fox (In Tandem) | 1800 |
| Flying Fox (Solo) | 3000 |
| Combo-1 (Bungy + Flying Fox) | 4750 |
| Combo-2 (Flying Fox + Swing) | 4750 |
| Combo-3 (Bungy + Swing) | 6500 |
| Thrilogy Combo (All 3 Activities) | 8250 |
Safety, Health Concern And Other Requirements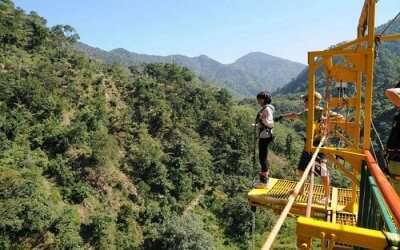 Safety: "Is Bungee Jumping safe in Rishikesh?", this is a common question which arises in the mind of every person. When it comes to bungee jumping in Rishikesh, or anywhere for that matter, safety is a major concern for sure. But, when you're in Jumpin Heights you don't have to worry about such issues. The authorities have ensured safety by appointing experts who have spent years operating extreme sports as bungee jumping in a place like New Zealand, which is the Adventure Capital of the World.
Australian & New Zealand Standards Authority Guidelines are followed in Jumping Heights. Right from designing of platforms, to exercising regular drills on site, the authority is highly attentive in dedicated towards safety.
Health: However, since the activity is extreme in nature, it is not recommended for people with the following medical conditions – Neurological Disorders, Epilepsy, Heart Condition, High Blood Pressure, Back or Neck injuries, Recent Fractures, Asthma, Osteoporosis, and Pregnancy.
Other requirements: To try this activity, the minimum age requirement is 12 years. The person has to be 35-120 kgs in weight.
Season For Bungee Jumping In Rishikesh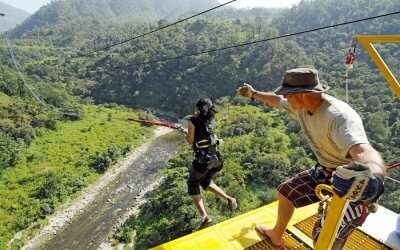 The best time for bungee jumping in Rishikesh actually is anytime around the year. However, it is suggested you avoid monsoon season, as some of the adventure sports in Rishikesh might get put on hold due to heavy rains or strong winds. Also, in the monsoon season you will not be able to enjoy other adventure activities in Rishikesh like river rafting and cliff jumping.
Other Activities To Try
Rishikesh isn't called the Adventure Capital of India for nothing. This place is not just known for its spirituality but myriad of thrilling activities one gets to indulge in while here. River rafting in Rishikesh, kayaking, cliff jumping, flying fox, rock climbing, parasailing, and mountain biking are some of the many things to do in Rishikesh which you can indulge in.
Nearby Attractions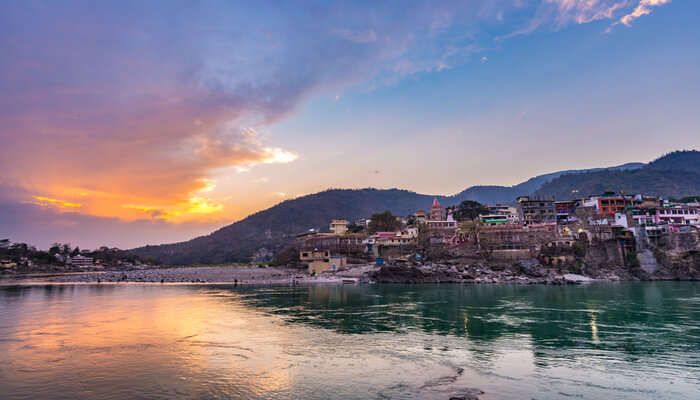 Other than activities, Rishikesh has sites you must step foot on. Triveni Ghat, Beatles Ashram, Neelkanth Mahadev Temple, and Lakshman Jhula are some of the best places to visit in Rishikesh and around if you wish to catch the essence of this ancient city merged with spirituality and scenic beauty.
Tips For Bungee Jumping In Rishikesh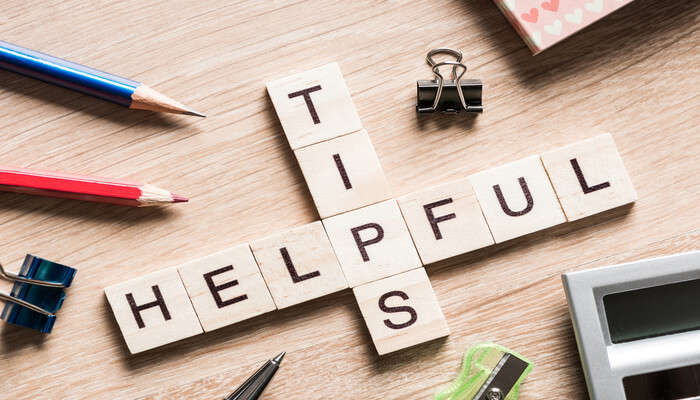 Here are a few tips for all those who are planning to try bungee jumping in Rishikesh. Read on!
Follow all the instructions given by the instructor.
Inform the instructors about any health condition you have beforehand.
Comfortable clothes are a must for Bungee Jumping.
Carry an extra pair of clothing with yourself.
Get yourself medically checked before heading for the activity.
Believe in yourself and say positive as you wil be under trained instructors and they will guide properly.
Now, that you know it all, you're all set for bungee jumping in Rishikesh on your trip to Uttarakhand. Don't forget to indulge in other adventure activities too. Have an experience to remember by visiting most of the famous places and create memories with your closed ones.
Frequently Asked Questions About Bungee Jumping In Rishikesh
What is the average cost of bungee jumping in Rishikesh?
If you wish to try just bungee jumping in Rishikesh, then the cost per person is INR 3550. However, this cost gets cut down if you opt for combo adventure package in Jumpin Heights.
Is bungee jumping safe in Rishikesh?
Jumpin Heights, where bungee jumping in Rishikesh takes place, follows Australian & New Zealand Standards Authority Guidelines. Most of the staff have a significant experience in exercising this and other adventure activities in New Zealand. Safety is a major concern for the authorities here, thus drills take place on regular basis.
What is the age limit for bungee jumping?
The minimum age limit for bungee jumping is 18 years and if you're below than that then a parental presence is required.
Is there a weight limit for bungee jumping?
For bungee jumping maximum weight limit is 265 lb.
How fast do you go when bungee jumping?
An average speed of the person falling from a height of 83 meters is around 140-160 kmph.
Can we do bungee jumping in Rishikesh in December?
Yes, we can go for bungee jumping in Rishikesh in the month of December. Do avoid the months of monsoon when going for this activity.
Is Rishikesh safe for women?
The town of Rishikesh is completely safe for women even when they are traveling solo. However, it is suggested to stay cautious when exploring the town during the nighttime.
Source https://perfectsmoothjazz.com/article/how-much-does-bungee-jumping-cost-in-depth-how-much-does-cost
Source https://lostinbostonsports.com/how-much-does-bungee-jumping-cost-is-it-worth-it/
Source https://traveltriangle.com/blog/bungee-jumping-in-rishikesh/