How Much Does a Bungy Jump Cost?
Bungy jumping is a rite of passage for today's travellers. The height of the bungy jump, is effectively your travel penis: Mine's bigger than yours. Mine was more beautiful. Mine went wrong. Mine splashed me. However, such mighty adventure sports can come at extremely high prices, and bruise even the tightest budget. Take your phallus in hand, and discover where the cheapest bungy jump in the world is.
Bungy Jumping Price Wars
I was filled with perky joy, as I tottered off with my giddy fingers to the bushy fringes of Googleland to fill this page with bungee jumping facts. Unfortunately I was thwarted at every turn. I had thought to bring you the ridiculous precursor to bungee jumping, and explain exactly how land diving works. I then thought to bring you a break down of the Five Highest Bungee Jumps on Earth. Seemed someone had beaten me to it. Seemed I had to find a new angle. (Seemed everyone spelled bungy differently.)
Then it hit me in the face, like the barren wasteland below an urban crane. We buy vegetables by the weight. We buy beer by the pint. We book hostels by the night. So, lets look at the price of bungy jumping around the world, by the metre. Lay your eyes upon this tangerine-tanned table, and marvel at the excel-lent break down of the real cost of bungee jumping.
Bungy Jump Locations
Height (m)
Cost (£)
Cost (£)/
Height (m)
Bloukrans Bridge, South Africa
216
£59
£0.27
Longqing Gorge Bungee, China
50
£15
£0.30
The Last Resort, Nepal
160
£55
£0.35
Victoria Falls Bungy, South Africa
211
£81
£0.39
Ponte Colossus, Veglio, Italy
152
£77
£0.51
Colorado River, Costa Rica
81
£45
£0.55
Macau Tower, Hong Kong
233
£145
£0.62
Corinth Canal, Greece
79
£52
£0.66
Niouc, Switzerland
190
£126
£0.66
Jungle Bungy, Pataya, Thailand
50
£35
£0.69
Verzasca Dam, Switzerland
220
£152
£0.69
Victoria Falls Bridge, Zambia
111
£79
£0.71
Stockhorn, Interlaken, Switzerland
134
£101
£0.76
The Nevis Bungy, Queenstown, New Zealand
134
£117
£0.88
Morrison's Quarry, Ottawa, Canada
61
£72
£1.19
Auckland Bridge Bungy, New Zealand
40
£55
£1.38
Viaduc de la Souleuvre, Normandy, France
61
£86
£1.40
Bali, Indonesia
45
£68
£1.52
Cairns, Australia
50
£79
£1.59
The Ledge Bungy, Queenstown, New Zealand
47
£77
£1.63
Kawarau Bridge Bungy, Queenstown, New Zealand
43
£83
£1.93
The cheapest bungy jump…
This threw up some interesting facts about bungy jumping. When you consider the price as a cost per metre, the Bloukrans Bridge jump in South Africa — the third highest bungy jump in the world — worked out to be the world's cheapest commercial bungy jump.
I'm getting my travel penis out here; I've jumped the Stockhorn. Having done that 134m bungy jump, I can say with confidence I wouldn't do another one. I actually believe it gave me a small fear for heights, which I didn't previously have. This was enhanced by the feeling that my loose trainers were slipping off my heels, as I dangled upside down, 200ft above an Alpine lake.
The research also proved my most obvious assumption: That New Zealand exploits the fact that people associate bungy jumping with the island nation. I doubt whether the major operators are solely to blame (the Father of Bungee Jumping is Kiwi, AJ Hackett who now operates bungy jumping sites in seven countries). I dare say the government are fearful of more bungy jumping accidents, and thus crank up the insurance premiums, sending the price of the popular adventure sport higher and higher.
… or, the best bungy jump?
It's also obvious, that the more off-the-beaten-track you venture, the cheaper your leap shalt be. However, this all begs the question: what is it that attracts us to skim the surface of death so freely, and pay so handsomely for the 'pleasure'? It seems to be one of the biggest paradoxes of today's backpacking culture: Lie on nice beaches; Enjoy local cuisine; Hike in beautiful countryside; Learn a new language; Visit endless cathedrals, galleries and museums; Get hurled off a bridge by someone you just met.
Have you done any of these bungy jumps? Was the risk, worth the price? Did you tell your mum beforehand? How much would be too much to pay?
Bungee Jumping Cost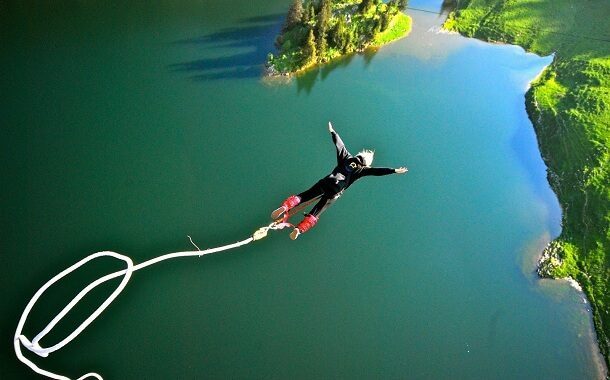 As most people already know, bungee jumping means leaping from high altitude, a tall building or structure, while bound to an elastic rope. People jump from all sorts of high places, from portable or manually designed setups, crates, bridges, mountains or even big rocks and trees. Although there is no experience required for someone to jump, you should use professional equipment and have someone with technical knowledge and experience around you to help at need.
How much will bungee jumping cost?
If you're planning to jump alone, then an individual or solo bungee jumping will cost around $50 to $500 for every jump, depending on a few factors like the height of the jump and your location. It will cost you more to jump from a higher structure. If you're a beginner, then you should know that the easiest to jump from are bridges, especially since you can be taken right to the jump site, without having to hike to the location. Artificially designed structures, created for the sole purpose of jumping will also be easy to jump from, usually having an elevator or stairs to take you to the jump place. On the other hand, mountains and big rocks will be harder to jump from, usually because you'll have to hike or scale the full height of the These facts will directly reflect into the final price, meaning that you will spend around $100 to jump from a 150 – 200-foot bridge or tree, and around $450-$500 to jump from a 1,000-foot rock that needs climbing or hiking. The rope will usually get tied either to your ankle or all-around your body, depending on the position you choose to jump in (either in an "elevator drop" or a headfirst jump). If you opt for the ankle harness then you should get long pants, and if you go for the full-body harness then it's a good idea to get a collared shirt, to avoid bruises that are caused by the rope rubbing against your skin.
Some locations and companies will allow you to jump in pairs or even triples. Jumping in tandem will cost around $400 and will allow you to jump with someone at the same time.
If a normal bungee jump isn't interesting enough, then try to jump at night. A night jump will cost about $200 – $250 at some locations.
If You're An Adrenaline Junkie, You Should Also Try Skydiving
Although there is no experience or training needed to jump, if you never jumped before, you will get a short introduction to jumping positions, equipment, and best practices when jumping. You don't have to bring anything with you to the jump; the bungee jumping company will supply complete professional equipment needed from the jump, from the harness itself to goggles and helmet if needed. You will jump the full length of the rope.
After you jump, you will be taken to a safe place by the professional crew.
Are there any additional costs to bungee jumping?
You will usually have the possibility of buying pictures of the jump. You will spend around $10 to $50 for a CD with 50 photos or around $5 per photo, depending on the location you are in. You will also have to consider the cost of transportation to and from the jump site.
People that buy professional bungee jumping equipment will usually spend anywhere from $1,000 to $3,000, depending on multiple factors such as your weight, the length you need, type of helmet and goggles. You should buy new equipment rather than used gear to make sure you are 100% protected.
Here are a few tips to spend less:
You will usually have discounts for multiple jumps bought by the same person on the same day. The discounts could be as little as $5 less for every jump or as high as $50 less per jump.
Reserving jumps for a group of people will usually get you a substantial discount also.
Be sure you're mentally ready, because some companies will charge you before getting to the leap site with a no refund policy, so you might end up paying and not jumping if you're too scared.
Should the average working Joe try bungee jumping?
If you're an adrenaline junkie then bungee jumping is exactly what you need. The free-falling from high altitude is an experience very hard to reproduce in any other environment. Even if you're not into extreme sports then you should try it at least once. It's something you will never forget. In terms of money, although it might seem expensive for some, the price is adequate, seeing that equipment is expensive and you put your life in the hands of the crew behind the jump.
Alec Pow is a thorough and methodical Financial and Business Analyst with over 15 years of experience in financial statement analysis, Foreign exchange derivative hedging instruments analysis, modeling, and risk management, with a long history of writing for big news publications like Forbes, MSN.com, Washington Post, and many more.
How Much Does It Cost to Bungee Jump? (Country Prices)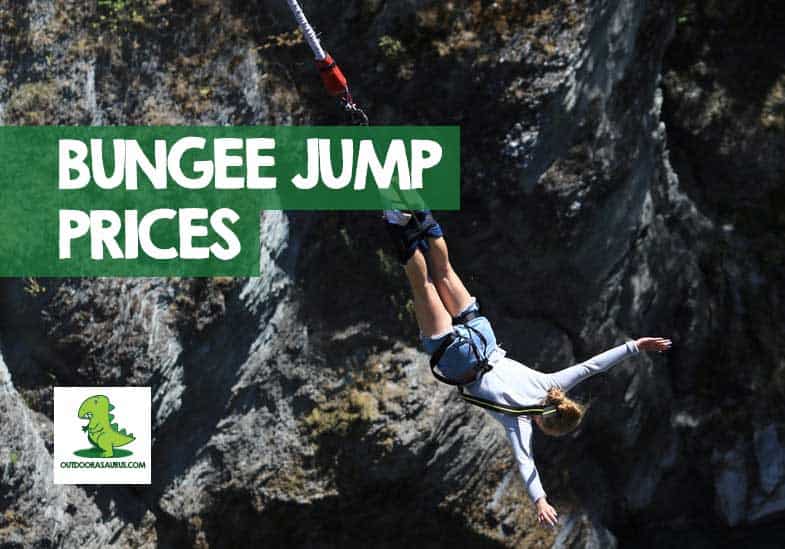 You can't beat the thrill of a bungee jump. Some have stunning locations, some are higher than others, and some are just from a crane. This accounts for the wide range in bungee jumping prices that world over. But just how much should you expect to pay?
What does it cost to bungee jump? In the US, bungee jumping costs between $30 and $400, UK prices between £50 and £190, and New Zealand $150 to $275. The price of a bungee jump will vary depending on the height and location of the jump.
Prices in different countries or locations
All of the costs shown below have been converted from the local currencies into US dollars and into GBP pounds. I tried to get an average price in each location where possible. If not I found the cheapest and the most expensive experiences.
Australia: costs $149 / £116
Canada: costs $122 / £95
France: costs $44 to $153 / £34 to £119
Goa: costs $42 to $63 / £33 to £49
Nepal: costs $100 / £78
New Zealand: costs $150 to $275 / £117 to £214
Rishikesh: costs $47 / £37
South Africa: costs $64 / £50
United Kingdom: costs $64 to $244 / £50 to £190
United States: costs $30 to $400 / £24 to £311
Bungee jumping costs from around the world
I also researched into some of the most stunning and popular bungee jumps across the globe. Here's how much it costs to bungee jump if you want a great location, experience, and view!
1. The Kawarau Bridge in New Zealand
This is often referred to as the home of the bungee jump. It's where AJ Hackett set up the first ever commercial operation in 1988 (read more about the history).
The jump itself is 43 meters high, so not the highest around, but that's more than made up for with the stunning views of Kawarau River… and you can even dip your head in the water if you're brave enough!
Bungee jump costs: $150
2. Albufeira Beach in Portugal
After spending a day relaxing on the Algarve beach, why not take things up a notch with a thrilling dive over the water? That's exactly what you get with this Portuguese operator!
This is one of only 5 water touch jumps in the world, and lets you jump from a 40-meter height to dip your head for a cool and refreshing adrenalin rush.
Bungee jump costs: $57 / £44
3. Nevis Bungy Jump in New Zealand
At 134 meters, this is the highest jump experience in New Zealand, and the third highest in the entire world. Often referred to as the birthplace of bungee jumping, this is one location you cannot miss once you get bitten by the bungee bug.
Jumpers will fall for nearly 9 seconds, plummeting towards the ground in a mix of adrenalin and fear. Are you brave enough to jump from the Nevis Bungy?
Bungee jump costs: $245 to $275 / £194 to £217
4. The Sky Tower in New Zealand
This is another one of AJ Hackett's operation, so you know you're in for a thrill as this guy is the godfather of bungy (as they spell it in New Zealand). At 328 meters high, this is the tallest building in the country, so nerves of steel are required!
However, the jump will only be from a height of 193 meters. Only I say! Well, that still makes it one of the highest bungees you will ever encounter so get strapped in and ready for big fall.
Bungee jump costs: $175 to $225 / £138 to £178
5. The Stratosphere in Las Vegas, USA
At almost 270 feet, this will be one of the biggest leaps of your life. You will accelerate up to a speed of 40 miles per hour above the Las Vegas skyline.
This one actually holds a world record for the highest commercial decelerator descent facility. That's a bungee jump in case you were wondering.
Bungee jump costs: $130 / £101
6. Niouc Bridge in Switzerland
This bridge is 200 meters high, so not for the feint hearted. However, if you are brave enough to give it a shot, you will experience what the operator calls the most beautiful bungee jump in the whole of Europe.
In 1996, the facility was renovated and started offering bungee experiences. At that point in time it was said to be the highest bungee bridge on the continent.
Bungee jump costs: $202 / £160
7. Souleuvre Viaduct in France
This is one of AJ Hackett's European sites, so you are guaranteed quality, safety, but more importantly… fun! The viaduct is 61 meters off the ground and offers stunning views from the specially designed jumping platform.
To get to the jump location you will need to walk 140 meters across the viaduct whilst taking in the views of the stunning valley. And once you jump, you're going to get an even closer look!
Bungee jump costs: $154 / £128.
8. Valgadena Bridge in Italy
At 512 feet high, this isn't one for those who don't have a head for heights. It's located high up in the mountainous Plateau of the Seven Communes, offering amazing views and an amazing jump experience.
Once you reach the ground you can opt for a bit of rock climbing. That's if you can still muster the energy of course! This is Italy's highest bungee jump and has to been seen to be believed.
Bungee jump costs: $111 / £88
9. The Flying Fox in Rishikesh
The Flying Fox is the highest bungee jump in the whole of India. It's 83 meters high and has very strict safety standards that are on a par with Europe, New Zealand, and the United States.
Once you jumped you can also have a go on the giant swing and other extreme sports facilities located on the site.
Bungee jump costs: $50 / £40
10. The North Greenwich Arena (the O2 London Dome)
This crane jump is in London, slap bang next to the famous O2 Arena. At 160 feet high, it's one of the highest in the UK, and offers views of the whole of London and River Thames.
Book early to avoid disappointment as this will frequently get busy during the summer months. You spend 2 hours on site and get a personalised certificate at the end of the experience.
Bungee jump costs: $95 / £75
11. Titan Crane in Glasgow, Scotland
At 45 meters high it's not on the list of the tallest, but you will fall towards water which more than makes up for the lack of seconds you spend in free fall.
Currently the Titan Crane is closed due to construction work, but it is anticipated to re-open next year, so why not see if you can book now to avoid the inevitable rush to jump again once it's back up and running.
Bungee jump costs: $97 / £75
How much does is cost to bungee jump from a helicopter?
Bungee jumping from a helicopter costs a lot more than a static jump location from a crane, bridge, or building. I found a couple of suppliers globally with prices ranging from $730 to $1,000 dollars. You can read this guide to heli-bungee which includes a handful of locations around the world that offer it.
I even found one supplier based in Chile who will let you bungee jump from a helicopter… but over a live volcano! Madness, as are the prices which are set at over $15,000 dollars!
Handy Hint: Find out what my first bungee jump was like in this article about what a bungee jump will feel like the first time. Also includes comments from other people who took the plunge!
How much does it cost to build a bungee jump?
But how about if you want to set up your own bungee jumping business? How much will it cost to get up and running and build the bungee jump?
Unfortunately, there aren't any companies I could find that will sell you a business set-up ready to go. However, the price really does depend on how you want to do it.
For example, will it be a crane bungee jump? Will it be from an existing structure such as a building or bridge?
Because there are so many variables at play involved including local legislation, insurance, and laws there is no right or wrong answer here.
I would recommend you first contact your local authorities to find out what the law is, and then based on that approach suppliers of the equipment and venues you will need.
Handy Hint: If you are worried about jumping for the first time, read this article which tells you how to prepare for a bungee jump. It includes tips on how to prepare mentally, how to choose an operators and some do's and don'ts.
Conclusion
Bungee jump prices differ wildly depending on where you are. For example, in Asian counties the prices are very low in comparison to Europe, New Zealand, and USA.
However, if we take what I've found and made a calculation based on the average, I would say what it costs to bungee jump will typically be around $150 in the West, and around $60 elsewhere around the world.
The bottom line is this; how much your next bungee costs will depend on the jump location, how high the jump is. In most cases, the higher the jump, the more expensive.
You might also like…
Recent Posts
Over the last month, my 7 year old son and I have started geocaching as our new hobby. Despite what you might have heard, you don't need a load of expensive gear as beginner. In fact, most people.
For those new to geocaching there can some weird and wonderful terminology and phrasing at play. Most acronyms and sayings are easy enough to get the hang of and will make complete sense once they.
About Us
My name is Marc, and this is my place on the web where my son and I share the adventures we have in the great outdoors. That includes urban exploring, WW2 history, camping, geocaching, and anything else that we can find to do out of the house.
LEGAL INFORMATION
Outdoorasaurus is a participant in the Amazon Services LLC Associates Program. This is an affiliate advertising program which has been designed to provide a means for websites like ours to earn advertising revenue by advertising and linking to Amazon. Outdoorasaurus is compensated for referring users and business to Amazon plus other businesses linked to on out website. As an Amazon Associate I earn from qualifying purchases.

report this ad

report this ad
Source https://www.trailofants.com/how-much-does-a-bungy-jump-cost/
Source https://www.thepricer.org/bungee-jumping-cost/
Source https://outdoorasaurus.com/bungee-jumping/how-much-does-it-cost-to-bungee-jump/