Guide To Bungee Jumping In Thailand
Notice: Undefined offset: 0 in eval() (line 48 of /srv/www/dev.phanganist.com/public_html/modules/php/php.module(80) : eval()'d code).
Are you craving an adrenaline rush or something exciting to do? Then bungee jumping is the activity for you! You'll get the thrill you desire when you're free-falling from up high, no doubt about it. The whole ordeal may only last a few minutes, but the memory will last a lifetime. And lucky for you, Thailand has some fantastic locations for this exciting experience! Continue reading to learn about the best bungee jumping operators in the country.
Top Spots in Thailand to Try Out the 'Leap of Faith'
The following bungee adventure destinations are the most popular for an exhilarating experience during your stay in Thailand.
Xbungy
Pattaya
This is possibly Thailand's most popular bungee adventure location. The bungee height at Xbungy is 60 meters, making it the highest in Thailand. A free-fall jump from such a height will be an incredible opportunity that you should not miss if you are in Pattaya.
The staff is knowledgeable and friendly. They will thoroughly guide you before your jump and make you feel at ease. And they will help you overcome your fears if you are new to jumping.
En route to the jump, you will be placed inside a case that slowly ascends. The view from the top is breathtaking, delivering a panoramic view of the entire city. You will be able to see the best of Pattaya, including its beautiful beaches and the sea on the horizon.
Since 1989, Xbungy has been a bungee jumping operator in Thailand. It is well-known for its safety procedures. It is SANZ ( Standards Association of New Zealand) certified.
Keep in mind that they ensure your safety by not allowing you to jump if you have a medical condition or weigh less than 35 kg or more than 150 kg.
You will receive a certificate of bravery and a complimentary T-shirt following your jump. In addition, the photos and videos of the jump captured on a Go-Pro camera will be available for an additional fee.
Other adventure sports available on campus include the human slingshot. You can get special discounts if you combine bungee jumping with the human slingshot.
Pattaya is only 150 kilometres from Bangkok and is easily accessible via well-connected highways. If you book the jump in advance, Xbungy will also provide pickup and dropoff from any hotel in Pattaya.
Cost: 2,500 Baht
Opening Hours:: 10 AM – 7 PM
Telephone: +66 38 301 209
Phuket Jungle Bungy Jump
Phuket
Bungee jumping is a popular adventure sport in Phuket. It's home to the second-highest bungee jumping location in the country. Experience a hair raising experience at Phuket Jungle Bunny Jump, leaping 50 meters to a lake below. The water feature adds to the beauty and thrill of the jump.
Professionals will record and photograph your leap in high resolution. However, they are not free, but you can purchase them before you leave if you like them.
Phuket Jungle Bunny Jump is a safe and professional Sanz-approved operator run by internationally famous trainers.
The location is very accessible. It is on Phuket island, in Kathu Village, only 5km away from Patong city centre. You can book your jump with them online or by calling. They also provide pick up and drop off services from your hotel.
Price: 2,200 Baht
Opening Hours: 9 AM – 6 PM (but no jump after 5:30 PM)
Telephone:+66 76 321 351
Samui Bungy Jump
Koh Samui
Chaweng, on Koh Samui's east coast, is another fantastic bungee jumping location. First-time bungee jumpers will love this spot.
Samui Bungy Jump is about a 50-meter high fall. It is an English-run business run by a professional and pleasant team since 2001. The experts will carefully explain the entire process before you leap.
What's unique about this location is that they offer a dry leap or a water dip bungee, which dunks you in a pool at the bottom of the jump. However, water dips are not recommended for first-timers.
They give you a free t-shirt and beer for your bravery after.
They have a 42kg-100kg weight limit for safety reasons.
Samui Bungy Jump is located between the Reggae Pub and EasyKart on Soi Reggae road, minutes from Chaweng beach. They offer pickup and dropoff services, which you must request while booking.
Price: 1,500 Baht
Opening Hours: 10:30 AM – 6 PM
Telephone : +66 85 791 1921
Chiang Mai X Centre
Chiang Mai
If bungee jumping isn't on your list of things to do in Chiang Mai, consider adding it. The Chiang Mai X Centre is an excellent venue for adventure activities. It has bungee jumping, go-karting with ATV bikes and automobiles, paintballing, and zorbing. In addition, there's a restaurant and bar on the premises where you can relax with friends after all the excitement.
This location's 50-meter jump is magnificent because it's surrounded by lush green forest, and you get breathtaking views of Mai Rim Valley from the top.
The SANZ-certified instructors will make sure you are calm, happy, and have an unforgettable experience.
After, you receive a complimentary certificate, T-shirt, video, and DVD with images of your jump.
Chiang Mai X Centre also provides insurance and hotel pickup and dropoff. This location is about 25 minutes away from Chiang Mai's city centre.
Price: Starting from 2,500 Baht
Opening Hours: 9 AM – 6 PM
Telephone : +66 53 297 700
Best Time For Bungee Jumping In Thailand
Thailand's bungee jumping season is November through April. It's not too hot or humid. Avoid the rainy season in this tropical country and book your adventure early to avoid disappointment.
Minimum Age Regulations
Most places have no bungee jumping age limit. Occasionally it's ten years. Instead, most venues mandate a minimum weight of 40 kg. Thus, children under 40 kg may not participate. Also, youngsters under 18 need parental consent.
Additional Tips For Bungee Jumping In Thailand
Pay close attention to your instructor. Their advice can prevent injuries.
Eat little before your leap.
Don't jump with your phone or weighty items in your pockets.
Sleep well and be calm before jumping. Relaxing and not being too weary before jumping reduces back/neck injury risk.
Some medical conditions prevent bungee jumping. For example, you can't jump if you're pregnant or have neck, back, or spinal injuries. In addition, cardiology patients can't leap. And you should consult a doctor before jumping if you have high blood pressure, epilepsy, asthma, or an eye injury.
You can't leap if you've used drugs or alcohol.
Book your bungee jump well in advance. Overbooking can occur during peak times. Sometimes they can accommodate same-day jumps when it's not so busy, but you may have to wait.
When in doubt about jumping, visit the centre to witness the process before booking. They won't refund you if you cancel at the last minute.
In Conclusion
If you're thinking of visiting Thailand and want to explore the best of the country, include this activity on your list. It can be an exciting memory to take home with you.
Bungee Jumping challenges you to overcome your fears. So fall free without worry and embrace every moment!
Guide To Bungee Jumping In Thailand For An Intriguing Experience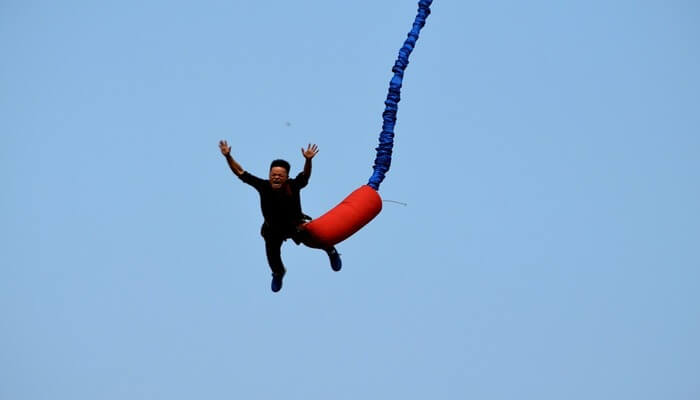 Thailand is an incredible country and an intriguing tourist destination – full of incredibly beautiful beaches, historic palaces, Buddha temples, astonishing adventures and a dynamic nightlife. People in Thailand are extremely friendly, warm and smiling. This place will amaze you with its internationally popular Thai food, invigorating and refreshing culture, appealing tropical areas, amazing modern towns and world renowned temples. This thrilling destination also offers high thrills of exciting spine tingling adventures including the rip roaring adventure of bungee jumping with incredible mind-blowing views.
Top Spots In Thailand For Bungee Jumping Thrills
Here is a list of top bungee adventure destinations for a stimulating exhilarating bungee experience during your vacay in Thailand:
1. Xbungy – Pattaya Bungy Jump
This is perhaps the most popular bungee adventure spot in Thailand. Bungee height at Xbungy is 60 meters – among the highest in Thailand. The staff is friendly, experienced and will guide you thoroughly before your jump. They will make you feel comfortable and help you face your fears – especially if you are a newbie to jumpee. Bungee Jumping here is extremely safe as spot has put a high standard for safety and has all the safety equipment necessary. For the jump, you will be taken inside a case which will move up slowly. View from the top spot is incredibly breathtaking. You will be able to see the good part of Pattaya, beautiful beaches and the fascinating colossal sea. Free fall jump from such a height will be a thrilling experience – something not to be missed if you are in Pattaya.
After your jump, you get a complimentary T-Shirt from Xbungy and HD video recordings as well as photos of your jump. There are other adventure sports as well in the campus like human slingshot. Also, you get certain discounts if you try human slingshot along with bungee jumping. The place will also provide pick and drop from any hotel in Pattaya – that is if you book for the jump in advance.
Cost: Around 2,500 Thai Bahts
Address: 12 Thep Prasit Rd, Muang Pattaya, Bang Lamung District, Chon Buri 20150, Thailand
Timings : 10 AM – 7 PM
Contact : +66 38 301 209 website : https://pattayabungy.com/
2. Phuket Jungle Bungy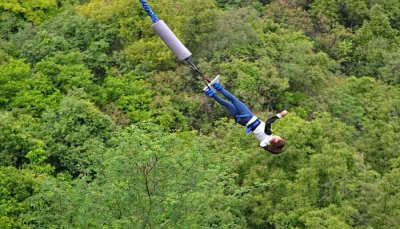 One of the most popular adventure sport spots in Phuket – bungee jumping here is a hair raising experience. This bungee jumping spot is extremely safe and professional. Run by internationally acclaimed trainers and being SANZ safety recognised – you can jump from this spot without a tinch of worry. There is a professional team which will take high resolution videos and photos of your jump. Height of this bungee jump is around 50 meters.
Price: 2,200 Thai Bahts
Address: Kathu, Kathu District, Phuket
Timings: 9 AM – 6 PM, ensure you reach there well in advance as there will be no jump after 5:30 PM
Contact:+66 76 321 351
3. Samui Bungy Jump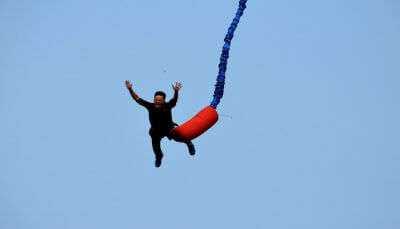 Samui bungy jump is situated in Surat Thani and will give you a mind blowing experience – especially if you are a first timer. Run by a highly professional and friendly team, this bungee is approximately 50 meters in height. Owner of this bungee spot – Mike, who is a Britisher – is extremely kind, courteous and welcoming. Samui Bungy offers the option of water dunk bungee – if you like to get down wet splashing in the water pool. The team will very gently explain the whole process to you in detail to make you very comfortable before your hair rising bungee jump.
Equipment and safety measures are in very good shape here. Bungee jumping is also relatively less costly compared to other locations in Thailand.
Price : 1,500 Thai Baht
Address: 3/130 Moo 2 . Soi Reggae, Chaweng, Surat Thani 84320, Thailand
Timings : Opens at 10:30 AM – Closes by 6 PM
Phone : +66 85 791 1921
Planning your holiday in Thailand but confused about what to do? These Thailand travel stories help you find your best trip ever!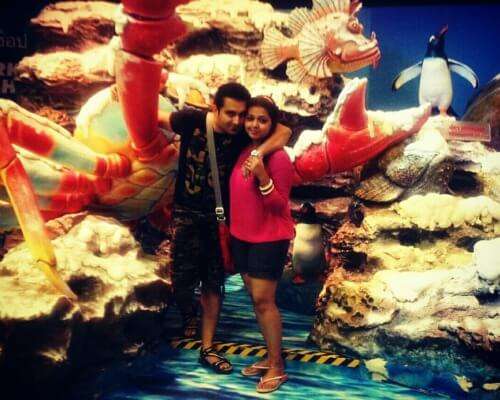 Devansh Went On A Honeymoon Trip To Thailand & Came Back With Some Useful Tips
The Best of Bangkok, Phuket, & Pattaya!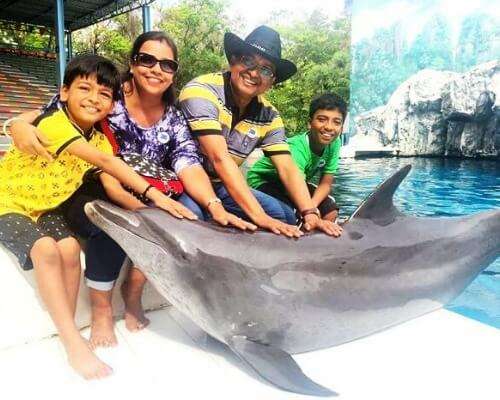 Parveen's Account Of A Family Trip Highlights The Best Places In Pattaya & Bangkok
Coral islands. Nong Nooch. Chao Phraya dinner cruise. Tell me more!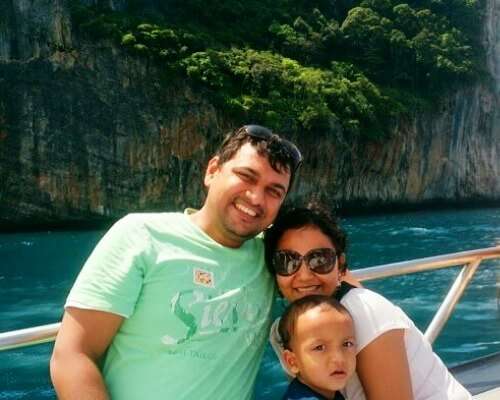 Apurva Breaks All Cliches With Her Account Of A Family Trip To Thailand
Traveling with an infant to Thailand isn't so bad afterall!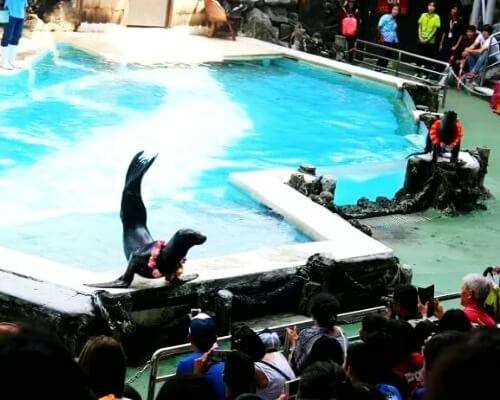 Jitnedra Gives An Illustrative Account Of His Trip To Thailand With His Family & Friends
Beaches, corals, speed boats, & temples. Where do you wanna go?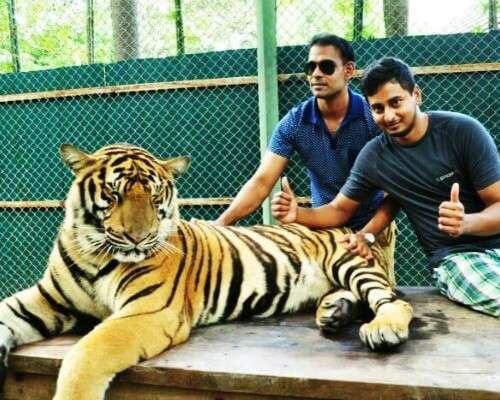 Karthik Is Setting New Standards For An All-Boys' Vacation In Thailand
Street food. Thai massage. Kayaks. Wow! I'm interested!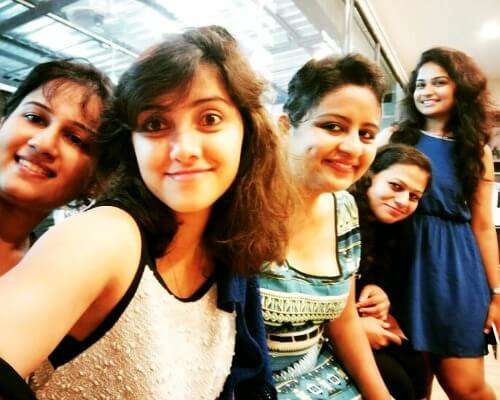 Ramya Narrates The Story Of 6 Girls On An Extraordinary Trip To Thailand
Bangkok. Phi Phi. Krabi. Why should guys have all the fun?
See more at TRAVELTRIANGLE.COM
4. X Centre Chiang Mai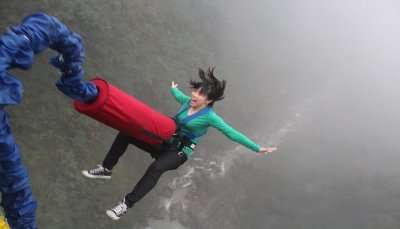 This is an incredible place for adventure sports. What makes the bungee jumping experience different here are its surroundings – this is a stunning jungle bungee jump area surrounded by beautiful lush green woods. Whole environment is serene with awe inspiring views from the top. Heart stirring experience of bungee here will be cherished by you for a long time to come in the future. Apart from bungee jumping, the place offers high excitement of sports like Go Karting with ATV bikes and vehicles. If you are with your friends, then you don't miss out on the colourful fun of paintball. With each bungee, you will get one colourful T-Shirt, certificate for your courageous bungee jump and a DVD with your videos and photos of the jump.
Price : Starting from 2,500 Thai Bahts
Address : 816 Rim Tai, Mae Rim District, Chiang Mai 50180, Thailand
Timings : 9 AM – 6 PM
Contact : +66 53 297 700
Best Time For Bungee Jumping In Thailand
The best time to participate bungee jumping in Thailand is from November to mid-April. This is the time when it isn't too hot or humid. Try to avoid the rainy season as this little tropical nation receives a lot of rain during the monsoons. Ensure you book your adventure well in advance to enjoy the best out of the rest.
About Local Currency And Exchange
One Thai Baht is almost equal to 2.34 Indian Rupees. While 1 dollar is equal to 30 Thai Bahts. If you are travelling from India then you need not take too many of Thai Bahts from here. Instead, you can carry dollars after exchanging INR from local currency exchanges in India and then get it exchanged to Thai Baht in Thailand. There are plenty of currency exchanges in Thailand everywhere, so it won't be a challenge. At most of the places you will also be able to pay with your international debit or credit cards. Dollars or Indian rupee will not be accepted in cash form at any of the bungee venue.
Some Useful Tips – For Bungee Jumping In Thailand:
Ensure that you haven't eaten much before your jump.
Remember to not have your mobile phone or any heavy stuff in your pocket before you jump.
Have a good night's sleep and come relaxed before your jump. It is important that you are relaxed and not very tired before the jump to reduce any chances of back/neck injury.
Book your bungee jump well in advance – if possible before you travel to the country. During peak times, there can be overbooking.
Be highly attentive with your instructor. Tips from them can save you from a potential injury.
Avoid water dip bungee jumps if you are a novice or a first timer. This may have some complexities involved and may need a little more care and practice to execute it safely.
Scream your heart out while you dive for Bungee Jumping in Thailand. Like any other extreme sports, Bungee Jumping requires you to step out, leaving your fears behind. If you plan a trip to Thailand and are seeking the best, then do add this sport to your itinerary. To get the best out of the moment, fall free with no fear and enjoy every single second of it.
Disclaimer: Some images are for representation purposes only. TravelTriangle claims no credit for images featured on our blog site unless otherwise noted. All visual content is copyrighted to its respectful owners. We try to link back to original sources whenever possible. If you own the rights to any of the images, and do not wish them to appear on TravelTriangle, please contact us and they will be promptly removed. We believe in providing proper attribution to the original author, artist or photographer.
Please Note: Any information published by TravelTriangle in any form of content is not intended to be a substitute for any kind of medical advice, and one must not take any action before consulting a professional medical expert of their own choice.
Most Frequently Asked Questions By Travellers And Bungee Adventure Enthusiasts While Travelling To Thailand
What is the minimum age for bungee ?
Most of the places do not mention any minimum age for bungee jumping. At few places it may be 10 years. However, there is a minimum weight requirement which is usually 40 kg at most of these locations in Thailand. So, kids weighing below 40 kg may not be able to participate. Also kids below 18 years of age will need signed no objection from their parents/ guardians.
Can any one sign up for bungee ?
Yes. Any one can sign up for the thrills of bungee in Thailand. The only thing you should meet the medical criteria specific to the location. Also, one must be fit to take this up. In case you are pregnant or suffering from Neurological Disorders, Epilepsy, Heart Condition, High Blood Pressure, Back or Neck injuries, Recent Fractures, Asthma, Osteoporosis, and Pregnancy.
Is it safe in Thailand ?
Yes. Thailand is quite safe. It has become a tourist hub and you will see all types of tourists coming down to Thailand including solo travelers, business travelers and family/friends groups. There aren't many incidents related to safety here.
Is bungee dive allowed if you are drunk ? Is alcohol served at these places ?
It is strongly advisable to not drink before your bungee jumping. At some places the instructor or staff may stop you from jumping if you are found to be heavily drunk. Most places will offer you drink after your jump, some will offer it complimentary to cool you down from the high adrenaline rush you may have witnessed.
What are the available mode of transportation to these locations?
Public transport is well developed in Thailand. You can hire taxis or shared cabs to reach your destination. There are state buses available as well in case if you are travelling from afar. At most of the places, you can also hire bikes / scooties on rent – but in case if you are driving rented two wheelers ensure that you have an international driving license. Most of these adventure locations also offer pick up and drop facilities – you may want to check it out with them in advance.
Is it possible to pay in dollars?
If you have an international debit or credit card, then you can pay via your cards where the billing will be in dollars. But the spot will not accept dollars if you are paying for your jump in cash.
Will Uber app work in Thailand ?
No. Uber service isn't available in Thailand. Although there is Grab taxi app which works similarly as Uber. Grab isn't strictly legal in Thailand but will work at most of the locations. Public transport is strong. And you get taxis or shared cabs easily from most parts of Thailand. There is also a strong network of state buses which can hop on to specially if you are doing inter city travel. There are bikes or scooters are also available on rent at most of the locations in Thailand – but then you will need an international driving license.
Where is bungee jumping in thailand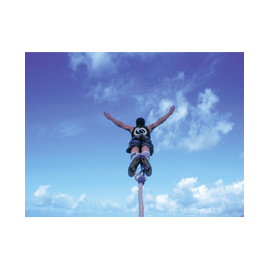 Single Bungy Jump
More Info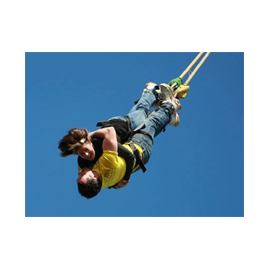 Superman Reverse
More Info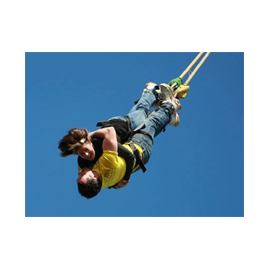 Tandem Bungy Jump
More Info
Welcome to Hero Bungy Jump Pattaya Thailand where Superheroes and legends come to jump! BOOK YOUR JUMP ONLINE
Bungy Jump Options
Hero Bungy Jump Pattaya Thailand
Where Superheroes and legends come to jump!
Bungee Jump with us and we'll promise you an unsurpassed day of adrenalin pumped action. Let our professionally trained staff guide you safely through an adventure of a lifetime.
Hero Bungy Jump Pattaya is the most scenic and attractive bungy jump location available in Thailand. Located in stunning rural countryside with spectacular 360 degree views from the top of our awe inspiring 50 meter bungy platform. Lush pineapple plantations, sparkling lakes, coconut groves and mountains lay amongst tropical jungle full of colorful wildlife including various inquisitive primates. The famous Kho Chi Chan Big Buddha mountain sets a formidable Thai backdrop. As do Pattaya's numerous – and rarely seen – tropical islands glistening like jewels along the coastline stretching from Bang Saray's quiet fishing village, through to Jomtien and onwards to the unashamed excess of the world's most exciting city – Pattaya.
At Hero Bungee Jump Pattaya Safety is our number 1 priority and our bungy structure – completely custom designed for our breathtaking location near Pattaya on Thailand's eastern seaboard is run by professionals with more than 30 years experience operating bungy jumps in Phuket and Chang Mai with an impeccable proven safety record. Our equipment is supplied and installed by the top New Zealand bungy authorities recognized by the "Code of Practice for Bungy Jumping", and our jumpmasters have been trained with full compliance of international bungy safety standards.
Although we take our responsibilities very very seriously we still know how to have serious fun. For a totally unique experience why not jump in one of our super hero costume outfits for a memory that will keep you and your friends laughing for years and years to come.
People have been jumping off cliffs, down mud slides and off bridges for centuries, from remote tribes in Africa to South America, this tradition has continued to this day in the form of professionally staffed bungy jumps – it's simply the modern day equivalent. The Question is; Why?!
If you've never taken the leap you might well be asking that very question, the answer is in the act itself. Most of us lead interesting for filling lives, but for many it lacks excitement. There is a part in all of us that yearns for something more, to make us feel alive again. A single moment that takes our breath away and leaves us in ore of natures natural forces. This is the reason we do it, to remind ourselves who we are. More than just part of the everyday crowd, more than just doing what It takes to get by day after day. Without this drive to challenge our senses and push ourselves to the limit, something inside us dies and seldom awakens. The opportunity to reawaken and blow your minds senses is here and waiting for you right now at Hero Bungy Jump Pattaya!
Source https://www.phanganist.com/thailand-tours-and-attractions-travel-guide-article/guide-bungee-jumping-thailand
Source https://traveltriangle.com/blog/bungee-jumping-in-thailand/
Source https://www.herobungyjump.com/