Doing The World's Highest Bungee Jump in Macau (233 Meters!)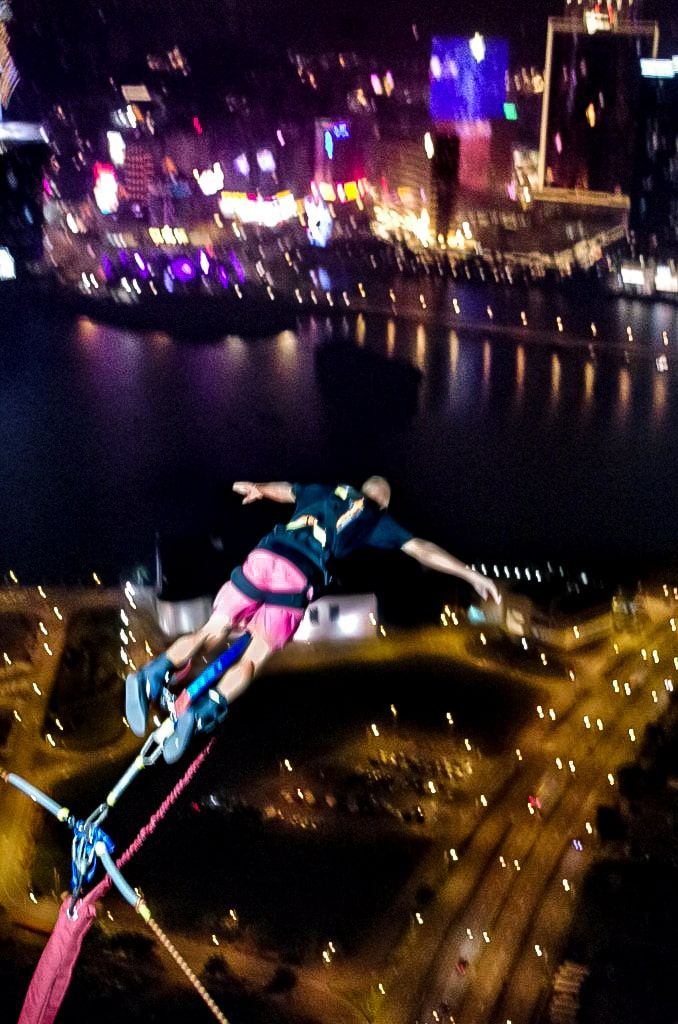 To celebrate my 30th birthday; I took on another Man vs Clock challenge of taking on the world's highest bungee jump in Macau by jumping 233 metres (764 feet) from the top of Macau Tower.
It was every bit as intimidating, pricey and exhilarating as I thought it would be, and even scarier than skydiving. Due to the location of the jump, there were some logistics to wrap my head around first, which included some country-hopping and additional planning.
By the end of this article, you'll know whether this is for you (or not) and most entertainingly for you, at the end of the post is my harrowing squeal as I commit to the big jump…
Table of Contents
FAQs About The Macau Bungee Jump
If you are fired up and ready to slay the Macau bungee jump dragon then you may have some questions about how to make it happen. Some of them are easy to answer while others require more explanation.
Either way, these answers will arm you with all of the information that you need to make this happen!
Where exactly is the Macau bungee jump? – The Macau bungee jump is located, unsurprisingly… in Macau. You'd be forgiven for not being able to point it out on a map though, as it is only made up of around 12.7 square miles. This small island city is officially known as a Special Administrative Region of China.
This means it enjoys its own limited autonomy, with a local government and local laws – famously including legal gambling. Located on China's southern coast and only 37 miles west of Hong Kong, Macau is a real mix of cultural influences. This cultural diversity is only enhanced by the fact Macau only gained independence from Portugal in 1999.
To do the Macau bungee jump, you need to make your way to Macau Tower or Macau Tower Convention and Entertainment Center to give it its official name. The tower, which you will be jumping off for the big event is located in the Sé parish of Macau.
How do I get there? – Flying to Macau has always been limited and for obvious reasons, it's even more limited at the moment! The easiest way to get to Macau is via its neighbour Hong Kong (which I highly recommend). There are two ways of getting from Hong Kong to Macau, either by the more popular ferry or by vehicle across the longest sea-crossing bridge in the world.
If you want to catch the ferry across from Hong Kong to Macau, your best bet is to catch the ferry from the Hong Kong Macau Ferry Terminal, located near the Shun Tak Centre on Hong Kong Island. This ferry leaves every fifteen minutes and will take around one hour, costing around HK$170 one way.
How much is the cost for the Macau bungee jump? – This adrenaline-seeking item doesn't come cheap. The full package, which includes the jump, videos and photos via a USB stick as a souvenir costs $3,488 Macanese Pataca ($430 USD) whereas the jump without the digital memento will set you back around $360 USD, for me the full package is a no-brainer.
Should I reserve my tickets? – Yes you should as the Macau Bungee Jump is usually fully booked, so turning up last minute if you are short on time could lead to heartache.
The best way to book a slot for the highest bungee jump is to go straight to the source, that being the 'Skypark Macau by AJ Hackett' official site.
Using the website, you must first select the book now feature.
Select whether you want a single or tandem bungee jump.
Choose the date and time you want to do your jump.
Add any extras on; these include media packages that take photos and a video of your highest bungee jump – you don't have to buy this if you don't want to.
Finally, you'll be asked to fill in your own details and payment details.
Contracts signed you've now booked a slot for the highest bungee jump on earth!
Is there an age limit for the jump? – You must be 12 years old and at least 90 pounds (40 kilograms) to do the Macau Tower bungee jump.
Is there a weight limit for the bungee jump? – Yes, the weight limit is 265 pounds (120 kilograms). If you are not too much over this weight you may be able to pay an extra fee of $30 and still do the bungee jump with the cost covering the extra precautions and arrangements needed.
Do I get my money back if I am too scared to jump? – Nope! You can get a full refund if you cancel 24 hours or more before but if you bottle it on the day you will have to turn back with double disappointment (like the young lady before I jumped found out).
What is scarier; bungee jumping or skydiving? – It might be hard to believe but bungee jumping is inherently scarier than skydiving. It's only 7 seconds, but it's way more intense and a part of you feels it is game over as you hurtle towards the ground below you.
However, even though skydiving is statistically more dangerous than bungee jumping, rather oddly my insurance company covers bungee jumping, but not for skydiving!
Should I Do The Bungee Jump During The Day or Night?
One of the things that really sets the Macau Tower Bungee apart from other jumps is the fact you can do it both during the day and during the evening. Night jumps can be done from 6 pm in winter and 7.30 pm during summer.
So which should you go for, day or evening? There's no real right or wrong answer to this, but here are a few pros and cons to consider (I did mine at night).
Morning
If you're an early bird and eager to jump, there are a few things to consider if you want to get your day off to a leaping start.
Pros
Views across the city are far clearer from the top of the tower during the day.
You can spend the rest of your day enjoying the sights and sounds of Macau.
If you pay for a video or picture package, these come out a lot clearer during the day.
Cons
Jumping in the morning is very popular, so you might have to wait longer on the day, or even struggle to get a slot unless you book in advance.
Evening
The nighttime jump on Macau Tower also has its pros and cons for the jump. Read on to see which one suits your personal taste…
Pros
Macau looks pretty beautiful from that high up at night with the lit-up skylines!
Evening jumps are far less common, so you're likely to get a time slot far easier and have considerably less waiting time.
Cons
Evening jumps will leave you less time to explore Macau or even get back to Hong Kong if you're short on time.
It gets pretty cold 800ft (240 meters) above Macau in the evening, so you'll need to dress up warm.
Winds can pick up in the evening, so prepare to be a little chilly while you wait at the top.
What To Wear For The Macau Bungee Jump
First off, you'll want to wear loose-fitting athletic clothing for your bungee jump, allowing you to move around a lot easier. You should also wear good-fitting shoes like trainers – you'll want that sturdy grip when your legs start turning to jelly at the top of the tower.
If you wear glasses, you'll have to take them off before your jump, so it's best to wear high-quality contact lenses if you can. Long hair should also be tied back (not that I'd know much about that world) and all jewellery, including watches, needs to be removed.
If you're doing a night bungee jump, it's probably best to change your shorts for something a little less exposed. Despite the fact temperatures in Macau can be quite high and humid, that all changes suddenly when you're nearly 800 feet (240 meters) in the sky and that cold wind smacks you around the face and legs.
You will see from my photo and video that I did not do this and rocked my ugly-shade-of-pink shorts for the jump. This was not due to me being an adventurous hardo who doesn't feel the cold (quite the contrary; I left my chilly, windy city forever and the depressing weather was a major catalyst for my successful escape).
The reason for my flashy attire was that I was a relative newbie traveller and had accidentally shrunk most of my clothes, so I had to buy them on the fly.
So please, take advice from someone who did a nighttime bungee jump in Macau in shorts… opt for comfy, warmer trousers instead.
Is The Macau Bungee Jump Really The Tallest?
After serious research, I can confidently confirm that the Macau Tower bungee jump is the highest commercial bungee jump on earth and definitely the most accessible, sit tight while I demystify some bones of contention.
The extreme sports veterans amongst us may have looked at this title and thought; what about Colorado's Royal Gorge Bridge and China's Hunan Province?
You'd be right in thinking that when it comes down to the nitty-gritty mathematics, there are some other contenders for the title of the highest bungee jump in the world. While the Macau bungee jump is an eye-watering 233 meters above ground level, the Colorado and Huan Provence jumps come in at 320 and 290 metres, respectively.
So why does the Macau bungee claim to be the highest bungee jump in the world?
Well, it all comes down to a vital thing called accessibility.
Bungee jumping from the Royal Gorge Bridge is only allowed to a select few during an extreme sports festival, and access to the Hunan Province jump has been restricted, if not totally discontinued due to Covid-19. I will of course keep this updated though, as I am a stickler for untrue record claims being edited on here.
In fact, the Macau bungee jump was awarded the Guinness world record for the highest bungee jump when in 2006, the father of modern bungee jumping A. J. Hackett threw himself off the edge in true Hackett style, opening it up to a long line of adrenaline junkies.
Is The Macau Bungee Worth The Hype?
The Macau Tower bungee jump was worth every penny, each second and every ounce of fear that I felt until I jumped off Macau Tower that night.
Actions speak louder than words, so I thought I'd let the video do most of the talking here. An important note to be added is that a young lady before me was absolutely terrified and kept freezing up every time she was about to jump, falling back onto her arse in floods of tears and hysteria.
She never ended up jumping (as mentioned above, you don't get a refund in this situation), this extra wait built up the fear for me even more intensely.
I touched upon this in my volcano boarding in Nicaragua article – looking down for too long makes events like this even more terrifying.
It was certainly intimidating looking all the way down when I finally got tied in and given the green light to go. Doing the world's highest bungee jump in Macau was like an out-of-body experience…what a perfect way to celebrate this big life milestone by saying "thank you" and "farewell" to my 20s and quite literally – jumping into my 30s.
Macau Bungy Jump – Highest in the world
Of all the places to visit in Macau, if it's an adrenalin rush that gets you going head for Macau Tower. AJ Hackett's is the face that launched a thousand flips, and the gob-smacking (metaphorically speaking) Macau bungy jump he devised from the top of the Macau Tower is poised 233m above the ground – making it the highest bungy jump in the world.
No matter whether you're a bungy virgin or if you've jumped before, standing on the edge of the platform, suited and booted, it's difficult to appreciate the panorama that encompasses the city, the sea and the People's Republic of China stretching away to the north. Your thoughts are entirely concentrated on what is immediately below.
Macau Bungy Jump
Get ready for the highest bungee jump in the world.
Everyone is told that the bungy cord has a breaking strain of 2.2 tonnes – that's strong enough to hold an elephant. But, at the back of your mind, there's always a smidgen of doubt.
"Yeah, I hear you, but what about if…"
There again, it's the element of danger that keeps people queuing up for a bungy day after day. That, and the sheer exhilaration of flying through the air with the greatest of ease.
Are you sold on the idea yet?
Need to know more? Watch this video for insights into the psychology of the jump.
Mechanics of the Macao Tower Bungy Jump
Macau Tower bungee jump is an experience you'll never forget.
In order to make the Macau Tower bungy jump a reality, a specially designed bungy cord, as well as guide cables, and a recovery system had to be developed.
Hackett and his team masterminded the new design and testing of all equipment, coming up with a final result which is referred to as the second-generation bungy cord.
Essentially, its design is sphere-shaped, making it larger at the top than at the bottom, so allowing a jumper's weight to be evenly dispersed over the entire length of the cord when jumping from 233m above the ground.
As jumpers accelerate toward the ground, the bungy slows their progress, then rebounds them back up.
The guide cable system ensures they do not make contact with the tower and allows bungy jumps to take place in nearly all weather conditions, apart from typhoons. The prime concern is safety.
Who operates the Macau bungy jump?
The highest bungee in the world. Do you dare?
The world's highest bungy jump had a curious genesis.
On a visit to Auckland, New Zealand, Macao casino tycoon Stanley Ho Hung-Sun was so impressed by the city's landmark Sky Tower that he commissioned a similar one to be built in Macao.
It opened in 2001, and five years later AJ Hackett himself – together with film star Edison Chen Koon-hei – made the first jump from the tower, giving it a well-earned place in the record books.
The procedure for jumping at Macau Tower is dominated by the paramount need for safety.
After riding up in the lift, jumpers are weighed, checked for loose items, and carefully briefed on what they need to do.
Every bungy jumper at Macau Tower is secured by two points of contact, with a traditional foot tie around the ankles as well as a waist harness.
Does bungy jumping hurt?
The staff are utterly professional, exuding confidence and calm, friendly and reassuring, and well used to answering every question under the sun.
Q: "Will I hurt my back?"
A: "Nope, the cord's made of elastic and stretches with you – you'd feel more of a bump jumping off a chair."
Q: "Will my retina detach?"
A: "Nope, the effect's the same as if you sneeze."
Q: "Are you sure it's safe?"
A: "We've done more than 2.5 million jumps around the world over 25 years, and never had an accident – the odds are pretty good, eh. Now, relax."
The memory that sticks in every jumper's mind is the moment when they step up on the platform and the phrase "thin air" suddenly assumes an incredible potency.
Nobody gets pushed off, no matter how long they dither, and indeed most jumpers take a leap into the unknown immediately at the end of the countdown: "5,4,3,2,1 – BUNGY".
It's contrary to everything you've ever been taught. Yet you do it. And plummeting through space, even though it lasts only seconds, is something that stays with you for the rest of your life. You're flying.
Benefits of bungy jumping
Macau Tower bungee is an exhilarating experience.
If the moments before a bungy jump are filled with trepidation, and the jump itself passes in the adrenaline rush of a lifetime, for hours afterwards you feel not so much on top of the world but as if you're soaring above it.
"I'm alive – and it feels incredible: breathing, seeing, feeling, in fact, I am aware of every single one of my senses."
Add to that the feeling of achievement – not quite an Olympic Gold Medal, but very close.
You've diced with a close cousin of death, and come out the winner. If you can bungy jump, you can do anything.
Not for nothing is it said that bungy jumping is the equivalent of five years of therapy.
And if you've done it before, there's always the option of taking a leap in the dark, as night bungy is available at Macau Tower from 6 pm in winter and 7.30 pm in summer.
Other Macau Tower attractions
AJ Hackett Macau also offers the Macau Skyjump, Macau Tower Climb and Skywalk Macau. The Macau Tower buffet is an impressive spread with amazing views.
Macau Tower Skywalk
The Skywalk seems downright sedate compared to the bungy jump and while there are no handrails and there's nothing between you and the ground below, there are safety harnesses to ensure no one ends their holiday disastrously.
The Skywalk entails circumnavigating the exterior of the tower on a two-metre wide platform.
It's not too scary until you decide to walk to the extreme edge of the structure and peer down to the ground way below.
During such moments, you appreciate the great faith we place in technology and the overhead harness and straps that keep you on the straight and narrow.
The whole exercise is a 15-minute, knee-wobbling adventure and after a few photos to immortalise the momentous event, most adventurers are more than happy to return to the safety of the public viewing area of the tower.
Macau Tower Mast Climb
Another adventurous activity at the Macau Tower is the Mast Climb (from the 61 st floor at 233m to a height of 338m).
Once again, participants are strapped on so it is all safe.
Armchair travellers will enjoy safe and spectacular elevated views from the Macau Tower over the historic city below, the South China Sea and mainland China.
The lunchtime buffet served here is highly recommended but preferably after attempting any of the thrill-seeking activities.
More bungy jumping questions
Who invented the bungy jump?
Bungy jumping is a relatively new sport. AJ Hackett from New Zealand did the first bungy jump from Greenhithe Bridge in Auckland in 1986.
What is a bungy jump?
Bungy jumping is an extreme sport where you jump from a bridge or a tower with an elastic rope tied to your ankle. The rope stretches to allow you to bounce back up and not hit the ground.
If you're travelling with the family, here are more things to do in Macao for kids. Macao has a growing collection of new Macau hotels and luxury resorts and a Macau nightlife is vibrant. Check out Macao's hippest neighbourhood – Taipa and wander the back streets to discover the city's European charm.
The Macau Tower Bungy Experience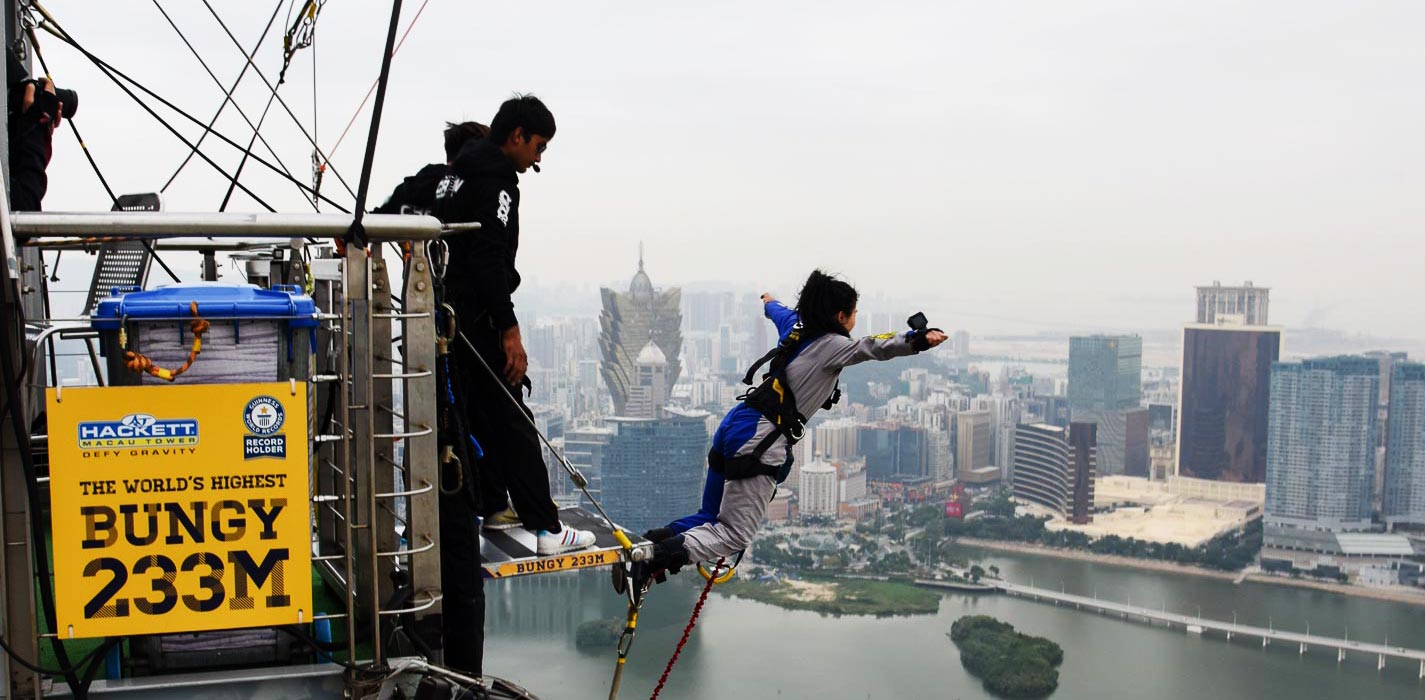 You find yourself standing at the edge of the platform, beneath is 233m of space between yourself and the ground. Your heart pounds and your palms are colder than the winter wind hitting your face; you wonder for a moment how you even got yourself up here.
For our December 2016 interns, this was a little surprise challenge; especially for the one with an extreme fear of heights
We'd gone for a relaxing skywalk around the building and they thought that was it. Little did they know, we had something bigger in store for them. Check out 5:41 of our trip video to see their reaction.
Terrified as they were, they eventually took on the challenge with a bit of tactical nudging from us;)
Did they hate us after the jump?
For those who've done something crazy like this, I think it's safe to say, the experience is pretty addicting. The more afraid/unsure/doubtful of your abilities, the more rewarding it will feel when you've finally done it. I guess that's why adrenaline junkies are constantly pushing themselves over greater heights (geddit?).
Macau Tower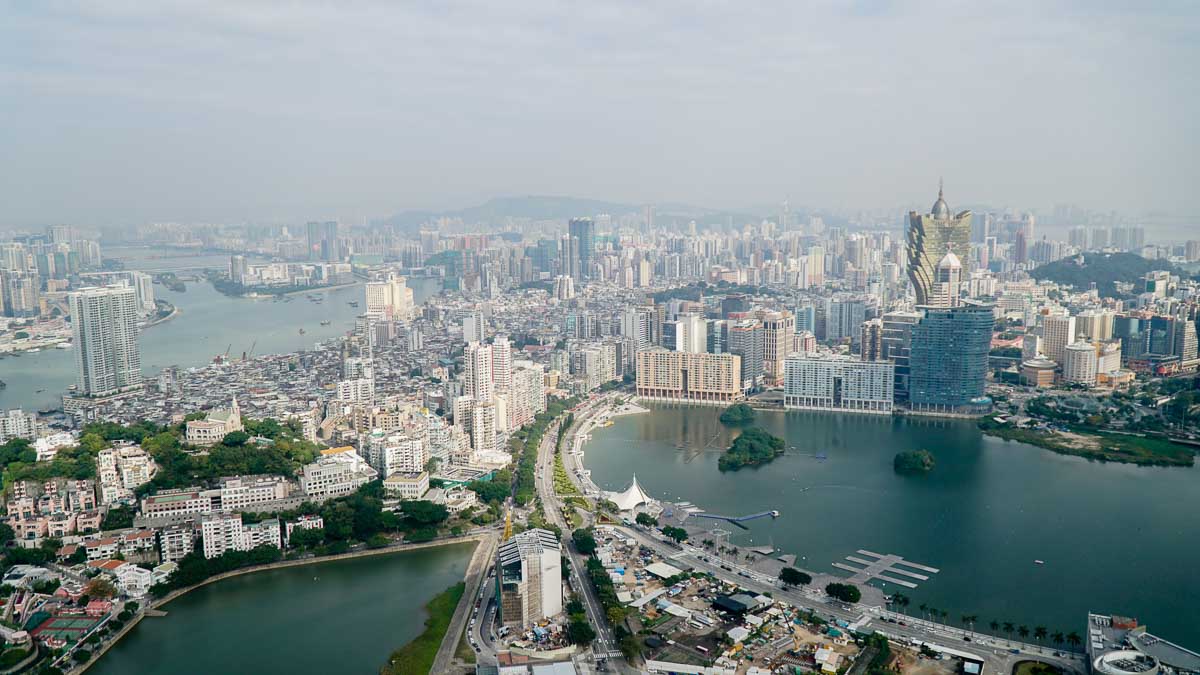 At 338m high, it offers the best and most unobstructed view of Macau city. Many locals and tourists come up to enjoy the views, have dinner, get a little shopping done; but if you're here for some adrenaline, you're definitely looking at the right place.
Entrance Fee: MOP$135 (~S$24) or $15 on Klook
Opening Hours: 10am–9pm (Weekdays); 9am–9pm (Weekends)
AJ Hackett's Bungy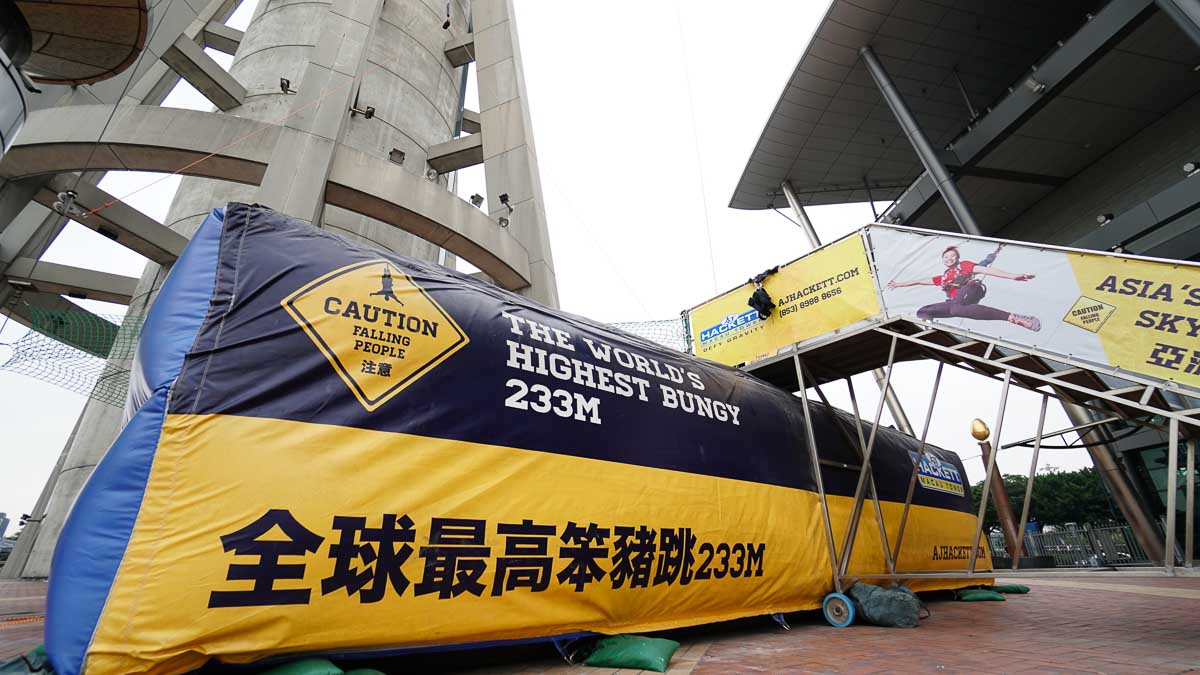 Up on the 61st floor of the Macau tower, this is currently the tallest bungy platform in the Guinness world records (since 2006). AJ Hackett also has a reputation for being one of the safest adrenaline sport companies in the world with zero accident records.
Fun fact: AJ Hackett once jumped off the Eiffel Tower — illegally.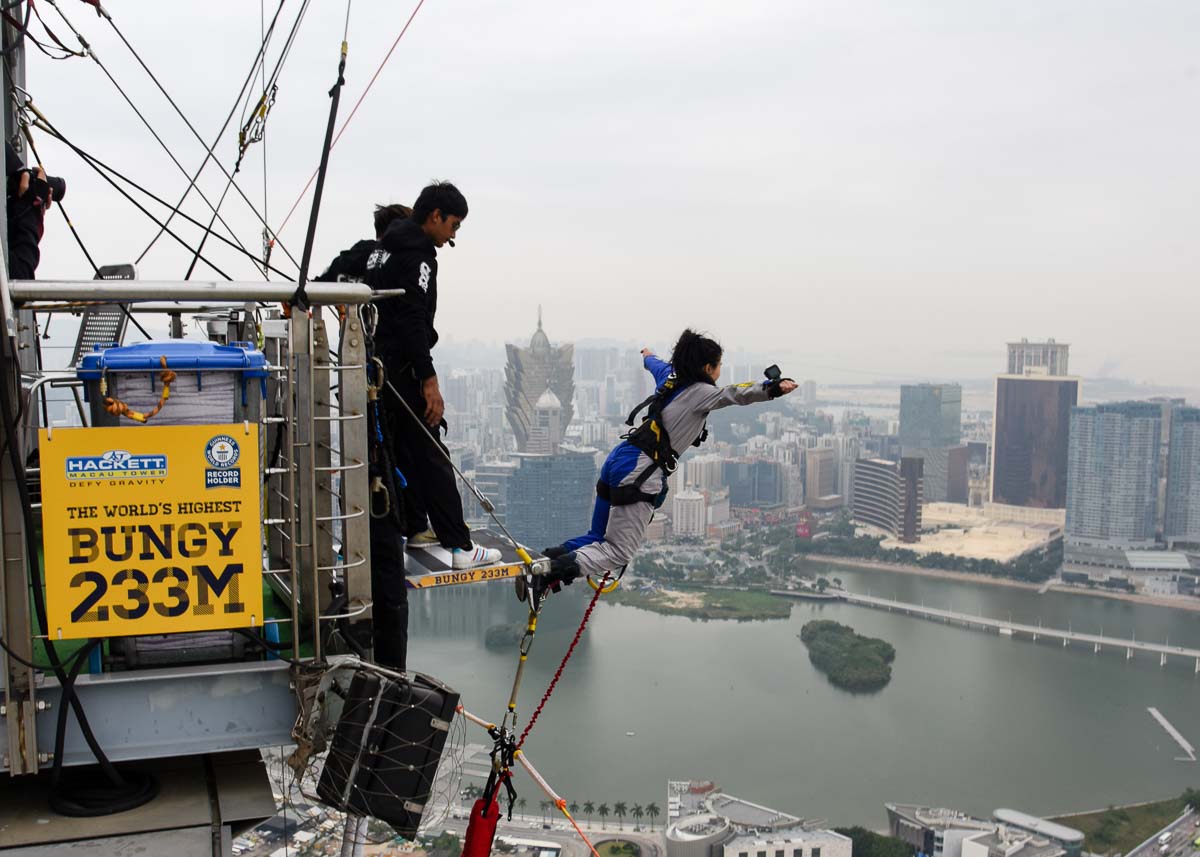 If you were wondering whether you'll swing out and hit the building mid jump, you're not alone.
Apparently AJ Hackett came up with a unique cable design that stops that from happening. Even though you're free falling, there are mechanisms in place to keep you on a single plane. Which actually makes it a great virgin bungy experience as it reduces the chances of getting whiplash (common in most outdoor bungy attempts).
Cost: MOP$3488 (~S$622); Full package MOP$3988 (S$712) including footage and merchandise or S$515; Full package S$622 on Klook (Includes Macau Tower entrance fees)
*Pro-tip: Make use of the AJ Hackett membership discount for a second jump at night. The experience will be entirely different!
*2nd Pro-tip: If you're really scared, look for Ryan. One of the most friendly and assuring staffs we've come across while we were at the Macau Tower.
Skyjump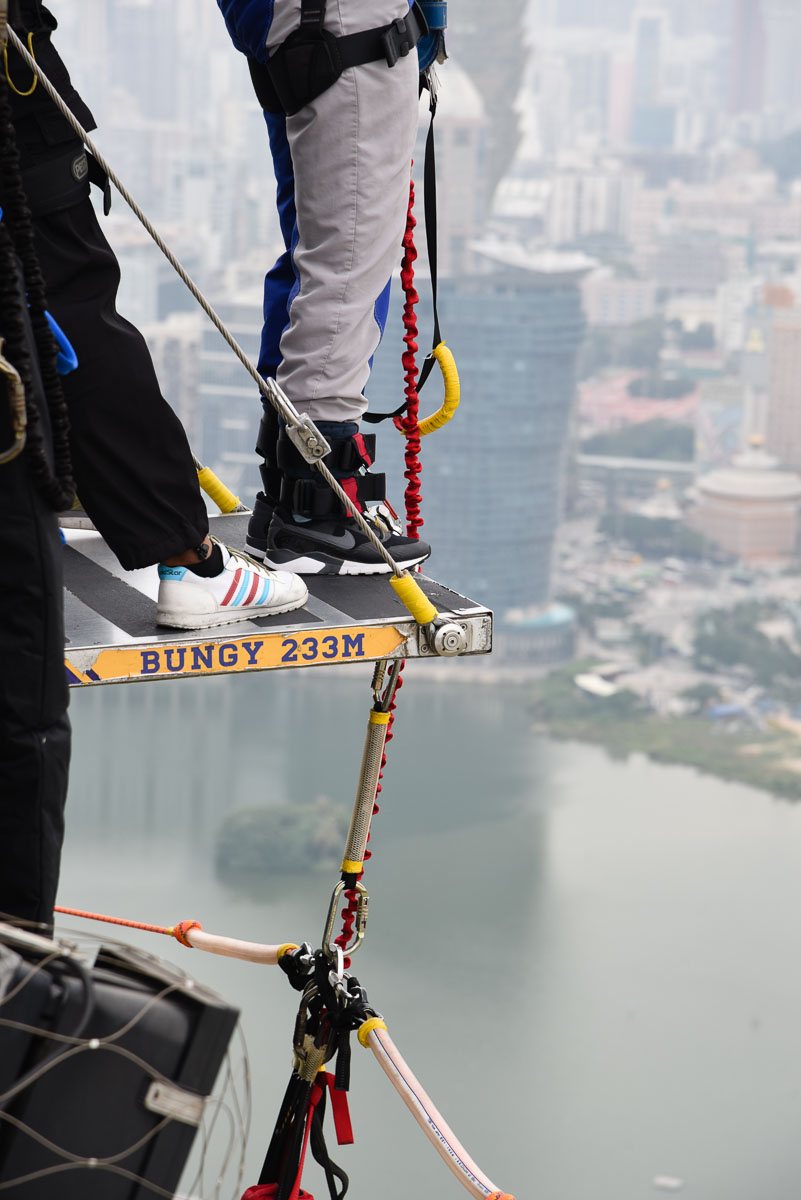 If you're not quite ready to free fall down 233m, AJ Hackett's skyjump is a pretty good alternative! You basically get to experience jumping off the same platform but are lowered in a controlled manner and land on your feet! Kind of reminds me of stuntmen on film sets.
Cost: MOP$2588 (~S$462) or S$405 on Klook
Skywalk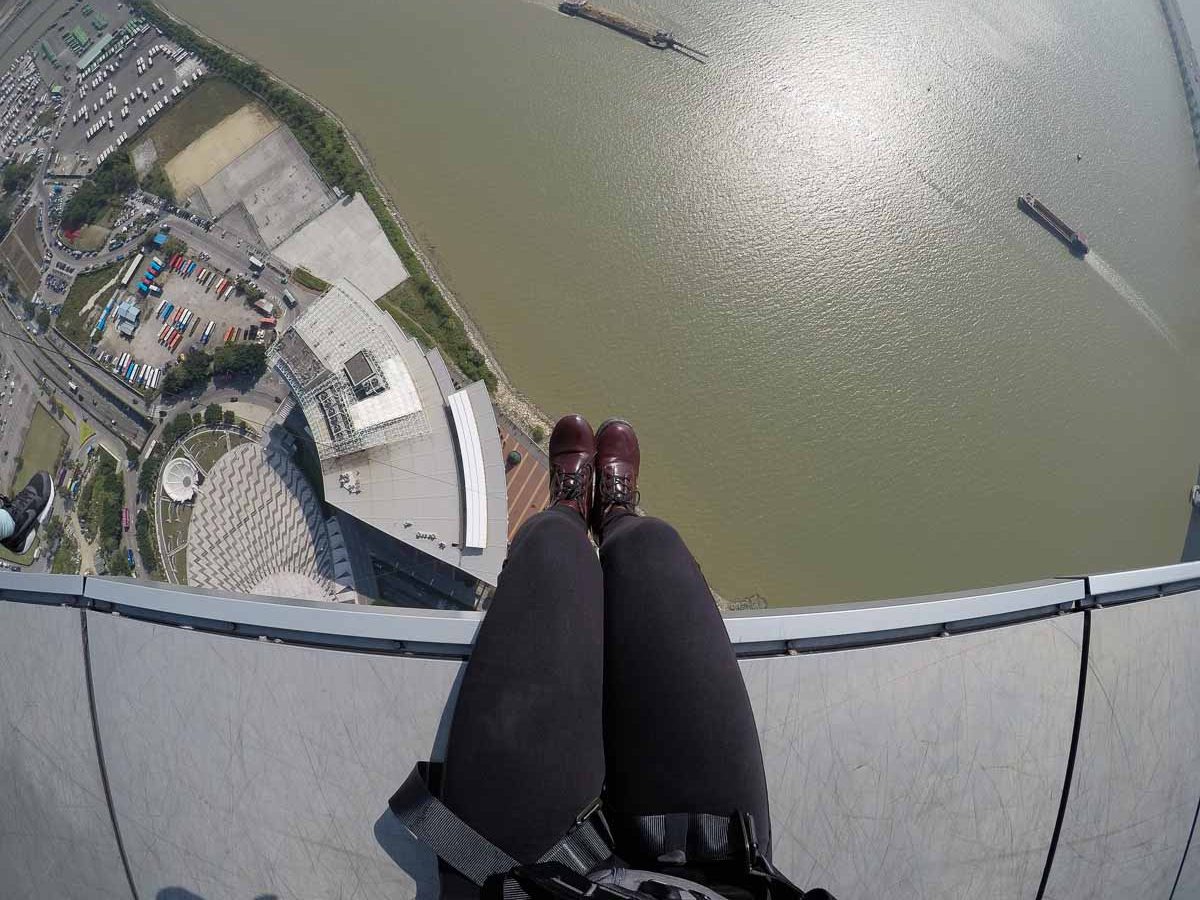 Views from the observation deck are pretty amazing but step outside and the view inside will pale so much in comparison! Though, don't underestimate this activity…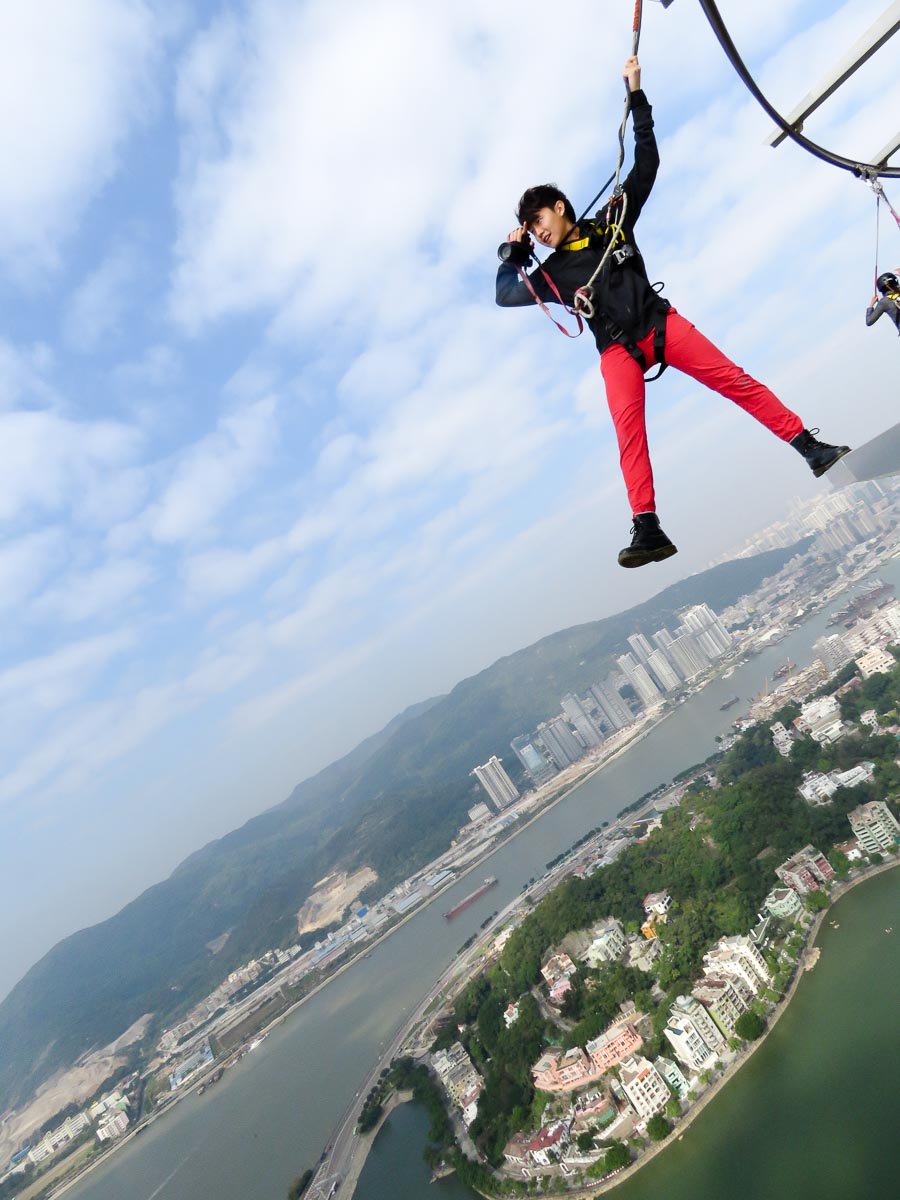 Not only do you walk on the outside of the building (without handrails), you'll be given tasks like leaning off the edge, running and even using the harness as a flying fox as you swing across the windows of the building! Our guide Philip did a really good job in helping us capture great action shots during the 20 minute session.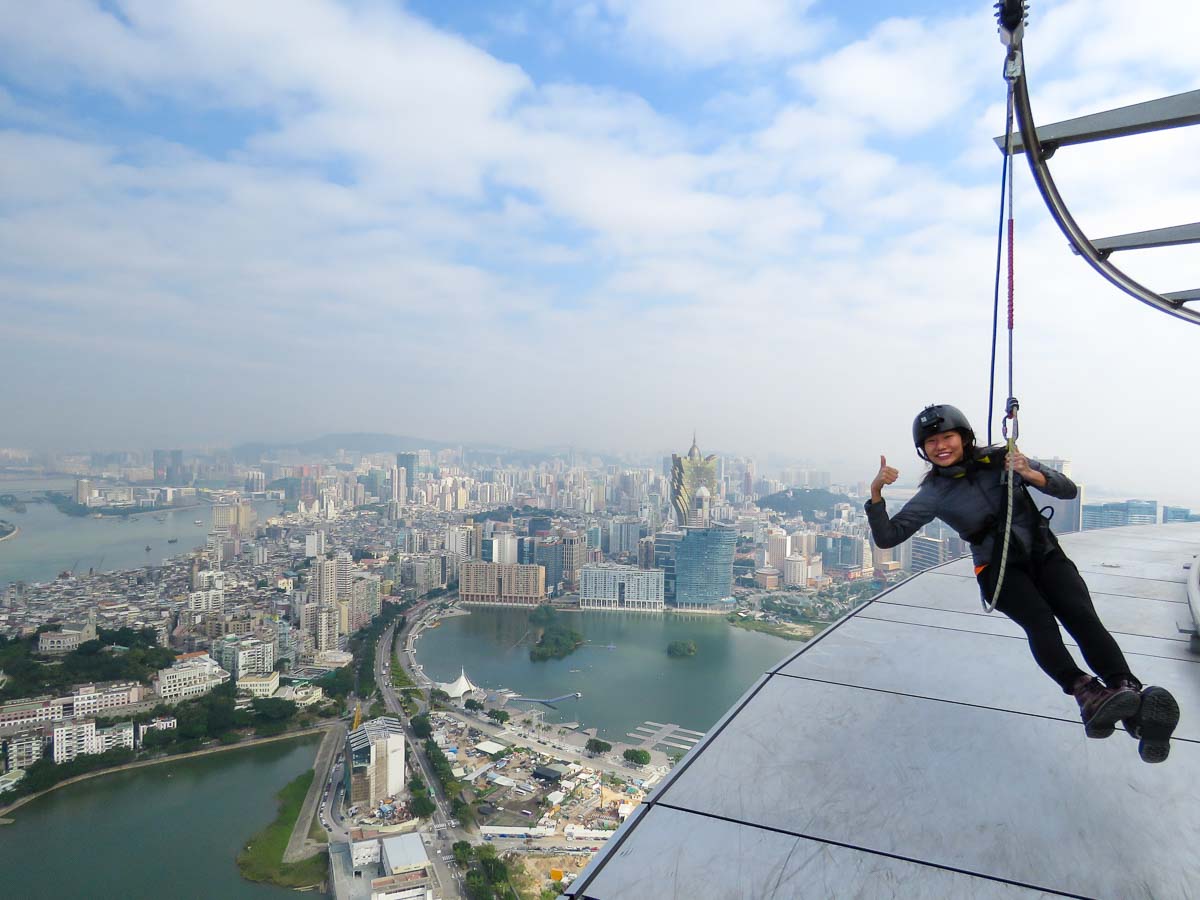 Cost: MOP$788 (~S$141) or S$120 on Klook
Tower Climb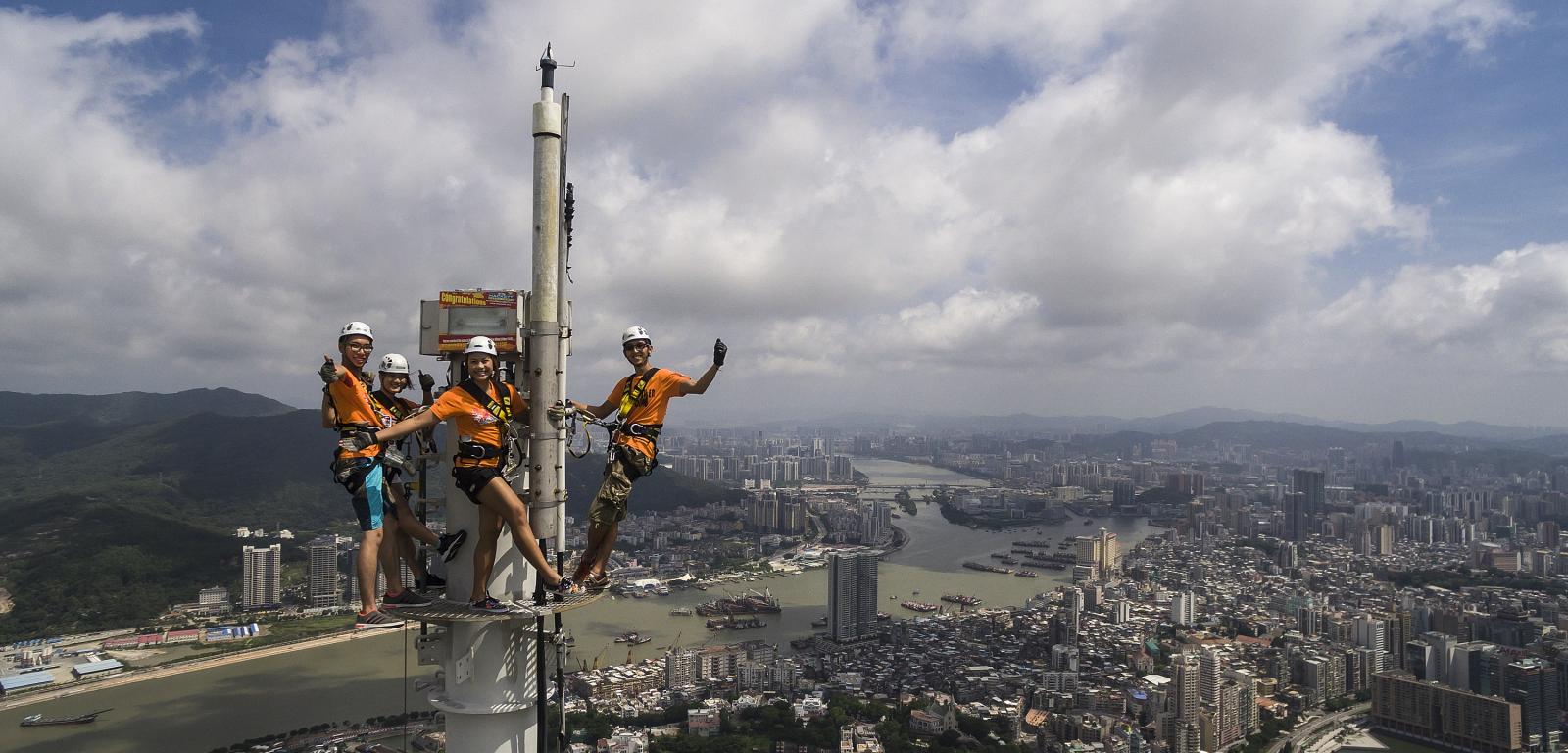 Photo credit: ajhackett.com
Why take the lift up the Macau Tower when you can actually CLIMB IT?
It might sound a little silly now but as a kid, one of my dream job experiences was to clean the windows of a skyscraper!
Bungy jumping is undoubtedly exciting; the toughest part of all is making the decision to step off. Everything else is out of your control so all you can do is experience it. The Tower climb is quite the opposite — you have full control and you'll need to make a constant conscious decision to scale higher while being exposed to the open. If you have a fear of heights, I would recommend doing the Bungy jump first. Trust me.
Cost: MOP$2288 (S$408) or $355 on Klook
Some experiences are worth splurging on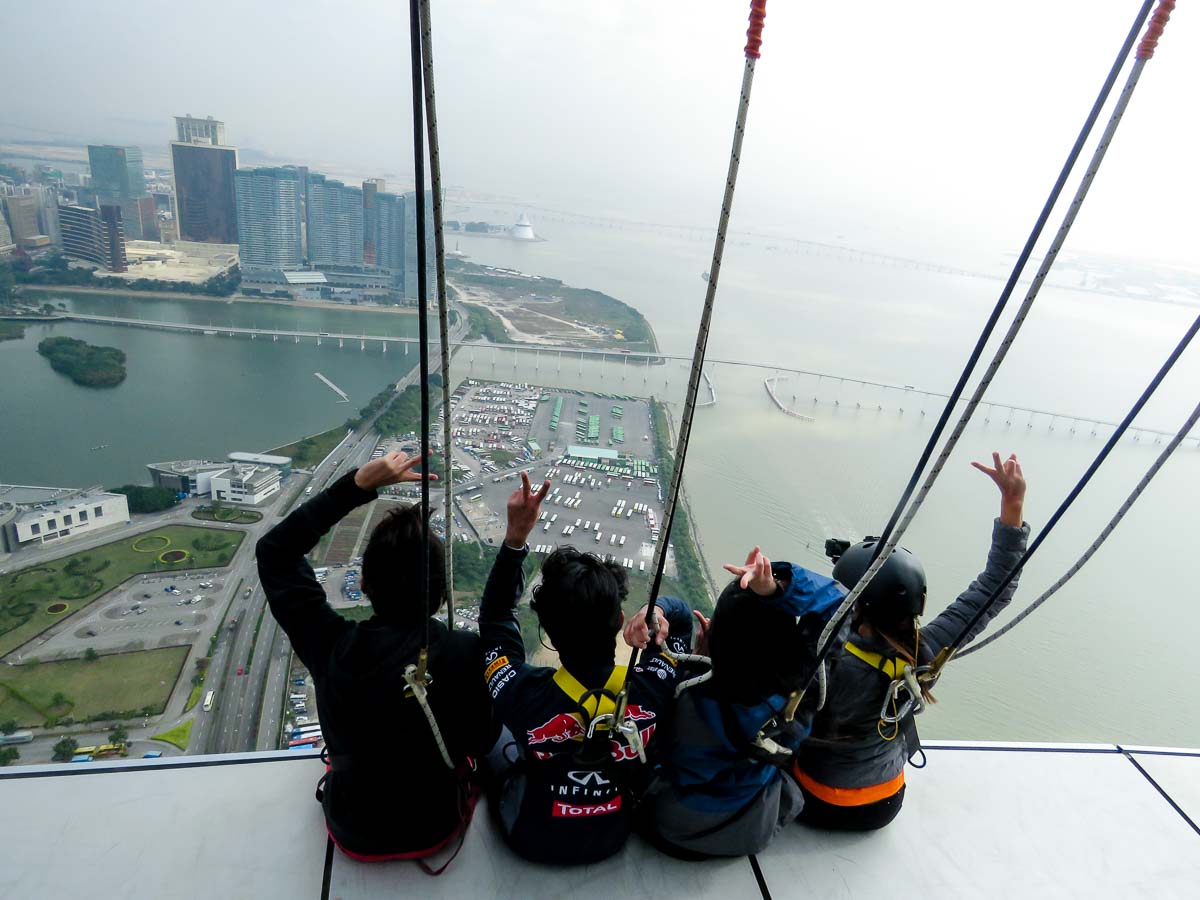 I'm sure many avid travellers get asked often "How do you travel so much?!". And an even more common question is, "How do you afford such extravagant activities (Very rich is it?)."
The Macau Tower bungy is probably one of the most expensive in the world and you can probably get another bungy experience for more than half the price.
But to be able to experience bungy jumping from the tallest building in the world, be reassured of its safety and have awesome footage to bring home, it's no wonder some people actually take day trips to Macau just to experience it.
Like many millennial travellers, we often pride ourselves on travelling smart — saving on unnecessary comforts to spend on experiences that truly matter when you look back. If bungy jumping has been something on your bucket list for a while now.. what's stopping you from jumping off the tallest bungy platform in the world?
Wonder what else there is to eat, see and experience in Macau? Check out the Ultimate 48 hours in Macau guide!
What other crazy things do you have on your bucket list? Something that you've always wanted to do yet never had the guts to? Share them with us in the comment section below
Source https://manvsclock.com/macau-tower-highest-bungee-jump-in-world/
Source https://travel2next.com/macau-bungy-jump-highest-bungee-jump-in-the-world/
Source https://thetravelintern.com/macau-tower-bungy/