Bungee Jumping In Rishikesh 2022: Here's A Handy Guide To Know Everything About This Thrilling Activity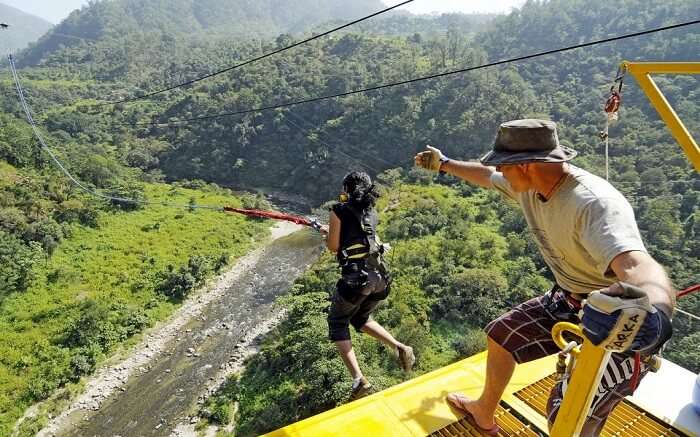 Bungee jumping in Rishikesh these words can give goosebumps to quite many travelers across India. The city boasts of having country's highest bungee, operated by experts with significant experience. Beside being a pilgrimage, Rishikesh is the Adventure Capital of India, so adventure-seekers don't need further push to pack their bags and come to this city. If you have been thinking about trying out this activity, here is the guide you need. Cost, safety concern, location – everything is covered up, so you don't have to get into vigorous research.
Quick Links For Navigation
About Bungee Jumping In Rishikesh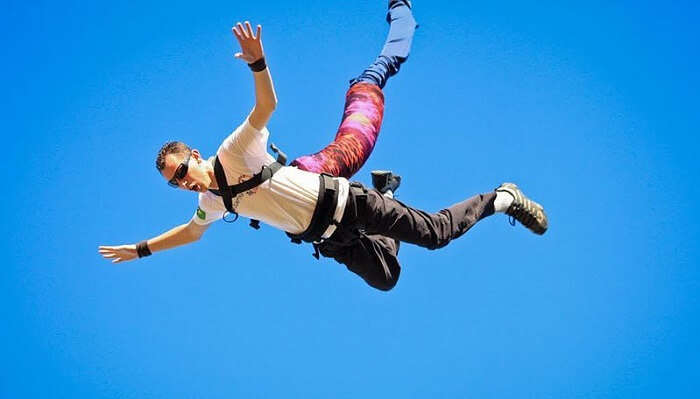 Ever thought about flying like a bird? Bungee Jumping will surely help you do so. Bungee Jumping is an adventurous activity that is all about jumping from a place that is at a great height. While jumping you are connected with a cord that is properly attached to a surface or any object that can bear heavyweight. You can either jump for a cliff or from a plane and you will be completely safe. Wondering when was it started? In August 2005, AJ Hackett jumped from Macau Tower and created the record of the world highest jump. You can try Bungee Jumping all around the world as it is a popular activity performed in all the countries.
Bungee Jumping Spot In Rishikesh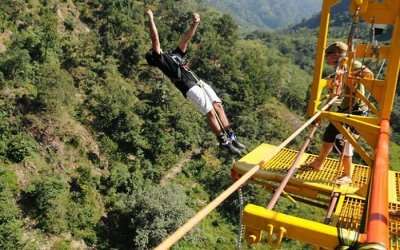 The venue for best bungee Jumping in Rishikesh is located in Mohanchatti with the name, Jumpin Heights. It is run by ex-army officers and the jump masters are from New Zealand, the Adventure Capital of the world. Jumpin Heights feature India's highest bungee jumping in Rishikesh with height of 83 meters. Jumpin Heights is open all days, except Tuesdays. These are also considered to be some of the best spots for bungee jumping in India.
Bungee Jumping In Rishikesh Price
| | |
| --- | --- |
| Activities In Rishikesh | Price |
| Entry Ticket | 100 |
| Bungy Jump | 3550 |
| Giant Swing | 3550 |
| Flying Fox (In Tandem) | 1800 |
| Flying Fox (Solo) | 3000 |
| Combo-1 (Bungy + Flying Fox) | 4750 |
| Combo-2 (Flying Fox + Swing) | 4750 |
| Combo-3 (Bungy + Swing) | 6500 |
| Thrilogy Combo (All 3 Activities) | 8250 |
Safety, Health Concern And Other Requirements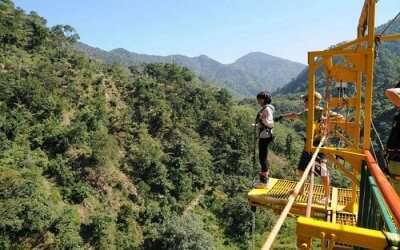 Safety: "Is Bungee Jumping safe in Rishikesh?", this is a common question which arises in the mind of every person. When it comes to bungee jumping in Rishikesh, or anywhere for that matter, safety is a major concern for sure. But, when you're in Jumpin Heights you don't have to worry about such issues. The authorities have ensured safety by appointing experts who have spent years operating extreme sports as bungee jumping in a place like New Zealand, which is the Adventure Capital of the World.
Australian & New Zealand Standards Authority Guidelines are followed in Jumping Heights. Right from designing of platforms, to exercising regular drills on site, the authority is highly attentive in dedicated towards safety.
Health: However, since the activity is extreme in nature, it is not recommended for people with the following medical conditions – Neurological Disorders, Epilepsy, Heart Condition, High Blood Pressure, Back or Neck injuries, Recent Fractures, Asthma, Osteoporosis, and Pregnancy.
Other requirements: To try this activity, the minimum age requirement is 12 years. The person has to be 35-120 kgs in weight.
Season For Bungee Jumping In Rishikesh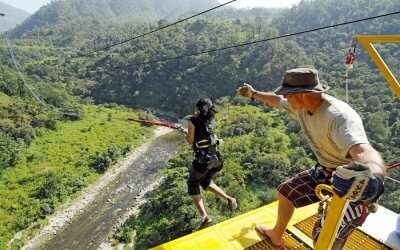 The best time for bungee jumping in Rishikesh actually is anytime around the year. However, it is suggested you avoid monsoon season, as some of the adventure sports in Rishikesh might get put on hold due to heavy rains or strong winds. Also, in the monsoon season you will not be able to enjoy other adventure activities in Rishikesh like river rafting and cliff jumping.
Other Activities To Try
Rishikesh isn't called the Adventure Capital of India for nothing. This place is not just known for its spirituality but myriad of thrilling activities one gets to indulge in while here. River rafting in Rishikesh, kayaking, cliff jumping, flying fox, rock climbing, parasailing, and mountain biking are some of the many things to do in Rishikesh which you can indulge in.
Nearby Attractions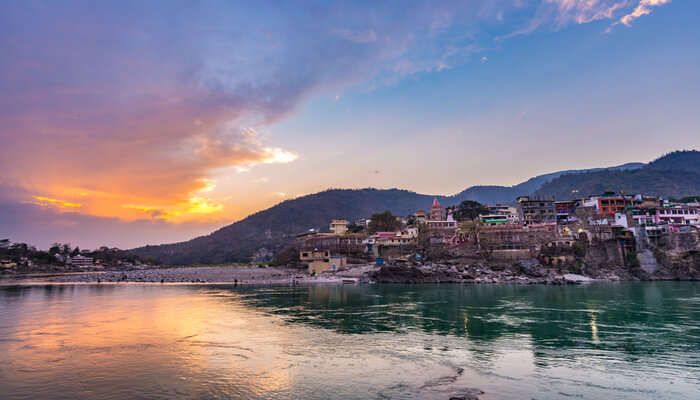 Other than activities, Rishikesh has sites you must step foot on. Triveni Ghat, Beatles Ashram, Neelkanth Mahadev Temple, and Lakshman Jhula are some of the best places to visit in Rishikesh and around if you wish to catch the essence of this ancient city merged with spirituality and scenic beauty.
Tips For Bungee Jumping In Rishikesh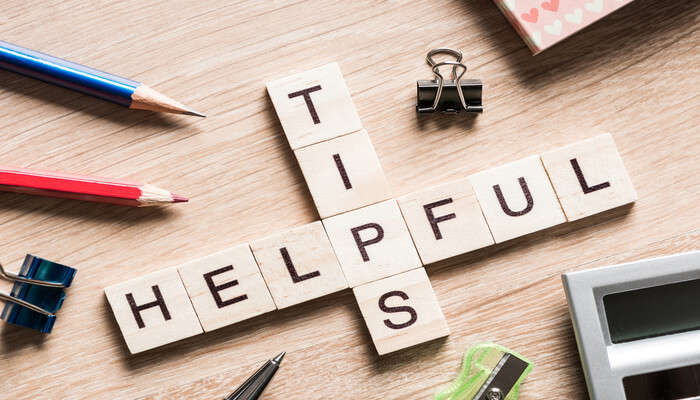 Here are a few tips for all those who are planning to try bungee jumping in Rishikesh. Read on!
Follow all the instructions given by the instructor.
Inform the instructors about any health condition you have beforehand.
Comfortable clothes are a must for Bungee Jumping.
Carry an extra pair of clothing with yourself.
Get yourself medically checked before heading for the activity.
Believe in yourself and say positive as you wil be under trained instructors and they will guide properly.
Now, that you know it all, you're all set for bungee jumping in Rishikesh on your trip to Uttarakhand. Don't forget to indulge in other adventure activities too. Have an experience to remember by visiting most of the famous places and create memories with your closed ones.
Frequently Asked Questions About Bungee Jumping In Rishikesh
What is the average cost of bungee jumping in Rishikesh?
If you wish to try just bungee jumping in Rishikesh, then the cost per person is INR 3550. However, this cost gets cut down if you opt for combo adventure package in Jumpin Heights.
Is bungee jumping safe in Rishikesh?
Jumpin Heights, where bungee jumping in Rishikesh takes place, follows Australian & New Zealand Standards Authority Guidelines. Most of the staff have a significant experience in exercising this and other adventure activities in New Zealand. Safety is a major concern for the authorities here, thus drills take place on regular basis.
What is the age limit for bungee jumping?
The minimum age limit for bungee jumping is 18 years and if you're below than that then a parental presence is required.
Is there a weight limit for bungee jumping?
For bungee jumping maximum weight limit is 265 lb.
How fast do you go when bungee jumping?
An average speed of the person falling from a height of 83 meters is around 140-160 kmph.
Can we do bungee jumping in Rishikesh in December?
Yes, we can go for bungee jumping in Rishikesh in the month of December. Do avoid the months of monsoon when going for this activity.
Is Rishikesh safe for women?
The town of Rishikesh is completely safe for women even when they are traveling solo. However, it is suggested to stay cautious when exploring the town during the nighttime.
Reverse Bungee for Sale
The Reverse bungee or slingshot ride which is also termed as catapult bungee or ejection seat is a type of high thrill amusement rides. Do not confuse it with bungee jumping. Bungee jumping is an extreme activity that involves a person strapped to an elastic rope jumping from a cliff, tall structure (like bridge and cane) or mobile object. Reverse bungee ride is an upgraded model of bungee amusement rides. This slingshot ride is composed of a platform with an electromagnetic latch, two telescopic gantry towers, two elastic ropes attached to a two-person passenger car, hydraulic system and electric control system.
Beston Slingshot Ride
Model Number: RBR-1
Power: 15KW
Tower Height: 24m
Service Height: 32m
Total Weight: 12t
Floor Area: 15m*25m
Capacity: 2 persons
Recovery Mode: Bottom Recovery
Gondola: 1
Get a Free Quote
Beston Reverse Bungee for Sale
Beston group reverse bungee is vertical tandem bungee and mainly consists of two supporting towers, passenger car, energy accumulator, hydraulic system, electromagnetic platform, electric control system, etc.
The reverse bungee jumping is sorted as the fixed model and mobile model according to its installation.
The fixed human slingshot ride has a groundwork at the bottom, which means it is difficult to move the ride to another place. This bungee ball ride is much safer because of its substruction.
Beston Ready-To-Go Reverse Slingshot
Beston Bungee Ball in the Highest Point
Welcome to contact us for more information on Beston Bungee Ball Ride!
The mobile bungee rocket is built without substruction. It takes much less time to install this funfair ride because there is no need of substruction. Besides, this ride is easy to move, so you can reinstall it in anywhere as your requirements.
If the specifications of the two models are not what you or your customers are looking for, please have a contact with us. We will customize a bungee rocket for you according to your requirements.
Beston Ejection Seat Ride
Model Number: RBR-2
Power: 15KW
Tower Height: 28m
Service Height: 36m
Total Weight: 14t
Floor Area: 15m*28m
Capacity: 2 persons
Recovery Mode: Bottom Recovery
Gondola: 1
Get a Free Quote
Beston Slingshot Ride Price
Beston group is the amusment park rides manufacturer of reverse bungy, which means we can appropriately control the slingshot ride cost with the aid of our own sufficient domain experience and knowledge. We are not the kind of company just talk about profits and forget their customers. The win-win situation is what we want to obtain together with our customers. We hope our customers would make profits, survive the ceaselessly changing market and become our long-run business partners. The price we set for customers is extraordinarily competitive, and we believe you can win the catapult bungee jumping market with our high-quality and affordable rocket bungee.
If you want to know how much is the slingshot ride Beston group manufactures, please contact us and get the real quote for your interest.
Beston Bungee Ball Ride at Night
Beston Jump Ride Gondola at Night
Welcome to contact us for more information on Beston Reverse Bungee!
Slingshot Ride Locations
The slingshot thrill ride can be located in the amusement park, theme park, water park, circus, garden, etc. The reverse bungee occupies much less space unlike roller Coaster and Ferris wheel, but you must know this bungy ride shall not be installed in an enclosed area.
How Does the Slingshot Ride Work?
The two telescopic gantry towers are mounted on a platform with electro-magnetic latch and feed those two elastic ropes down to the two-person passenger car which is an open ball made of tubular steel. When the operator turns on the magnetic latch, the passenger car with passengers strapped in is magnetized down to the platform, and the elastic ropes attached to the passenger car are stretched under the circumstances. When the magnetic latch is turned off, the passenger car is catapulted vertically with a g-force to an altitude of between 50 and 80 meters. The passenger car is catapulted in a fast speed to the highest point because the magnetism is removed instantly. While the bungee ball is thrown up into the air, the ball itself rotates between the two ropes. Therefore, the passengers can experience the complex feeling of overweight, weightlessness, chaos, and disorientation. After the ropes are relaxed, the passengers are lowered back to the platform.
Beston Bungee Ball Ride
Model Number: RBR-3
Power: 15KW
Tower Height: 24m
Service Height: 32m
Total Weight: 12t
Floor Area: 15m*25m
Capacity: 2 persons
Recovery Mode: Bottom Recovery
Gondola: 1
Get a Free Quote
What Does Bungee Jumping Feel Like? Personal Story & Experience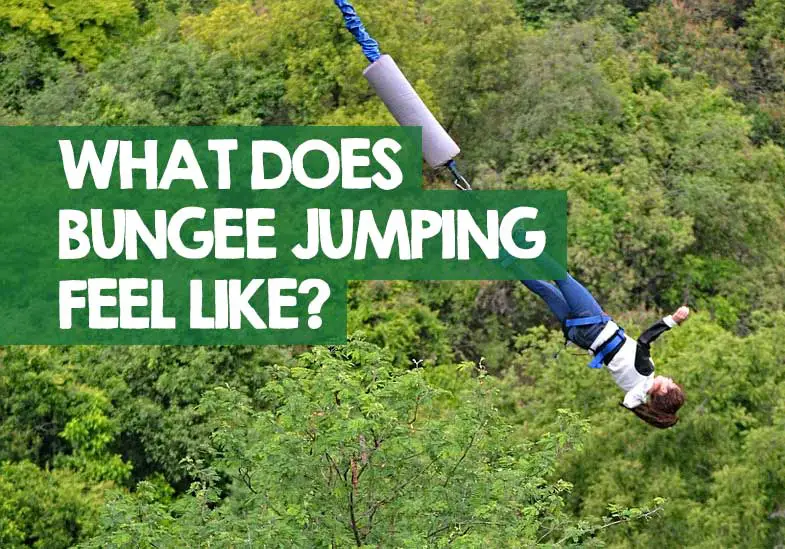 Bungee jumping feels like nothing else you will ever experience. As a seasoned bungee jumper, I wanted to share with you my experience stories plus those of others. In this article you can read how I describe bungee jumping, what happens to your body, and then input from other people who have done it – enjoy the ride!
What does bungee jumping feel like? Bungee jumping feels like nothing I can compare it to. You step off into the air, which is a surreal experience, then fall with the wind rushing past you. The jerk back up and couple of bounces are usually very smooth.
That's my short answer, but I wanted to go more in-depth as last week my friend asked me "how do you describe bungee jumping"… it was tough to answer in just a few moment so I decided to write the entire experience down in one go. And here it is!
How I would describe bungee jumping in detail
I remember my first ever bungee jump in very clear detail. I looked up at the platform in Thailand and honestly didn't think it was that high… until I got up there. As someone who tends to over think things, I was lucky enough to be jumping with my wife, so there was no backing out.
As we were taken up to the jump platform, my nerves were starting to get the better of me. With my wife behind me though, there was no going back down. As I stood up on the platform, I had a minor panic attack, but steadied myself with calm breathing exercises.
Handy Hint: I've developed a guide for beginners to help them mentally prepare for their first ever bungee jump. Take a look at that if you are scared.
I inched my way towards the end of the jump platform, and did the wrong thing… I looked down. Never do this! I couldn't believe how high I was, it was so much more of a drop compared to what it looked like from down below.
But it was too late now. I was committed.
As well as my wife, there were also spectators down below so there was no way my pride was going to let me stop now.
I took a couple of steps to the end of the platform and then was then give the signal to go. Using some kind of Jedi mind trick I managed to convince myself that bungee jumping would feel fine and stepped off with my eyes closed.
You fall through the air in free fall, and I had to open my eyes at this point. I was falling like a star fish which probably didn't look that elegant! I could feel the wind rushing past me and into my eyes, and the adrenalin was insane.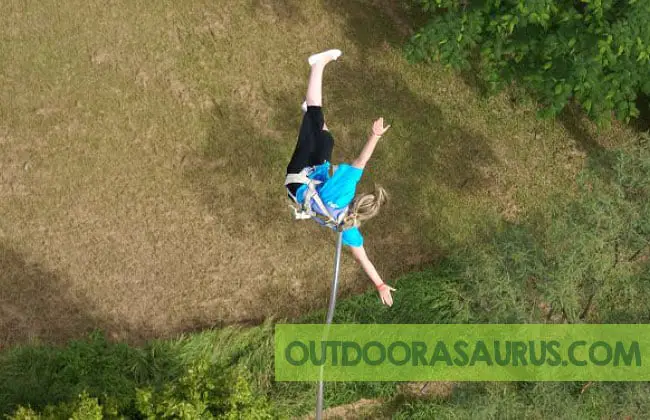 Here's my wife who jumped just after me in Thailand!
I literally could not breathe for the few seconds that it took for the bungee cord to extend and then bounce. Yes, I did scream.
And here's the thing; I was expecting the tension and bounce to be painful or a very hard jerk, but it wasn't at all.
As I shot back up, the entire movement was very smooth, and on the second downwards fall I was so much calmer. I was actually laughing like a maniac at this point.
I bounced for a few times and was left hanging in the air. It's almost like time stands still at this point, and I felt a huge feeling of calm.
The operators lowered me down onto a little boat over the water where the rest of the team un-clipped me.
I just wanted to get back up there and do it all over again. I was absolutely buzzing!
What bungee jumping feels like from start to end
From start to finish, this is what bungee jumping feels like and how I would describe it.
Nerves and possible panic before you step off.
Massive euphoria and adrenaline powered fear as you fall with possible screaming.
Smooth jerk back up and maniacal laughing.
Few bounces and then hanging where you feel calm but buzzing at the same time.
You probably will then want to do it again!
A feeling of an insane natural high for the rest of the day (possibly even days).
This is my personal bungee jumping experience story. It might be different for you, but most people you talk to with give you a similar description of what bungee jumping feels like.
You can read more experiences lower down the page, but first let me answer some more specific questions about what bungee jumping feels like, what to expect, what happens to your body, and whether your stomach drops (a common question).
Handy Hint: Did you know that bungee jumping is said to originate thousands of years ago? Check out the history of bungee up to the modern day.
What happens to your body when bungee jumping?
I don't want to panic you, but bungee jumping can be dangerous. Whilst fatalities are quite rare (see bungee death statistics), it can do things to your body that in normal circumstances you would not subject it to.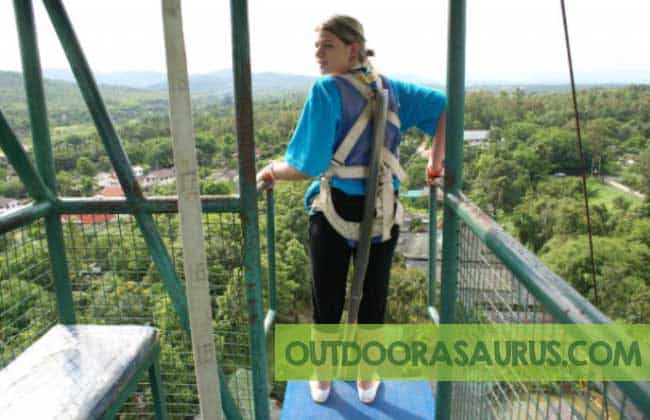 Some bad things can happen to your body when bungee jumping (it's relatively safe though)
The falling part isn't the issue. It's the point at which the bungee cord stretches to the full length and tension. At this point, it can pull you back with a lot of force, and suddenly too. Whilst my experience was a good one, other people have said the tug back was very painful.
The types of injuries that can happen include:
Eye injuries: blood pressure in your eye's blood vessels can suddenly increase, and some people have reported temporary vision loss, spots, and retinal haemorrhaging.
Spinal injury: the force of the bungee cord being pulled back can lead to spinal fractures and herniated discs. There is a small risk of paralysis and quadriplegia.
Neck injury: your neck muscles can strain leading to temporary discomfort. In more serious cases a neck and spinal injury can occur, or even possible strangulation from the bungee cord.
Scary stuff isn't it?
Thankfully it is rare, but they are still risks you need to weigh up. There are some seriously frightening things that can happen to your body when bungee jumping.
Handy Hint: I also asked 13 paragliders what it feels like to paraglide. You can see what they said in this other blog post.
Does your stomach drop when bungee jumping?
Your stomach does drop during a bungee jump. It feels like your stomach is either sinking or going right up. You know that horrible stomach drop you feel to a lesser extent when on a rollercoaster – well, magnify that one hundred times.
The stomach drop feeling only last for a few seconds as you fall, but it is definitely part of the experience and most people will feel it until they start dangling.
Does bungee jumping feel like a rollercoaster?
Bungee jumping does sort of feel like the feeling you get on a rollercoaster, but it's a lot more intense. It's the whole stomach drop feeling I described in the previous question.
How fast do you fall when bungee jumping?
How fast you fall when bungee jumping will depend on the height of the jump. The higher the bungee jump, the more time you have to accelerate to a top speed.
As an example, the Macau Tower bungee jump is said to offer a top falling speed of 124 miles per hour (200 km/h). The falls take 4 to 5 seconds to complete, as you jump from a height of 223 meters.
Other people's bungee jumping experience stories
I didn't want you to just rely on my experiences, so here are a few stories from other first-time bungee jumpers.
"Nothing beats jumping off a bridge from 120 meters. If you're scared of heights like me, it's an even bigger achievement. I felt like I was flying and once I got back down to the ground honestly felt like I could put my mind to anything. That's what bungee jumping feels like; it makes you feel invincible and motivated!"

"Even after two of three jumps you will still feel scared, but that's what makes it. Bungee making makes you confront your fears head-on. Once you leap it feels like you are completely alone. Your brain takes over, and you think you're going to die… but of course, you aren't. It's a massive thrill."

"I can honestly say that I felt nothing. I think my mind went completely blank! I jumped in tandem with my boyfriend and he said I was screaming all the way down, but I have no recollection of this happening. All I remember feeling is the bouncing back up!"

"You feel the adrenalin pumping. Then you step off and what seems like a second just hang there before the fall. As you fall you feel like you are completely free. After a few seconds the feeling is over. It's over in a blink of an eye. Amazing experience."
Conclusion
Yes, there are risks involved with bungee jumping, but statistically the chance of injury is quite slim. If you can face your fears and make the leap, I guarantee you that you will want to do it again… you will want a repeat you got of that feeling from bungee jumping.
You might also like…
If you're going to try this extreme sport out for the first time, you might want to read the micro-guides below.
Recent Posts
Over the last month, my 7 year old son and I have started geocaching as our new hobby. Despite what you might have heard, you don't need a load of expensive gear as beginner. In fact, most people.
For those new to geocaching there can some weird and wonderful terminology and phrasing at play. Most acronyms and sayings are easy enough to get the hang of and will make complete sense once they.

report this ad
About Us
My name is Marc, and this is my place on the web where my son and I share the adventures we have in the great outdoors. That includes urban exploring, WW2 history, camping, geocaching, and anything else that we can find to do out of the house.

report this ad
LEGAL INFORMATION
Outdoorasaurus is a participant in the Amazon Services LLC Associates Program. This is an affiliate advertising program which has been designed to provide a means for websites like ours to earn advertising revenue by advertising and linking to Amazon. Outdoorasaurus is compensated for referring users and business to Amazon plus other businesses linked to on out website. As an Amazon Associate I earn from qualifying purchases.

report this ad

report this ad
Source https://traveltriangle.com/blog/bungee-jumping-in-rishikesh/
Source https://sinoamusementrides.com/reverse-bungee-for-sale/
Source https://outdoorasaurus.com/bungee-jumping/what-does-bungee-jumping-feel-like/