Bungee jumping facts for kids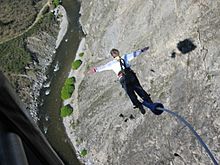 Bungee jumping is an adventurous sport in which people jump from higher ground such as a bridge with an elastic rope tied to their ankles to stop them from hitting the ground. The rope is designed to stretch, not break. When the rope has stretched all the way, the jumper bounces back up. When people jump they wear safety equipment like helmets and a harness.
Contents
History
It started as the coming-of-age ceremony in a small village on South Pentecost Island in Vanuatu. The young men jump from the top of a 30 meter high tree to demonstrate their courage as an adult. They tied jungle vines around their ankles so that they would not hit the ground.And from then it started to become a sport in which people take part and it was named bungee jumping .
Modern bungee jumping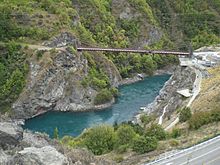 Modern bungee jumping began when four British men jumped off the Golden Gate Bridge in San Francisco. In 1987 A.J.Hackett became world famous when he jumped from the Eiffel Tower in Paris. Later he set up the Kawarau Bridge in New Zealand, with a height of 47 meters, as a commercial bungee jumping area. People could pay money for the fun of jumping. The idea quickly spread around the world.
Safety
Bungee jumping has several dangers. The rope has to be the right size for your weight, or it may break. The safety harness has to fit properly or the force of the drop could cause a person's bones to break. The rope has to be the right length or a person could hit the ground before being stopped by the rope.
Images for kids
Bungee jumping off the Victoria Falls Bridge in Zambia/Zimbabwe
Land diving is a rite of passage for boys of the South Pacific island of Pentecost
Bungee Jump in Normandy, France (Souleuvre Viaduct)
A steel cage platform used for lifting it with a mobile crane. In the center of the base, a 15 cm wide hole with rounded plastic rim is provided to guide the bungee rope during the jump.
Looking down from atop the Verzasca Dam bungee tower near Locarno in Ticino, Switzerland
Bungee jumping from the Souleuvre Viaduct in Normandy
SCAD dive system rigged on a crane
All content from Kiddle encyclopedia articles (including the article images and facts) can be freely used under Attribution-ShareAlike license, unless stated otherwise. Cite this article:
This page was last modified on 5 July 2022, at 04:25. Suggest an edit.
Kiddle encyclopedia
Content is available under CC BY-SA 3.0 unless otherwise noted. Kiddle encyclopedia articles are based on selected content and facts from Wikipedia, edited or rewritten for children. Powered by MediaWiki.
How Old Do You Have To Be To Bungee Jump? (Country Age Limits)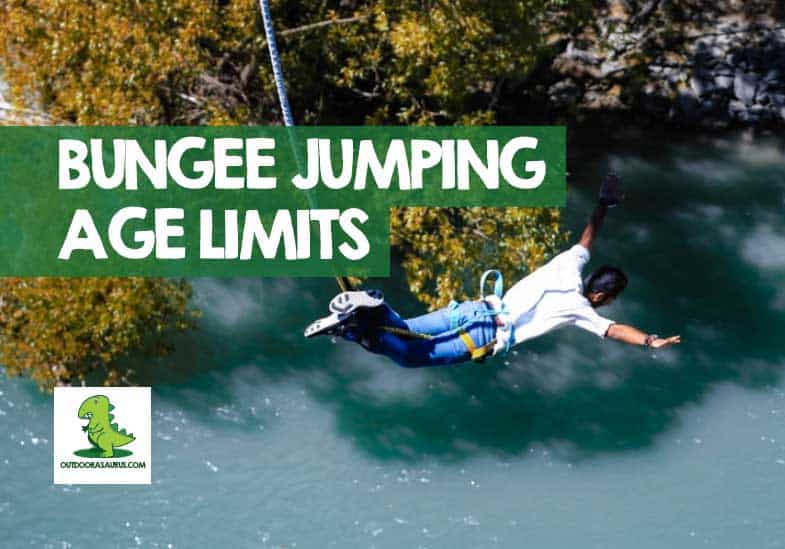 Bungee jumping is great fun, but it does come with risk. This extreme sport is bound by a lot of safety legislation as you would expect, with some of that concerning age limits. I love bungee jumping so decided to see what the different age restrictions are around the world. With that in mind, is there an age limit for bungee jumping and how old do you have to be? Yes, in many countries there are, let's take a closer look…
How old do you have to be to bungee jump? The age limit on bungee jumping will differ from country to country. In the UK, the age is 14 but in the United States there is no legislation. In most countries, bungee jumpers under 18 will need written parental consent. In Australia you can bungee jump at 10 years old!
Do you have to be 18 to bungee jump?
You do not have to be 18 to bungee jump. However, in most countries you will need to have written parental consent to bungee jump if you are under 18.
If you scroll down the page, you will see a table of countries and places listed which show how old you have to be and any notes on the age limits.
How old do you have to be to do a bungee jump in the UK?
The youngest age you can go bungee jumping in the UK is 14 years old. However, between the ages of 14 and 16, you will need parental consent and be accompanied on the site by a parent or guardian. No under 14s are legally allowed to bungee jump in the UK.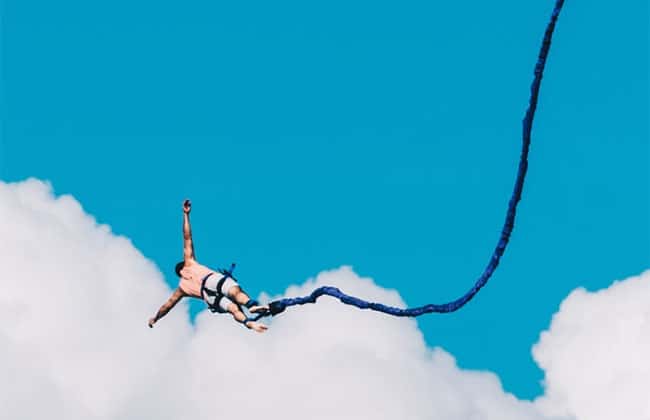 In the UK you don't have to be 18, but will need a parent or guardian to sign a consent form before the operator will let you take part.
There is no legal upper age limit for bungee jumping in the UK, but some operators will impose their own restrictions.
For example, some bungee jumping companies will only let over 65s jump with written permission from their doctor. Many operators also advise that over 50s seek medical advice before they book a jump.
How old do you have to be to bungee jump in America?
There is no law on how old you have to be to bungee jump in America. However, if you are younger than 18 years then operators will need written permission and parental consent. Many operators will refuse to allow jumpers younger than 14 years old.
In many states, bungee jumping has actually been made illegal. This was in responses to a lot of accidents that occurred in the 1990s. In states where it is legal to bungee jump, many operators will only let you do so in tandem with an experienced jumper.
Handy Hint: I published some research into how many people die each year in bungee jumps. You can see my findings in this guide to bungee jumping fatalities.
| Country (or location) | Lower age limit | Additional notes |
| --- | --- | --- |
| Australia | 10 years old | Jumpers under 18 years will need guardian or parental consent. |
Maximum weight limit: 100 kg/220 pounds.
How old do you have to be to bungee jump off The Stratosphere?
To bungee jump off The Stratosphere you must be aged 14 years or older. If you are aged between 14 and 17 years old you must have a parent or guardian with you. They will have to sign a parental consent form in order for you to jump.
The Stratosphere in Las Vegas is one of the world's tallest buildings and is a prime location for bungee jumping. But as you would expect there are some age restrictions in place.
What about upper age limits for bungee jumping?
Whilst you probably aren't surprised that there are lower age limits, can you be too old to bungee jump? The truth is, there is no legal upper age limit in any of the countries and locations I researched for this guide.
However, certain operators will make stipulations. Here's a few examples of what some operators say about maximum ages.
Jumpers over 50 should seek medical advice before participating.
Jumpers over 65 will need written permission from their doctor.
There is no upper age limit for bungee jumping, only restrictions that the operators will have put in place themselves.
Did You Know? The world's oldest bungee jumper is thought to be Margit Tall from Finland. At 93 years old she bungee jumped 150 meters from a crane in Helsinki in 2014. You can read the report and watch a video on the Mail Online website.
What about how much you weigh?
Every operator and site will have different restrictions on weight. I researched into the most popular global bungee operators and came up with a global average for both the minimum and maximum weight limits.
Conclusion
You don't have to be 18 to bungee jump apart from in Costa Rica. In most countries, 14 years old appears to be the average minimum jumping age. However, in most of these places people under 18 will need some form of waiver signed by a parent or guardian.
You might also like…
Recent Posts
Over the last month, my 7 year old son and I have started geocaching as our new hobby. Despite what you might have heard, you don't need a load of expensive gear as beginner. In fact, most people.
For those new to geocaching there can some weird and wonderful terminology and phrasing at play. Most acronyms and sayings are easy enough to get the hang of and will make complete sense once they.

report this ad
About Us
My name is Marc, and this is my place on the web where my son and I share the adventures we have in the great outdoors. That includes urban exploring, WW2 history, camping, geocaching, and anything else that we can find to do out of the house.

report this ad
LEGAL INFORMATION
Outdoorasaurus is a participant in the Amazon Services LLC Associates Program. This is an affiliate advertising program which has been designed to provide a means for websites like ours to earn advertising revenue by advertising and linking to Amazon. Outdoorasaurus is compensated for referring users and business to Amazon plus other businesses linked to on out website. As an Amazon Associate I earn from qualifying purchases.

report this ad

report this ad
Bungee jumping: What are the possible injuries?
Bungee jumping can be quite thrilling but there is a high risk for injuries. After a free fall, the bungee cord draws the individual back upward with abrupt and strong force. The combination of this excessive force and dangling from the cord can result to varying degrees of injuries to the spine, eyes and neck that can be severe enough to result to death.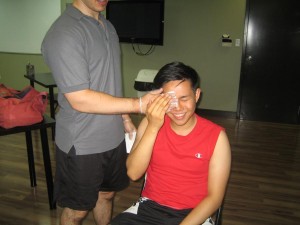 Eye injuries are likely to occur in bungee jumping due to the high increase in pressure placed in the eyes.
The retina and conjunctiva are detrimentally affected by this increase in pressure. The eye injuries typically result to brief impairment of vision. Additionally, eye infection, eye spots and hemorrhage can also occur.
Spinal injuries
The excessive forces placed on the body is likely to occur as it is drawn back upwards by the bungee cord. This can damage the vertebrae of the spine and the spinal cord that it protects.
The spinal injuries from bungee jumping include compression fractures and herniated discs. Even though these injuries can be healed, it can be severe and permanent. If the spinal cord within the vertebrae is impaired, it can lead to paralysis and quadriplegia.
Neck injuries
The neck is at risk for injury during bungee jumping that can range from minor to severe. The force placed on this body part that links the brain to the spinal cord at the last phase of the jump is enough to stress the neck muscles and result to pain and brief decrease in the range of movement.
In some cases, the bungee cord might accidentally entangle the neck of the individual. Once this occurs, it cuts off the flow of blood amidst the heart and the brain or strangle the individual which makes him/her unable to breathe.
Death
Death can occur during bungee jumping. If the neck of the individual is entangled in the bungee cord for a few minutes, the brain is deprived of oxygen and the injury can be deadly.
Source https://kids.kiddle.co/Bungee_jumping
Source https://outdoorasaurus.com/bungee-jumping/how-old-bungee-jumping-age-limits/
Source https://firstaidreddeer.ca/bungee-jumping-what-are-the-possible-injuries/