Bungee jump in Scotland – Killer footage with GoPro
This article has links to products and services we love, which we may make commission from.
Nothing says love like wiping the snot from your husband's face whilst dangling upside down. Move over Spiderman, this is true romance. Craig and I (Gemma) took the plunge, falling 132 feet from a bridge, faces painted with the saltire; bungee jump in Scotland style. Don't believe us? We have the GoPro Hero 6 footage to prove it, snots and all.
Bungee jump Scotland
This was my second bungee jump (bunjee jump? Who knows how to spell it) and Craig's initiation into the world of 'swinging'. I first joined the club over a decade ago in New Zealand, throwing myself off Auckland Bridge. During the run-up to this adventure day out, I was more horrified about the time which had passed since my last jump than the actual activity itself. This was Craig's first bungee so I thought I'd give him some moral support via a hug – an involuntary one in the form of a tandem bungee.
Bungee jump Perth
Was is a Tandem Bungee Jump?
Most jumpers fly solo, which allows you to dive forward or fall backwards. A tandem bungee is when you are attached to another person, side by side, not layered like a skydive (next on my itch-list). During a tandem you cannot dive, you wrap your arm around your sidekick's back and hold on for dear life. It's inevitable that you will end up cuddling during the flight.
Was the Killiecrankie Bungee Terrifying?
Craig, as cool as ever, had no qualms about the jump, until…
He was creeping towards the edge. The jovial support workers hooked us up, shuffled us along then Craig froze while tilted over the near-frozen River Garry in Perthshire! Too late, we were off. The flight was exhilarating, and like all good things, over too quickly. We giggled a lot as we came to, there's no getting away from that embrace.
The dangling bit is never pleasant, both faces resembling a beetroot as the pulley was dropped and we were on our way up again.
GoPro – An Actual Hero
During a massive 18-month career break to travel the Americas and Europe, we filmed ourselves boarding down an active volcano, diving in Cuba and trekking to Machu Picchu with a lesser-known model of action cam and man, the difference is night and day.
There's a reason that GoPro is top of their game. The bungee jump footage was crystal clear, regardless of potential flailing arms (well done Craig, you excelled yourself filming our jump). We were able to film in a 'wide mode', which meant we could capture both of us jumping, and some of the landscape.
Regardless of filming in 1080 resolution (best for phones), the image still looks fantastic on our mammoth iMac screen.
I can't lie, I was really nervous about filming with the GoPro in case we (Craig) messed up the footage or the GoPro didn't play ball. It's very obvious when it is filming as a red flashing light appears.
I also like that it tells you how much battery and file space you have left.
Best GoPro Equipment for a Bungee Jump?
Anxious, as always, I asked online 'what type of GoPro mount should I use for a bungee?'
1. Chest Harness
Attaching the GoPro to the chest would mean that the video footage filmed the flight and landscape but not our faces. I wasn't massively keen on this because I wanted to see Craig's reaction/fear. A positive of the harness is that the GoPro is not at risk of falling off and the footage should be steady. The company at Killiecrankie bungee recommended this option.
2. Selfie Stick
If you can hold the selfie stick straight during the jump and remember to position the camera at your face, this would be a great option and there are definitely great YouTube videos of jumpers doing it well. We decided against the selfie stick since it was our first time using the GoPro Hero 6 and there was no attachment to connect to the wrist; cue panic, letting go and losing the camera to the River Garry.
Note: we used a cheaper selfie stick with our crappy old action cam and you can really feel the difference in quality. The GoPro selfie stick is sturdy, the moving sections allow for more flexibility and better angles. The camera grip is strong. You could knock someone out with it but it's not too heavy for storage. We used it for the car ride imagery and the interview.
3. Wrist mount GoPro
This is the option we opted for. The GoPro wrist mount felt secure, we could angle the camera to face us and because Craig held his arm straight like a bird with wings we were captured during the jump. I am really happy with the footage. What do you think? Tell us in the comments below.
Editing the GoPro video
The Quik video-editing app is as good as your WiFi is and unfortunately in our house, the WiFi is poor.
A workaround is to download the videos to my phone from the GoPro app then upload via the Quik app, this worked better than the Quik app locating the footage from the GoPro.
Quik allows you to snip, edit, add/remove sound, add music and text as well as packages it up in a theme for you.
It's easy to use for short videos, it recommends how long they should be and has a fast and slow-motion function too, which is great for building momentum! Here's our first attempt. Watch out for the snot! Volume up to hear Craig scream…
Final words

Would we bungee jump again, hell yes! Will we be filming another adventure activity in Scotland? I really hope so. Scotland is so much more than just Outlander, bus trips to battlegrounds and the Isle of Skye and we can't wait to explore more, camera in hand (or on the hand!)
Are you brave enough? Tell us in the comments below.
Thanks to Currys and PC World and GoPro for asking us to put adventure Scotland on the map! Our honest opinion as always, regardless of who is footing the bill. Check out the
UK adventure map here.
Gemma
Gemma is an award-winning blogger who loves to plan trips and publish travel guides and packing lists so you don't have to! Owner of Two Scots Abroad Travel Guides, married to Craig, the other Scot, and dog mom to Bowie the Shepsky. Loves cities, road trips, skiing and karaoke. Hates coriander.
8 thoughts on " Bungee jump in Scotland – Killer footage with GoPro "
No sure I'd could 1/ do that 2/ hold a selfie stick so perfectly 3/ even be bothered about the snot! More worried about the other end.
Well done you 2.
Hahaha, thanks Jim. Craig definitely gets a pat on the back for not screwing up the cam footage. I was impressed! Have a very merry festive period.
Omg this looks like so much fun, but also terrifying! Reminds me to take my GoPro out more often though!! I mostly used it for kayaking and other water adventures so far, which is always great in the beginning, but at some point a salt crust forms on the plastic case, so it's important to remember to clean it every now and then!
I need to get a waterproof cover but let's face it, there is no rush for that in Scotland just now!
No worries on that snot Craig LOL you get a pass. Awesome! I admire you. I am pretty fearless when it comes to facing deadly animals and even deadlier people it seems but the height thing is one of my last frontiers. Maybe I'll leave it to those Brave Scots.
Bungee Jumping Equipment List
Bungee jumping is an activity that has drawn the bravest and boldest of participants; those who seek to test their courage or get a thrill of adrenaline. As death defying as it seems, the bungee cords, harnesses, and rigging systems are perfectly safe in professional hands.
Table of Contents
Bungee Equipment
Bungee jumping is a sport where you're up against your own fear. Those who take the dive get to test their courage and enjoy breathtaking scenes of nature with a bird's eye view of the world. It is a daunting but rewarding activity which attracts the boldest and most daring of participants.
A lot of care and calculated science goes into the setup of bungee cords, harnesses, and rigging systems to ensure the jumper's utmost safety. All the essential equipment for bungee jumping will be provided by your professional trainers and hosting establishment. Unless you are a trained professional with knowledge and access to reliable resources, you should never attempt to assemble and test your own bungee jump setup. Failsafe equipment and an instructor's guidance are absolutely crucial for your safety during a bungee jump.
Make sure to research your establishment before you sign up! You should consider what kind of scene you want to (quite literally) dive into, whether it be off a bridge, over a body of water, a crane or tower, or a famous landmark. The environment you choose is part of the experience. Safety regulations for bungee jumping are in place both in the US and overseas, but you want to make sure your host keeps up to code and properly follows safety procedures. Bungee jumping is safe when done correctly, but can be fatal in the wrong hands.
Bungee Body Harness
The body harness is the padded, securely strapped gear that connects you to the bungee cord and helps you absorb the drop's shock. There are different types of body harnesses to choose from, and whichever you select may call for a different kind of dive.
The most common is the full body harness, which is worn around the chest, shoulders, waist, and thighs. It is comprised of two pieces, a leg or seat harness which protects your lower half, and a chest harness which protects your back, shoulders and chest. The proper jump for the full body harness is to jump out horizontally with your head tilted downwards in a swooping position, sometimes called the bat drop or the Superman dive. You can also take a backwards plunge, which means falling backwards with your head tilting towards the ground.
The other kind of harness is an ankle harness, which is somewhat less popular. The ankle harness is wrapped around both your ankles and accompanied by a leg harness wrapping around your thighs. The ankle harness is meant to leave you dangling by your feet after the jump, so your dive has to be more starkly nose-down. Instead of a swoop it should be more akin to a swimmer's dive, a head-first plunge. As one might expect, ankle harnesses are not for the faint of heart.
Bungee Cord
Never, ever forget your bungee cord. Sometimes called a shock cord, your bungee cord is the key piece of equipment to every bungee jump. It attaches to the jumper via the harness and connects them to their jumping point. It puts the crucial stopper to your free dive, bouncing you up and down once you reach the bottom of your fall. The elasticity of the cord is crucial for softening the blow and ensuring a gentle as possible bounceback; if you were to jump attached to a chain or regular stiff rope, the blunt shock at the end of the fall would cause you great harm, or the rope could snap.
There are a few different styles of bungee cords, but they are all essentially made with a rubber core and a nylon or cotton cloth covering on the outside. Your average bungee cord can elongate anywhere from 100 to 300 percent, but its starting length varies with the altitude you choose to jump from. Cords usually last for 500 to 1,000 jumps before they are replaced. It is very important to make sure your bungee cord has proper elasticity.
Carabiners
Carabiners are the D-shaped metal junctions that connect the cords to the harness. They are made of pure steel and can withstand up to 14,000 pounds worth of stress, an essential feature of a high-impact sport like bungee jumping. They're also used for rock climbing.
Comfortable Clothing
The main dress code requirement for bungee jumping is to make sure you're comfortable and dressed for the weather. You can bungee jump in athletic wear, jeans, shorts, a ski jacket, or a wet suit if you're by the water. Skirts, dresses, and anything too loose fitting should all be avoided, especially if they might interfere with the security of the body harness. You shouldn't wear accessories like jewelry, glasses, or a watch because you're likely to lose them in the fall. Hard eye contacts are also not recommended, but soft contacts are fine.
Bungee Jumping Helmet
A helmet isn't absolutely necessary for bungee jumping, but most organizations and instructors encourage jumpers to wear one as a precaution. A well secured body harness is usually sufficient for safety equipment, as daunting as the dive might seem. However, an instructor will always insist on a helmet only in cases where a jumper wants to get close to the ground or touch the water they're jumping towards. In recent years it's increasingly popular for participants to attach GoPro or camera devices to their helmets, capturing their jump to watch back later.
Platform
The platform is the metal plank you jump from. Trainers advise you never to look down from the platform right before you jump, as it might cause last-minute nervousness which affects your ability to dive. It's important to jump with as much calmness and clarity as possible so that you can make the proper head-first diving position and ensure your dive is clean. If you jump or step off the platform reluctantly, the improper position will likely put you through some needless whiplash during your jump.
The view from the platform can be daunting, but instructors will encourage you not to overthink it when you make the leap of faith. The highest raised platform in the world is currently the AJ Hackett Macau Tower bungee jump in Macau, China, which is a staggering 764 feet above ground.
Bungee Jumping Rigging System
The rigging system is the connection of pulleys and reels, ropes and metal connecting devices called carabiners that pull a jumper back onto the platform after the jump is completed. In some instances a jumper can be lowered to the ground and get off there, but more often than not a bungee setup will require a jumper to be returned to the jumping platform. In locations like bridges, towers, or platforms raised over a body of water, the rigging system is necessary to pull you back up.
Sneakers
Comfortable, securely tied sneakers are ideal for a bungee jump. Boots, heels, or anything with straps up the ankles should be avoided because they could interfere with your harness or cord. Sandals, flip flops, or anything too loose are also not recommended because you'll likely lose them in the fall. You can also jump barefoot, which is somewhat common for more tropical jumping locations, but instructors recommend athletic shoes to get a proper grip of the ground for your jump.
7 Best Bungee Jumping Spots in Japan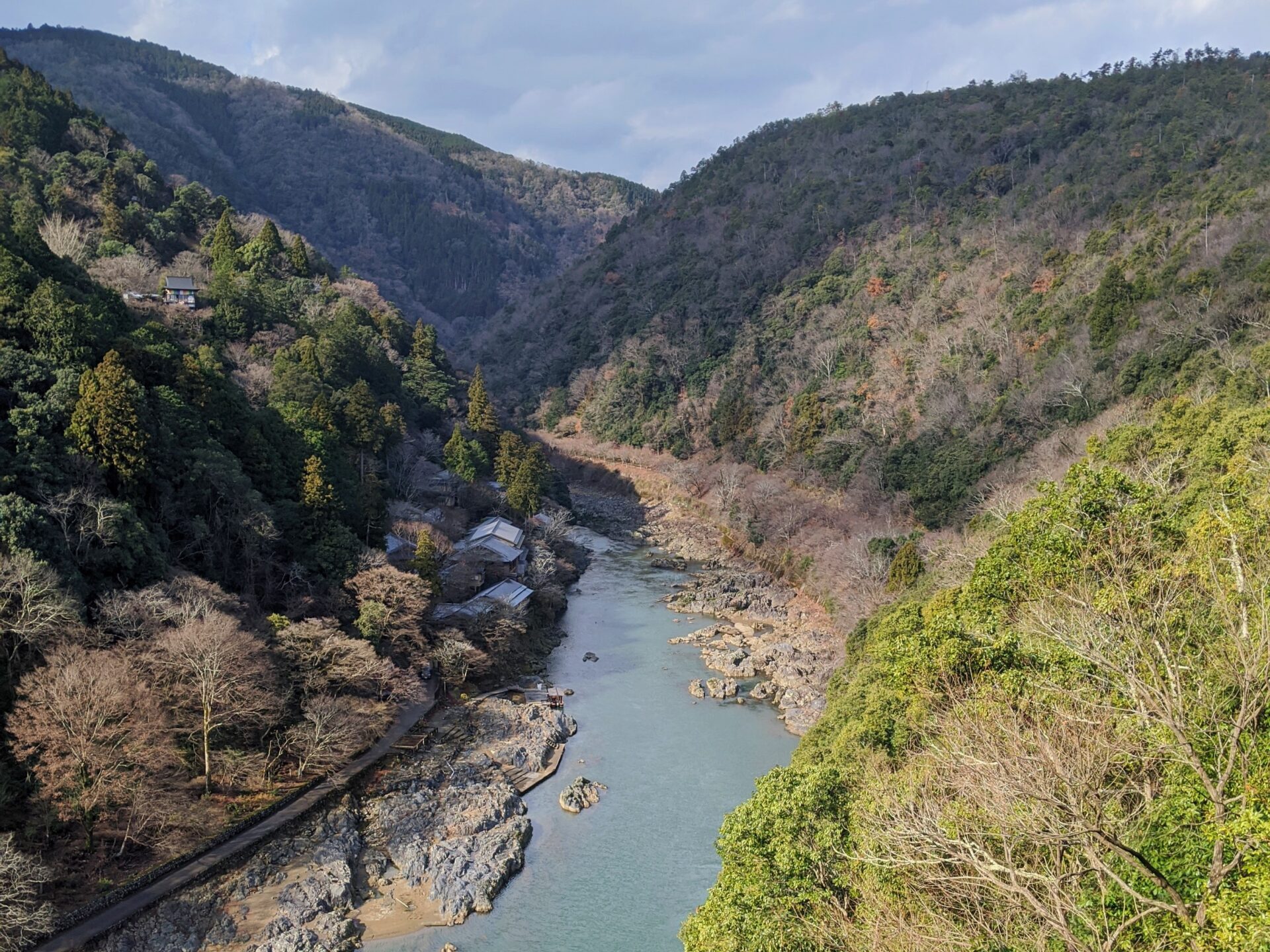 Places to visit in Japan
Bungee jumping is an exhilarating experience that allows one to push themselves to the limit, both in a physical and mental sense. Nothing beats the thrill of standing on the edge about to fall into the unknown down below. One thing that makes bungee jumping so exciting is the location and scenery around you as you do it. What better place to experience bungee jumping than in Japan? With its various ecosystems and serene natural scenes, Japan is the perfect place for your bungee jumping experience. Let's take a look at some of the best spots to go bungee jumping in Japan.
1. Ryujin Bungee Jump (Ibaraki)
Our first location is located in Ibaraki Prefecture, relatively close to Tokyo. More specifically, this location is part of the famous Ryujin Otsuribashi. Ryujin Otsuribashi is one of the longest pedestrian suspension bridges in all of Japan. It sits 100 meters over the Ryujin Gorge. This bungee jump location includes a walking deck where one can view the bungee jumps in progress. Participants must be at least 15 years old and less than 105 kg or 230 pounds.
Every year many people try this one of the highest bungee jumps to overcome their fear!
Other things to do in the area include a visit to Takyu Shrine or trying the local soba (buckwheat noodles).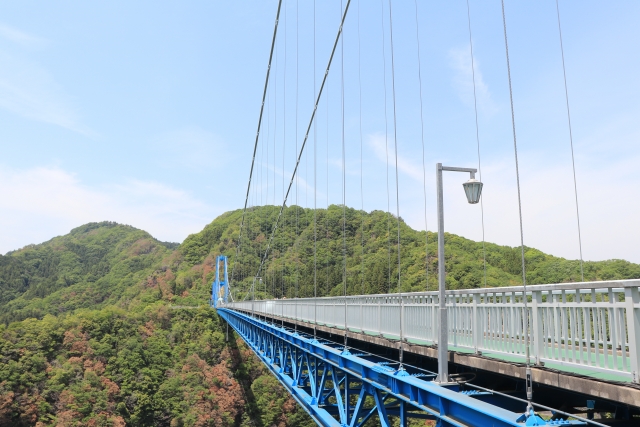 Ryujin Bungy
Hours: 9:00 AM – 5:00 PM, 7 days a week
First Jump: ¥17,000; Future Jumps ¥11,000 (Advanced bookings are recommended.)
Parking is available
2. Itsuki Bungee Jump (Kumamoto)
The village of Itsuki was relocated and built with high bridges in anticipation for a new dam. Unfortunately, that dam was never built. This leaves an amazing bungee jumping experience that, on good days, may include touching the Kawabe River during your jump. This river was voted one of the 3 cleanest rivers in Japan. You can enjoy the jump from 60 meters high among the beautiful mountains. Participants must be at least 15 years old and less than 230 pounds. The local area includes lots of outdoor activities, such as mountain biking and rafting while deep fried deer is a delicious local specialty.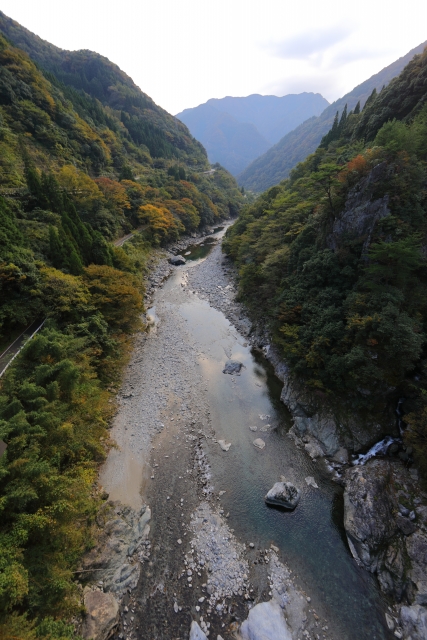 Itsuki Bungee Jump
First Jump: ¥13,000; Future Jumps ¥10,000 (Advanced booking is recommended)
Parking is available
3. Sarugakyo Bungee Jump (Gunma)
Sarugakyo stands 62 meters above the Tone River. It offers a view of the river from the Akatani Suikan Bridge. This jump location features Japan's first electric winch recovery system allowing you to be pulled back up to the bridge after your jump. The area is famous for its outdoor activities such as canoeing as well as the Sarugakyo Onsen. Due to its close proximity to the Minakami bungee jumping location, one can purchase a discounted combo package to experience both jumps!
Sarugakyo Bungee Jump
Hours: 9:00 AM – 5:00 PM (Lunch from 11:30 AM – 12:30 PM) (Closed Thursdays & Fridays) First Jump: ¥12,000; Future Jumps ¥9,000 (Fee includes a video)
Parking is available.
4. Fuji Bungee Jump (Shizuoka)
This location sits 54 meters above the Suzu Valley with amazing views of waterfalls and Fuji City. It is the newest bungee location and is just a 90-minute drive from Tokyo. The surrounding area includes campgrounds and swimming as well as being an excellent spot to view the leaves changing colors in the autumn. The Gotemba outlet mall and Mt. Fuji is nearby.
Fuji Bungee Jump
Hours: 9:00 AM – 5:30 PM (Lunch from 11:30 AM – 12:30 PM) (Closed Tuesdays & Wednesdays)
First Jump: ¥11,000; Future Jumps ¥7,000 (Fee includes video)
Parking is available
5. Yamba Bungee Jump (Gunma)
This jump location is located on the bridge at Yamba Dam in Gunma. The bridge is 494 meters in length and the drop is 45 meters. A GoPro rental is included with the jump price. Friendly staff will teach you how to jump and explain the safety before you jump, so even if it's your first time, they will make sure to have the most fun experience!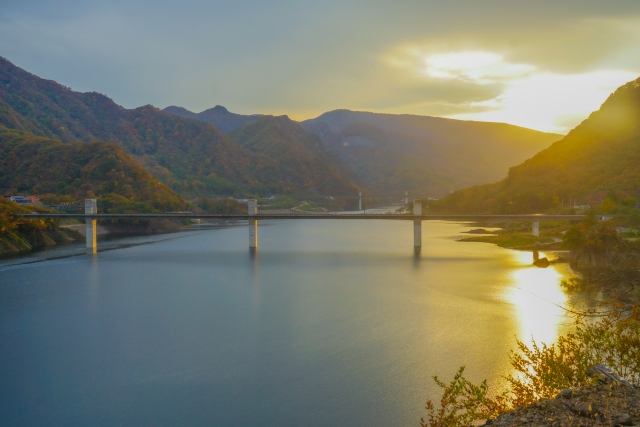 Yamba Bungee Jump
Hours: 9:00 AM – 5:00 PM (Closed Tuesdays & Wednesdays)
First Jump: ¥11,000; Future Jumps ¥7,000 (Advanced booking is recommended)
Parking is available for a nominal fee
6. Minakami Bungee Jump (Gunma)
This jump is located on the Suwakyo Bridge, 42 meters above the Tone River in the resort town of Minakami. This bungee jump spot was established in 2007 and has become the longest-running bridge bungee jump in Japan. It has become so famous that celebrities, including members of AKB48 have chosen to face their fears and chase the thrill of bungee jumping at this location. The city is also referred to as the outdoor capital of Japan due to its many activities including: river rafting, canyoning, kayaking, canoeing and mountain biking. Mt. Tanigawa, one of Japan's 100 famous mountains, is nearby, and the area is famous for its relaxing onsen.
Minakami Bungee Jump
First Jump: ¥10,000; Future Jumps ¥7,000 (Fee includes video)
Advanced booking is recommended
Parking is available
7. Kaiun Bungee Jump (Nara)
The Kaiun jump is located in the Nara prefecture, specifically near Chougosonshiji Temple and the base of Mt. Shigi. This temple was founded by Prince Shotoku during the Asuka Period and is related to the tiger in the Chinese zodiac. Because of the zodiac connection, there are many decorations that include tigers or tiger themes within the temple grounds. The temple entrance even boasts Fukutora, the world's largest paper-mache tiger. The actual jump is 30 meters and participants must be at least 13 years old and less than 220 pounds. Kaiun means opening up good luck in Japanese, when you jump off the bridge, you might be able to get good luck from it!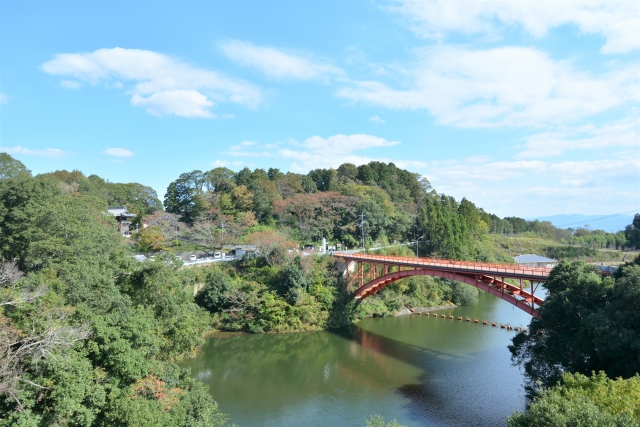 Kaiun Bungee Jump
Hours: 9:00 AM – 5:00 PM (Lunch from 11:30 AM – 12:30 PM) (Closed Wednesdays & Thursdays)
First Jump: ¥10,000; Future Jumps ¥8,000
Parking is available nearby for ¥500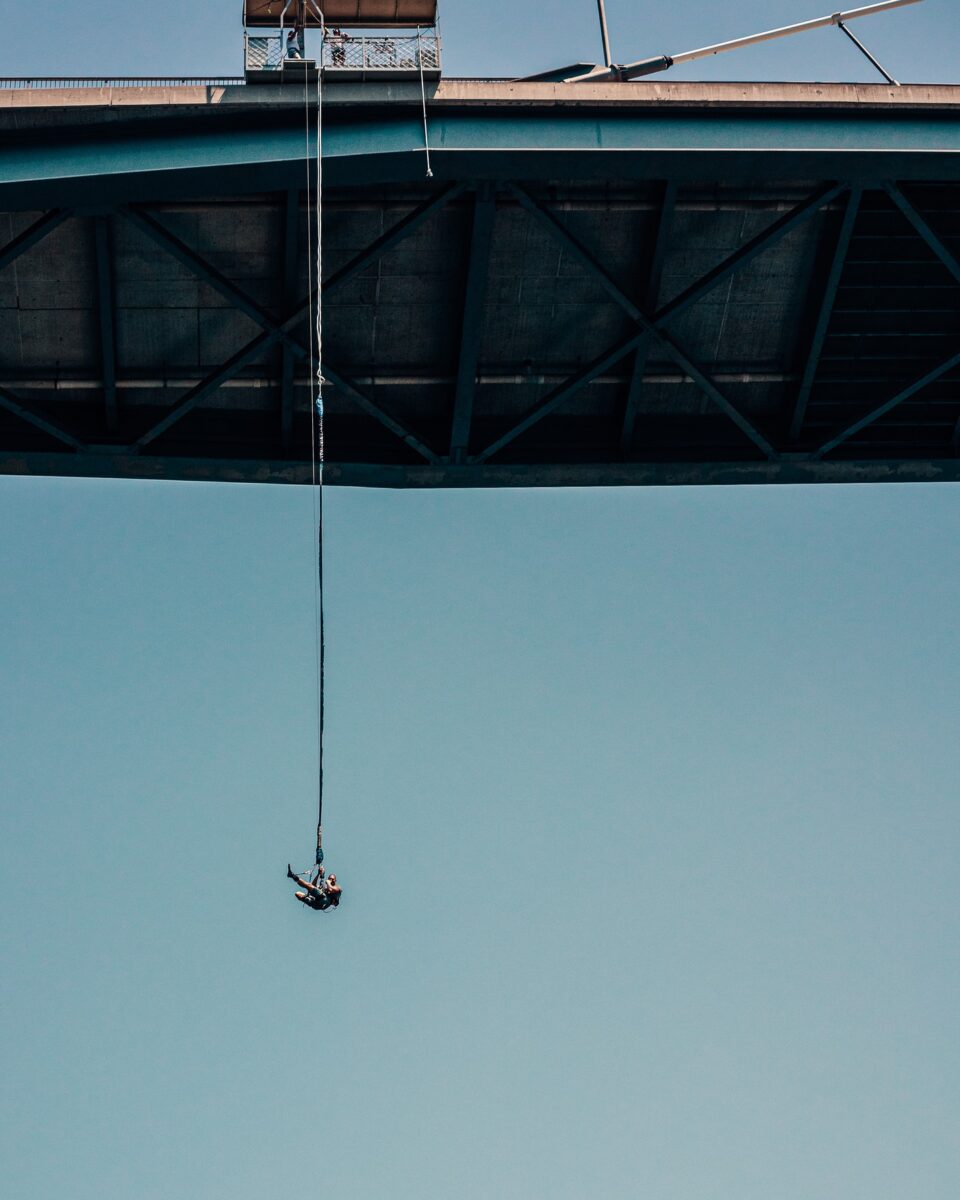 And there you have it, seven of the best bungee jumping spots in all of Japan. So when you are thinking about your next trip and what exciting activities you could do, how about considering bungee jumping? Especially in Japan where there are many wonderful views to be had from waterfalls to cityscapes and mountains to temples and everything in between. Japan has it all. Not to mention all the wonderful outdoor activities available to satisfy even the most adventurous and active participants in your group. Be sure to sample some of the delicious local cuisine and enjoy a nice long soak in the infamous onsen, or hot springs, that are popular all throughout Japan.
Follow us on Instagram, Facebook and Twitter for more travel inspiration. Or tag us to get featured!
Stay informed of the best travel tips to Japan, the most exciting things to do and see, and the top experiences to have with the Japan Wonder Travel Newsletter. Every week we will introduce you to our latest content.
Other articles you may like
Travelling around Japan in summer offers a wide range of experiences and outdoor activities. Here are the best summer activities in Japan!
Source https://www.twoscotsabroad.com/bungee-jump-scotland-killer-footage-with-gopro/
Source https://www.rookieroad.com/bungee-jumping/equipment-list/
Source https://blog.japanwondertravel.com/bungee-jumping-in-japan-25917