10 Best Outdoor Adventure Vacation Destinations on a Budget
Even though I work full-time as a freelancer and can make my own hours, I find myself drawn to keeping a nine-to-five schedule, sometimes seven days a week. At the end of the day, I'm usually so tired of staring at a computer screen that browsing travel deal sites to find a cheap getaway isn't high on my list of priorities.
It's too bad, because I find that the best antidote to my workday blues is a little fresh air. If you love getting outside but work in a job that keeps you glued to the office, you probably know how I feel.
With my fellow desk-dwellers in mind, I scoured the country for affordable and accessible outdoor vacation destinations that offer a variety of activities. For each destination, I paid special attention to the best (and cheapest) time to visit, affordable places to stay, fun things to do, and special events. Check out some of the destinations near you.
Pro tip: If you're looking to save up for your next vacation, look into Digit. They analyze your spending and will automatically save money for you each month.
Motley Fool Stock Advisor recommendations have an average return of 397%. For $79 (or just $1.52 per week), join more than 1 million members and don't miss their upcoming stock picks. 30 day money-back guarantee. Sign Up Now
You Might Also Like: Like me, do you work full-time as a freelancer or independent professional? Are you looking for opportunities to scale your business or break out of your comfort zone? Then please check out my list of 10 tips to succeed as an independent entrepreneur!
Affordable & Convenient Outdoor Vacation Destinations
1. Acadia National Park – Maine
Acadia National Park is the only national park in New England. It covers much of Mount Desert Island, a massive, rocky island that juts out into the Atlantic Ocean from mainland Maine. Acadia is known for beautiful inland lakes, thick forests that turn glorious hues in fall, and stunning ocean and mountain views from its rocky outcrops.
Cadillac Mountain, the tallest peak on the U.S. Atlantic coast, is a must-visit. The quaint town of Bar Harbor sits just outside the park and features an impressive collection of 19th century architecture. Despite being an easy day's drive from Boston, Acadia is much less crowded and more affordable than other coastal New England destinations, such as Cape Cod and the New Hampshire coast.
Entrance Fee: $25 for a seven-day vehicle pass, $12 for a seven-day bike/hike pass.
Best Time to Visit: Winter lasts from November to April in this part of the world, and spring is a muddy, often raw season that can last into June. With the year's best weather, July and August are Acadia's busiest and most expensive months. Early to mid-October is peak foliage season, another busy and expensive time. The sweet spot is mid- to late September, when crisp temperatures thin the crowds, but there's no snow or ice and the leaves haven't yet peaked. Acadia is significantly cheaper and roomier during this time.
How to Get There: Without traffic, Acadia is about four and a half hours by car from central Boston, and roughly half that from Portland, Maine. If you're coming from outside New England, fly into Boston's Logan Airport, a major hub. You can then fly directly into Bar Harbor, Maine, from Logan, with flights taking about an hour and starting at $250 per seat. However, the drive up the rocky, rugged Maine coast is hard to beat, and Portland – with its quaint cobblestone streets and unpretentious, affordable foodie joints – is a great overnight stop if you have an extra night to spare.
Where to Stay: There are tons of cute bed and breakfasts in Bar Harbor and nearby communities, but they can be pricey – $150 and up per night, even during the offseason. If you're set on staying in a warm bed, try the lodgings at Primrose Place (formerly Aurora Inn), just outside Bar Harbor. Posted room rates start near $100 per night in mid-September. For those with tighter budgets, camping is the most cost-effective option during the warm season. Acadia's two best campgrounds are Blackwoods (drive-up and walk-in, $30 per night) and Seawall ($22 walk-in, $30 drive-up), both of which recommend reservations. Campground availability is extremely limited in winter. If you're not into tent camping, you can rent an RV through Outdoorsy.
What to Do: Acadia is a DIY kind of park, which is great news for frugal travelers. If you don't bring your own bike, stop at Bar Harbor Bicycle Shop and rent one (starting at $19 for four hours and $25 for a full day), then take it out on the park's dense network of carriage roads. If you're bike-less, choose from easy hikes, such as the two-mile Great Meadow Loop, or strenuous ascents, like the seven-mile Cadillac South Ridge Trail, which takes you from sea level to Cadillac's peak. If you have a car and want the view without the walking, you can just drive up Park Loop Road to the top of Cadillac Mountain.
Special Events and Attractions: If you visit Acadia in late September, don't miss the Acadia Night Sky Festival, a celebration of the region's astronomical assets.
You Might Also Like: Prefer the West Coast to the East Coast? Check out our guide to the best cheap things to do in Portland, Oregon – the United States' "other" Portland.
2. The Badlands and Black Hills – North Dakota, South Dakota & Wyoming
The western Dakotas don't usually get much attention, but this vast, sparsely populated region is home to three national parks: Badlands and Wind Cave in South Dakota, and Theodore Roosevelt in North Dakota. Interspersed among them are Black Hills National Forest and several national grasslands.
Badlands is so stark and otherworldly that the park convincingly served as an alien planet in "Starship Troopers." Theodore Roosevelt also harbors the rocky, arid terrain commonly known as badlands, though it's also known for majestic grasslands and thriving bison herds.
Meanwhile, the heavily forested Black Hills occupy the most rugged patch of ground between the Rocky Mountains and the Appalachians. Iconic Mount Rushmore lurks deep within them, while even larger Crazy Horse Memorial is slowly emerging nearby (though it won't be completed for decades). South of the heart of the Black Hills lies Wind Cave National Park, which contains one of the world's longest cave systems – and more bison.
Entrance Fee: At Theodore Roosevelt National Park, a seven-day vehicle pass is $25 and a seven-day bike/hike pass is $12. At Badlands, a seven-day vehicle pass is $20 and a seven-day bike/hike pass is $10. It costs $10 to park at Mount Rushmore National Memorial, so you should hike in if possible. Wind Cave National Park is free to enter, park in, and explore. Admission to the cave complex is by tour only. Fees range from $10 to $30 depending on the tour. Children between the ages of six and sixteen pay half-price admission, and those five and under are free. Crazy Horse Memorial charges $12 per person, with a maximum charge per car of $30 – so carpool if at all possible.
Best Time to Visit: The western Dakotas' climate is pretty extreme, with very short spring and fall seasons. May and October – the shoulder seasons – generally have the ideal combination of low prices and good weather, though unseasonable cold snaps and heat waves (or snowstorms) are possible. The more popular formations and attractions, such as Wind Cave and Mount Rushmore, are extremely crowded during the summer months, especially around holidays and fee-free days like August 25th, the National Park Service's birthday. Summer crowds are less of a problem in the wide-open spaces of Badlands and Theodore Roosevelt, but temperatures that routinely peak near 100 degrees can be a problem. If you visit during summer, get most of your activity out of the way in the morning or evening – which are also the best time to photograph the Badlands' spires. And unless you're an avid motorcyclist, avoid early August, when thousands of bikers descend on the Black Hills town of Sturgis for the annual Sturgis Motorcycle Rally.
How to Get There: The Badlands and Black Hills cover a huge territory, spanning nearly 200 miles east to west and at least 300 miles north to south. The closest airport to Badlands, Wind Cave, and the Black Hills is outside Rapid City, South Dakota (nonstops to Dallas, Denver, Phoenix, Salt Lake City, Chicago, and Minneapolis start at about $200). From there, all the major South Dakota attractions are less than an hour and a half by car. Theodore Roosevelt is roughly five hours north of Rapid City, a long but beautiful drive. If you want to focus on that area, fly into Bismarck, North Dakota (nonstops to Minneapolis, Denver, Las Vegas, Dallas, Chicago, and Orlando start at about $150, but vary by season) and rent a car. From there, it's a two- to three-hour drive to the park entrance. Expect to pay at least $30 per day for economy rentals in Bismarck and Rapid City, and more during peak tourist periods.
Where to Stay: If you're looking for a proper hotel or motel near Badlands, the towns of Interior and Wall (home of the always-weird, but always free, Wall Drug) have plenty. Local Days Inn rates start near $60 in May and October. For camping, the primitive Sage Creek Campground is free and the more comfortable Cedar Pass Campground is $18 per night. In the Black Hills, cheap rustic cabins and campgrounds abound in the shoulder seasons, with many open year-round. About half are free; most of the rest cost less than $10 per night. Theodore Roosevelt has two campgrounds: Cottonwood and Juniper. Each cost $10 per night. There's also a campground called Roundup Group Horse ($40 per group, per night), but it's very difficult to reserve.
What to Do: Both Badlands and Theodore Roosevelt have looping drives that offer great opportunities for photographing rock formations – and, if you're lucky, bison herds. These can typically be done in the course of a leisurely morning. Also, Black Hills is a hiker's paradise. Choose from gentle walks like the two-mile Dutchman Loop or strenuous climbs like five-mile Harney Peak North. Wind Cave has easy to moderate hiking too, but the cave is the real draw. It's worth paying for a tour, which typically lasts one to two hours and features a moderate walk through tight passages, majestic caverns, and bizarre underground formations.
Special Events and Attractions: Downtown Rapid City has a surprisingly rich street life. Notable attractions include Art Alley, a multi-block area covered with graffiti and murals, and City of Presidents, a series of bronze statues commemorating past U.S. presidents.
3. Mammoth Cave National Park – Kentucky
Wind Cave is pretty impressive, but the continent's largest cavern system actually lies deep underneath the rugged hills of south-central Kentucky. Mammoth Cave National Park encompasses the most tourist-friendly portion of the sprawling complex. There are more than 400 miles of explored caverns here, though visitors are only allowed in a small fraction of them.
Unlike many cave systems, Mammoth is known for vast caverns, some several stories high. Due to the difficulty and danger of exploring caves on one's own, you may need to sign up for a tour to get the full measure of the cave's beauty. However, if you're a fan of the hiking and climbing associated with traditional outdoors vacations, the rugged, forested landscape above the caverns is great for exploring and camping.
Entrance Fee: There's no park entrance fee, though cave tours cost between $7 and $55, depending on length and location.
Best Time to Visit: Southern Kentucky has a four-season climate with chilly, sometimes snowy winters and muggy summers. The mild transitional seasons (April to May and September to November) are the most comfortable times to visit, though the late October foliage season can draw crowds. Lodging tends to be cheaper during these months as well. Tour reservations are recommended at any time of year, but particularly during the busy spring and summer periods.
How to Get There: Mammoth Cave is about an hour and a half by car from both Nashville and Louisville. If you live in the states surrounding Kentucky, driving in might be the best bet. Otherwise, both Nashville and Louisville have international airports with nonstop or one-stop flights to many major U.S. cities, starting below $200 round-trip.
Where to Stay: Lodging is cheap and plentiful near the entrance to Mammoth Cave. For cheap hotels and motels, check out the Sleep Inn or Super 8 ($55 to $65 per night and up) in Cave City. If you're up for camping or seeing Mammoth as part of a long-distance hike, there are two major campgrounds for drive-up or walk-in campers: Mammoth Cave ($20 per night) and Houchin Ferry ($12 per night).
What to Do: Unsurprisingly, the focus of Mammoth Cave National Park is the cave itself. The Mammoth Passage Tour ($7) offers a cursory look at this vast underground world, but the Domes and Dripstones Tour ($15) and the Great Onyx Lantern Tour ($18) offer a more comprehensive look for a reasonable price.
Special Events and Attractions: Just outside the park, the American Cave Museum is a legitimate attraction that features Native American artifacts and exhibits showcasing subterranean wildlife and geology. It's open year-round, though the warm season features more programming.
4. Keystone – Colorado
Though resorts in the heart of the Colorado Rockies rarely appear on lists of affordable vacation destinations, Keystone is a cost-effective getaway if your heart isn't set on tasting its world-class powder. Slopes aside, Keystone arguably offers more to do in summer than in winter, from beautiful hikes in the surrounding high country, to affordable alpine tubing and biking in one of the country's premier mountain biking parks. If you're into water sports, great fly fishing and rafting (with affordable rentals on both counts) isn't far away.
Keystone's differentiator is its location on U.S. Forest Service lands, which limits the tourist development that afflicts other big mountain resorts. That makes for a hard-to-beat combination of affordability and beauty.
You Might Also Like: If you're looking for affordable outdoor vacation options in the heart of the Rockies, two other Colorado destinations are worth checking out: Steamboat Springs and Grand Lake. Before you settle on a destination, check out our lists of things to do in Steamboat Springs, places to stay in Steamboat Springs, and places to stay in Grand Lake, too.
Entrance Fee: There's no entrance fee to access the town of Keystone or the surrounding lands.
Best Time to Visit: Keystone is a top destination for snow lovers, but it's hard to ski and board on the cheap. For a taste of warm-weather Keystone, visit from late August through early October, when the summer crowds have left but the snow hasn't started flying. Lodging is more affordable this time of year. Foliage season peaks in late September, offering an added bonus. Just bring warm clothing, as lows routinely drop below freezing despite daytime highs in the 60s and 70s.
How to Get There: In optimal traffic and weather conditions in early fall, Keystone is about an hour and a half from central Denver and roughly two hours from Denver International Airport. As a major hub, Denver has nonstop flights from dozens of U.S. cities, starting at around $100 round-trip.
Where to Stay: You don't have to stay in a pricey resort to enjoy Keystone. The Best Western in nearby Dillon ($60 per night and up in the offseason, $90 per night and up in the winter) is affordable and comfortable. U.S. 6, the main road leading into town, is lined with reasonably priced hotels. If you're up for camping, White River National Forest (which surrounds Keystone) has two nearby campgrounds: Prospector and Lowry, open Memorial Day through Labor Day. Both cost $21 to $26 per night.
What to Do:Keystone Resort has more than 100 miles of single track mountain biking trails. At $40, a day pass is a bit pricey, but definitely worthwhile if you spend all or most of the day on the trail. Nearby Lake Dillon has excellent fishing, with a three-day Colorado fishing license priced at $31. The Keystone area is crisscrossed with free hiking trails, including the moderate, seven-mile Schoolmarm Loop.
Special Events and Attractions: Keystone has several noteworthy festivals during the warm season. The Bluegrass and Beer Festival, held every August, is particularly popular. One-day passes cost $40; two-days run $75. If you come earlier in the summer, keep an eye out for the Blue Ribbon Bacon Tour (late June, $25 to $50) and the Wine & Jazz Festival (mid-July, $60).
Pro Tip: If you're visiting Keystone during the cold season, be sure to dress appropriately. Check out our roundup of the top ski and snowboard clothing and gear brands that blend style and affordability.
5. Coastal Georgia's Wildlife Refuges – Georgia
The Southeast Atlantic coast is best known for well-preserved, culturally rich colonial cities such as Charleston and Savannah. Between these built-up areas, however, visitors are often shocked to find watery, thinly populated expanses of forest and marshland. Maybe that's why coastal Georgia, between Savannah and Brunswick, is home to no fewer than five state and national wildlife refuges (Wolf Island, Blackbeard Island, Harris Neck, Wassaw, and Reynolds).
These spaces brim with wildlife, especially migratory birds and waterfowl that nest near the region's wildlife-rich waters. An abundance of campgrounds and affordable, no-frills lodgings lowers the cost of any trip to this part of the world. Also, if you're ready to trade the bird binoculars and waders for a cold beverage and bathing suit, there is an abundance of free beaches.
Entrance Fee: None of these wildlife refuges have entrance fees, though you may have to pay for a fishing permit ($9 for residents and $45 for nonresidents).
Best Time to Visit: Coastal Georgia is not a particularly pleasant place to be in summer. Unfortunately, summer may be the most affordable time to visit, with local hotels slashing prices to offset lower demand for rooms. Spring and fall are much more crowded and expensive. If you don't mind bringing a jacket and pants, January and February are the most cost-effective months to visit, with few crowds and low prices. Spring break is extremely busy, particularly on Tybee Island.
How to Get There: This is a roughly 100-mile stretch of coastline within easy access of Interstate 95, the Atlantic coast's main thoroughfare. The region is about four driving hours from Atlanta, but the Savannah-Hilton Head International Airport has a decent number of direct flights from East Coast cities like New York (starting around $200 round-trip from JFK).
Where to Stay: Camping in the ecologically sensitive wildlife refuges isn't allowed, but you can post up at two nearby state parks: Skidaway Island and Fort McAllister. Campsites with sewer and electrical hookups start at around $40 per night. It's expensive to stay at a hotel in or near Savannah, but Darien and Brunswick – less than an hour down the coast – have plenty of cheap, clean lodgings.
What to Do: These refuges are best seen by boat. For $95 for the first day and $25 for each additional day, you can rent a two-person kayak at Southeast Adventure in Brunswick or St. Simons Island. Once you're on the water, you can paddle around and snap photos or fish to your heart's content. (Specialized fishing kayaks cost $95 per day.) For a more novel experience, look into stand up paddleboard rentals. For dry land sightseeing, rent a bike at Monkey Wrench in St. Simons ($20 per day). For a beach break, head to Tybee Island and soak up the rays on a broad, family-friendly beach with a historic lighthouse.
Special Events and Attractions: Organized events aren't as common during the winter months, but spring and fall are lively. Savannah has one of the largest St. Patrick's Day celebrations in the U.S. Taste of Savannah (early November, $70), Savannah Film Festival (pricing varies), and Savannah Jazz Festival (free). All take place between Labor Day and Thanksgiving.
6. Monongahela, Jefferson, and George Washington National Forests – Virginia and West Virginia
The Appalachian Mountains' spine runs right along the border between Virginia and West Virginia, harboring thousands of square miles of pristine, thinly populated forest land. Despite its natural beauty and ruggedness, this stretch of mountains is just a few hours from some of the eastern United States' biggest cities, including Baltimore, Pittsburgh, and Washington, D.C.
If you come during the right season, you can avoid the big-city crowds because there are plenty of places to explore. The area's three largest preserves are Monongahela and George Washington and Jefferson National Forests, but Shenandoah National Park isn't far off, and numerous state parks and forests are nearby. If you love to hike and camp, it's hard to beat this convenient, affordable expanse of forest.
You Might Also Like: These stunning national forests and parks aren't the only things the central Appalachian region has going for it. The entire state of West Virginia is an outdoor gem. For activity ideas suitable for any budget, check out our list of fun things to do in West Virginia.
Entrance Fee: The national forests don't have entrance fees, though nearby Shenandoah National Park does ($25 for a seven-day vehicle pass, and $10 for a seven-day non-motorized pass).
Best Time to Visit: Avoid the hot summer months (June through September) and treacherous cold season (December through mid-March). If you're set on seeing fall color, mid-October is the best time to visit, but local hotels sometimes jack up prices for the peak season. It's cheaper and just as mild in April or May.
How to Get There: These forests cover a huge area of the Virginias, roughly 100 miles from north to south and 75 miles east to west. The northern edge is two to three hours by car from Baltimore, D.C., and Pittsburgh, depending on weather and traffic. If you live in the mid-Atlantic or Ohio Valley regions, it's probably best to drive. However, the airports in Pittsburgh, D.C., and Baltimore all have affordable nonstop connections (starting at about $200 for Washington-Dulles, and $250 for Baltimore-Washington and Pittsburgh) to nationwide destinations.
Where to Stay: Hotels and motels can actually be expensive in this remote area. On the western side, the Hampton Inn in Elkins, West Virginia, runs $100 per night or more during the low season. On the eastern side, the Sleep Inn in Staunton, Virginia, starts at about $80 per night. Camping is cost-effective, with dozens of campgrounds and thousands of individual campsites spread throughout the forests. Fees range from $5 to $30 per night, depending on location, amenities, and time of year.
What to Do: During the warm months, this is a great place for hiking and backpacking. The Tea Creek area has a network of centrally located trails. You can also opt for a more challenging, day-long event with an ascent of Spruce Knob, West Virginia's tallest peak. If you're looking for a less strenuous adventure, spend a day on a driving circuit along U.S. Highways 33, 219, and 220, in the heart of the forests. A bit south and west, New River Gorge is the longest and deepest canyon in eastern North America. Thanks to the many bridges spanning it, you don't even have to stop your car to get a sense of its scale.
Special Events and Attractions: In Staunton, Virginia, don't miss Oktoberfest, in early October, and the Staunton Music Festival in August. Near Elkins, in late September, the massive Mountain State Forest Festival features country music concerts, lumberjack competitions, art exhibitions, and much more.
7. The Ozark and Ouachita Mountains – Missouri, Arkansas, and Oklahoma
If you love elevation, there's not much for you in the flat expanse of the central U.S., but you can find exceptions to the rule in western Arkansas, southwestern Missouri, and a bit of eastern Oklahoma. Here, the Ozarks and Oauchitas – two rugged plateaus that pass for mountains in this part of the world – harbor some world-class driving roads, excellent hiking trails, and great rivers.
Despite the region's popularity and proximity to larger cities such as St. Louis, Dallas, and Kansas City, it's an incredibly affordable destination – particularly if you're up for biking and camping. To get the true outdoorsy flavor of the Ozarks and Ouachitas, skip the kitschy tourist traps (Branson in particular) and focus on natural gems like Hot Springs National Park and Ouachita National Forest.
Entrance Fee: The national forests and Hot Springs National Park are free.
Best Time to Visit: Like the Appalachians, the Ozarks and Ouachitas are famous for fall foliage. The season can be a bit later here, typically late October to early November. Though campsite prices don't increase much, it can be harder to find a spot at this time of year, and local hotels and motels do tend to raise rates. If you're set on seeing color, you can make it work. If not, visit in April or May, when woodland flowers bloom and summer's muggy heat hasn't yet arrived.
How to Get There: This is another spread-out region that's best appreciated by car. The cities of Branson, Missouri, Fayetteville, Arkansas, and Fort Smith, Arkansas are ideal arrival points for your trip. All three have regional airports with direct connections to central U.S. destinations ($150 and up, depending on location and season) and one-stop connections to coastal cities ($200 and up). If you just want to visit Hot Springs and Lake Catherine, fly into Little Rock, which is about an hour and a half by car.
Where to Stay: Camping at Hot Springs National Park is $30 per night year-round. At Lake Catherine State Park, prices for modern campsites with sewer and electric hookups start at $29 per night. If a warm bed is a must, affordable ($50 per night and up) hotels and motels abound in the larger towns and cities in this area.
What to Do: The Ozarks and Ouachitas have numerous large lakes, from Table Rock Lake near Branson, to Lake Catherine near Hot Springs, and about a dozen navigable rivers. As such, boating and fishing are popular pastimes here. Avoid pricey pontoon rentals and opt for kayaks and canoes, which rent for $30 to $35 per day at High Shoals on the Ouachita River. Arkansas fishing licenses are $16 for a three-day nonresident license, while Missouri's run $7 for a day license and $42 for an annual nonresident license. Hiking is popular too, especially on the Missouri side, where the Ozark Trail Association keeps an extensive, well-maintained network.
Special Events and Attractions: If you come in October, don't miss the Ozark Folk Festival, an eclectic music festival in Eureka Springs, Missouri. Mountain biking enthusiasts can't miss the Ouachita Challenge, a late-March race that covers 60 miles in two days. Space is limited, so reserve your spot early.
Pro Tip: Weather-wise, late March is an unpredictable time of year in the Ozarks and Ouachitas. If you're planning to register for the Ouachita Challenge, you'd best be prepared. Check out our post on biking in the winter and cold weather.
8. Sequoia and Kings Canyon National Parks – California
Everything's bigger in Texas – usually. When it comes to trees, though, California takes the cake.
If you don't mind roughing it a little, there's no more affordable, accessible place to see the state's monstrous trees than Sequoia and Kings Canyon National Parks, two adjacent preserves that attract thousands of visitors each year. Sequoia contains the world's most massive trees, while Kings Canyon features a long mountain stretch that includes the highest peak in the Lower 48. Whether you're a fan of rugged hikes along alpine ridges or nose-to-the-ground interactions with the planet's incredible biodiversity, this corner of California is a convenient playground that won't empty your wallet.
You Might Also Like: The Pacific Crest Trail, which passes through this part of the Sierras on its way from southern California to the Canadian border, easily makes the cut for our comprehensive roundup of the top long-distance hiking trails to escape civilization. Have you hiked part or all of the PCT or any of the other trails on the list?
Entrance Fee: $30 for a seven-day vehicle pass, $15 for a non-motorized pass.
Best Time to Visit: Sequoia and Kings Canyon receive far fewer visitors than nearby Yosemite National Park, so you don't need to structure your visit around a peak season. However, weather varies greatly by elevation in these parks, with the lower elevations baking in summer and the alpine areas frozen for much of the year. Even the sequoia groves can see snow as early as late September and as late as May. Mid-June through mid-September is probably the best season for weather.
How to Get There: Depending on where you're going in the parks, Sequoia and Kings Canyon are roughly an hour from Fresno and three and a half hours from both Los Angeles and San Francisco in ideal traffic conditions. Fresno Yosemite Airport has nonstop flights to Seattle, Los Angeles, Denver, and other destinations, though fares can be pricey.
Where to Stay: With few sizable settlements close by, finding affordable hotels and motels near Kings Canyon and Sequoia can be difficult. Lodging in or near the parks, at places like Cedar Grove Lodge, can cost well over $100 per night. Camping is definitely more cost-effective, with about a dozen campgrounds at varying elevations. Prices range from $12 to $40 per night, depending on location and amenities. Note that higher campgrounds may only be open during the summer.
What to Do: Though Yosemite's vertical assets get more attention, Sequoia and Kings Canyon are popular rock climbing destinations. If you'd prefer to keep both feet on the ground, popular day hikes abound. For an alpine experience, check out the Mineral King area. Prepare appropriately: You'll need to go slower and pack more water and sun protection at these altitudes. To see more of the sequoia groves than you would from the road, use Grant Grove Village as a home base to explore mid-elevation canyons and crags.
Special Events and Attractions: In Sequoia, the Giant Forest Museum is a great place to start if you or your kids are interested in the science behind this area's unique ecosystem. And don't leave without snapping selfies with General Sherman and General Grant.
9. Lake Tahoe – California and Nevada
Like Keystone, the Lake Tahoe area doesn't often appear on lists of affordable vacation destinations. If you gravitate to the California side's upscale resorts, you may head back to your hometown a little lighter in the wallet.
However, if you commit to camping or staying in cheap accommodations, this is a world-class place for an outdoorsy vacation – especially if you choose your hikes well. When you tire, you can find plenty to keep you busy on the lake, like affordable kayak rentals and a full festival schedule.
Entrance Fee: The various state parks and beaches around Lake Tahoe may charge entrance or parking fees during the summer. These range from $2 to $15, depending on location. Prime beaches, such as Sand Harbor in Nevada's Lake Tahoe State Park, are priciest.
Best Time to Visit: Like Keystone, this is a high-altitude area that experiences rapid temperature changes and gets lots of snow during the winter (November to May). Avoid winter and the peak summer months (roughly late June through late August) and visit during the first couple of weeks of June or anytime during September. Both periods feature lower lodging prices and thinner crowds.
How to Get There: Depending on the season and your exact destination, this area is about an hour's drive from Reno, Nevada, and about three and a half hours from San Francisco. If you don't live in northern California or Nevada, it's probably best to fly into Reno-Tahoe International Airport, which has affordable nonstop flights (from $130 on up) to and from more than a dozen destinations (such as Chicago, Houston, Dallas, Denver, Los Angeles, Las Vegas, and Seattle).
Where to Stay: There are hundreds of hotels and motels within easy driving distance of Lake Tahoe, so finding a room isn't a problem outside the peak winter and summer seasons. Lodging is fairly affordable: The Howard Johnson Express in South Lake Tahoe starts around $50 per night, while the more upscale Tahoe Resort Hotel runs $100 per night and up in the warm season. For camping, the Tahoe Basin features nearly two dozen campgrounds, with walk-in sites starting around $10 per night and drive-in sites starting at $25 per night.
What to Do: Lake Tahoe is the continent's largest alpine lake, so boating is a big deal here. Kayak Tahoe has daily kayak and paddleboard rentals from $65, which may be worth it for a full day of exploration on the lake. For a great view from one of the area's highest peaks, try the Mount Tallac Trail, which gains more than 3,000 feet of elevation in about five miles.
Special Events and Attractions: If you visit in summer, look into the Tahoe Rim Trail Challenge, a self-guided tour of the Tahoe Rim Trail. In July, the Lake Tahoe Music Festival features concerts (starting at $10) at multiple locations in late July.
10. Zion National Park, Utah
Barely 100 miles north of Grand Canyon National Park lies Zion National Park, one of the country's best kept wilderness secrets. This compact preserve features stunning rock formations, beautiful vistas, and an abundance of hiking and camping assets.
Though its depths don't approach those of its more popular cousin to the south, Zion has a host of singular canyons, valleys, and outcrops. For geology buffs and frugal wilderness lovers, Zion is hard to beat. Just remember to bring your camera.
Entrance Fee: $30 for a seven-day vehicle pass, $15 for a seven-day non-motorized pass.
Best Time to Visit: Zion sits in a high-elevation desert, so temperatures vary from day to night and season to season. With daytime temperatures routinely surpassing 100 degrees, summer can be brutal. However, it's also the cheapest season to visit, with cut-rate lodging and super-affordable flight deals to Las Vegas. Spring tends to be mild and dry, whereas September and early October may be wetter due to thunderstorms. Winter is cool to cold and occasionally inclement, with rain more common on valley floors and snow or mixed precipitation at higher elevations.
How to Get There: Zion National Park is about two and a half hours by car from Las Vegas, and a little over four hours by car from Salt Lake City. Both cities' airports have nonstop flights to dozens of U.S. destinations, and flights to Vegas sometimes run less than $100 round-trip.
Where to Stay: The main road to Zion's southern entrance is lined with hotels and motels, such as the Zion Pioneer Lodge and Quality Inn. Rooms are surprisingly expensive during the high season – expect to pay more than $100 per night, even for basic two- and three-star options. The two main campgrounds inside the park, Watchman and South, are much more affordable. Tent-only sites start at $20 per night, with higher prices for riverside spots. For a change of scenery, check out Lava Point Campground, about an hour outside the entrance. At nearly 8,000 feet above sea level, it's in a cool, leafy alpine forest with great views – but it doesn't have running water. If you're doing a multi-day hike, you can reserve dispersed, primitive back-country campsites (no more than five sites per campground) at similar prices.
What to Do: The best way to see Zion is on foot. The Zion Canyon area has the highest density of trails, ranging from all-day climbs to short, gentle walks. If you're feeling adventurous and have the proper equipment, canyoneering and climbing are good options. The Narrows and The Subway are two of the easiest and most popular routes through Zion's narrow, twisting waterways.
Special Events and Attractions: During the warm season, the town of Springdale has an impressive farmer's market on Saturdays and Sundays. Late September features the free Zion Canyon Music Festival ($10 per head), an eclectic, family-friendly event.
Final Word
These destinations are all beautiful and great for any type of trip: a two-week retreat, a fitness vacation, a multi-destination driving tour, or just a quick weekend getaway. With a little planning and the right equipment, you can engineer a frugal vacation that doesn't require you to make compromises or miss out on the highlights of a destination.
Don't be afraid to share your plans and seek advice from those who have come before you. You may be surprised how many of your friends have a passion for the great outdoors.
Top Outdoor Adventure Travel Destinations in the U.S.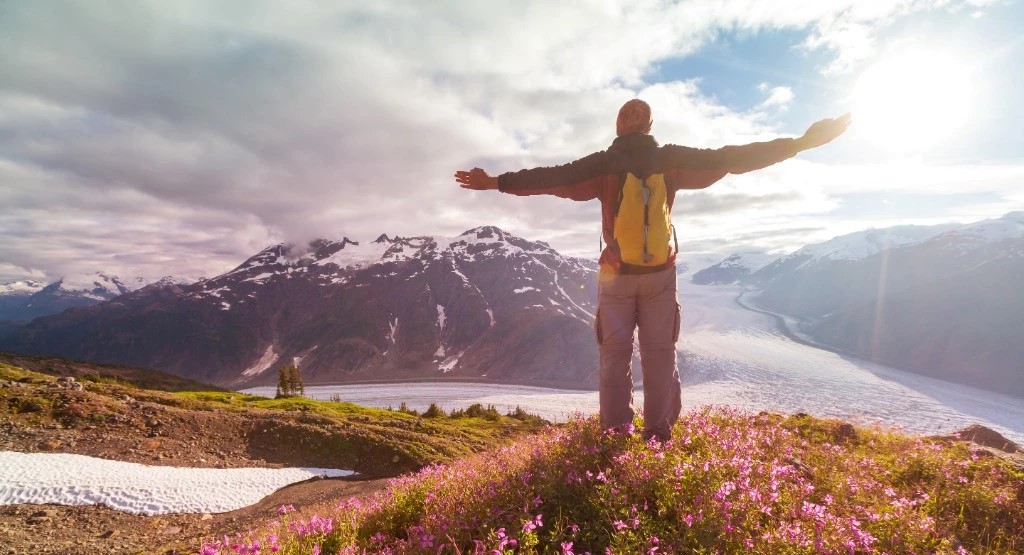 Welcome to GoWandering.com! Ready to plan your next epic road trip? Try our trip planner. Looking to discover new places to wander? Check out our places page.
The United States has so much natural beauty from the sandy coastline to the rugged mountains. Epic outdoor adventures are waiting for you at every turn. If you need to relax and escape to the great outdoors, check out some of these top outdoor adventure travel destinations.
Spring and Summer
Alaska, "the land of the midnight sun," has miles of untouched wilderness waiting for you to explore. Summer is the ideal time of year to visit Alaska, and Chugach State Park is within minutes of downtown Anchorage. This massive state park features mountains, lakes, glaciers, and an exquisite coastline. Enjoy even more picturesque views along the Tony Knowles Coastal Trail overlooking the bay. This popular paved biking trail is perfect for everyone, including beginners.
Talk about charming; Chattanooga, Tennessee, is lovingly called the "Scenic City." This town has easy access to the Tennessee River, Ruby Falls, Lookout Mountain, and other majestic places. Sunset Rock and the Tennessee Wall are great for rock climbers, both of which are within minutes of downtown. They also host major league fishing competitions in the early spring, so you can bet that an outdoor adventure of epic proportions awaits all who visit Chattanooga.
Finger Lakes (Upstate New York)
Spring is an underrated season to visit the Finger Lakes, but you can take advantage of lower lodging rates and fewer crowds. April and May are the best months to fish for trout, pike, perch, and Atlantic salmon in the Finger Lakes region. Whether you decide to camp at Keuka Lake or Seneca Lake, expect to see gorgeous sunsets. You should also add Letchworth State Park, Buttermilk Falls, Taughannock Falls, and this wildlife refuge to your Upstate New York itinerary.
Lake Tahoe (California/Nevada)
This outdoor adventure travel destination is nestled in the Sierra Nevada Mountains. Admittedly, the southern side of the lake is a bit touristy, but the northern side of Lake Tahoe is perfect for outdoor adventurers seeking solitude. Whether you want to relax on the beach, explore all the backcountry trails, or go kayaking, you can do it all at Lake Tahoe. There is no better place to unwind and Lake Tahoe is one of the most pristine lakes you may ever get the chance to see.
Pacific Coast (Oregon)
Spring and summer are undoubtedly the best seasons to explore the Oregon Coast. You could easily spend several months adventuring from Brookings to Seaside. Some of the most breathtaking places along the Northern Pacific Coast include the Boardman Scenic Corridor (Brookings), Cape Perpetua Scenic Area (Yachats), Otter Crest Scenic Viewpoint (Otter Rock), and Haystack Rock (Cannon Beach). If you love the ocean, don't miss out on the Oregon Coast!
Upper Peninsula (Northern Michigan)
Enjoy views of Lake Superior at this picturesque outdoor adventure destination. The Upper Peninsula features the Pictured Rocks National Lakeshore, Porcupine Mountains Wilderness, and Tahquamenon Falls. Summer is the optimal time to visit this region because it is warm enough to go swimming, boating, fishing, and chasing waterfalls. Michigan's U.P. is an absolute gem, and we feel like more people should explore this beautiful region of the United States.
Yosemite National Park (Northern California)
Plan a camping trip to Yosemite National Park well in advance. This place is very popular among road trippers and outdoor enthusiasts, especially during the peak of summer. A more affordable option you may want to consider is visiting Yosemite in the springtime. Believe it or not, the park's waterfalls start to flow at full force around mid-April. Have an epic adventure hiking, horseback riding, white water rafting, camping, or fishing at this majestic U.S. National Park.
Zion National Park (Southern Utah)
Zion National Park is mostly packed all summer long, but the cooler spring weather is a great time to visit this outdoor adventure destination. This place has countless areas to go hiking, rock climbing, off-roading, and horseback riding. Plan to explore at least one of these trails during your stay: Zion Canyon Overlook, The Narrows, Emerald Pools, and the Watchman. You have to see Zion National Park at least once in your life; we promise you won't regret it.
Fall and Winter
Black Hills (South Dakota)
The Black Hills has countless things to see, including waterfalls, natural rock spires and pinnacles, prairies, and a vast national forest (which has stunning fall foliage). Custer State Park is an absolute must if you're an outdoor enthusiast. This place features over 1,000 wild bison and tons of space to observe wildlife such as elk, antelope, bighorn sheep, prairie dogs, hawks, and more. Discover the beauty of South Dakota and plan your next outdoor adventure here!
Leaf peeping in Boulder is so much fun, and the Wonderland Lake, Betasso Preserve, and Peak to Peak Scenic Byway should be on your list of places to see in the fall. Of course, sledding, skiing, and snowboarding are always plentiful in the winter. If you're adventurous enough to go on a winter hike, head to the iconic Flatirons. These mountains are visible from virtually everywhere in Boulder. Enjoy an epic outdoor adventure in Boulder, Colorado, this fall or winter.
Florida Keys (Southern Florida)
This tropical escape can easily chase away the winter blues. The Bahia Honda State Park, located west of the Seven Mile Bridge is RV-friendly, but book your stay in advance because spots fill up fast. Water-loving outdoor adventurers love snorkeling in the Florida Keys, especially the John Pennekamp Coral Reef State Park. We know Florida's beaches are calling your name, so plan to explore the Florida Keys on your next epic outdoor adventure.
Great Smoky Mountains National Park (North Carolina/Tennessee)
Head to the nation's most visited National Park in the fall! All the fall foliage here is simply breathtaking. As a bonus, Great Smoky Mountains National Park has no entrance fees. Plan to hike along the Roaring Fork Nature Trail, Newfound Gap, Grotto Falls, Walker Sisters Place, and Cades Cove while you're here. Cades Cove is a premier camping spot, so set your sights on the Great Smoky Mountains if you're itching for an epic outdoor adventure.
Maui is an unforgettable outdoor adventure destination. If you visit during winter, don't miss out on whale watching (migration season begins in November). Join an excursion to see the humpback whales in the Auau Channel, then continue your outdoor adventure at the Molokini Crater. This is one of the best snorkeling and scuba diving spots in the Pacific. You should also pack your hiking boots and explore Maui's state parks and scenic coastal trails during your stay.
Ozark National Forest (Arkansas)
Forests are some of the most scenic spots for an outdoor adventure in the fall. Arkansas is known as the "natural state," and the Ozarks are certainly one of the top places every outdoor enthusiast should visit. Enjoy hiking and observing wildlife to your heart's content over here. If the weather is nice enough, floating down the Buffalo National River should also be on your Ozark National Forest itinerary. Don't miss out on this incredible outdoor adventure travel destination.
This desert oasis is sure to lift your spirits. You won't regret exploring the Coconino National Forest during the fall; it is one of the most diverse national forests in the United States. From the red rock canyons to the majestic San Francisco Peaks, this picturesque area is brimming with wildlife and natural beauty. Average high temperatures in the fall and winter are around 65 degrees Fahrenheit, which is certainly preferable to dealing with frigid temperatures.
White Mountain National Forest (New Hampshire)
New Hampshire is home to the famous White Mountain National Forest, the most visited U.S. national forest. Hiking and landscape photography is a must in this region. While you're at it, hop over to Franconia Notch State Park or drive down the iconic Kancamagus Highway (New Hampshire State Route 112), which cuts through the lower half of the forest. It is hard to beat the awe-inspiring views and fall foliage at this outdoor adventure travel destination.
We hope you enjoyed our list of the top outdoor adventure travel destinations. Wherever you decide to travel, we hope you will find serenity and enjoy spending time in nature. Tell us about your favorite outdoor adventures in the comments!
If you're new to gowandering.com, create an account and plan your next epic road trip using our trip planner. Visit our FAQ page to learn more information about our trip planning tool.
Top 21 Outdoor Adventure Destinations in the World – Vacation Travel Ideas
Most of us never lose that child's desire for excitement and new experiences, but we come to believe that adventures are too expensive, too dangerous, or too physically demanding for us. As a consequence, we grow accustomed to comfort and safety, willing to get our thrills secondhand through screens. We become afraid to dare.
Thankfully, opportunities to see new places, learn new skills, and gain confidence in our abilities are more plentiful than ever. Aspiring explorers of every age and physical condition can find exciting vacations in countries from America to Africa, in the mountains and on the oceans, in luxurious surroundings or rough bedding beneath the stars.
Possible adventures await in every corner of the globe. Here's how to find yours.
There's an Adventure for Everyone
There's an adventure out there to suit every person. Yours could be enjoying the great art decorating the halls of the Louvre or hiking portions of the Appalachian Trail. You could find adventure while searching for ancient relics on an archaeological dig or bird-watching in the jungles of Costa Rica.
Motley Fool Stock Advisor recommendations have an average return of 397%. For $79 (or just $1.52 per week), join more than 1 million members and don't miss their upcoming stock picks. 30 day money-back guarantee. Sign Up Now
Some sites are accessible to everyone, while others require a medium level of fitness and stamina. Adventure doesn't have to involve rigorous physical activity. Passengers on an African safari can experience as much of a thrill as scuba divers on the Great Barrier Reef or rock climbers in the High Sierra.
Adventure vacations provide a variety of choices for the modern explorer. In addition to choosing whether to go alone or with your family, you can elect to join a guided group or arrange your own itinerary. Some adventures are designed for adrenaline junkies, while others aim for relaxation. Best of all, you can go on the trip of a lifetime without busting your budget.
Some of the vacations on this list are suitable for travelers of all physical levels and ages, while others require certain levels of fitness. We've identified tour companies recognized for their expertise and client satisfaction for each vacation. Note that some tours and expeditions may not be available year-round.
Walking & Hiking
Walking tours are done over man-made, improved surfaces of concrete, gravel, or sand; hikers follow unimproved, rougher natural trails. Trekking is a long-distance version of both lasting more than a week. Trips are classified by the level of activity required:
Easy. Walks of two to six miles over a gentle terrain with minimal elevation changes of up to 750 feet are considered "easy." Travelers typically complete the journey within four hours.
Moderate. More active walkers pursue longer distances, up to 10 miles, through hilly terrain and elevation changes up to 2,200 feet. The trip is designed to be done within six hours.
Challenging. Only the very fit should attempt this 6-to-14-mile walk through rugged mountains with sustained ascents and descents up to 4,000 feet. A reasonably fit person will take up to seven hours to complete the trip.
There are spectacular walk and hikes in almost every country in the world. The following locations are especially worth putting on your list.
1. Scottish Highlands
This dramatic landscape contains ruined castles, enchanted lochs, great glens, and lonely moors. Best suited to moderately fit adults and teenagers, this route has plenty of camping sites, hostels, and B&Bs along the way.
Recommended Tour Company: Absolute Escapes
2. The Canadian Rockies
The river valleys among the towering granite peaks of two major mountain ranges are teeming with wildlife. Walkers are sure to see elk, bighorn sheep, and deer, with bear and moose sightings probable. Campsites are available in the public parks but fill up quickly in the short season when walking is possible. For most, a guided tour is the best option.
Recommended Tour Company: Backroads
3. Patagonia
This landscape of snow-capped Andes Mountains, lush forests, and brilliant glaciers is in the southern region of Argentina. According to Fodor's Travel, few places on earth can "match Patagonia for its diversity of scenery."
Recommended Tour Company: Responsible Travel
4. Dana to Petra, Jordan
This trek through the rock-strewn desert of Jordan encompasses 5 to 6 hours of daily walking over mostly flat ground, with occasional ascents and descents of 0.5 to 1.0 miles. Most nights are spent in tents or sleeping under the stars, eating delicious native meals prepared by the trek crew. The payoff is a day in Petra, a World Heritage site with tombs and temples cut into the red sandstone mountain.
Recommended Tour Company: KE Adventure Travel
Cycling & Mountain Biking
Bike tours are classified by activity level, ranging from 1 (a distance of 8 to 22 miles over two to three hours with grades up to 1,000 feet) to 4 (48 to 70 miles over five to seven hours, with elevation changes up to 4,400 feet). Most tours provide electric-assisted vehicles for those who are less fit. Tours also offer catered meals and comfortable rest stops.
Mountain biking requires riding off-road, usually over rough terrains on specially designed bikes. Trips often include steep descents and rugged climbs. While some companies offer tours for beginners, most cater to experienced mountain bikers.
There are popular biking routes in most countries, including:
5. Moab, Utah
Trails named Slickrock, Porcupine Rim, and Klondike Bluff attract mountain bikers from around the world to this city amid America's most scenic parks. Take a different path each day and return to the town for comfortable lodging and fine dining.
Recommended Tour Company: Sacred Rides
6. Loire Valley, France
A favorite biking area for families, this area offers beautiful chateaus, castles, and the country's most prestigious vineyards. Tours are available around a central town or from one location to another. Most trips are considered "easy," and e-bikes are usually available.
Recommended Tour Company: Biking France
7. California Wine Country
Tours include the green vineyards of the Napa and Sonoma valleys and paths through the soaring redwood forests on the Pacific Coast. Rest stops include wine tastings and gourmet meals while staying in the premier hotels and spas of Northern California.
Recommended Tour Company: Backroads
Canoeing, Kayaking & Rafting
Depending on your fitness level and desire for excitement, consider one of the following if you prefer an on-the-water adventure trip.
8. Yukon Territory
Begin your eight-day expedition on the Yukon River near Whitehorse in Canada and paddle 30 miles through the wilderness that attracted gold prospectors from around the world. Led by an experienced professional guide, participants can fish for salmon and eat their catch each night on the shorelines within sight of black bears, moose, and beavers.
Recommended Tour Company: Kanoe People
9. Tiputini River, Ecuador
Travelers over the age of 18 disembark from Quito, Ecuador and canoe for five days into the spectacular Amazon rainforest, camping each night and sharing gourmet dinners prepared by local guides. Expect to see monkeys, caimans, and colorful exotic birds of all types. Fish for sharp-tooth piranhas and drink the native beer, chicha. You will need immunizations for yellow fever and Hepatitis B before leaving the States.
Recommended Tour Company: Lonely Planet
10. Grand Canyon's Colorado River
Raft 188 miles through the Grand Canyon in Arizona, a trip of six or seven days interspersed with time to explore the ancient geological wonders and the ruins of the country's first inhabitants, the Anasazi. The tour includes over 60 whitewater rapids for those over the age of 12 who are in good health and reasonable physical shape. Falling into the water is possible, so you must be able to swim to safety.
Recommended Tour Company: Arizona Raft Adventures
Climbing & Mountaineering
If you've already experienced rock climbing in an indoor gym, you may be ready to tackle the outdoors in a beginner's tour, where you can learn and practice rock movement skills, rope work, and using climbing equipment in a beautiful natural setting. Experienced rock climbers can try the more difficult ice climbing. If you'd prefer something that involves less skill but is equally demanding, try mountaineering and backpacking.
Rock climbing and mountaineering tours are available for all levels of experience, so it's essential to select a program that fits your capability. Most destinations are ranked from "easy" for beginners to "tough," which involve long days in isolated areas at extreme altitudes. Be sure to check with your tour company to understand the requirements and risks you will face on your climbing vacation.
Those new to the sport might wish to start with one of these tours.
11. Backpacking in the High Sierras
This six-day trip begins in Bishop, California and ends at the Mosquito Flats Trailhead. It covers three high passes of 11,000 or more in the John Muir Wilderness Area. While trips include meals, participants are responsible for their own camping and climbing equipment, such as tents, sleeping bags and pad, eating utensils, and backpacks.
Recommended Tour Company: American Alpine Institute
12. Taos, New Mexico
This popular winter skiing area is also one of America's most visited rock climbing regions, with surfaces and ascents for every level of skill and spectacular scenery. Expert rock climbing guides teach beginners the basics of scaling multi-pitch granite cliffs and hone the skills of more experienced climbers. Introductory skills include basic knots, belay and rappel techniques, climbing communication, safety procedures, and movement on rocks. Classes occur on a daily basis and lunch is included.
Recommended Tour Company: Climbing School USA
13. Kilimanjaro, Tanzania
While experience is not necessary, good health and fitness are requirements for this trip since you'll be climbing to a peak of 19,336 feet. While there are many different ways to the top, most prefer the Western route that's less crowded and more scenic than others. It also provides ample time for acclimation, which is important since the oxygen at the top is about half of sea level volume.
Expect to spend 11 days in Tanzania, including nine days ascending and descending. Travelers stay in customized all-weather tents with a private toilet tent at each stop and hot meals provided by the camp's chef.
Recommended Tour Company: Thomson Treks
Skiing, Snowshoeing & Dog Sledding
Some might prefer their adventure during the winter months when they can view wildlife frolicking in an icy landscape and end each day with a hot drink, a warming spa dip, and a night in a cozy lodge. Many winter expeditions combine Nordic and cross-country skiing with options for snowshoeing, ice skating, and dog sledding.
The distance and altitudes covered each day are designed for all activity levels. Proper dress – waterproof shoes, pants, jackets, and gloves – is essential since your days will be spent outside in below-freezing conditions for hours at a time.
Spectacular tours for all levels of experience include:
14. Yellowstone & Tetons
This journey begins in Bozeman, Montana and ends in Jackson, Wyoming, traversing through the western edge of Yellowstone Park. You'll see erupting geysers, including Old Faithful, in the midst of snow-covered meadows. Herds of bison forage in snowy landscapes, sometimes followed by hungry gray wolves. Activities including snowshoeing, dog sledding, and ice skating are perfect for families and adults.
Recommended Tour Company: Backroads
15. Achen Valley, Austria
Based in Achenkirch, this tour features cross-country ski instruction each morning and daily loops through the Karwendel Alpine Park Nature Reserve. Some prior experience with cross-country skiing is desirable as participants will learn a new technique using shorter skate skis.
Tours don't begin until January to ensure adequate snow. Guests who prefer independence will enjoy the flexibility of the program, including busing to Innsbruck for a day of Nordic skiing.
Recommended Tour Company: Responsible Travel
16. Sushana River, Alaska
You can tour Denali National Park with trips ranging from overnight to 10 days long and accommodations ranging from backcountry cabins to winter camping for hardier guests. Orientation and training allow guests of various experience levels to mush their own sleds along the historic Stampede Trail in the shadow of Mount McKinley, the highest peak in North America.
Recommended Tour Company: Denali Dogsled Expeditions
Nature Trips, Safaris & Geographic Expeditions
Adventures and one-of-a-kind experiences don't always require extraordinary effort, skill, or risk. For many, adventure means a trip beyond imagination, venturing to places of profound beauty, ancient mysteries, or those rarely touched by time.
The following trips are on many people's bucket lists and will awe the most discriminating traveler.
17. Tanzania's Great Migration
The bi-annual migration of giant herds of zebra, gazelles, and wildebeest to and from the Serengeti and the Masai Mara in Kenya is one of nature's greatest shows on earth. No one knows how long it will be before the spectacle disappears like the herds of buffalo that once moved across the prairies of the western United States. Visitors take in the sights from multi-seated trucks to ensure everyone has a good view and stay in lodges and tented camps with catered meals.
Recommended Tour Company: LandLopers
18. Galapagos Islands
The inspiration for Charles Darwin's theory of evolution, these Ecuadorian islands are considered one of the world's premier vistas for wildlife viewing. The three main islands – Santa Cruz, San Cristobal, and Isabela – offer budget to luxury accommodations, often combined with a private yacht to allow island hopping. Most tours include meals, naturalist guides, and opportunities to kayak and snorkel.
Recommended Tour Company: GalapagosIslands.com
19. Madagascar
The fourth largest island in the world, located off the coast of Africa in the Indian Ocean, is the home to plants and animals found nowhere else. There are over 100 species of lemurs, 300 species of birds, and 260 species of reptiles, including the smallest chameleon in the world. The island has more than 14,000 species of plants, 80% of which can only be found here. Tours typically require a minimum of 10 days, and travelers stay in comfortable hotels each night.
Recommended Tour Company: Rainbow Tours
20. Costa Rica
This Central American country is one of the most beautiful places on earth. With coasts on the Atlantic and Pacific Oceans, its landscapes include jungles, beaches, mountains, and volcanos. The animal and plant life is diverse and colorful. With more than 640 species of birds, four species of monkeys, and two types of sloths, it's not surprising the country was dubbed "the most biologically intense place on Earth" by National Geographic. Visitors typically stay in luxury hotels and have multiple options to customize their daily expeditions.
Recommended Tour Company: Zicasso Handcrafted Travel
21. Route 66 Motorcycle Tour
The iconic American roadway Route 66 has drawn more than its share of adventurers, desperadoes, and dreamers since it opened in 1926. Coupled with the mystique of the modern American cowboy, the black-jacketed biker on a Harley, this guided 15-day, 2,000+ mile journey from Chicago to Los Angeles attracts motorcyclists from around the world. Travel in a group of 8 to 12 riders on two-lane roads on rented two- and three-wheeled Harley Davidson models while spending each night in a comfortable hotel. This tour is for adult, experienced motorcyclists.
Recommended Tour Company: Panam Holidays Inc.
Other Options
In addition to the adventure vacations listed above, intrepid travelers can elect to experience:
The Life of a Cowboy. Cowboys and horse wranglers are among America's greatest mythic heroes. City slickers can experience the daily lives of real cowboys – riding horses, herding cattle, and sleeping in bunkhouses – in the mountains and valleys of working ranches from Arizona to Wyoming.
Being the Captain of Your Own Ship. Experienced sailors can charter sailing ships and boats of all sizes and sail the seas around the world. The Caribbean is a favorite sailing ground with easily accessible islands, tranquil coves and inlets of clear blue water for scuba diving and snorkeling, and delicious meals of freshly caught seafood.
Memorable Fishing and Bird Hunting. Some of the best experiences in my life were sharing week-long vacations with my teenage son fishing for trout in the Absaroka Mountains of Wyoming or hunting dove on a Mexican ranch. You can fly fish on a Montana mountain stream for rainbow trout, troll for marlin off the coast of Cape Verde, or free dive for Dungeness crabs in Puget Sound. Dedicated bird hunters annually flock to Argentina for dove, South Dakota for pheasant and grouse, and the Chesapeake Bay for ducks, teal, and geese.
Things to Keep in Mind
To ensure a trouble-free, enjoyable vacation, keep the following factors in mind as you plan your trip.
1. Your Budget
Adventure trip costs vary widely based on destination, accommodations, and expected services. Select a trip you'll enjoy without having to worry about its impact on your lifestyle or savings. Open a new savings account with BBVA and start stashing away money each month. Before you know it you'll have enough saved up.
2. Your Physical Condition
Some destinations require coping with extreme temperatures and varying altitudes. Travelers with a chronic physical condition or disability should ensure that the expected itinerary, accommodations, and foods won't create or exacerbate health issues or preclude participation in a majority of the activities.
Tours to see wildlife and historical places typically occur in nations poorer than America. Many are subject to infectious disease outbreaks that can compromise a traveler's security and safety, and medical facilities can be remote or incapable of handling certain emergencies. Review the availability, accessibility, and capability of medical services during your excursion.
3. Your Fitness Level
Adventure trips may require an extended period of continuous effort in uncomfortable environments with minimal rest periods. Be sure that you'll be able to handle the regular physical tasks of the tour.
4. Your Skills
Some excursions require a minimum skill level to enjoy. Being comfortable in the water and being able to swim easily is essential if your trip involves being in or around water. Nordic and cross-country skiing typically requires practice to be minimally competent, as does rock climbing and mountain biking. Trekking or working on a ranch may require working with or riding large animals such as horses, camels, donkeys, and cattle.
5. Your Time Constraints
Depending on location and itinerary, tours can range from several days to several months. Some are available for specific seasons of the year, while others are available but change offerings. Be sure your desired trip fits your schedule and availability. That said, bear in mind that itineraries frequently change and may differ from the descriptions provided before the trip.
6. The Destination's Culture & Living Standards
Many of these destinations are located in emerging economies and lack the accommodations and service levels Americans expect. Many are subject to political upheaval. Unreliable services, a different language, and different hygienic practices are standard. Anticipate the possibility of difficulty and be prepared with contingency plans.
Also, cultures vary around the globe, and behavior acceptable in one's home country may be inappropriate in another. As a consequence, prospective travelers should research the laws and cultures of any nation they plan to visit to avoid misunderstandings and possible abuse.
7. Governmental Travel Requirements
When traveling across borders, you'll need a valid passport. Many countries also require a visitor visa before entry. Be sure you understand any regulations that might affect your trip, including those regarding bringing any goods acquired while out of the country into the United States.
8. Required Vaccinations & Booster Shots
Identify and get the necessary vaccinations for your trip. Visit the Centers for Disease Control and Prevention (CDC) website for the latest information on vaccinations you will need once you have determined your destination. Schedule an appointment with your primary care provider at least one month before your trip to ensure your routine vaccinations are up to date and allow adequate time for any series of medicine to become effective.
9. Your Health Insurance Coverage
Be sure you understand whether your health insurance is applicable in the countries you plan to visit, as well as any restrictions or limits on your coverage. Determine whether your policy covers emergency transportation back to the United States in a medical emergency. You may wish to purchase additional insurance through a company like eHealth.
10. Your Expectations
Before selecting a vacation, clarify your expectations for the trip. Why are you going? What do you hope to see or do? How much physical risk are you willing to assume? Picking the ideal adventure vacation requires knowing what you want from the experience before you go.
11. Tour Operators' Reputation
There are usually many different tour operators offering the same or similar experiences. Before selecting a tour, check the reputation and reliability of the operator with the Better Business Bureau. Check the operator's membership in the destination country's travel accrediting organization, as well as its license from the appropriate tourism board.
Be aware that tour operators and travel agencies appear and disappear frequently, and the quality of their services can vary significantly from one season to the next. Read previous customers' online reviews, especially regarding the specific trip in which you're interested. Finally, ask the provider for the contact numbers of recent clients and check with them about their trip experiences, if possible.
12. The Costs
Compare tour amenities and options to identify the highest value for your money. Accommodations can vary widely. To properly compare tours, confirm which items – such as extra meals, rental equipment, transportation, and transfer fees – are included in the fee and which are not.
13. Travel Insurance
When traveling overseas, consider purchasing travel insurance from a company like Allianz Travel Insurance to minimize the financial risk of cancellation or the tour operator's discontinuance.
Outward Bound Courses
Prospective adventurers who need specific outdoor skills or anticipate self-guided, independent excursions into wildness areas should consider attending an Outward Bound school. The American nonprofit organization was established in 1962 to reinforce self-confidence and character in middle school and older students through challenging outdoor programs. Since its beginning, the organization has expanded its programs to cover adults and veterans in 16 locations around the world, 11 of which are in America.
Courses range from 6 to 85 days and teach beginners the skills required to master everything from backpacking to dog sledding. Locations include domestic and foreign sites with climates ranging from snow-covered mountains to the deserts of the U.S. Southwest to Costa Rican jungles.
Before enrolling, consider that some people claim an Outward Bound course is the hardest thing they've ever done. It can be an adventure in itself.
Final Word
Adventures teach us to be confident, decisive, and self-aware. Rather than being a slave to routine, we feel free and in charge. Best of all, we learn that we're more capable than we thought.
True adventure should challenge your view of the world and your place in it. An adventure vacation teaches self-awareness, compassion, and humility. When you share an adventure with a fellow traveler, it forges lifetime bonds. Adventure sometimes entails risk and loss, but the greater risk is to spend your life not doing what you want, always walking the well-trodden path rather than seeing the places where no trails lead.
As the great American author and adventurer Mark Twain reputedly advised, "Twenty years from now, you will be more disappointed by the things you didn't do than by the ones you did do. So throw off the bowlines. Sail away from the safe harbor. Catch the trade winds in your sails. Explore. Dream. Discover."
Source https://www.moneycrashers.com/best-outdoor-adventure-vacation-destinations/
Source https://gowandering.com/articles/top-outdoor-adventure-travel-destinations-in-the-u-s
Source https://www.moneycrashers.com/outdoor-adventure-destinations-world-travel/