Solo Travel Statistics and Data: 2021 -2022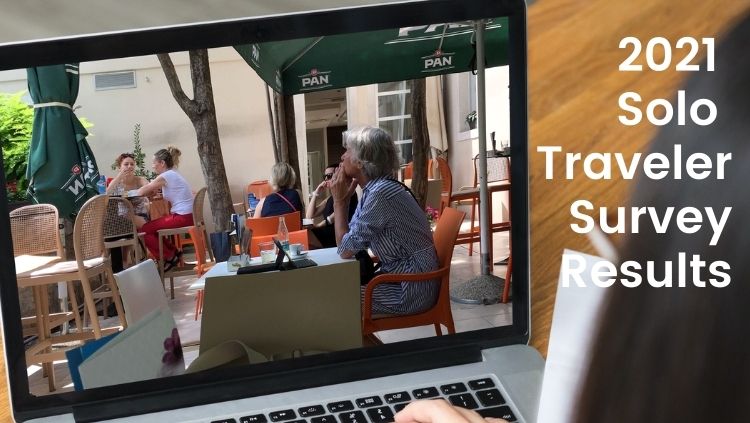 We update this page throughout the year. Below is the latest statistics and data for solo travel in 2022 and before.
Since starting Solo Traveler in 2009, we have gathered an extensive amount of solo travel statistics and data. We do this in two ways:
We monitor the copious amount of travel research that is conducted every year to extract solo travel-specific statistics.
We gather information annually from our readers. We do this in our reader survey and polls on our Facebook page where we engage with over 260,000 members.
Travel industry data looks at solo travelers within the context of all forms of travel. Our reader survey targets solo travelers specifically, providing a better understanding of the solo travel market.
One of the reasons we are so diligent about gathering data on the solo travel market is that we work with clients who are eager to serve solo travelers well. If you are such a company, you may also be interested in the following pages:
explains how we work with the travel industry.
Our Deals page is half of a monthly promotional opportunity for companies serving solo travelers. It pairs with our Solo Travel Advisory of Deals that is emailed to over 50,000 double opt-in subscribers.
The blog with over 1,500 articles for solo travelers.
We update this resource whenever we find new, relevant data. Bookmark this page so you can easily find the ultimate source of information, statistics, and data on the solo travel market in one place.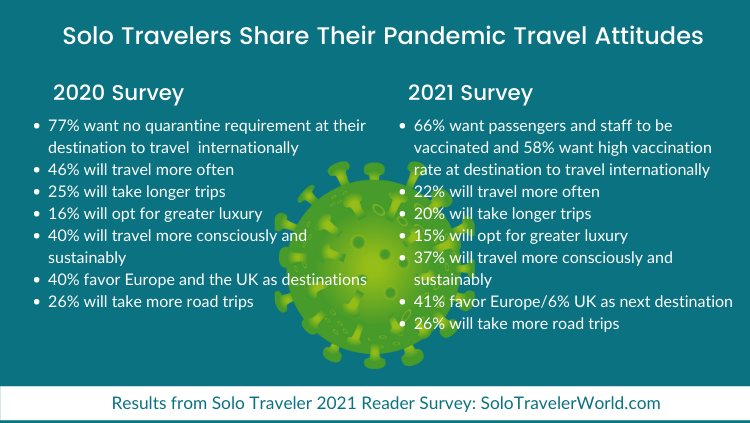 Table of Contents
International Travel During Pandemic: Traveler Attitudes 2020 and 2021
With more knowledge about COVID-19 and the uptake of vaccines around the world, factors affecting the decision to travel internationally during the pandemic have changed significantly in the past year.
In October 2020, quarantine requirements were the primary concern. In 2021, vaccinations became the primary concern for international travel. Otherwise, with the exception of travel frequency, travel priorities such as luxury and sustainability remain relatively consistent.
More 2021 data regarding travel during the pandemic:
Solo travelers prepared to travel internationally. 70% of respondents indicated that they were ready to travel internationally again.
Financial impact of pandemic on ability to travel. 14% indicated that their financial ability to travel has been negatively impacted by the pandemic. 17% said they have more money to spend on travel and 69% said their financial ability to travel has not been affected.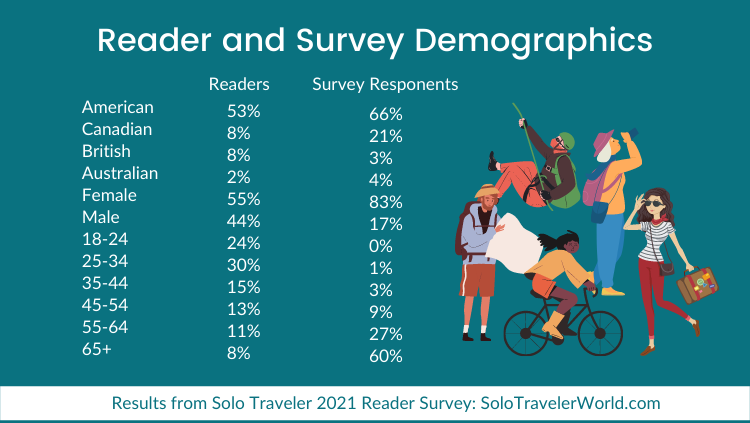 Why, How, Where & What Solo Travelers Spend
2,359 people responded to our 2021 survey as compared to 2,915 people in 2020. We suspect that last year people had a lot of time on their hands which accounted for the unusually high response rate.
The Solo Traveler Reader Survey included 26 questions. The respondents were primarily women, American, and over 55 years of age. Below we show the results from a number of the questions providing the data for those under 55, over 55, and for all.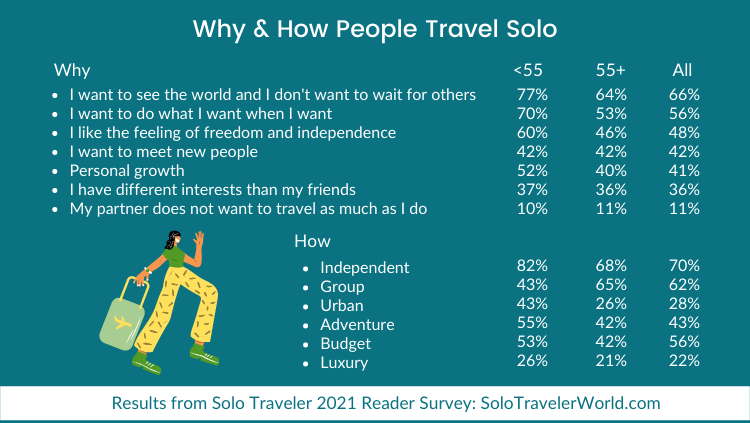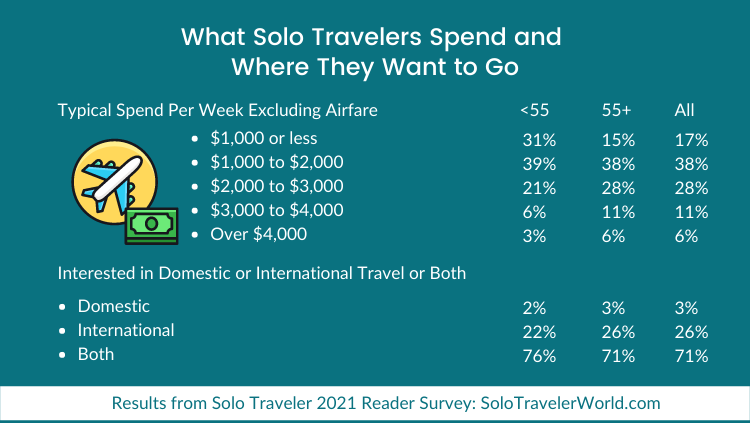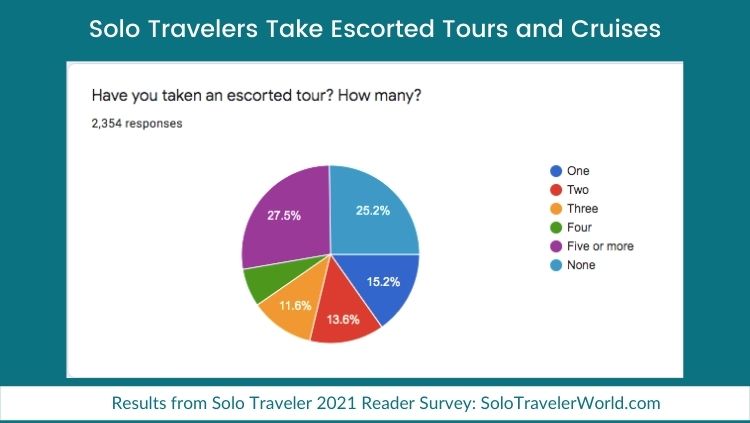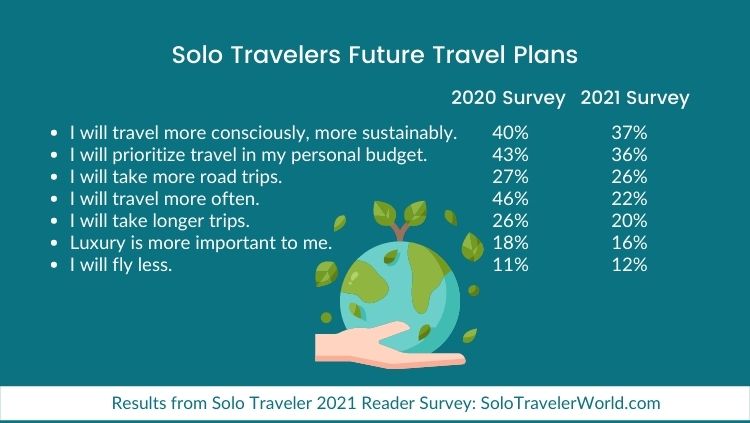 For more results from the 2021 Solo Traveler Survey contact Janice Waugh, publisher, Solo Traveler or Tracey Nesbitt, Editor of Solo Traveler.
More Sources of Solo Travel Statistics and Trends
This is a selection of solo travel statistics drawn from a variety of travel industry studies. As we find new research we add to it with the most recent appearing at the top of the list.
Why more of us are travelling solo. (2022) Google searches for solo travel since April 2020 quadrupled to a new high this month, with demand evident across all age groups. Not only millennial backpackers but solo travellers of all ages joining small tour groups, forcing the travel industry to think differently about this fast growing travel trend. Source
Post-pandemic travel is going solo. (2022) Statistics from every corner point to a rise in demand for solo trips. Data from Booking.com shows that pre-pandemic, only 14% of travelers were going solo, but by mid-2021 that number had almost doubled to 23%, while Google trend data showed that solo travel had risen by a massive 761.15%. Source
More Travelers Are Going Solo in 2022 According to new research from MMGY, one in four travelers plans to travel solo in the next six months with Gen-Z and Millennials leading the way. Source
Solo Travel Service Market Overview and Market Forecast 2028. (2022) Global Solo Travel Service Market Report is a systematically conducted exhaustive study of the worldwide Solo Travel Service industry. As per the study, the market is expected to acquire notable returns and showcase a healthy growth rate during the forecast period. Source
Solo travel dominant global leisure market. (2022) Solo segment is anticipated to dominate the global leisure travel market due to various factors such as social media influence, different preferences and interests, psychographic traits. Source
Solo travelers and group tours (2021) Solo travelers "are joining guided tours at unprecedented rates, say tour organizers, with some companies reporting single bookings up 300 percent over those from couples, families or clusters of friends." Source
Booking.com data pre-pandemic (2021) saw only 14% of travelers were planning a trip on their own, whilst nearly double (23%) now say they will be planning a solo trip in the future. Source
According to Google trend data, (2021) Solo travel is up by 761.15%. Many are now "biting the bullet" and seeking solo travel opportunities to promote their wellbeing and try new experiences. Source
Post-Covid: Solo travel is the second-most popular category for post-lockdown trips, says Cox & Kings. (2020) A discussion about the solo market between Sue Livsey, senior manager – commercial at Cox & Kings, Sarah Weetman, head of trade sales at Just You, and Claire Brighton, account director for the Association of Touring & Adventure Suppliers. Source
Klook concludes that solo travel continues to present promising business opportunities (2020) "We commissioned a global Solo Travel Survey last October … Of the nearly 21,000 people we surveyed around the globe, 76% indicated that they have either traveled alone already or are considering it – regardless of age, gender and nationality." Source
Women continue to travel solo more than men (2020) "47% of travelers with Overseas Adventure Travel are registered as 'solo'. An astounding 85% of these solo travelers are women." Source
Searches for "Solo Women Travel" surge in 2019. "Google searches for 'solo women travel' increased by 32% in 2017 and 59% in 2018. The search grew to a jaw-dropping 230% increase in 2019. Source
Pinterest sees massive growth in interest for solo female travel. "Pinterest has also reported a 350% increase in women pinning articles in 'solo female travel'." Source
Solo travel as a global trend continues to grow. (2019) "Making up around 18% of global bookings, solo travel is becoming ever more popular and has increased by 7% in the last year alone. Solo travelers typically take longer trips than the other traveler personas at approximately 19 days on average." Source
Gen Z and solo travel. (2019) "…a third say they actually prefer to be alone when traveling and almost 20% say they want to take a solo backpacking trip or gap year." Source
Solo travel #1 trend for 2019 according to Klook. (2018) Solo travel, pop culture influence and the Fear of Missing Out (FOMO) effect are among the six driving factors in tours and activities for next year, reveals Hong Kong-based leading travel activities and services booking platform Source.
52% of solo travellers say they'd be interested in an escorted holiday. (2018) Mintel's 2018 Solo Traveller Report revealed that 17% of adults took a holiday on their own in the last five years – a year-on-year rise of two percentage points. The majority of these, 15%, were 'pure solo' travellers, not travelling with a group. The study found 60% of respondents said there is a "widespread belief" the travel industry does not cater well enough for solo travellers and that 52% of solo travellers were interested in taking an escorted tour. Source
Adventure Travel Trade Association 2018 trends report highlights solo travel (2018) The 20 Adventure Trends to Watch in 2018, indicate solo travel is on the rise. One of their members report that over 80% of their millennial travelers are going solo. Source
In 2018, 70% of passengers on Intrepid Travel's US trips travelled on their own. Source
2017 Princeton Survey Research Associates study revealed that 58 per cent of millennials worldwide are willing to travel alone, compared to 47 per cent of older generations. The study found 26 percent of millennial women have already travelled solo, while a further 27 percent said they haven't but would consider holidaying by themselves. Source
Searches for "solo female travel" grew by 52% between 2016 and 2017. This report not only looks at the trend of solo female travel but also the purchasing power of women. Source
Travel solo for relaxation. Agoda's 'Solo Travel Trends 2018′ survey, conducted by YouGov, found that relaxation and time to unwind is the number one motivator for solo leisure travel globally (61%), which compares to 48% when traveling with friends. Source
Tour companies find that the majority of their female travelers are going solo. VBT Bicycling and Walking Vacations says that 68 percent of their female travelers in 2016 took a trip without a companion, while Country Walkers says 87 percent of its female participants were single (that's about 3.3 single women to every male traveler). Source
38% of those who have traveled solo will do so again. Among the top five trips that people have already been on and would like to go on again, as they allow them to experience travel to the fullest solo trip (34%). Source
Surge in baby boomers traveling solo. A study by Booking.com of 20,500 global travelers that was released in May of 2018 found that there "is also a surge in solo travel … with two fifths (40%) of global Baby Boomers having taken a solo trip in the last year, and a further fifth (21%) planning to take one in the future." Source
Solo is a top trip they'd do again. Again from the Booking.com study, 34% or respondents said that solo travel is among the "top five trips that they have already been on and would like to go on again". Source
Roughly one in four people say they will travel solo in the next year (2018) — and that's on the rise, according to a survey of 2,300 people by marketing firm MMGY Global. Source
Between January 1 2015 and December 2017, the number of searches on Google for solo travel has risen significantly. The graph indicates approximately a 40% increase in searches for solo travel. Source

17% indicated that they would try solo travel for the first time in 2016 according to a survey of more than 44,000 travelers by online travel company TripAdvisor. Source
The popularity of guided tours among solo travelers grew from 21% to 46% between 2013 and 2015. Source
Between 2013 and 2015 the percentage of people polled who travel on their own grew from 15% to 24% according to the Visa Global Travel Intentions Study 2015. Source
A 2014 Booking.com survey resulted in a Solo Travel Report that revealed

72 percent of American women are taking solo journeys
American women ranked first in frequent solo travel, and are most likely to take three trips or more in a given year.
65% of US women polled have vacationed without a partner. Source

Related research on the solo travel market.

The current western proportions of single-person households (e.g. 31 percent in the UK, 24% in California) are wholly unprecedented historically. Source
Single-person households in the United States are set to grow steadily over the next 15 years… Source
Booking.com research found that Australia is the number one international destination for solo travel. Source
Travel Agent anecdotal data on selling solo travel. "…solo clients are usually around 41 to 47 years old, have an income in the $150,000 range… Also, about 85 percent are women." Source.
Women are the ones booking tours and activities 67% of the time Source

Solo Travel Demographics from 2019 Survey

Our 2018 readers survey received 1,340 responses. As you can see below, the results show slightly different demographic information than that of the Solo Travel Society Facebook page with its 162,000+ fans. Combining this with data given from Google Analytics I can safely say that the majority of our readers fall into either the Millennial or Boomer categories and there are more women than men. I usually estimate the gender split as 75% women and 25% men.

Solo Travelers' Travel and Spending Habits – 2018 Survey Results

In 2018 the number of subscribers to Solo Traveler's newsletter grew from 35,000 to 46,000 which is up from 25,500 at the beginning of 2017. That's an 80% increase over two years. Yes, the solo travel market is growing. Many of our subscribers completed our 2018 reader survey. Below is a breakdown by age range of a variety of solo travel statistics we gathered from that survey. Here are a few takeaways:

Morag was left disabled after a hit and run. But that won't stop her from seeing the world.

As the 'post-pandemic' world opens up again, many of us have raced to recapture the joys of carefree travel. But if COVID-19 taught us anything, it's not to take our freedom, planet or health for granted. We spoke to one courageous traveller who, after a life-changing accident, is embarking on adventures at her own pace.

In October 2018, 22-year-old travel lover Morag Forbes had the world at her feet. Newly graduated, she had recently moved to London for a busy role in the rail industry and was looking forward to a long weekend in Madrid with friends in November. This girl was going places.

But one day, as she cycled home from work, Morag was knocked off her bike in a hit and run. In an instant, her life was turned upside down.

"I didn't think I would ever travel abroad again."

Before the accident, Morag had been an enthusiastic globetrotter. "Travel has been a part of my life for as long as I can remember. I was lucky to grow up travelling the world with my family. Then as I got older, I started travelling independently. From attending a conservation course in Kruger, South Africa to studying abroad in Rotterdam, Netherlands for a year, to travelling solo around South East Asia. Travel was a part of my identity. It never occurred to me that one day I wouldn't be able to adventure with such ease anymore."

After the accident, travel had to take a backseat for Morag. She had to learn to walk again and underwent four knee surgeries to regain use of her right leg. Unfortunately, a slew of other, unexplained symptoms appeared – from weakened vision, loss of balance and chronic joint and muscle pain in her right leg and hip, to difficulty with fine motor skills and the occasional misfiring of the messages between her brain and right limbs.

Not only did Morag's pain and reduced mobility pose an obstacle when it came to travel – her new disabilities raised practical barriers too. "As long as I had an undiagnosed neurological issue, I couldn't get travel insurance anywhere, for any amount of money."

Furthermore, mental health struggles brought on by the traumatic incident, exacerbated by long hospital waiting lists and multiple COVID-19 lockdowns, made recovery even more challenging. "There was certainly a grief process to go through", says Morag, now 26. "In some ways lockdown was easier because no-one was going anywhere. Then the world started re-opening and people started their lives back and I was still stuck. I didn't think I would ever travel abroad again."

Turning things around in Turkey

Thankfully, that fear didn't come true. In March 2022, Morag was finally diagnosed with functional neurological disorder (FND), a complicated condition that affects the nervous system and can arise as a result of physical and emotional trauma. The late diagnosis, while frustrating, gave her some answers and the ability to pursue an improved treatment plan – meaning things started to look a little brighter.

'Between finally being able to get travel insurance, getting sign-off to travel from my medical team and making sure I was strong enough, there were a lot of balls to juggle, but I felt ready to travel, and I knew I could make it work.'

After testing the waters with a couple of close-to-home day trips, then getting a family holiday in Italy under her belt, Morag was ready to fly solo, and chose to join our Turkey Highlights trip (her fourth Intrepid trip – the first since the accident). "I didn't know exactly how Turkey would work out, but I knew that living in fear was worse.

"I was still unwell in Turkey. I did have to manage a lot of additional problems, from managing my medications and symptoms, to not being able to eat a lot of the food. But I still had a wonderful time."

One particular experience she had on that trip gave her a renewed perspective, in more ways than one.

"The sunrise hot air balloon ride in Cappadocia was probably one of my top life experiences ever. It lives up to all of the hype. You feel like you are weightless floating through the air. To see that many balloons of all different colours floating over a landscape diverse in geology, archaeology and history… It was just breathtaking.

"It was quite moving to think that not long ago I was at the start of my first three-month hospital admission. If you had told me then that one day I would be flying through the sky in a hot air balloon in Turkey I never would have believed you. So that was pretty special."

Looking to the future

Life continues to evolve for Morag, and things are looking up. She started a masters in social work in September 2022, recently returned from a few days in Rotterdam with friends and is eyeing up potential trips to take during the Christmas break.

"I am so inspired to travel more. I don't think going back to full solo travel is the right thing for me just now. But I liked the mixture in Turkey of having a few days on my own and then joining a group. I can't be as carefree as I used to be and certainly can't travel light with only hand luggage but I can make it work.

"My travel bucket list is really very long. I would love to see the south of Vietnam and Cambodia, and I'm thinking about going to the Balkans too!"

Advice for travellers with disabilities

Morag is passionate about encouraging other travellers with disabilities to get out there and see the world. Here's her advice for those considering it.

"I think everyone worries about standing out, and as someone with a disability that fear is amplified. But although I felt self-conscious about using my walking stick on long travel days; about needing to run to service stations because my gastrointestinal issues were playing up; and taking my meds in front of people – no-one cared. Honestly, people hardly noticed and when people did it really was not a big deal.

"Travelling with a physical or mental illness is stressful and joining an organised group just helps take away some of the stress. I would recommend speaking to Intrepid in advance. They were really helpful with making sure I was as prepared as I could be.

"On a practical note make sure you have a very comprehensive travel insurance policy that covers all of your health conditions. You will probably need to pay extra and if you are like me may need to use a specialist insurance provider. But it was a huge source of comfort for me to know if something did go wrong I would be able to get the care I needed.

"I am so grateful that I've been supported as a disabled traveller and am still able to see the world. I like to think that by sharing my travel experiences I can inspire other disabled people to travel too."

And some final words of wisdom? "You don't need things to be perfect and you don't need to feel ready, you just need to take that first step and see what happens."

Learn more about accessible travel with Intrepid. Want to follow Morag's journey? Check out her blog Life of Morag or follow her on Instagram @lifeofmorag.

Travelling Abroad Alone? You're NOT Alone.

Article author – Hannah

Travelling solo is one of the most rewarding adventures a person can experience, but heading somewhere new with no familiar faces for comfort can be daunting. I'm from the US and recently moved to Australia all on my own for a study abroad program. For me, this was an experience I'd dreamt of ever since I was sixteen. Although, in my dream I always imagined myself traveling with one or two of my best friends to the land down under.

Coming from a larger friendship group, I was sure at least one or two of my friends would want to take on this adventure with me. I eagerly tried to get a group locked into going abroad with me as the due dates got closer. Of course, everyone was interested, who doesn't want to go to Australia? The reality was that some of my friends couldn't afford it either in their schedule or financially, or weren't motivated enough to do all the paperwork to get there, or simply wanted to travel somewhere else. I began to get worried about the idea of going on this venture alone. I had never been apart from my family for more than two months, had always had close friends around, and a great community that supported me.

I was anxious about being across the world without anyone who knew me well but had to accept the fact that it was the only way I would satisfy my dream. It felt really scary at first but as I began to swallow the truth, it became less scary and more empowering. I felt independent and original being one of the only people in my circle who was going abroad "alone". Everyone else had a buddy or group of friends joining them on their program and I was going in blind.

Leading up to departure I was a mixture of anxious and excited. Leaving my friends and family at the airport was emotional but made me so grateful for the people who cared for me deeply. Taking off from the states and watching my town get smaller and smaller and then disappear in the clouds was surreal knowing it was the last time I would see it for about half a year. Despite the sentimental emotions, I was pumped! I was finally on the way to my dream, which I had saved and worked hard for, for the past 4 years.

Once I arrived in Australia, I met up with the group I'd be travelling with and everyone was so friendly right off the bat. Again, everyone is in the same position as you and everyone just wants to make friends. I have now been in Sydney for a month and feel as if I've found a group of friends that will last forever. I did go through a week or so where I struggled with adjusting to not having anyone close to me in Australia. While feeling down or uncomfortable, I feel like its best to talk and be vulnerable with the people you have met here. This is the only way you will make those genuine friendships that you'll miss from home. Traveling alone forces you to meet people you otherwise wouldn't have met if you had the comfort of a friend group to stand by.

I recommend trying new things with your new acquaintances and bonding over the experience. Talking and laughing about your experiences and connecting over all the emotions you might be feeling. Besides the people in your program, I suggest talking to and getting to know as many locals as possible. Whether that's your new coworkers, the barista at your favourite coffee shop, or anyone you meet along the way. Aussies are friendly people and are often open to new friendships, you might just have to step out of your comfort zone to seek them out.

I've only been here a month and traveling here alone has already taught me so much. Placing yourself out of your comfort zone can only be productive toward your growth as an individual. Your sense of independence will grow from traveling alone, navigating a new city and meeting new people. In the end, I am so grateful that I took this journey by myself. My adventure is completely my own. I forced myself out of my comfort zone. It was a little uncomfortable at first but I only found it beneficial on the other side.

Feeling scared or nervous to travel alone is completely normal and understandable, but allow yourself to foster those emotions into courage and inspiration. You are about to embark on one of the greatest journeys of your life. How impressive is it that you are going about it yourself? I promise, the nerves are real but are worth it, you will come out a more independent, empowered and confident individual and will be so proud of the things you never thought you could achieve!

Joining a Group Tour like Oz Intro means you get all the benefits of stepping out of your comfort zone and meeting new people, but without the loneliness of arriving in a new country with no one to share your adventure with. With all your accommodation, transport, activities and a bunch of meals included, plus an instant new crew of mates to travel with and the help of an experienced group leader, adventuring abroad has never been more stress-free!

Source https://solotravelerworld.com/about/solo-travel-statistics-data/

Source https://www.intrepidtravel.com/adventures/morag-disabled-after-hit-and-run-but-still-travels/

Source https://www.introtravel.com/travel-blog/travelling-abroad-alone-youre-not-alone/