Great Adventure Travel
Escorted tours, Luxury Cruises, Honeymoons, Destination Weddings, All Inclusive Vacations, and more.
Amazing Destinations
Our most popular destinations include Europe, Africa, Australia, New Zealand, Tropical Island Getaways, and more. There's no place in the world where we can't create an unforgettable travel experience.
Thrilling Adventures
There are two groups of adventurers in this world. First, you have the ones always looking to top their last excursion. Second you have, those dreaming of stepping out of their comfort zone. Good news is, we have something for everyone.
Lasting Memories
These experiences are guaranteed to take up residence in your mind. Unforgettable is an understatement when you book your Wedding, Honeymoon or next Vacation with Great Adventure Travel.
My husband and I booked our honeymoon to Jamaica through Angela Rock for Jan 2021. Ms. Rock was fantastic! She knew everything that we wanted and made it so easy. She basically planned our vacation with only little information and it was amazing! The resort was amazing and the staff was phenomenal! Everything surpassed our expectations. I would 100% recommend Ms. Rock to book anyone's trip and I will definitely be using her again for our next vacation!
The first step in planning a trip is to call Angel. With expertise and promptness, she will navigate your entire journey, so all you have to do is pack your bags!
Angel has been our travel agent for the past 20 years. From originally helping us plan out our honeymoon to arranging our most recent family excursion to the Riviera Maya; Angel has been enthusiastic, creative, and meticulous in organizing our travel. She possesses the knowledge, professionalism, and resourcefulness that are truly the important character traits which separate an outstanding travel agent from a good one. However, my favorite is her sincerity. She genuinely cares about her clients. She has always reached out us to make sure that we are prepared, have no last-minute questions, and to wish us a wonderful time. She makes herself available during our trip, and is our advocate if there were a need. And she always follows up with us afterwards to listen to our opinion of the trip and to ensure our satisfaction. If you are seeking a travel agent that is passionate about travel and is an expert in the field, we highly recommend Angel Rock.
Angel is a Rock at creating travel packages for me. I have been going to her for about 15 years now. She knows my not-so-normal tastes, so once I give her a destination, she makes it happen without a worry, whether it's to a normal exotic site when I just want to relax, or to the off-the-beaten-path locations when I want to be adventurous. It's great to know that when I arrive in Timbuktu, Borneo or Bora Bora, I'll be met by knowledgeable locals, taken to great accommodations, and all my needs cared for throughout the trip with a few exciting side excursions thrown in. I wouldn't trust anyone else to get me anywhere in the world and back home safely the way Angel does. And if she forgets to get me back from Bora Bora, what better place to be stuck.
Have a great adventure when your travel
Walk on the Great Wall of China, swim with sharks, chase the northern lights…what's on your travel bucket list? We picked out 50 unforgettable adventures that we plan to have in our lifetime. We hope this list inspires you, as well.
Tim and I spent months, years even, brainstorming this list. We wanted to come up with 50 travel-related adventures that not only sounded exciting to us, but are also doable for many people.
We know what it is like to have limited time to travel (Tim works a full-time job and we have two kids in school). So we wanted to include a good mix of life-changing multi-day adventures with spine-tingling, adrenaline rushes that can be done in a few days or less.
There are hundreds of activities we could have added to this list. It was very difficult narrowing it down to just 50…but here they are. 50 adventures we plan to do in our lifetime…want to join us?
Our 50 Adventures
COMPLETED | IN THE WORKS
#1 Hike the Zion Narrows
#2 Haute Route/Tour du Mont Blanc
#3 Bolivia Salt Flats
#4 Raft the Colorado River
#5 Conquer the GR20
#6 Swim with Jellyfish in Palau
#7 Svalbard
#8 Gorilla Trekking
#9 Hike Half Dome
#10 Drive the Karakoram Highway
#11 Hike the Dolomites
#12 Stand on Kjeragbolten
#13 Hike to Machu Picchu
#14 Climb Mt. Kilimanjaro
#15 Great Barrier Reef
#16 Tajikistan & Kyrgyzstan
#17 Hot Air Balloon Flight
#18 Tongariro Alpine Crossing
#19 Havasu Falls
#20 Camel Safari
#21 Galapagos Islands
#22 Journey Down the Nile River
#23 Annapurna Circuit
#24 Zip-Lining
#25 Dog Sledding
#26 Torres del Paine
#27 Aurora Borealis
#28 Tramping in New Zealand
#29 The Amazon
#30 Angels Landing
#31 Hike on a Glacier
#32 Petra
#33 Komodo Dragons in the Wild
#34 Hike Grand Canyon Rim to Rim
#35 Blackwater Rafting
#36 See the Wildebeest Migration
#37 Huayhuash Circuit
#38 Hike to Tiger's Nest
#39 Antarctica
#40 Rock Climbing
#41 Swim with Sharks
#42 Hike the Great Wall of China
#43 Drive a Racecar
#44 Everest Base Camp Trek
#45 Bungy Jumping
#46 Kalalau Trail
#47 Trolltunga
#48 Camino de Santiago
#49 All-American Road Trip
#50 Hike the Julian Alps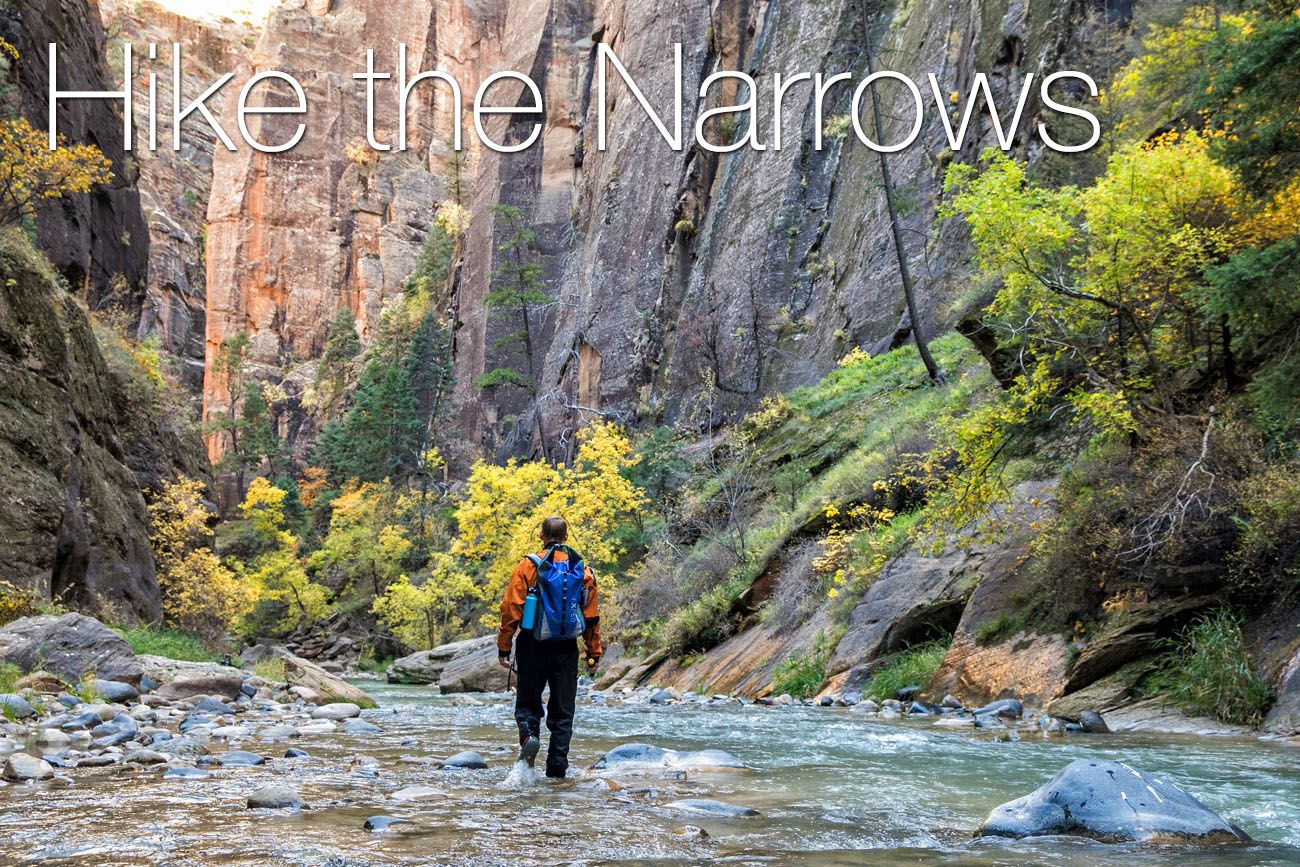 For millions of years, the Virgin River has been carving its way through layers of rock, forming the Zion Narrows. This canyon twists and turns for miles, creating one of the most unique hiking trails in the world. This is the quintessential slot canyon hike, with towering canyon walls, turquoise water, and gorgeous views every step of the way.
There are several different ways you can hike the Narrows. Most people hike from the bottom-up, an out-and-back journey that takes you several miles upriver through some of the most scenic sections of the canyon.
For the ultimate experience, you can hike from the top-down, a 16-mile adventure that can be done as an epic day hike or an overnight backpacking trip.
A permit is required to hike the Narrows top-down.
Zion National Park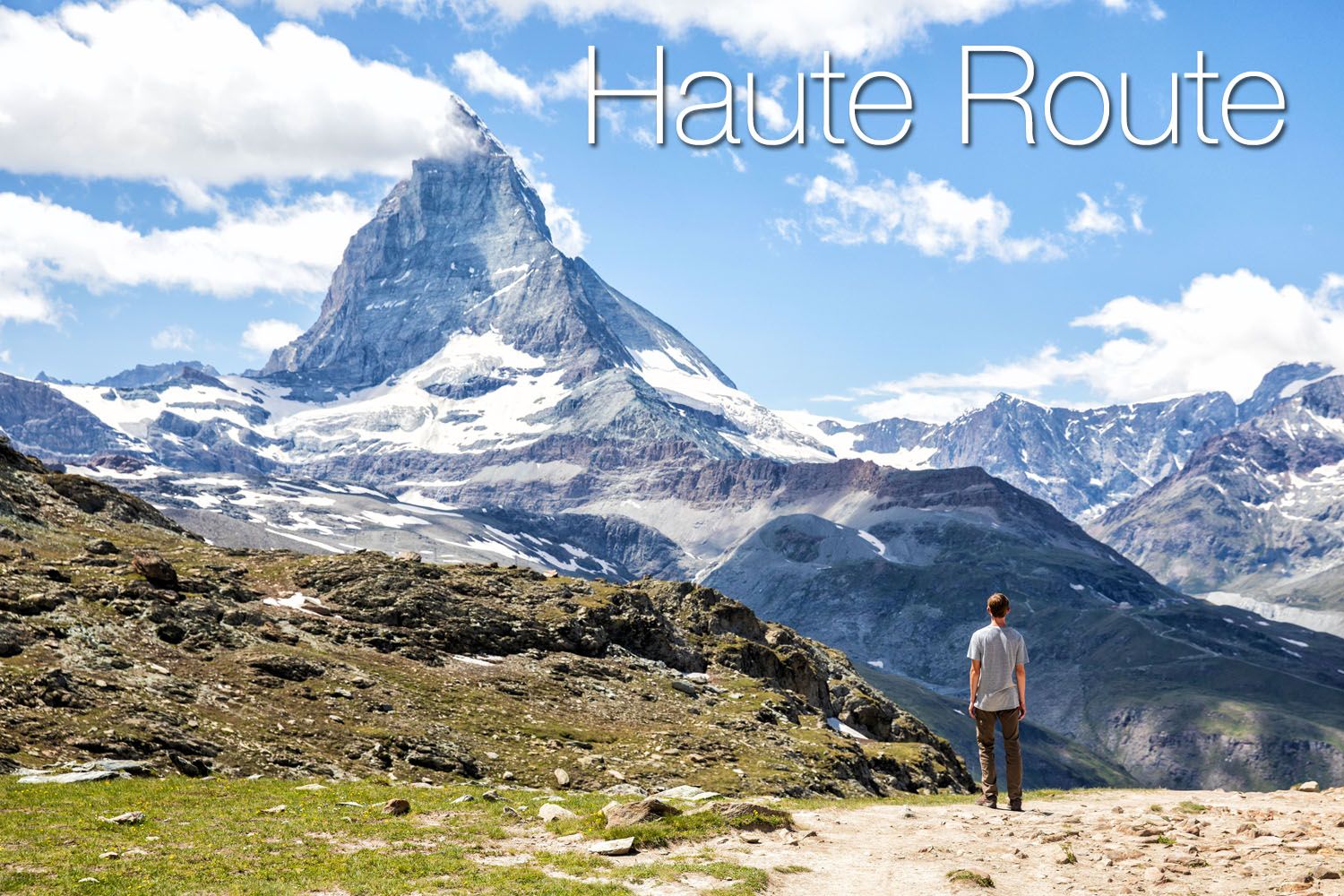 The Haute Route is a high alpine trail from Chamonix, France to Zermatt, Switzerland. It makes 11 alpine passes over 180 km of hiking. Along the way you hike past Mont Blanc and the Matterhorn. Before arriving in Zermatt, you will walk across the Charles Kuonen Suspension Bridge, the 3rd longest pedestrian suspension bridge in the world.
We will be hiking the Haute Route in summer 2022.
This is one of the world's premiere trekking routes. For 7 to 10 days, you hike around Mont Blanc through the Alps in Italy, France, and Switzerland. It's a challenging route, with a total of 10,000 meters of ascent and descent, but you are rewarded with stunning mountain scenery and visits to quaint, alpine towns.
Both of these are spectacular treks across the Alps. If you like the idea of lower crowds and more variety in terms of scenery, pick the Haute Route. If you want to hike one of the most popular trekking routes in the world, go with the Tour du Mont Blanc.
The Bolivia Salt Flats, also called Salar de Uyuni, is the world's largest salt flat. It's also one of the most surreal landscapes in the world. In March and April, the salt flats are covered with a few inches of standing water, creating an extraordinary, reflective landscape. During the remaining months, you can witness a vast, white landscape as far as the eye can see.
Most people visit the salt flats on a 2, 3, or 4 day tour from Uyuni, Bolivia. It is also possible to take a tour from San Pedro de Atacama, Chile. It's worth it to spend at least 4 days exploring the salt flats and the nearby landscapes. Eduardo Avaroa National Park is another unique landscape where you can see volcanoes, colorful lakes, and flamingoes.
The Colorado River twists and turns through five national parks and a handful of state parks and national monuments. Take your pick from one-day adventures to multi-day excursions. Enjoy the experience as you drift through desert canyons and past some of the best scenery in the US.
The most popular location to raft the Colorado River (and the most famous rafting trip in the world) is through the Grand Canyon. This excursion usually lasts 6 to 7 days, covers about 190 miles, and passes through 60 rapids along the way.
You can also go on multi-day rafting trips through Moab or through Cataract Canyon in Canyonlands National Park.
Rafting trips usually run from April through September. June, July, and August are the most popular months. Many companies require children to be at least 12 years old.
The GR20 has been touted as one of the toughest trekking routes in Europe. This trail spans the spine of the island of Corsica, France. It is not technically challenging but those who plan to hike this need to be very physically fit and ready to hike along rugged, uneven trails.
Days: 12 to 15 days
Where: Corsica, France
When: June through September
Float in the emerald water of a lake in Palau, completely surrounded by millions of jellyfish. It sounds crazy, right? Palau's Jellyfish Lake is home to a population of jellyfish with a sting so mild you barely feel it (so I have read). But wouldn't that be wild, swimming among these soft, golden jellyfish in the tropical paradise of Palau?
You can visit Palau year round, but the best months to go (when the weather is dry) are November to March. Stay in Koror and hire a tour to get you to the lake. In order to visit Jellyfish Lake, you do have to purchase a permit for $35.
Svalbard is a Norwegian island that sits on the northernmost region of the globe, not far from the North Pole. You can't find penguins here, but if you're lucky, you can see polar bears and walrus. Travel here if you want to kayak among glaciers, go hiking, sled dogging, or snowmobiling.
Longyearbyen is where you will spend most of your time. This is the location of the Global Seed Vault, where seeds of every plant are stored just in case some apocalyptic even occurs on our planet. During the winter months, go dog sledding and go on multi-day snowmobile expeditions. During the summer months (it gets up to a balmy 43°F), the snow disappears, so things to do include kayaking, hiking, and seeing the midnight sun. You can even take multi-day cruises around the island, looking for polar bear.
We spent several days in Svalbard in June 2018. It was one of our favorite travel experiences yet. Svalbard is such a unique place, with the midnight sun, barren landscapes, glaciers, reindeer, and polar bears.
Trek through the steamy jungles in Rwanda or Uganda for an up close look at gorillas. It's expensive and your time with the gorillas is short (you only get one hour on most excursions) but many people walk away from the experience awestruck.
First, you will need a permit, which costs $600 – $750. Then you will trek through the jungle to the troop and spend one hour with the gorillas. The entire trek can last from three to nine hours, depending on where the gorilla troop is located in the park.
You can do this all year round. July and August are peak season and conditions are wettest March through May.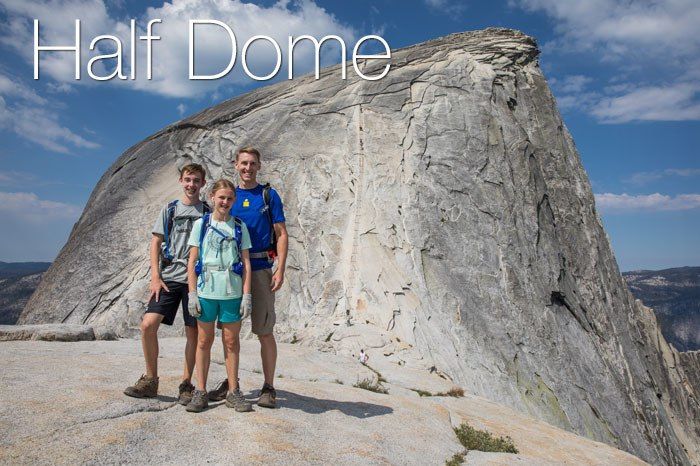 Half Dome is one of Yosemite's most challenging and most memorable hikes. The best part is the final climb on the Half Dome cables. Not only do you get the thrill of clinging to the side of Half Dome, you also get to enjoy one of the best views of Yosemite from the top of the dome.
17-mile hike with 5,500 feet of climbing. This is an extremely strenuous hike. The final 400 feet to the top involves climbing up the smooth granite surface of Half Dome. Avoid this hike if you have a fear of heights. Allow 10 to 14 hours to complete this hike.
Do you want to take on the most dangerous road trip on the planet? The Karakoram Highway (KKH) is the world's highest paved highway, connecting China to Pakistan through the Himalayas. Not only is this journey dangerous but the landscape is spectacular.
The KKH is 800 miles in length. You will need visas for Pakistan and China. You can either travel by bus or rent your own vehicle. If you're speedy, you can drive the entire distance in 4 to 5 days but give yourself more time to really enjoy the view.
The Dolomites, located in Italy, are one of our favorite places in the world to go hiking. The landscapes are simply breathtaking, the trails are a blast, and some hikes add in a Via Ferrata or gondolas to really keep things interesting.
Hiking to Kjeragbolten, this giant boulder wedged between two cliffs, is our favorite hike of all time. Why? It's not just because you get the chance to do something absolutely crazy, stepping out onto the boulder, it's also because this hike is just downright fun. Do you dare?
The hike to Kjeragbolten is moderately strenuous. It is 12 km (7.5 miles) long with 500 meters (1640 feet) of climbing. There are several challenging sections of climbing using chains for assistance. And of course, there is the danger of stepping out onto kjerag. Allow 6 to 8 hours to complete this hike.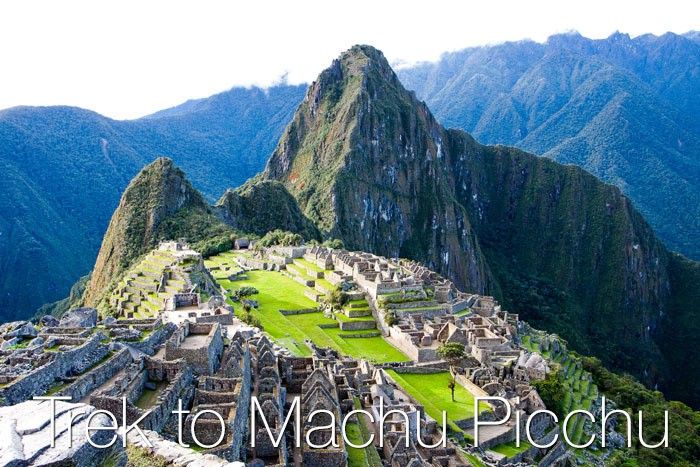 It's one thing to arrive in Machu Picchu by bus or train, but it's quite another to get there on your own two feet. You have multiple options to do this, including the classic 4 day Inca trail trek, the one day hike along the Inca trail, the Salkantay trek, and the Lares trek.
The one day hike allows you to walk the last section of the famous Inca trail, ending at the Sun Gate in the afternoon, for your first views of Machu Picchu. This is an awesome alternative to the four day trek for those with limited time or for those with no desire to do a multi-day trek.
The 4 day Inca Trail is the classic route with three days of hiking and one full day spent at Machu Picchu. If you are looking for quieter trails and stunning scenery, consider doing the 5 day Salkantay trek. If you want a cultural experience, the 4 day Lares trek might be perfect for you. Learn more here.
Mt. Kilimanjaro is the highest mountain in Africa. Getting to Uhuru Peak, the summit of Kilimanjaro (5,888 meters, 19,318 feet) is a popular bucket list item for many travelers and adventurers. This climb is popular since little technical experience is required and the experience is amazing. Do you want to stand on top of Mount Kilimanjaro?
It can take 5 to 9 days to reach the summit depending upon the route you take. Choose your route wisely…not everyone who sets off on this journey successfully makes it to the summit. Picking your ideal route takes advance planning and adding an extra day or two to acclimatize along the way is recommended. Click here to learn more about the different routes.
The Great Barrier Reef is one of the Natural Wonders of the World, joining the list with sites like Mount Everest, the Grand Canyon, and the Aurora Borealis (all of which also make our top 50 adventures list). This 2,300 kilometer long reef supports a wide range of wildlife, including fish, birds, sea turtles, and sharks. Swimming among the colorful, tropical fish and coral is an unforgettable experience.
There are an overwhelming number of ways to visit the Great Barrier Reef. Cairns is the most popular home base, with lots of day trips for snorkeling and scuba diving adventures. If you go south, you can escape some of the crowds and have a quieter experience. We did this, visiting Lady Musgrave Island from Agnes Water.
During your visit, you can do more than just scuba dive or snorkel. You can take a plane flight or go skydiving over the reef, ride an underwater scooter, or travel in a submarine. There are also lots of gorgeous beaches to visit in the area.
The mountainous landscapes of Tajikistan and Kyrgyzstan look breathtaking in their beauty. Both are a trekker's paradise and we can't decide which one we should visit first.
Ever since we saw photos of this country, it has been high on our list of places to visit. It's very similar to Kyrgyzstan, with rugged, mountainous scenery and quiet hiking trails.
The Tian Shan mountains are a gorgeous, off-the-beaten-path to go trekking. Located along the Silk Road, spend several days exploring the mountain paths. If you get lucky, you might even spot a snow leopard!
Soar over gorgeous landscapes, get a bird's eye view of the world, and enjoy the peaceful journey by hot air balloon. It's something worth experiencing at least once in your lifetime and it can easily be worked into many travel itineraries, especially if you are in the right spot.
Here are several of the best spots in the world to splurge on a hot air balloon ride: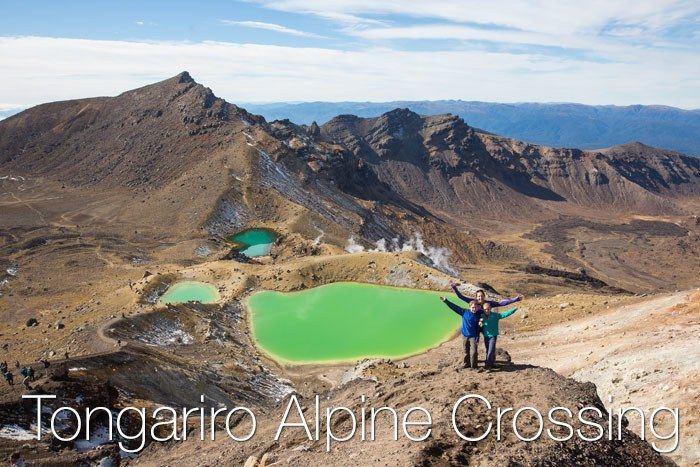 Labeled as the best single day hike in New Zealand, some people even consider this hike to be the best single day hike in the world. Here is your chance to hike in the shadow of Mt. Doom, walk through an almost lunar landscape, and watch as semi-dormant volcanoes smoke just a short distance from the trail.
It is a 19.4 km (12 mile) point-to-point hike that is moderately strenuous. Allow 6 to 8 hours to do this hike.
Havasu Falls is a gorgeous oasis in the desert. The turquoise waters, roaring waterfalls, and orange and red sandstone cliffs are what make Havasu Falls simply fabulous. To get here, it's a 10-mile hike one way, but your reward, and the whole reason for going on this adventure, is to spend a day, or two (or three!) exploring the waterfalls, swimming, and enjoying this awesome spot in the American southwest.
The first step, and the most challenging step, is being one of the lucky ones to get a permit. Permits become available for the year on February 1, and usually sell out almost immediately. Then reserve your campsite or lodging at Havasu Falls, strap on your backpack, and enjoy the journey.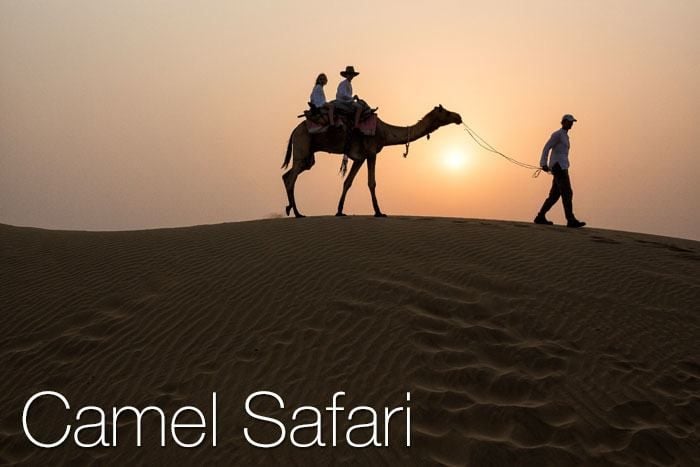 Cross wind swept sand dunes, see stunning desert scenery, and journey away from the city lights into the desert, all while perched atop a camel. For a unique experience, book a multi-day camel trek, where you sleep under the stars or in tents in the desert.
The Saharan Dunes in Morocco
Along the Nile and at the Pyramids in Egypt
The Australian Outback
Along the ancient Silk Road in China
Journey to the Galapagos Islands to see Giant Tortoises, marine iguanas, albatross, penguins, and Blue-footed boobies. What is the best way to see these animals? Get up close by snorkeling, kayaking, and diving or by volunteering with habitat restoration. You can even hike around Sierra Negra, the world's second largest volcanic crater. It's a trip of a lifetime.
First, you will have to fly to Ecuador. From Quito or Guayaquil you can take a second flight to the Galapagos Islands. Once in the Galapagos, you can tour the islands by cruise, stay on one of the main islands and day trip to the smaller islands, or combine the cruise and land experience.
You can visit the Galapagos year round. From December through May, temperatures are warmer, seas are calmer, the islands are greener, and this is the best time to see birds mating and sea turtles nesting on the beaches. From June through November, temperatures are cooler, the seas are rougher, skies are cloudier, and this is mating season for the blue-footed boobies and the best time to go diving.
This is another experience of a lifetime. Journey back in time as you travel along the Nile River. Visit King Tut's tomb in the Valley of the Kings, Karnak Temple on the East Bank of Luxor, Philae Temple in Aswan, and other ancient Egyptian sites.
You can explore the sights along the Nile River by land or by cruise. Taking a cruise is the most popular way to visit the sites in Aswan and Luxor. But for those looking to escape the tour groups and to have more time in the tombs and temples, traveling by land is a great option.
Visit our Egypt Destination page for lots of useful information to help you plan your trip.
This is often voted as the best long distance trekking route in the world. This trek takes you from warm, tropical Nepal up into the Himalayas on a trade route. As you ascend higher, the landscapes are simply breathtaking in their beauty. Getting to Thorong La Pass, at 5,416 meters (17, 770 feet), is the most difficult but most spectacular part of the journey.
It takes between 15 and 21 days to hike the entire circuit. The length of the route is 160 – 230 km (100 – 145 miles) depending upon where you start and end the circuit. Thorung Pass is the highest point at 5416 m (17,770 feet). Many people do this with a guide and porter although it is possible to do this trek on your own.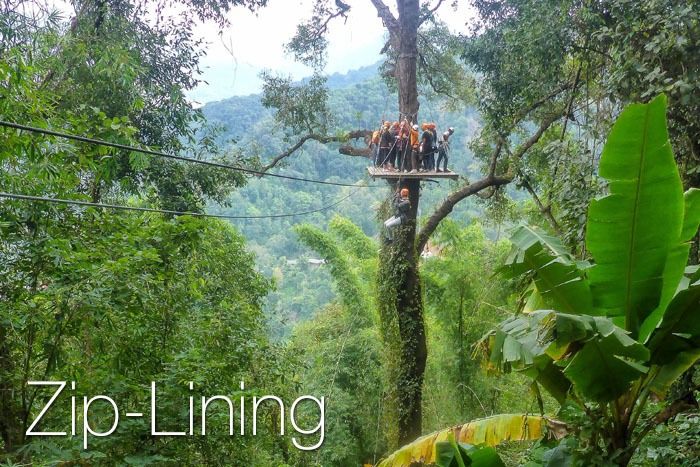 Tons of fun and with no technical experience required, zip-lining is perfect for almost all ages. Soar among the treetops and feel like you are flying over canyons, rivers, and stunning landscapes. It's an exhilarating experience and the perfect activity to add into your travel itinerary if you are looking for pure fun.
Some of the best spots in the world to go zip-lining:
Arenal Volcano, Costa Rica
Orocovis, Puerto Rico (the longest zip-line in the world)
Flight of the Gibbon, Chiang Mai, Thailand
The Dragon's Breath, Labadee, Haiti (longest overwater zip-line)
Wouldn't it be cool (literally!) to drive a team of dogs across a snowy landscape? You don't have to race the entire Iditarod for this experience, there are companies that let you experience mushing for several hours. But if you want a real adventure, how about a multi-day journey camping or staying in lodges along the way.
Patagonia is a hiker's paradise. The Cordillera del Paine is the diamond in the crown of Patagonia. In Torres del Paine National Park, there are numerous day hikes to choose from. Take your pick from the 5 day "W" trek or the longer "O" trek where you also get to hike around the backside of the Cordillera del Paine (and leave the crowds behind).
The "W" trek is the shorter and more popular of the two trekking routes. You get to see the highlights but you will also be sharing the trail with a lot of people. If you have the time and the stamina, consider doing the "O" trek. You hike the "W," and then spend an additional 3 to 5 days hiking around the backside of the Cordillera del Paine, making a full loop.
The Aurora Borealis, also known as the Northern Lights, is something that makes the bucket list of many travelers. Getting to see these lights requires traveling to the Arctic Circle during the right time of year and keeping your fingers crossed for clear skies and favorable conditions.
You can see the Northern Lights from late November to late March in the Northern Lights zone (65 to 72 degrees latitude). The lightshow normally occurs between 10 pm and 2 am and lasts about 30 minutes, if it does occur. The Aurora Borealis doesn't happen every night and some nights have a more vibrant show than others. It takes a little bit of luck to get to see those technicolor displays that we see in photographs.
Northern Norway (Tromso)
From your own glass igloo in Sweden a t Kakslauttanen
Reykjavik, Iceland
Fairbanks, Alaska
New Zealand is home to some amazing multi-day treks. You can hike along mountain ridges, through forests and beaches, and through some of the most stunning scenery in the world. These long distance treks are called "Great Walks" for very good reason…which one do you want to do?
You have a bunch to choose from, but here are a few that really stand out to us:
Milford Track: See Fiordland National Park and the Milford Sound
Routeburn Track: Traverse the Southern Alps in Fiordland NP
Abel Tasman Coast Track: Hike along beaches and forests
Kepler Track: Hike along Lake Te Anau and Fiordland NP
Learn about the Great Walks on the official website.
The Amazon rainforest is one of most biodiverse regions in the world. It spans over 5 million square kilometers in 9 countries in South America. You can cruise down the Amazon River, visit the small towns in the Amazon basin, or stay in a reserve within the rainforest.
We spent several days in the Amazon in Peru. From Cusco, we flew to Puerto Maldonado and then took a small boat down the Madre de Dios River to Reserva Inkaterra. For 2 days we explored the jungle, hiking, canoeing, walking along treetop suspension bridges, and searching for caiman, spiders, and snakes at night.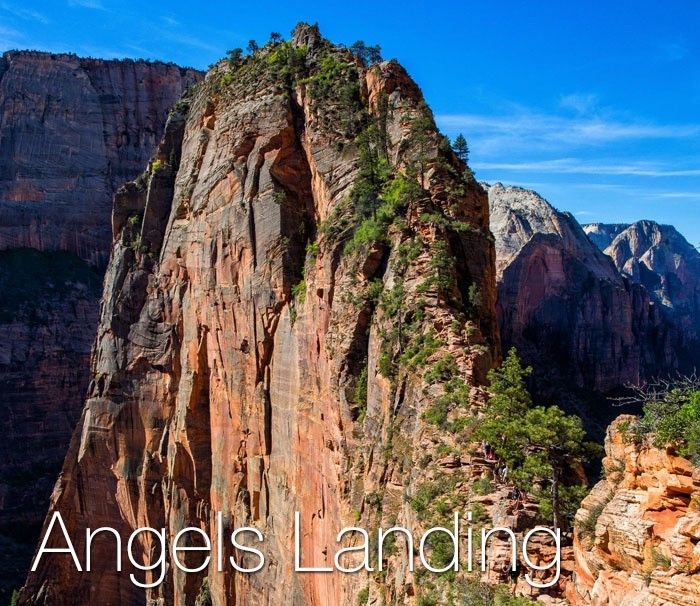 Angels Landing is the most popular hike in Zion National Park. The final climb of the hike involves scaling a narrow ridge high above the valley floor. With chain-assisted rock scrambling sections, stunning views, and vertigo-inducing heights, this really is a thrilling hike.
5.4 mile hike with 1500 feet of climbing. This is a strenuous hike involving the use of chains. Portions of the trail are very narrow with 1000 foot drop-offs on either side. Avoid this hike if you have a fear of heights.
Strap on some crampons, grab an ice pick, and set off on a very cool adventure. This is like hiking, only now you are walking over crunchy blue ice through frozen landscapes, another unique experience to add to the bucket list!
Iceland, Alaska, Greenland, Switzerland, Norway, Argentina, and New Zealand are popular places to visit if you want to walk on a glacier.
For information about how to go glacier hiking in Iceland, click here.
That first glimpse of the Treasury from the Siq is a thrill. And there's a lot more to do in Petra that just stare up at the Treasury (although that's pretty awesome!). Hike up to the Monastery, climb up to the High Place of Sacrifice, or explore the hiking trails that take you away from the more touristy parts of Petra.
Incredible desert scenery, red Martian sand, rock arches, bedoin camps, wild camels, desert flowers…this place is gorgeous!! We came to Jordan to see Petra but it was the Wadi Rum desert that really impressed us. Adding on a one day visit to Wadi Rum is the perfect way to add just a little more adventure (and more very cool memories) to your trip to Jordan.
Komodo Dragons are giant lizards that roam several islands in Indonesia. Komodo National Park, which is located in between Bali and Flores Island, is the place that these prehistoric lizards call home. Strap on your hiking shoes and go trekking into the jungle in search of these miniature dinosaurs.
Take a flight to Labuan Bajo, a small village on Flores Island. From here, you can organize tours with a guide to visit the three islands that make up the National Park.
By the way, the scenery of these islands is worth the journey here. The mountains, the beaches, and the colorful coral reefs almost look more thrilling than getting up close with a Komodo Dragon!!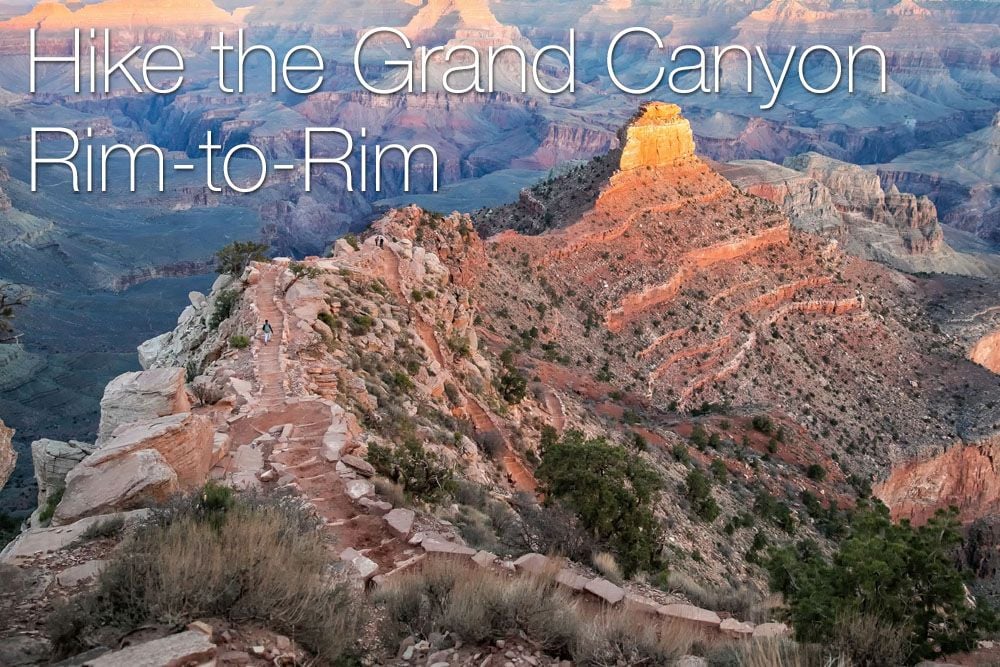 Sure, it's an awesome experience to see panoramic views of the Grand Canyon from an overlook. But if you really want an adventure, how about hiking from the North Rim, down to the Colorado River, and then back up to the South Rim? This is a long, challenging hike but it is an epic journey through one of the world's most famous landscapes.
There are several different ways to hike from rim to rim. Most people do this in two or more days, breaking up the journey either by camping or staying in a lodge near the Colorado River. Those who are crazy or just like the idea of turning the experience into a test of endurance do the entire 24 mile journey as a day hike.
We hiked rim-to-rim in June 2019 as a day hike. To date, it's the longest, hardest hike we have done but one of our most epic hiking experiences yet. We have not one, but two articles about how to do this hike.
What is black water rafting, you ask? It's a bit of a misnomer, but black water rafting is tubing down underground rivers in the semi-darkness. Sometimes, rappelling, climbing, and zip-lining is combined into the experience. It's very unique and there are only a few spots in the world where you can do this.
Black water rafting was started by those crazy Kiwi's in New Zealand at the Waitomo Caves (the same caves where you can see the famous and otherworldly glowworms). Legendary Black Water Rafting Co. offers a variety of experiences.
Belize is a bit newer to the black water rafting experience, but there currently are several companies that offer a variety of experiences. Check out Ian Anderson's Cave Branch, Belize Jungle Trek, and Explore Belize Caves.
Watching the wildebeest migration is one of nature's most raw and dramatic events. Every year, the wildebeest migrate from the Serengeti to Masaai Mara in search of water and food. The highlight of the journey are the river crossings, where crocodiles patiently wait, submerged underwater, ready to bring down the wildebeest as they enter the water.
The wildebeest herd migrates in loop through the Serengeti and Masai Mara over the course of a year. Calves are born from January through March in the Serengeti. During April and May the grasses dry up, forcing the wildebeest to leave the Serengeti and enter the Masai Mara in June and July. In August, the river crossings occur and then the "survivors" feed on the grasses of the Masai Mara. During the last months of the year, the wildebeest return to the Serengeti.
If you want to see the river crossings, your best chance is from late July through early September, although timing can change year to year, depending upon the weather and food supply.
If you want to hike among one of the most spectacular mountain landscapes in the world, put the Huayhuash Circuit high on your list. This 8 to 12 day trek takes you through stunning alpine landscapes in Peru, where you will hike past mountain lakes, snow-capped mountains, and some of the highest peaks in South America. It's strenuous and difficult, but sometimes the best experiences are also the most challenging.
The route is roughly 130 km (81 miles) in length. You start in Huaraz, and alpine town in Peru. For most of the trek you are at altitude and you reach a maximum altitude of 5490 meters (18,012 feet) at Punta Coyoc Pass. You can do this independently or with a guide.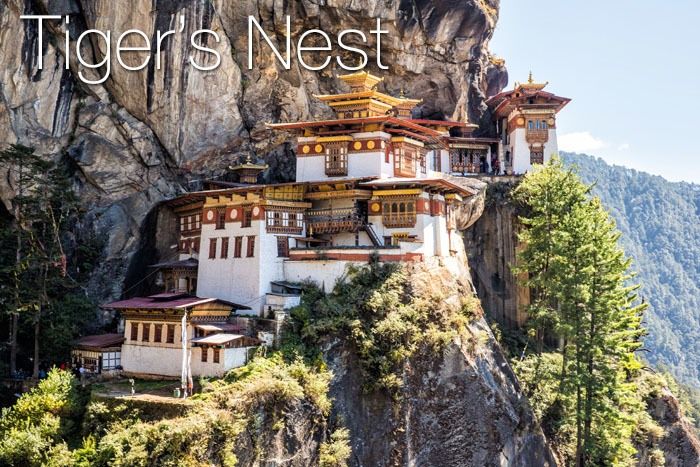 The Tiger's Nest is a Buddhist monastery perched on the side of a cliff, 900 meters off of the ground. It is a long climb to get here, but oh, what a view. Prayer flags are waving in the air and you can smell the incense and hear the Buddhist monks in prayer.
This is a moderately strenuous hike. It is four miles (6.5 km) round trip with 1,700 feet (500 meters) of climbing. Allow 5 to 7 hours for the entire visit, including time to visit the monastery.
Antarctica…the last great wilderness. This is the land of icebergs, penguins, and raw, arctic landscapes. It's one of the best destinations in the world if you seek adventure. Kayak among icebergs, visit penguin colonies, go whale watching, hiking, and mountaineering, and even take a plunge into the icy waters…if you dare!
The most popular way to visit Antarctica is on a round-trip cruise from Ushuaia, through the Drake Passage, to the Antarctic Peninsula. This usually takes up to 10 to 12 days, depending on your tour company. The best time to visit Antarctica is between November and March, with the longest hours of daylight and the highest daytime temperatures.
Defy gravity and scale a rocky cliff. Not only is it a thrill, and a sense of accomplishment to get to the top of the climb, but you are rewarded with unique views from the top of the climb.
You can take lessons at a local rock climbing gym to learn the basics. However, there are many places around the world that offer climbing lessons for newbie rock climbers. We learned in Krabi, Thailand, one of the best places in the world for beginners.
We have been rock climbing in Krabi, Thailand, Mendoza, Argentina, and the Lofoten Islands, Norway. This photo was taken on Svolvaergeita in the Lofoten Islands. These are all great spots for beginners and those with advanced skills. There are tons of options, but other cools spots include Costa Blanca, Spain, Boulder Canyon, Colorado, and Kalymnos Island, Greece.
Swimming in shark infested waters…this is another "do you dare?" type of adventure. Hotspots include Beqa Lagoon, Fiji (for tiger sharks), Isla Mujeres, Cancun (for whale sharks), Cocos Island, Costa Rica (hammerheads and white tip sharks), and Gansbaai, South Africa (for great white shark cage diving).
We went great white shark cage diving in Gansbaai, South Africa. You simply put on a wetsuit and goggles, hop into the cage that is submerged underwater, and watch as enormous great white sharks swim up and bump the cage.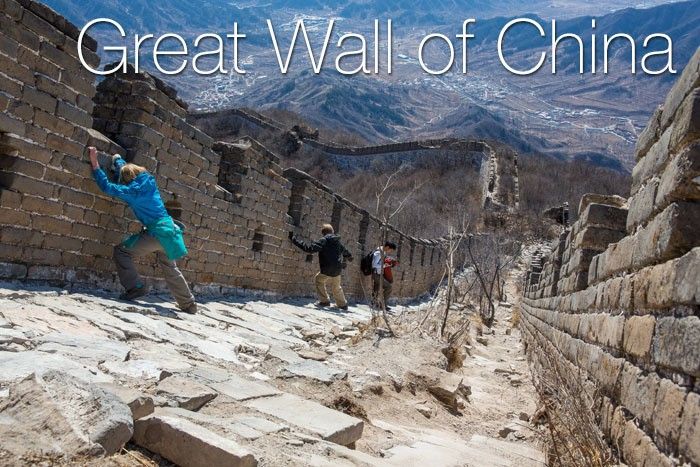 The Great Wall of China makes it onto many traveler's bucket lists, but to add some adventure to the visit, hike or camp on an unrestored section of the wall. You can do this as a day trip from Beijing or you can spend several days camping and trekking along the Great Wall.
The hike from Jiankou to Mutianyu spans 9.5 km (6 miles). It is a moderately difficult hike, with some steep sections of climbing. The entire journey, including transportation to and from Beijing, takes a total of ten hours.
Wouldn't it be really cool to drive a race car? Well, you can! For the ultimate adrenaline rush, drive a dragster at 130 mph or drive a NASCAR race car on a premier raceway.
NASCAR Racing Experience offers different levels of experiences, from ride alongs to your chance to drive a NASCAR race car on a race track.
You can also learn how to drive a dragster , and then feel the rush as you drive at 130 mph, covering a ¼ mile in just 10 seconds!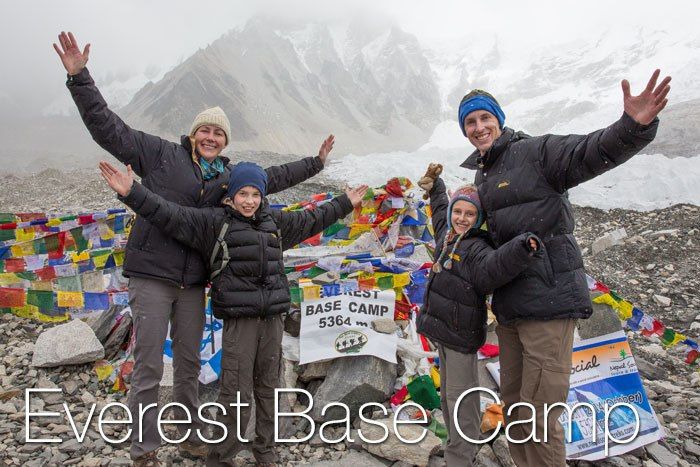 The Everest Base Camp Trek takes those willing to do it through some of the most gorgeous terrain in the world. Hike among the Himalayas, spin the prayer wheels, and visit Buddhist monasteries on the way. This is the trip of a lifetime.
This is a challenging, 11+ day journey. It is 83 miles (134 km) round trip, with a maximum elevation of 17,600 feet (5,380 meters). It's not just the daily hiking that makes this difficult, but also the risk of altitude sickness and the living conditions in the teahouses on the way.
Attach yourself to a giant rubberband and throw yourself off of a bridge. Sounds like fun, right? Bungy jumping is five seconds of terror, exhilaration, and pure craziness. If you want the biggest adrenaline rush ever, add bungy jumping to your adventure bucket list.
Kawarau Bridge, New Zealand: 43 meters (site of the first commercial bungy jump)
Victoria Falls Bridge: 111 meters
Bloukrans Bridge, South Africa: 216 meters
Macau Tower, Macau: 233 meters
Europabrucke Bridge, Innsbruck, Austria: 192 meters
Nevis Highwire Bungee, Queenstown, New Zealand: 134 meters
Maybe this is just a reason to add Hawaii to the list, but the Kalalau Trail is labeled as one of the most beautiful and most dangerous hikes in the world. Located on the island of Kauai, hike along the gorgeous coastal landscape of the Napali Coast.
22 miles round trip (11 miles one way) and takes most hikers two days to complete the hike. It can be hiked year round. Permits are required.
Trolltunga is one of Norway's most popular hikes for good reason. It is an incredibly scenic hike, ending at the Troll's tongue, a thin sliver of rock perfect for creative photographs. This is definitely a hike to add to your bucket list.
The hike to Trolltunga is long and very strenuous. It is 23 km (14 miles) out and back, with a very steep climb at the beginning of the hike. With this effort comes great rewards…this hike just may be one of your highlights on a trip to Norway. Allow 10 to 12 hours to complete this hike.
The Camino de Santiago is a pilgrimage to the Cathedral of Santiago de Compostela in Galicia. There are numerous routes to get here, however, the most popular is the French Way (Camino Frances), starting in St Jean Pied de Port and ending 790km (490 miles) later in Santiago de Compostela. The Camino Frances takes you through quaint villages and the more lively cities of Pamplona, Logrono (the capital city of the Rioja wine region), and Leon. As you immerse yourself in the culture of northern Spain and make friends with other pilgrims along the way, this no doubt is an experience of a lifetime.
This can be done year round, but the best times to go are during the spring and fall months. It takes approximately 4 to 6 weeks to walk the entire Camino Frances.
The American southwest is one of the USA's best road trip destinations. There are the breathtaking vistas of the Grand Canyon, thrilling hiking trails in Zion National Park, and millions of hoodoos to photograph in Bryce Canyon. Are you getting excited yet? The list keeps going, with the sweeping views of Monument Valley, dusty, off-road adventures in Grand Staircase-Escalante, and numerous slot canyons to scramble through.
Spend 10 days driving through the epic scenery of the American southwest, or turn your trip into a transcontinental journey as you drive from coast to coast. A road trip through the United States is a quintessential trip that makes the bucket list of many travelers.
Triglav National Park, with it's rugged, rocky mountain range, glacial lakes, and river gorges, is a playground for hikers and outdoor adventurers. Climbing to the top of Mt. Triglav, the centerpiece of the Julian Alps, takes two days and requires the use of rock climbing gear. For those with less time, take you pick from one of many stunning day hikes in the Julian Alps.
The hike from the Vršič Pass to Sleme and Slemenova Špica is a great day hike. This hike is short, relatively easy, and filled with breathtaking views, so it's perfect for active families and adventurous travelers. It's a great way to get a taste of hiking in Triglav National Park without needing special equipment or doing a full day hike.
Visit beautiful Lake Bled, go white water rafting on the Soca River, take a walk along Lake Bohinj, or explore Vintgar Gorge. You could spend a week here and live a different adventure every day.
12 reasons why adventure travel is good for you
It's worth taking note of the wise Mark Twain: "Twenty years from now you will be more disappointed by the things you didn't do than by the ones you did do. So throw off the bowlines. Sail away from the safe harbour. Catch the trade winds in your sails. Explore. Dream. Discover." This short and evocative quote reveals many of the reasons why travel and adventure are good for so many people. 1) For great stories: Going to the supermarket rarely brings fun tales but adventure holidays always contain numerous stories of newly discovered places foods, customs and locations. Even tough times on an adventure holiday can become a great story. And fabulous times will create stories for a lifetime. 2) For the best photographs: On holiday you will have your camera at the ready at all times and you'll come home with a wealth of stunning photos of landscapes, buildings, people and more. Photos create memories for a lifetime. 3) To learn about staying cool: There will be times on an adventure trip when you have to deal with a tricky or stressful situation. Knowing how you deal with these issues and learning how to cope will bring you strength and improved confidence for life in general. 4) Because you dream: We all have locations we would like to see or explore. Adventure travel brings your dreams to life. 5) As a gap year: Kids who travel between school and university or after university learn a great deal about themselves. They will become more confident, resourceful and intelligent. 6) No age restrictions: From youngsters travelling with their parents to middle-aged couples to solo senior citizens, adventure travel has no age limitations. There are holidays to suit all and everyone has a different view on what is an adventure trip. 7) To learn a language: It's very satisfying to be able to speak a few words, or more, of another language, such as Greek or Spanish or to be able to book a hotel room or find your way to a station without resorting to hand signals and basic English. 8) Brings perspective: Meeting people from other cultures, whether poorer or richer or just different, teaches you a different way you look at the world. It's very healthy to see life as others live it. 9) For education: Seeing new areas of the world, different countries, new views and meeting other people broadens everyone's education, whether you're a school leaver or a 90-year-old. 10) To try new flavours and food: If you are stuck in a culinary rut, heading to new countries can excite your taste buds and have you cooking new and more exotic recipes on your return home. 11) To prove to yourself you can: If you are the type of person who dreams of doing exciting things but never quite does, an adventure holiday could be just the thing for you. Macs Adventure trips are tailored to suit and come with lots of information. You are never quite on your own but you still have the freedom to do new things, such as cycle somewhere new, walk a new route or visit new and exciting places. 12) Because you can: Adventure travel is open to all and so accessible in the 21 st century. We can't understand why you wouldn't!
Source https://greatatravel.com/
Source https://www.earthtrekkers.com/best-travel-adventures/
Source https://www.macsadventure.com/walking-holidays/12-reasons-why-adventure-travel-is-good-for-you/