Greenland
Greenland offers an ideal place for adventure-seekers. Second in size only to Australia and sitting as Iceland's much bigger neighbor, Greenland hosts a wealth of wonder within its borders. The massive landscape has a lot of ground to cover and provides an array of experiences for those seeking Greenland adventure travel.
Raw Landscapes
One of nature's rawest landscapes will make yours back home feel distant and vastly different. To be sure: luxury travel to Greenland feels otherworldly. Spend the night in a cottage facing the ice fjords. Or bounce and zip across a blanket of white on a snowmobile. From above in a helicopter, the mountainous landscape is just as breathtaking, dotted with charming fishing huts. Alternatively, catch the vivid Northern Lights blaze across the sky in fluorescent green as you circumnavigate the coast. On the coast, glide through the ice fjords by kayak or take flight above the Isua Glacier, spotting spouting whales down below. Keep your camera ready to catch a glimpse of other sea life, including seals. Giant icecaps dwarf everything nearby.
In the warmer months, the region around Nuuk—the capital of Greenland and its largest city—becomes vibrant. The nearby waterfalls tumble toward weathered rocks. Plus, valleys of green unfold as far as the eye can see. You can also discover ancient settlements dating back more than 4,500 years as you hike through the UNESCO-listed Sermermiut Valley. Indeed, Greenland adventure travel offers something for everyone.
Local Culture
Luxury travel to Greenland may seem difficult and isolated—even in modern times. However, one chat with the locals over coffee and cakes will change your opinion. The country might be the world's least densely populated, but its communities are overflowing with warm welcomes. We recommend visiting local homes for a Greenlandic tradition called Kaffemik. Indeed, this social gathering offers a fascinating opportunity to hear about everyday life on the edge of the world.
When you need a break from your Greenland adventure travels, settle in for a cool Arctic sauna experience. Decadent oils enhance the heat and steam of the sauna. In between the treatments, go outside to roll around in the snow before heading back inside to warm up in the sauna again.
Finally, within the Arctic Circle, discover the colorful little town of Ilulissat. A rainbow of red, blue, and green houses contrast the translucent ice and snow's bright white. In the winter months, the only sound you will hear are the dog's howls and the thick silence of this snowy terrain.
Experience Luxury Travel to Greenland with Ker & Downey
Experience Greenland adventure travel on your own customized Ker & Downey journey. Our designers are at their best when crafting a journey unique to you, so contact us to get started planning. Read more about the seasonality and pricing in Northern Europe at the Ker & Downey Difference. For even more travel inspiration, follow us on Instagram.
Custom Journeys to Greenland
Iceland and Greenland Luxury Tour
This Iceland & Greenland Luxury Tour pairs the beauty of southern Iceland — including the Ring Road and Thorsmork Valley — with an 8-day luxury expedition cruise through the stunning fjords and glacial lakes of southeast Greenland.
Greenland Travel Guide
The Greenland Ice Cap covers an area of 1,755,000 square kilometres and is the second largest body of ice on the planet. In the summer months the melt water provides a rich environment for a whole variety of vegetation to flourish. The national flower of Greenland, dwarf fireweed, floods the valleys with bright violet colours that contrast with the dark rock and glaciers above. A magical sight to behold. The long daylight hours in the summer months allow you to make the most of your time here, kayaking or trekking along the fjords, watching arctic birds skim past and soaking up the magnificent scenery. The majority of Greenlands's inhabitants are inuit, having migrated here from Alaska as long ago as the 13th century. A population of just 56,000 people makes this the least populated territory in the entire world.
If you have a longing to visit one of the most remote and wild places on Earth, where the absence of any human presence allows nature to rule supreme. you may find that a Greenland adventure is just what you are looking for.
Our local team
In the summer, we slip into our kayaks and make our way between the icebergs in the hope of discovering some hidden whales. In winter, the pack ice extends our playground and we cross it on skis or snowshoes. Come and join us in Greenland for a wilderness adventure like nowhere else on the planet!
Highlights in Greenland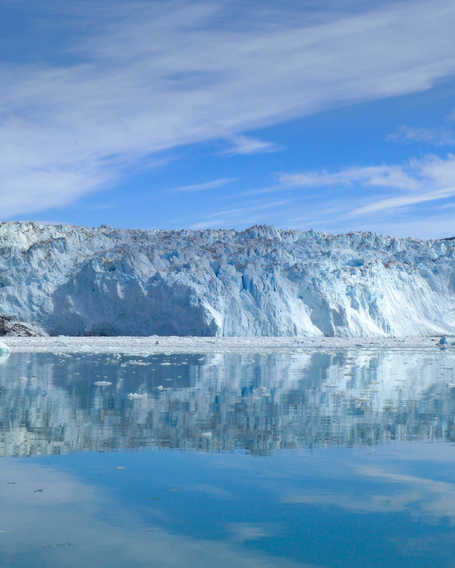 Eqi Glacier
This majestic glacier with its vertical 60 meter wall of ice that falls directly into the fjord was a starting point of numerous French polar expeditions led by Paul Émile Victor.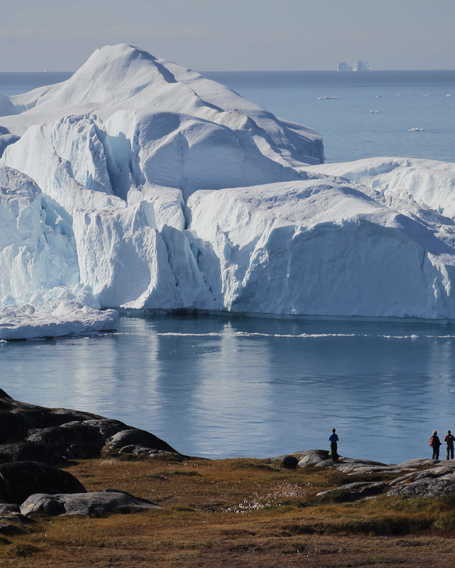 Disko Island
This 8,600 km² island attracts many geologists, biologists and botanists thanks to the diversity of its landscapes and the richness of its fauna and flora. An arctic research Centre has been located here since 1906.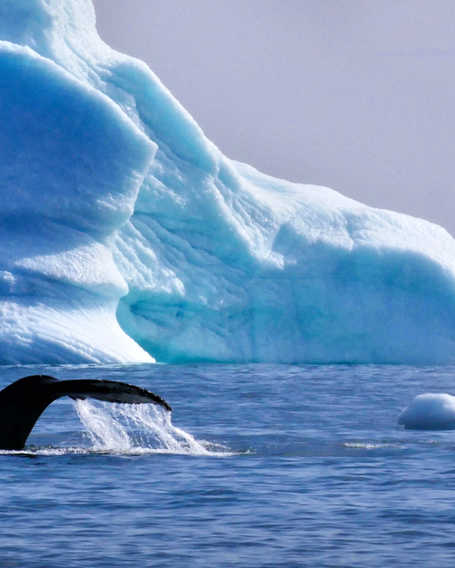 Tasilaq
With a population of less than 2000 this is the most populous town on Greenland's east coast. Founded by Danish explorers in 1894, visitors here can enjoy the magnificent scenery of the Valley of Flowers and Tasilaq Fjord.
How to get to Greenland
The world's largest island is easy to get to, but there are limited options to get you there. There are no bridges, tunnels, or ferries that connect it with other countries, so you must fly. In particular, you must fly from either Denmark or Iceland. There are no flights from North America or elsewhere in Europe at this stage.
Flights to Greenland
To fly to Greenland you have 2 airlines to choose from
Icelandair
Icelandair flies from Reykjavik City Airport (RKV) and Keflavik International Airport (KEF) directly to several places in Greenland. During Summer, there are daily flights to Kulusuk (KUS) on the east coast and, on the west coast: Ilulissat (JAV) in the north, Nuuk (GOH) in the middle, and Narsarsuaq (UAK) in the south. During Winter, it is primarily Kulusuk (KUS) and Nuuk (GOH) that are serviced.
Keflavík International Airport (KEF): to/from Nuuk, Ilulissat
Reykjavík Airport (RKV): to/from Kulusuk, Narsarsuaq
Remember, if you are trying to connect your flights from Reykjavik City Airport (RKV), you need to allow at least 2 hours for the transfer between Keflavik (KEF) and Reykjavik (RKV) airports.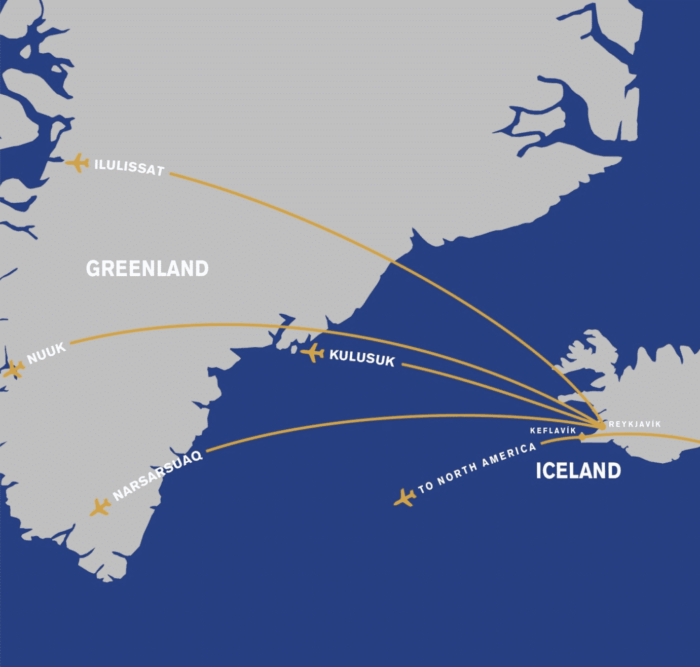 Air Greenland
Air Greenland is Greenland's national airline, with more than 50 years of experience flying in extreme Arctic conditions. They operate the primary route to Greenland between Copenhagen and Kangerlussuaq, with up to 10 flights/week during Summer. They also have direct flights from: Keflavik Airport (KEF) in Iceland to Nuuk (all year round), Keflavik Airport (KEF) to Ilulissat (Summer only), and Copenhagen Airport (CPH) to Narsarsuaq (UAK) (also only during Summer).
Whichever way you choose to travel to Greenland, Air Greenland is the only airline that will fly you from place to place while you are there. With a fleet of helicopters and small aircraft, they connect settlements with 50 people or more to the rest of the country.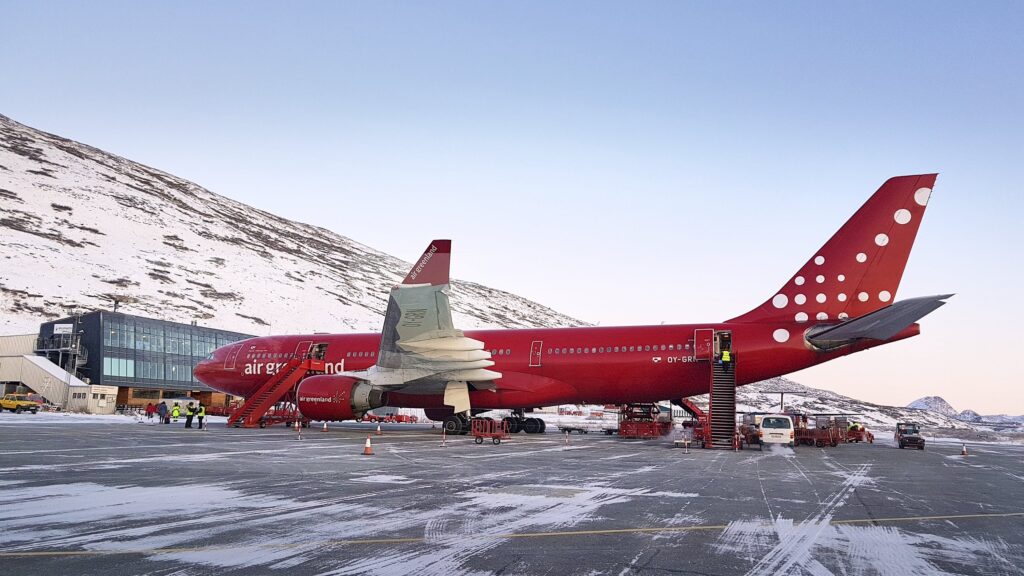 Frequently asked questions
1. How much does it cost to get to Greenland?
The average price for a standard economy return ticket is between 3,000 and 5,000 Danish Krone (DKK), depending on the season. This is roughly equivalent to USD$500-800 or EUR€400-670. Note: this only covers your direct international flight, which may not take you to your final destination. It does not include any onward flights within Greenland.
2. How much does it cost to travel within Greenland?
There are no roads in Greenland. To visit several different places or to arrive in your desired destination from your international landing point, your only options are to take a boat (not always possible) or fly. Depending on where you are trying to get to, it may cost you the same or even more than the price of your international flights to Greenland. For this reason (and to avoid surprises), many people choose a vacation package with flights, hotels and experiences included. If you are visiting the West coast of Greenland, there is another long-distance option.
The Sarfaq Ittuk Passenger Ferry plies a weekly route from Ilulissat in the north to Qaqortoq in the south, with stops at each of the major towns and some of the small settlements in between. It operates from April to January and, if you have the time, is a fabulous way to travel in Greenland and meet local people.
3. Do I need a tourist visa to visit Greenland?
A normal Schengen visa is not valid for travel to Greenland.Although Greenland is not part of the Schengen agreement, it is part of the Danish Realm. Therefore, if you do not need a tourist visa to enter Denmark, you also don't need a visa to enter Greenland. However, if you do need a visa to enter Denmark, you should state on your application that you also wish to travel to Greenland so you are issued with the correct visa.
It is best to check the New to Denmark website for the most up-to-date details of visa requirements.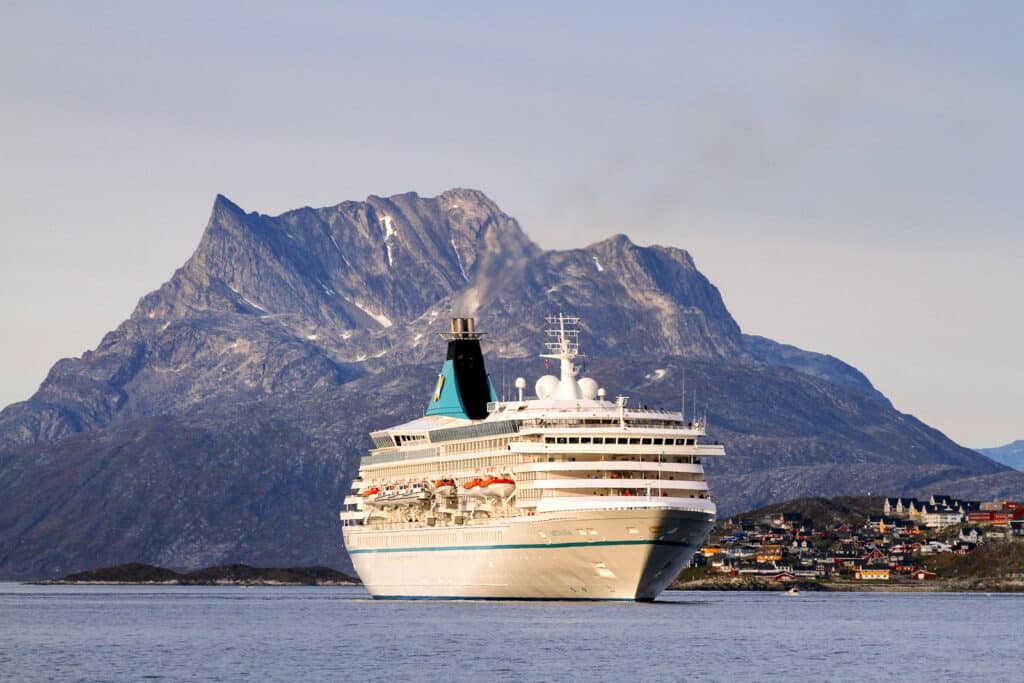 4. Is there a ferry between Iceland and Greenland?
There are no ferries to Greenland from other countries. The only way to arrive in Greenland by ship is to take a trans-atlantic cruise that incorporates Greenland. Within Greenland, Sarfaq Ittuk is the only passenger ferry.
5. Are there highways in Greenland?
No. There are no roads at all between the cities, towns and settlements of Greenland. Every town is like an island that is surrounded by either mountains, water or ice, and the only way to travel between them is either to take a boat (not always possible) or fly. There are a few places where small settlements are close enough to a town that it is possible to hike to them (during Summer) or ski, snowmobile, or dogsled (only above the Arctic Circle and in East Greenland) to them during Winter. In the far North, it is also possible to drive across the sea ice to reach nearby locations.
Source https://kerdowney.com/destinations/greenland/
Source https://www.kandooadventures.com/destination-greenland/guide/summary
Source https://guidetogreenland.com/how-to-get-to-greenland/