5 Adventure Travel Outfitters You've Probably Never Heard Of
I've just returned from the Adventure World Travel Summit (ATWS) in Lugano, in the sunny canton of Ticino in Switzerland. One of the best things about attending the ATWS, which is a yearly event organized by the Adventure Travel Trade Association, is meeting new, emerging and lesser-known adventure travel companies. Many are quite small and specialize in one corner of the world or offer a unique style of travel that larger, more mainstream operators don't. These small tour operators share their knowledge and passion for their destination and manage the logistics and details for each trip, offering competitive prices. Here are five companies worth checking out.
Upplevelsebolaget
Upplevelsebolaget may be a challenge to pronounce but simply put, the company offers outdoor adventures in West Sweden and beyond, from sea kayaking and hiking to mountain biking, climbing and ski touring, among other activities. "Sea kayaking among the thousands of islands in West Sweden is ideal because there are no currents and no tides in the Baltic, it has a gentle coastline and the waters warm in summer," says Joakim Hermansson, who founded the company in 1994. A typical trip can be a three-day sea kayaking excursion called "Weather Islands Kayak Luxury," three days of sea kayaking with accommodations at an inn on the island of Storö. In winter, the company goes further afield, offering alpine ski touring trips to Norway, Morocco and Japan.
On a customized journey with Hinoki Travels.
Hinoki Travels
Hinoki Travels designs customized journeys to "reconnect you to your senses and the natural world "while also supporting local communities. Founder Bethany Betzler divides her time between Chiang Mai, Thailand and Michigan. She creates trips that deliberately move at a slower pace, pinpoints lesser-known locations in a destination, and ensures that each trip has a reduced ecological footprint. Bhutan was her inspiration for creating Hinoki Travels, and she works with other destinations in Asia, such as Ladakh in Northern India and the colonial hill station of Darjeeling. In North America, she's chosen destinations such as Fogo Island in Newfoundland and Dominica in the Caribbean. Ultimately, these trips are "custom retreat experiences designed to reduce stress and spark creativity."
On a hike along Norway's sea cliffs with Norway Adventures.
Best Travel Insurance Companies
Best Covid-19 Travel Insurance Plans
Norway Adventures
Norway Adventures specializes in customized travel and small group trips in Norway, offering hiking, kayaking, and backcountry skiing and snowshoe tours. Husband and wife Rogier and Anne van Oorschot create group trips for as few as seven guests. They also put together customized tours for individual travelers. They aim to have you experience off-the-beaten-path Norway, staying in farms and cabins in remote areas. For example, their "7 Day Fjord Hiking Holiday Norway" trip explores some of the country's beautiful and rugged terrain. The hikes can be along the Atlantic coast, white sandy beaches, or high sea cliffs, away from touristed areas, with van and ferry transportation. Accommodations include cabins where the guide prepares evening dinners. Priced from 15,650 NOK (approximately $1.482 pp).
Meeting Yamabushi priests in Japan with KODO.
KODO
New Zealanders Mike Harris and Shannon Walker are the founders of KODO, which creates adventure trips in Japan. They offer customized trips that make a deep connection with the culture. One itinerary is from walking the UNESCO-recognized Kumano Kodo pilgrimage routes in the Kii Mountain Range. Another is hiking through the Kiso Valley along a preserved section of the Nakasendo, the path that linked Kyoto and Tokyo during Japan's feudal period. Other trips focus on spending time with the Yamabushi, the mountain priests of Japan.
In the Himalayas with Flashpacker Connect.
Flashpacker Connect
Founded in 2015 by LeAnn and Brandon Morris, Flashpacker Connect offers small, affordably-priced group trips in the wilder parts of the world, trips that you won't find from the major tour operators. Consider "Bolivia: Amazon Jungle to the Salt Flats", a nine-day trip for $1,600 per person. It's one of many South American adventure trips that they offer. In Asia, they have a variation on the bucket list trip to Everest Base Camp in Nepal. Called "Everest Basecamp with Three Passes," it's a challenging 19-day trek on the so-called three-pass circuit, and it's priced from $2,100.
A World Of Adventures
Four Seasons Hotels and Resorts has unveiled its World of Adventures, a Four Seasons Private Jet experience set to take flight from Oct. 19 to Nov. 11, 2018.
"From the Seychelles to the Galápagos, experience the rare, the wild and the beautiful on this trailblazing voyage across eight countries.
The Four Seasons Private Jet takes travellers on a global exploration of carefully curated experiences, creating lasting memories in the world's most prized destinations.
The 2017 International Intrigue itinerary this September has sold out, and bookings for 2018's Timeless Encounters and International Intrigue are moving quickly, which prompted Four Seasons to add a third 2018 itinerary," the company says.
World of Adventures guests board the Four Seasons Private Jet in Seattle, bound for Kyoto. There they will visit Kikaku-ji, Kyoto's famed bamboo jungle; study samurai sword-fighting and historic artwork in equal measure; and enjoy a private dinner at Kenninji Temple, the most ancient Zen temple in Kyoto.
Next, it's on to explore the azure waters of Bali, then the beaches and jungles of the Seychelles before continuing westward.
In the verdant mountains of Rwanda's Volcanoes National Park, guests will follow in the footsteps of Dian Fossey's famous studies of mountain gorillas as they trek with an expert naturalist guide by day and relax in one of the park's lodges in the evening.
Before leaving Africa, Private Jet guests stop in Marrakech for private shopping excursions, a day in the Atlas Mountains with a Berber family, and an afternoon in the Majorelle Garden.
The World of Adventures journey continues on to Bogotá, Colombia's sophisticated capital of art, design and gastronomy.
Then, in another itinerary highlight, guests will embark on a cruise through the Galápagos Islands, where they will swim alongside sea lions in Gardner Bay; snorkel with manta rays; and photograph the rare assortment of seabirds that make the Galápagos their home.
A World of Adventure
I am so excited to introduce you to a fabulous, award winning unit study, A World of Adventure.
Written for grades 4-8 by Dorian Holt, a mom who successfully homeschooled her own son, A World of Adventure is the first volume in the Learning Adventures series.
If you enjoy using unit studies, or have been curious about trying them, I hope you will find this review helpful and informative.
What A World of Adventure is:
A World of Adventure is a complete curriculum, covering every subject except math, with detailed, guided lesson plans for 180 school days. Dorian designed this curriculum to use books most of us can borrow from our local library, to help lesson our financial burdens while homeschooling.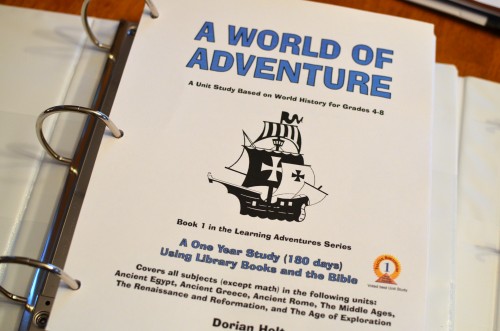 When you visit the Learning Adventure site, you will be pleased to find lots of samples, encouragement and information. I was very struck however, at one thing I did not find, up-selling. There are a few things you can add, which I will discuss in a moment, but this company does not lure you in with a lower price point and then give you a mile long list of extras you can't live without.
That was a breath of fresh air to me.
A World of Adventure is also very Christian. You begin your journey in Egypt, with the Bible. The story of Joseph and his brothers is a favorite in my home, and this section of the Bible leans well to soaking up the culture and story.
The lessons are written from a Christian perspective. Bible reading and Scripture memorization are a huge part of our family, and this curriculum has both.
What A World of Adventure covers:
Ancient Egypt
Ancient Greece
Ancient Rome
Middle Ages
Renaissance and Reformation
Age of Exploration
What the lessons look like: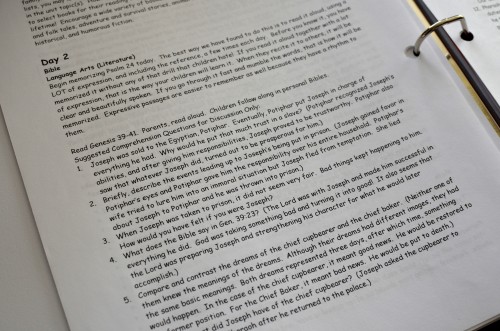 I have tried to do this on my own before. Even after spending hours searching and combing the internet, library, and our homeschool library, I don't come up with even a fraction of what this curriculum offers – and am left in tears.
The lessons are history based, but thread all of the other subjects into what you are reading. For example, in the story of Joseph and his brothers, you will be reading history from the Bible, but you will also learn from the guide-vocabulary, Greek and Latin prefixes, suffixes and root words. You will travel in books learning Ancient Egypt, discuss what a civilization is, learn about the culture of Egypt, and study life in the desert. You will also discuss elements of literature, memorize scripture and sing hymns.
The lessons are there for you so that you can teach confidently. You can make them flexible to fit your current needs. Just think of Dorian as your homeschooling friend, who has been where you are and is helping you on your journey.
You won't be stranded at your school table, you will find this curriculum takes you to hands on projects, and you will spend time together in the kitchen as well.
This curriculum is packed with more to learn than I have ever seen. Everything is guided for you. There is even a game you can purchase that acts as a review.
The price:
You can get all 790 pages of detailed lesson plans for $90.00 That's right, $90.00. What a blessing! The curriculum comes to you shrink wrapped, ready to go in a binder.
Other than the game ($39.00) the other useful extras offered are printed student pages ($20.00) and the customer requested Supplement for Little Adventurers ($15.00 each time period) which gives you lesson plans for children K-3. (Supplement does not stand alone.)
You can see a sample of lesson plans here.
This curriculum has it all, I really have enjoyed reviewing it. We will be using A World of Adventure in our homeschool in the future, and I can't wait. I hope you'll check it out and find it as fascinating as I do.
**I received this curriculum at no cost to me, in exchange for an honest review. All opinions are my own.**
Sam is a Christian homeschooling mom of six, married to Rick, her high school sweetheart. Rick was called to be a preacher, Sam was called to homeschool, and loves blogging about their journey. Her family leans on the Charlotte Mason, literature-based side of eclectic home education. Sam is interested in Bible study, photography, exercise, organizing, and sweet tea. You can find her blogging over at Sam's Noggin.
Source https://www.forbes.com/sites/everettpotter/2022/10/22/5-adventure-travel-outfitters-youve-probably-never-heard-of/
Source https://www.travelpress.com/a-world-of-adventures/
Source https://www.thecurriculumchoice.com/a-world-of-adventure/